History meets luxury at The St. Anthony, a Luxury Collection Hotel in San Antonio. Stepping into this iconic establishment, you're immediately enveloped in a world of elegance and charm that's been captivating guests since 1909.
Presidents, royalty, and Hollywood celebrities from John Wayne to George Clooney have all graced the halls of San Antonio's first luxury hotel.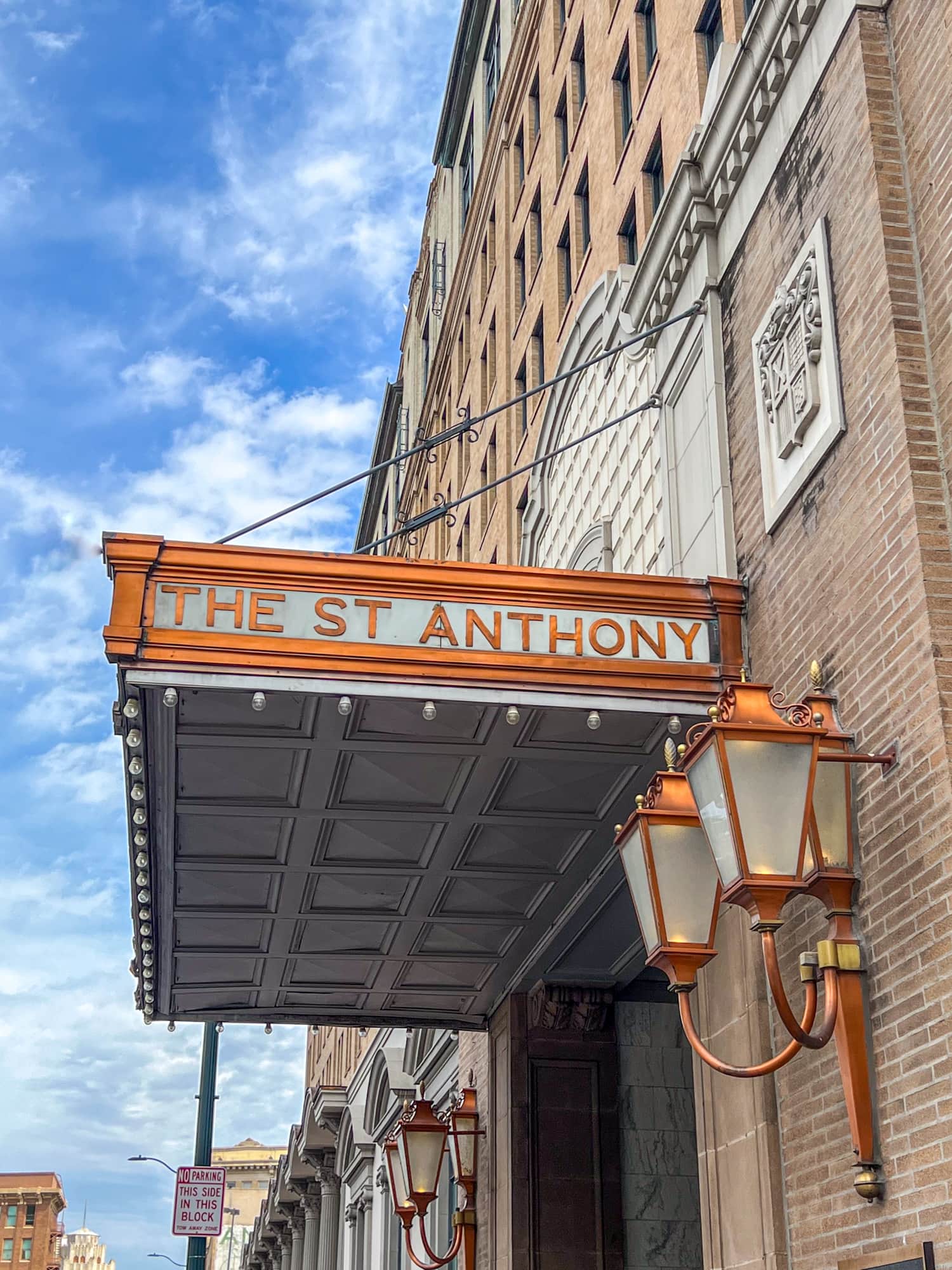 The opportunity to spend a night at The St. Anthony Hotel, a National Historic Landmark, arose when Kel had to travel to San Antonio for a conference.
I proposed we arrive a day early and take advantage of an annual hotel benefit I receive through my American Express Platinum card.
The trip marked my first visit to Alamo City in five years and my third since moving to Austin. Previous visits were brief and focused on basketball rather than food, so I was excited to head back.
The St. Anthony Hotel
History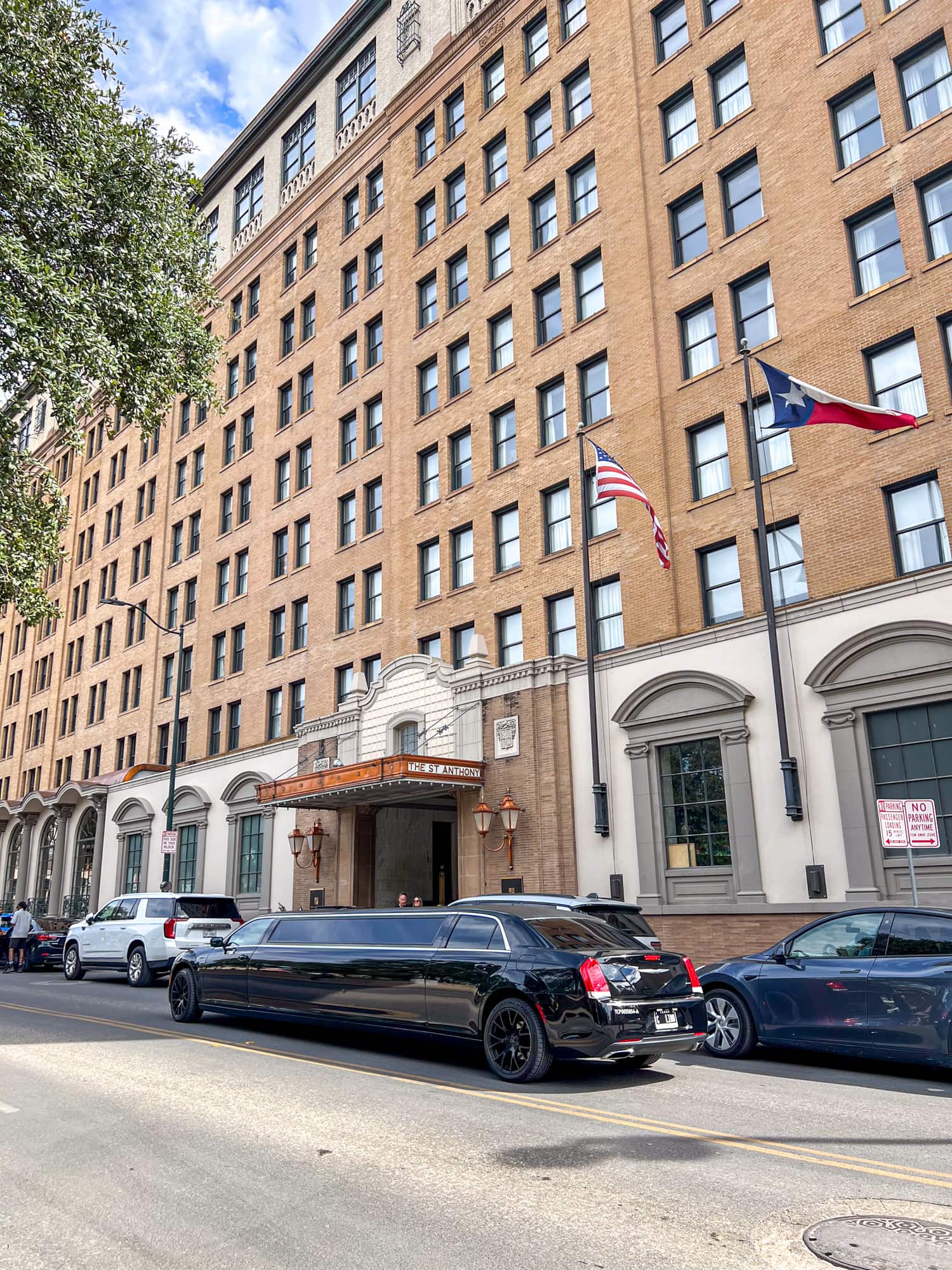 The St. Anthony Hotel was built by cattlemen B. L. Naylor and Augustus H. Jones to attract wealthy visitors to San Antonio. They hired architect James Flood Walker to design the original building.
It was technologically advanced for its time, with all 210 guest rooms featuring telephones and electric lights that turned off when guests locked their doors. Half the rooms had en suite bathrooms.
The hotel was so popular when it opened that the Texas cattlemen had Walker design a 220-room extension on the same block, which opened the following year (1910).
Over its 115-year history, ownership of the St. Anthony changed numerous times.
Related: Palacio del Inka, a Luxury Collection Hotel in Peru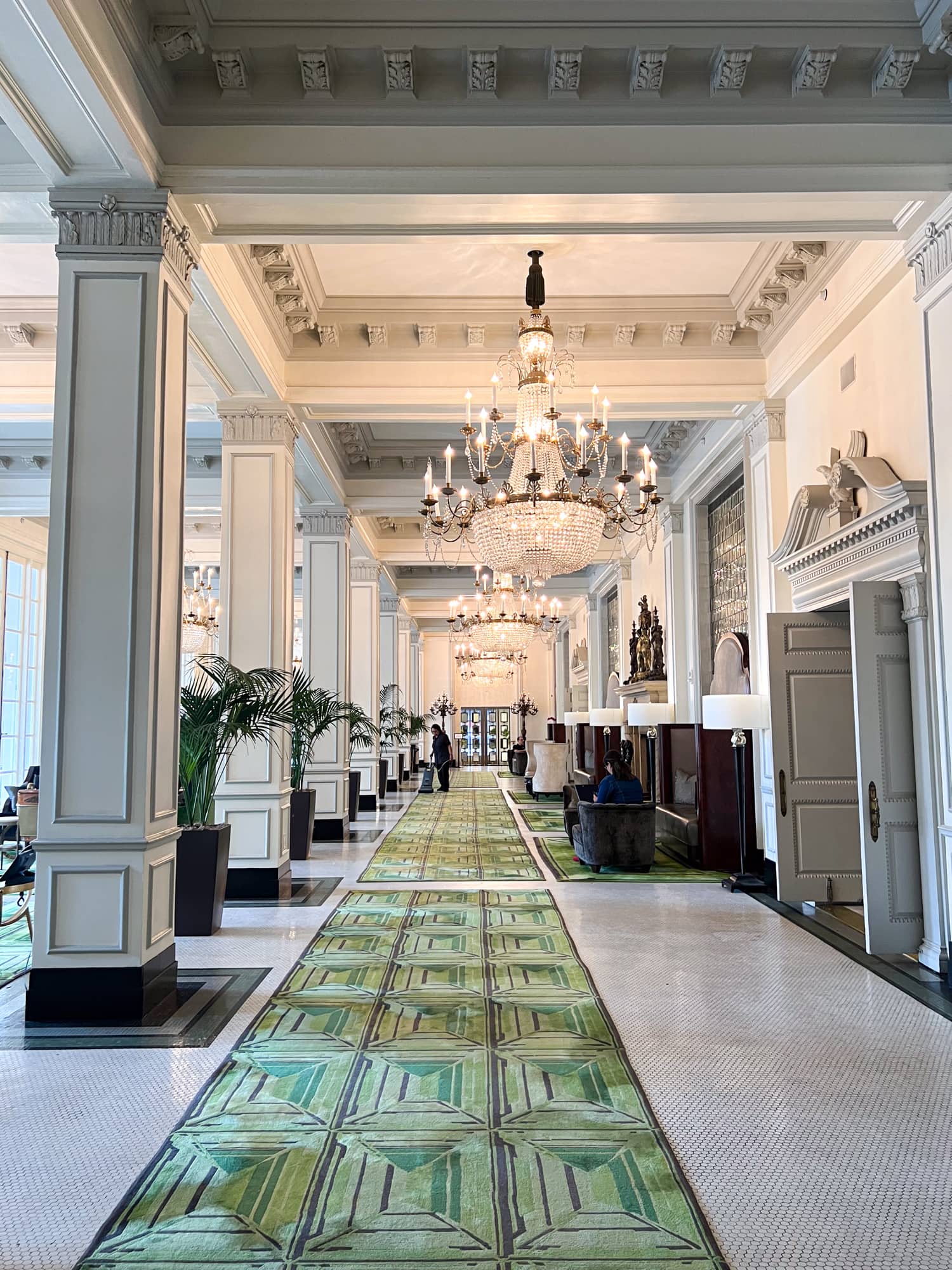 Improvements Under Ralph W. Morrison
In 1935, under Ralph Waldo Morrison, two additional stories were added (bringing it to the current height of ten), a third tower was built, the facade across the three buildings was unified, and air-conditioning was installed.
The St. Anthony advertised itself as the first hotel in the world to feature a fully functioning air-conditioning system.
Morrison, a rancher, also acquired an art collection to decorate the hotel and French Empire antique furniture for the lounges.
Among his most notable purchases is the 1927 Steinway piano in Peacock Alley, a luxe lounge lined with crystal chandeliers, for which he paid $27,000.
It was purportedly made for the Russian Embassy in Washington, D.C., and has since been used for many live music performances.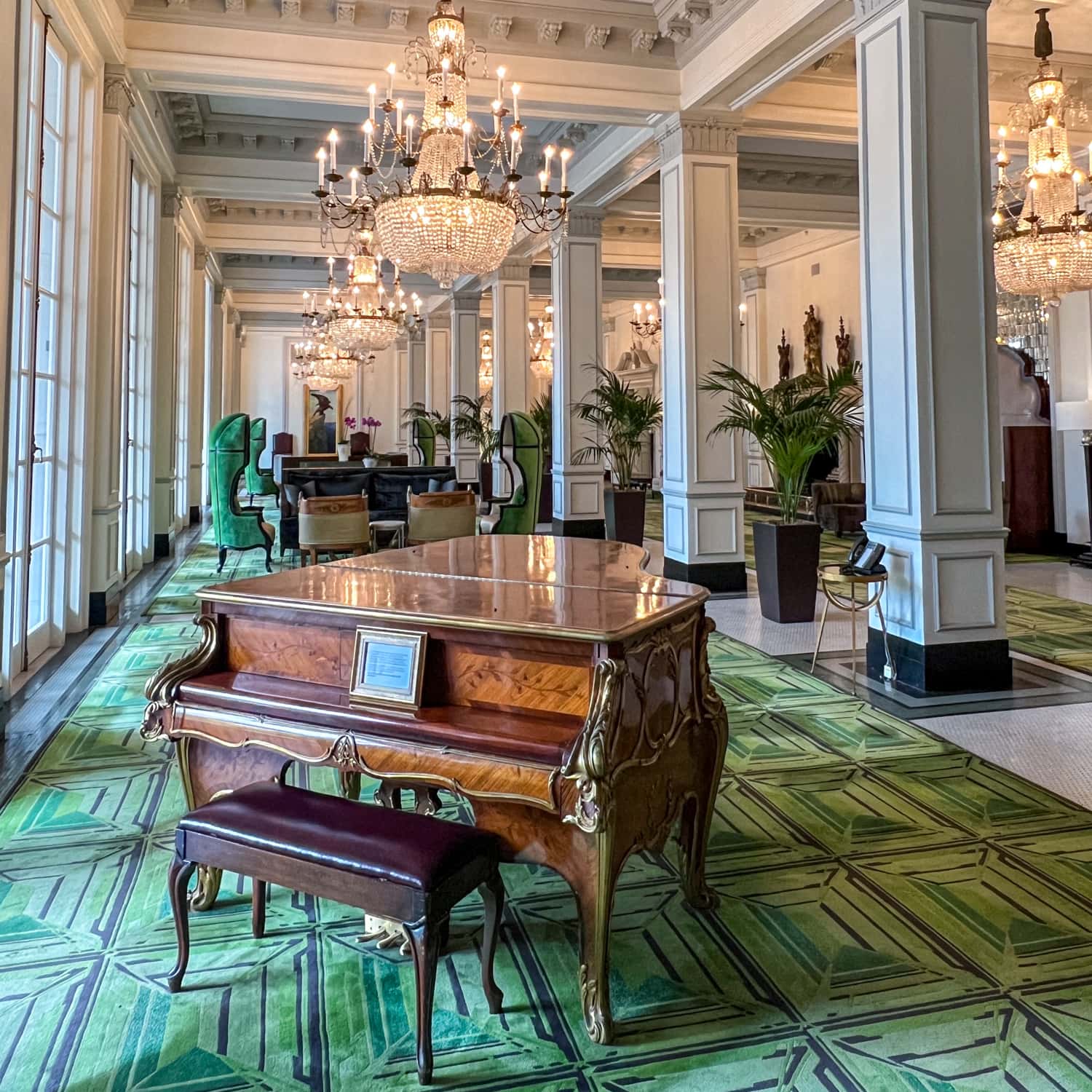 Dorothy Draper's Influence
In 1959, it became legal for liquor to be served in mixed drinks, as long as it was done in private clubs. The St. Anthony hired interior designer Dorothy Draper to turn a tapestry room into the St. Anthony Club, the hotel's handsome bar.
"Traditional with a dash of modern" is how she described her style. This is also where she introduced the eye-catching "St. Anthony Green" used throughout the hotel, most notably in Peacock Alley.
Also Noteworthy
Given the grandeur of the hotel, it's no surprise The St. Anthony has hosted many high-profile guests. Presidents Franklin D. Roosevelt, Dwight D. Eisenhower, Lyndon B. Johnson, and Princess Grace of Monaco are among them.
The St. Anthony celebrated a grand re-opening on November 19, 2015, following its most recent multi-million dollar renovation. Today, the 277-room hotel is managed by The Luxury Collection, a branch of Marriott International.
Location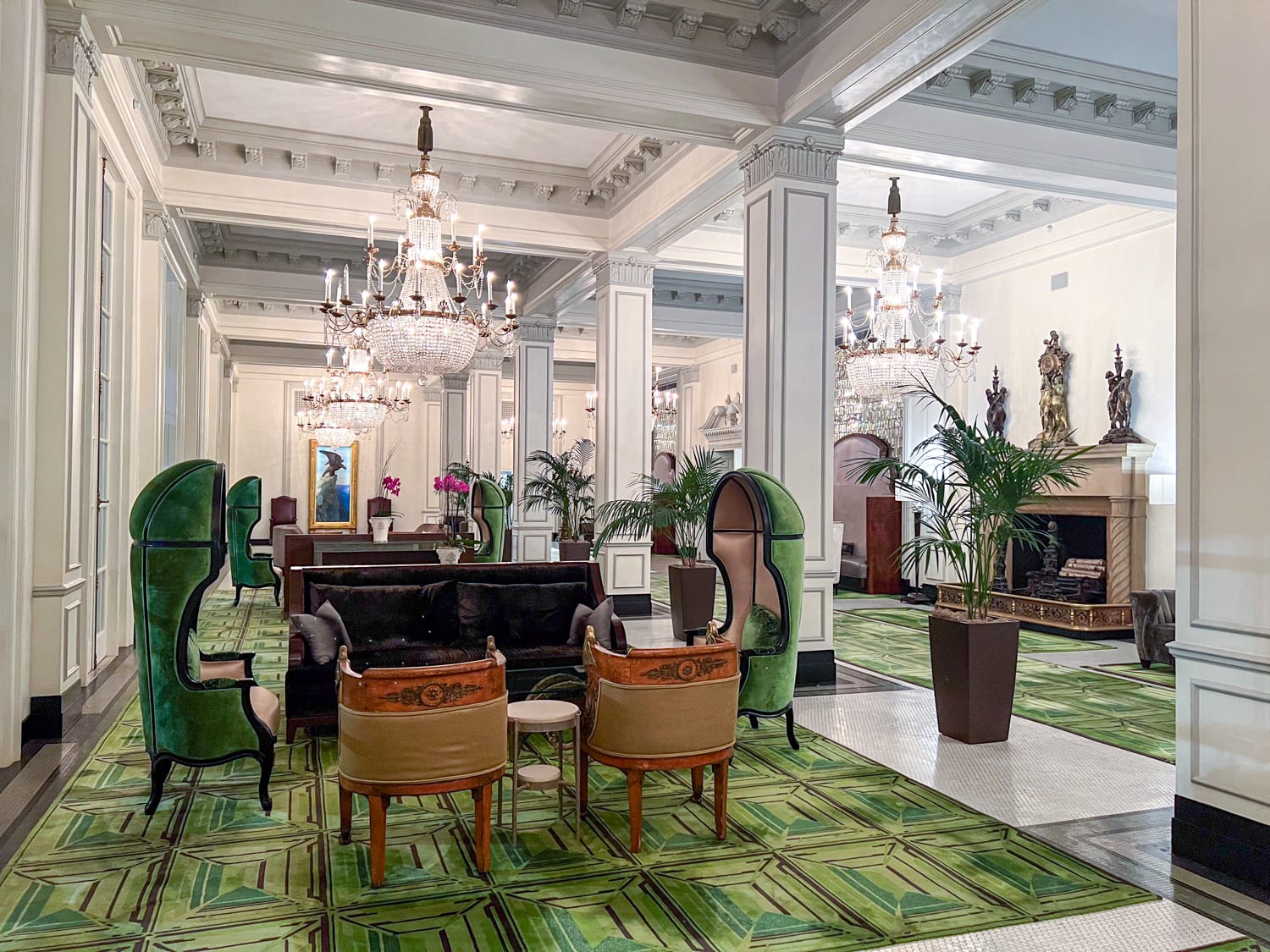 The St. Anthony Hotel is conveniently located in downtown San Antonio on East Travis Street, opposite Travis Park, one of the country's oldest municipal parks.
If arriving by plane, it's about eight miles south of San Antonio International Airport.
The San Antonio River Walk and The Alamo are within a few minutes walk of the hotel. So, too, is Pinkerton's Barbecue, our first stop after checking in. Pastry fans can easily access La Panaderia, an acclaimed Mexican bakery a block south of the hotel.
Booking Our Stay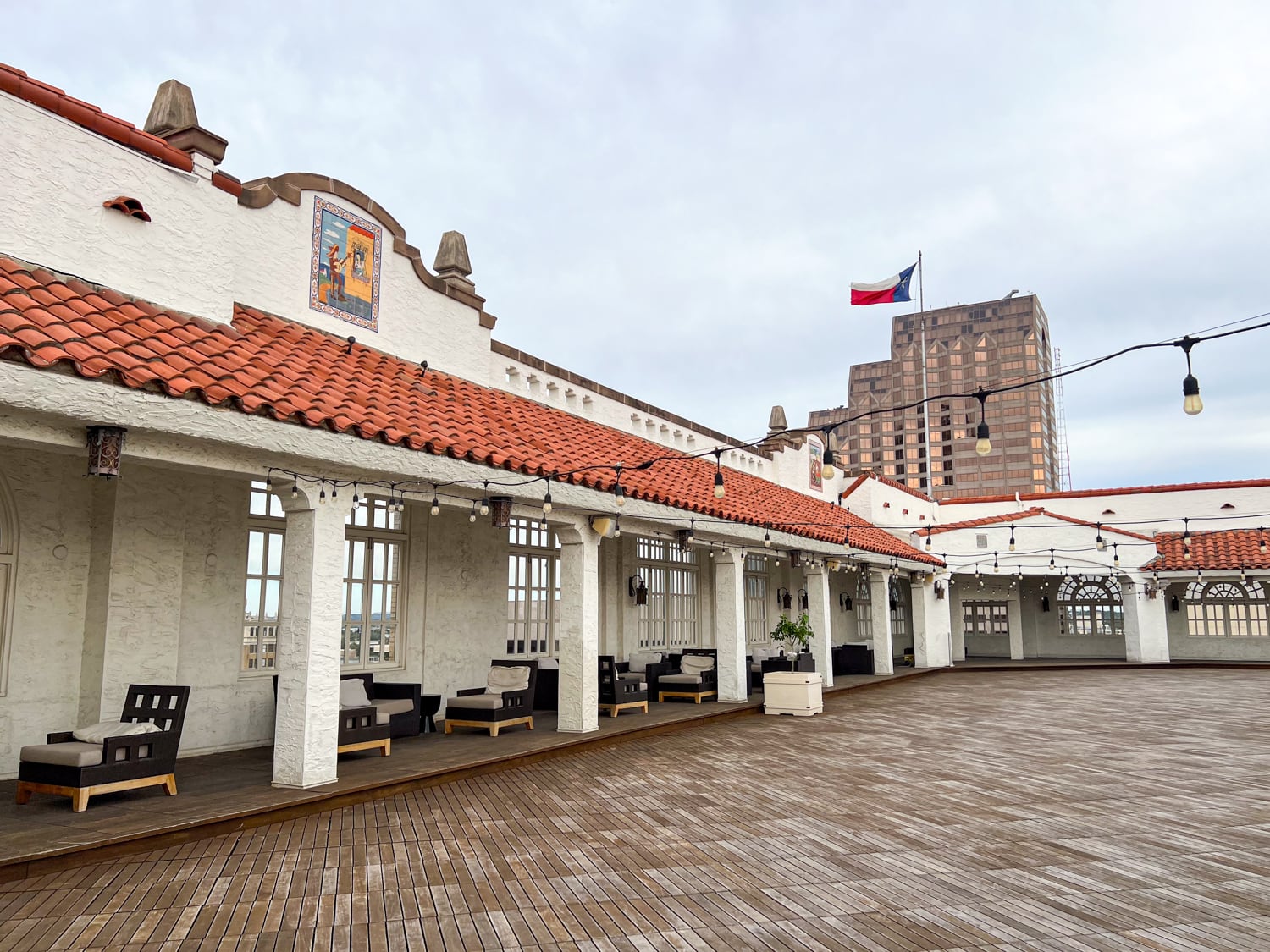 I booked our night at The St. Anthony through the American Express Travel portal using my AMEX Platinum card.
The hotel is a part of the credit card company's Fine Hotels + Resorts program, which provides perks for cardholders during their stay at any of 1,500 luxury hotels worldwide.
First and foremost, AMEX Platinum cardholders receive an annual $200 statement credit toward any prepaid Fine Hotels + Resorts (or The Hotel Collection) bookings.
Second, there are the on-site perks, which include:
Room upgrade, if available, on arrival
Daily breakfast for two (a $60 value at the St. Anthony)
Guaranteed 4 p.m. checkout
Noon check-in, if available
Free Wi-Fi
$100 experience credit
It all adds up to an excellent value and one I was excited to experience at one of Texas' most storied hotels.
Including tax and fees, the standard room I booked cost $377 for a Friday night. Factoring in the statement credit, it was $177. Add in the on-site credits, and we were almost at net zero cost.
Still, some fees were unavoidable, mainly gratuities (food and beverage, housekeeping) and overnight parking ($52). Let's check-in and get to know this historic hotel better.
Sign up for an AMEX Platinum card and earn 80,000 Membership Reward points if you spend $8,000 within the first 6 months. Use your points toward free flights, hotels, and more.

Disclosure: I receive bonus points for each referral through my link above, which supports me in creating stories for Feastio.
Check-In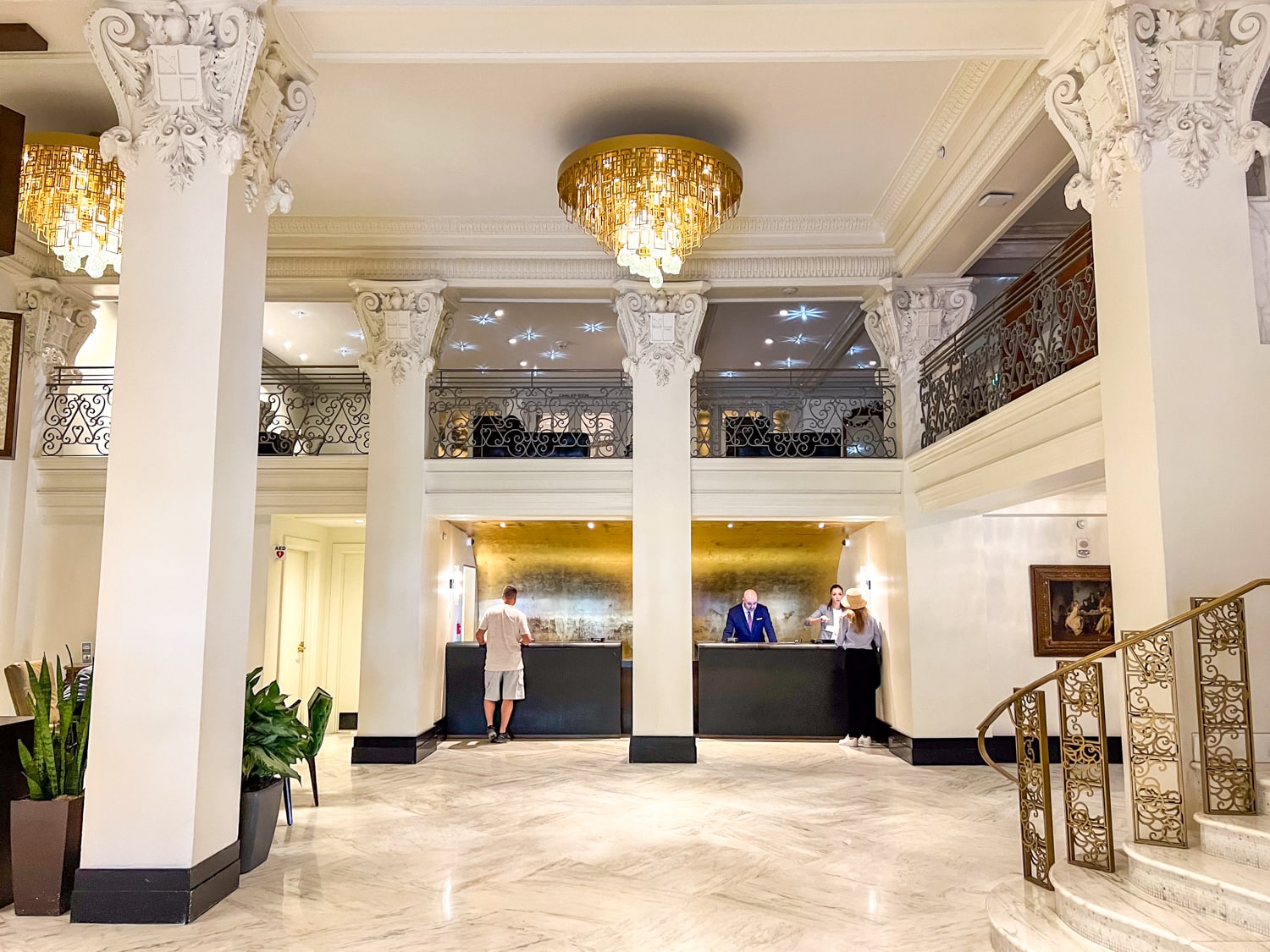 After making the nearly two-hour drive south from Austin to the center of San Antonio, I pulled up to the valet outside The St. Anthony Hotel around noon.
We made our way to the front desk in the grand lobby with its Italian marble floors and Corinthian columns.
Earlier in the morning, I called to confirm we could take advantage of the noon check-in benefit (regular check-in time is 4 p.m.). An early check-in and late check-out time afforded us up to 28 hours with the room.
As anticipated, we received an upgrade on our guest room, ensuring a view of Travis Park.
The friendly staff also confirmed we had a breakfast credit of $30 per person that we could use at Gallery on the Park and a $100 food and beverage credit that could be applied to any of the hotel's dining options.
Our Room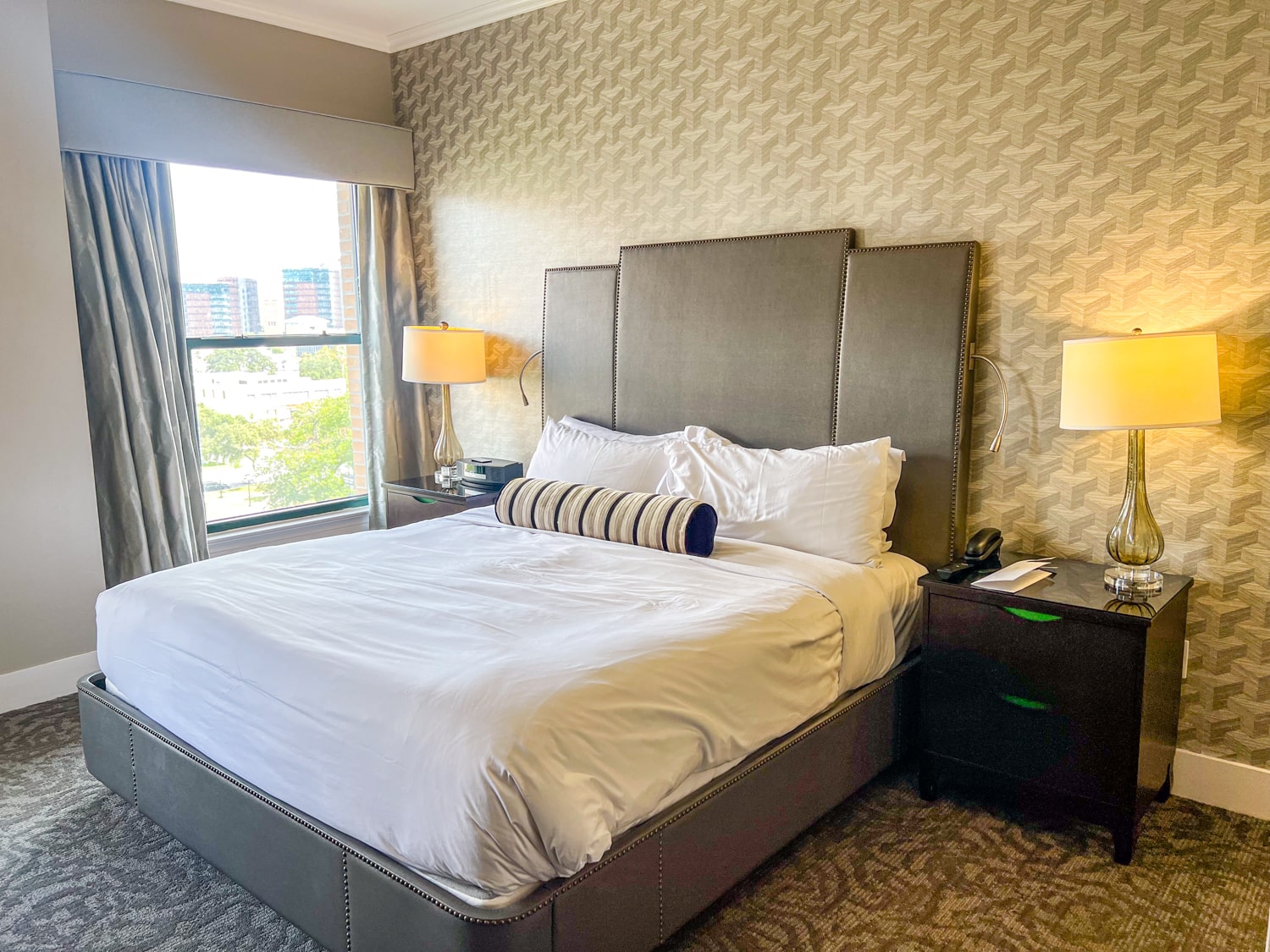 Upon entering our vintage-inspired hotel room, I immediately appreciated the classical music left playing from the Bose stereo by the pillowtop bed. It was a welcome invitation to relax and unpack.
There were small complimentary bottles of water, coffee, and tea, plus tempting boxed snacks and a mini-bar available for a fee. Later, a surprise gift was dropped off: a small cheese plate.
A wall-mounted flat-screen TV with plenty of cable channels suited our plans to hang out at the hotel on Saturday afternoon and watch college football.
We had a mini-fridge and microwave delivered to our room to store and reheat leftovers from our Friday lunch at nearby Pinkerton's Barbecue.
The bathroom was well-lit, clean, and had plenty of thick white towels. The shower pressure, as I later learned, was terrific. And a nightlight button on the wall ensured you didn't have to go temporarily blind if you needed the facilities late at night.
Dining at The St. Anthony
Hotel guests have five options for food and drinks, plus in-room dining.
Gallery on the Park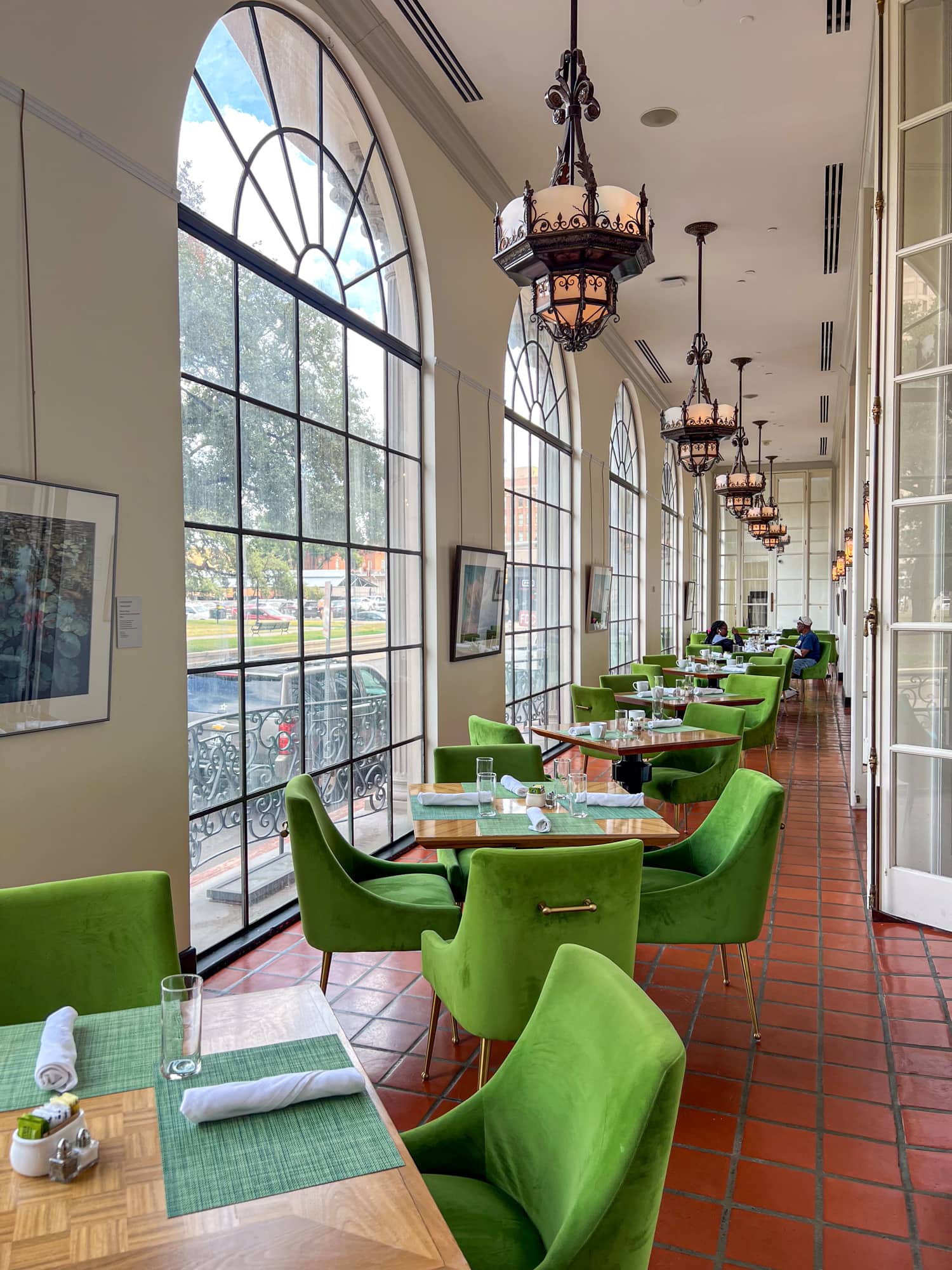 My favorite dining space at The St. Anthony Hotel in San Antonio is Gallery on the Park, a veranda adjacent to Peacock Alley that looks out over Travis Park.
The sunlit room is lined with tables and green velvet seating. Art for sale hangs on the walls, and floor-to-ceiling windows create a sense of transparency.
Even if we hadn't chosen to spend a night at The St. Anthony during our trip to San Antonio, I still would've gone for breakfast at Gallery on the Park.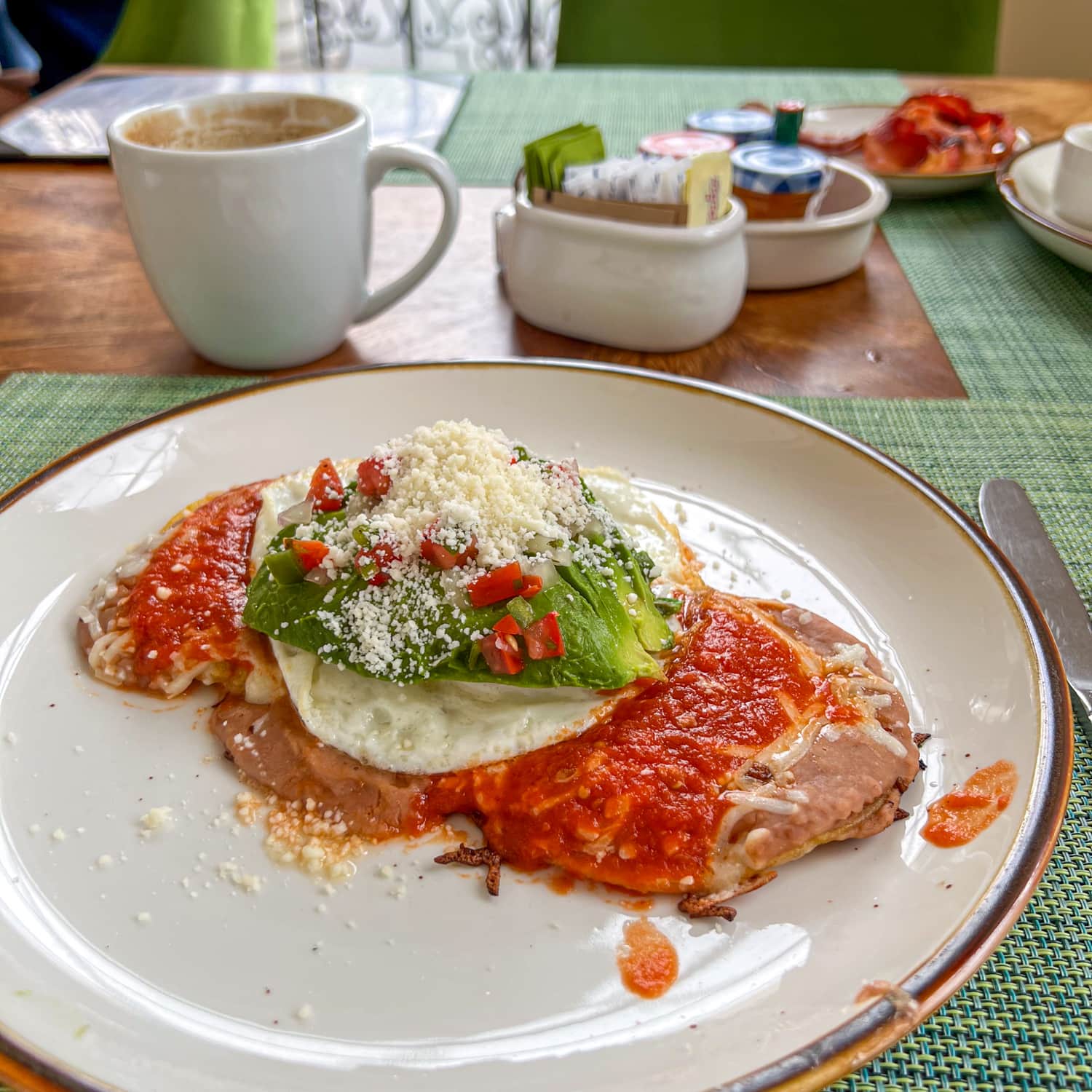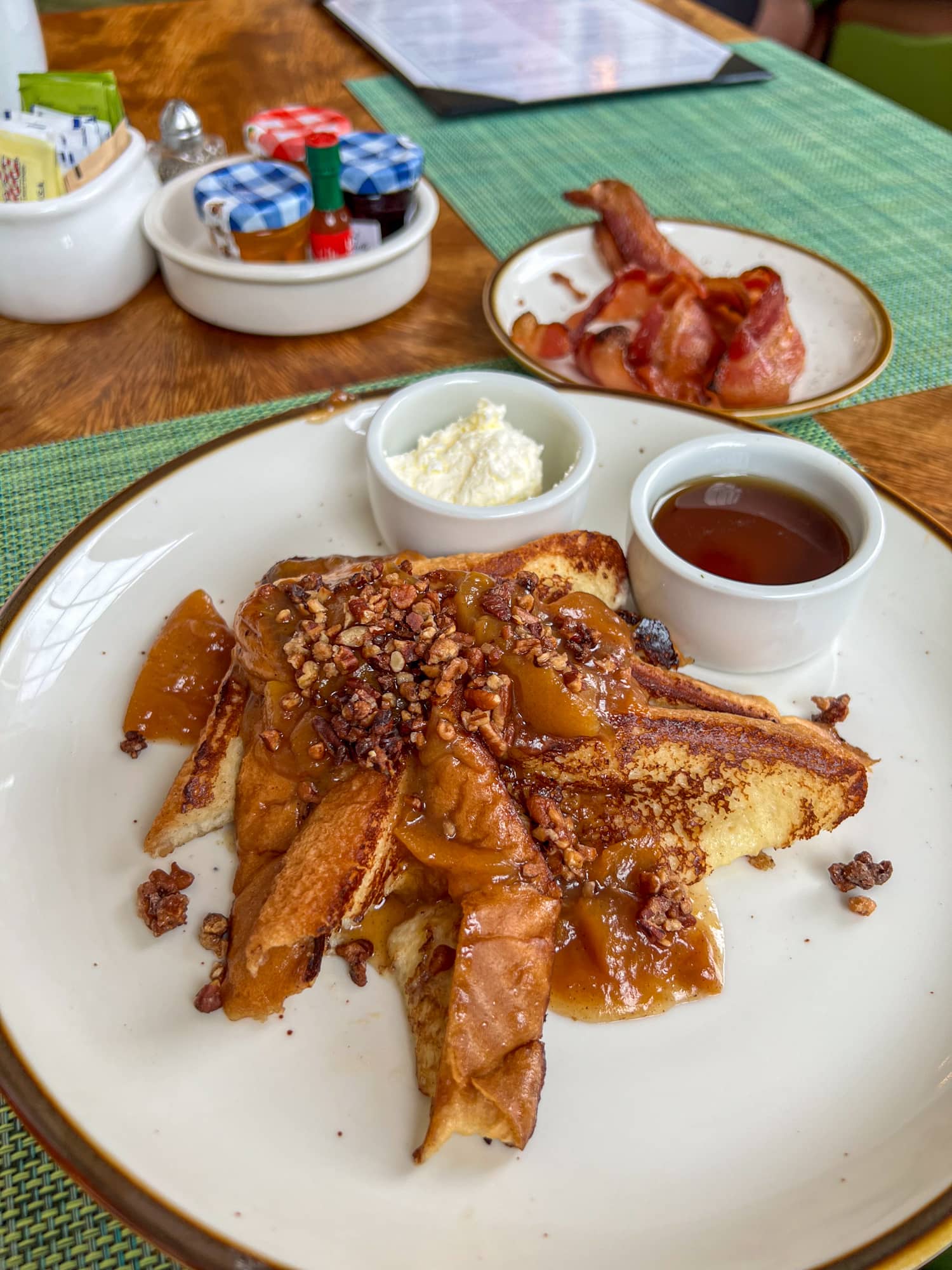 We enjoyed a delicious breakfast on our only morning at the luxury hotel. I ordered an Illy cappuccino and the hotel's signature huevos rancheros.
Kel took the sweet route, choosing French toast with peach preserves, candied pecans, and whipped butter.
The experience of eating breakfast on the veranda reminded me of brunch at The Mansion in Dallas.
The St. Anthony Club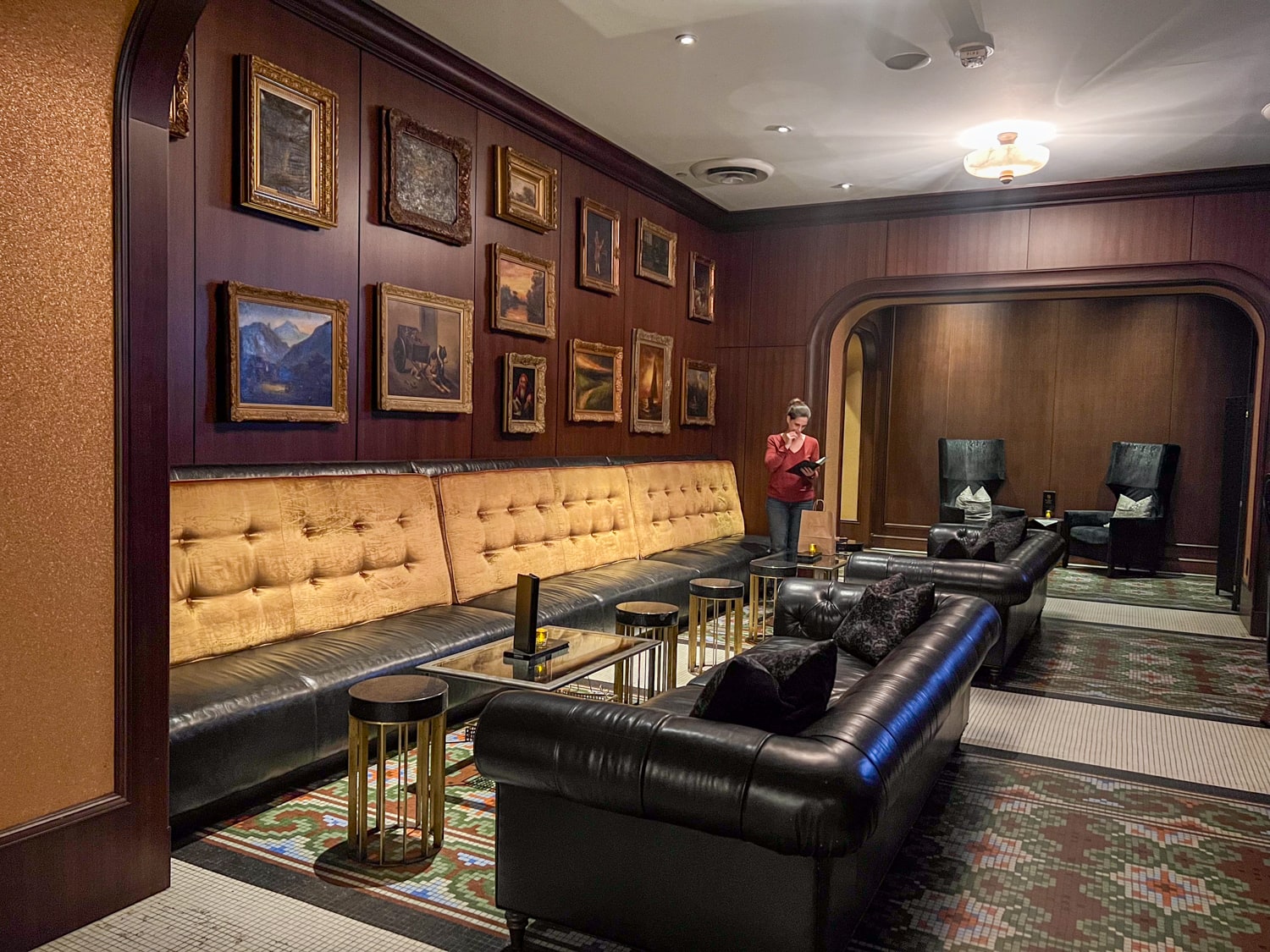 Located off Peacock Alley, The St. Anthony Club was designed by Dorothy Draper in 1959 to look like a British pub. At the time, only men could drink there.
Since then, it has been the setting for important business meetings, such as the 1967 napkin pitch to create Southwest Airlines based on "The Texas Triangle" (short flights between Dallas, Houston, and San Antonio).
During the 1970s, the fate of the San Antonio Spurs basketball team was hashed out over lunch meetings at the club.
Today, what appear to be original mosaics add interest to the floor, and framed paintings hang above the banquette seating. The bartop is relatively small (and rudely interrupted by a support column).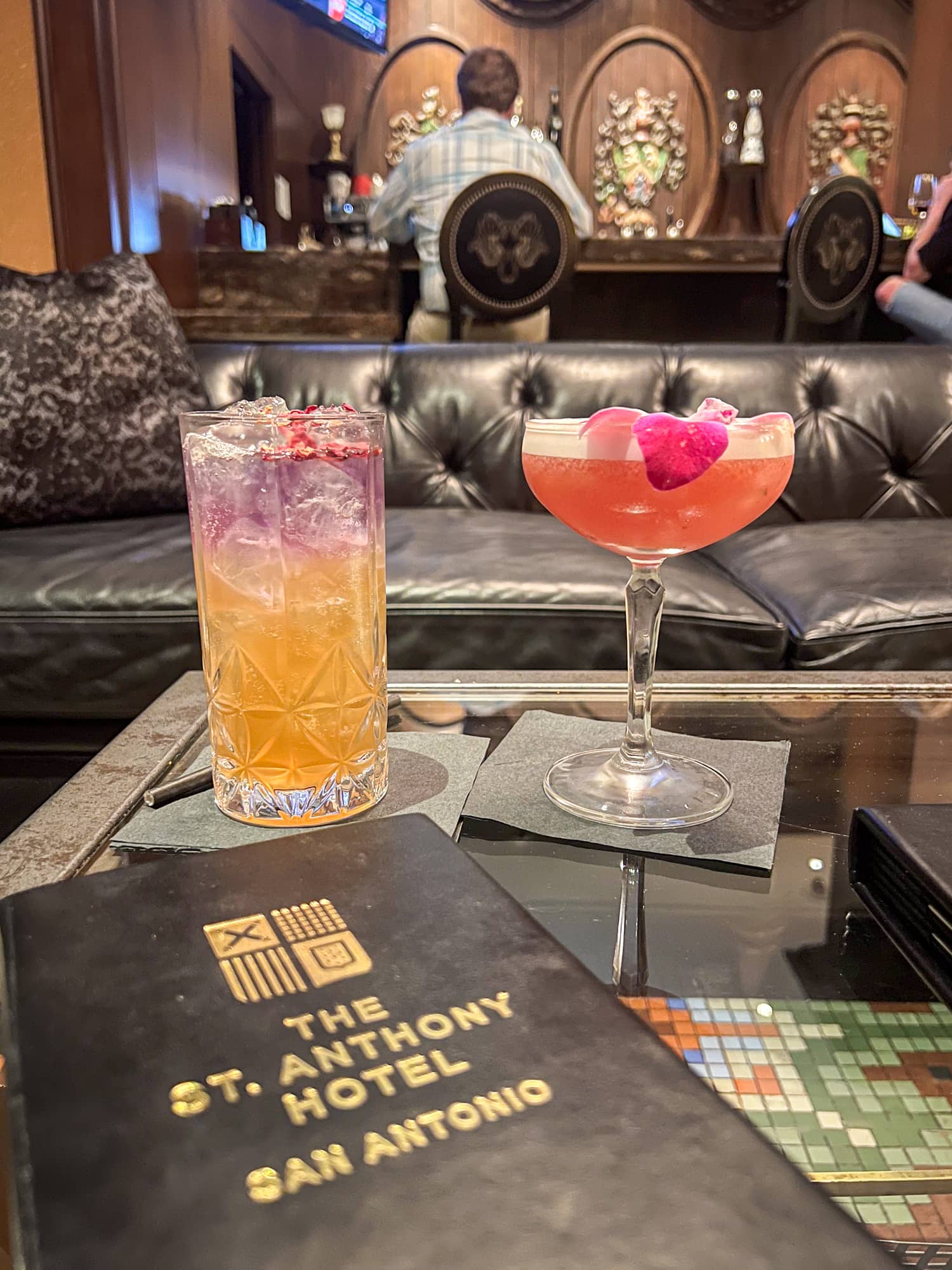 Kel and I used some of our F&B credit to order a round of cocktails:
A Rose By Any Other Name with Empress 1908 Indigo Gin
Head In The Clouds with The Botanist Gin
Both were expertly prepared and beautifully presented in attractive glassware. Kel and I both preferred A Rose By Any Other Name.
Other notable drinks include a Signature Smoked Old Fashioned and a Texas Triangle (Wild Turkey, St. Germain Elderflower, Meletti Amaro, and house-made sours) in honor of their connection to Southwest Airlines.
A selection of wine, beer, and non-alcoholic drinks is also available.
HAUNT Lounge
It wasn't until I began writing this story that I realized I'd missed a bar during my stay at the hotel.
The HAUNT Lounge is a ground-floor craft cocktail bar featuring signature drinks named after the ghosts associated with The St. Anthony Hotel. Read the spirited stories behind the beverages on HAUNT's website.
Happy hour prices are available from 5 p.m. to 7 p.m., Tuesday to Thursday, and 4 p.m. to 6 p.m., Friday and Saturday. There's live music on the weekends.
Rooftop Pool Cabana Bar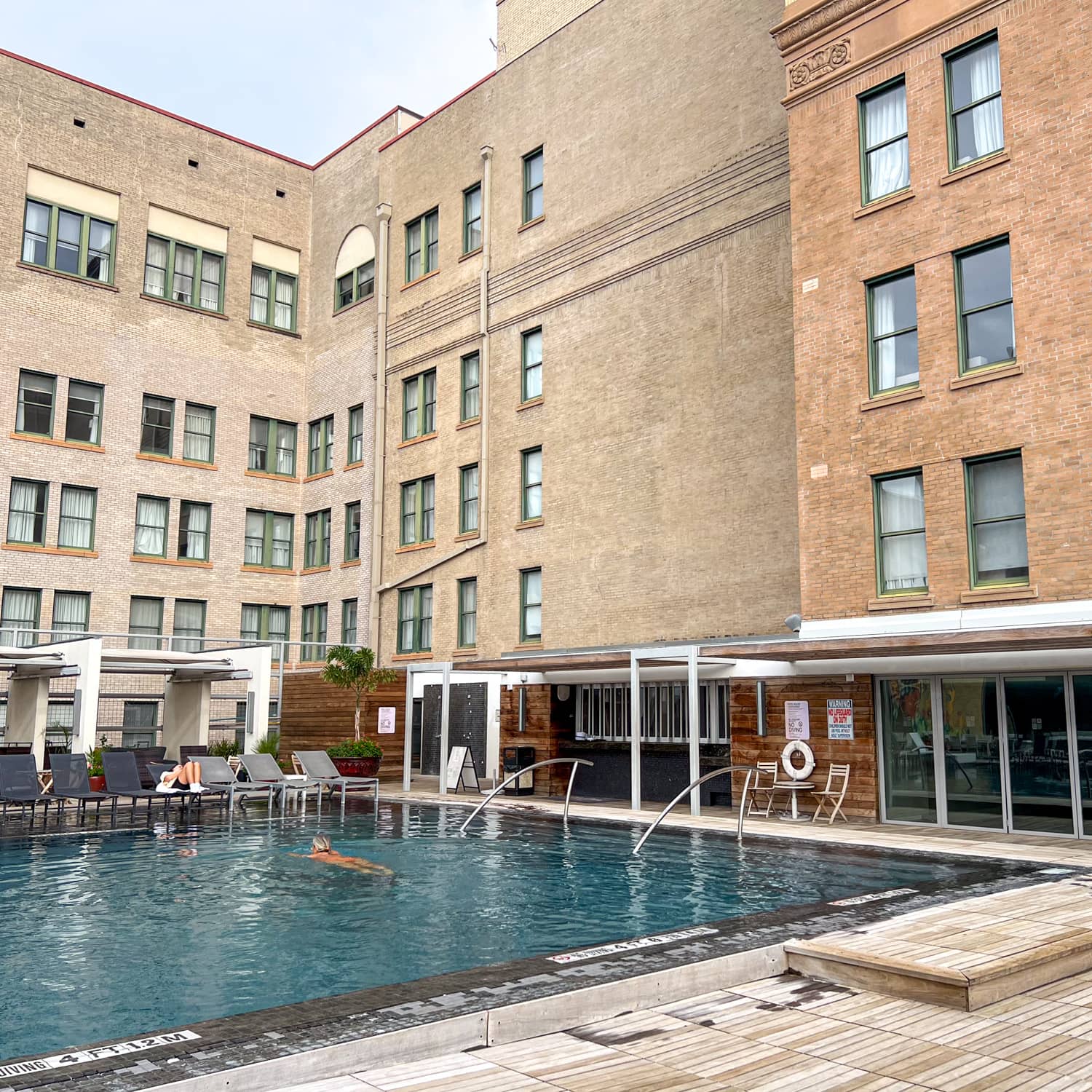 For city views in the heart of downtown San Antonio, head to the rooftop infinity pool on the sixth floor. In the afternoons, food and drinks are available from the Cabana Bar. And for those who appreciate some shade (me!), private cabanas are available.
The sixth floor is also where you'll find the Health Club (fitness center), should you want to exercise during your stay.
ReBelle
The St. Anthony's largest restaurant is ReBelle, an upscale seafood spot with local chef Stefan Bowers leading the kitchen.
The menu features fresh East Coast oysters, shrimp ceviche, shrimp and grits, and a 5-ounce Maine lobster roll with caramelized garlic-parmesan butter (yes, please!).
Not a seafood fan? There are plenty of pasta and meat dishes, including rigatoni with a spicy red sauce, tagliatelle Bolognese, a 16-ounce ribeye, and a 10-ounce filet mignon.
While I'd chosen Clementine restaurant, a two-time James Beard Award semifinalist, for dinner the night we stayed at The St. Anthony Hotel, I intend to try ReBelle on a future visit to San Antonio.
Room Service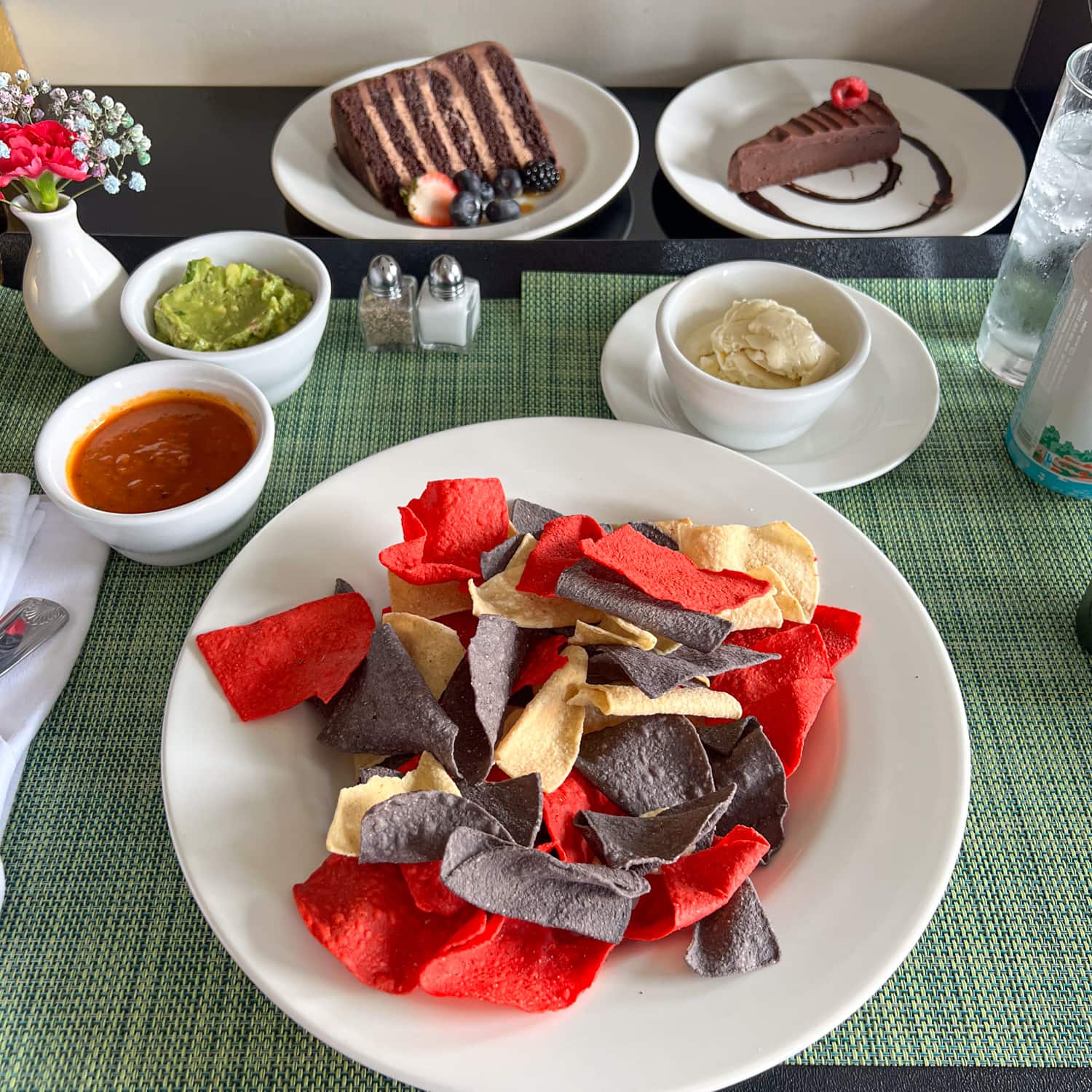 Last but not least, there's always room service. Kel and I used the balance of our $100 F&B credit toward some snacks on Saturday afternoon.
We ordered chips with salsa and guacamole as a starter and slices of the six-layer chocolate mousse cake and chocolate torte for dessert.
The meat of our lunch was leftover barbecue from Pinkerton's. Upon request and depending on availability, the staff can deliver a microwave to your room.
We packed up and checked out around 3 p.m. after watching Texas football lose their only regular season game of the year to rival Oklahoma.
Related: The CURRENT Hotel in Tampa
Final Thoughts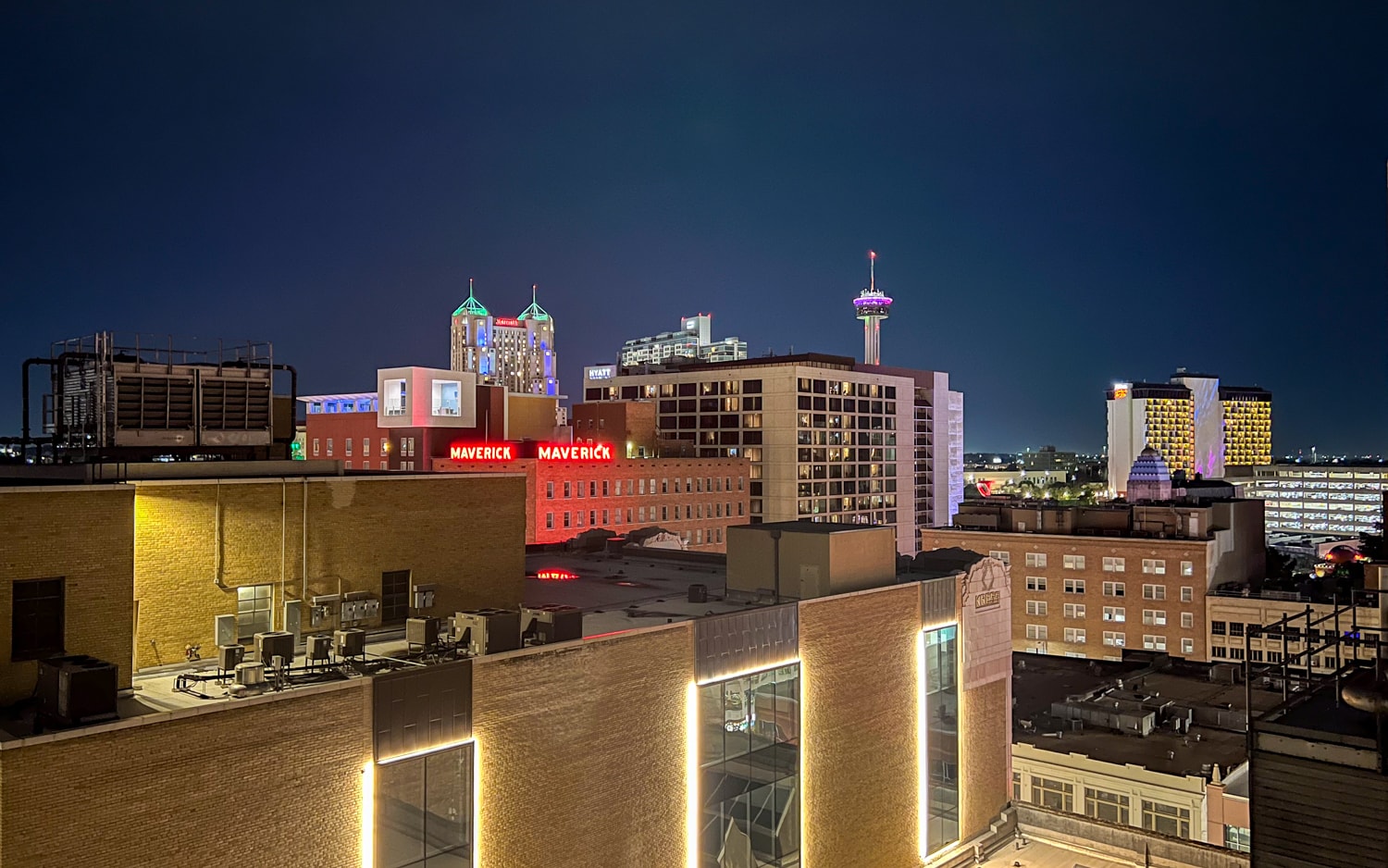 The St. Anthony, a Luxury Collection Hotel in San Antonio, TX, lived up to its legendary status and met my every expectation.
The combination of history, modern amenities, and accommodating guest services made our brief stay memorable.
Whether sipping cocktails in the storied St. Anthony Club or lounging by the rooftop pool, every corner of this hotel whispered tales of the past while embracing the present.
Leaving The St. Anthony, I carried with me memories of a luxurious stay and an appreciation for a National Historic Site that continues to be a valued part of San Antonio's rich history.
To see current rates and availability, visit Booking.com.