La Petite Grocery occupies a humble yet historic space on Magazine Street in a city replete with restaurants calling for your attention.
Opened in 2004 by chef-owner Justin Devillier and wife Mia, La Petite Grocery is the latest incarnation of a late 1800s building used as a tea, coffee, and butter depot, butcher shop, and, yes, grocery store.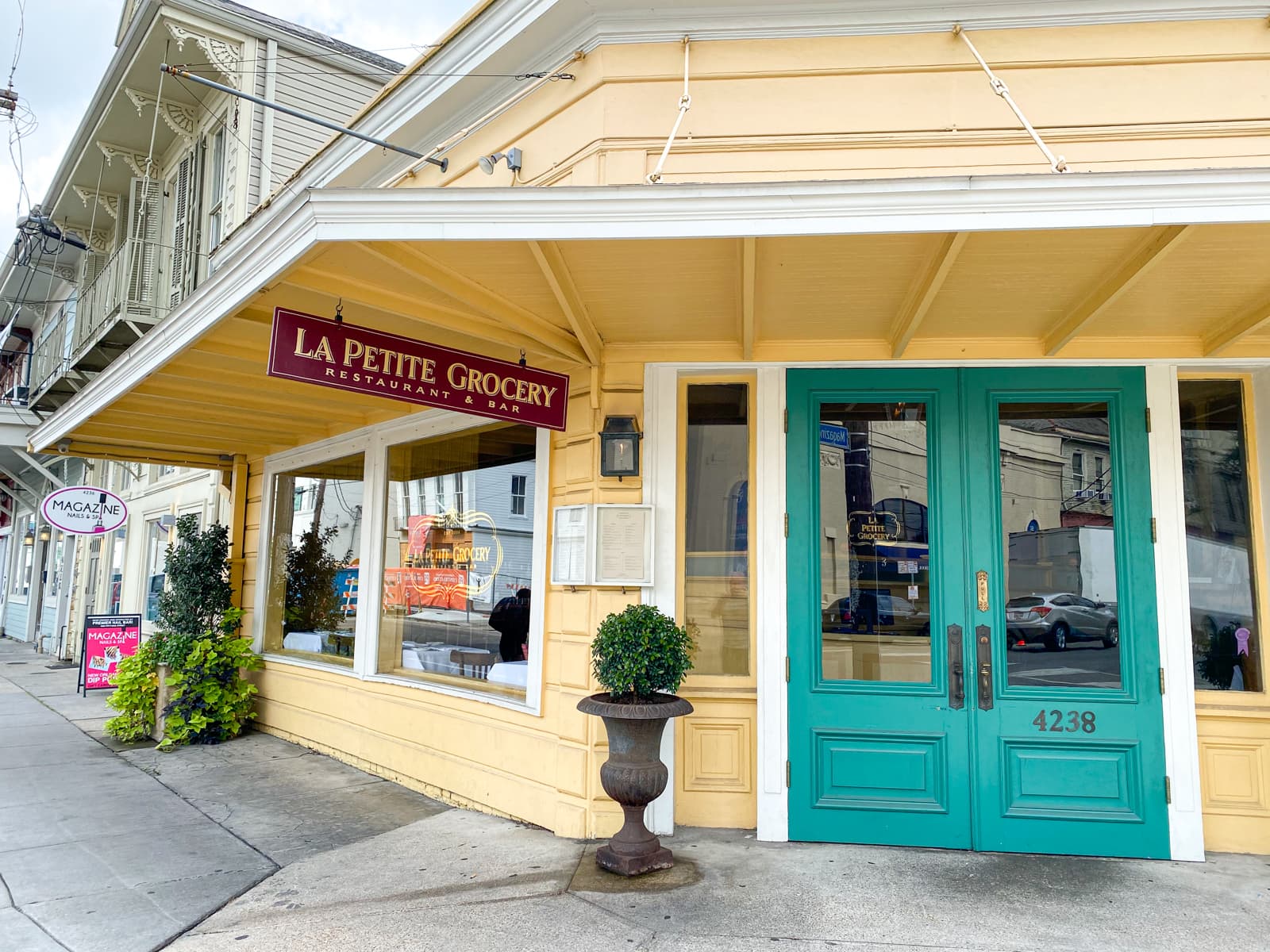 Here at their Uptown restaurant, a half-hour's drive west of the French Quarter, chef Devillier, winner of a James Beard Award for Best Chef: South, cooks up modern takes on traditional New Orleans cuisine.
Turtle bolognese and blue crab beignets are two of his signature dishes.
The first time I tried to eat at La Petite Grocery, one of the best restaurants in New Orleans, I was without a reservation and couldn't be seated.
Several years later, when I returned to New Orleans for the Final Four with my girlfriend, Kel, I made sure we had a lunch reservation weeks in advance.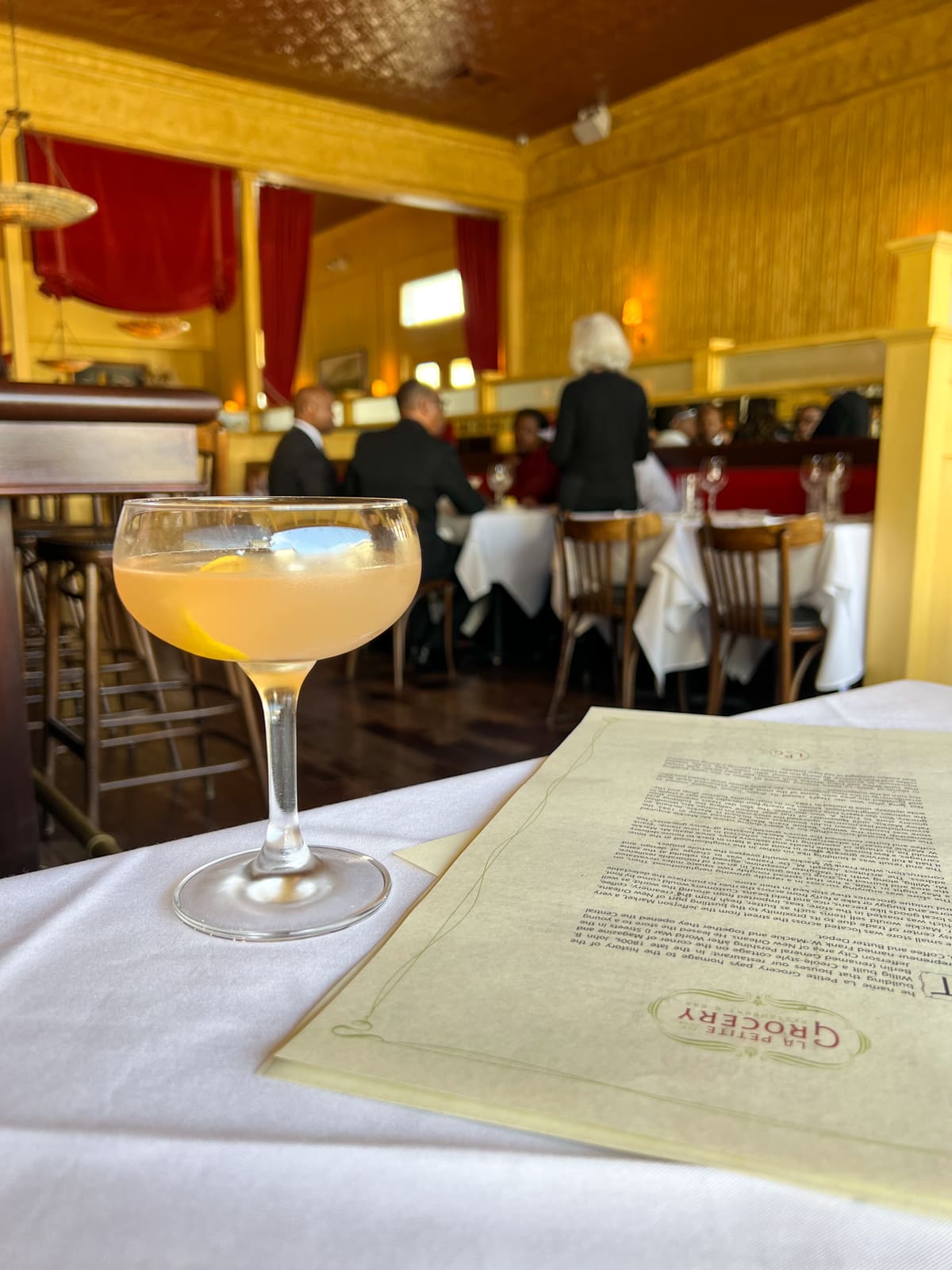 Lunch at La Petite Grocery
We arrived at 11:30 a.m. on a Thursday, as La Petite Grocery was seating its first guests. The hostess led us to the perfect table for two next to a front window.
The restaurant's interior, rich in reds and yellows, feels refined, yet La Petite Grocery is more of a neighborhood restaurant by its own account.
New Orleans is home to some of the best cocktail bars in the country, and that expertise extends to restaurants.
The cocktails looked enticing, so I ordered a Bees Knees with gin, honey, lavender, and lemon.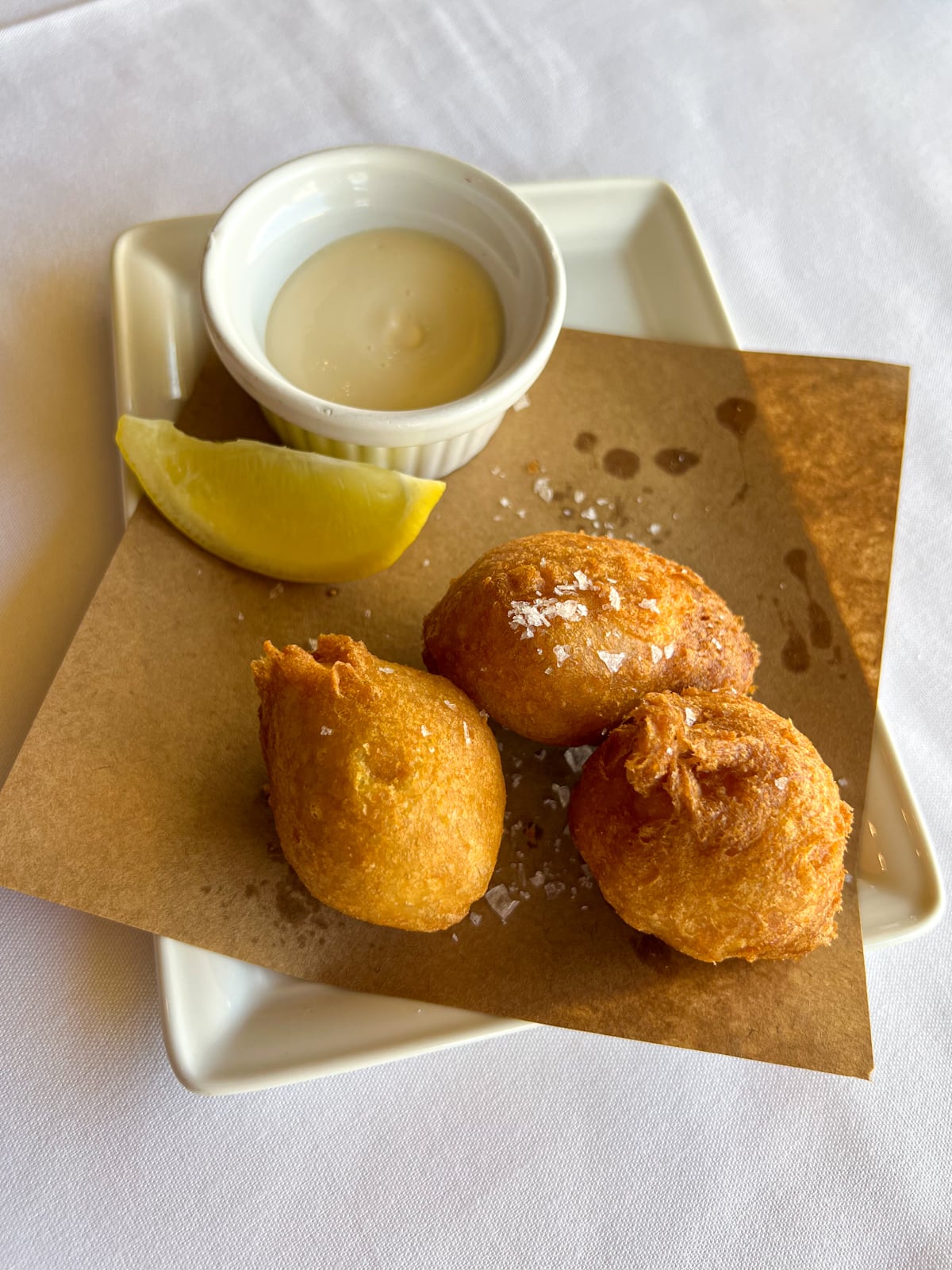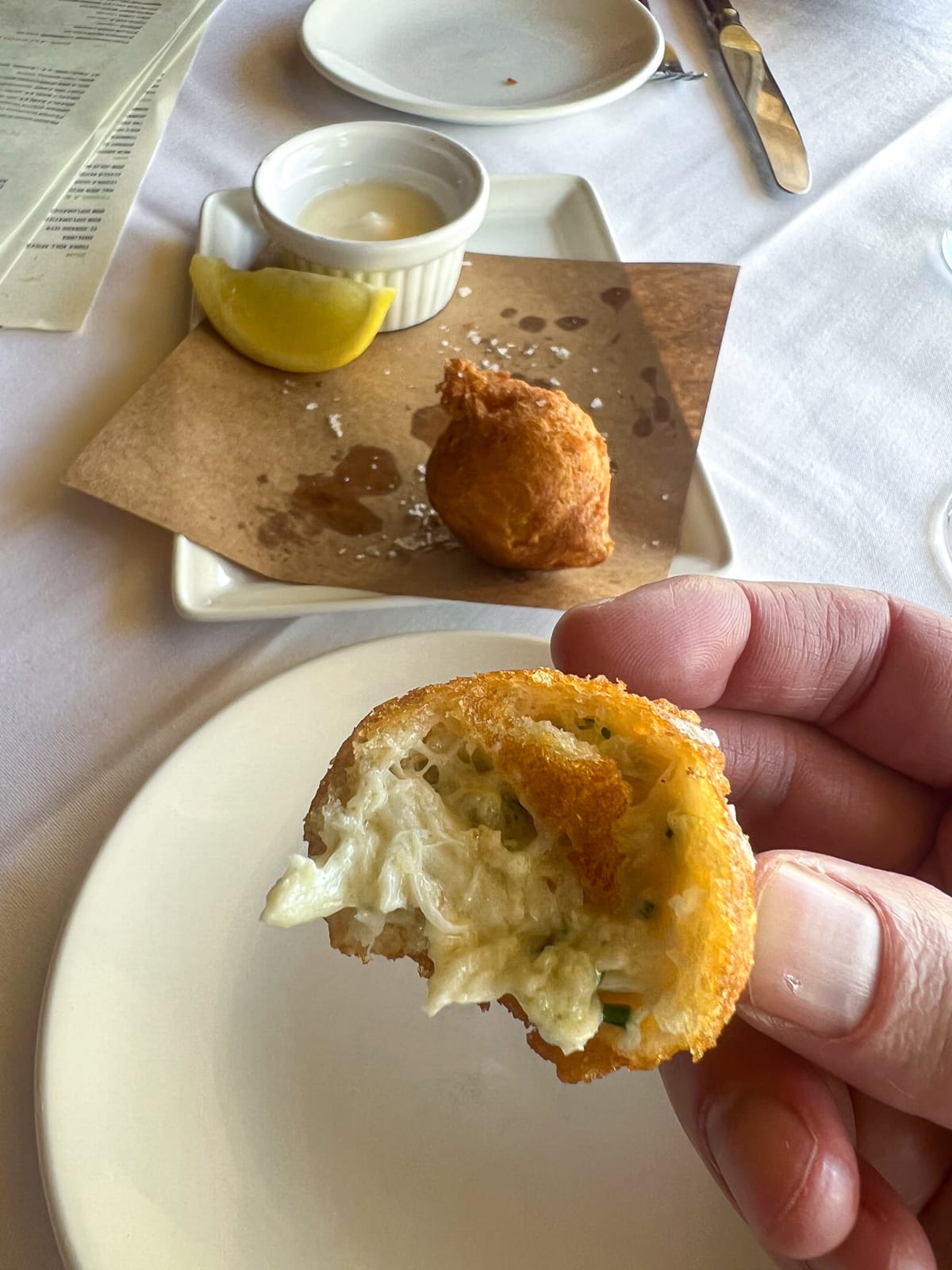 Appetizers
An order of La Petite Grocery's famous blue crab beignets was a given; Kel and I were on a mission to try the best beignets in New Orleans.
Our appetizer arrived with three delicately deep-fried balls of crabmeat topped with sea salt flakes and served with a lemon wedge and malt vinegar aioli.
Biting into the warm blue crab beignet was delightful. The crispy exterior offers a slight and satisfying crunch. It would not be hard to eat a lot of these.
Other appetizers included yellowfin tuna tartare with olives and cucumbers, ricotta dumplings with golden beets, and crispy pork belly with kimchi and fish sauce caramel.
See also: Galatoire's on Bourbon Street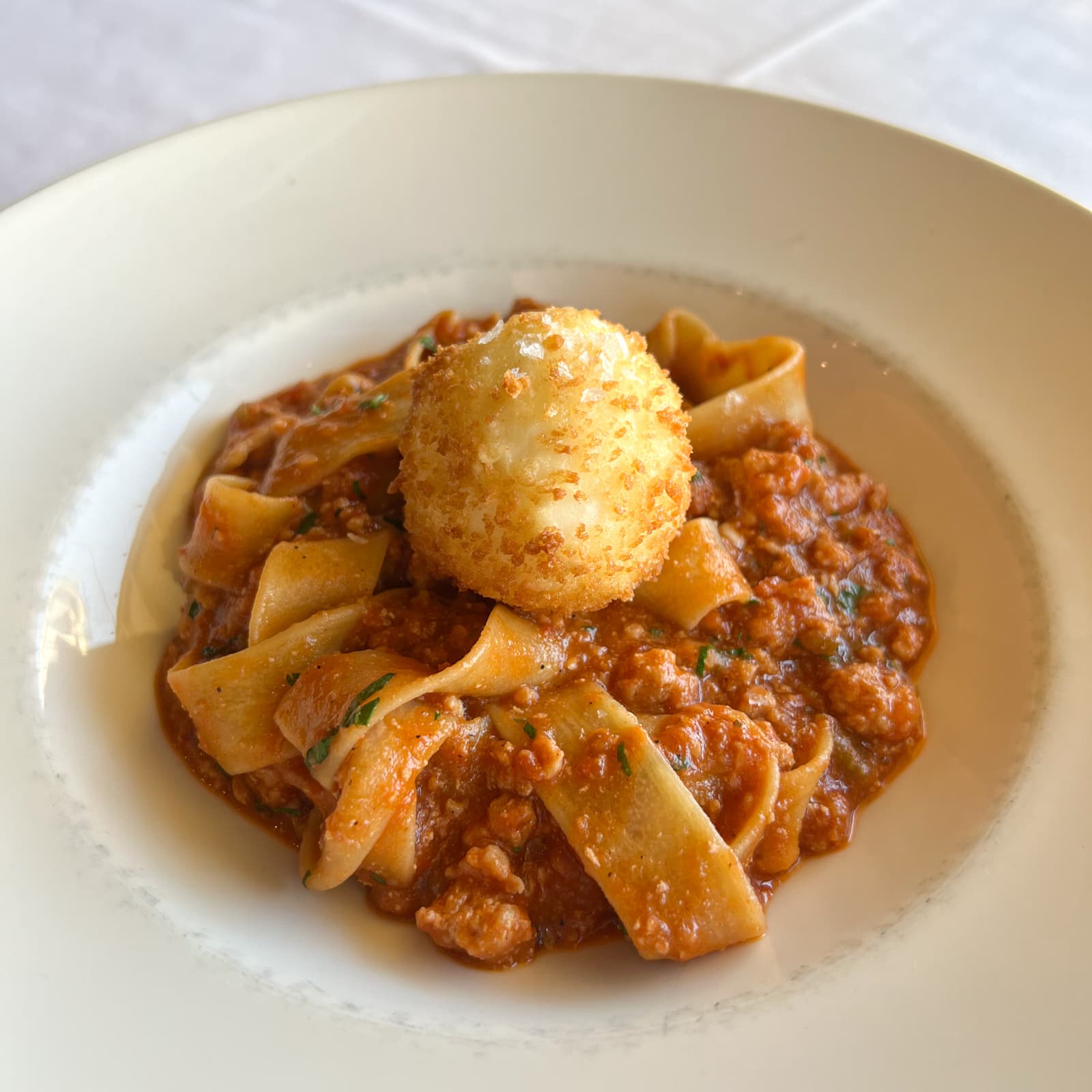 Entrees
The first item that caught my attention was the La Petite Grocery cheeseburger with house pickles, onion marmalade, arugula, whole grain mustard, aioli, gruyere, and hand cut fries.
I was seriously tempted to get the burger (minus the pickles) but wanted to extend myself a little.
Next on the menu was the alligator bolognese—that's more like it! Since the turtle bolognese I'd read about wasn't an option, it was clear they'd subbed the 'gator.
The bolognese was served with tagliatelle pasta, sherry, and a fried soft-boiled egg. The egg yolk inside was perfectly cooked.
I can't say that I discerned a unique flavor of alligator from the meat sauce; it could've been beef for all I knew, but it was still a fun choice.
Along with the burger, another contender for my money was the roasted lamb t-bones and the Gulf shrimp and grits with shiitake mushrooms.
The paneed rabbit with spaetzle and heirloom carrots is a menu mainstay. I hadn't ordered rabbit since Joe Beef in Montreal.
Roasted hanger steak, chicken breast, pork shank, and shellfish stew rounded out our choices.
Related: Pasjoli French Bistro in Santa Monica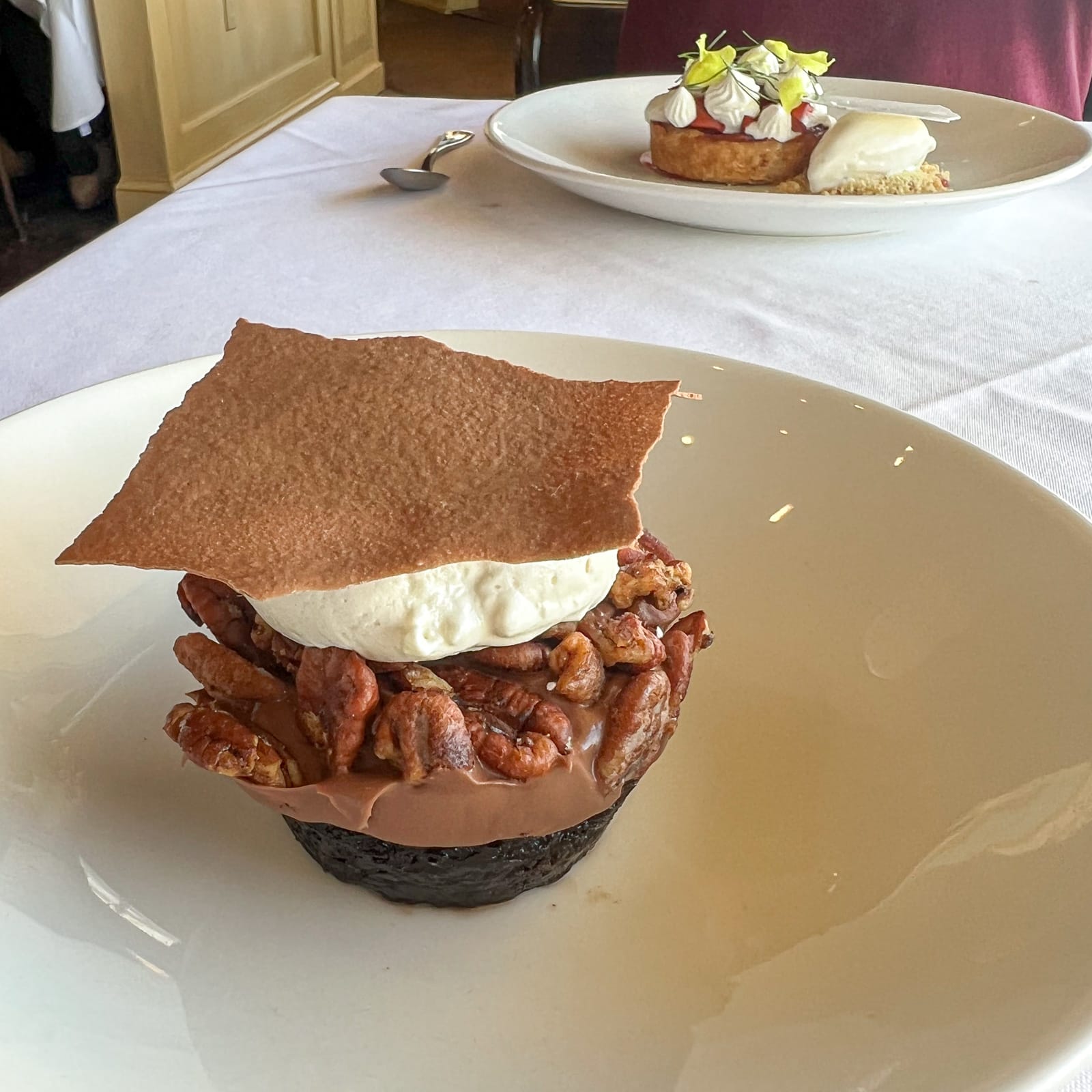 Dessert
Our dining experience at La Petite Grocery in New Orleans was going perfectly. The setting, service, and food matched my expectations, and so it was on to dessert.
Kel and I love our sweets, so we almost always order something for dessert. When we see several options that light up our eyes, we'll each order our own and share.
I chose the chocolate chess pie with tamari milk chocolate ganache, smoked pecans, cane sugar Chantilly, and dehydrated chocolate mousse.
The pie came out in the shape of a cupcake, and I immediately sunk my fork into it.
Overall, we enjoyed this sinful dessert; I think the pecans would've been better had they not been smoked. The smokey flavor was a bit too strong.
Meanwhile, Kel enjoyed her pretty Ponchatoula strawberry tart with heirloom cornmeal crust, macerated berries, and ricotta cream.
The butterscotch pudding with peanut crumble, sponge cake, bourbon cream, and Benton's country ham will have to wait for next time. There's only so much we could eat.
Check La Petite Grocery's website for the latest menu options, as they change some dishes based on what's in season.
Plan Your Visit
Address: 4238 Magazine Street, New Orleans, LA lapetitegrocery.com
Hours
Lunch - 11:30 a.m. to 2:30 p.m., Thursday to Saturday
Dinner - 5 p.m. to 9:30 p.m., Sunday to Thursday, 5 p.m. to 10:30 p.m., Friday and Saturday
Brunch - 10:30 a.m. to 2:30 p.m., Sunday
Dress code: Casual
Reservations: Recommended. Make a reservation via Open Table.