The best restaurant on Bourbon Street is Galatoire's, a century-old institution serving French Creole cuisine.
Opened in 1905 by Jean Galatoire, a French immigrant, it has stood the test of time and New Orleans revelry right outside its doors.
In 2004, as Galatoire's Restaurant approached its 100th anniversary, it was recognized with a James Beard Award for "outstanding restaurant" in the United States.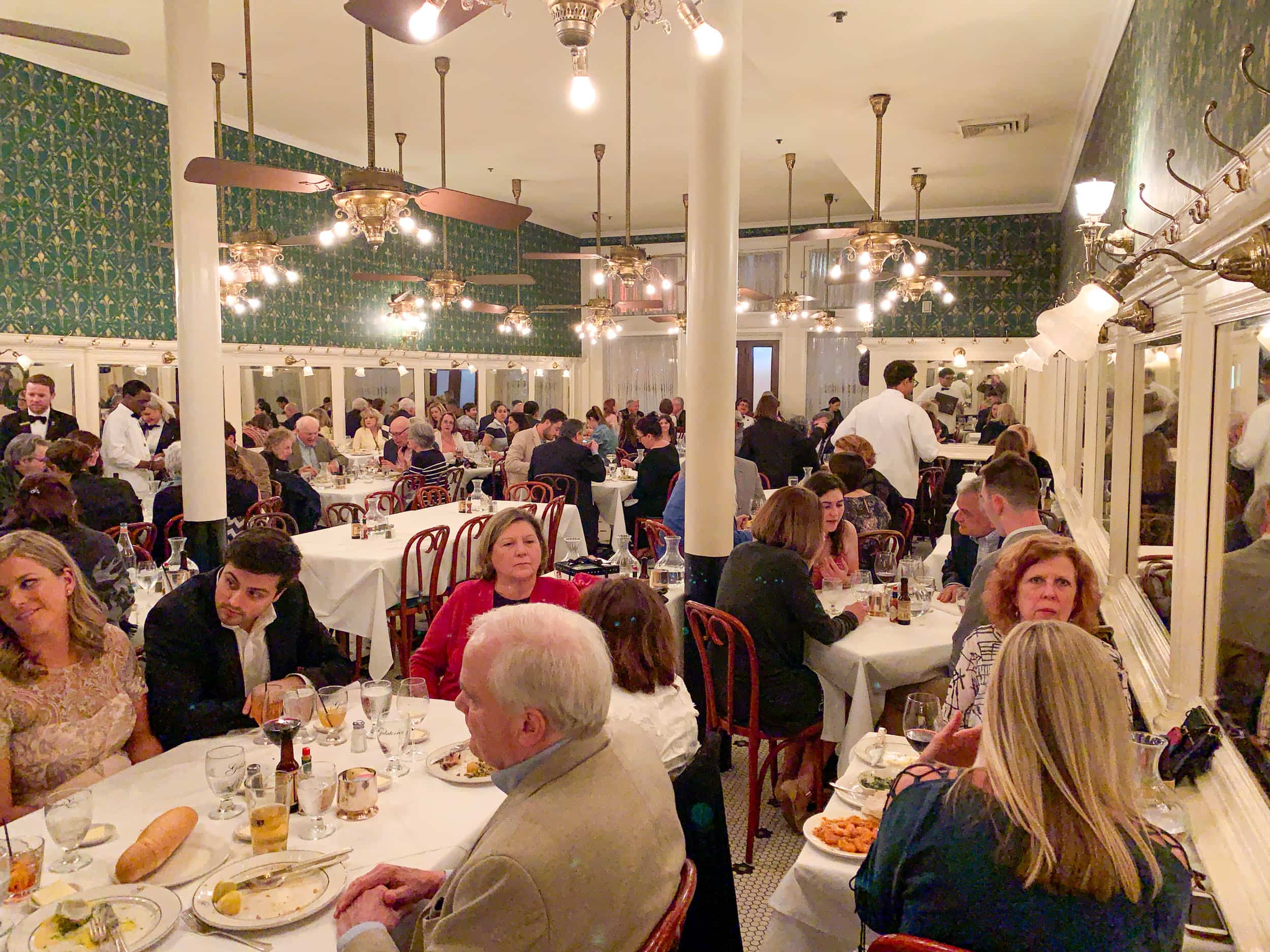 I'd read on their website that gentlemen are required to wear a jacket for dinner, so it was with a bit of hesitation that I stepped inside at 7:15 p.m. on a Sunday last spring.
Thankfully, the host said it wasn't a problem that I lacked one. They have a closet full of men's jackets to loan, and I am otherwise good in black jeans and a collared shirt.
The host sized me up, assisted me with a jacket, and led me to a corner table at the back of the restaurant. Seated with my back against the wall, I had a full view of the large dining room on the first floor.
I couldn't have asked for a better spot unless I were Tennessee Williams, who preferred a table by the front windows. He mentions Galatoire's in A Streetcar Named Desire, his most famous play.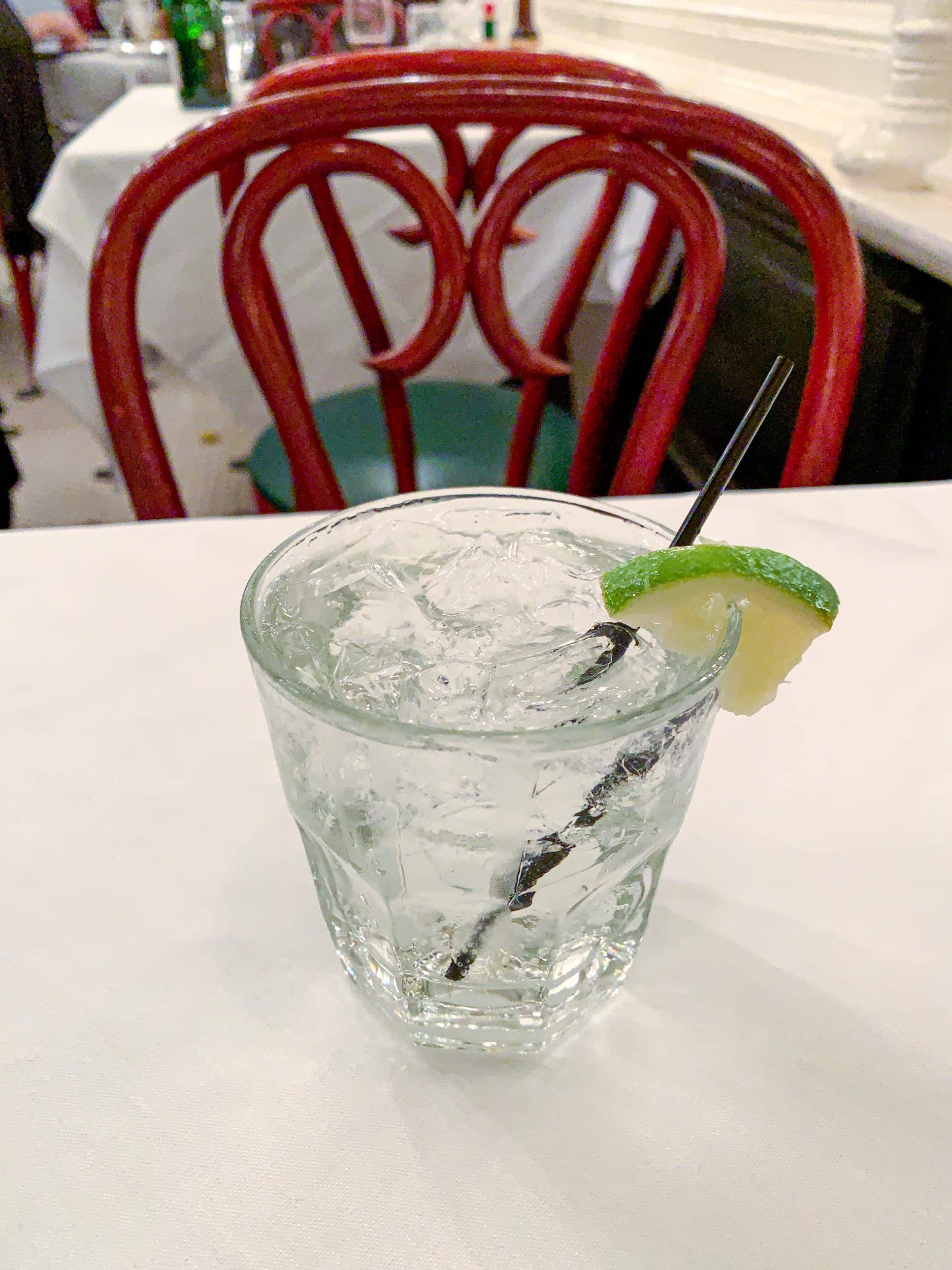 Dining at Galatoire's
Mirrors run the length of the walls at Galatoire's, with numerous brass coat hooks above them.
Ceiling fans, white tablecloths, and a black and white tile floor add Parisian charm, while the hand-painted gold fleur-de-lis pattern on the walls imitates the original wallpaper.
One of the tuxedo-wearing waiters, Adam, greeted me enthusiastically at my table.
To start, I ordered a Hendrick's Orbium Gin and tonic. It was the first time I'd seen this offering, and I wanted to try it.
According to Hendrick's website, this unique gin is:
"...instilled with additional extracts of Quinine, Wormwood and Lotus Blossom, the result is an oddly exquisite gin that sits roundly on the palate, complementing our beloved cucumber and rose essences."
It tasted different from the regular Hendrick's Gin, which I enjoy, but I finished it undecided whether it was worth the extra four dollars.
Related: Sunday Jazz Brunch at Arnaud's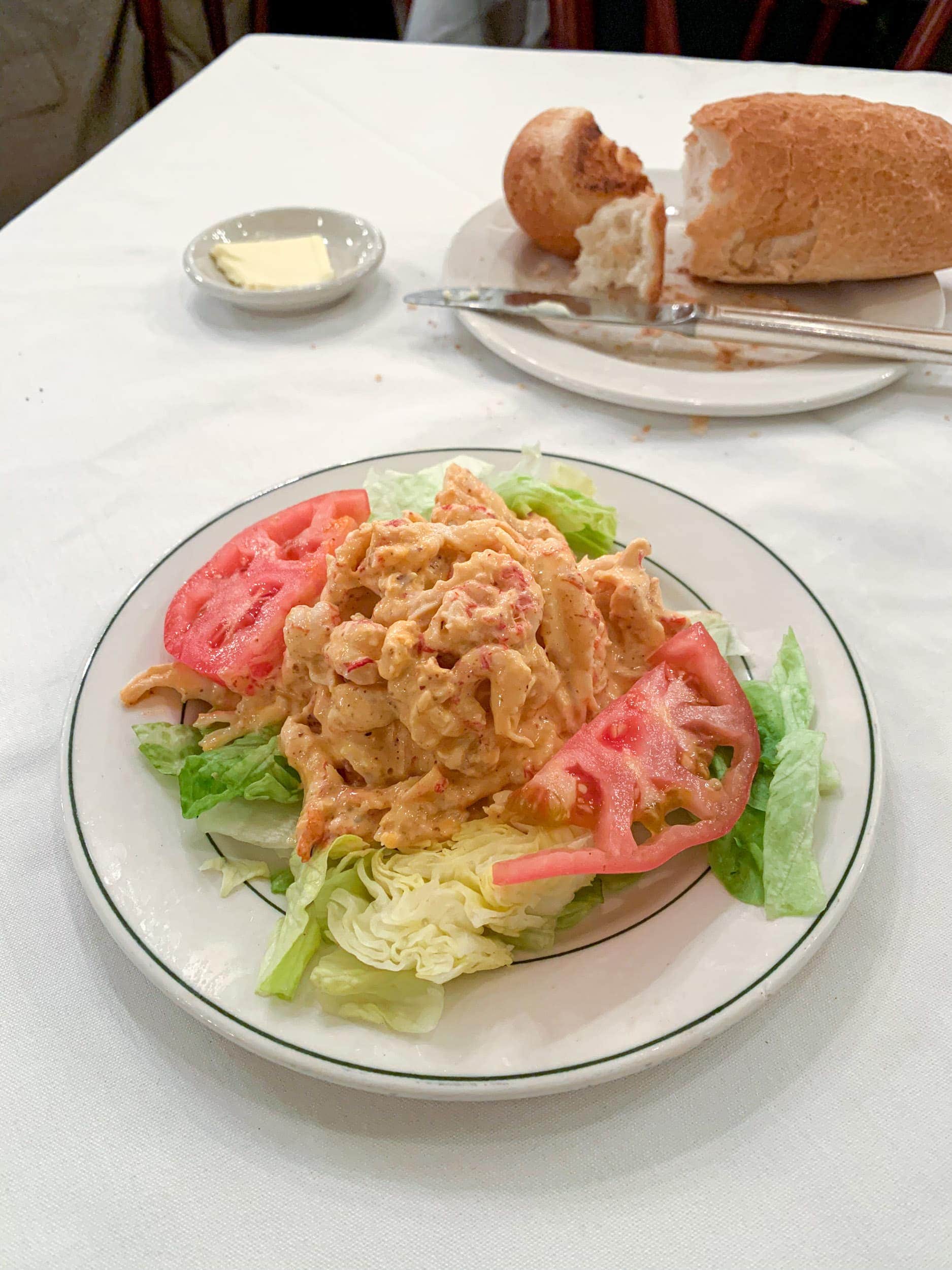 The Menu
The menu at Galatoire's is as full of choices as Antoine's, making it hard to decide what to order.
Seafood features heavily. Taking Adam's advice into consideration, I went with the Galatoire's classic signature fare.
Crab Maison
Instead of the common shrimp remoulade, I chose the signature Crab Maison with fresh Louisiana jumbo lump crab meat, green onions, capers, and creole mustard aioli for an appetizer.
A generous serving of crab was delivered on a bed of iceberg lettuce with a few tomatoes for color. The generous portion was more than enough to serve two people.
According to a recipe for Crab Maison on WAFB 9, Galatoire's uses 750 pounds of crabmeat per week, much of it for this dish alone.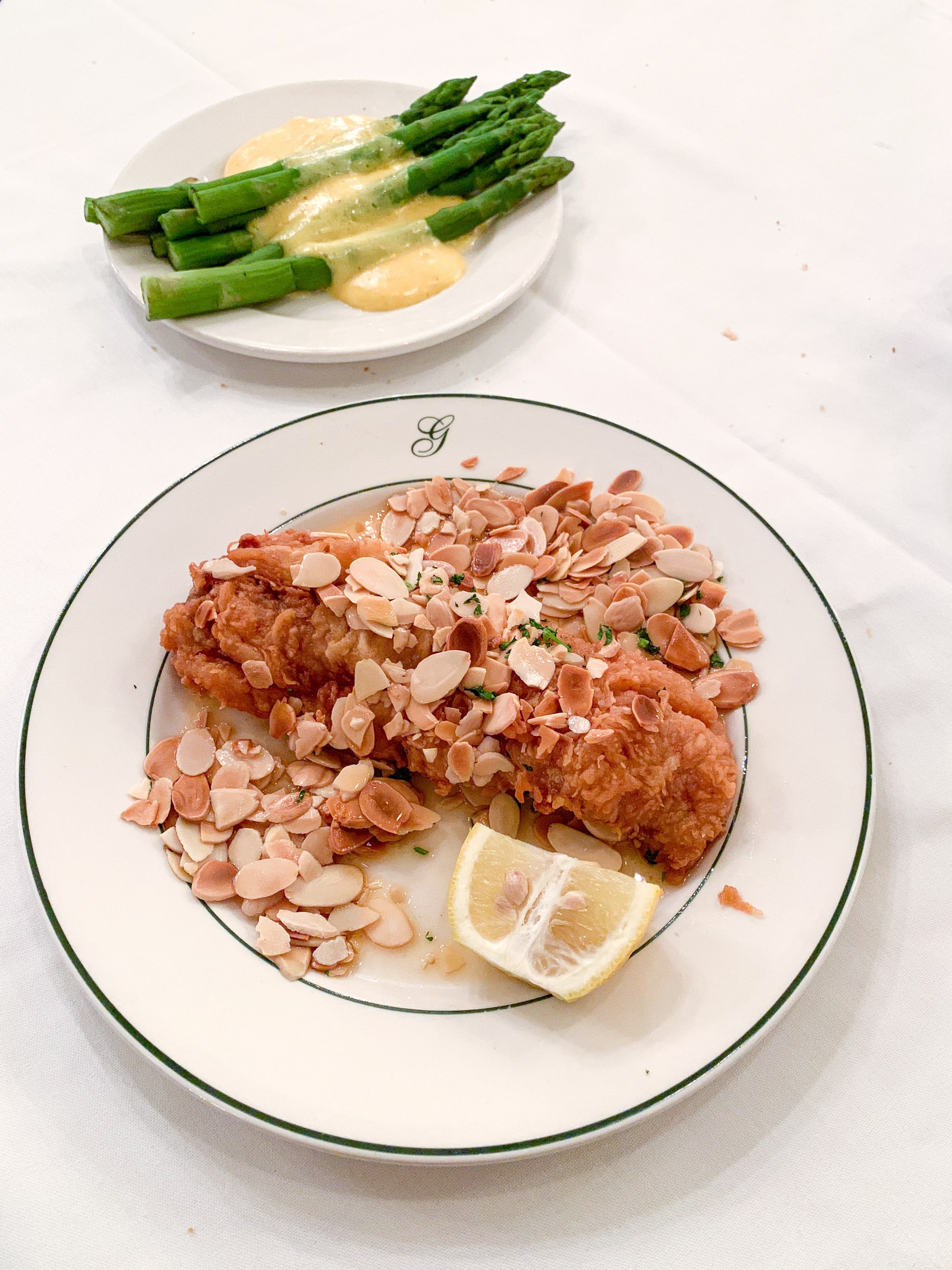 Trout Meuniere Amandine
Among the many seafood entrees, Adam said Galatoire's most famous was the trout amandine, a dish I'd never had.
Speckled trout fresh from the Gulf of Mexico is seasoned and covered in flour before being lightly sauteed.
The fish is topped with brown butter and a healthy portion of sliced almonds with lemon for garnish. It only took one bite to understand why this dish is a crowd favorite.
The fish and breading are soft and delicious. It was a revelation, and it didn't take long to clean my plate once I got going.
See also: Best Restaurants in New Orleans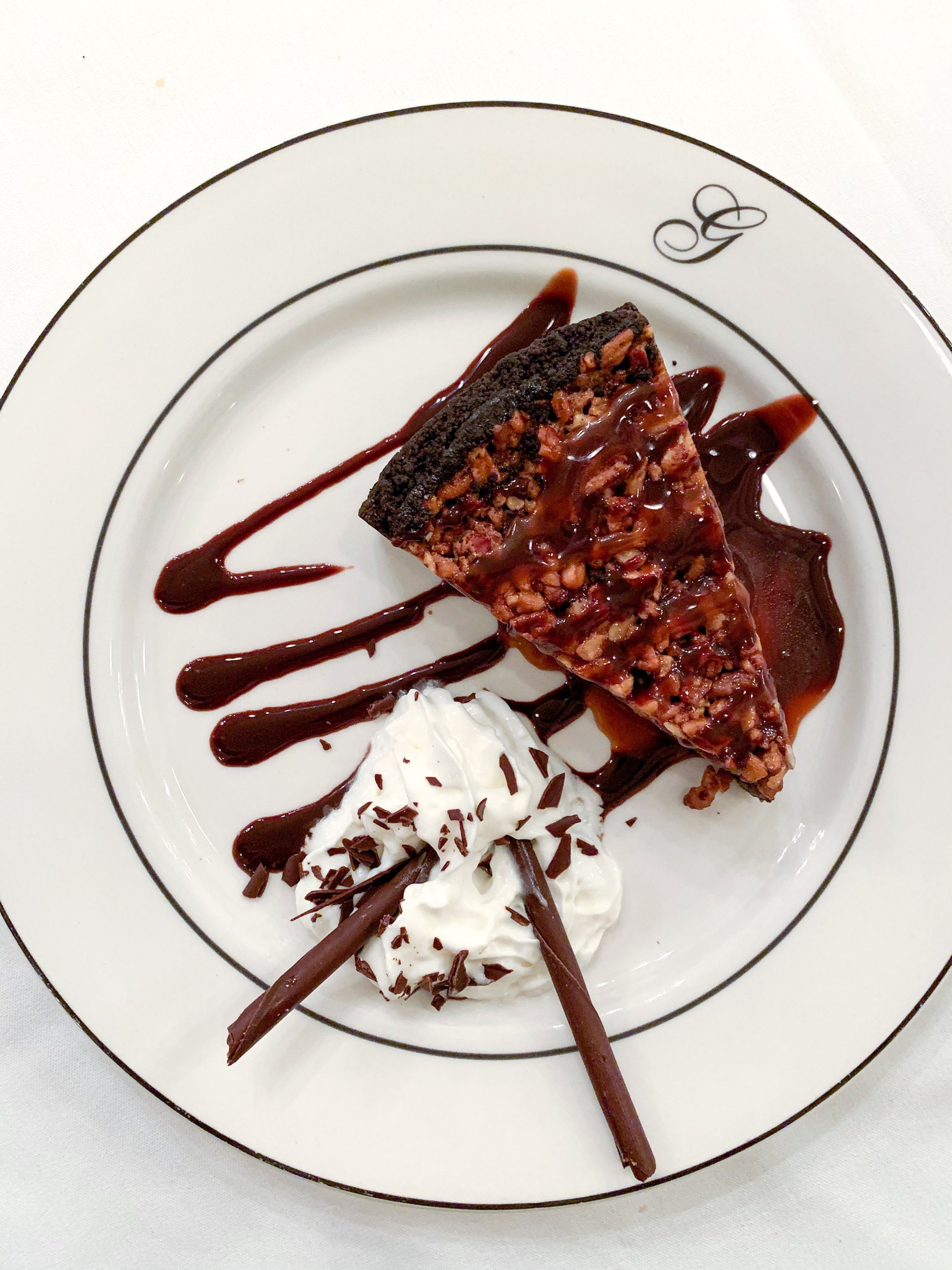 Pecan Pie with Whiskey Caramel Sauce
Last but certainly not least, there's a long list of incredible offerings on the dessert menu.
Options included caramel cup custard, bread pudding, mocha panna cotta, and sweet potato cheesecake.
My eyes honed in on the black bottom pecan pie with whiskey caramel sauce and whipped cream.
And boy, were they thankful I listened because digging into that pie was a helluva way to end dinner.
Overall, I had a fantastic dinner at Galatoire's. They earned my respect with their incredible food, friendly service, and convivial atmosphere. Two thumbs way up.
This classic New Orleans restaurant in the heart of the city is an excellent option for kicking off a night in the French Quarter or celebrating special occasions.
Plan Your Visit
Address: 209 Bourbon St., French Quarter, New Orleans
Hours: 11:30 a.m. – 9 p.m., Wednesday to Sunday
Dress: business casual for lunch — collared shirts for men, no shorts, t-shirts, or flip-flops. Jackets are required for men starting at 5 p.m. every night and all day Sunday. Dark jeans with no rips or holes allowed.
Reservations: Reservations are available for the main dining room and the second-floor dining room.