Arnaud's Restaurant in New Orleans offers diners in the heart of the French Quarter a quintessential Big Easy experience — the jazz brunch.
In the city that gave us two new traditions, jazz, and brunch, there are many places to enjoy, but few with the history of Arnaud's.
Every Sunday at this 104-year-old restaurant, just off Bourbon Street, classic Creole cuisine is served in the beautifully restored main dining room as a jazz trio performs.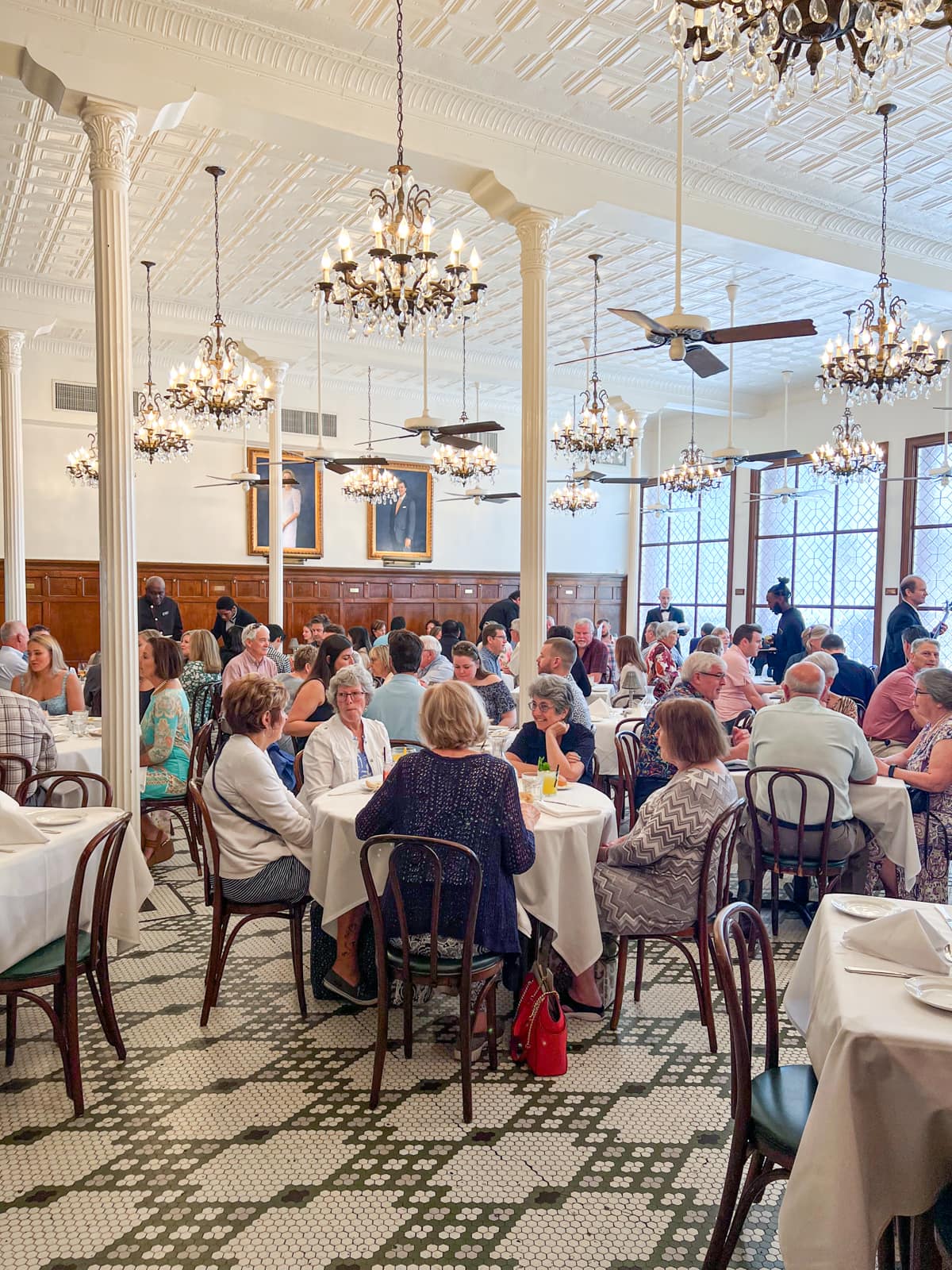 The restaurant was opened in 1918 by Arnaud Cazenave, a French wine salesman who believed "the pursuit of the pleasures of the table is as worthy as anything else one chooses to pursue in life."
A year later, Prohibition was enacted, but that didn't stop Arnaud's from serving liquor to guests creatively, such as in coffee and private rooms within the restaurant.
According to their website, Arnaud's flourished after Prohibition was repealed.
The Count, as Cazenave was known, invested the profits in expansion, buying up nearly an entire block of the French Quarter to add more fine dining rooms.
Today, Arnaud's has 17 private dining rooms decorated with antique furniture, crystal chandeliers, and elegant wall coverings. Capacity ranges from 12 to 220 guests.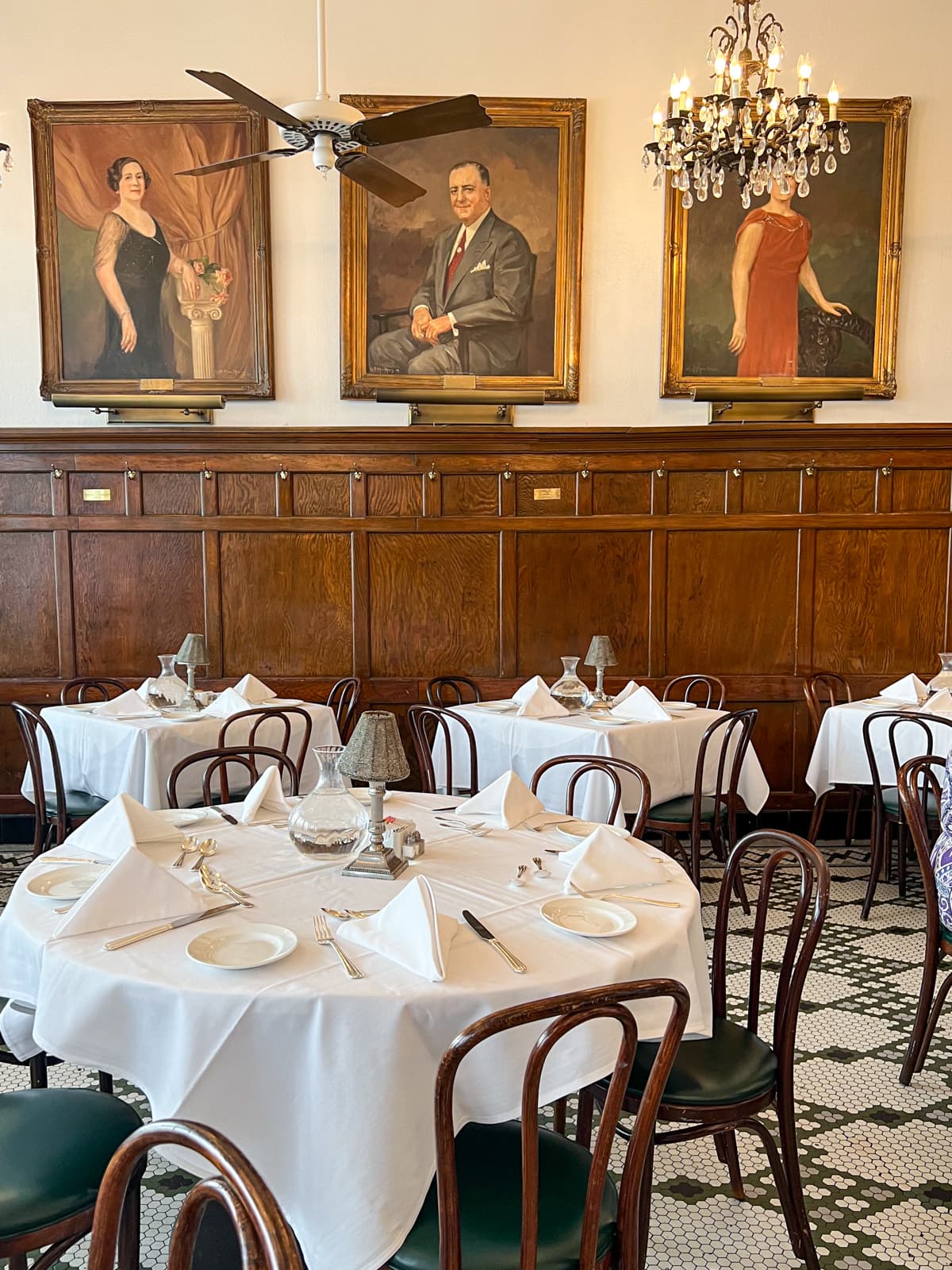 Before he died in 1948, Arnaud designated his daughter, Germaine Cazenave Wells, as the one to continue running his namesake restaurant.
From what I've read and seen, Germaine seems like a force of nature. She was the queen of 22 Carnival balls and began an Easter Sunday parade.
After several decades at the helm and under financial duress, Germaine sold her father's restaurant to Archie and Jane Casbarian, and thus the torch was passed.
Arnaud's Restaurant has since undergone several renovations, returning it to its former glory, and continues to be managed by the Casbarian family.
Sunday Jazz Brunch at Arnaud's
I was excited to experience my first jazz brunch in New Orleans at Arnaud's.
Kel and I dressed nicely for the occasion (men must wear collared shirts) and arrived on time for our 10 a.m. reservation just as the restaurant was opening.
Main Dining Room
We were promptly shown a corner table in the main turn-of-the-century dining room, featuring original crystal chandeliers, iron columns, cypress wood paneling, and an Italian mosaic tile floor.
I noticed hooks running along the wall, reminiscent of Galatoire's Restaurant. These were used for hats and jackets in the old days; now, they're purely decorative.
Small metal plaques were also running along the walls. During the 1980s recession, Archie Casbarian sold tables to wealthy guests and companies for $10,000.
In addition to a plaque, they were "credited with $12,000 over three years, a private stock of wines and liquors, priority reservations, and other perks."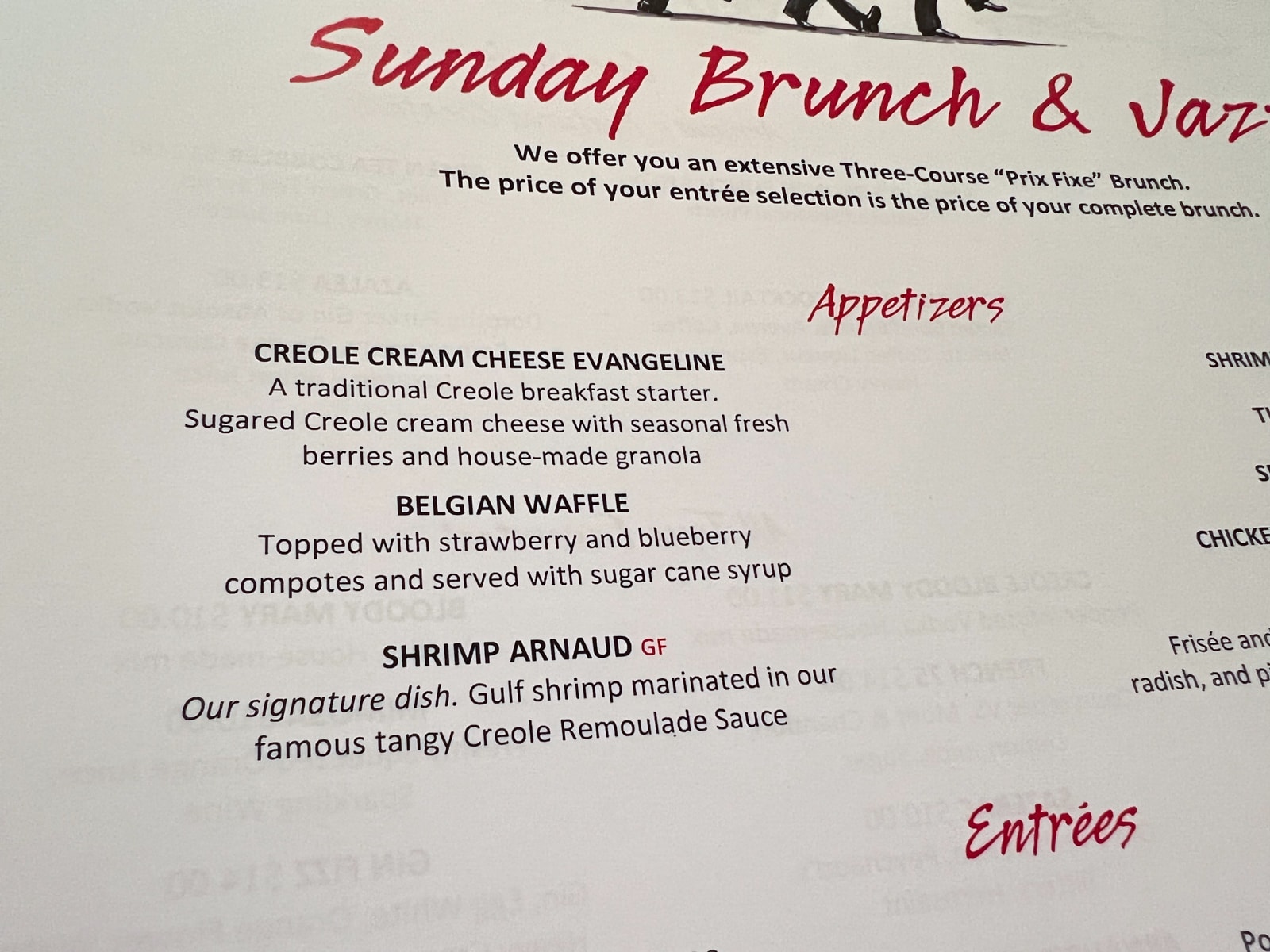 Jazz Brunch Menu
Arnaud's Sunday jazz brunch menu offers guests a three-course meal, including an appetizer, main course, and dessert, for a flat rate based on the cost of your entree.
Entrees cost between $35.50 to $49, making this an excellent value given the setting, service, food, and entertainment.
Cocktails
The drink menu looked appealing, and while I hadn't gone into Arnaud's Restaurant intending to kick the morning off with a cocktail, I couldn't resist.
I ordered one of their featured drinks, a Green Cobbler with Lillet, green tea syrup, honey, and lime juice.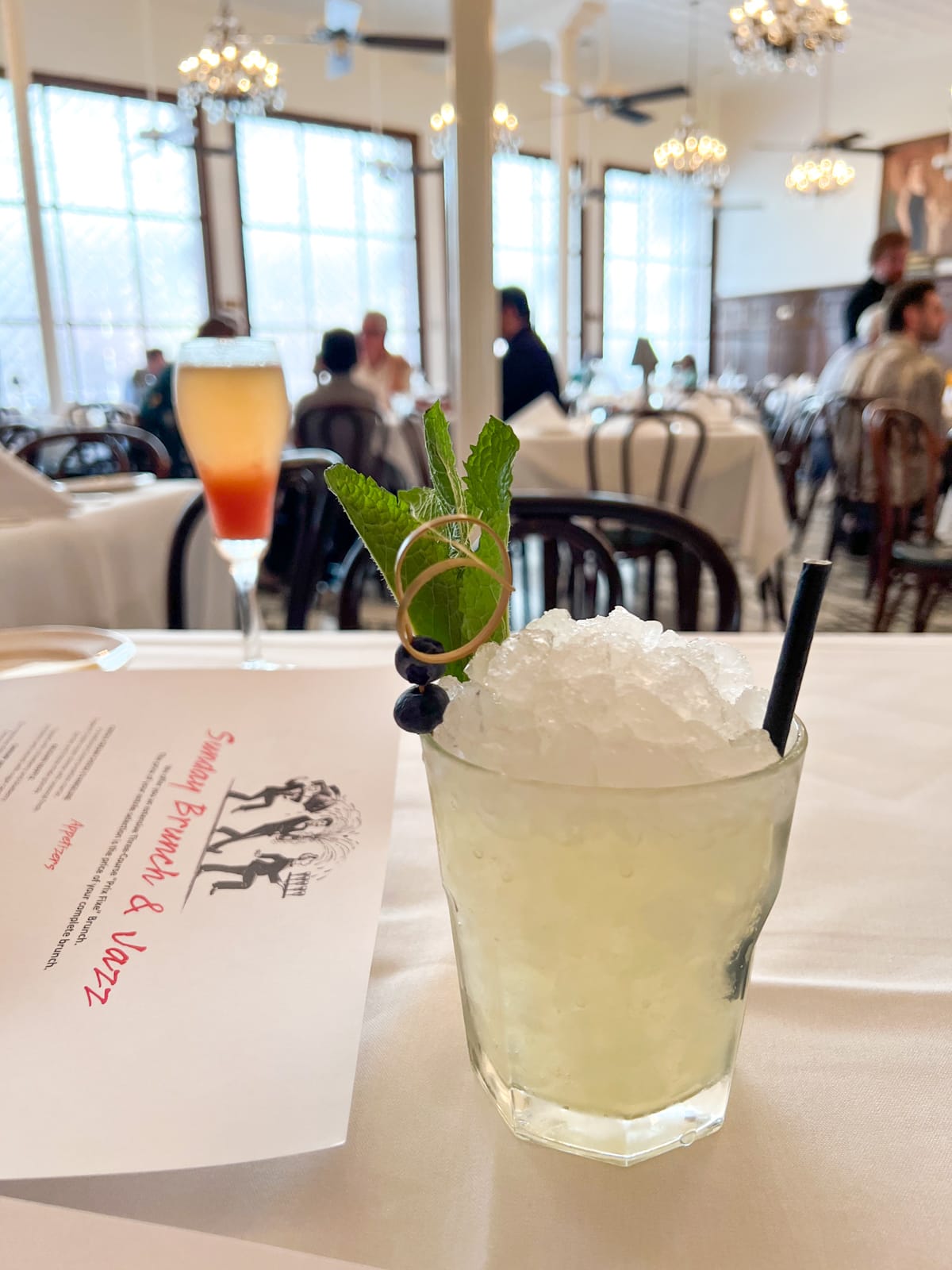 A seasonal brunch punch, Count's Coffee Cocktail with brandy, and a gin or vodka-based Azalea cocktail are also highlighted.
Traditional brunch drinks include a Creole Bloody Mary, French 75, Mimosa, Bellini, and Bourbon or Brandy Milk Punch.
If you're feeling the European vibe, they serve an Aperol Spritz, seasonal spritz, and St Germaine Spritz. And they've got a few non-alcoholic cocktails, too.
Related: Best Cocktail Bars in New Orleans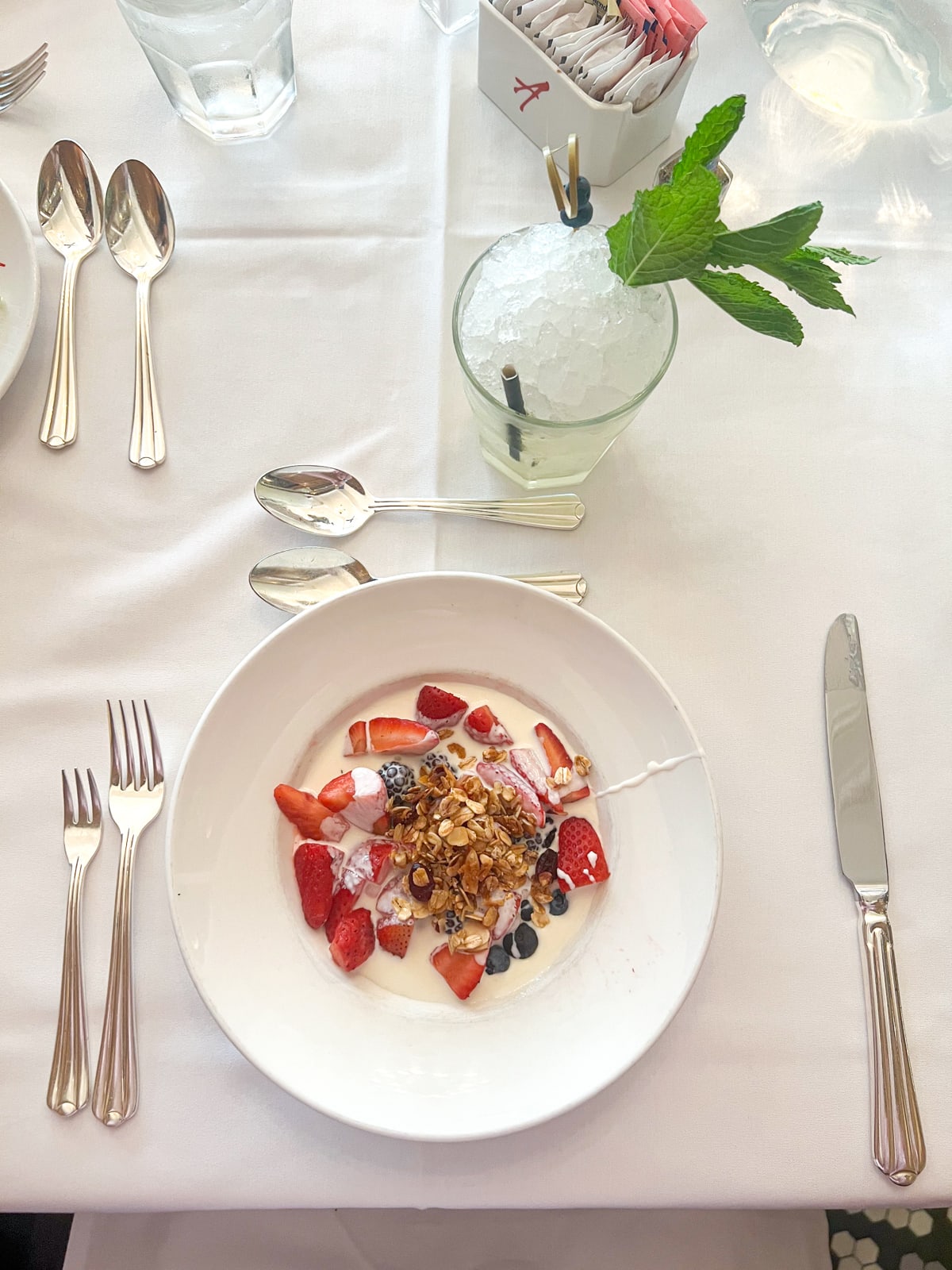 Appetizers
Soon after the drinks and complimentary bread and butter were delivered, we received our first course at Arnaud's in New Orleans.
I'd ordered the Creole Cream Cheese Evangeline with seasonal berries and house-made granola billed on the menu as a "traditional Creole breakfast starter."
I don't know if this was a fancy dish decades ago; however, these days, it feels like a given at most good coffee shops.
That's not to say I didn't appreciate it. The fruit was all fresh and sweet, and it felt like a healthy-ish way to start brunch.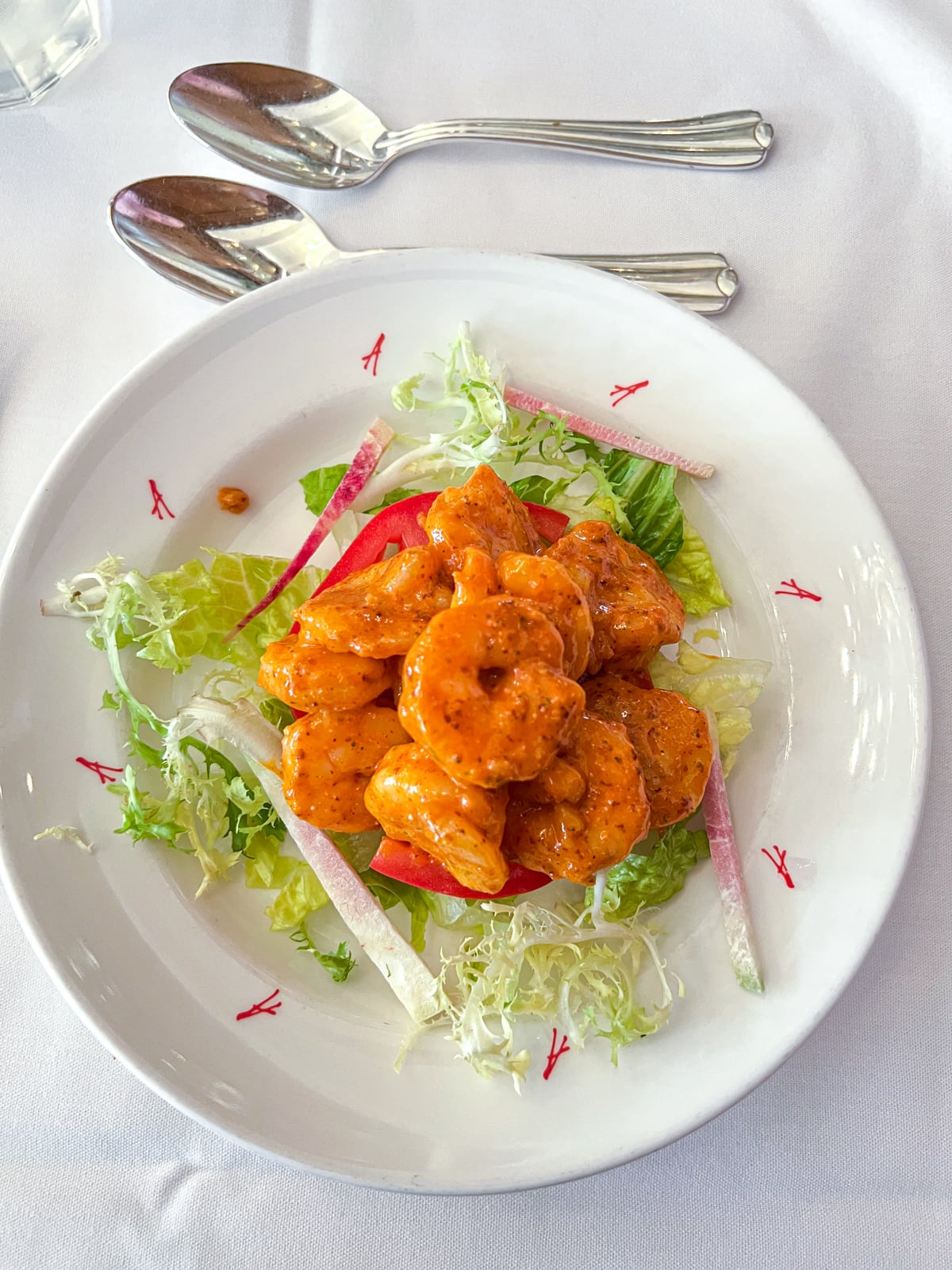 Kel opted for the signature Shrimp Arnaud with Gulf shrimp marinated in Creole Remoulade sauce. The shrimp is served cold on a tomato and lettuce salad.
Other options included a Belgian waffle with strawberry and blueberry compotes, turtle soup, and seafood gumbo.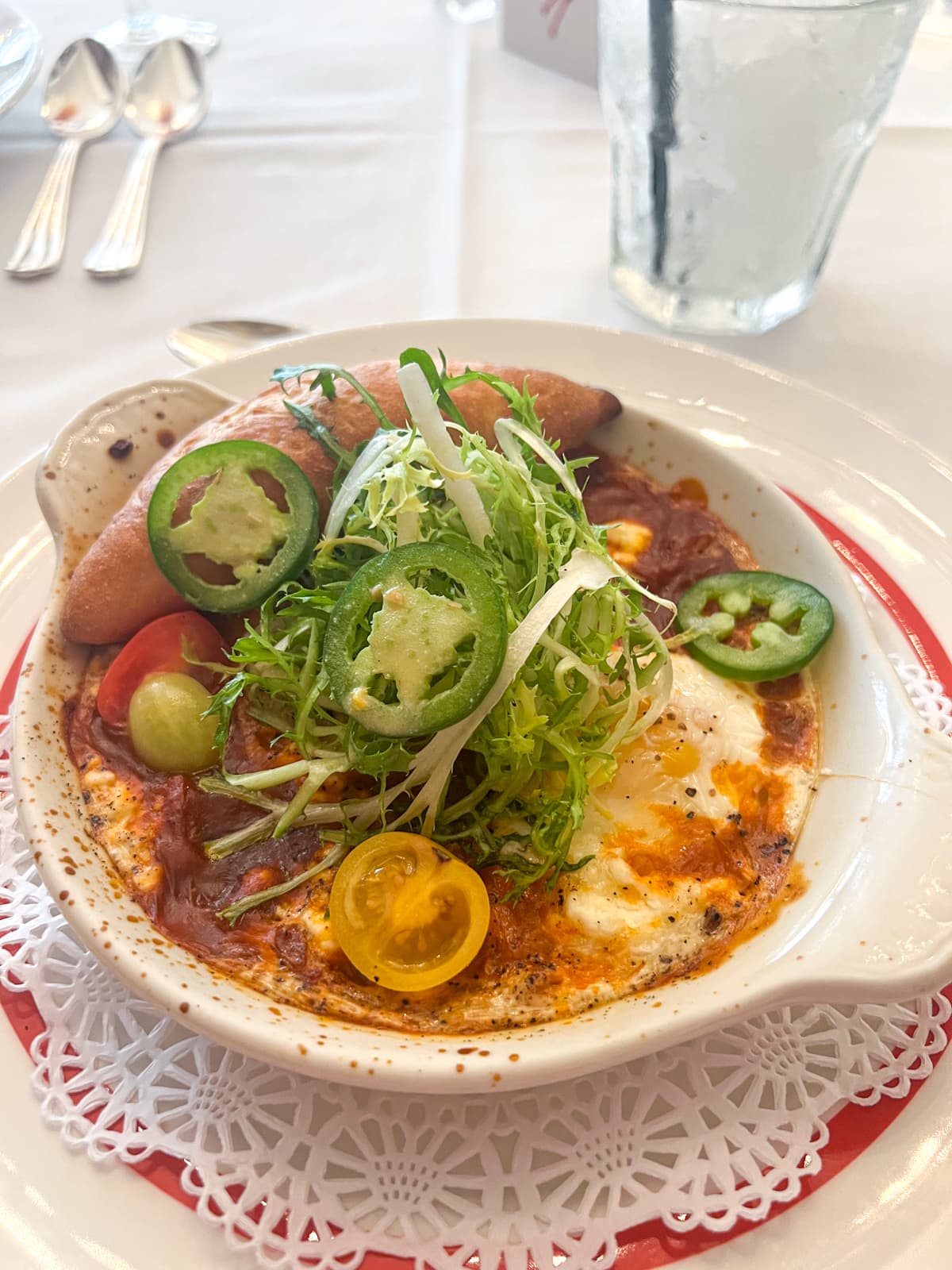 Entrees
Choosing an entree was the more challenging decision.
There were at least six egg-based dishes that I counted, including:
Eggs Fauteaux - poached eggs with house-smoked Gulf pompano on English muffins with dill-infused Hollandaise sauce
Eggs Benedict - poached eggs on Canadian bacon and English muffins with Hollandaise sauce
Eggs Sardou - poached eggs over artichoke bottoms and creamed baby spinach with Hollandaise sauce
Eggs Piperade - shirred eggs in a sauce of tomatoes, peppers, garlic, and andouille sausage
Eggs Arnaud - any two poached eggs
Gruyere Omelet with Lyonnaise potatoes
I wanted to try something new, so I ordered the Eggs Piperade. It came topped with jalapeno, goat cheese, and salad and was served with a side of bread.
The dish reminded me of eggs in purgatory. Trading Hollandaise or tomato sauce meant a less luxurious feel; hopefully, fewer calories, too!
In all honesty, after I tasted Kel's slice of Crabmeat Cheesecake, I felt significant envy.
It's made with fresh Louisiana lump crabmeat, brie, cream cheese, eggs, cream, fresh vegetables, herbs, and spices and served with a sherry-infused cream sauce.
Additional entrees included Grillades & Grits with veal scaloppine braised in vegetable sauce and served with cheese grits and Shrimp Clemenceau sauteed in garlic butter.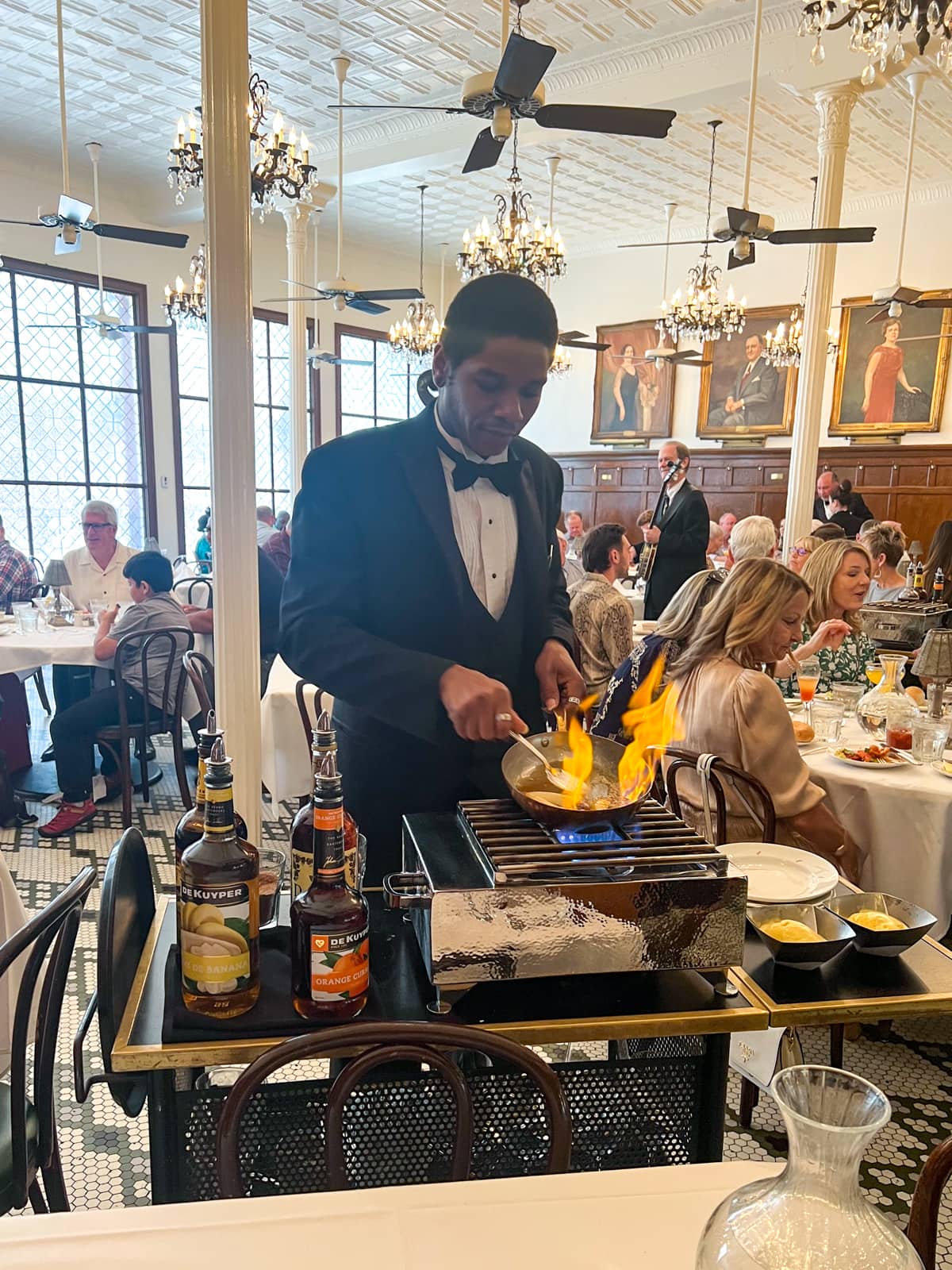 Dessert
For a guy who loves dessert, choosing from among the eight options Arnaud's offers was surprisingly easy. The Bananas Foster for two people was to be our sweet finale.
A cart was wheeled to the table, and we were treated to a show as bananas were sauteed in butter, cinnamon, and brown sugar and flambeed with banana liqueur and dark rum.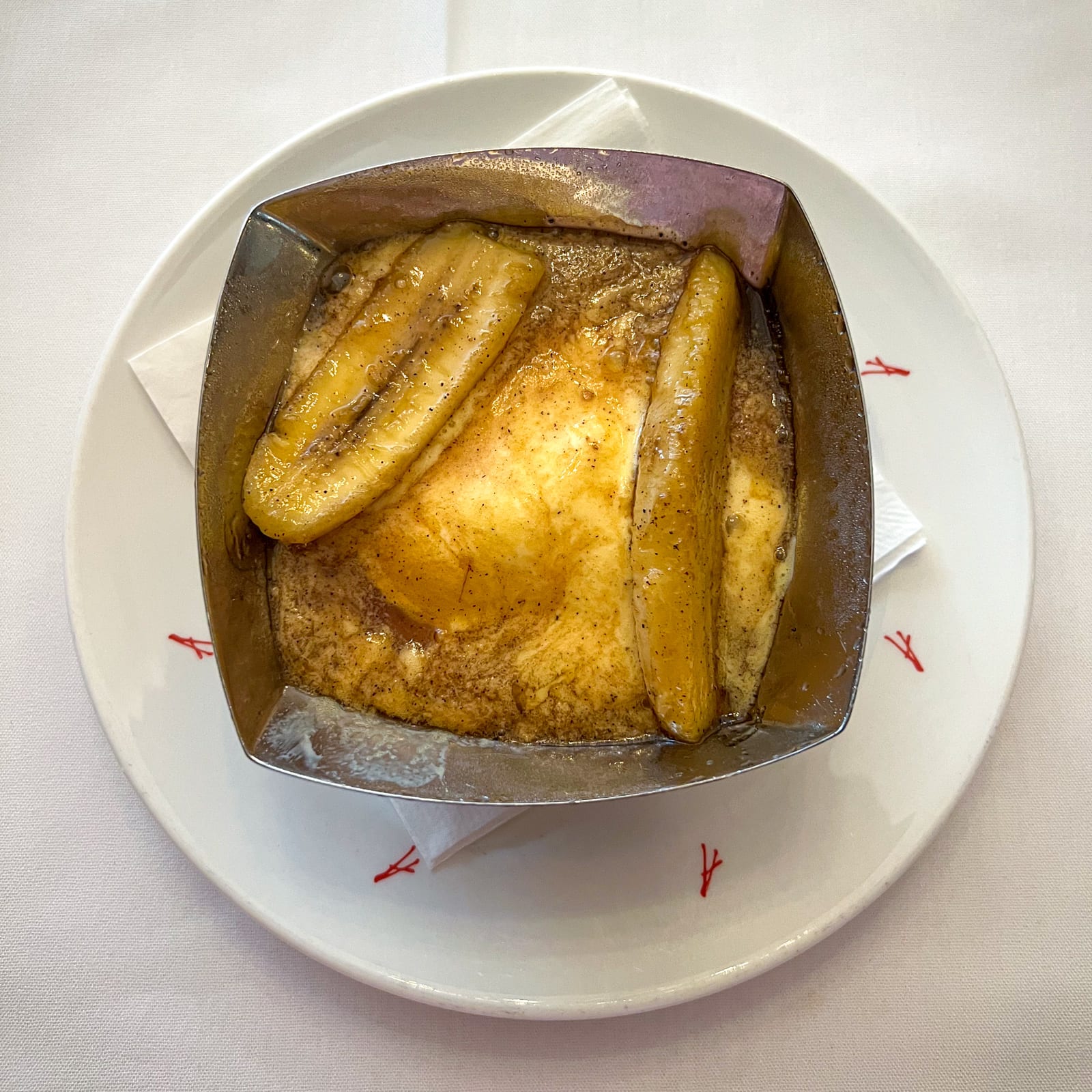 We paid $5 extra per person to enjoy them over Brocato's French vanilla ice cream.
I first had Bananas Foster in New Orleans at Brennan's, where the dessert recipe originated; Arnaud's was equally good.
Additional desserts include Strawberries Arnaud, with strawberries marinated in port wine sauce and served over Brocato's French vanilla ice cream, a chocolate hazelnut pot de creme, and crepes Suzette for two also flambeed tableside.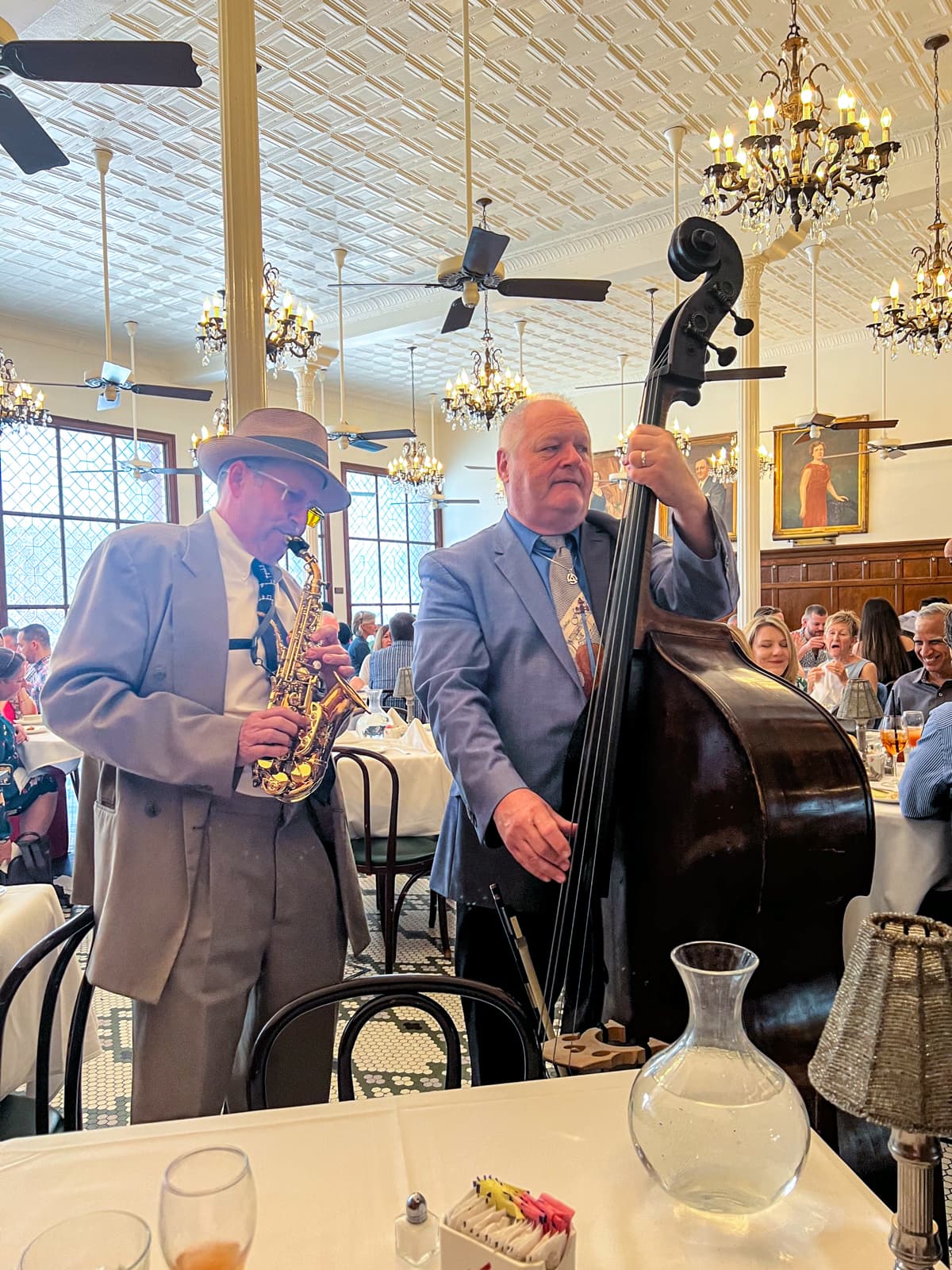 Throughout Sunday brunch at Arnaud's in New Orleans, The Gumbo Trio performed live Dixieland jazz.
They began in the corner of the main dining room near the entrance and then moved from table to table. They didn't perform for every table but did perform for ours.
They asked for a request, and I drew a blank. The sax player then said they'd perform a Frank Sinatra song, which was perfect. I went through a Sinatra phase as a teen and still enjoy Ol' Blue Eyes.
After our song, I tipped the performers and paid the bill. The cost of Sunday brunch for two at Arnaud's Restaurant, including our delicious classic Creole food, cocktails, tax, and tip for excellent service, came out to about $140.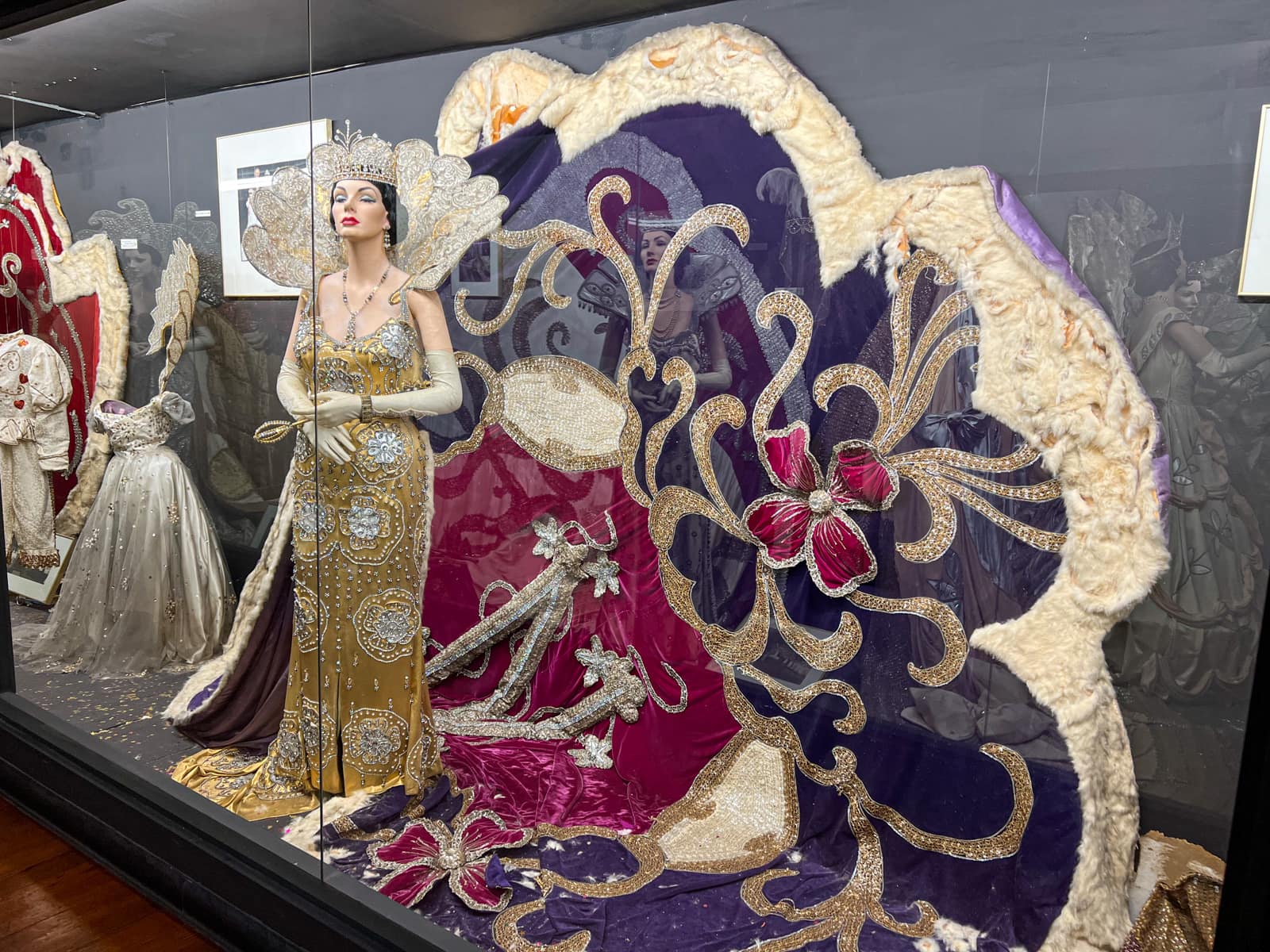 Germaine Wells Mardi Gras Museum
Once the bill was paid, we walked upstairs to the Germaine Wells Mardi Gras Museum, which houses many of Germaine's Mardi Gras gowns.
The massive handmade trains were on full display, with sequins, feathers, etc. It certainly seems ostentatious; she must've reveled in her role of Mardi Gras royalty.
Entrance to the museum is free of charge, and it only takes a few minutes to walk through, so definitely check it out.
I didn't inquire whether we could look at the private dining rooms; at Antoine's Restaurant, they were happy to allow guests to see them, so I'd imagine it's the same at Arnaud's (if you ask nicely).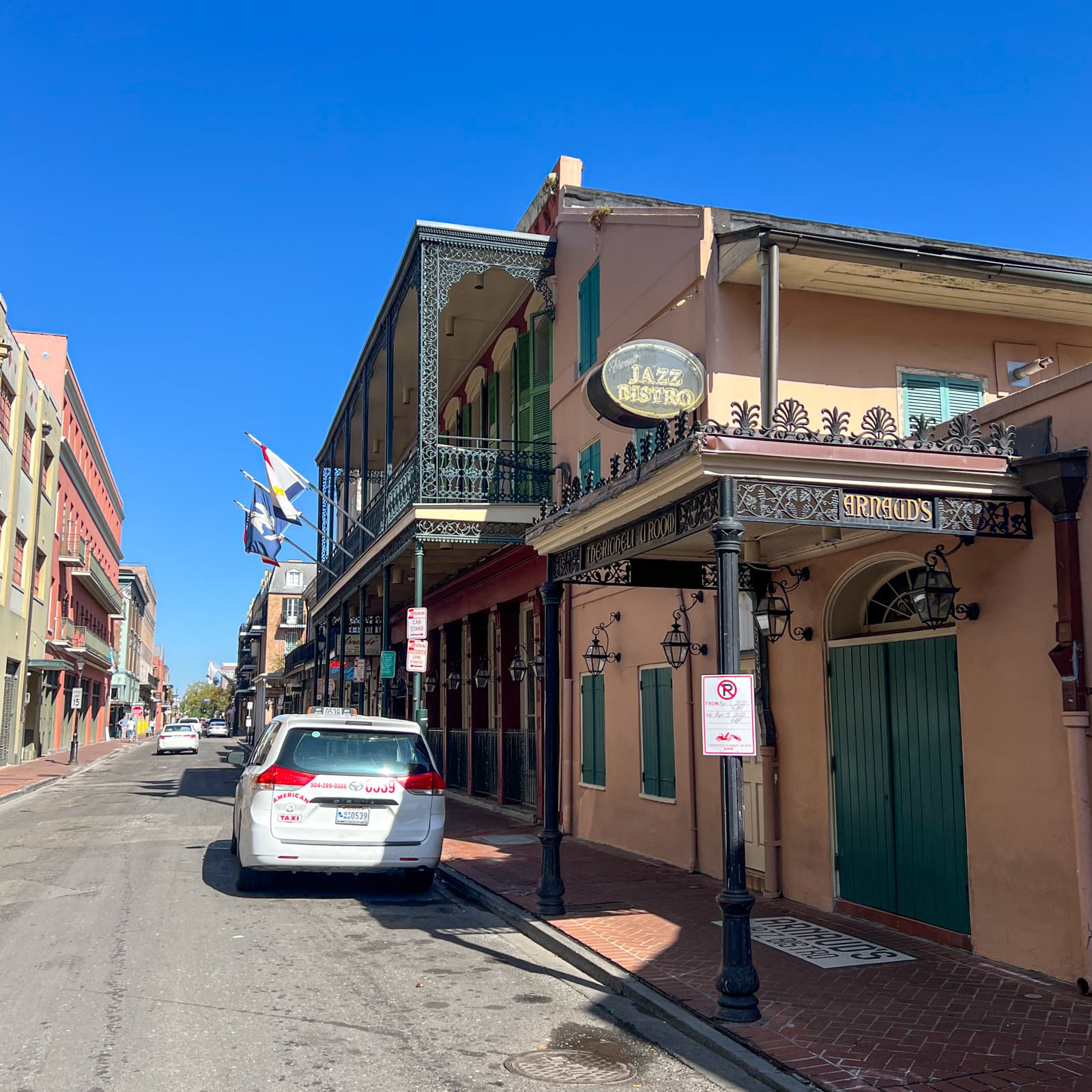 Additional Spaces
In addition to the dining rooms for Sunday brunch and romantic dinners, Arnaud's features a few other spaces you can enjoy:
The French 75 Bar serves all the cocktails, new and old, plus a limited food menu that includes deep-fried oysters, deviled eggs, escargot, and crab claws.
The Jazz Bistro typically hosts The Gumbo Trio nightly from 6:30 pm to 10:30 pm for a $4 cover charge. At the time of writing, the Jazz Bistro is temporarily closed.
Visit Arnaud's in New Orleans
Address: 813 Rue Bienville, French Quarter, New Orleans
Hours: Sunday jazz brunch is 10 am to 1:30 pm, and dinner is available Wednesday through Saturday, 5:30 pm to 9 pm
Brunch Dress Code: for brunch, business casual (collared shirts required for men), no t-shirts, athletic shorts, or flip-flops.
Reservations: Recommended — make a reservation