Few eating establishments are as beloved and historically significant in New Orleans as Dooky Chase's Restaurant.
Throughout its 80-year history, the family-owned and operated Creole restaurant was a meeting place for civil rights movement leaders such as Martin Luther King, Jr. and John Lewis and a favorite of notable figures like Duke Ellington, Beyoncé, and Jay-Z, and Presidents George W. Bush and Barack Obama.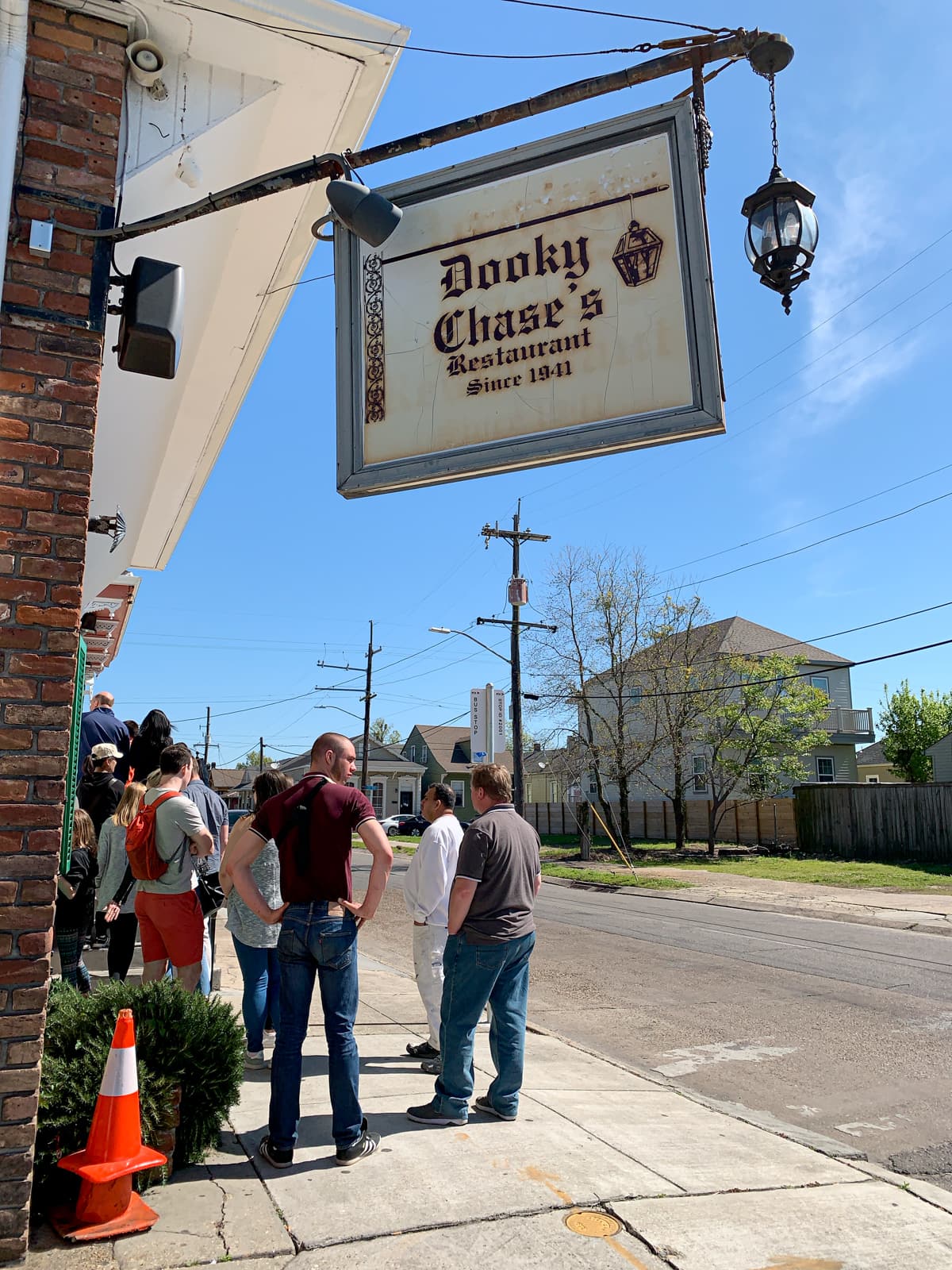 The History
The story began in 1939 when Emily and Dooky Chase, Sr. opened a sandwich shop in the Treme neighborhood, a short walk northwest of the French Quarter.
They soon added a bar and, in 1941, began operating as a sit-down restaurant.
Edgar Dooky Chase, Jr. was an accomplished jazz musician who married Leah Chase in 1946 at eighteen.
According to the restaurant's website, it was "through the vision of Leah Chase, the barroom and sandwich shop grew into a sit-down restaurant wrapped within a cultural environment of African American art and Creole cooking."
Dooky Chase's matriarch became known as the Queen of Creole cuisine and received numerous accolades. In 2016, she was recognized with a James Beard Lifetime Achievement award.
On June 1, 2019, just a few months after I ate at her restaurant, Leah Chase passed away at 96.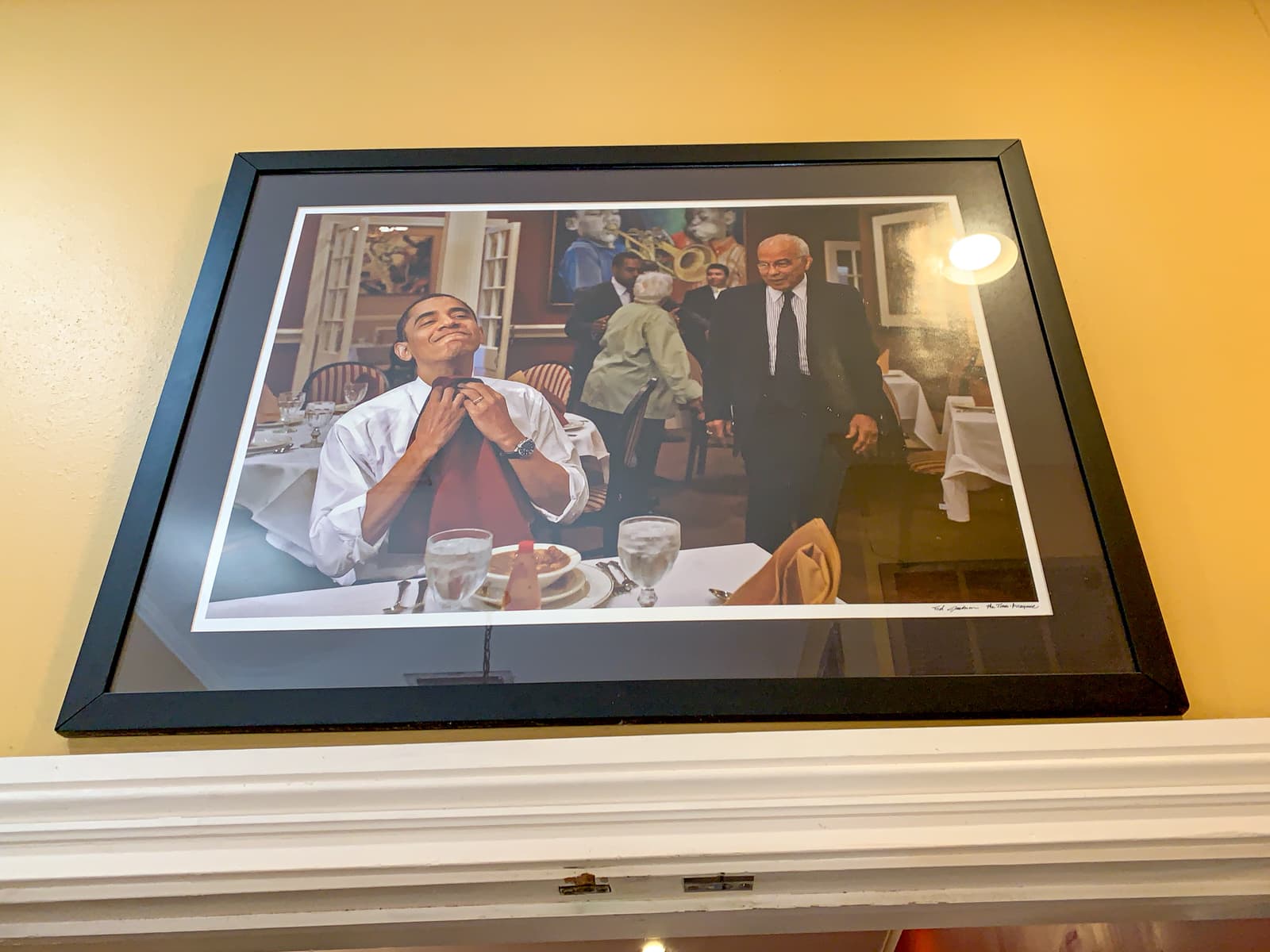 My Experience
It was 11 a.m. when I arrived at Dooky Chase's Restaurant for the first time; there was already a line out the door for the weekday lunch buffet. Thankfully, it moved quickly.
Once inside the small foyer, there were photos of Presidents Bush and Obama dining at the restaurant on the walls.
I was particularly fond of the Obama picture with him tucking a napkin in his shirt as it captures the President's joyful anticipation.
I went to Dooky Chase's to get something to eat

The waitress looked at me and said

("Ray, you sure look beat")

-- Ray Charles, Early in the Morning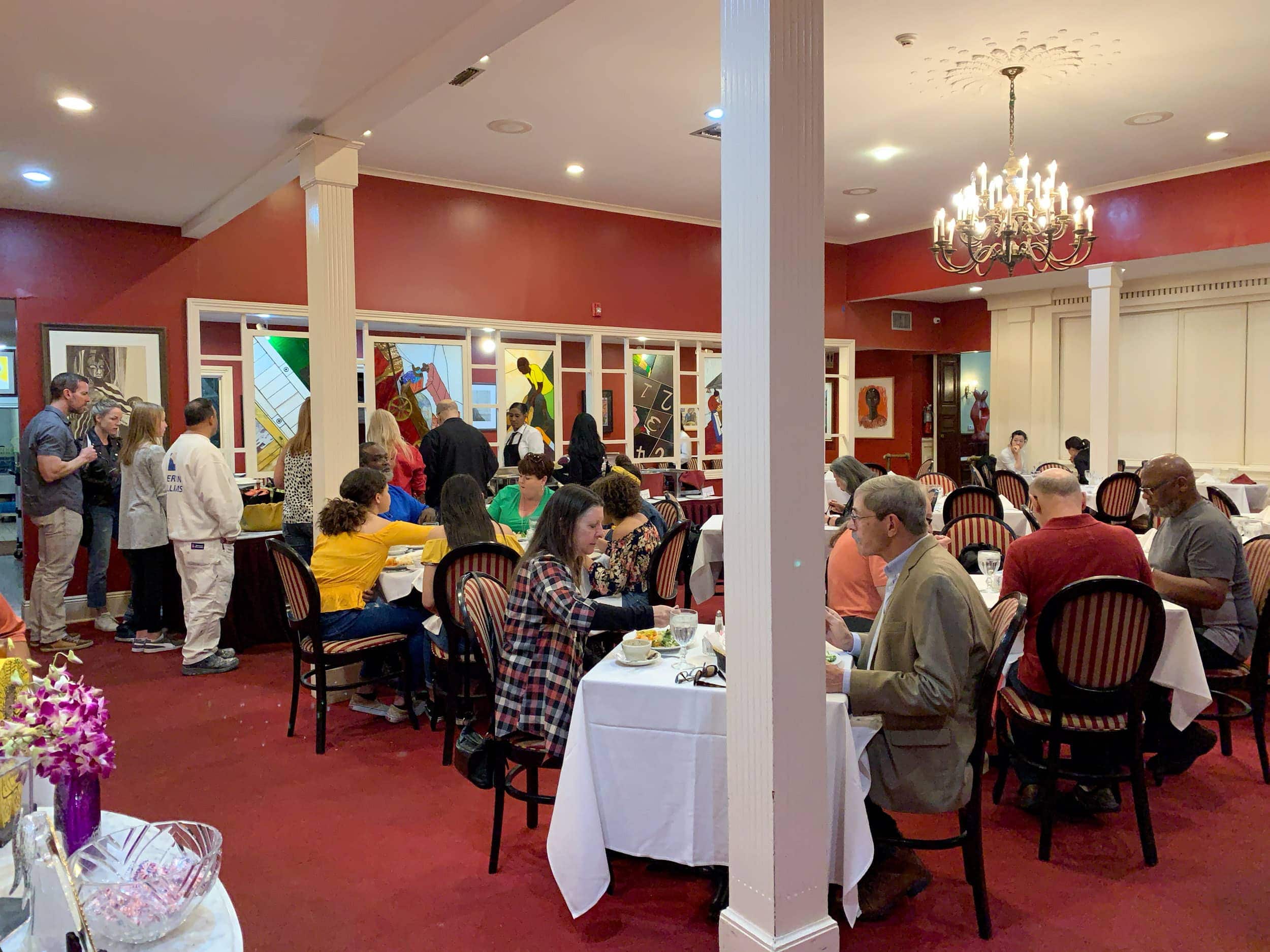 I was shown to a two-person table on the far wall, offering me a direct view of the buffet. The main dining room was nearly full, with diners digging into their chosen foods.
Dooky Chase's attracts a mix of locals and tourists, with a dress code to maintain a family-friendly atmosphere.
I ordered an unsweetened ice tea from my waitress and approached the buffet.
Options change daily from Tuesday to Friday; however, you'll always get Creole staples like red beans, rice, and hot sausage.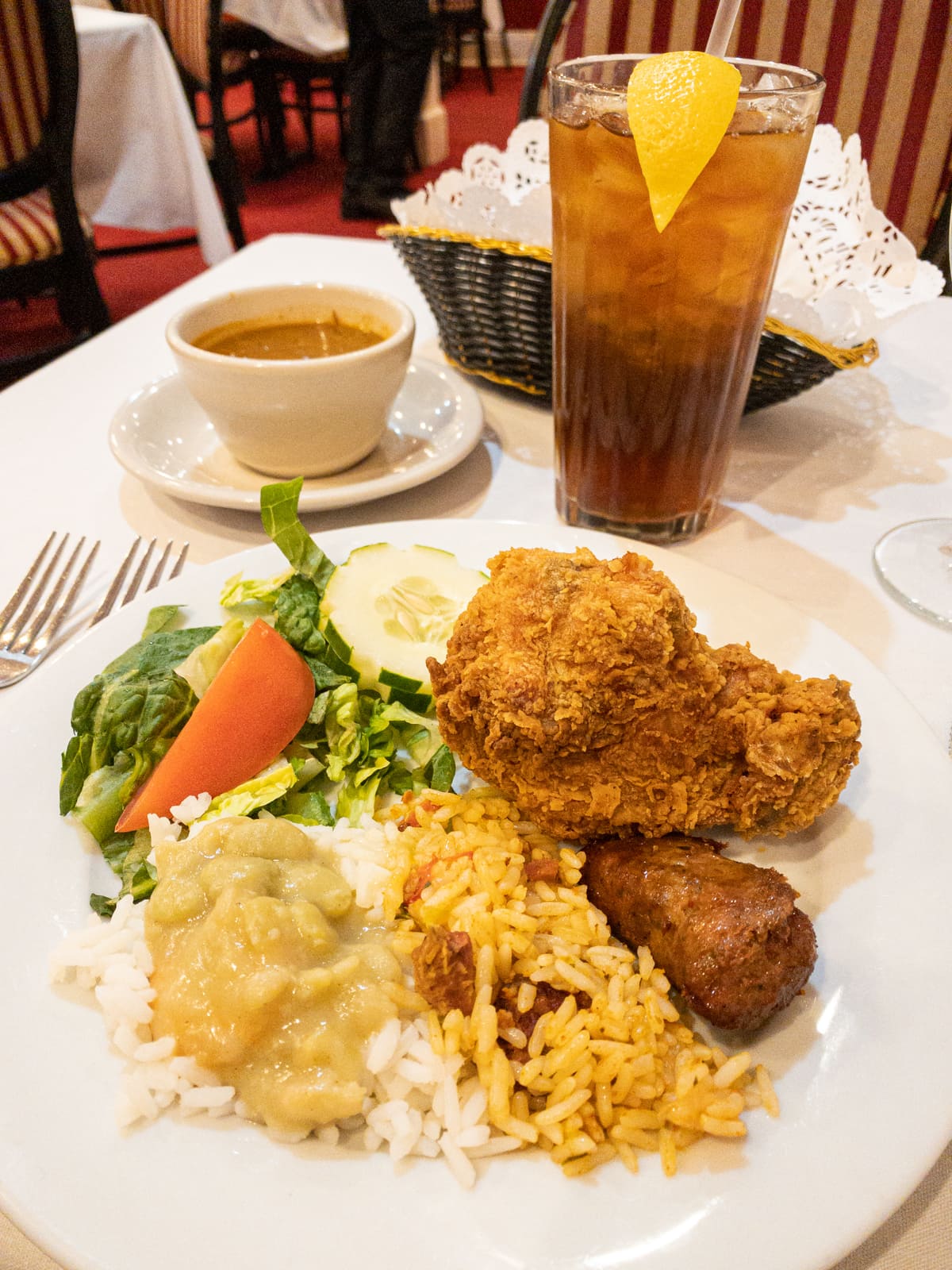 I was happy to see fried chicken the day I went. Leah Chase's fried chicken was named the best in New Orleans by NOLA.com in 2014.
As an aside, a few days later, I had the award-winning fried chicken at nearby Willie Mae's Scotch House and enjoyed it more thanks to the spicy batter they use.
You can also order classic Creole foods a la carte, including gumbo, stuffed shrimp, and po'boy sandwiches.
Individual entrees are between $14.95 to $25.95. The buffet is $19.95.
A cocktail menu features lighter drinks such as lavender lemonade, mimosas, Aperol Spritz, and signature drinks like Dooky's rum punch. Cocktails are priced from $9 to $11.
There's a bar food menu, too, available from 5 p.m. to 9 p.m.
Related: Best Restaurants in New Orleans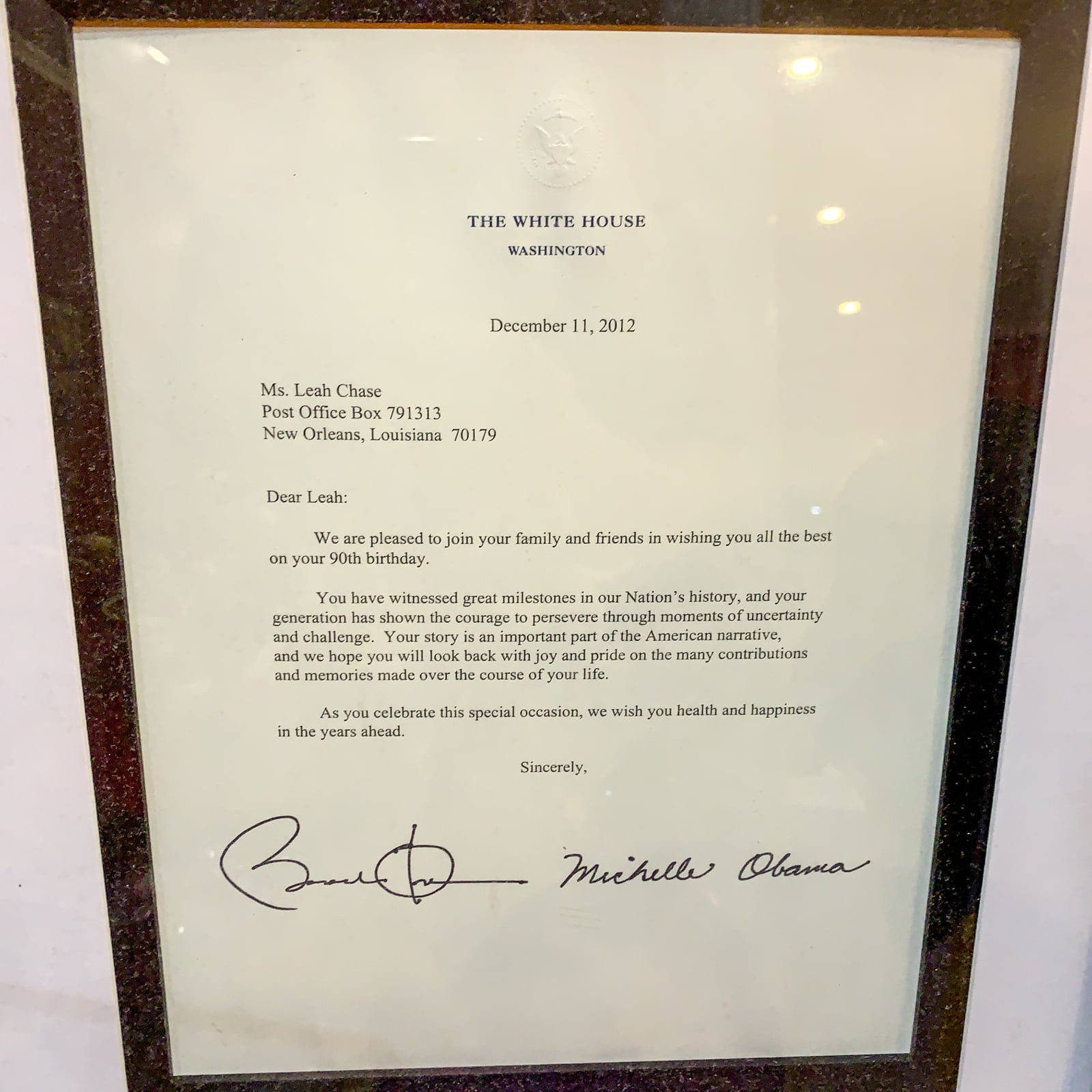 Overall, I had a relaxing and efficient experience dining at Dooky Chase's Restaurant. If I were to go back, I'd want to try a dish off the a la carte menu.
While Chef Leah Chase may no longer be with us, her recipes, hospitality, and spirit live on through her family and restaurant.
Dooky Chase's Restaurant, 2301 Orleans Avenue, New Orleans, LA