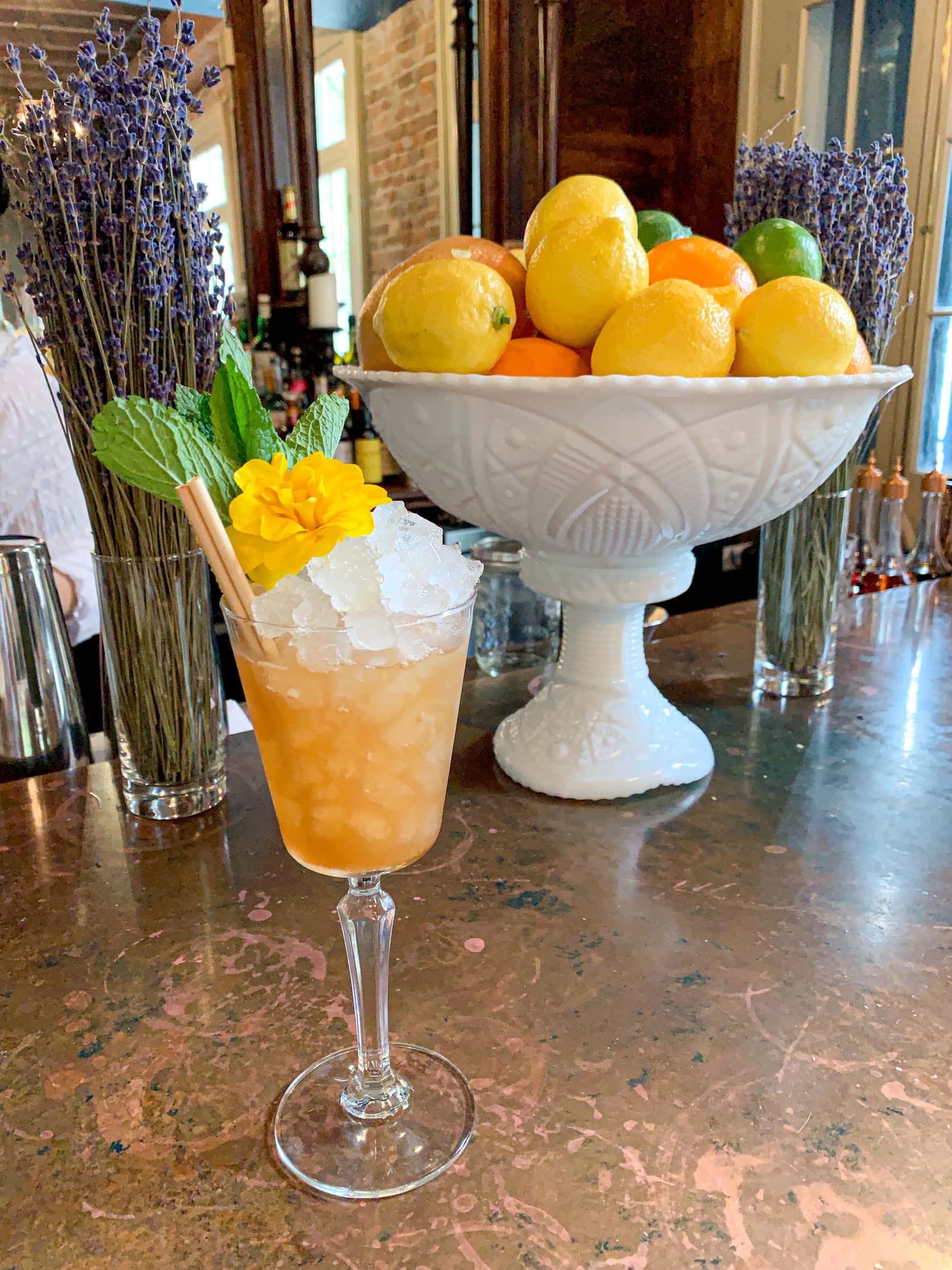 The best cocktail bars in New Orleans offer a range of experiences, from the historic to modern, casual to sophisticated.
The city recently celebrated its 300th birthday and is home to some of the country's oldest bars.
Masterful mixologists tend bars throughout the city; you just need to know where to look.
This list is based on my personal experience.
Beyond the quality of drinks, places were picked for their history, design, ambiance, and friendliness.
To keep it simple, I've grouped the bars according to whether or not they're in the French Quarter. Otherwise, they're in no specific order.
Best Cocktail Bars in the French Quarter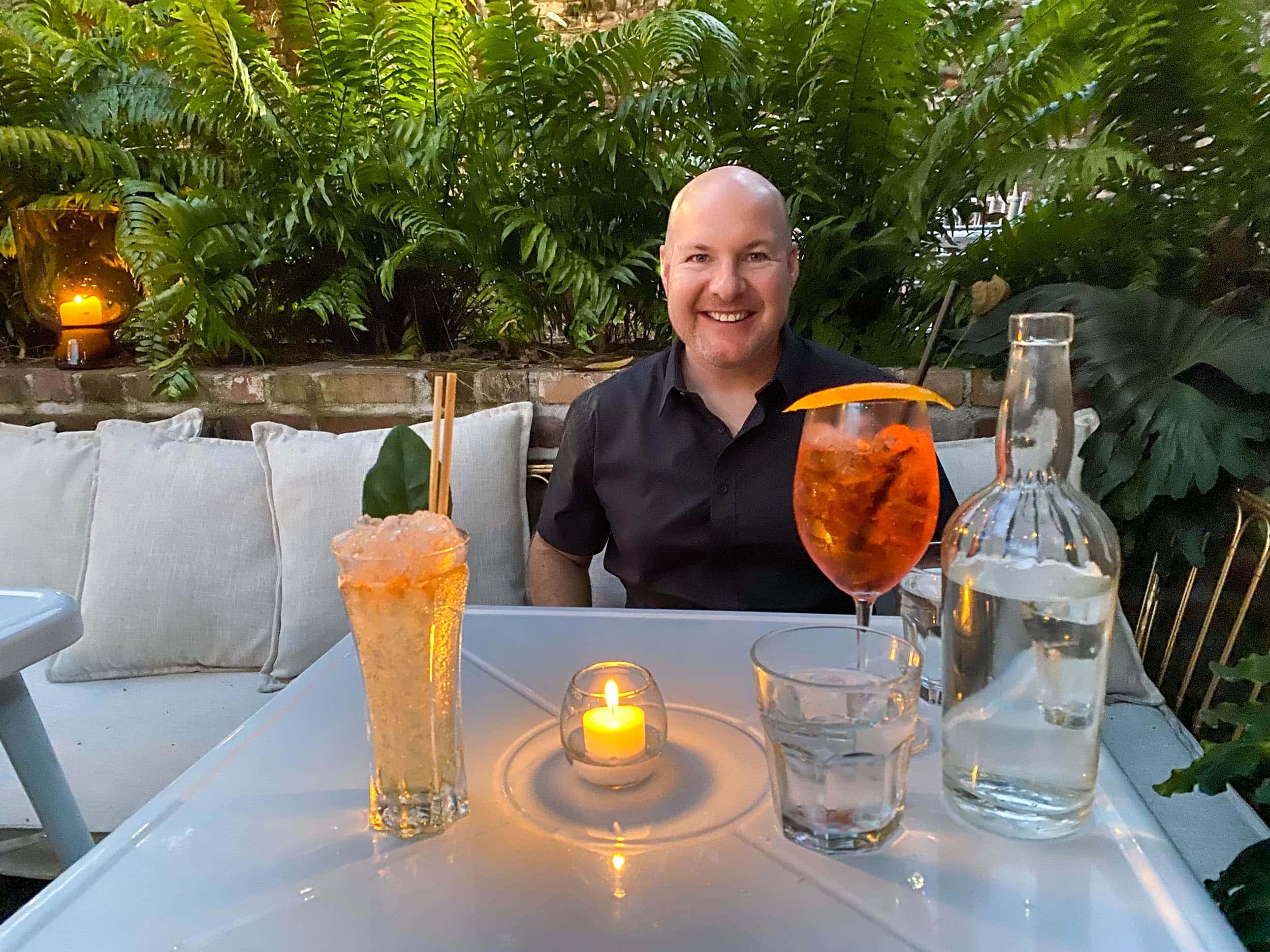 Jewel of the South
Jewel of the South opened in March 2019, while I happened to be visiting New Orleans for the second time.
Housed in an old Creole cottage at the northwest edge of the French Quarter, the bar and restaurant are run by two of the city's top bartenders -- Chris Hannah and Nick Detrich.
Their inspiration dates back to the 1850s when an Italian immigrant, Joseph Santini, opened Jewel of the South in what is now the Central Business District.
Santini also invented the brandy crusta, the drink credited with introducing fresh citrus to cocktails.
The brandy crusta is made with cognac, lemon juice, curacao, maraschino liqueur, and bitters. The rim of the glass is dipped in sugar, and it's garnished with lemon peel.
On my first visit, I tried the sherry cobbler and the roffignac, both of which were beautifully presented.
When I returned to NOLA at the end of 2019, I sat outside on the patio with a new friend, savoring a marigold-infused Aperol spritz and the Barbadian gin punch (a 17th-century drink from Barbados).
Cocktails are available from 4 pm to midnight, and dinner is available from 5:30 pm to 10:30 pm daily.
1026 Saint Louis Street, French Quarter, jewelnola.com
See also: Best Bars in Nashville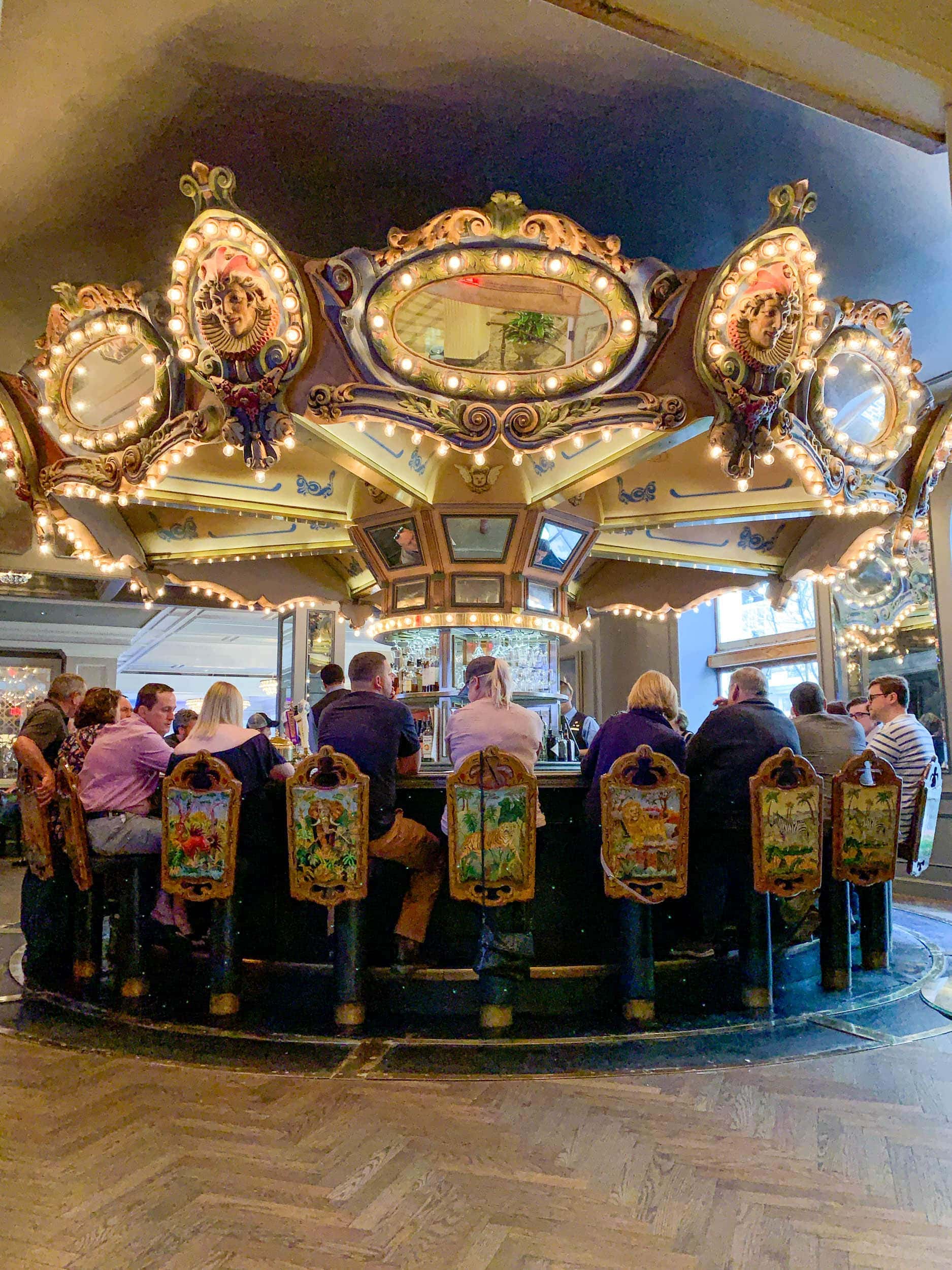 Carousel Bar at Hotel Monteleone
On September 3, 1949, the Carousel Bar and Lounge opened at the Hotel Monteleone, becoming New Orleans' first rotating bar.
While it may seem like a gimmick today, the bar was previously visited by such literary luminaries as Ernest Hemingway, William Faulkner, and Tennessee Williams.
The signature cocktail at Carousel Bar is the Vieux Carre, a whiskey-based drink created in 1938.
The bar makes a complete rotation every 15 minutes. It opens at 11 am and it's best to arrive a half-hour before then for your best shot at a seat.
Otherwise, you can sit at one of the tables along the walls and wait patiently for a seat at the bar to open.
214 Royal St, French Quarter, hotelmonteleone.com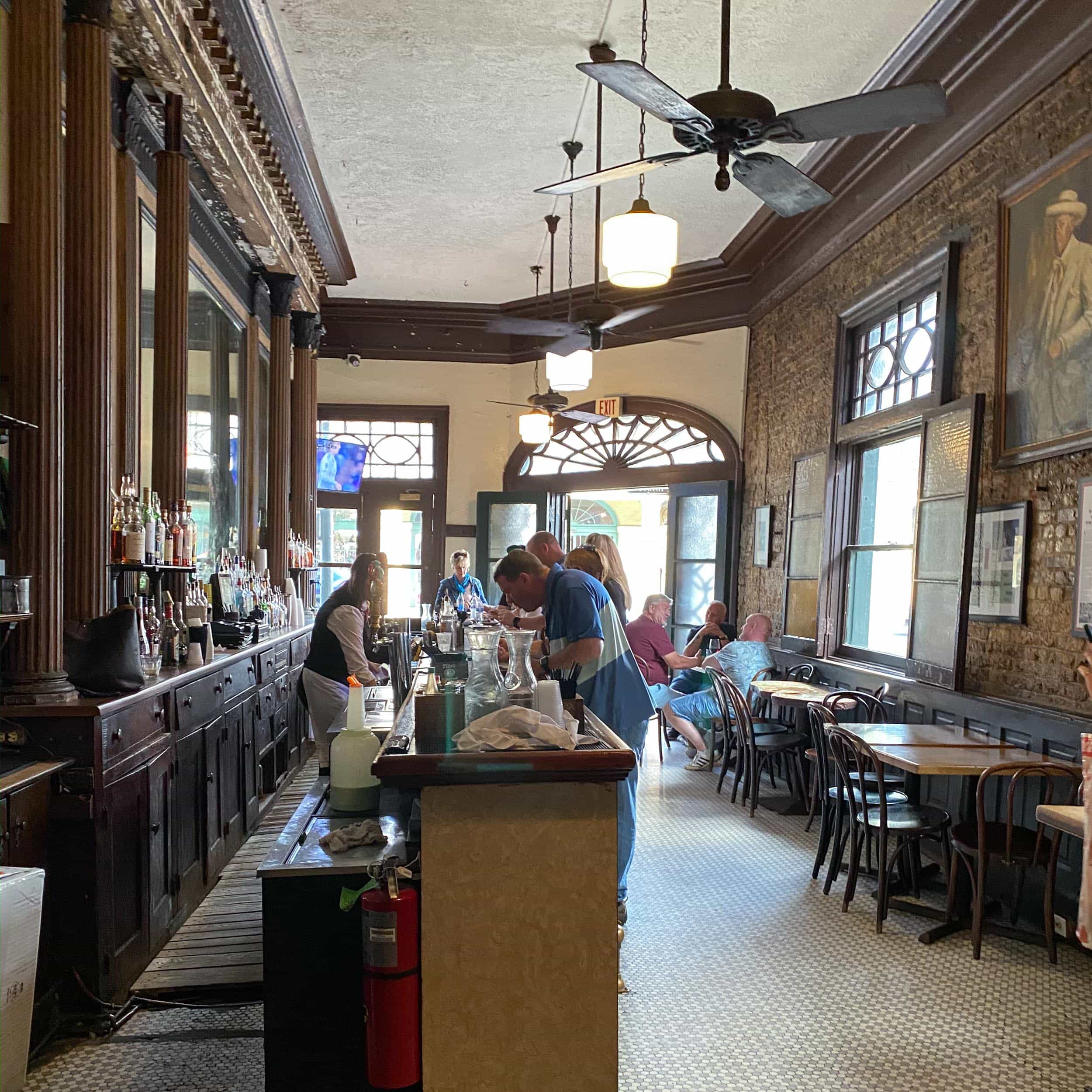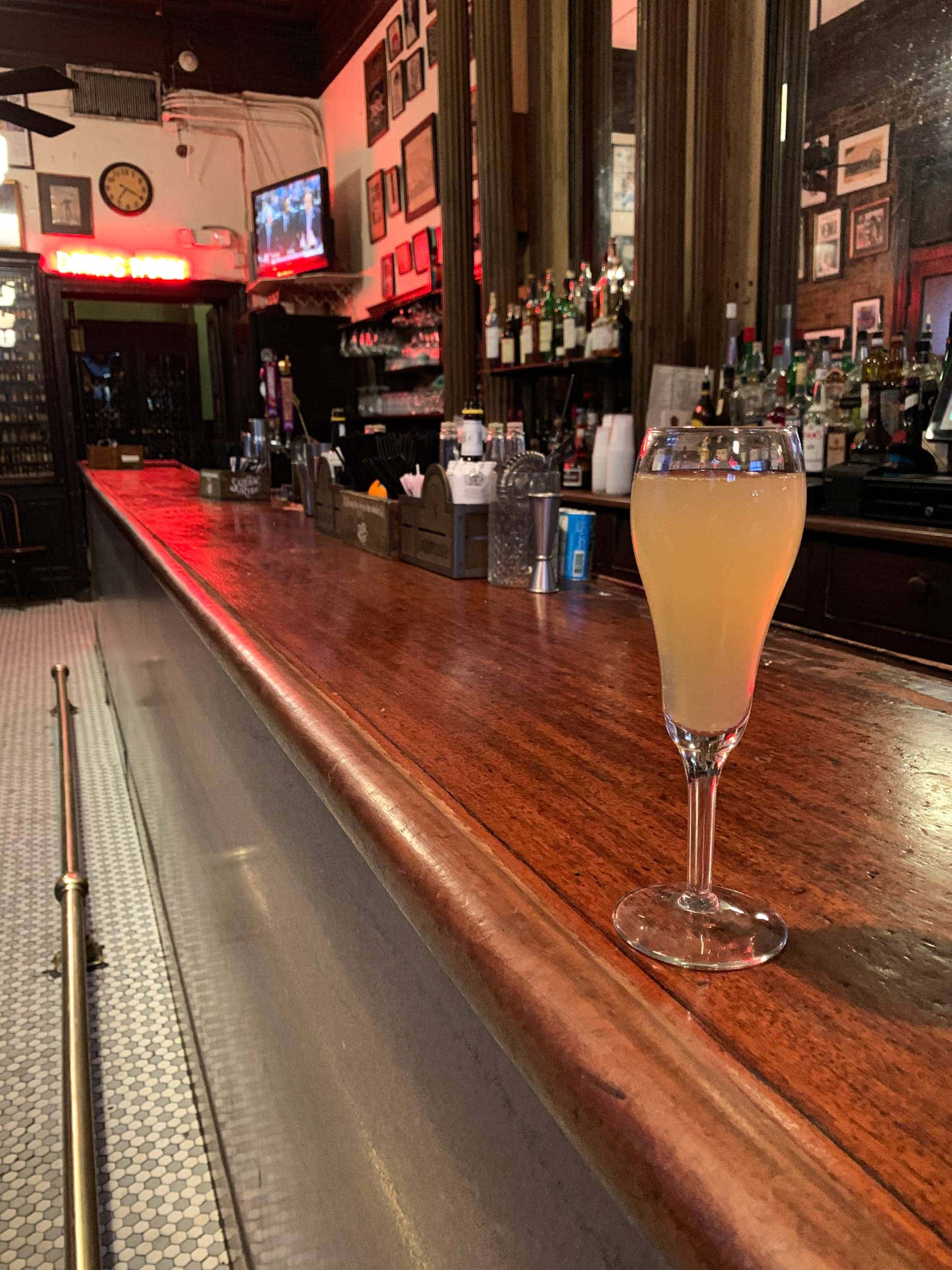 Tujague's
Founded in 1856, Tujague's features the oldest standing bar in the United States and the second-oldest Restaurant in New Orleans. Only Antoine's is older.
A dessert cocktail called the grasshopper was invented here in the early 20th century.
The grasshopper is made by shaking equal parts creme de menthe and creme de cacao, heavy cream, and ice. The chilled liquid is then strained into a glass.
Tujague's has been at the 823 Decatur Street location for one hundred years, however, to remain competitive, it's moving to a new location a few blocks away in summer 2020.
823 Decatur Street, French Quarter, tujaguesrestaurant.com
See also: New Orleans Cocktail History Tour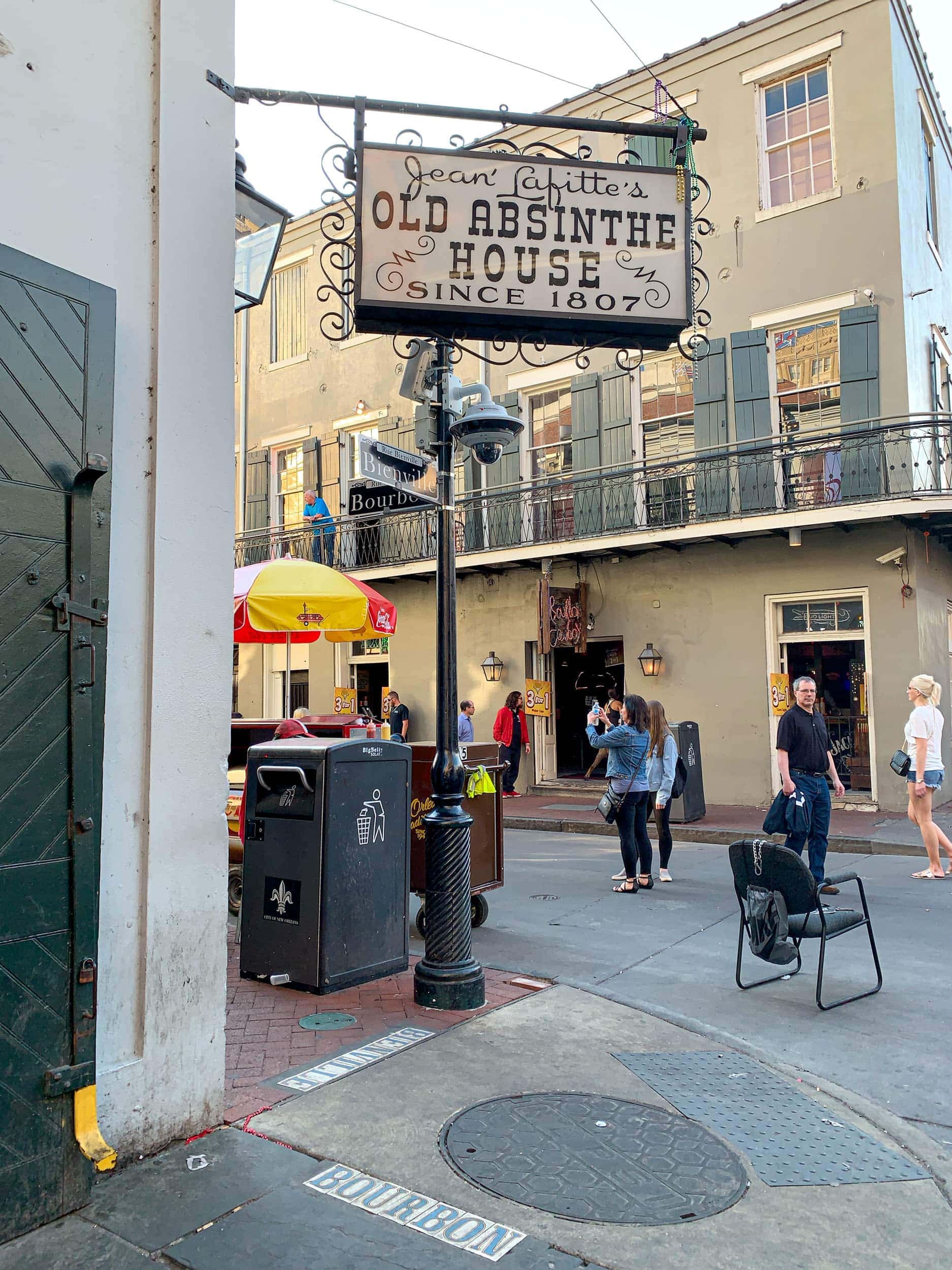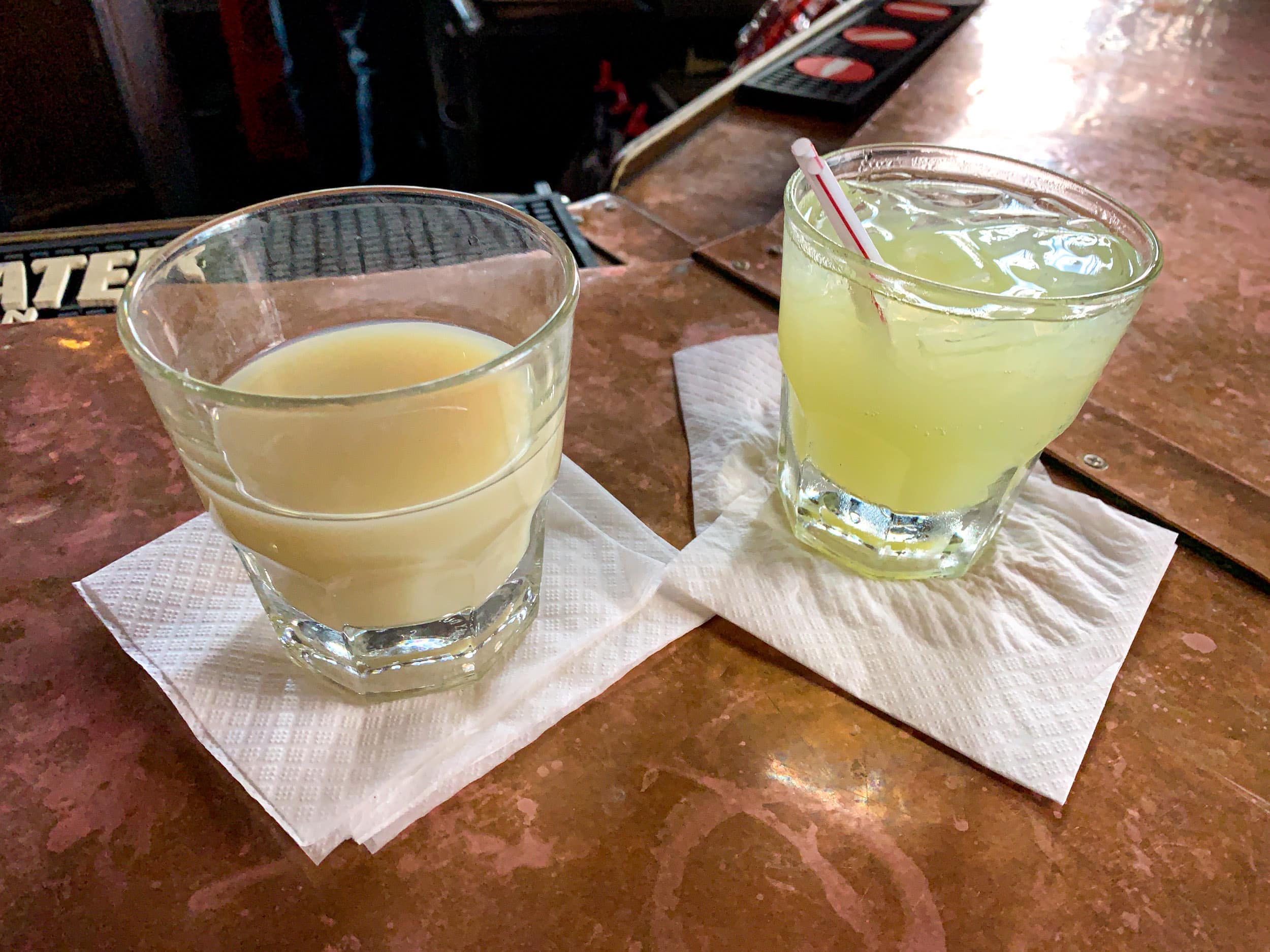 Old Absinthe House
It's worth braving Bourbon Street to check out Jean Lafitte's Old Absinthe Bar, which dates back to 1807.
Originally a corner shop, the ground floor was converted to a saloon in 1815.
It was renamed "The Absinthe Room" in 1874 when Cayetano Ferrer developed the absinthe frappe.
The original bar that was in The Absinthe Room was moved to another location during Prohibition and is now located in Belle Epoque, an adjacent absinthe lounge with a speakeasy vibe.
In addition to absinthe cocktails, Belle Epoque serves a full dinner menu.
240 Bourbon St, French Quarter, ruebourbon.com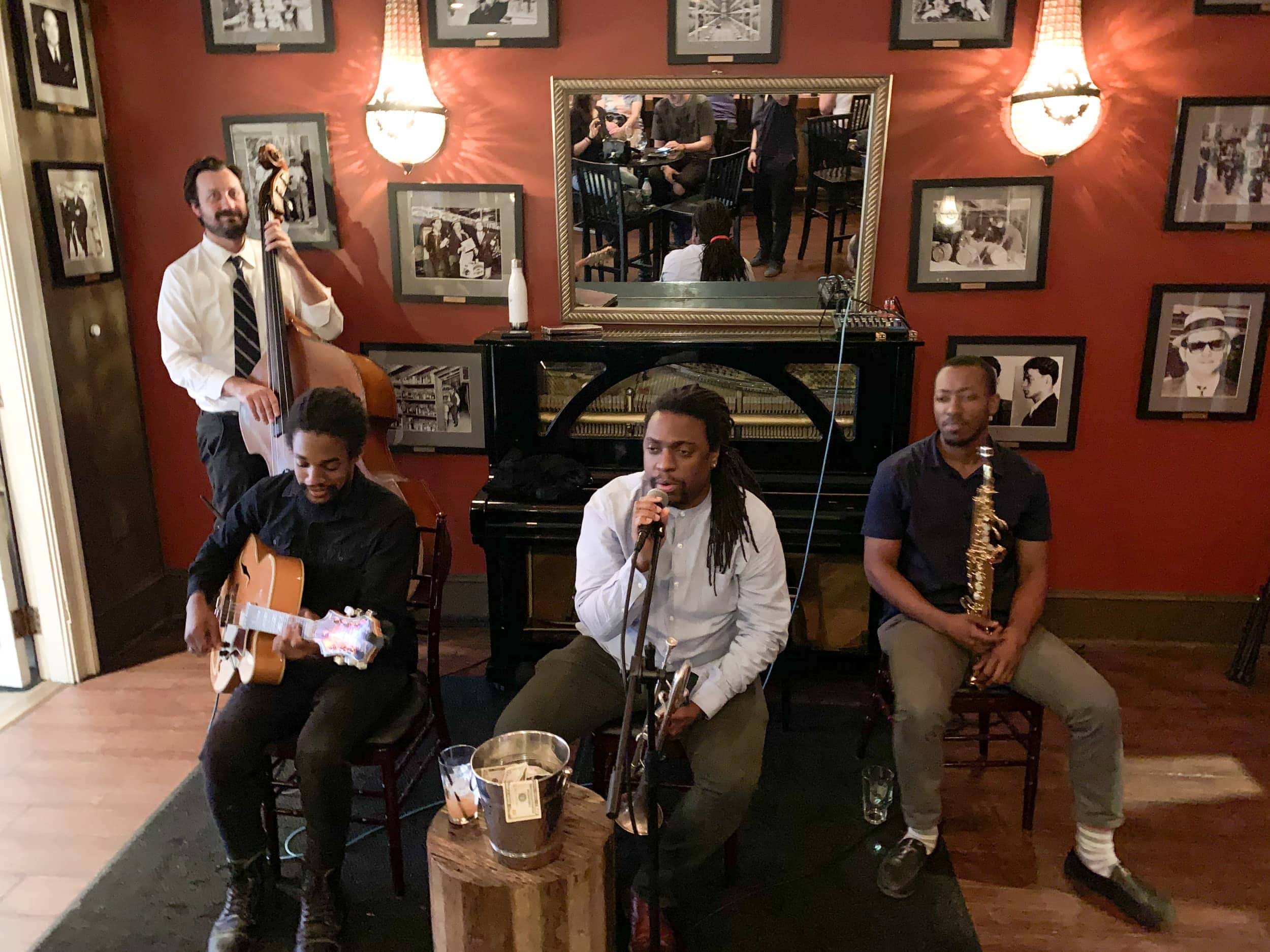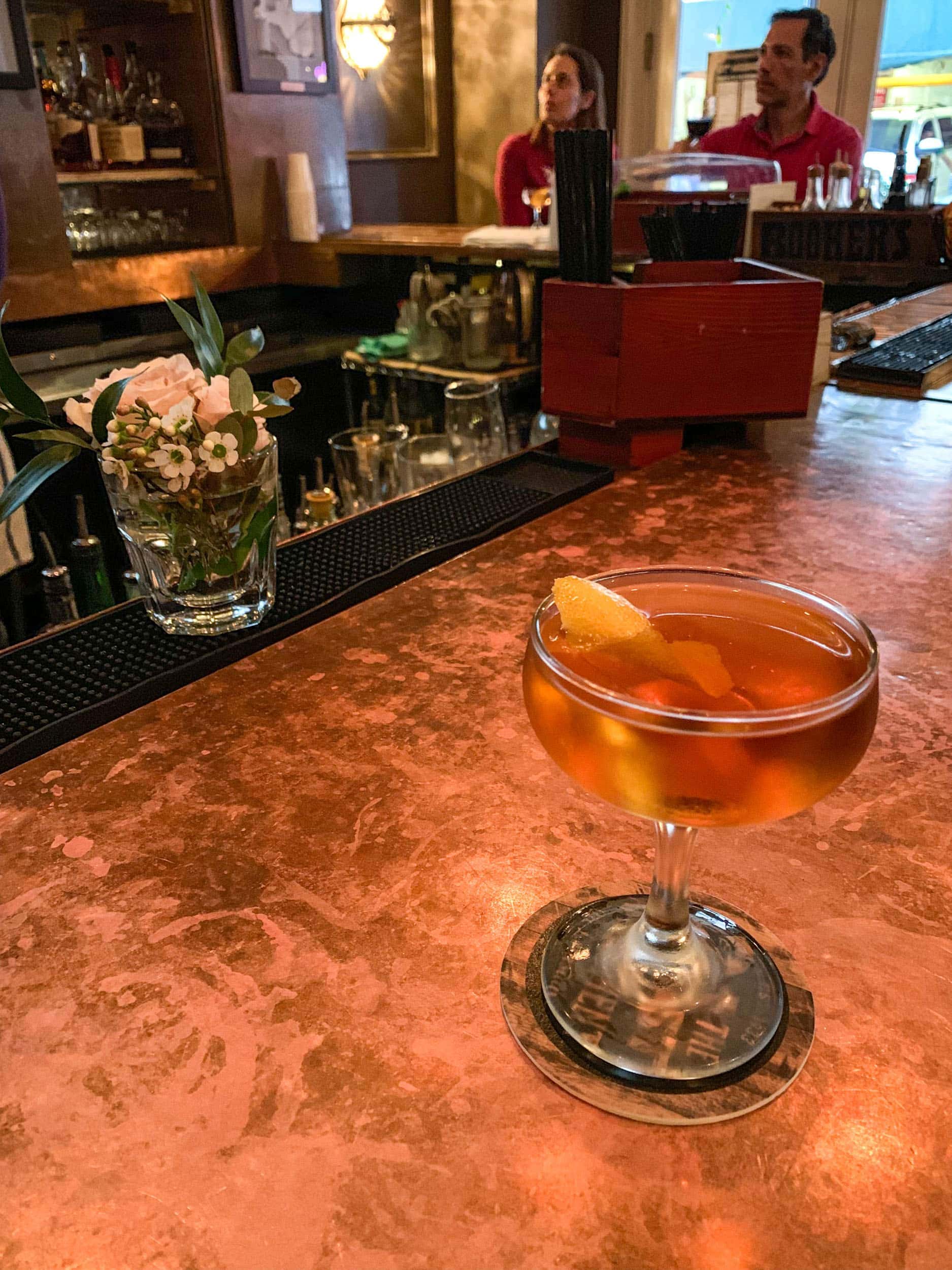 21st Amendment at La Louisiane
Speaking of Prohibition, the 21st Amendment Bar at La Louisiane Hotel was established in 1933 and dedicated to its repeal.
From the 1950s to the 1980s, the bar was owned by Diamond Jim Moran and Carlos Marcello, two local mobsters.
In recognition of such a history, black and white photos of well-known wise guys hang from the walls.
The cocktail menu features a mix of classic and seasonal drinks starting at $12.
The 21st Amendment Bar has live music seven days a week and is one of my favorite spots for jazz in New Orleans.
725 Iberville St, French Quarter, 21stamendmentlalouisiane.com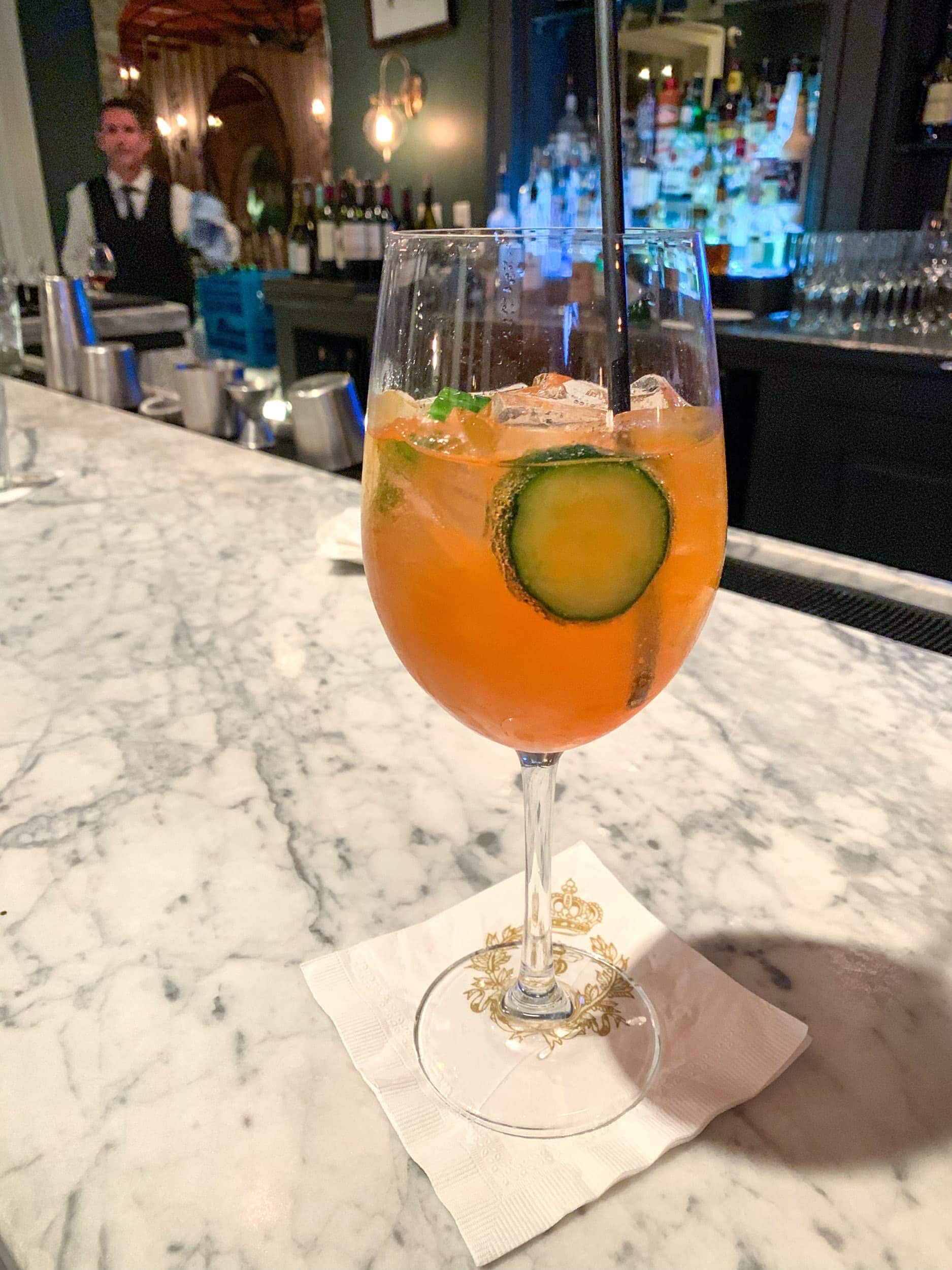 Empire Bar / Broussard's Restaurant & Courtyard
The Empire Bar at Broussard's is another Prohibition-era bar.
Broussard's Restaurant was opened in 1920 by Joseph Broussard, a local chef trained in Paris, and his wife, Rosalie.
Chef Broussard's fine dining establishment occupied the ground floor and focused on Creole and French cuisine. The couple lived in an apartment above it.
At Empire Bar, I enjoyed a delicious Crimson and Clover cocktail made with Hendrick's gin, Aperol, house-made strawberry shrub, and sparkling wine.
Broussard's offers guests access to one of the best open-air courtyards in the French Quarter.
So, after a few sips, I took my cocktail outside to enjoy the fresh air.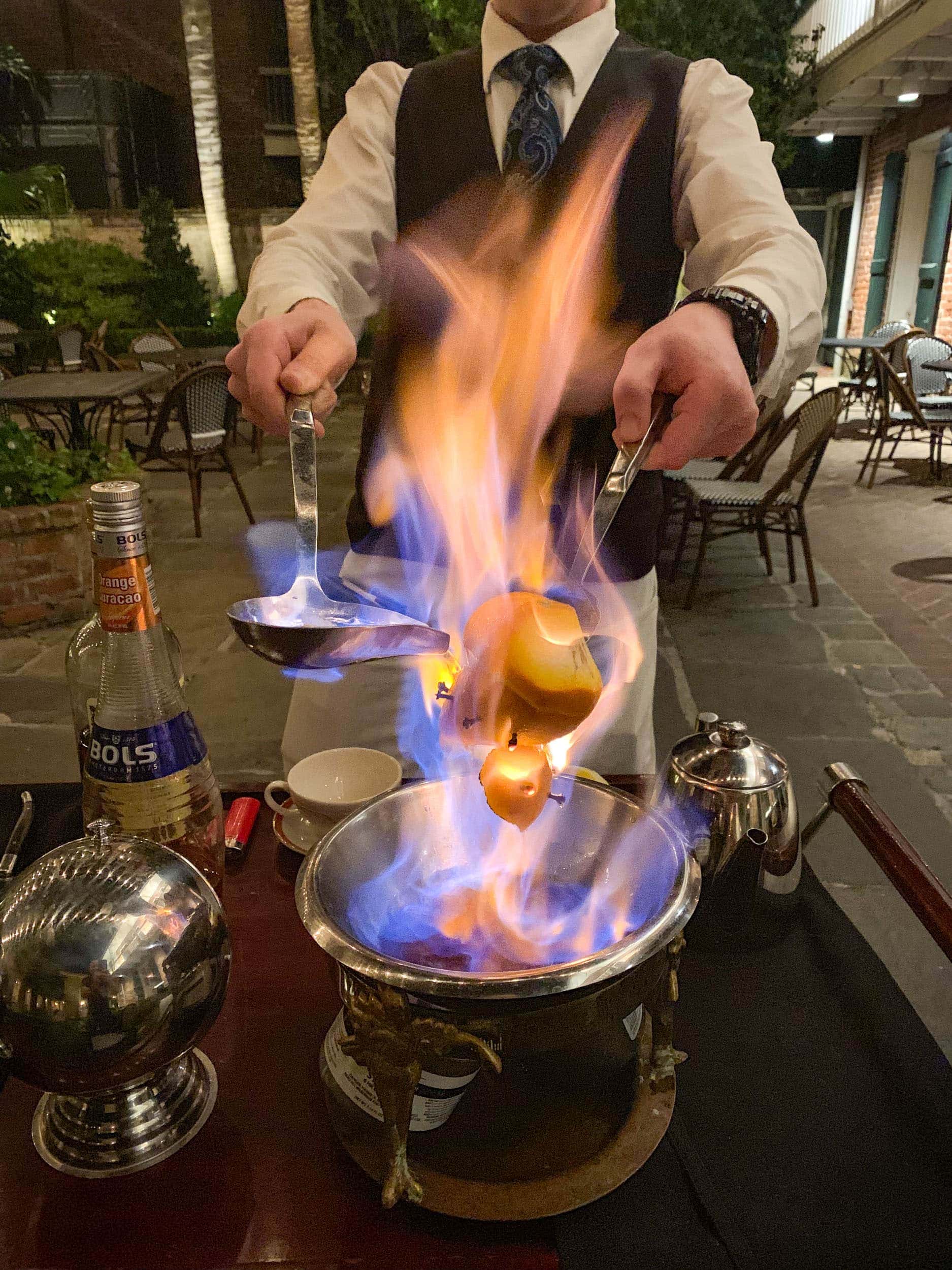 When a waiter dropped off the after-dinner menu, I noticed Broussard's serves Cafe Brulot Diabolique ("Devilishly Burned Coffee").
This coffee-based cocktail was invented at Antoine's, one of the best restaurants in New Orleans, and only a handful of restaurants in town offer it.
The show happens tableside, which was made all the better by being outdoors.
The waiter skillfully prepared and flambeed the drink, which includes coffee, brandy, sugar, cinnamon, cloves, and orange.
Due to the time required to make it, this drink requires a minimum of two people.
As I was alone, I asked nicely and offered to pay the full cost of $18. The waiter kindly agreed.
Once the flames were out, I was left to sip this fantastic coffee cocktail under the stars.
Pro tip: the second cup tastes better as the flavors have had more time to meld together.
819 Conti St, French Quarter, broussards.com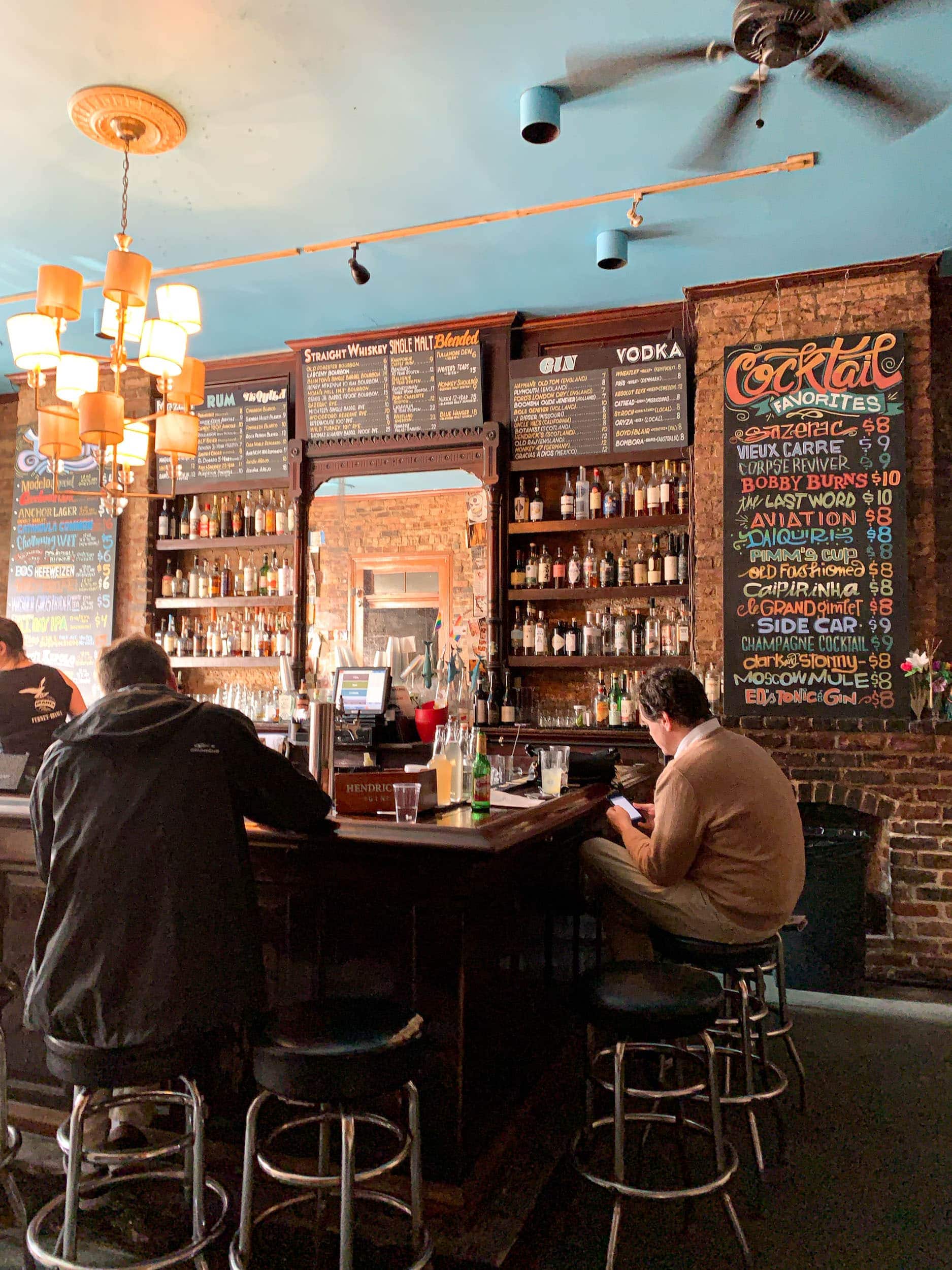 Bar Tonique
At the northern edge of the French Quarter, facing Louis Armstrong Park is Bar Tonique.
This small, brick-walled craft cocktail bar is a casual, affordable spot with an excellent reputation.
All of the ingredients used in the cocktails are made from scratch. I had my first Pimm's Cup here.
820 N Rampart St, French Quarter, bartonique.com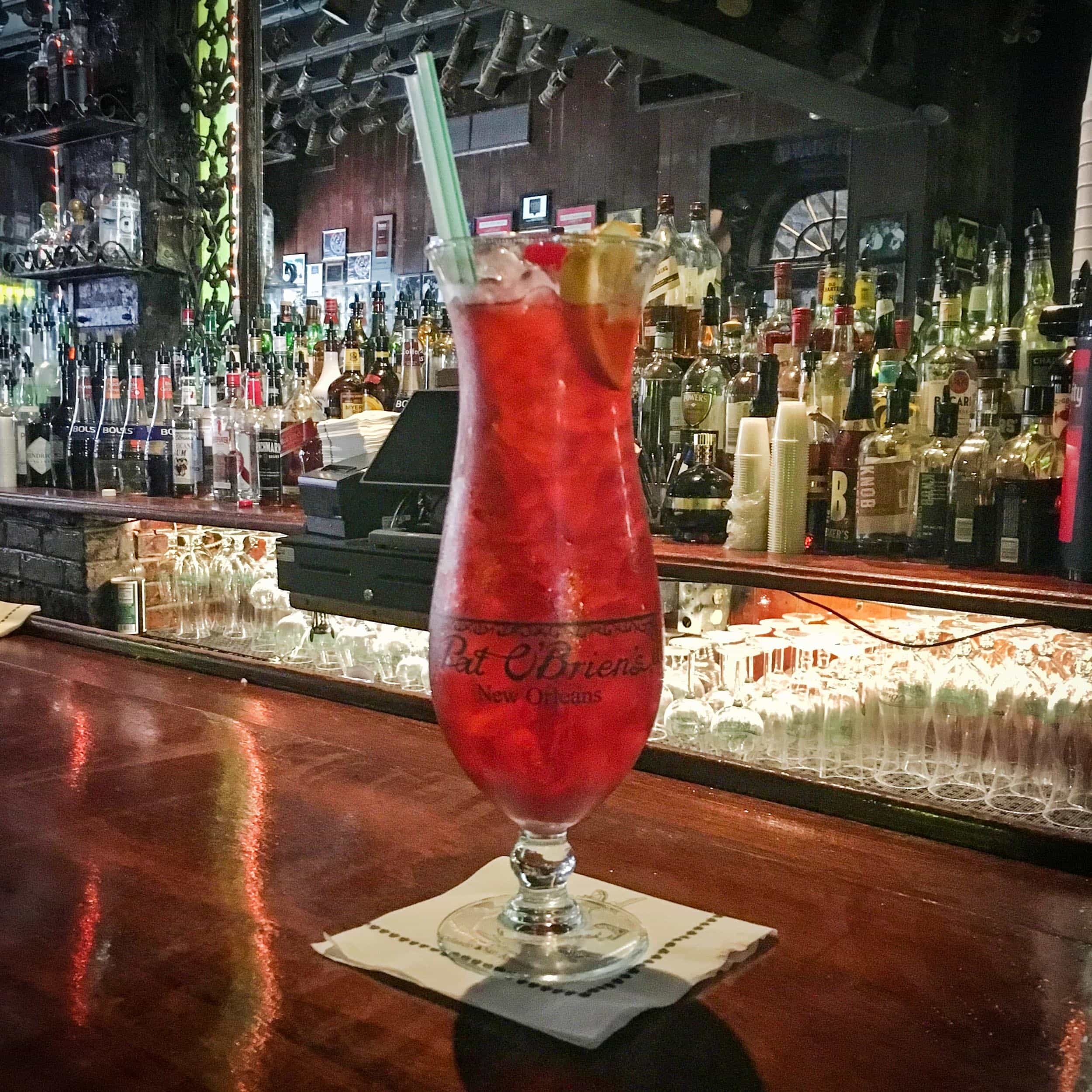 Pat O'Brien's
On my first trip to New Orleans, I made it a point to check out Pat O'Brien's, the bar where the sweet, rum-based hurricane was invented.
Pat O'Brien initially operated a speakeasy during the Prohibition. In 1942, he partnered with a friend and purchased the 230-year old building that currently houses Pat O'Brien's.
The larger bar allowed him to install two baby grand pianos, introducing dueling pianos as entertainment for his patrons.
The hurricane was invented soon after due to the flow of rum coming up from the Caribbean.
718 St Peter, French Quarter, patobriens.com
Best Cocktail Bars Outside the French Quarter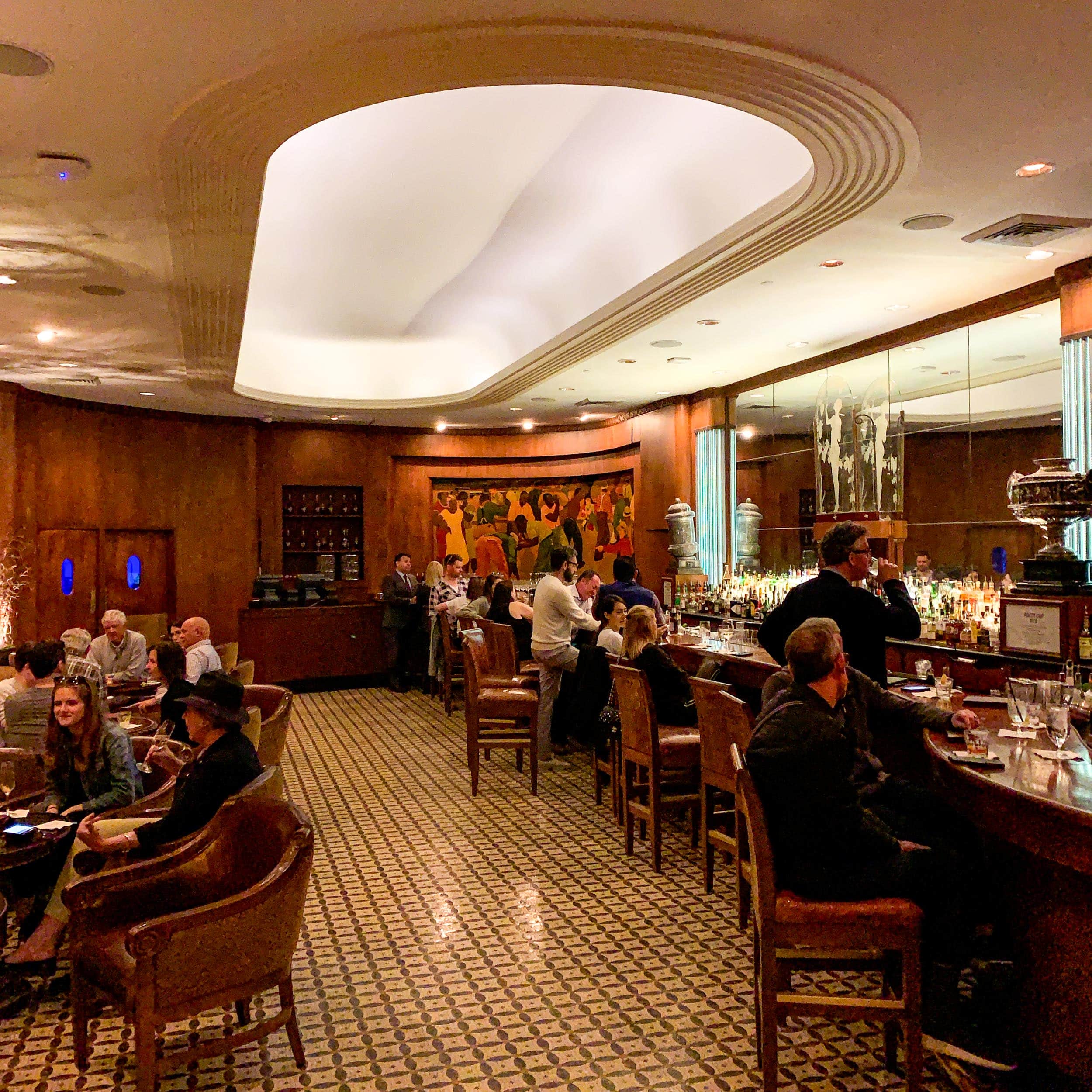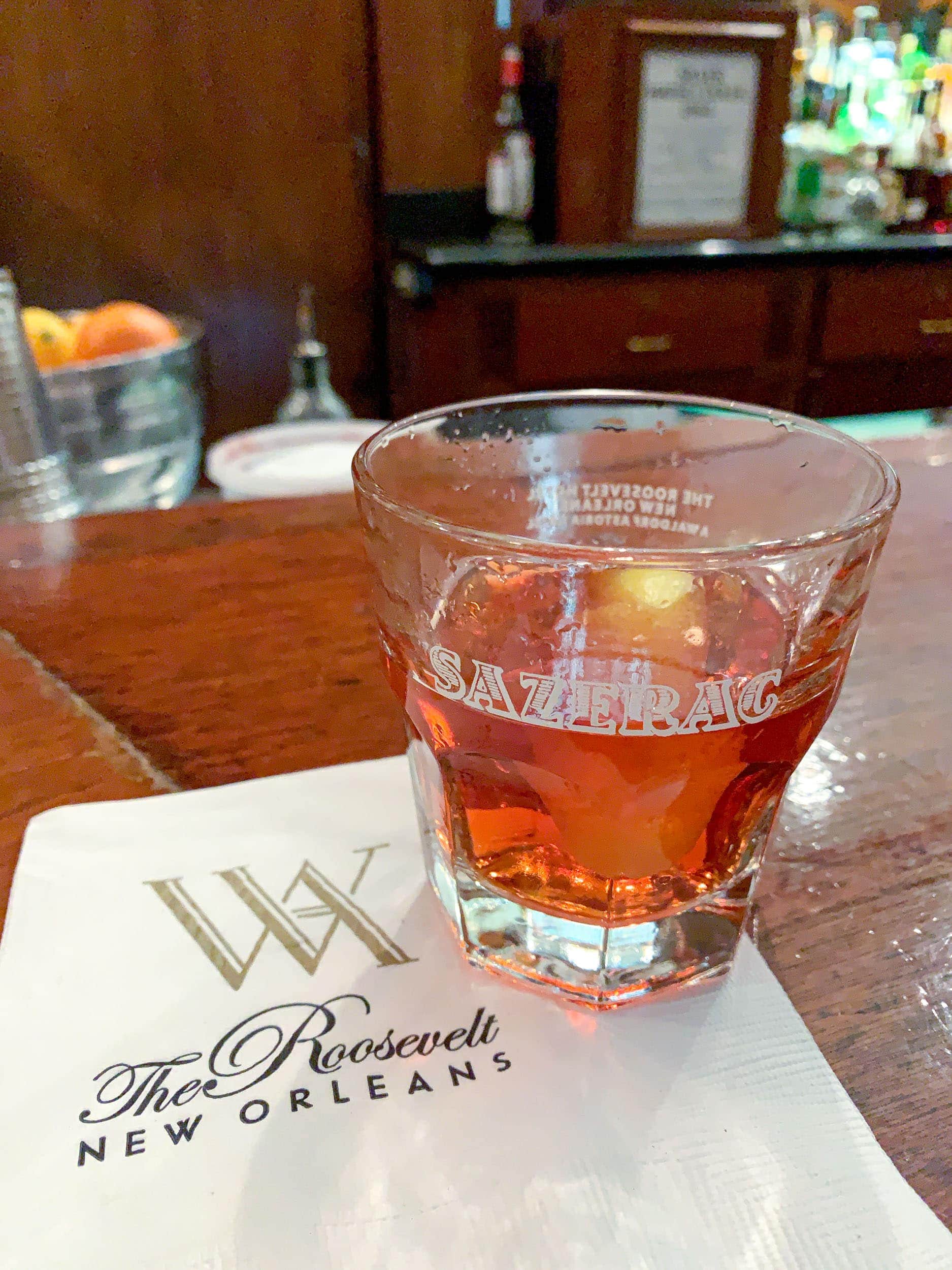 Sazerac Bar at The Roosevelt Hotel
In 1838, Antoine Peychaud created the Sazerac at his New Orleans apothecary, and with that, the concept of the cocktail was born.
The official cocktail of New Orleans is made with Sazerac Rye Whiskey, Peychaud's Bitters, sugar, and Herbsaint (an anise-flavored liqueur).
Today, there's no better place to try a Sazerac for yourself than at the Sazerac Bar at The Roosevelt New Orleans, a Waldorf Astoria Hotel.
The experience begins when you enter the opulent lobby and continues as you take the elevator to the Sazerac Bar.
An African walnut bar runs the length of the bar on the right side, tables fill the left side, and there's plenty of space in between.
I saddled up to the bar, ordered the signature Sazerac for $18, and promptly realized I didn't much like it. Not that there was anything wrong with the preparation, mind you.
The friendly bartender said my reaction wasn't uncommon and offered to mix me up something else instead.
Appreciating the generous service, I ordered a Ramos Gin Fizz, a 19th-century cocktail I knew would be more to my liking.
Hayman's Old Time Gin was mixed with lime and lemon, sugar, egg whites, cream, and orange flower water, and seltzer.
The fizzy, frothy mixed drink tasted like a liquid dessert.
130 Roosevelt Way, The Roosevelt New Orleans, therooseveltneworleans.com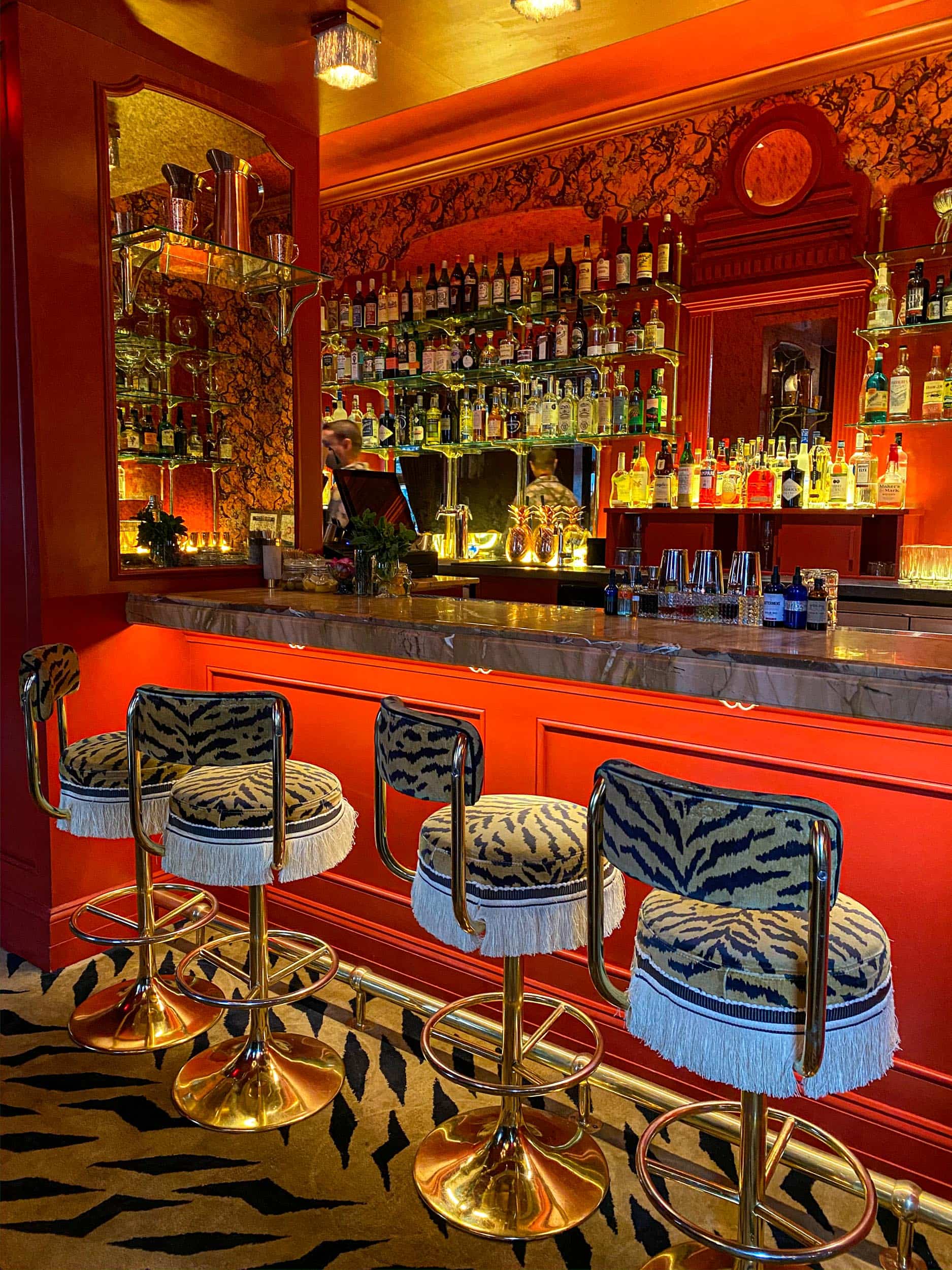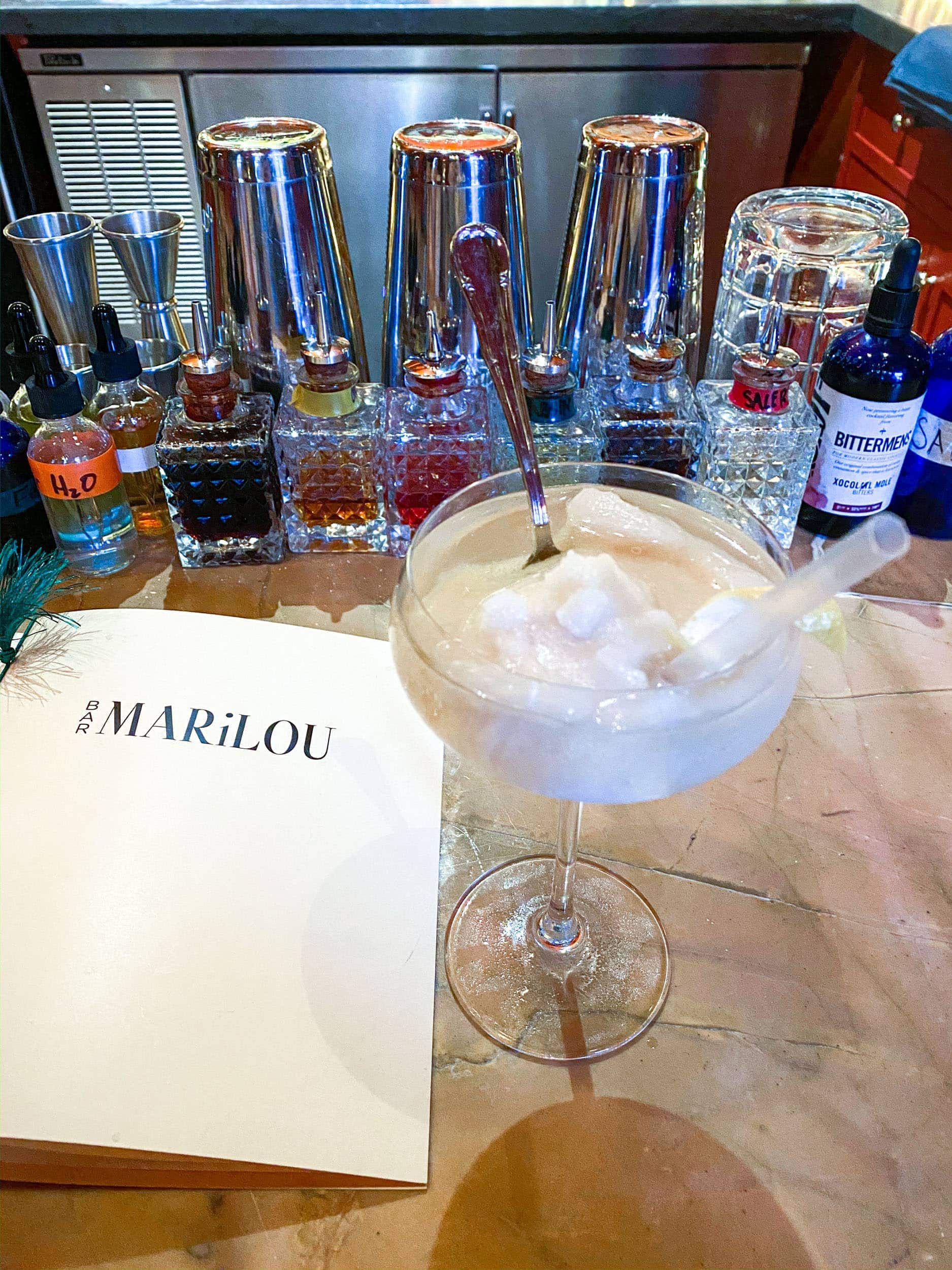 Bar Marilou at Maison de la Luz
The fashionable Bar Marilou is a French-style bar in Maison de la Luz, a new luxury hotel in the Central Business District.
Original built-in bookcases are stocked with a selection of hand-picked books.
The cocktail menu is full of original drinks ranging from $9 to $14, with a few available in larger sizes for sharing.
Bar Marilou is a terrific happy hour spot to start your night.
Guests of the hotel have access to a small hidden lounge in the wall between the lobby and Bar Marilou.
544 Carondelet St, Central Business District, barmarilou.com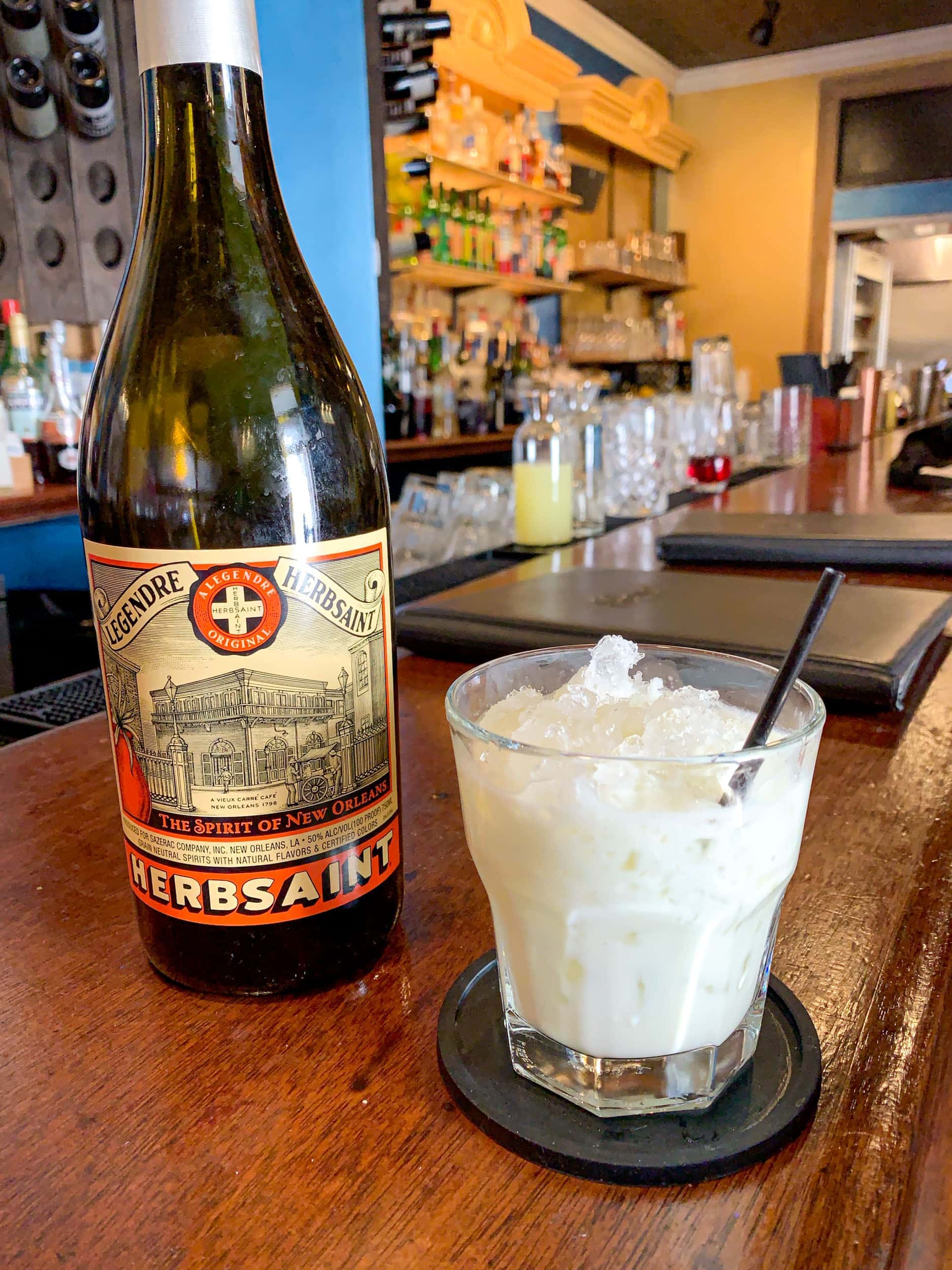 Revel Cafe & Bar
I knew there was something different about the bartender at Revel Cafe & Bar when he began telling me the history of my drink, a Corpse Reviver No 2.
I was enjoying his storytelling so much; I also ordered an absinthe Suissesse, a typical New Orleans brunch cocktail with Herbsaint, Orzata (almond syrup), and cream.
And I would've stayed for more, but it wasn't even 1 pm yet; I still had a full day and night ahead of me.
I later learned the talkative bartender was Revel's owner, Louisiana-native Chris McMillian, a fourth-generation bartender, historian, and co-founder of The Museum of the American Cocktail.
133 N Carrollton Ave, Mid-City, revelcafeandbar.com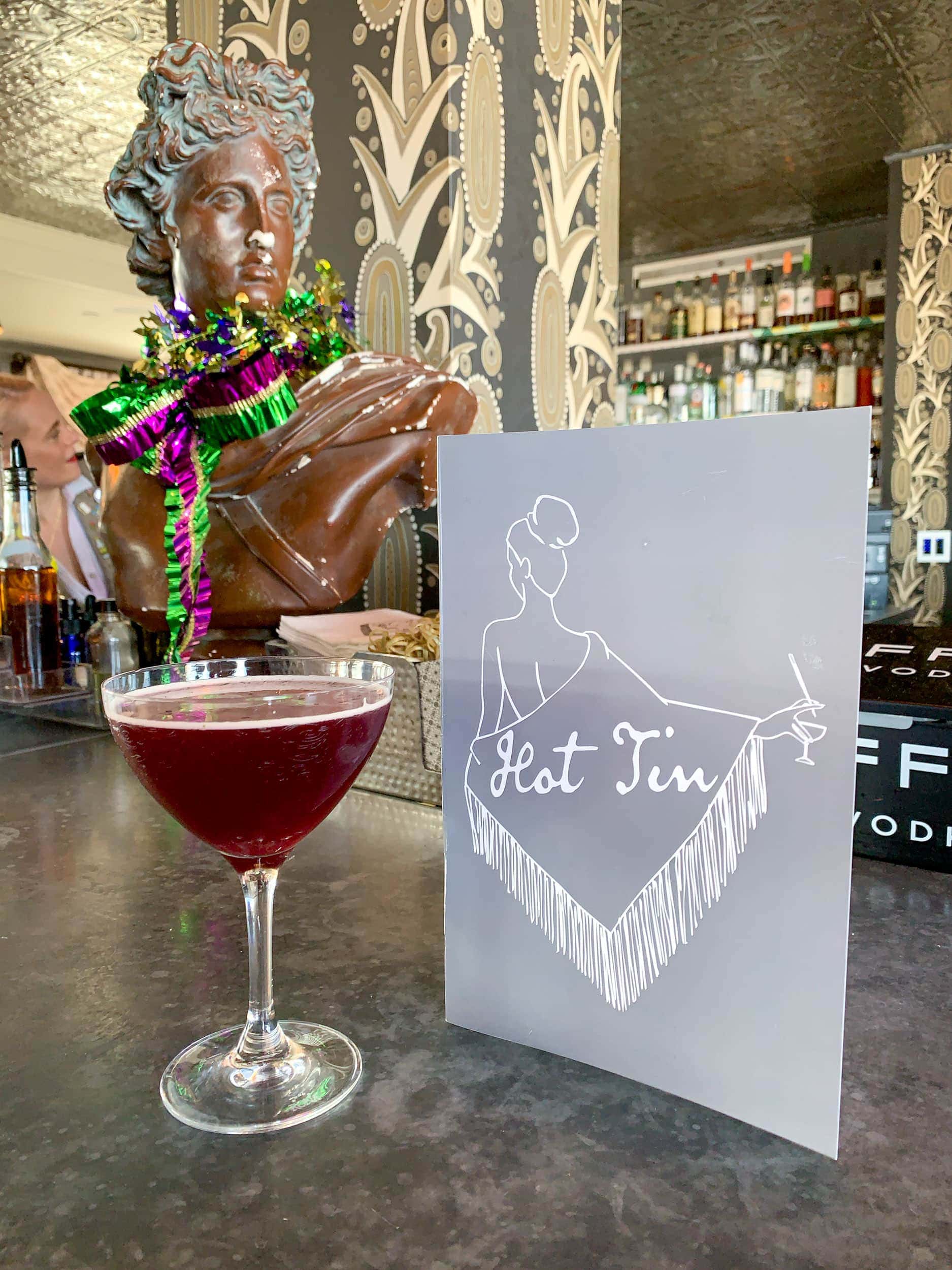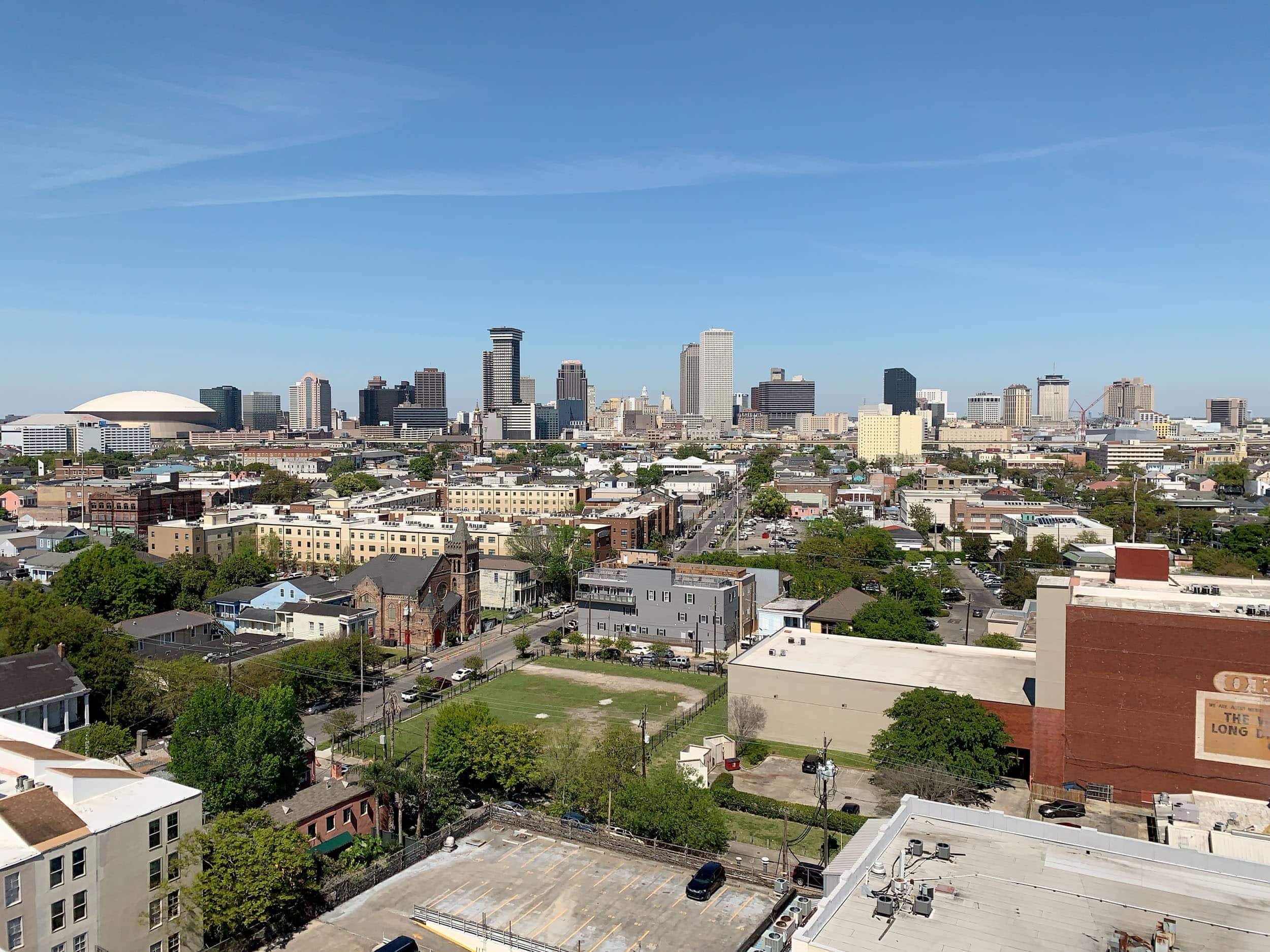 Hot Tin at Pontchartrain Hotel
For an incredible view of Downtown New Orleans, day or night, head to Hot Tin on the roof of the Pontchartrain Hotel.
This bright and airy rooftop bar is designed to look like an artist's loft.
Signature cocktails such as the Wolf in Lamb's Clothing (gin, lemon, basil, honey, Lambrusco) run $12, with most of the classic cocktails costing $10 apiece.
2031 St Charles Ave, Central City, hottinbar.com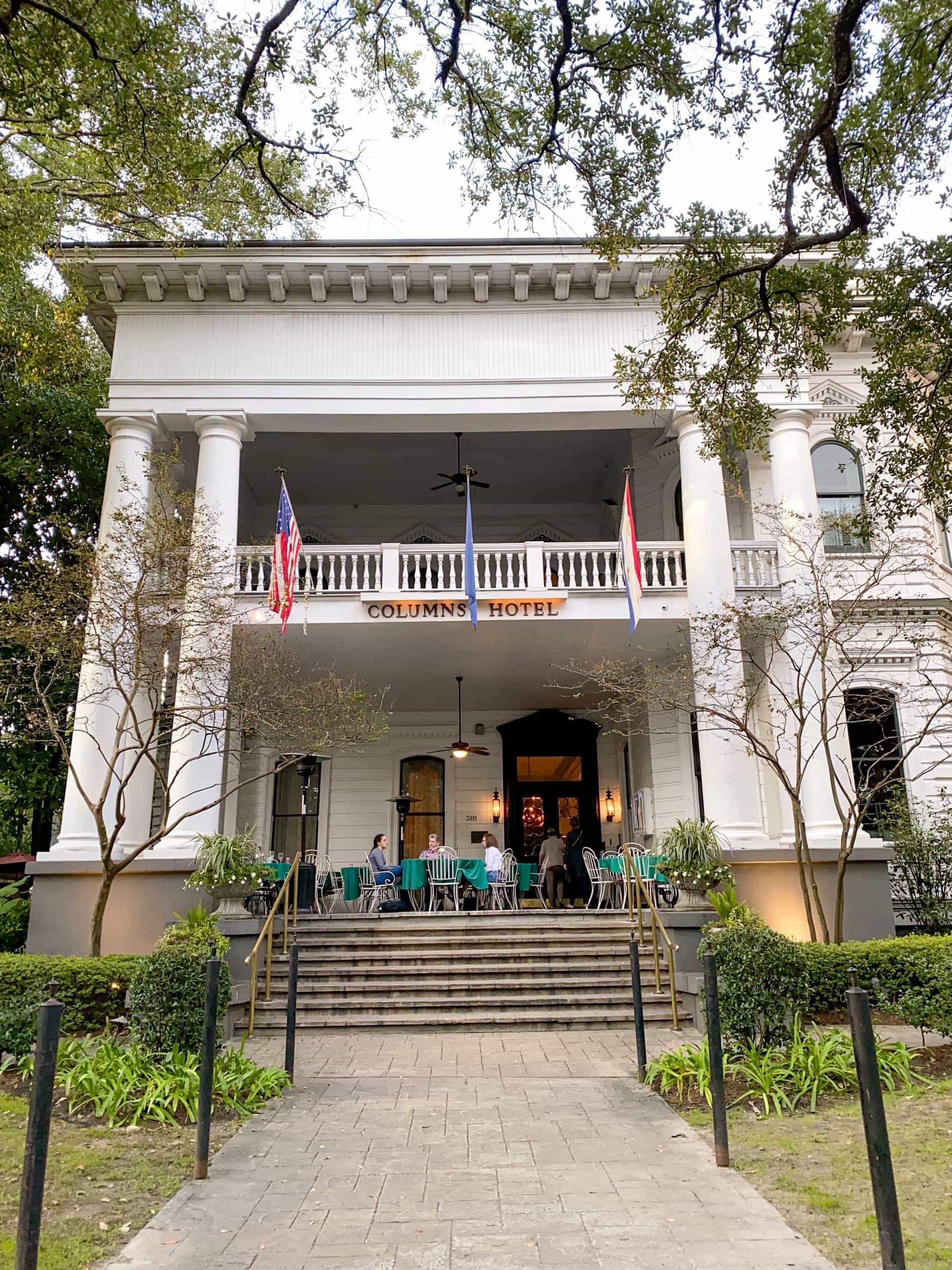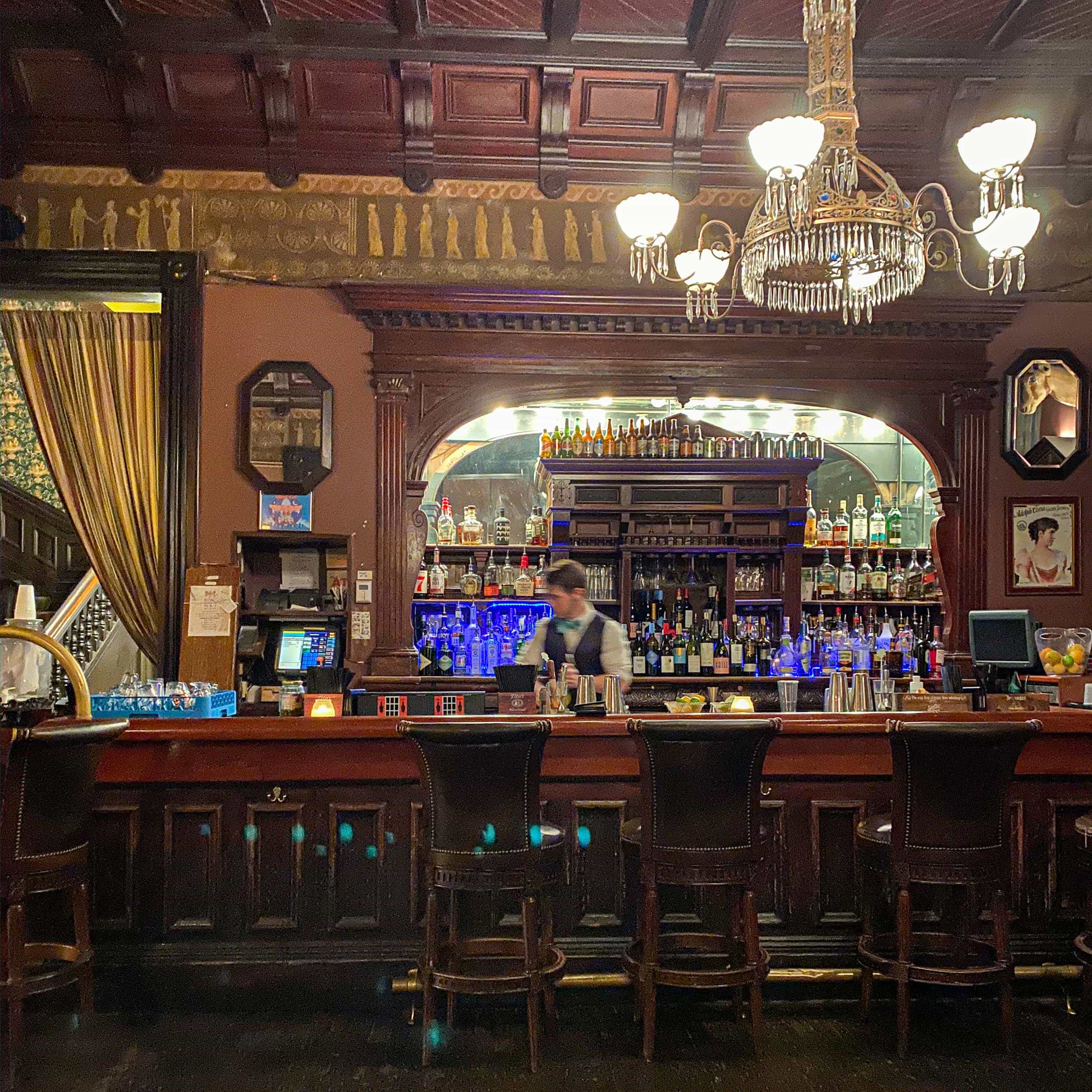 The Columns Hotel
Built in 1883 on St Charles Avenue, just west of the Garden District, the Columns Hotel offers visitors old-world elegance.
Inside the first-floor bar, pictures of Brooke Shields hang on the wall in recognition of her role in Pretty Baby, a controversial 1978 movie that filmed scenes at the hotel.
One's eye is also drawn to an ornate metal and wood fireplace, which I have to believe is original to the hotel.
After ordering our drinks, my friend and I took a table on the porch to soak up the street views.
3811 St Charles Avenue, Mid-City, thecolumns.com
***
Thirteen is my lucky number, and it feels like as good a number as any for my first crack at a list of the best cocktail bars in New Orleans.
There are many more I plan to visit on future trips. This story will be updated as I find new places to recommend.
Did you enjoy this story? Join me on Instagram and Facebook to share thoughts, ask questions, or keep up with my latest adventures.