My cafe-hopping days in Saigon were so much fun that I made a similar mission to find the best cafes in Hanoi.
I focused on the best places in Hanoi's Old Quarter and nearby Hoan Kiem Lake for this article.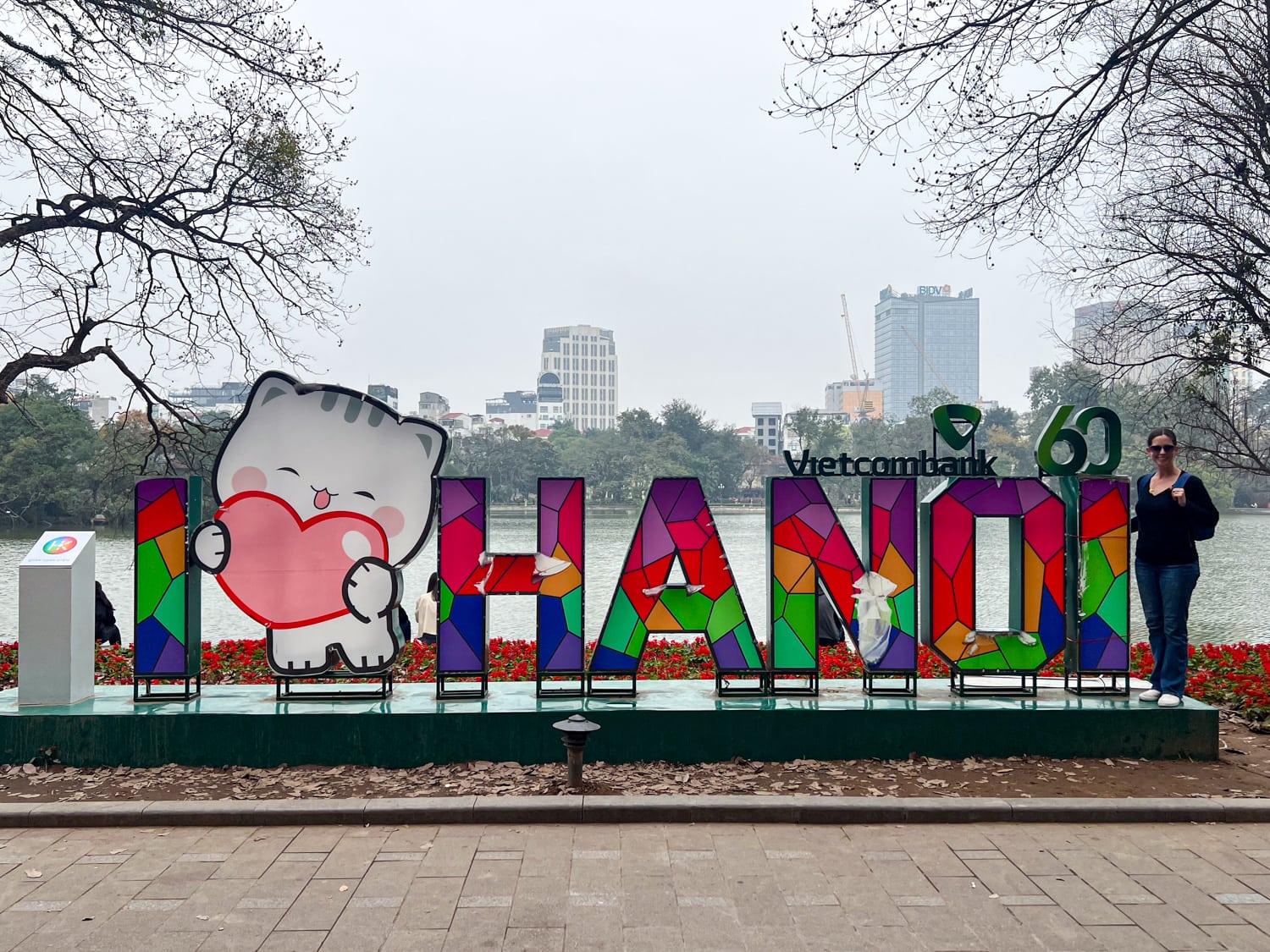 Whether you're a coffee connoisseur, a digital nomad, or looking for refuge from the city's noise and traffic, these Hanoi cafes are worth a visit.
Top Cafes in Hanoi
1. Cafe Giang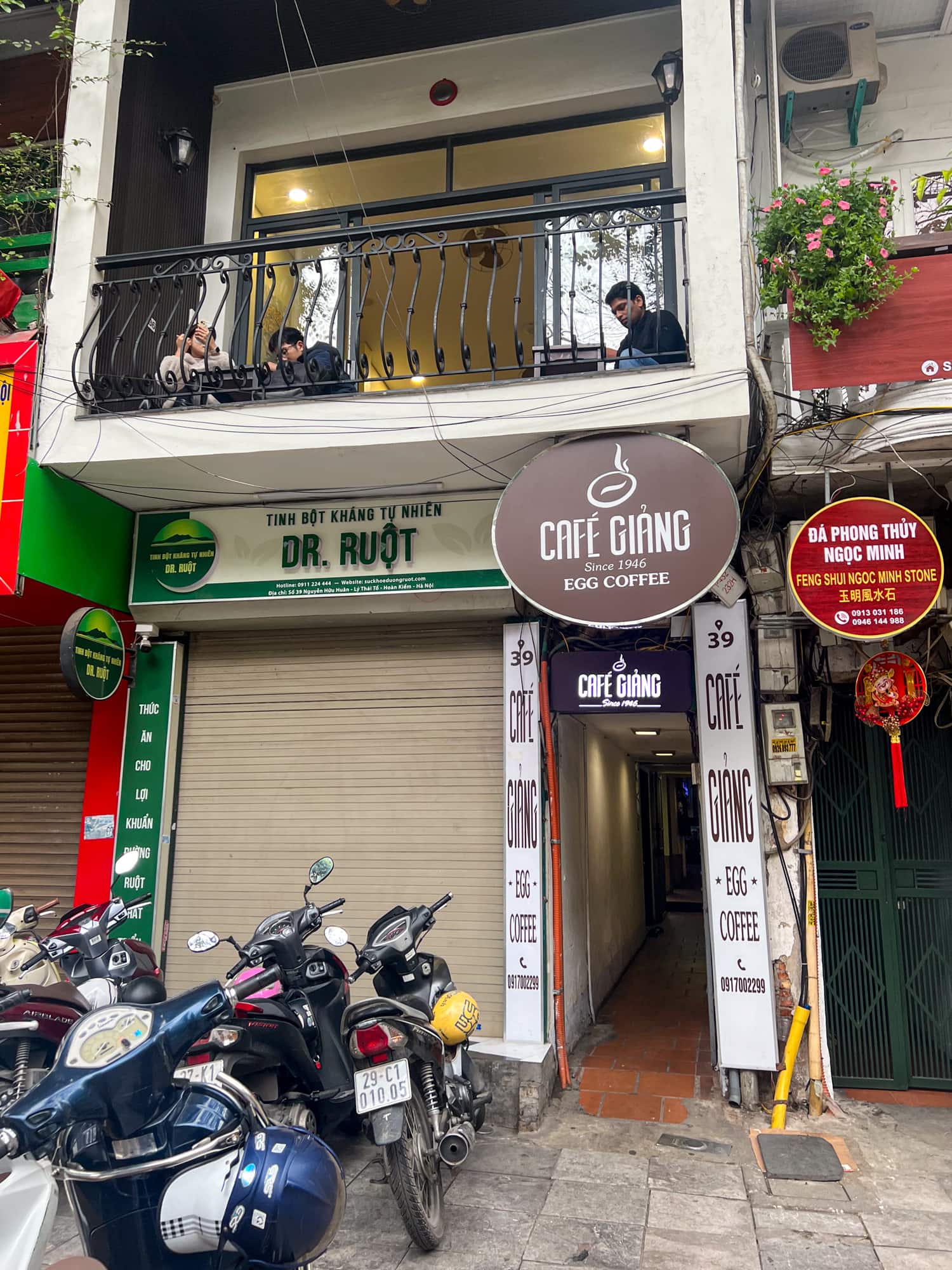 Let's begin with a hallmark of Hanoi coffee culture: Cafe Giang's egg coffee.
The story behind this unique Vietnamese coffee began in 1946 during a milk shortage due to the First Indochina War.
Mr. Nguyen Van Giang, a bartender at the Sofitel Legend Metropole Hotel, decided to get creative.
He whipped up egg yolks with condensed milk as a substitute for fresh milk and added it to the coffee.
The result? A rich, frothy beverage that's somewhere between a cappuccino and a dessert.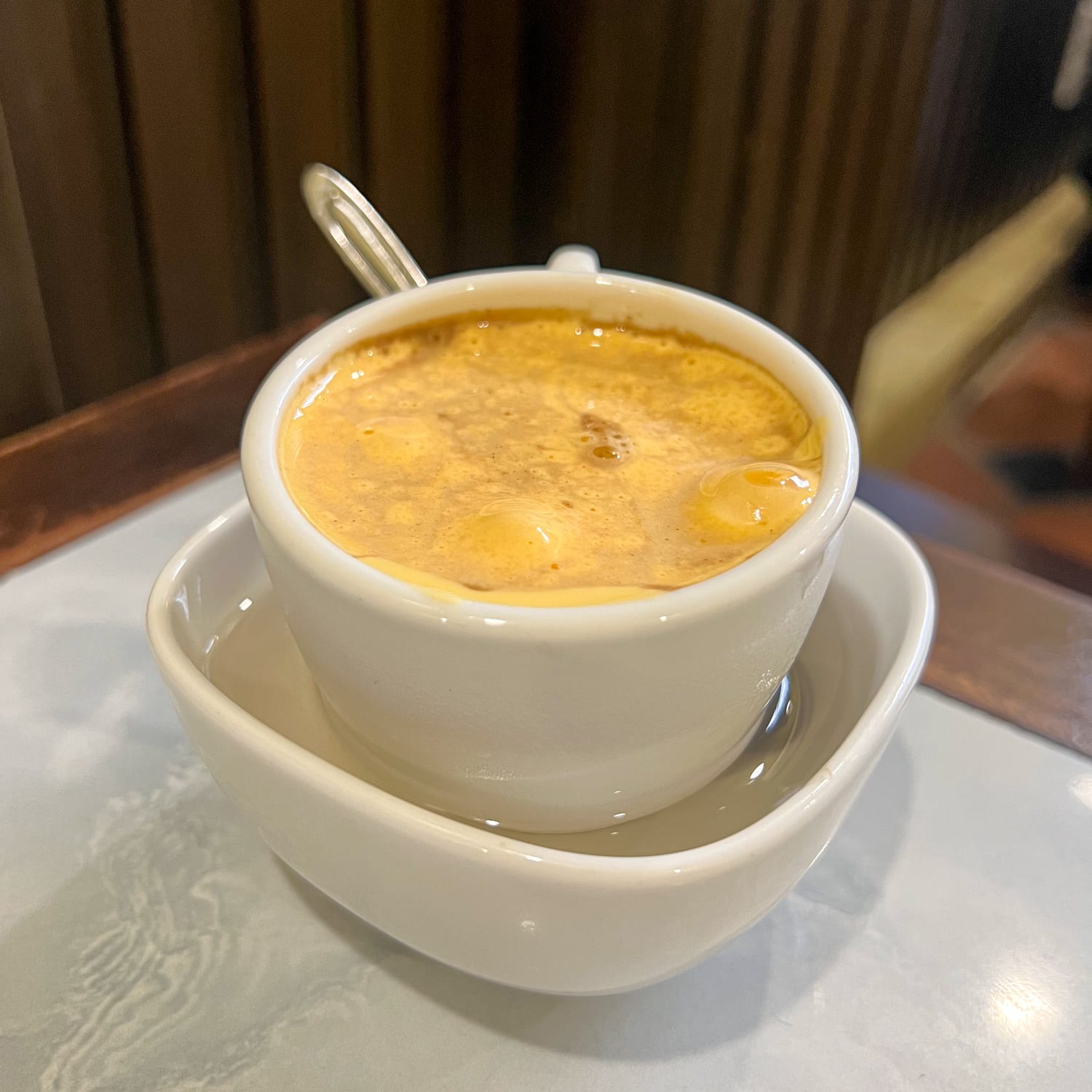 The ingredients are simple yet indulgent: robust Vietnamese coffee, egg yolks, condensed milk, and sometimes a dash of vanilla or cocoa.
The coffee is brewed in a traditional Vietnamese drip filter, and the egg mixture is whipped until it's light and foamy. The two are then combined to create a drink that's both luxurious and comforting.
Vietnamese egg coffee was a hit, so Mr. Giang left his hotel job to open the eponymous Cafe Giang in the Old Quarter. Today, it's run by his son.
My Experience
The first time I stopped by Cafe Giang, it was packed with people, so I returned at 7:15 a.m. the following day.
Still, some customers were there before me, but at least chairs were available. I sat at a small table on the second floor, with a view of the balcony.
A menu taped to the wall listed egg coffee (35k dong, about $1.45) and more than a dozen variations, as well as "egg beer" and "egg Coke."
Black coffee, iced coffee, yogurt coffee, teas, and juices are also available.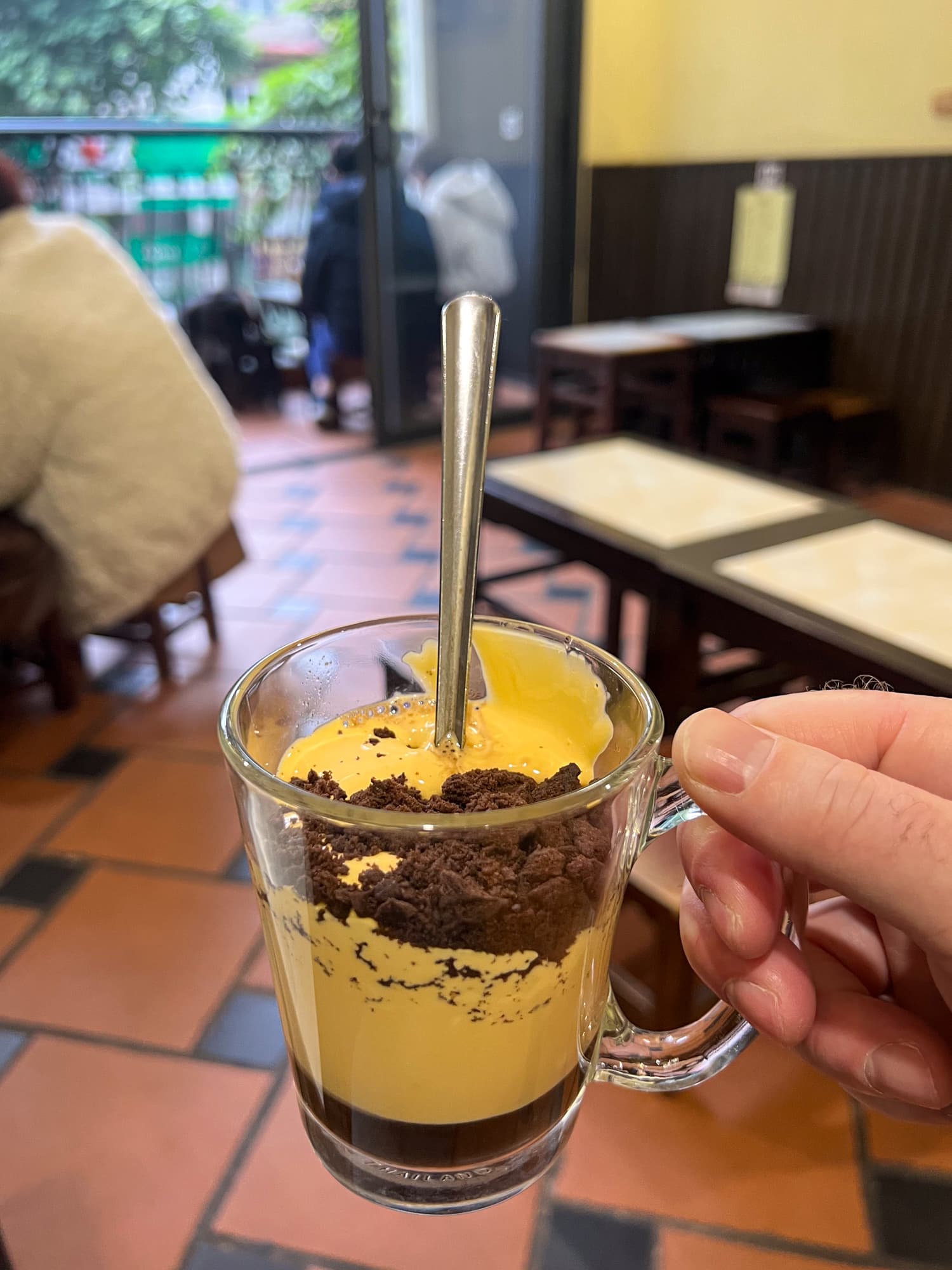 I ordered a hot egg coffee made from the original recipe and one variation, the egg coffee with Oreo cookies.
I'd already experienced egg coffee in Saigon's cafes, so it wasn't entirely new. However, I always appreciate a good drink in its place of origin.
The egg coffee with crumbled Oreo cookies was served in a tall glass mug so you can better appreciate the colors and layers. It was equally creamy, and I enjoyed the contrast of textures.
For the best egg coffee in Hanoi, head to Cafe Giang.
Address: 39 P. Nguyen Huu Huan, Ly Thai To, Hoan Kiem, Hanoi, Vietnam, cafegiang.vn
2. Dinh Cafe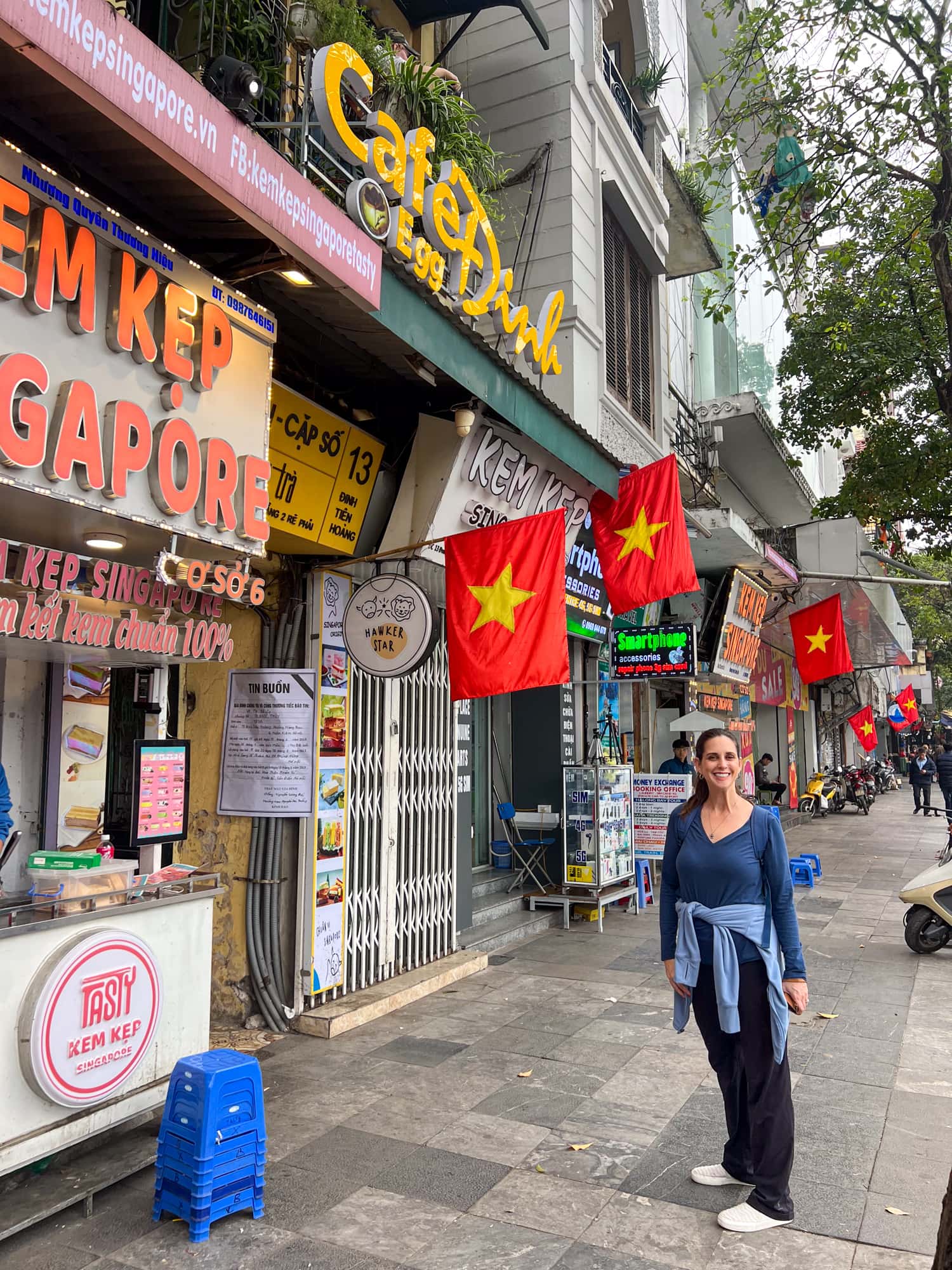 Cafe Dinh is another iconic spot for coffee lovers looking to experience the authentic cafe culture of Hanoi.
Tucked away on the second floor of an old French colonial building, this cafe is cozy and unpretentious. It's filled with small wooden tables and vintage decor.
Smoking is allowed, and The Clash was playing on my visit. But what sets Cafe Dinh apart is its legendary egg coffee.
Owned by the daughter of Nguyen Van Giang, the man credited with inventing egg coffee, Cafe Dinh has a rich history that adds to its allure.
The cafe has long been a gathering spot for locals and tourists, eager to sip on this creamy delight while taking in views of Hoan Kiem Lake from the balcony.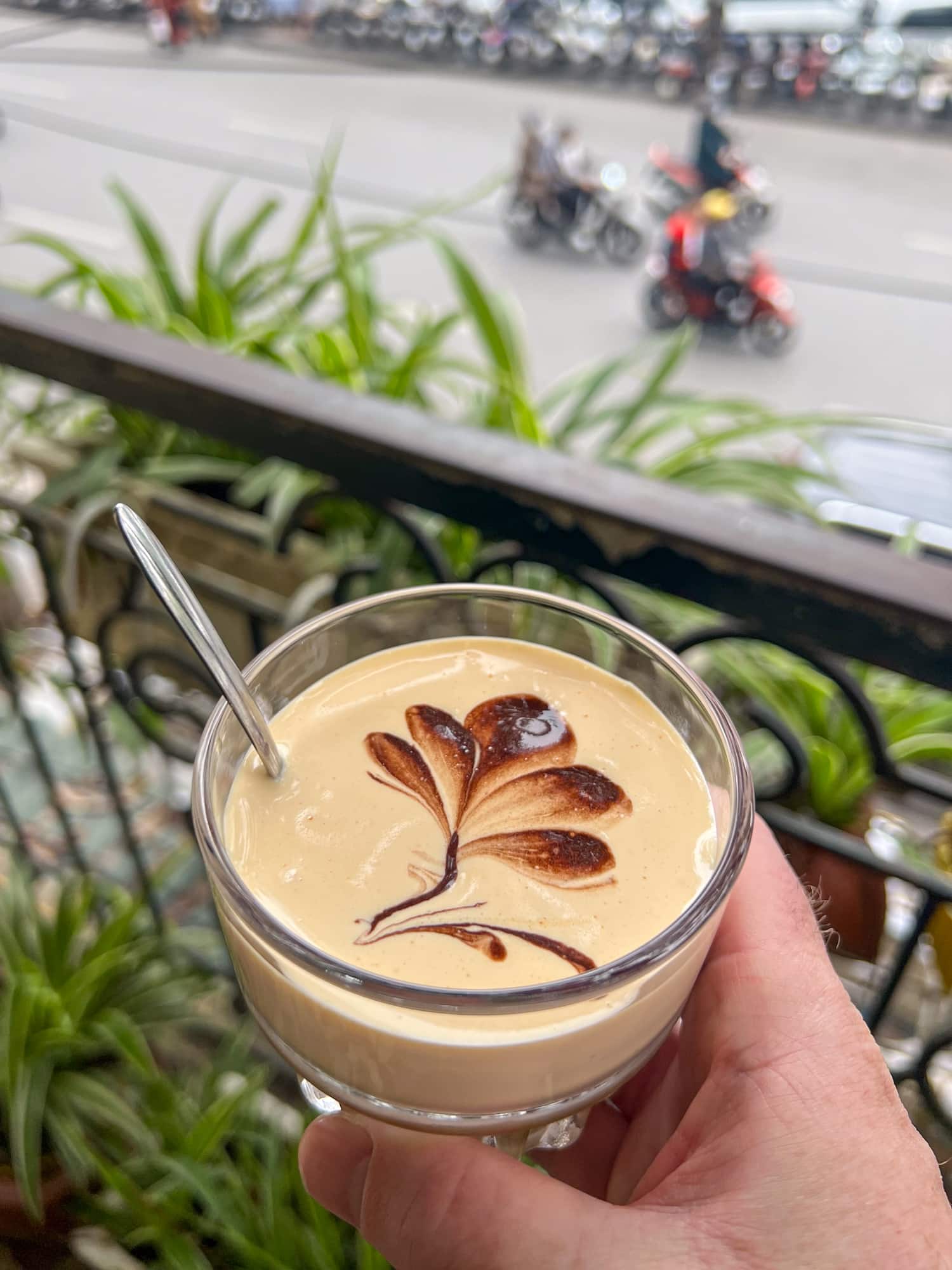 I ordered an iced egg coffee (30k dong, about $1.25) to mix things up. Like the hot version, cold egg coffee has a creamy head, but I didn't enjoy the ice.
So, at least for me, a lesson learned is to only order hot egg coffees.
Meanwhile, Kel sipped on a salted lemon juice, which tasted exactly as it sounded. Another lesson: we both prefer sweet over salty lemonade.
Address: 13 P. Dinh Tien Hoang, Hang Trong, Hoan Kiem, Hanoi, Vietnam, Google Maps
3. #HanoiinMe - Floral & Book Cafe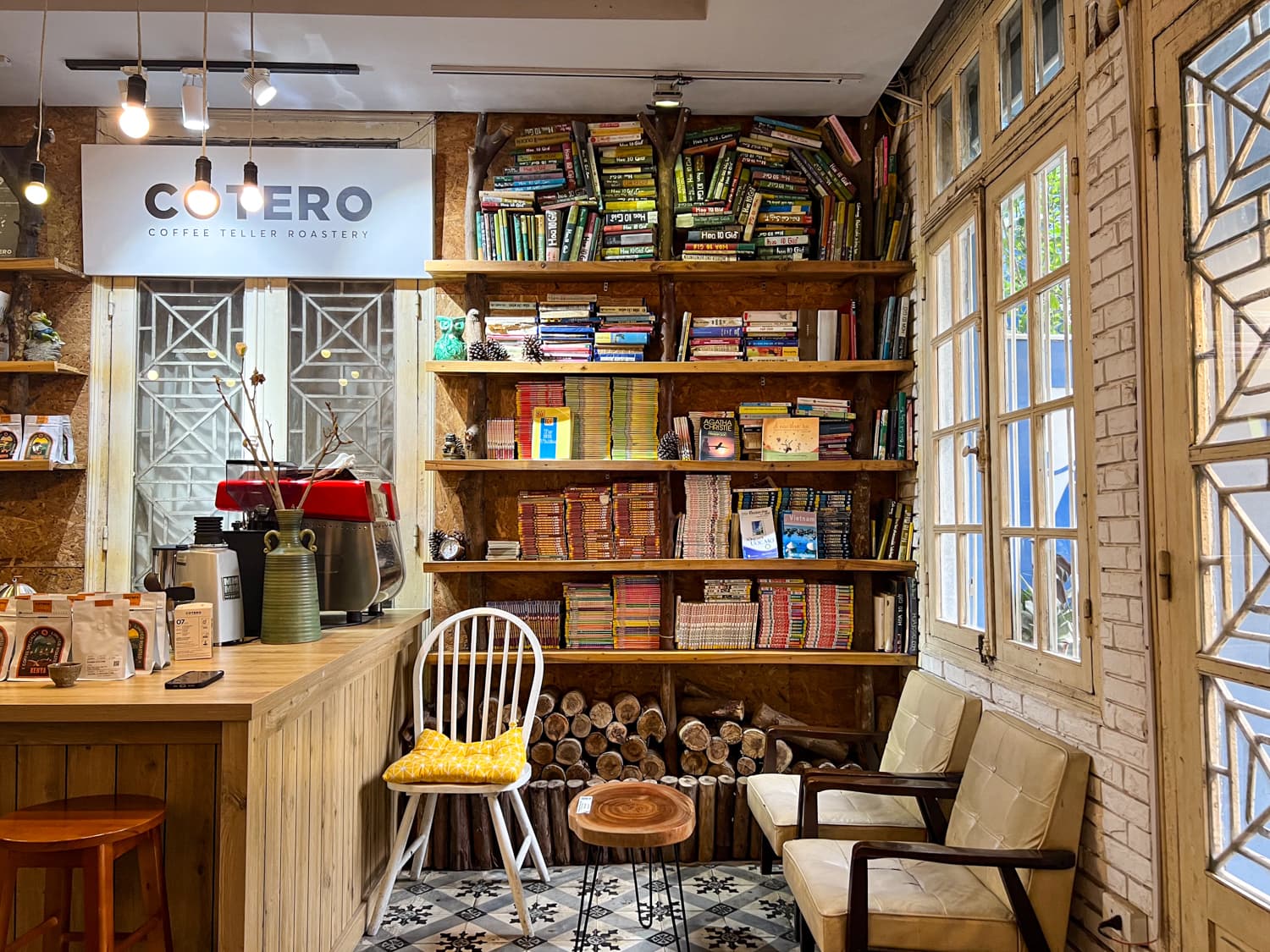 Ready for a cafe experience that's a feast for your taste buds and eyes? Say hello to #HanoiinMe - Floral & Book Cafe.
This charming cafe in Hanoi, a few blocks east of Hoan Kiem Lake, will appeal to bookworms and plant parents.
Imagine sipping on a delicious cup of coffee surrounded by blooming flowers and shelves stacked with books.
The second-story cafe is the companion to the first-floor flower shop through which you'll pass.
Upstairs, you'll find a quiet place with white brick walls, tiled floors, natural light, and plenty of books. Most are in Vietnamese, but I wasn't there to read.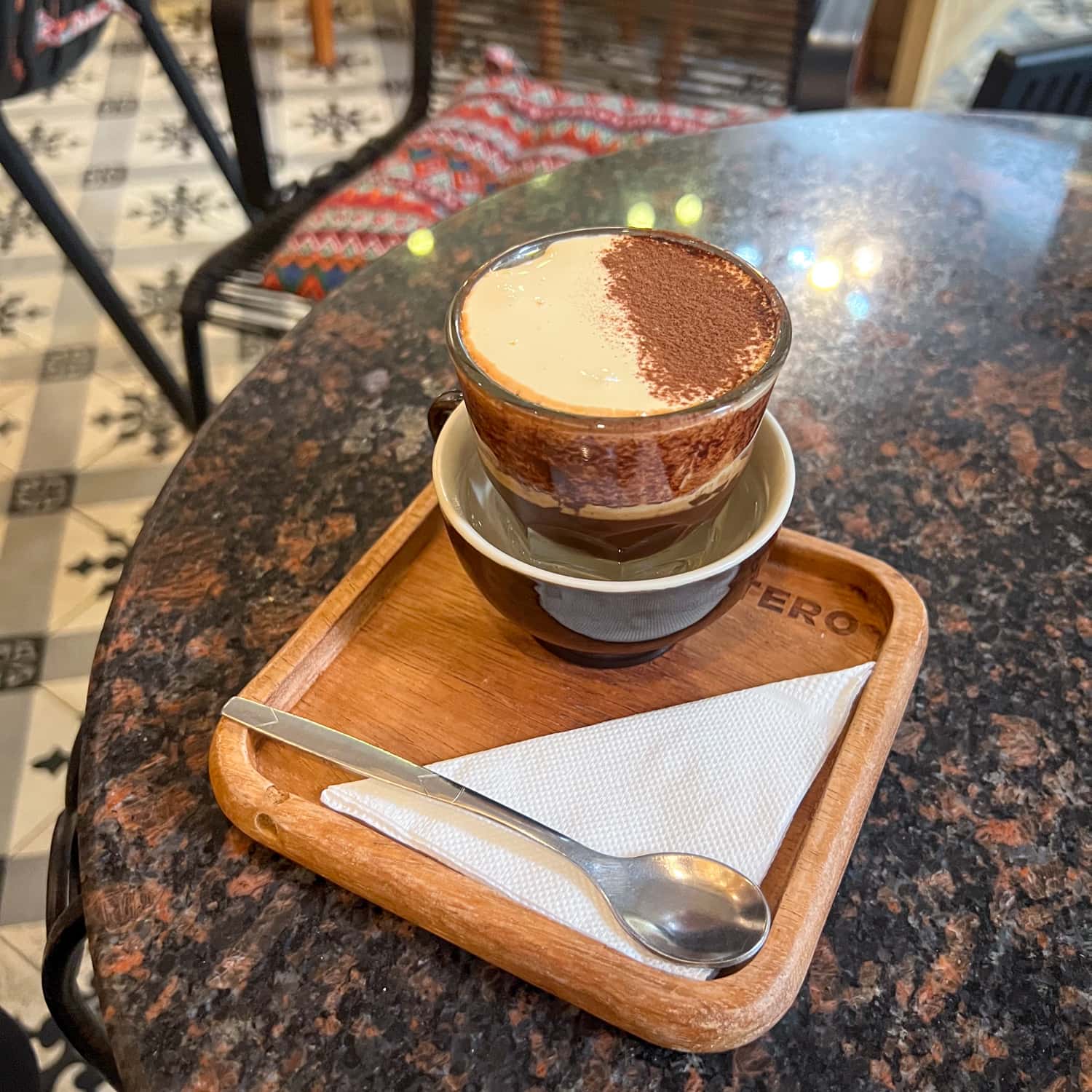 The menu includes everything from traditional Vietnamese brews to modern espresso-based drinks. Teas, juices, and smoothies are also available.
I ordered a hot Vietnamese coffee with condensed milk. Meanwhile, my friend Laura went with hot egg cocoa, the hot chocolate version of egg coffee we first tried on a street food tour in Da Nang.
Address: 26 P. Hang Voi, Ly Thai To, Hoan Kiem, Hanoi, Vietnam, hoa10gio-floral-bookcafe.business.site
4. Tranquil Books & Coffee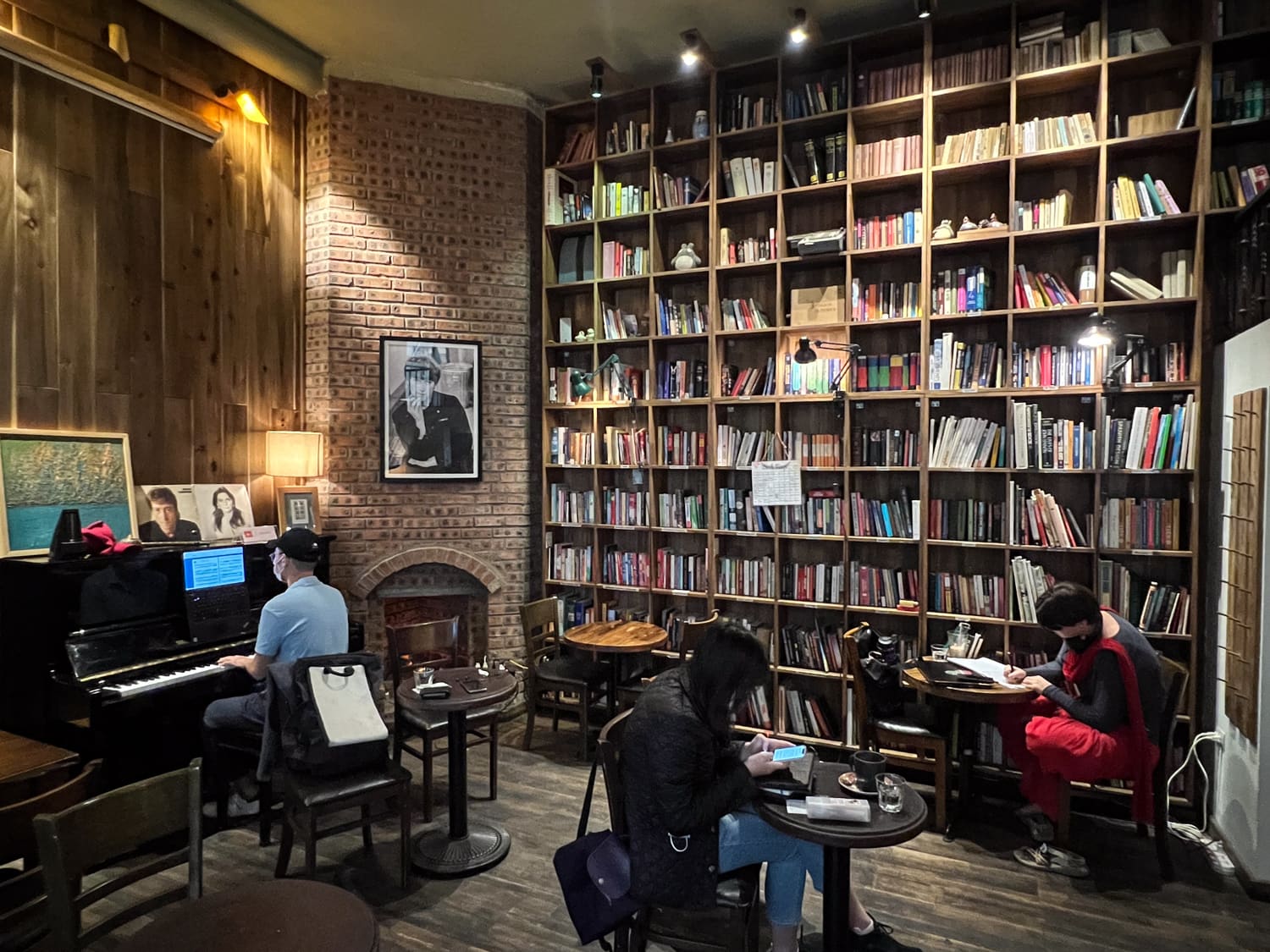 Tranquil Books & Coffee is a sanctuary in the heart of the Old Quarter that lives up to its name.
Nestled among the busy streets, this hidden gem offers a peaceful respite for visitors seeking a break from the city's frenetic pace.
Imagine stepping into a space filled with the aroma of freshly brewed coffee, the rustle of book pages, and the soft melodies of acoustic music. It's like walking into a warm hug.
The Hanoi cafe's first floor is dedicated to a wide array of Vietnamese and international books. A fireplace and a piano feature prominently, and they host live music events.
The second floor has a seating area adorned with wooden furniture, potted plants, and soft lighting, creating an atmosphere that invites you to unwind.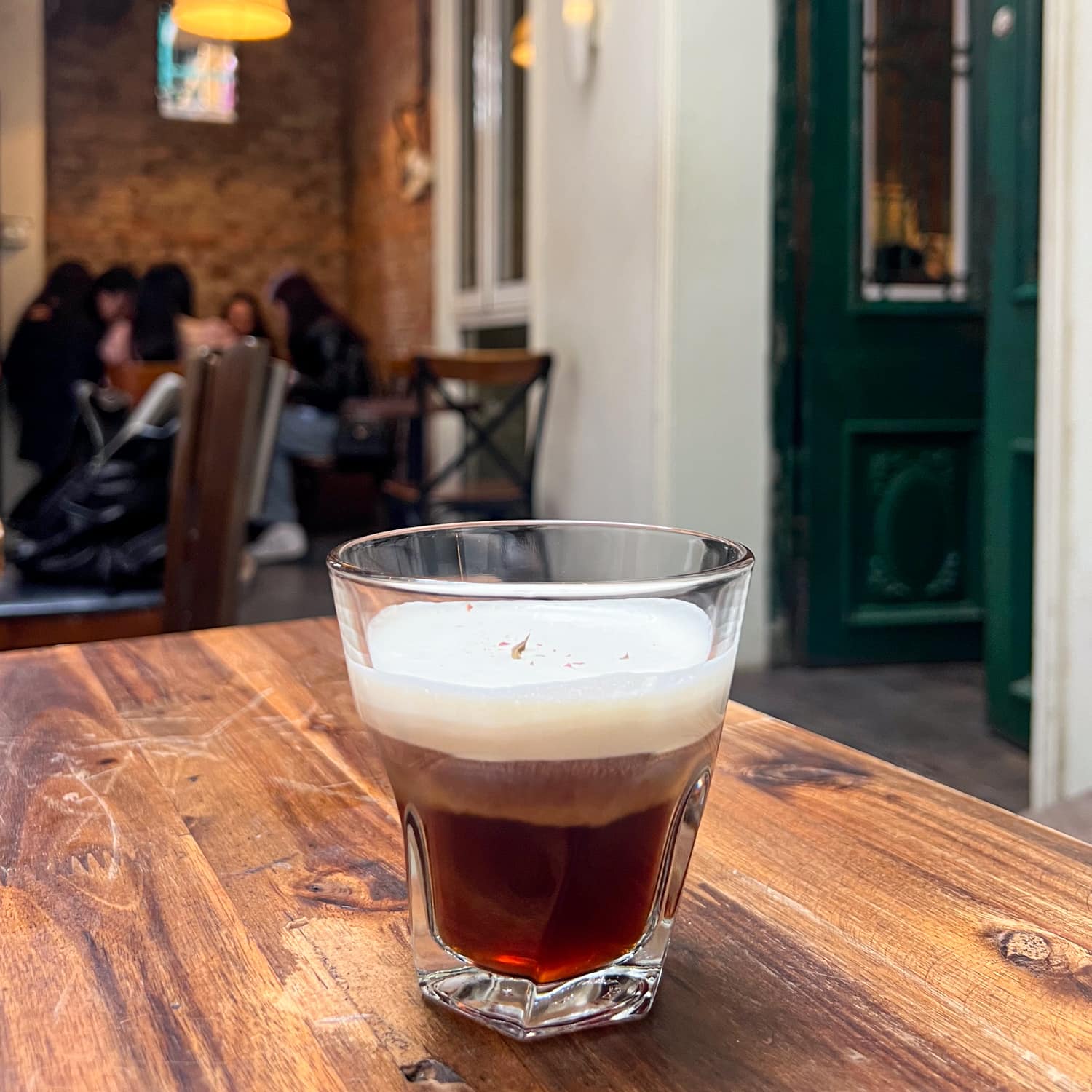 A patio offers outdoor seating, and I was lucky to grab a chair there as the inside was full when I dropped by.
Tranquil Books & Coffee is the ideal place to relax and recharge. Whether you're jotting down travel notes, reading a book, or planning your next meal, the cafe's serene environment is a welcome change.
It also offers a taste of local culture without the touristy frills. The coffee menu features a mix of Vietnamese classics and modern favorites.
Fuji, a seasonal cold brew with salted cream (60k dong, or about $2.50), was the delicious drink I sat with as I savored the surroundings.
Address: 5 P. Nguyen Quang Bich, Cua Dong, Hoan Kiem, Hanoi, Vietnam, facebook.com/cafetranquil
5. Maison Marou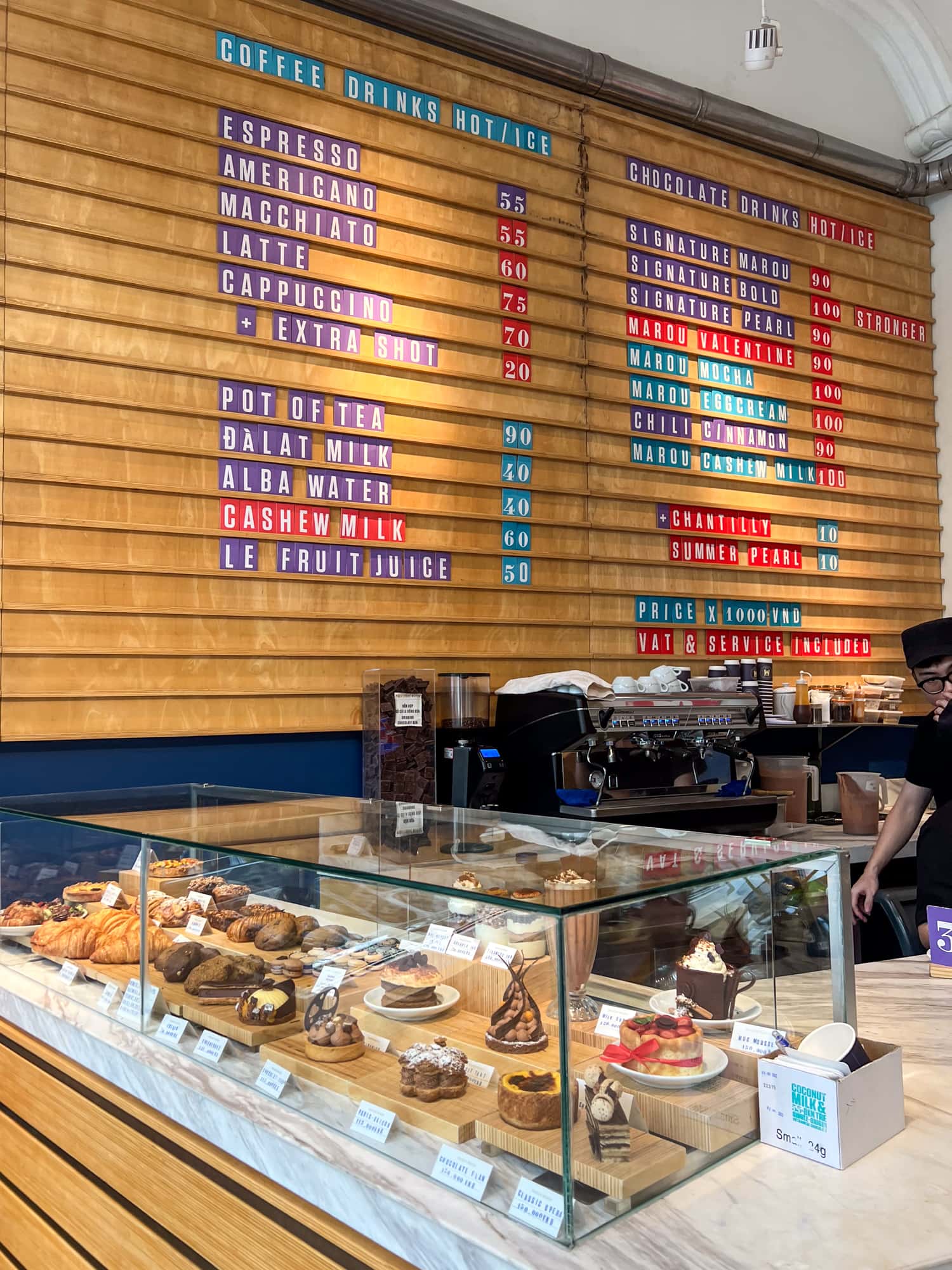 Get ready to satisfy your sweet tooth at Maison Marou, a chocolate fantasyland that's a must-visit for any cocoa enthusiast.
This isn't your average chocolate shop; Maison Marou takes you on a sensory journey from bean to bar, all within the confines of its elegantly designed space.
A highlight of the flagship cafes in Hanoi and Saigon is their open kitchens, where you can watch chocolatiers work their magic.
The chocolate is ethically sourced from Vietnamese cocoa farms, offering a unique taste of the country's terroir.
You'll find an array of artisanal chocolate bars, each with distinct flavor profiles ranging from fruity to earthy.
But the experience doesn't stop at the chocolate bars. The boutique cafe also serves decadent pastries, chocolate-infused drinks, and hot or iced coffees.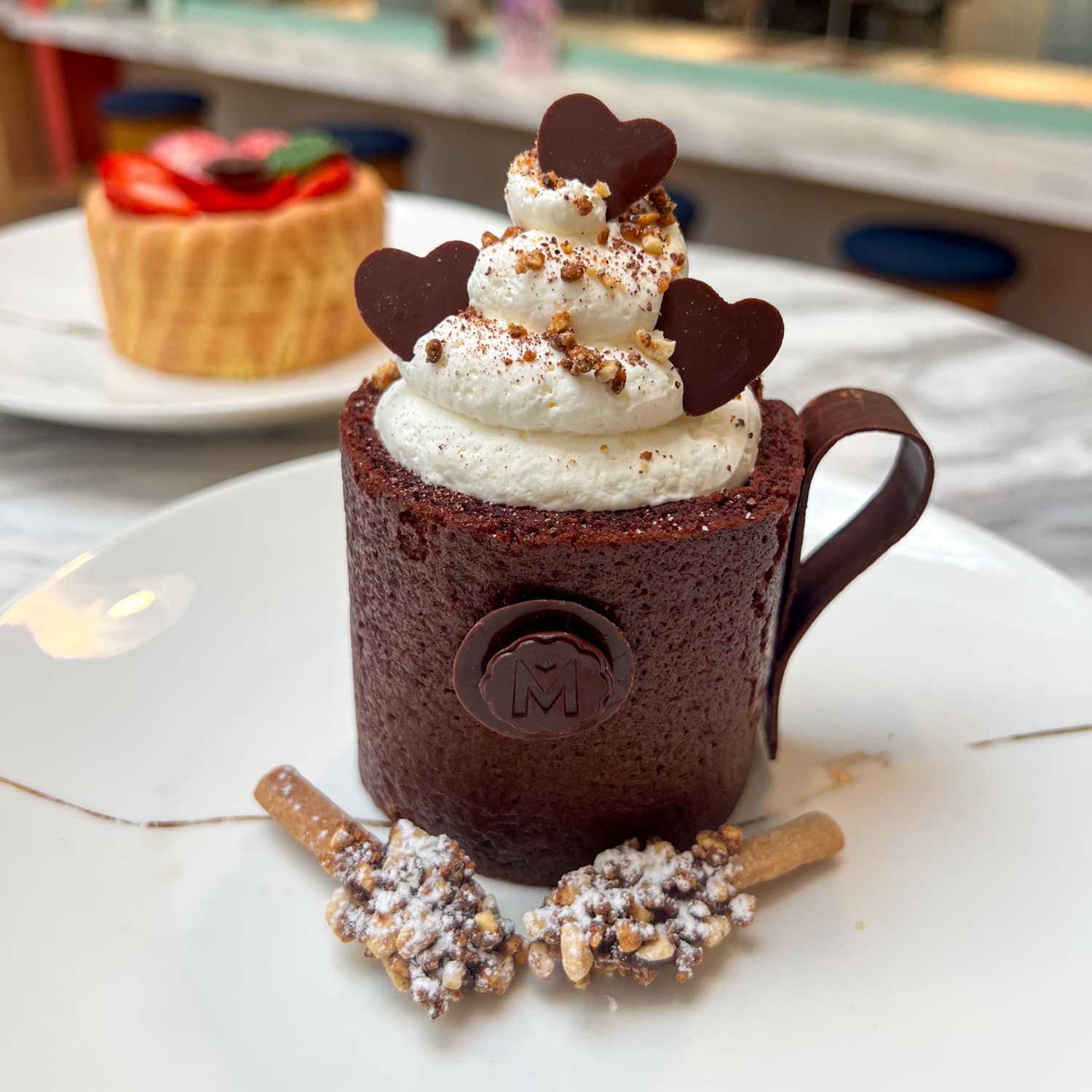 Kel and I visited the original Maison Marou, near our Saigon guesthouse, on our first night in the country. We returned several times during our stay, so I wanted to see the Hanoi location too.
This time, we skipped the tasty drinks and went straight for the pastries. I ordered a mug-shaped chocolate cake filled with mousse and whipped cream. And Kel got a pretty strawberry Charlotte cake.
Whether you're a chocolate fan or a casual snacker, this Hanoi cafe offers a delightful experience that combines luxury, ethics, and exquisite taste.
It's a sweet escape that will add a touch of extravagance to your Hanoi adventure.
Address: 91a P. Tho Nhuom, Tran Hung Dao, Hoan Kiem, Hanoi, Vietnam, maisonmarou.com
6. The Note Coffee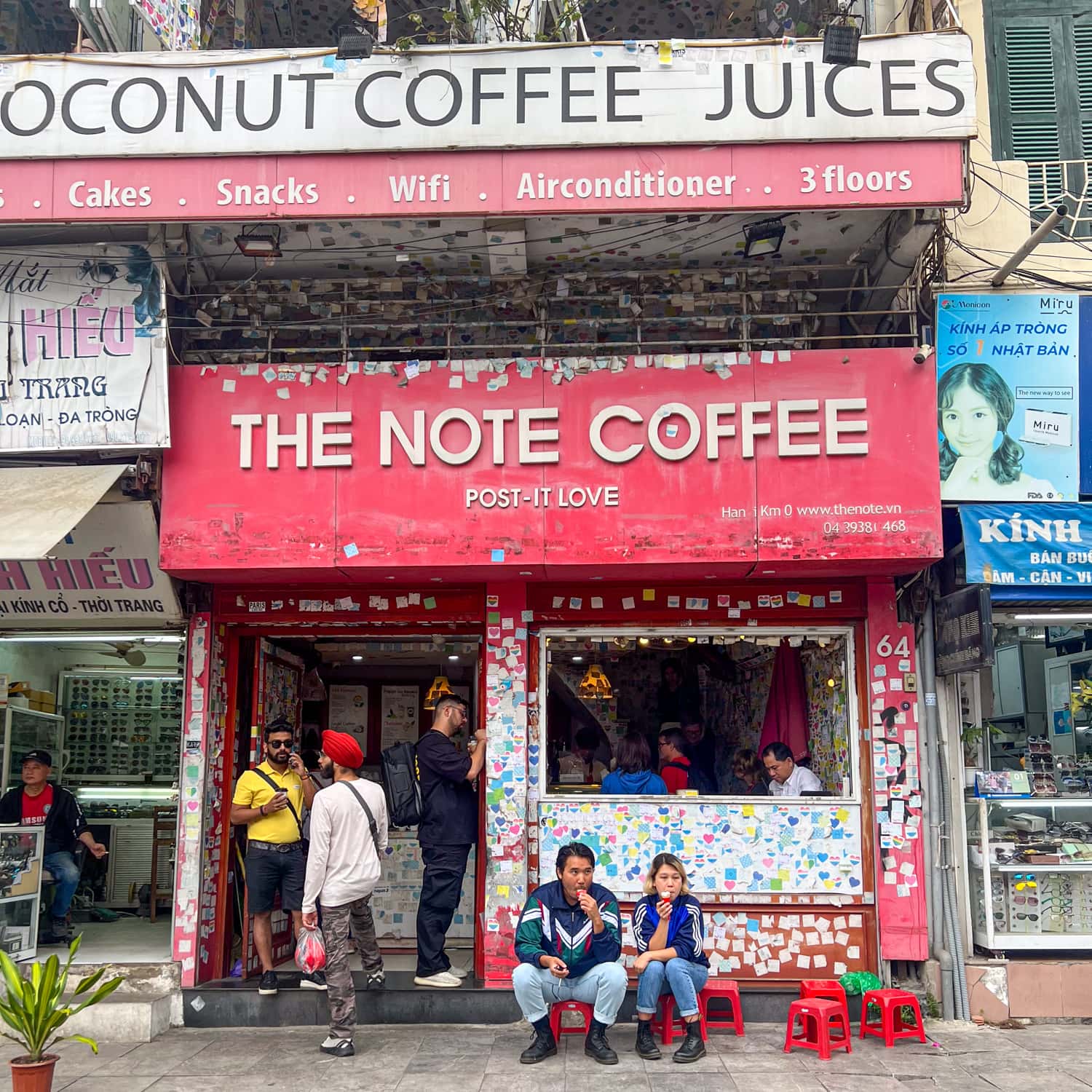 If you're looking for a cafe experience as uplifting as your morning cup of joe, The Note Coffee in Hanoi is the place to be.
This four-story cafe is a burst of positivity, as it's covered from floor to ceiling with colorful Post-it Notes bearing messages of love, hope, and inspiration from visitors around the globe. It's like walking into a real-life Pinterest board!
Guests can add their thoughts to sticky notes while enjoying the cafe's delicious coffee and treats, including traditional Vietnamese options and Western favorites.
Situated across the street from Hoan Kiem Lake, The Note Coffee is in a prime location for people-watching.
So grab a pen, sip some Vietnamese coffee, and leave a little piece of yourself in Hanoi.
Address: 64 P. Luong Van Can, Hang Trong, Hoan Kiem, Hanoi, Vietnam, facebook.com/TheNoteCoffee
7. Cong Caphe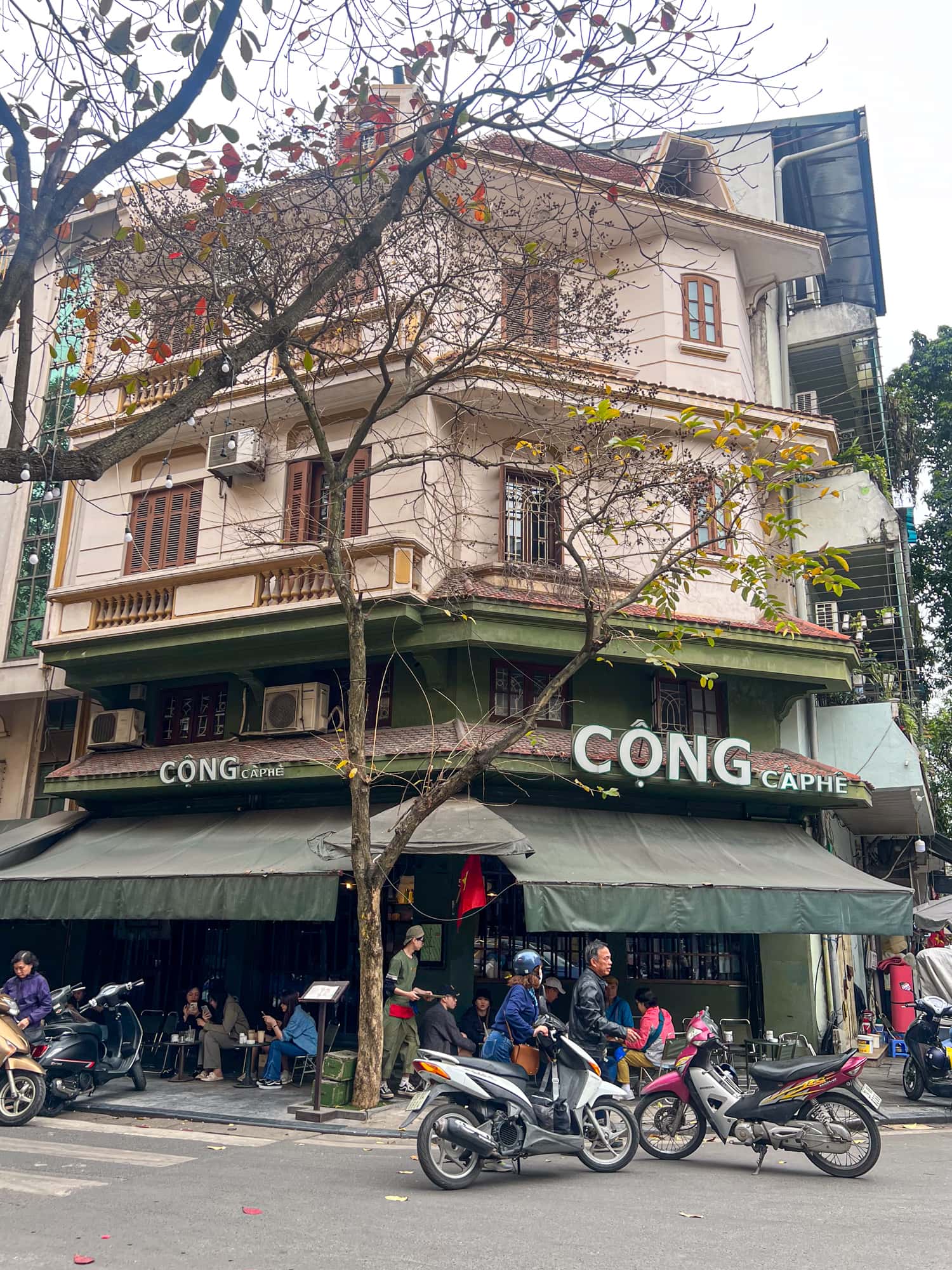 With its retro, military-chic decor inspired by Vietnam's post-war period, Cong Caphe offers more than just a caffeine fix—it serves up a slice of Vietnamese history and culture.
The walls of these Hanoi cafes are adorned with vintage memorabilia, and the furniture is a mix of wooden tables and bench seating. The staff wear olive drab uniforms.
Cong Caphe is famous for its coconut coffee—a divine blend of Vietnamese coffee and frozen coconut milk that's a must-try drink.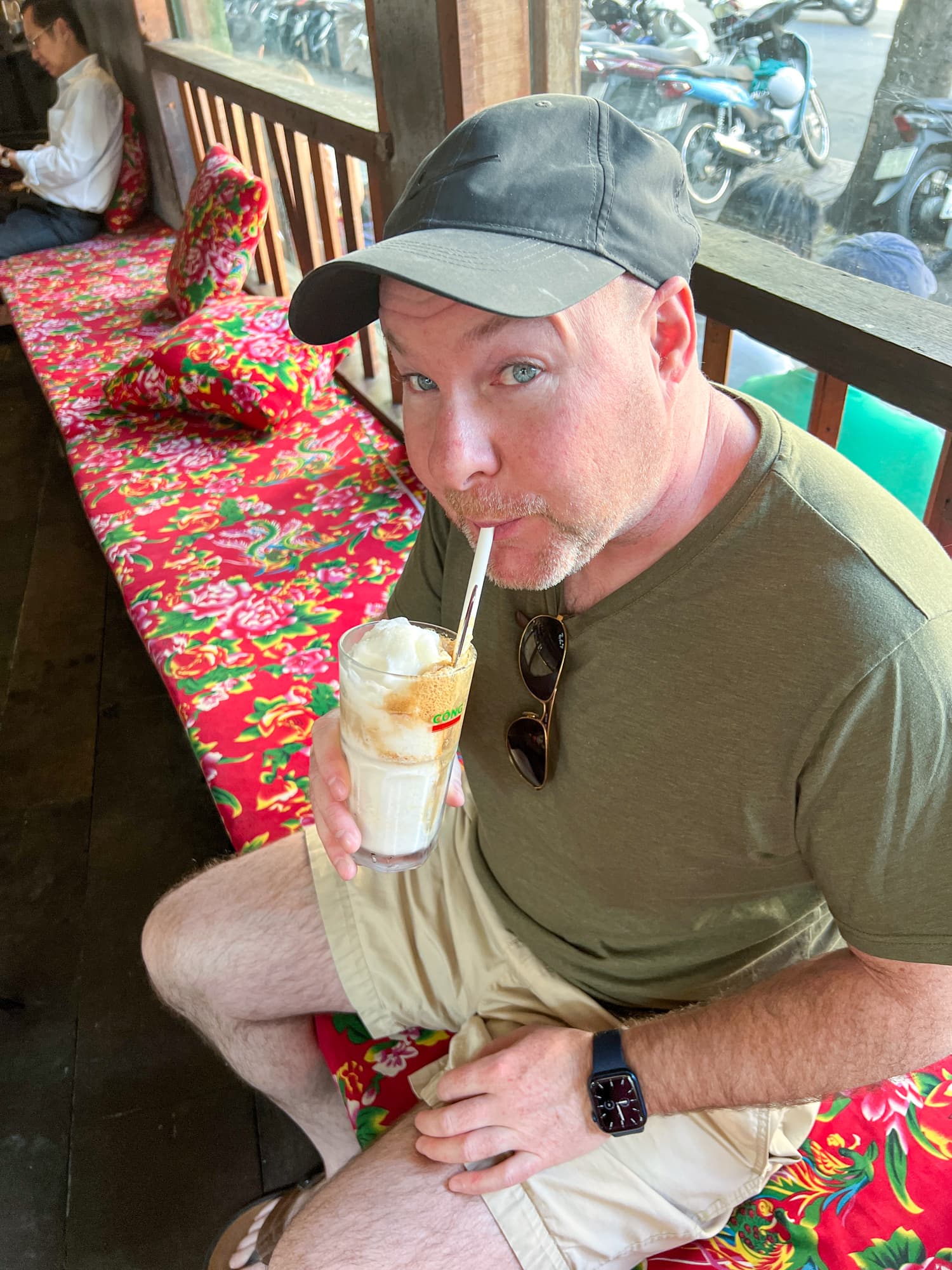 Each of the streetside cafes offers a unique vibe. Yet, all share the same commitment to quality and atmosphere, making it a reliable choice no matter where you are in the capital city (or Vietnam).
As I noticed in Saigon, Cong Caphe is also a social hub, thanks partly to its relaxed atmosphere, free Wi-Fi, and accessibility.
Address: various locations, congcaphe.com/store/32/ha-noi
8. Eastern and Oriental Tea House and Coffee Parlour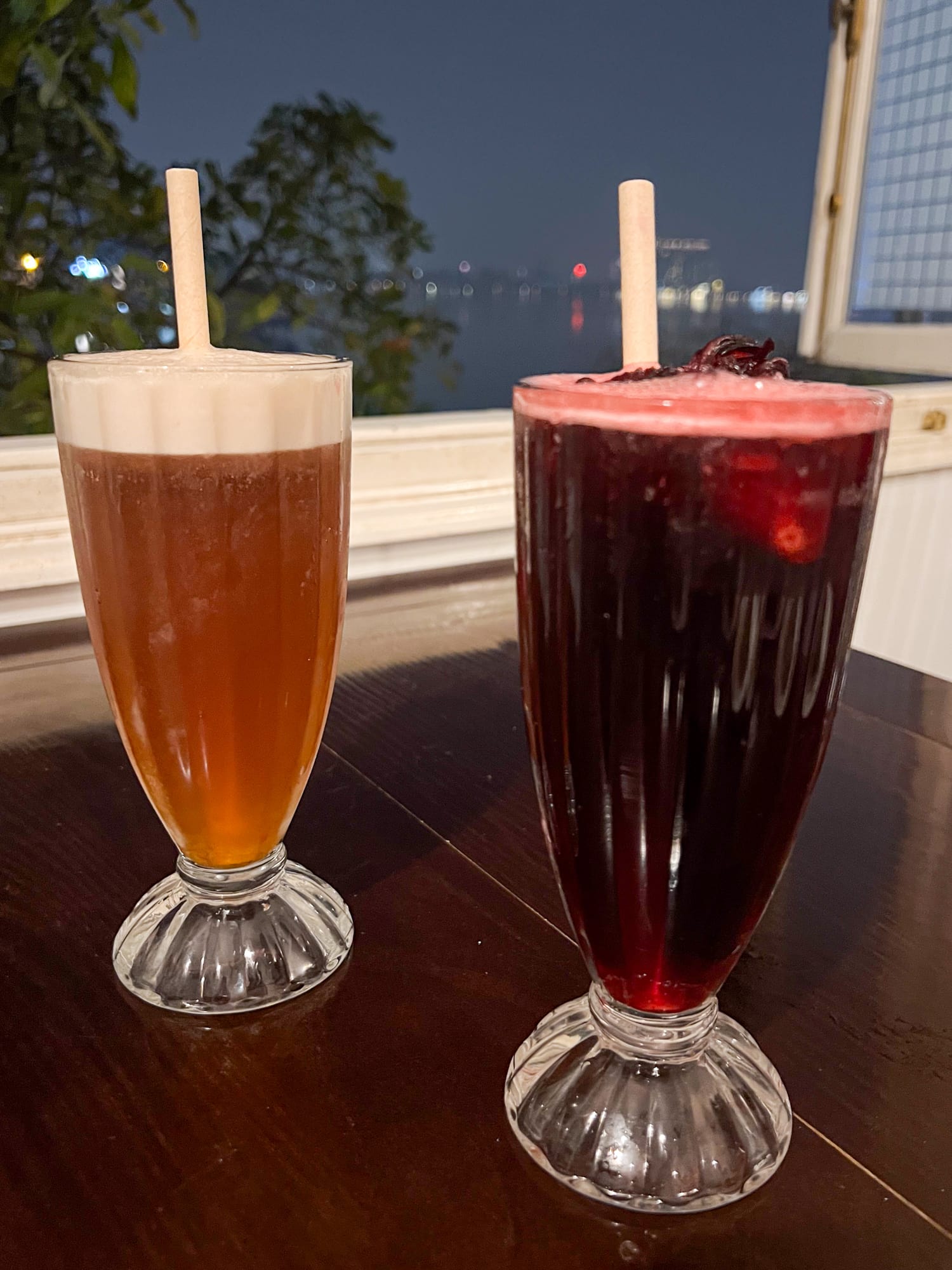 If you're a fan of both tea and coffee, Eastern and Oriental Tea House and Coffee Parlour in Hanoi is a terrific option.
This spot is a fusion of the best of both worlds, offering a curated selection of fine teas and specialty coffees.
They also serve all-day breakfast and have a selection of freshly made cakes and pastries.
The multi-story interior is refined with dark wood furnishings, antique decor (including many Buddhas), and plush seating.
Kel and I made the short trip from our hotel, the InterContinental Hanoi Westlake, for tea and dessert one evening. We took a table on the second floor with a view of Ho Tay (West Lake).
As it was the evening, we went with peach and strawberry-hibiscus iced teas to wash down a giant slice of Bailey's chocolate cake.
Eastern and Oriental Tea House and Coffee Parlour is a relaxing oasis amid the bustling city, ideal for reading, journaling, or simply savoring the moment.
Address: 46 P. Quang An, Quang An, Tay Ho, Hanoi, Vietnam, orientalhanoi.com
Wrapping Up
From the rich, delicious egg coffees to the sensory delights of artisanal chocolate, Hanoi's many different cafes await exploring.
Whether you're a caffeine enthusiast looking to sample the finest coffee beans Vietnam has to offer or a social media maven searching for Instagrammable cafes, there's a Hanoi coffee shop for you.
So, the next time you find yourself wandering the streets of Hanoi, don't forget to take a cafe break—you'll be sipping your way through some of the best coffee shops in Southeast Asia.