The best cafes in Saigon reflect Vietnamese coffee culture, innovation, and history.
Vietnam is the world's second-largest exporter of coffee. And the country's coffee production has given rise to a very caffeinated population.
As a first-time visitor to Saigon, also known as Ho Chi Minh City, I was amazed to see a coffee shop on almost every block (and down most alleys).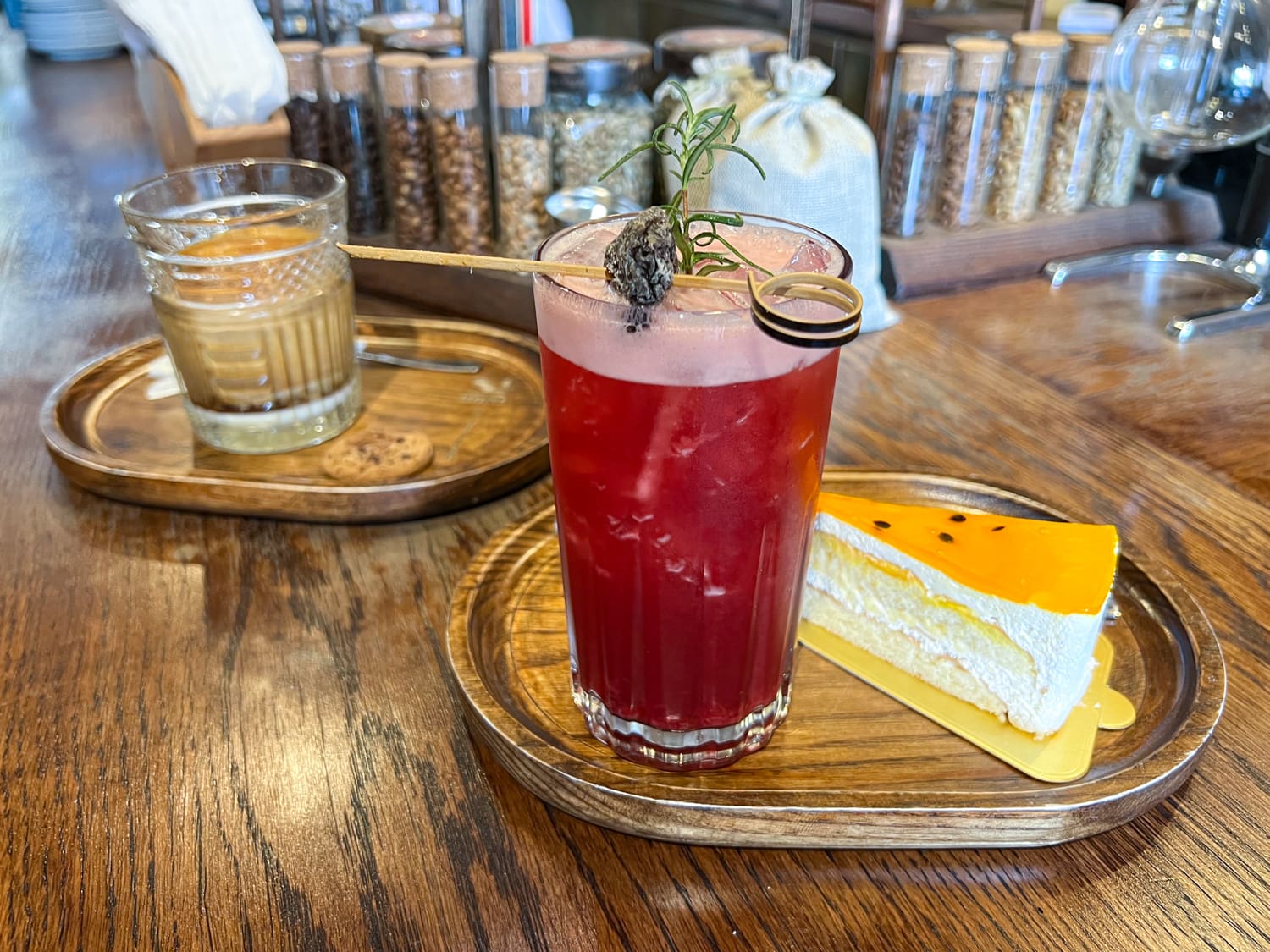 I received a crash course on Vietnamese coffee as I cafe-hopped through the city, which was a highlight of my stay.
I soon found that the best places offered more than coffee; their menus featured tasty teas and fresh fruit smoothies.
This list focuses on Saigon's city center (District 1) as that's where we spent most of our time, and most new visitors will also.
Top 5 Cafes in Saigon
If you're short on time, consider one of these first five Saigon cafes, all offering delicious drinks for reasonable prices, attractive interiors, and friendly service.
1. Soo Kafe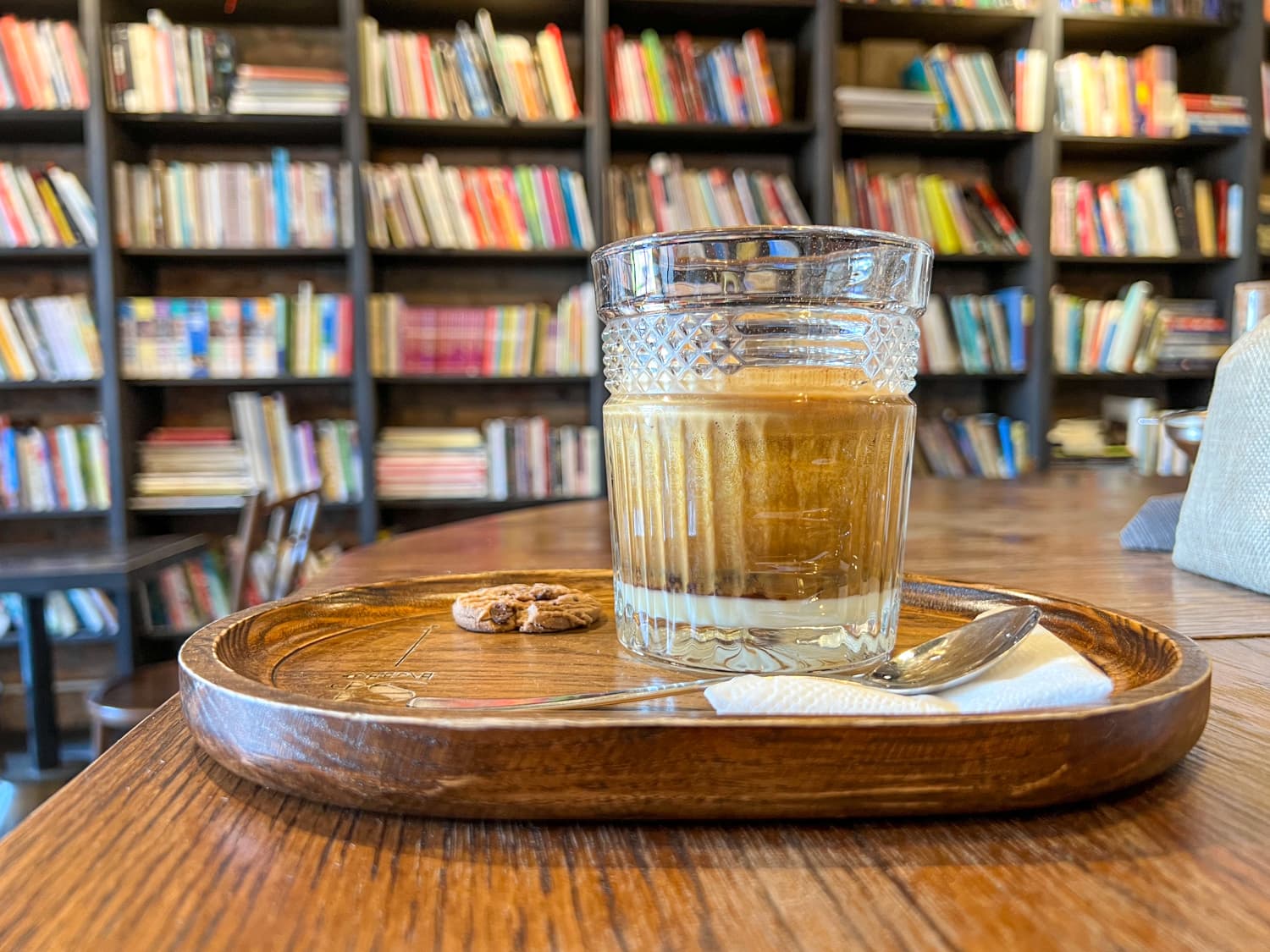 Soo Kafe, formerly known as Hidden Elephant Books & Coffee, offers a refuge from the chaos and noise of Saigon's streets.
The cafe is on the second floor of a building across the street from the west side of the busy Ben Thanh Market.
Upon arrival, you'll be greeted by a pastry display case and coffee bar with an exposed brick wall behind it.
The other long wall of Soo Kafe is lined with bookcases, helping to set the tone of relaxation here. A balcony offers outdoor seating with a view east over the market.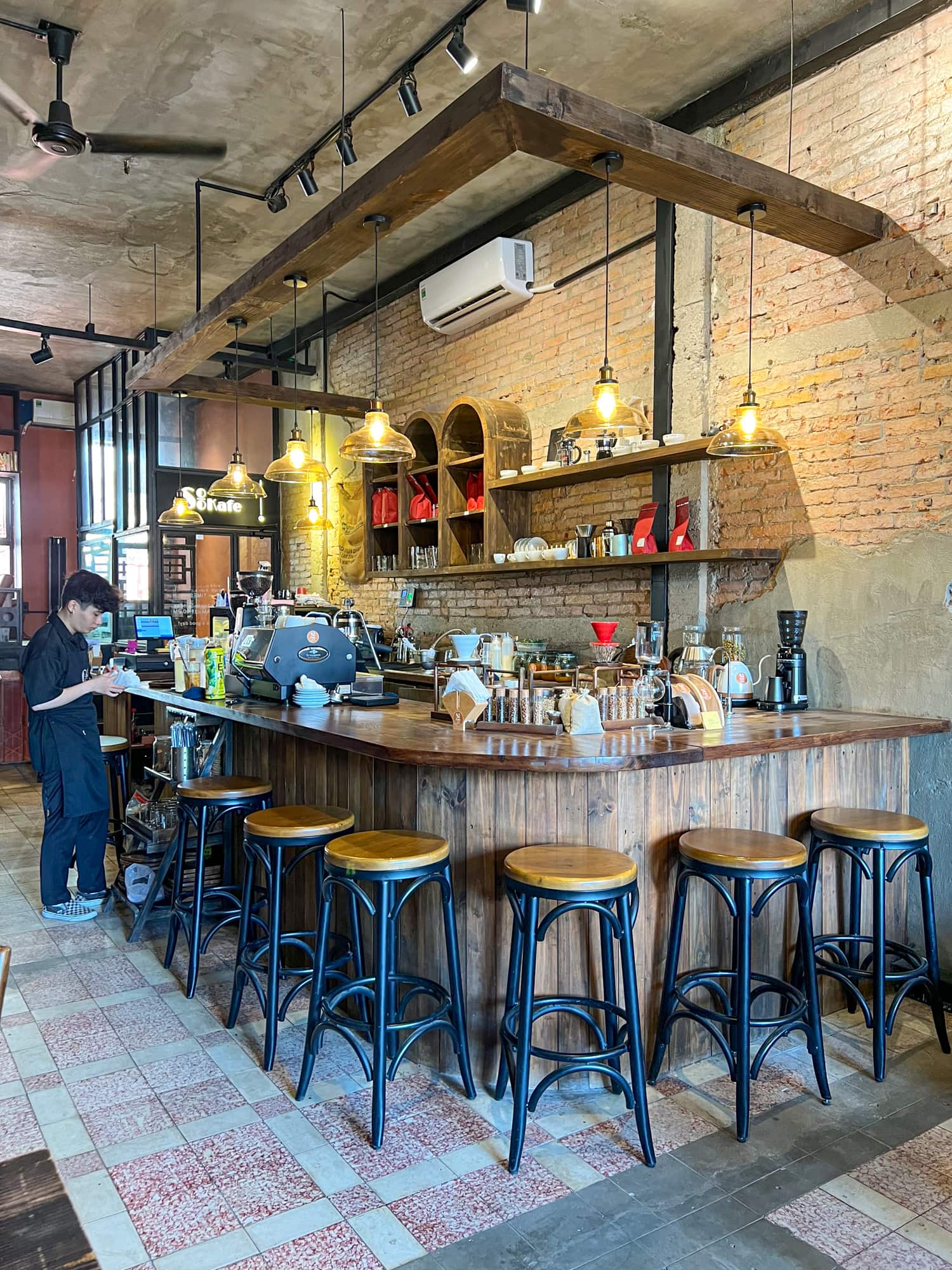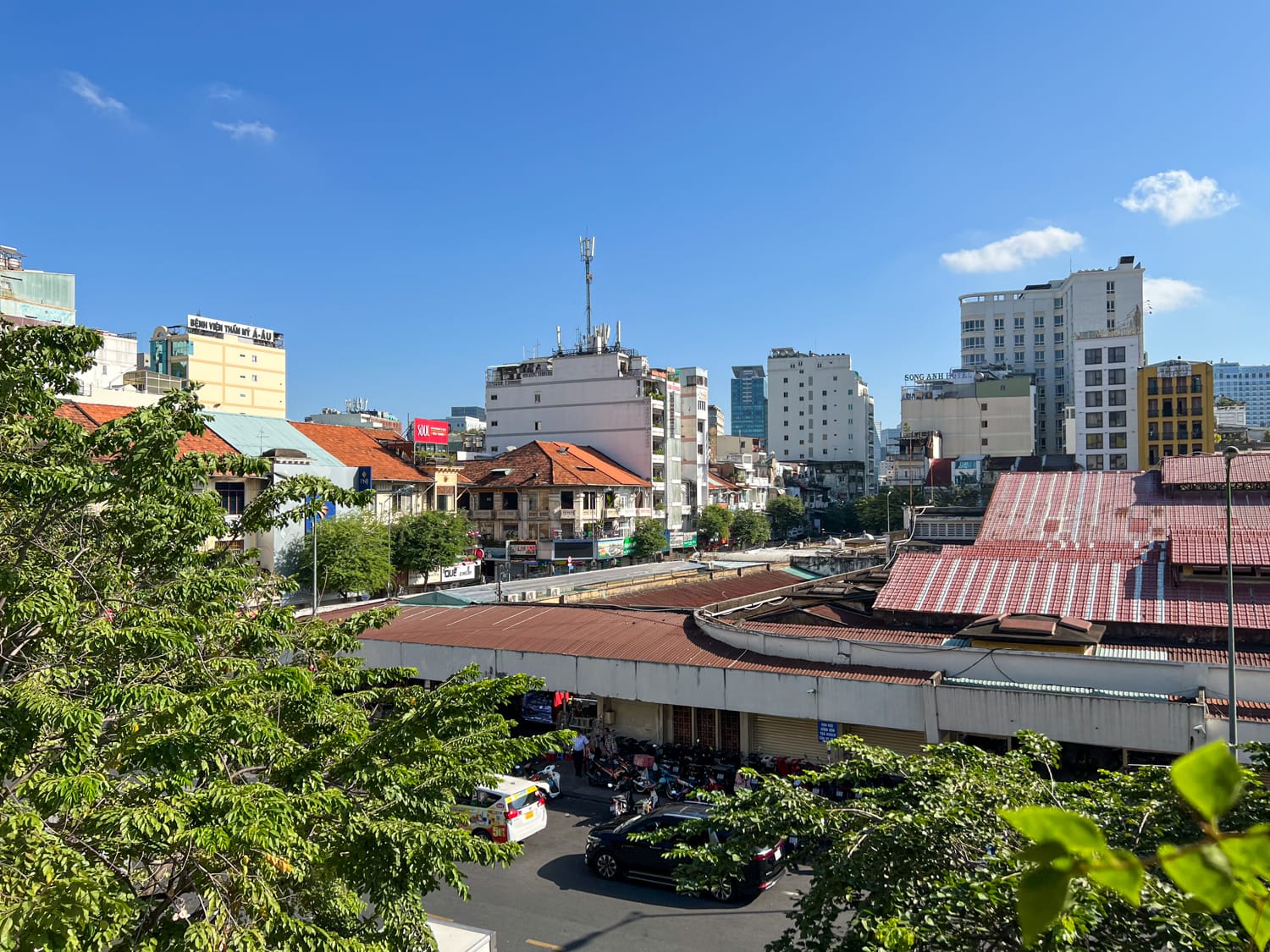 Soo Kafe was the first place I tried Vietnamese egg coffee, a foamy and fascinating coffee drink that originated in Hanoi and is now found throughout the country.
Beyond my cup of coffee, Kel ordered a refreshing iced fruit drink, and we shared a small slice of passion fruit cake.
We loved Soo Kafe for the decor, quiet atmosphere, well-crafted drinks, central location, and views. If you're a bookworm, it's a great place to read.
Address: 10 Phan Kế Bính, Đa Kao, Quận 1, Thành phố Hồ Chí Minh, sookafe.com
2. Okkio Caffe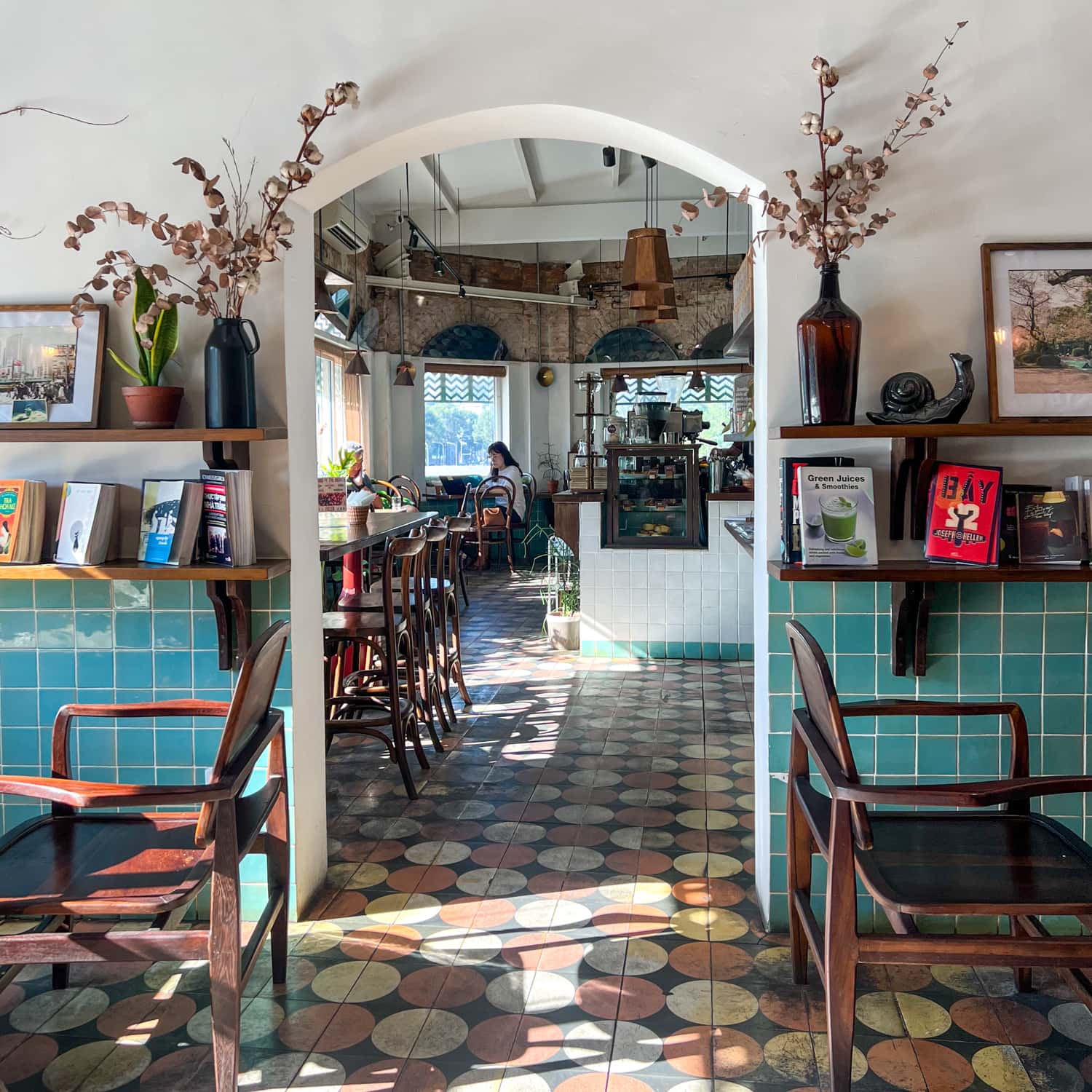 On the east side of the Ben Thanh Market, I discovered Okkio, another of my favorite cafes in Saigon.
The entranceway from the street to Okkio Caffe is narrow and easy to miss, though there's a sign if you know where to look.
You'll have to ascend a small spiral staircase to reach the second-floor cafe, but it's worth the effort.
Once inside this beautiful space, natural light pours in through the glass windows, and there's plenty of seating and an extensive drink menu.
I was enamored with the morning sun and shadows on the tile floor, and the blue and white wall tiles added to the aesthetic.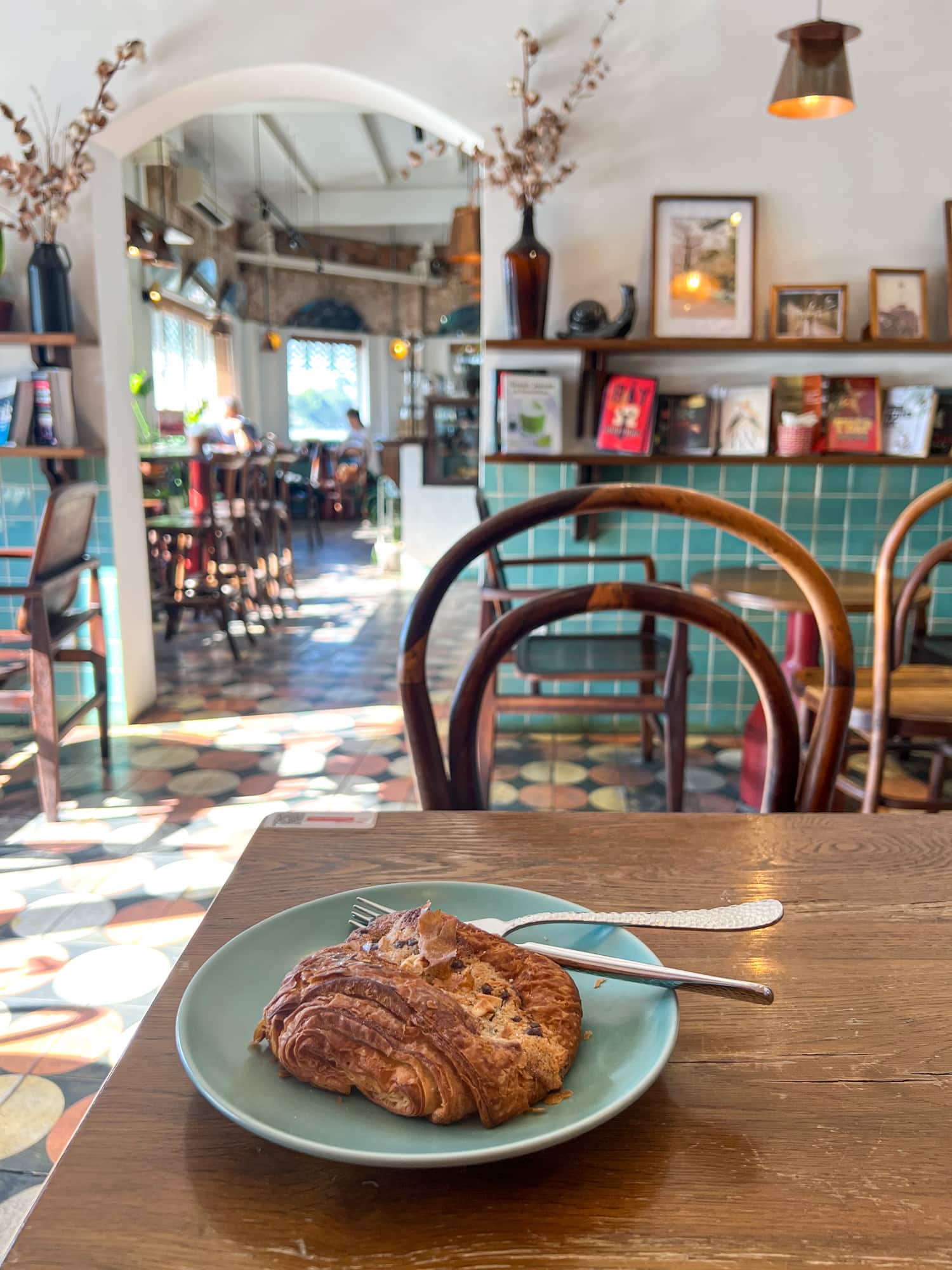 The menu features espresso drinks, pour-over coffees, bottled cold brews, hot chocolate, teas, cold-pressed juices, and a small selection of fresh pastries.
For breakfast one morning, I ordered a flaky chocolate cashew nut croissant and a Topaz Date coffee drink made with coconut, pineapple, grapefruit, and cold brew concentrate.
The delicious drink was served in a cocktail glass with a frothy head and burnt-lime garnish.
It was the only coffee drink of its kind that I had during my time in Vietnam, which made it all the more special.
Other unique offerings included Golden Kombucha with golden berry and tropical banana kombucha and Solar Fever with tamarind, chili, and cold brew concentrate. Each was 80,000 Vietnamese dong (about $3.40).
Address: 122 Đ. Lê Lợi, Phường Bến Thành, Quận 1, Thành phố Hồ Chí Minh, facebook.com/okkiocaffe
3. Padma de Fleur (Florist Cafe)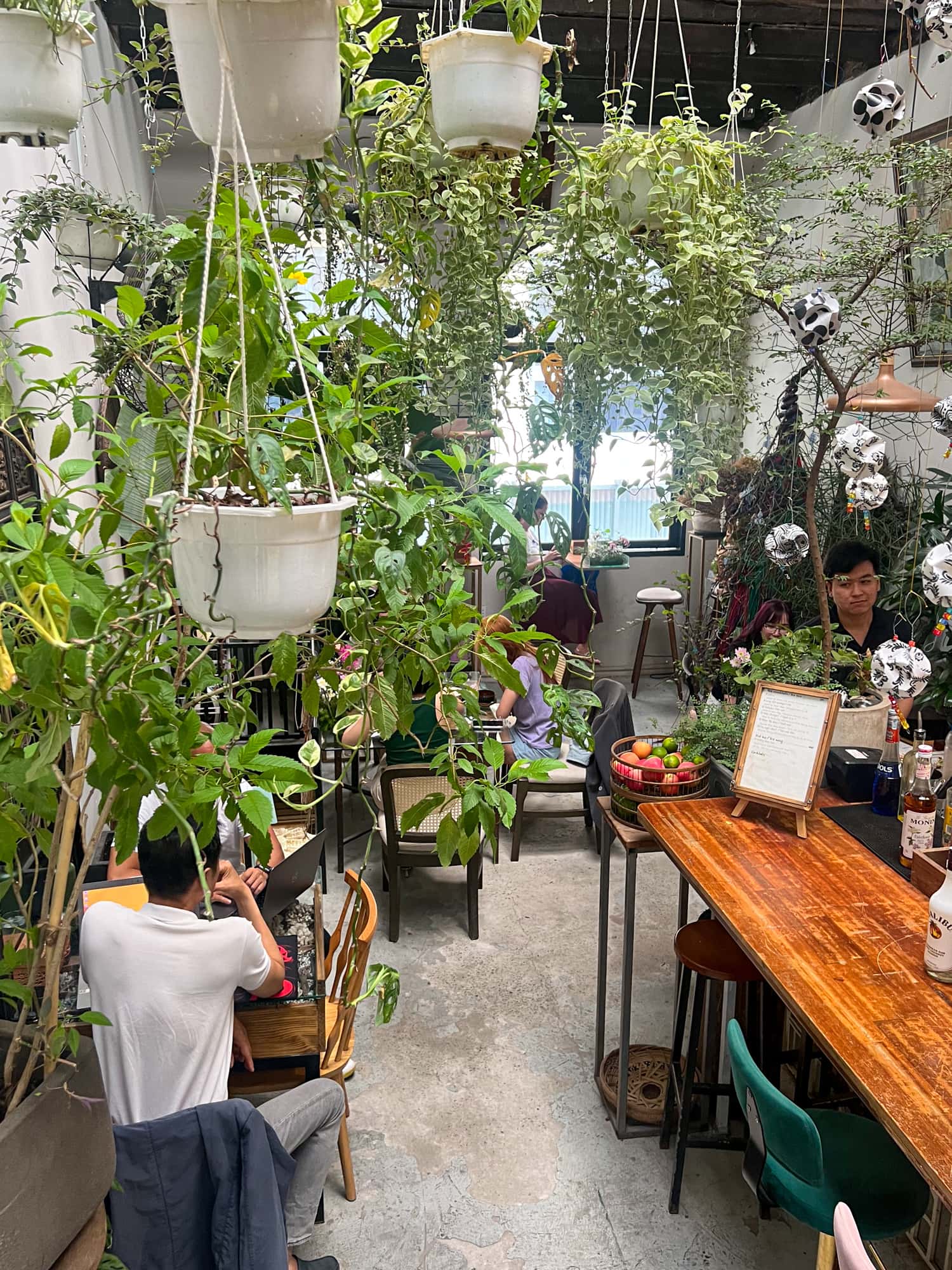 Welcome to the jungle, or in this case, a Saigon cafe atop a florist shop. Padma de Fleur is a tiny space with limited seating and lots of plant life.
Pass through the flower shop on the ground floor and walk upstairs to reach this enchanting coffee shop.
Tea mocktails like the Yellow Slip Dress with jasmine tea, mango, passion fruit, and lemongrass complement Vietnamese coffee drinks.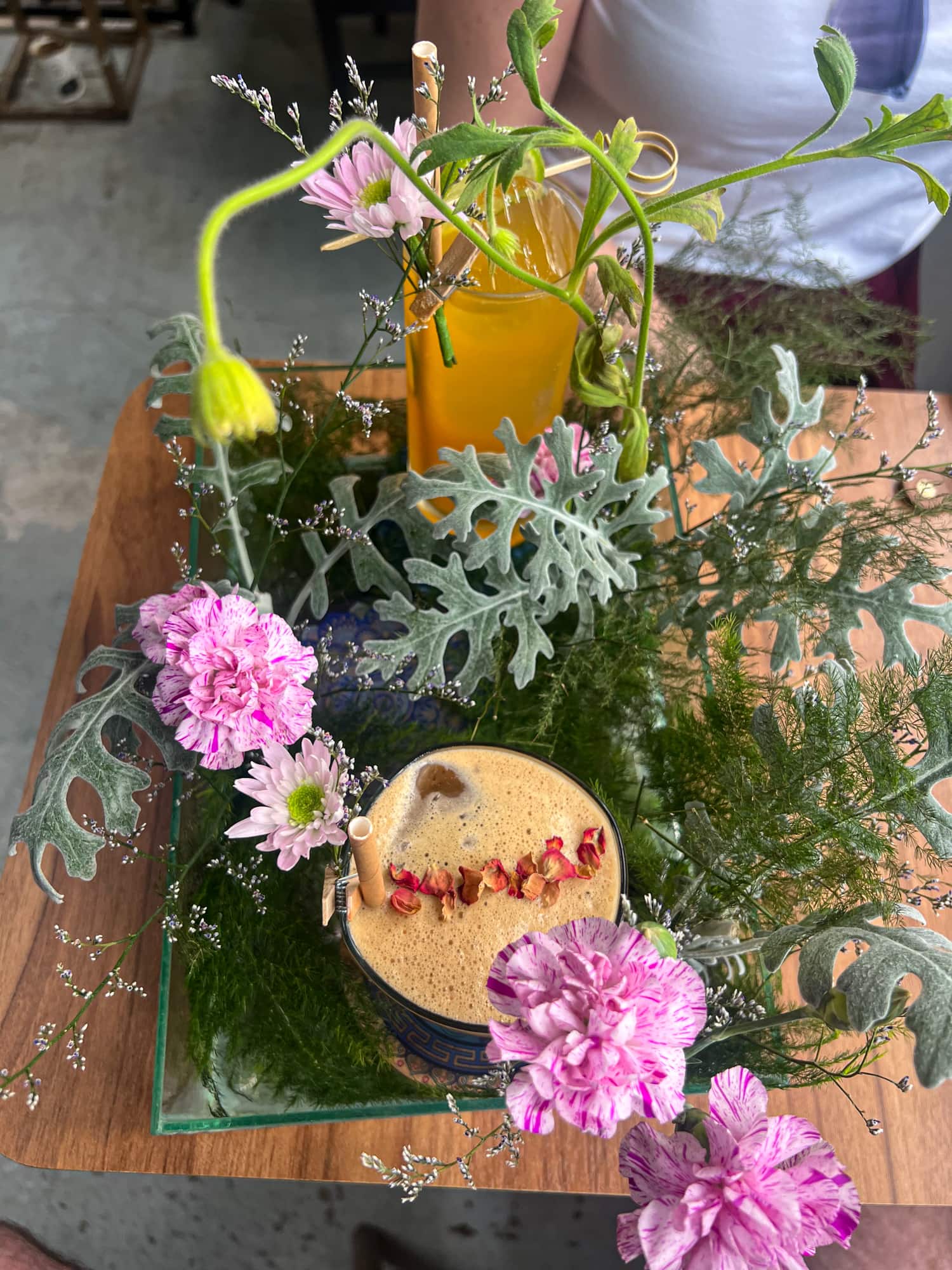 What sets this Saigon coffee shop apart is its use of floral arrangements to present drinks. Each tray feels like a natural work of art.
This was, far and away, the prettiest expression of a Vietnamese iced milk coffee that I had encountered.
Fresh plain, ham and cheese, and almond croissants are also available if you arrive early.
Padma de Fleur is a few blocks from the Saigon Skydeck on the 49th floor of the Bitexco Financial Tower, which is worth a visit for scenic city views.
Address: 89/12 Hàm Nghi, Phường Nguyễn Thái Bình, Quận 1, Thành phố Hồ Chí Minh, padmadefleur.vn
4. The Vintage Emporium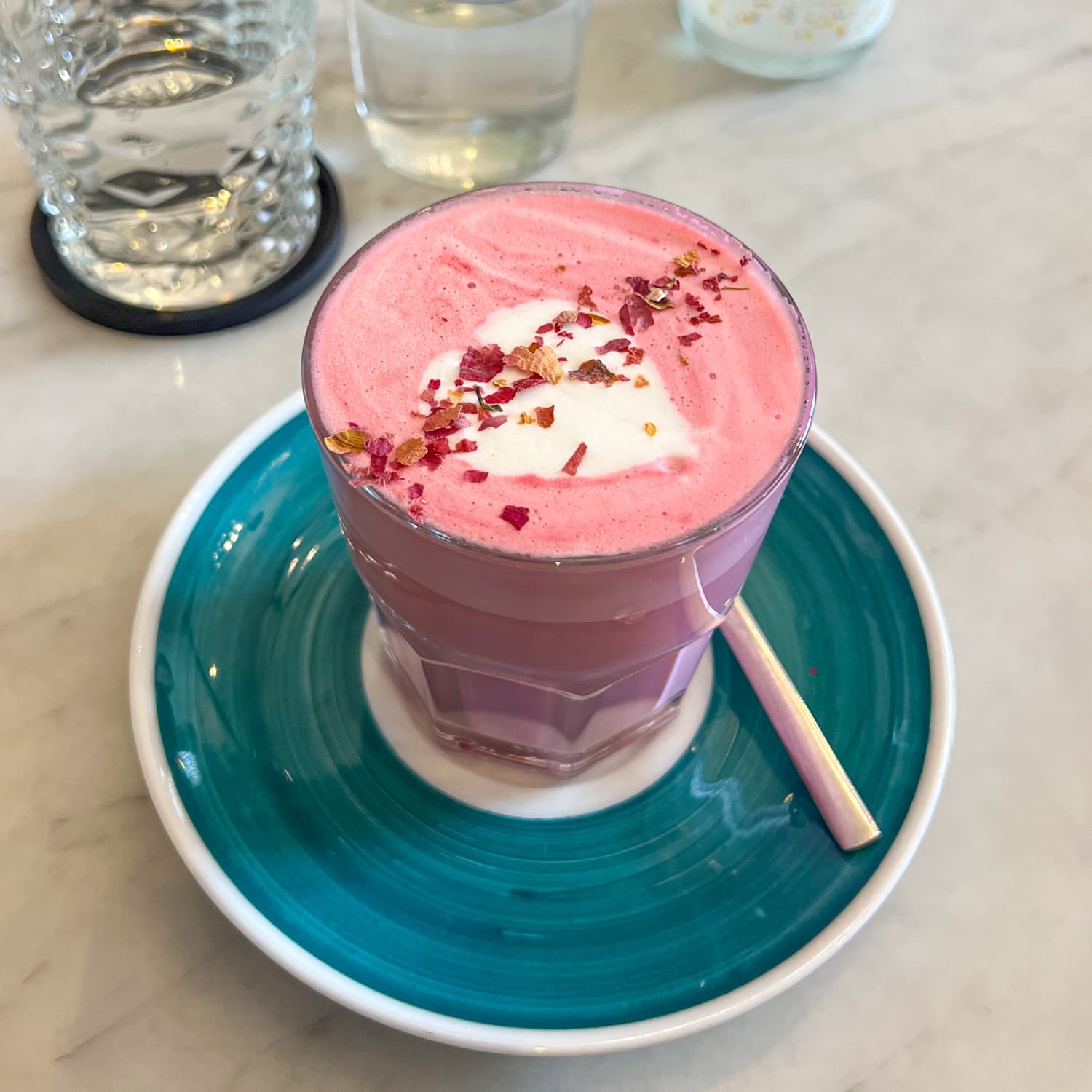 Inspired by the cafes of Sydney, Australia, The Vintage Emporium at the north end of District 1 offers Western-style food and a bevy of captivating coffees.
Among the super lattes, there's charcoal (cleansing), pink (for a healthy heart), gold with turmeric and ginger, blue with butterfly tea, and salted caramel.
I went with the delicately prepared pink latte (beetroot, ginger, and honey) that looked lovely delivered on a blue and white saucer.
These lattes are the tip of the iceberg at The Vintage Emporium, which also serves fresh fruit juices, smoothies, avocado shakes, and cocktails.
The Green Dragon (which I regret not trying for $4) is made with avocados, dragon fruit, soy milk, and matcha.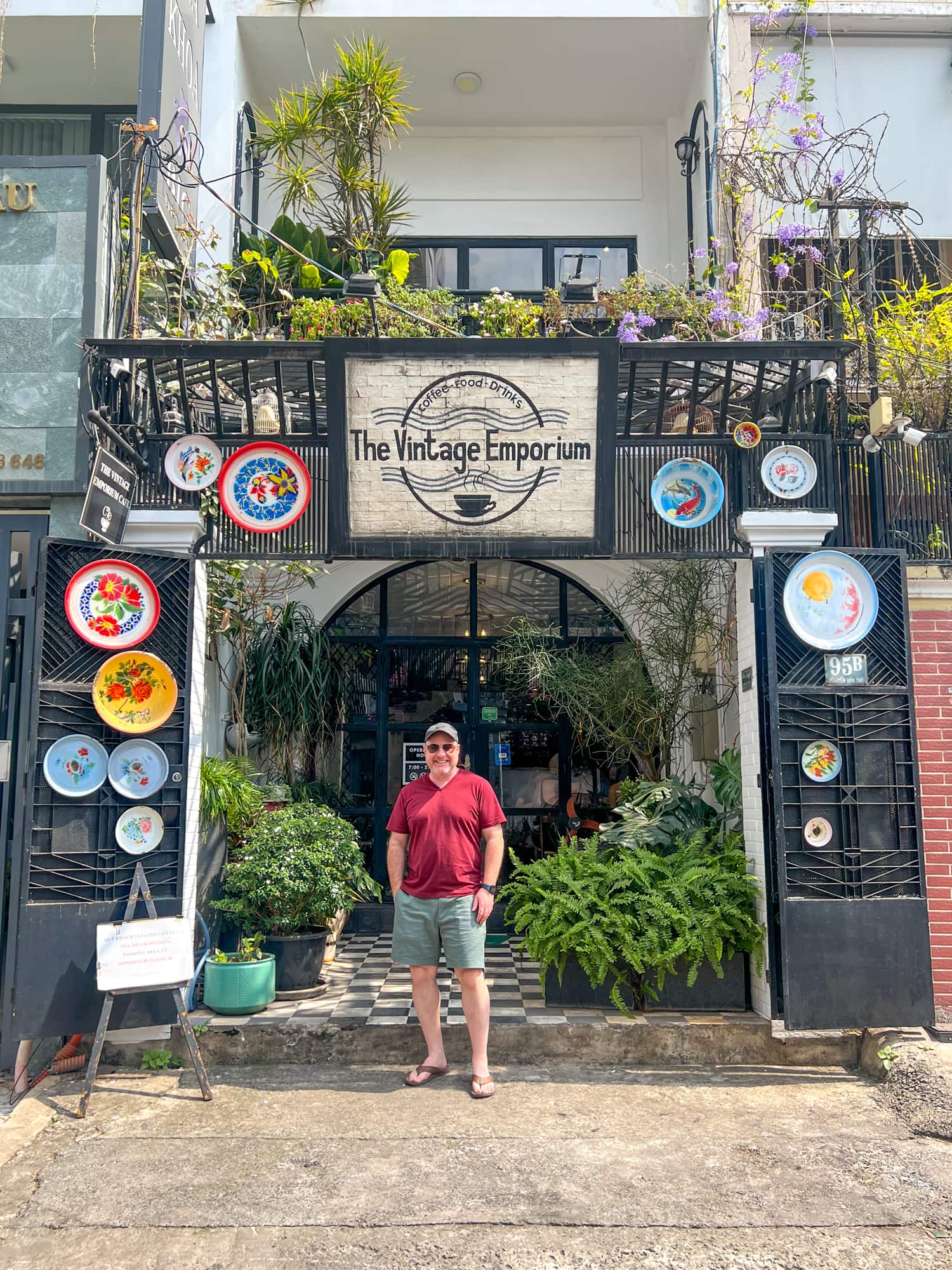 Signature brunch dishes include a mango coconut chia bowl, souffle omelet, Moroccan eggs, and ricotta pancakes with mixed berries.
The smashed avocado on toast with mushrooms and semi-dried tomatoes was terrific.
There's a Wagyu burger, Angus striploin, and pan-seared salmon for heartier fare.
The clientele when we dropped by for brunch was an even split between Vietnamese people and foreigners.
If you're looking for something else to do in the area, walk over to the Jade Emperor Pagoda, a Taoist temple open daily from 7 a.m. to 5:30 p.m.
Address: 95 Đ. Nguyễn Văn Thủ, Đa Kao, Quận 1, Thành phố Hồ Chí Minh, instagram.com/thevintageemporium.dakao
5. Maison Marou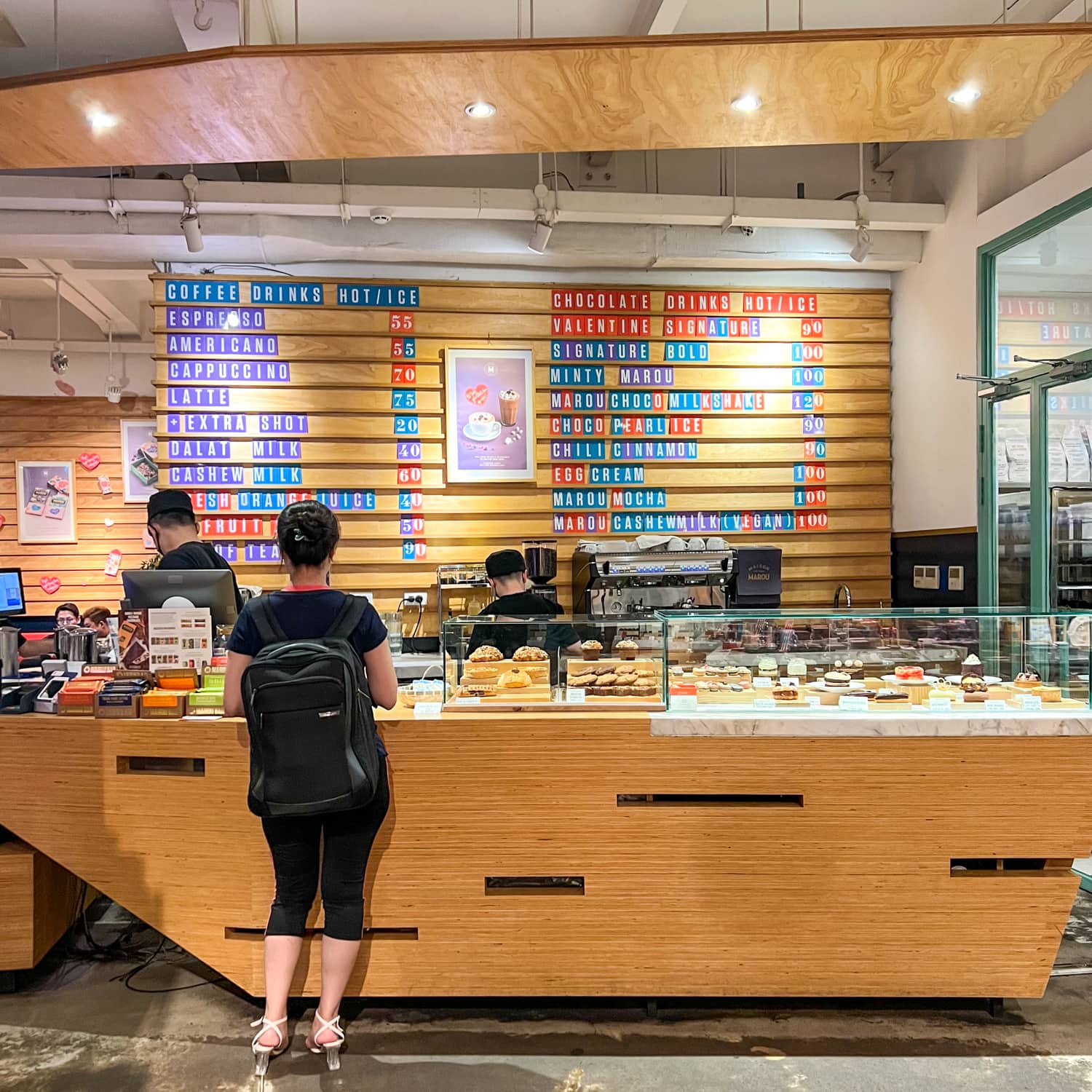 Our guesthouse in Saigon was around the corner from the flagship location of Maison Marou, a cafe and chocolate shop. As a result, it was the first cafe we visited on our first night in the country.
The smell of cacao permeates the air as beans are roasted with a giant machine near the front door.
Once inside, there are freshly made pastries on display, chocolate and coffee drinks to consume, and plenty of packaged chocolate to purchase.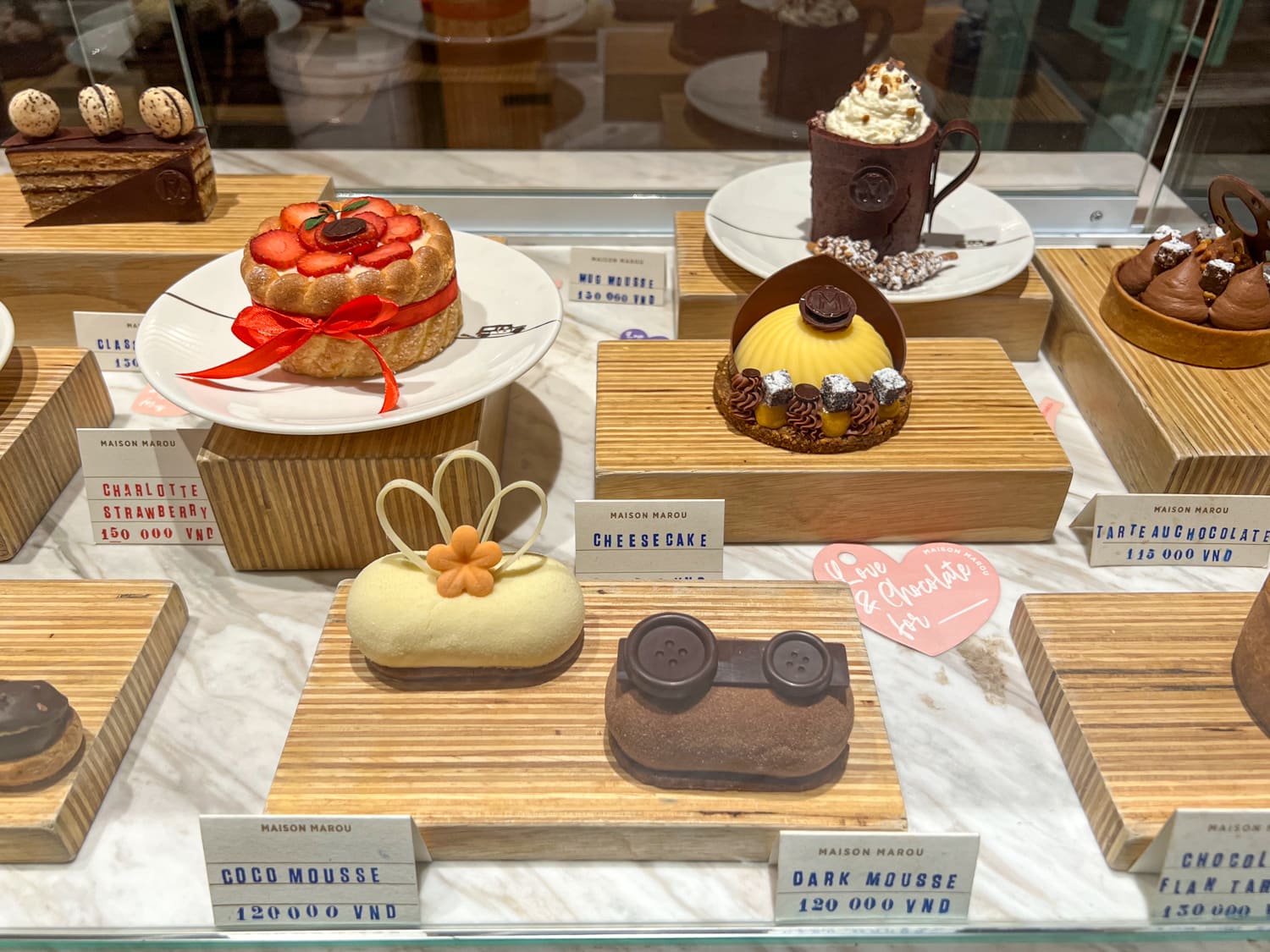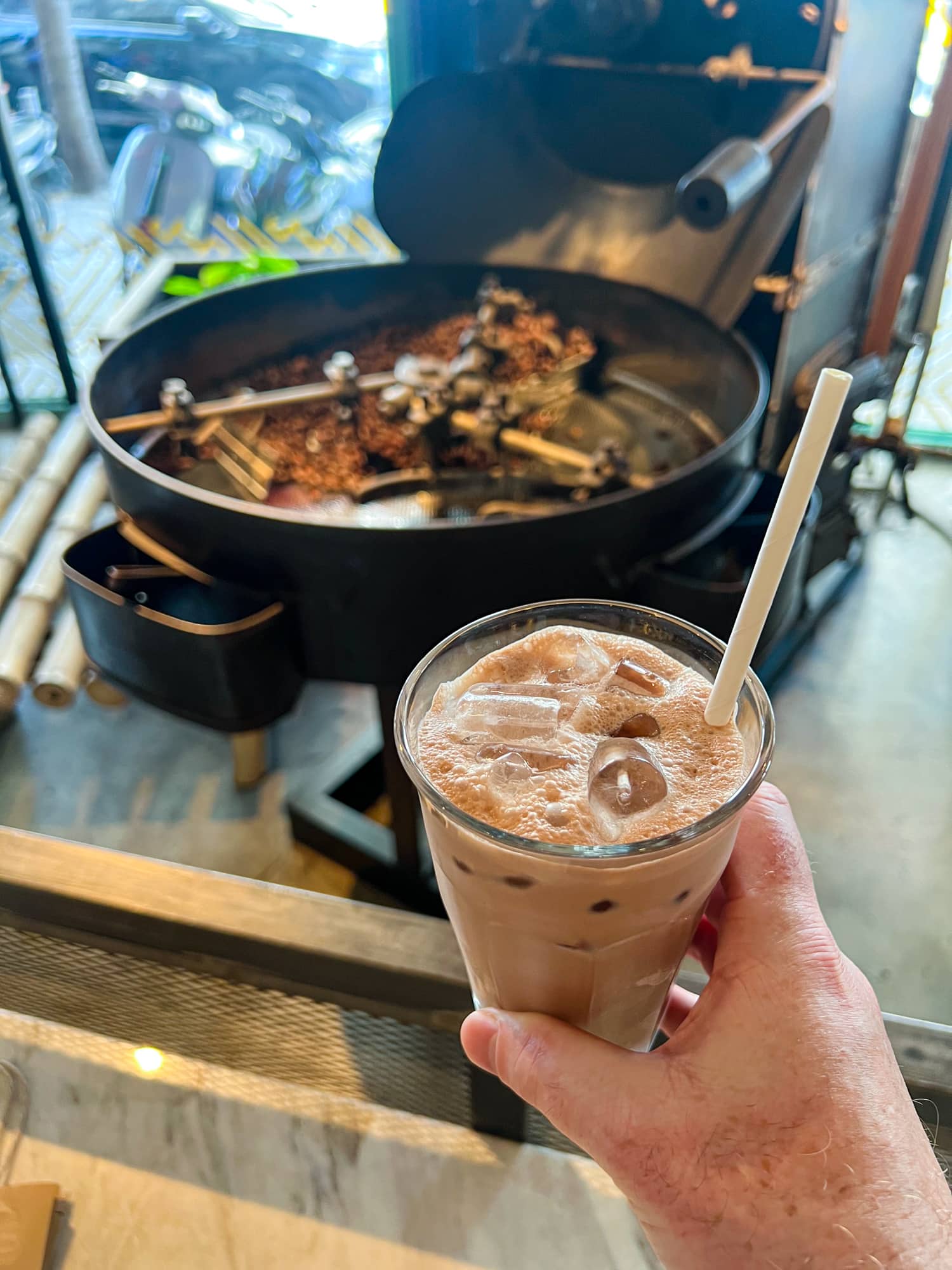 We returned several times for a good reason: to try the chocolate chip cookies, tiramisu, Charlotte strawberry, chocolate mousse mug, and an iced Marou signature chocolate drink (not to mention buying bars of chocolate).
A window-enclosed kitchen allows customers to see the pastrymakers at work.
The Marou Chocolate is also used in several desserts at Anan Saigon, the country's top restaurant.
Later in our Vietnam trip, we visited Maison Marou's flagship location in Hanoi, which is equally impressive. There are a total of eight locations in Saigon and Hanoi.
Address: 169 Đ. Calmette, Phường Nguyễn Thái Bình, Quận 1, Thành phố Hồ Chí Minh, maisonmarou.com
More Saigon Cafes
A further selection of my favorite Ho Chi Minh cafes follows, including a few Vietnamese chains and the highest place in Vietnam to grab a coffee.
6. Cong Ca Phe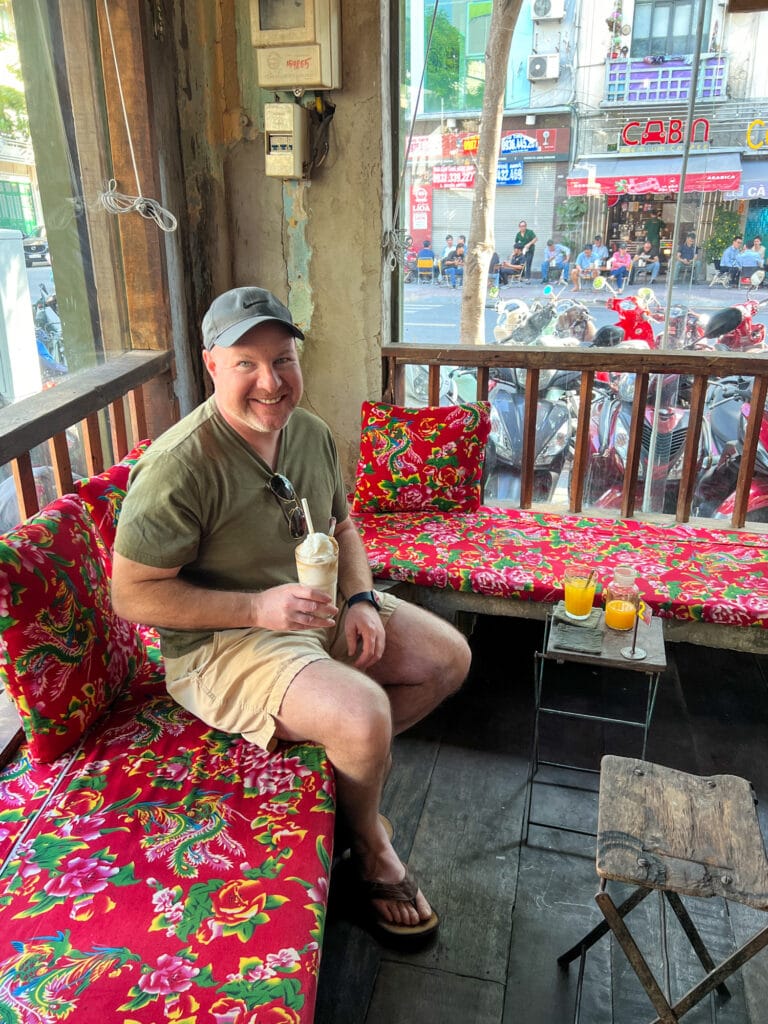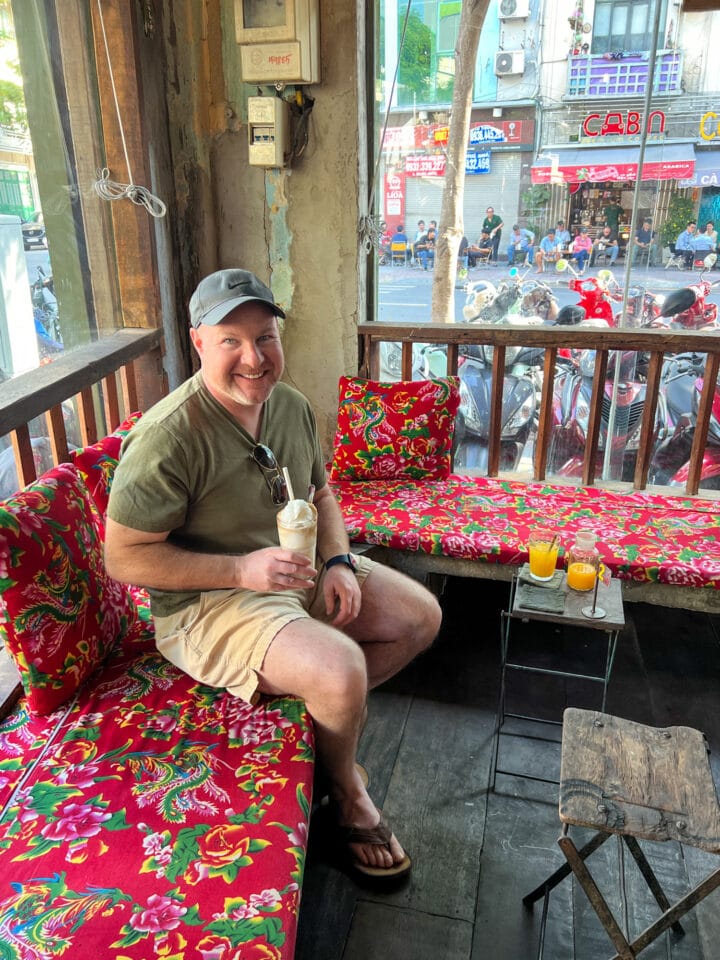 An ideal place to try coconut coffee is the Cong Ca Phe, a Northern Vietnamese coffee chain that has spread throughout the country.
The cafes have a military theme, styled after the Viet Cong (abbreviated as "VC" and officially known as the National Liberation Front of South Vietnam). This guerilla force supported the North Vietnamese Army and fought South Vietnam and the United States.
Cong Ca Phe locations are painted olive green to reflect the brand, occupy older buildings, and have a more rustic interior design. Staff wears military-style outfits.
But don't let the war theme put you off. The location we visited in Saigon was friendly and welcoming.
Most workers are too young to have been alive during the Vietnam War (or Resistance War against America, as the Vietnamese refer to it).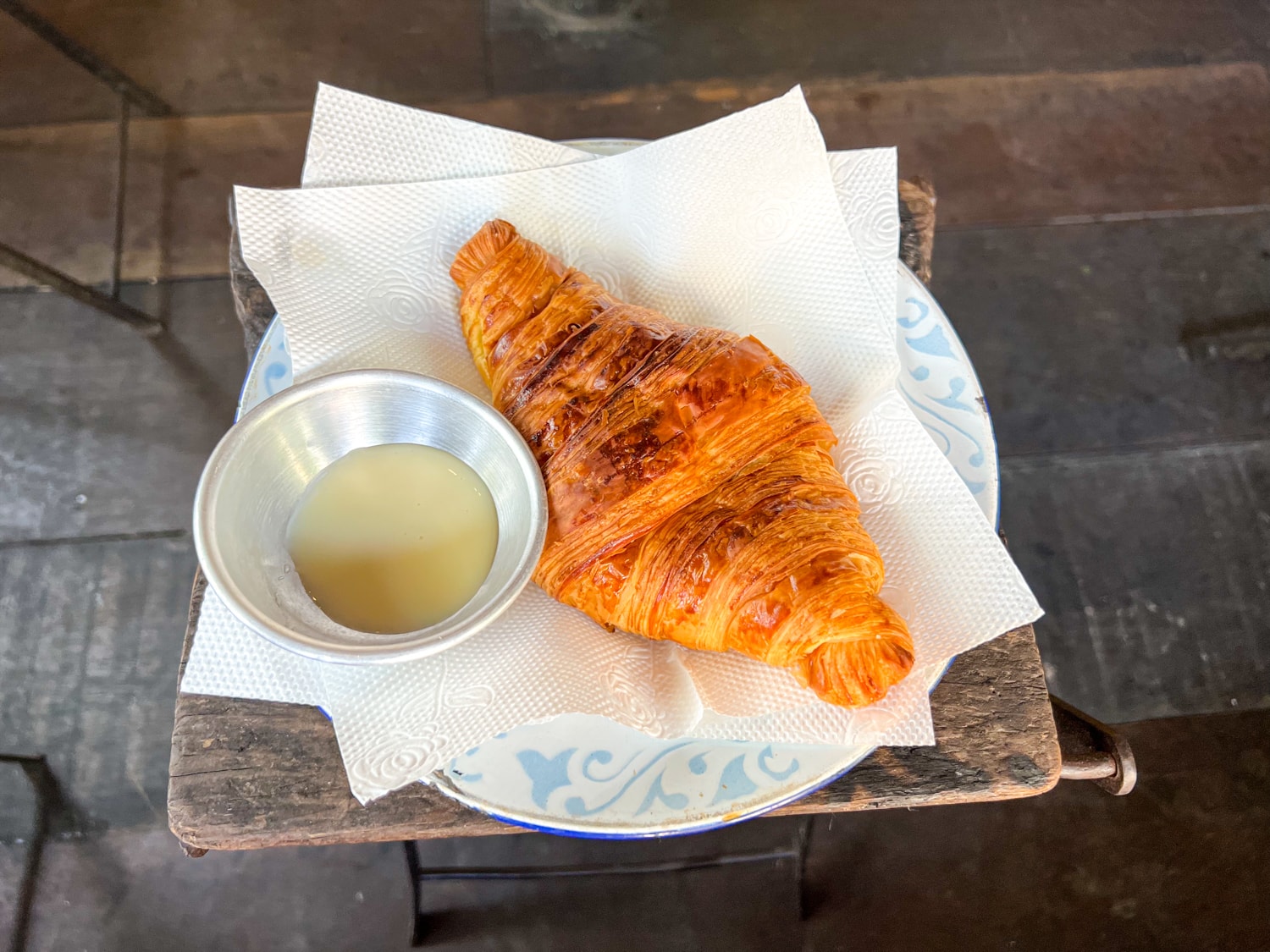 In addition to their famous coconut coffee, there's coconut green rice, coconut mung bean, and coconut chocolate.
Or skip the coffee and coconut drinks and try an iced salted kumquat juice or a cold cinnamon mountain tea with orange. Avocado smoothies and yogurt coffees are also available.
I also feel compelled to highlight the made-to-order croissant baked for us the first time we went.
We had to wait patiently while it was prepared; however, we were in pastry heaven once it was delivered with sweetened condensed milk.
On our last day in Saigon, we hoped for a repeat experience, but they were sold out.
Address: Multiple locations, congcaphe.com
7. Ca Phe Do-Phu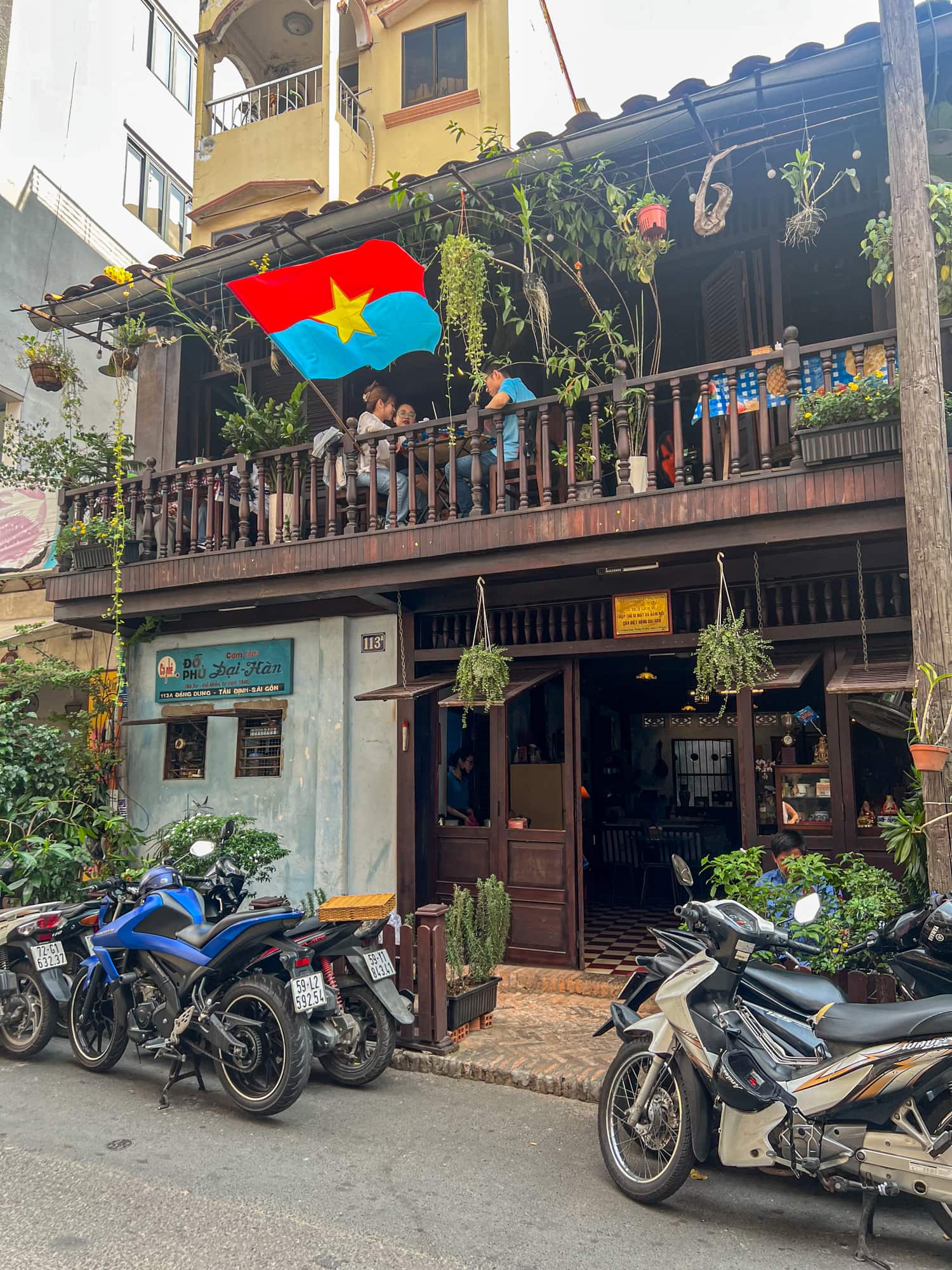 Sticking with the Vietnam War theme, I learned about Ca Phe Do-Phu, a former VC hideout, from my online research.
During the war, this historic building belonged to Tran Van Lai, a wealthy contractor.
He had a friend open a cafe on the street-front side while using other parts of the building as a VC communications hub and storehouse for weapons and medical supplies. An escape tunnel was also built.
Amazingly, he pulled off this construction and activity next door to the home of a South Vietnamese General who never discovered what was happening.
You can still see the storage spaces in the cellar and attic today.
The cafe is easy to spot as it's on a quiet street, and a National Liberation Front flag is flying from the second-floor balcony.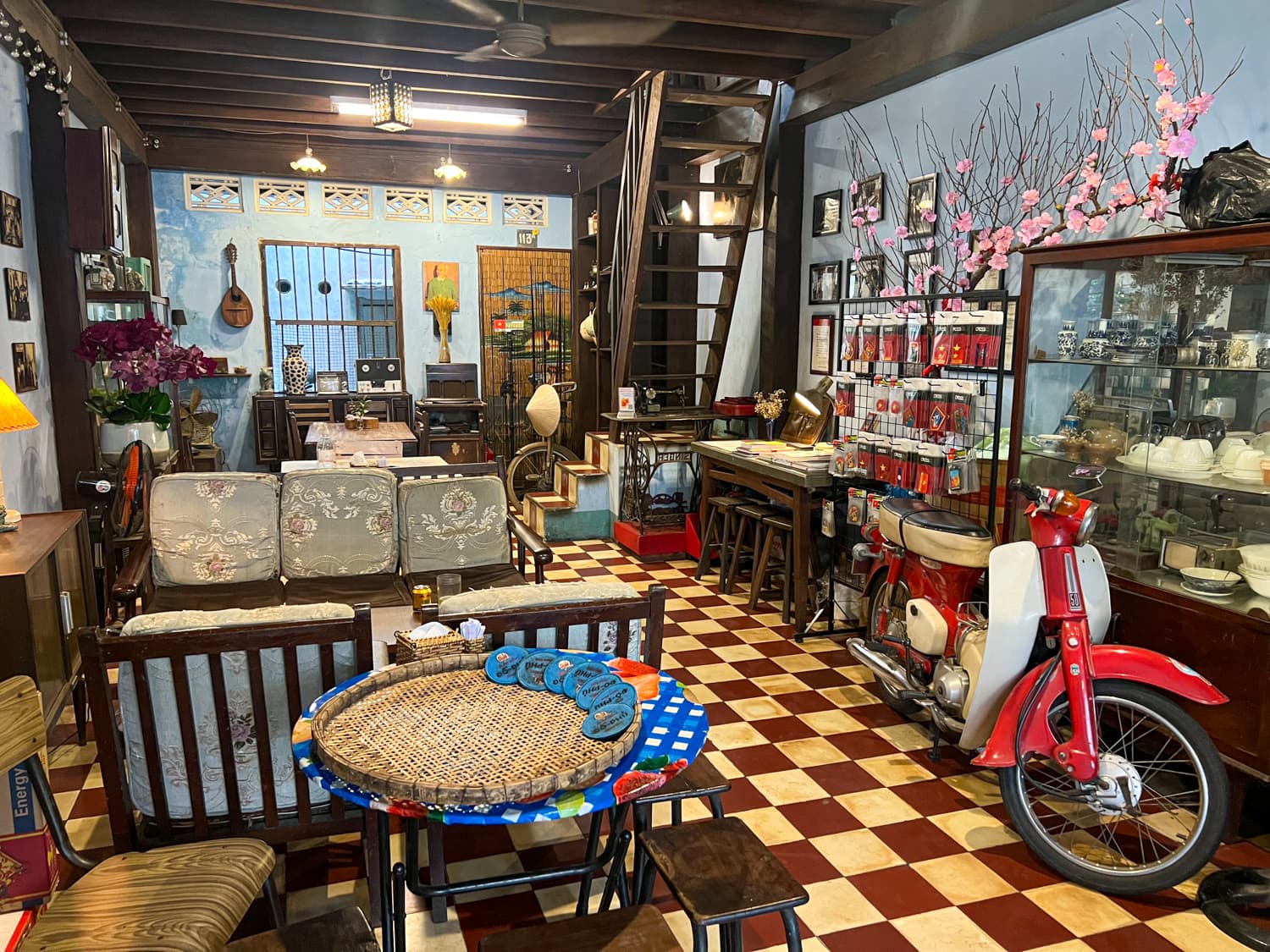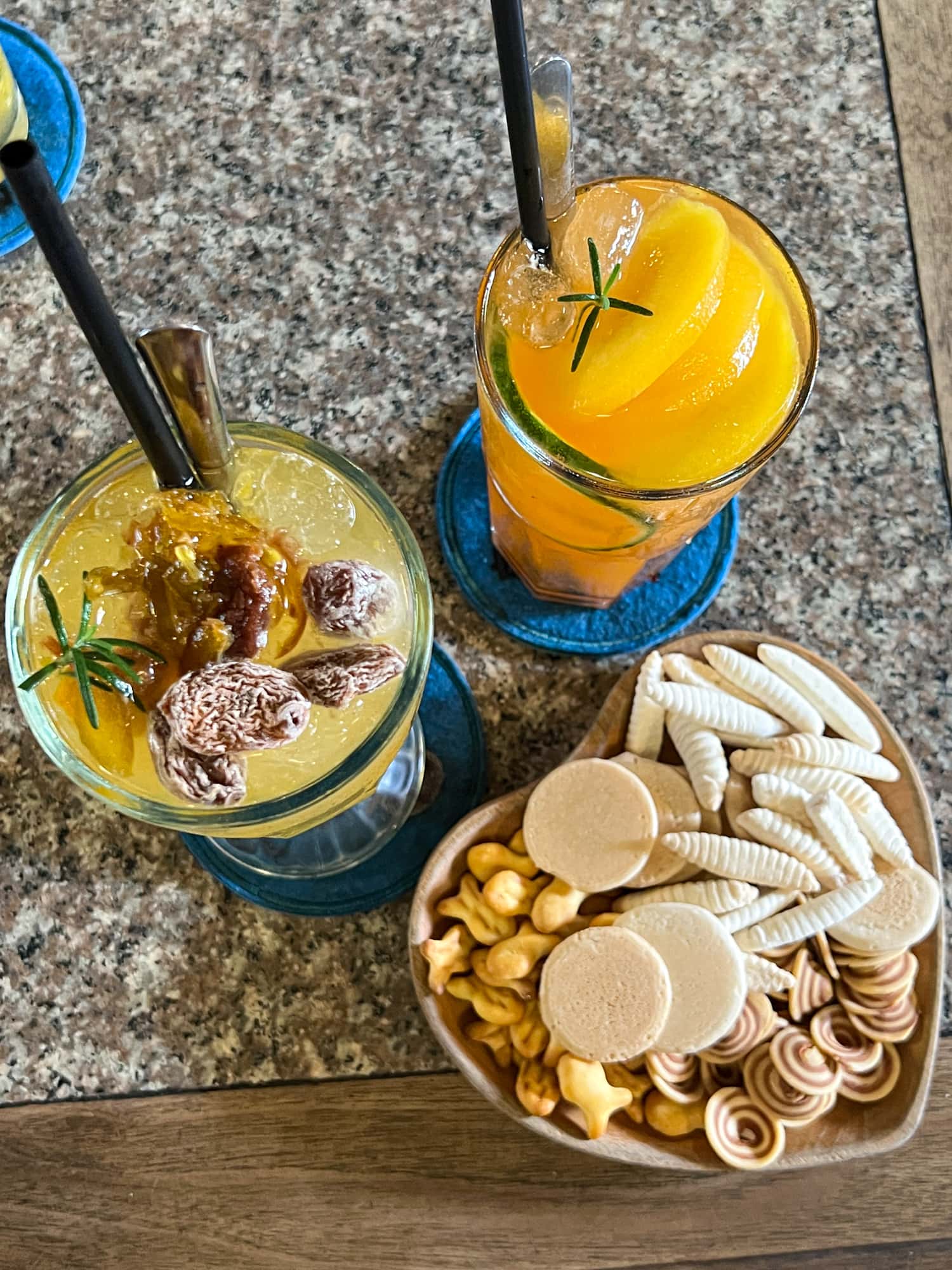 Inside, the cafe is a makeshift museum, almost like it's stuck in time. Old black-and-white photos hang on the walls, and bric-a-brac fills the wall space.
We arrived hot and sweaty in the afternoon and ordered iced salted apricot and peach lemongrass drinks to cool us off. Kel loved the dish of mixed crackers we got.
The cafe is out of the way in northwest Saigon, so we paired it with lunch at Banh Mi Bay Ho, a food stall profiled in Street Food: Asia (Netflix).
Address: 113A Đặng Dung, Tân Định, Quận 1, Thành phố Hồ Chí Minh, Google Maps
8. Cong Doan Restaurant (and Bird Cafe)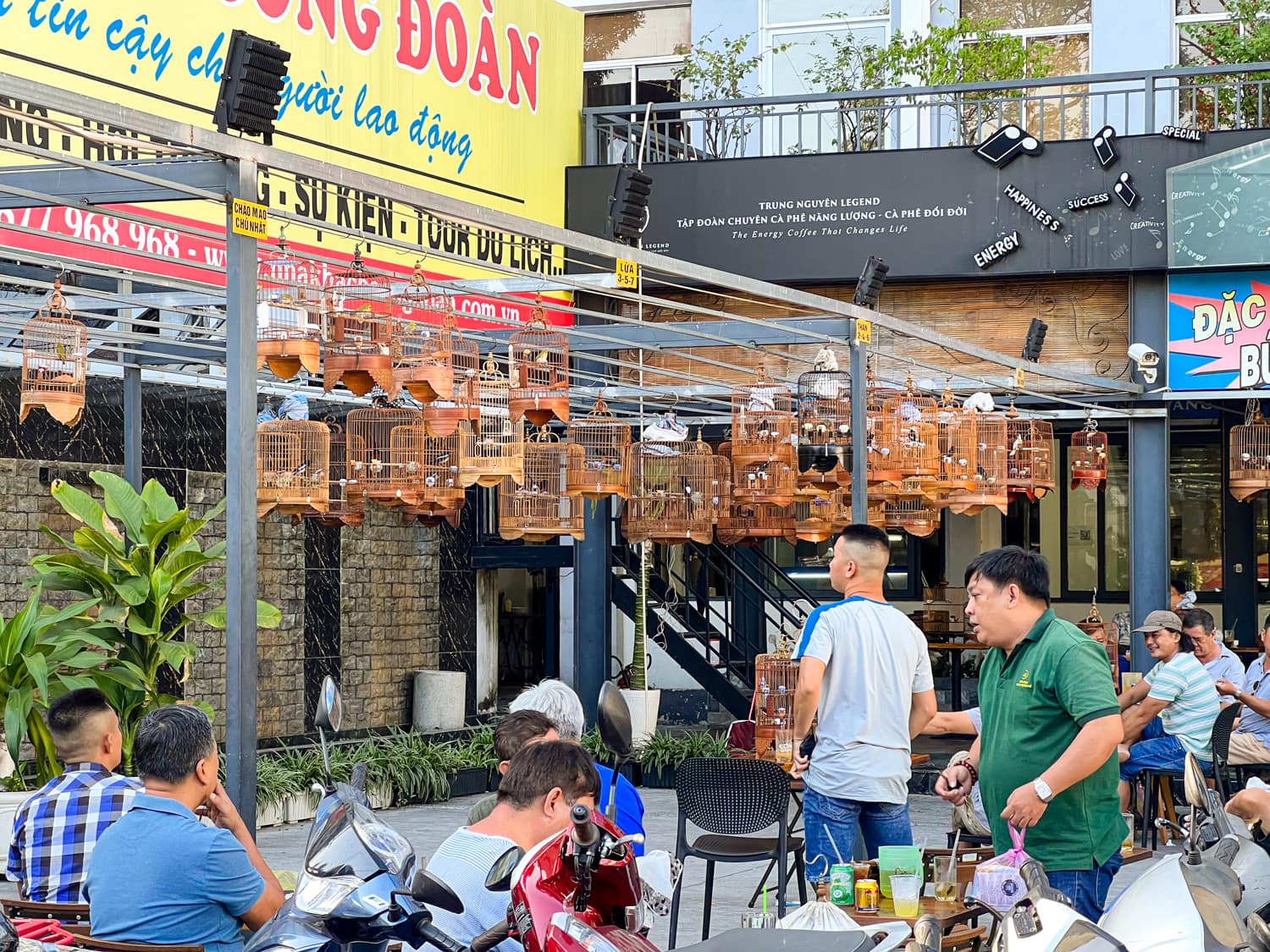 One of the more unique Saigon cafe experiences I sought was at the Cong Doan Restaurant, a popular place for bird lovers to congregate every morning.
This birder meetup used to happen amid the green trees and serene setting of Tao Dan Park across the street. But, for whatever reason, since at least 2020, they've been relegated to the outdoor area at a restaurant.
The bird owners begin arriving at dawn by motorbike and car. A black cloth covers the birdcage and presumably keeps them calm during transport.
[After a few days riding around in Saigon, this doesn't sound like a bad idea for us humans, too.]
The uncovered bird cages of various sizes are hung from a metal framework over the patio as the birds begin chirping. Meanwhile, the men admire them, drink coffee, smoke, and gossip.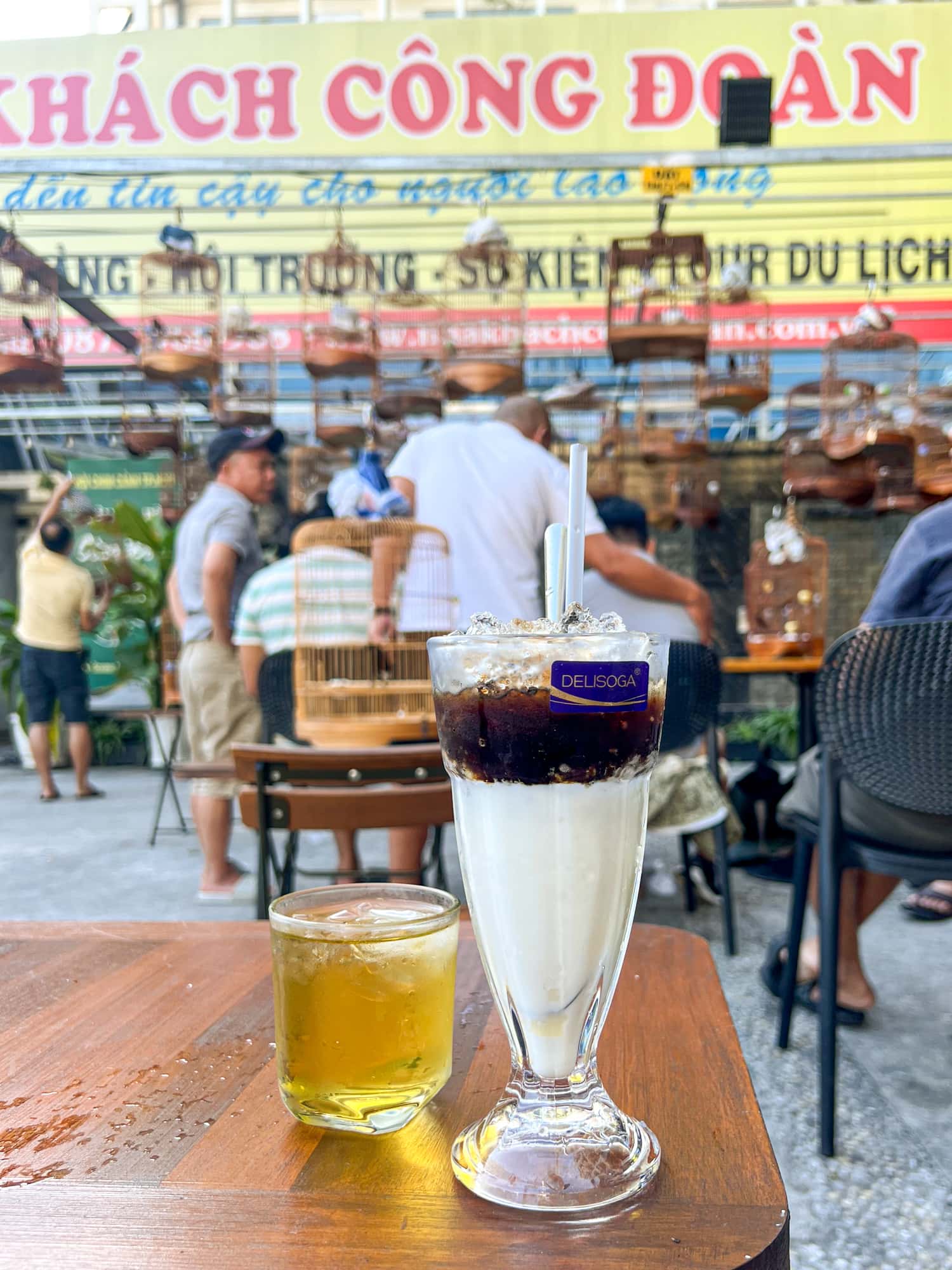 It's a captivating scene to watch unfold, and I did so with my first (and last) Vietnamese yogurt coffee. It's exactly as it sounds—plain yogurt topped with black coffee and ice.
The iced green tea pictured was provided at no cost, as is typical at traditional Vietnamese cafes.
I was surprised you could hear the birds clearly despite the constant din of Saigon traffic.
According to this story, which has photos from the Saigon Bird Cafe when it was still held in the park, the best time to visit Cong Doan Restaurant for the experience is 6:30 a.m. to 9:30 a.m. and 1 p.m. to 3:30 p.m.
We arrived at about 7:45 a.m., and some of the bird owners were already leaving, which was not necessarily bad, as it may have been easier for us to get our table.
Address: 1 Đ. Bùi Thị Xuân, Phường Phạm Ngũ Lão, Quận 1, Thành phố Hồ Chí Minh, Google Maps
9. The Cafe Apartments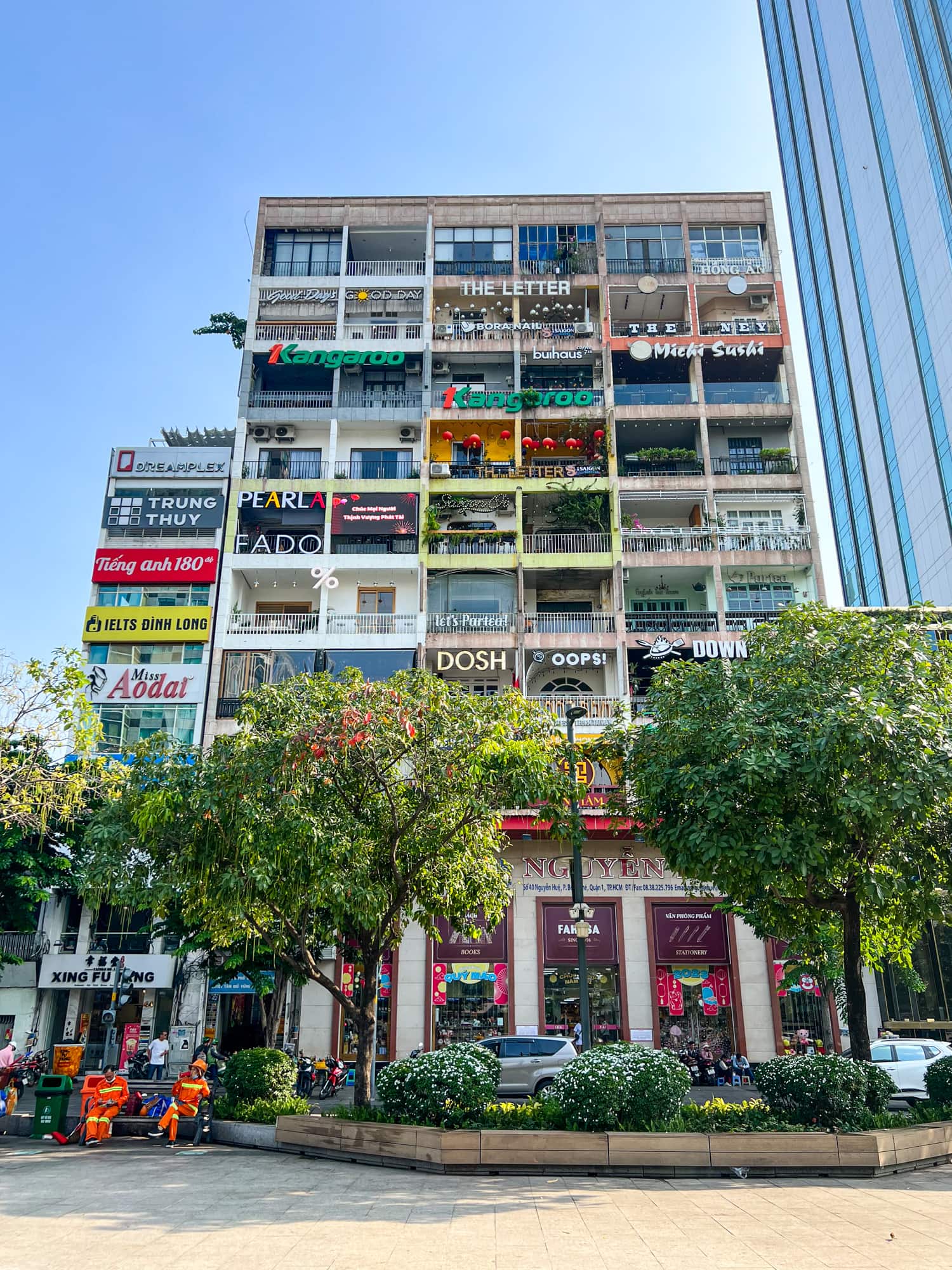 The Cafe Apartments are a collection of individual cafes occupying the upper stories of an apartment building on D. Nguyen Hue, a prominent pedestrian mall in Saigon's city center.
The mall's north end is marked by the beautiful People's Committee Building, in front of which is a statue of Ho Chi Minh. It extends about five blocks to the southeast and runs into the Saigon River.
You'll need to take an elevator to access the beautiful views from atop the apartment blocks.
As I went to do this, a security guard pointed to a sign indicating a small fee of 3,000 dongs (about $0.13). It also says most cafes will refund the expense, though I didn't bother to ask.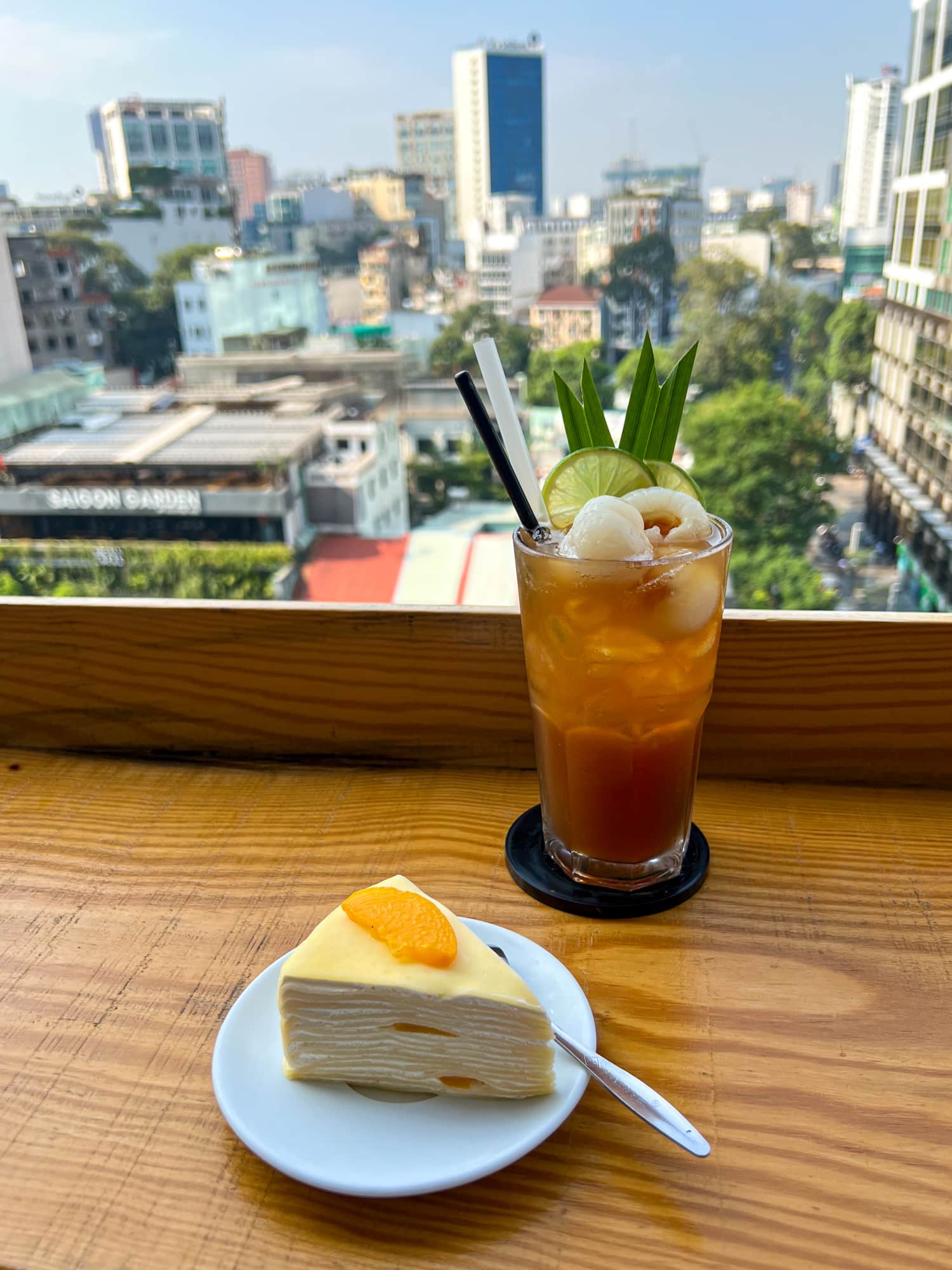 Upon paying, you'll have access to the upper floors the easy way. I took it to the 8th floor and then explored using the stairs, poking my head into the various cafes along the way.
Once I'd covered the four or five floors to my satisfaction, I took the elevator back to the 8th floor and grabbed a stool on the balcony of the Good Day cafe. It was early enough that I had the place to myself.
My fresh lemon lychee and peach mille crepe were 105,000 dongs ($4.47) and worth every penny in their own right, as well as for the views of Saigon. It was the perfect place to start a new day.
Address: 42 Đ. Nguyễn Huệ, Bến Nghé, Quận 1, Thành phố Hồ Chí Minh, Google Maps
10. The Workshop Coffee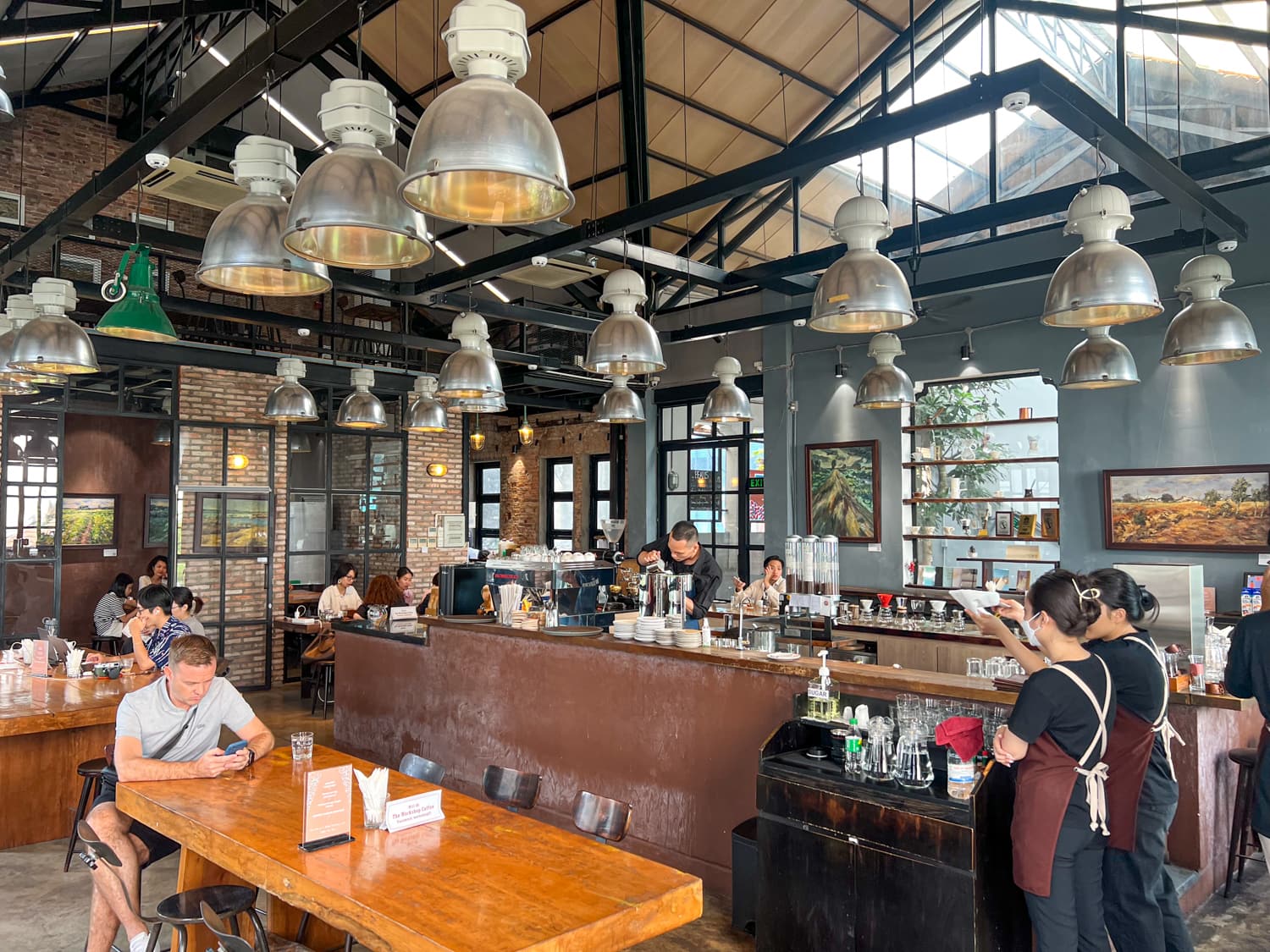 Workshop Coffee is one of the best Saigon cafes for delicious coffee amid lots of natural light.
You'll find an industrial design with exposed brick walls, heavy wood tables, and a concrete floor here. Large lights hang from above, not that they're needed during the day.
For digital nomads and expats, it's the perfect spot to get some work done or enjoy a good coffee.
I was more focused on the latter, ordering an Arabica pour-over coffee with beans from Zanya Farm in Langbiang Mountain, Dalat, Vietnam.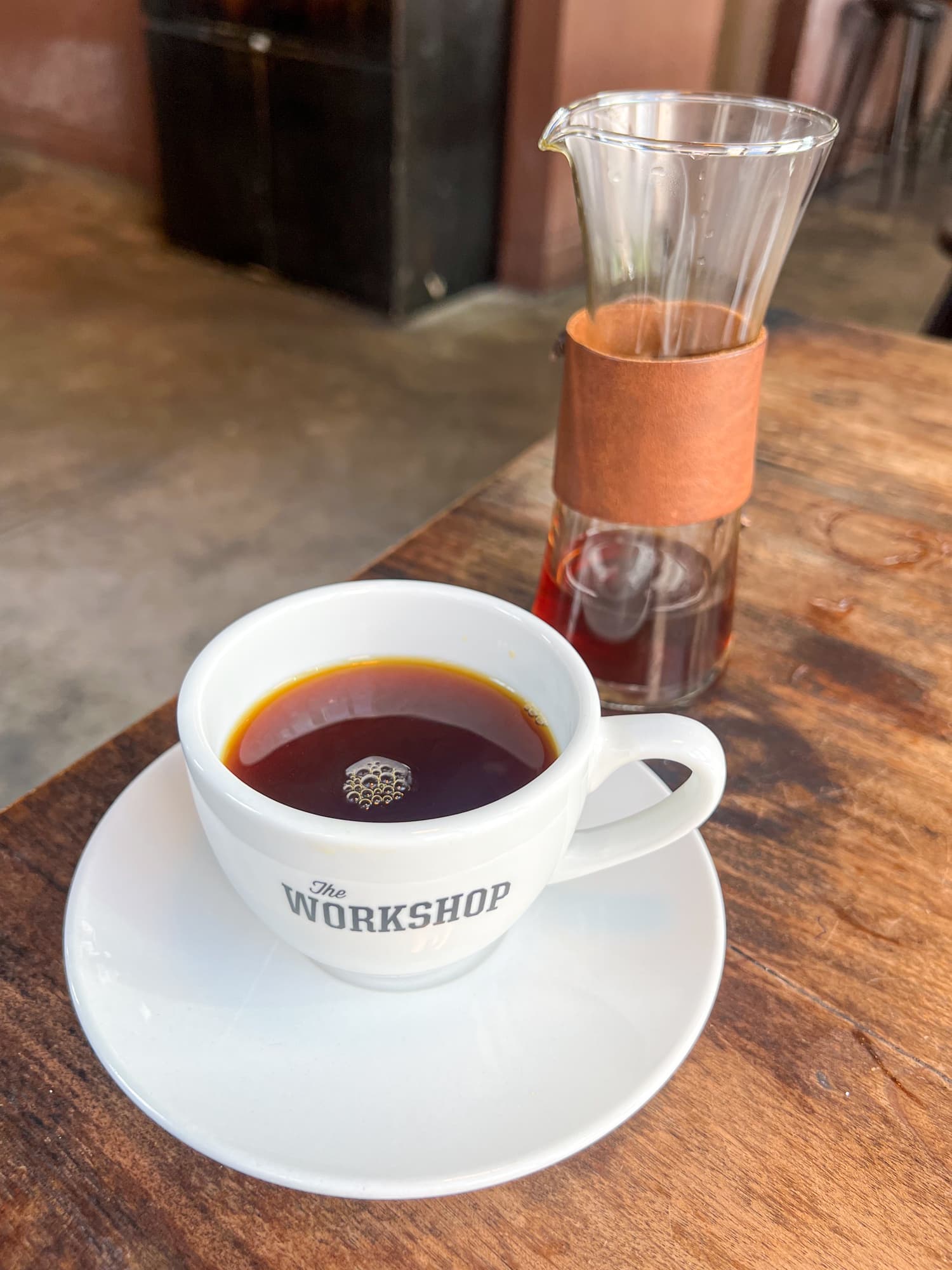 Pour-over options include V60, Chemex, Kalita Wave, and Woodneck. There's French Press, Aeropress, and Syphon to brew by immersion.
Meanwhile, Kel got a bottle of cold-pressed guava juice. The lemon ricotta pancakes with mango and apple were worth every penny.
And we enjoyed a chocolate chip and cashew nut cookie, too. The red velvet cake primarily tasted of cream cheese, though.
Whether you're dropping by for work or pleasure, The Workshop is one of the best coffee shops in Saigon.
Address: 27 Ngô Đức Kế, Bến Nghé, Quận 1, Thành phố Hồ Chí Minh, facebook.com/the.workshop.coffee
See also: Best Cafes in Austin
11. The Coffee Lab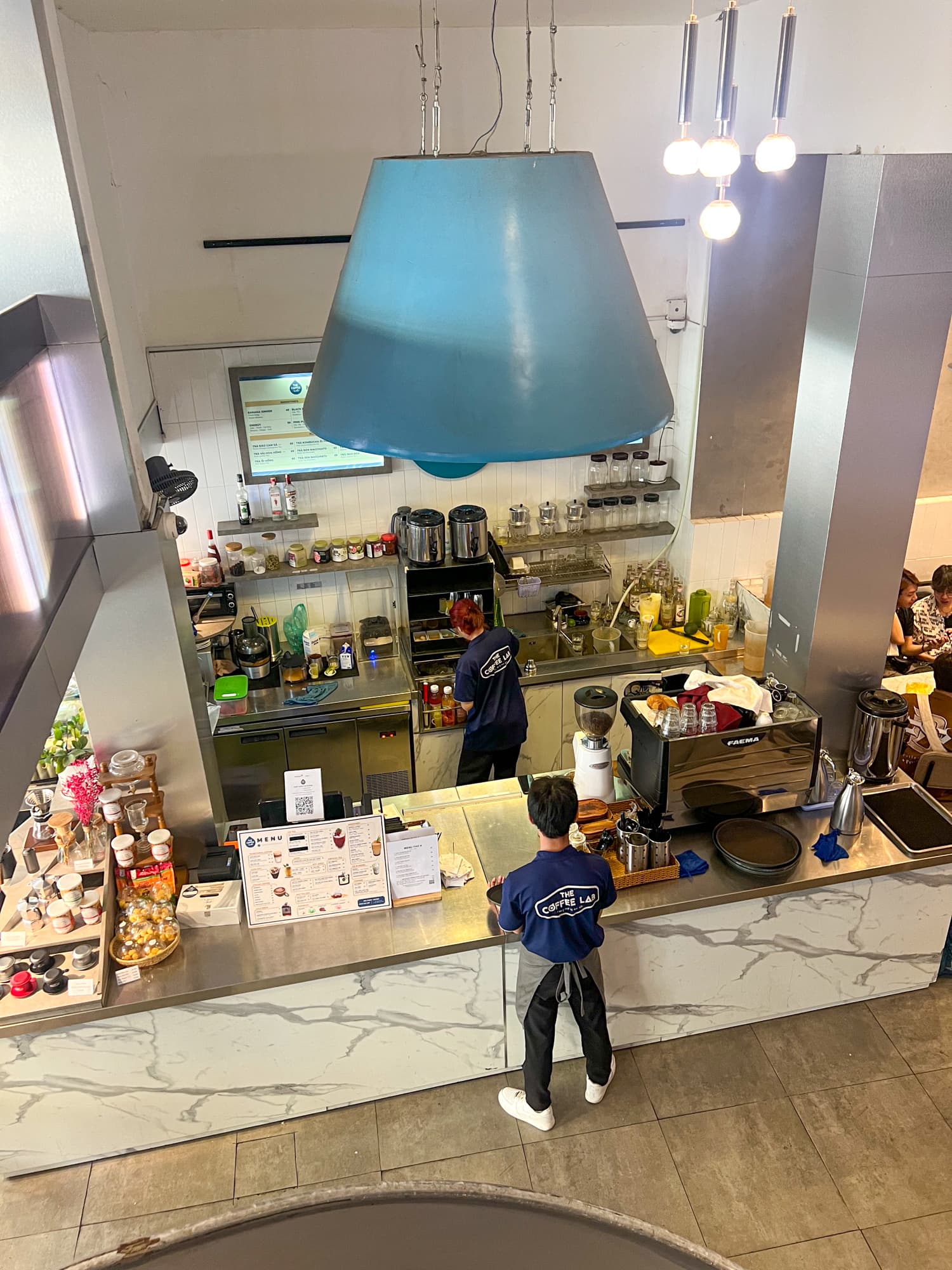 My good friend Nick, whose wedding I attended in Saigon, swears by the cinnamon orange cold brew at The Coffee Lab, where we met him one morning.
The small but sleek coffee bar and roasting equipment are on the ground floor.
After ordering your beverage, you can sit on the sidewalk to people-watch or inside on the first or second floors for a quieter experience.
This was the first place I tried an iced Vietnamese white coffee made chiefly of sweetened condensed milk with some black coffee.
I also got a taste of the cinnamon orange cold brew; they also make a strawberry cold brew.
Address: 53A Đ. Nguyễn Du, Bến Nghé, Quận 1, Thành phố Hồ Chí Minh, facebook.com/The-Coffee-LAB
12. Cafe Co Ba-Dong Khoi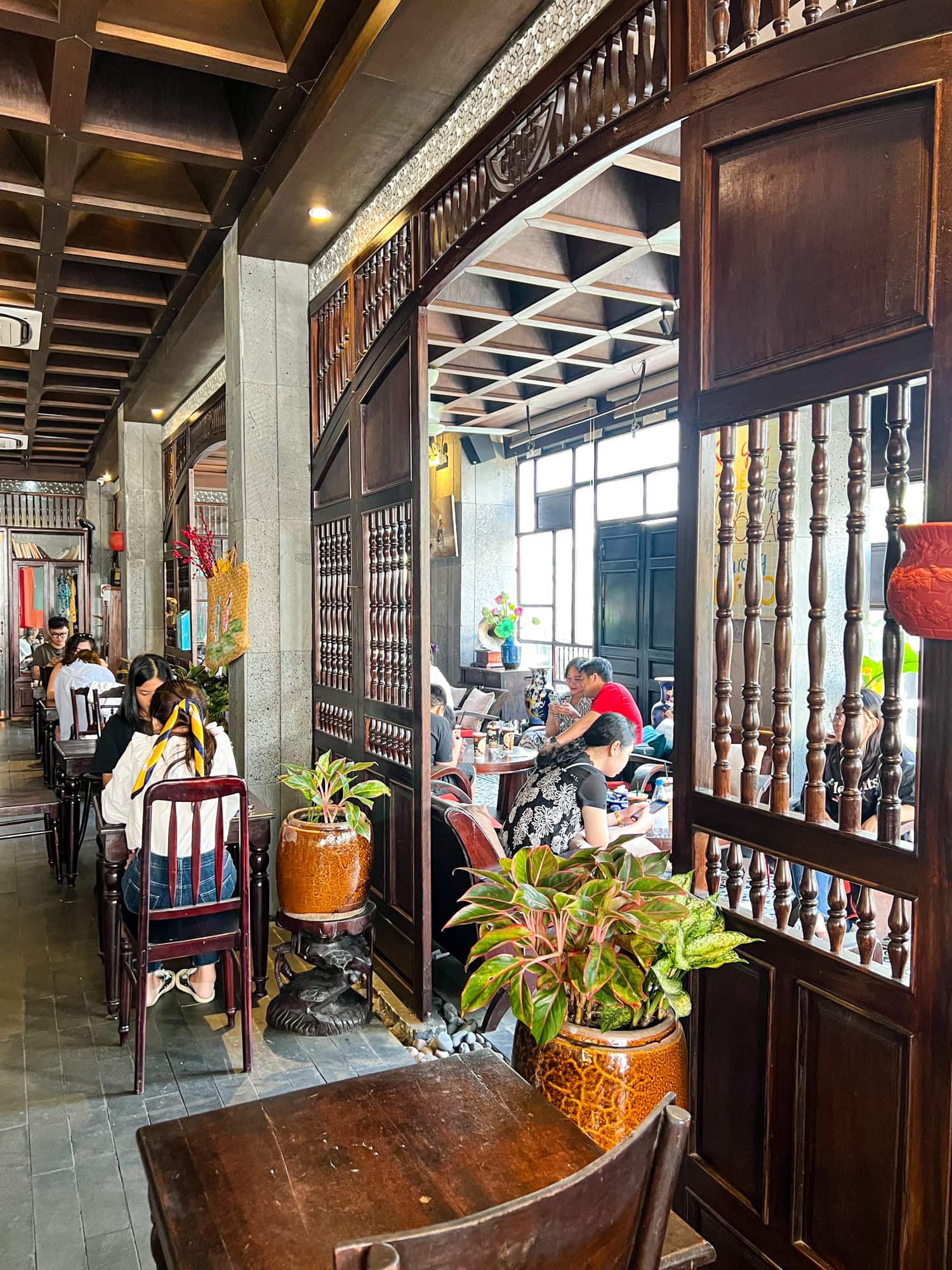 A block south of The Workshop Coffee, near the Saigon River, is Cafe Co Ba-Dong Khoi, which I visited based on the positive reviews for its atmosphere.
The second-floor cafe has a traditional feel, with lots of woodwork, glass windows, and a wrap-around balcony.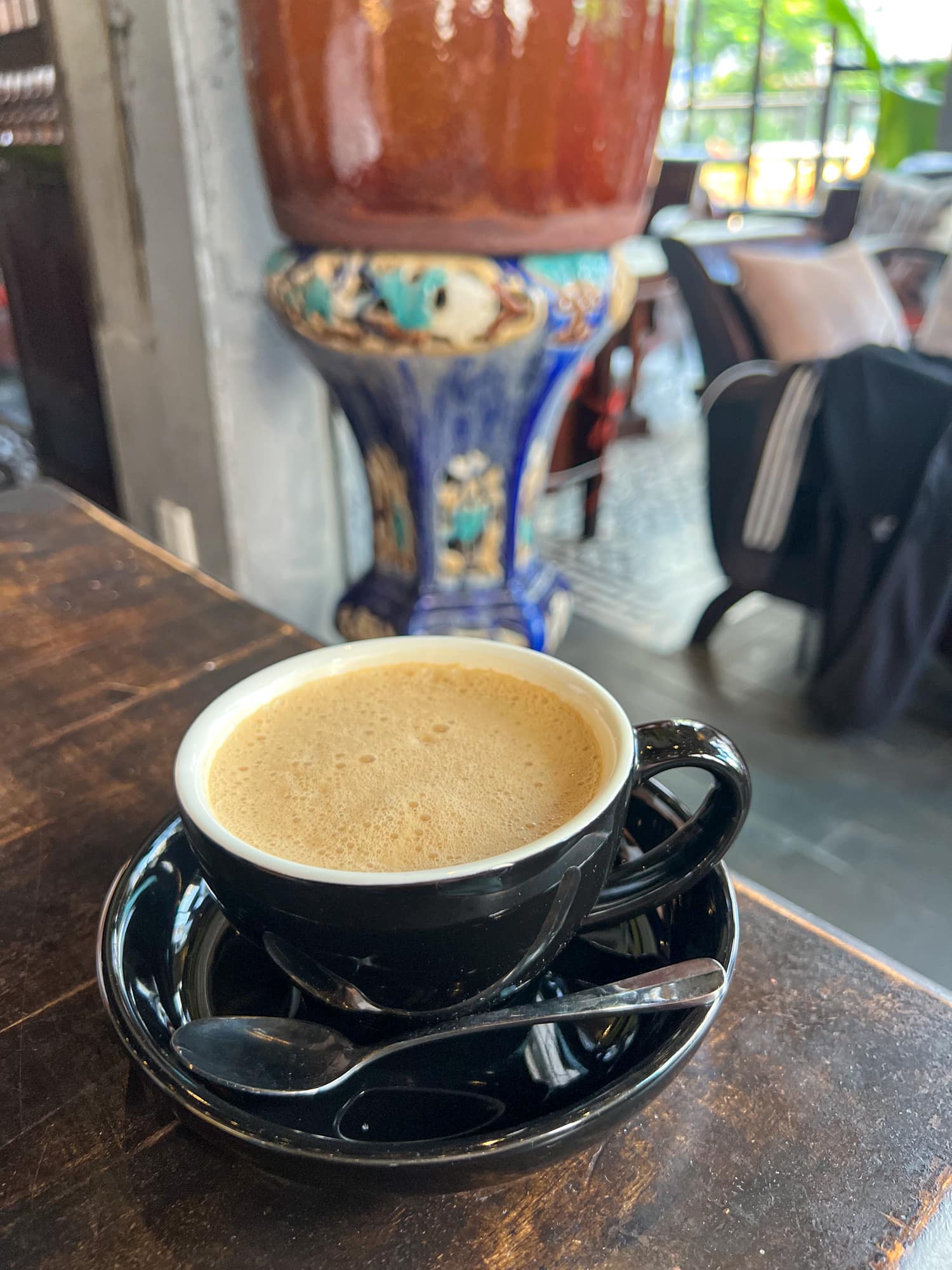 There are many different seating options, including a sewing table with a sewing machine. It's popular, though, and can get crowded.
For our brief visit to this Saigon cafe, I ordered a hot black milk coffee, a basic choice that, until that point, I had yet to try.
Address: 4-6 Đ. Đồng Khởi, Bến Nghé, Quận 1, Thành phố Hồ Chí Minh 700000, facebook.com/caphecobadongkhoi
13. COI Saigon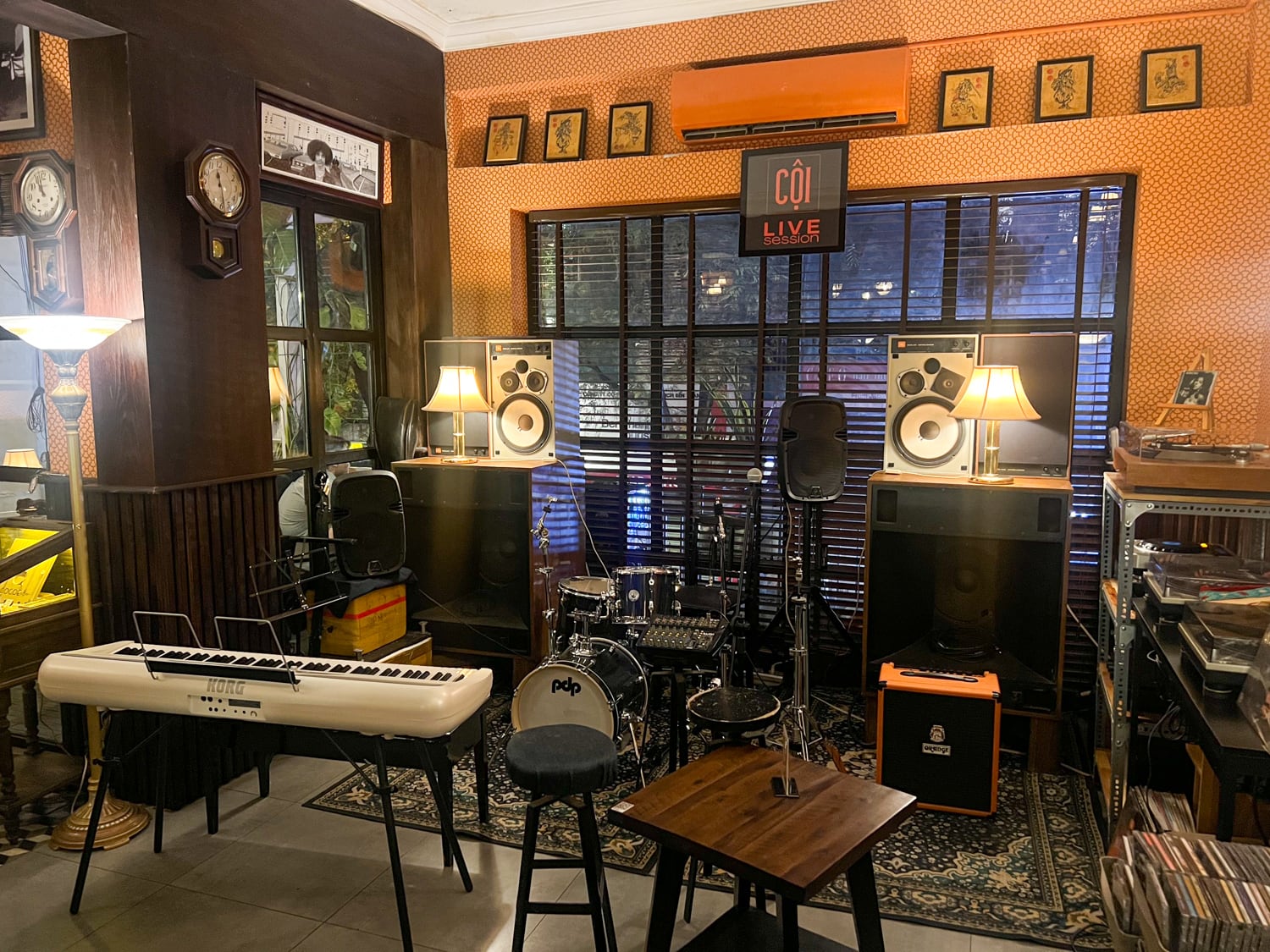 After my friend's wedding, we went to grab drinks at Summer Experiment, a third-floor modern craft cocktail bar we'd previously enjoyed. But, it was a Friday night and, not surprisingly, full.
So, we walked down a floor and popped into COI Saigon, a cafe/jazz bar on the building's second floor.
It wasn't too crowded, so with the staff's help, we could flip around a sofa and have seating for our group, including the newlyweds.
Related: Saigon Street Food Tour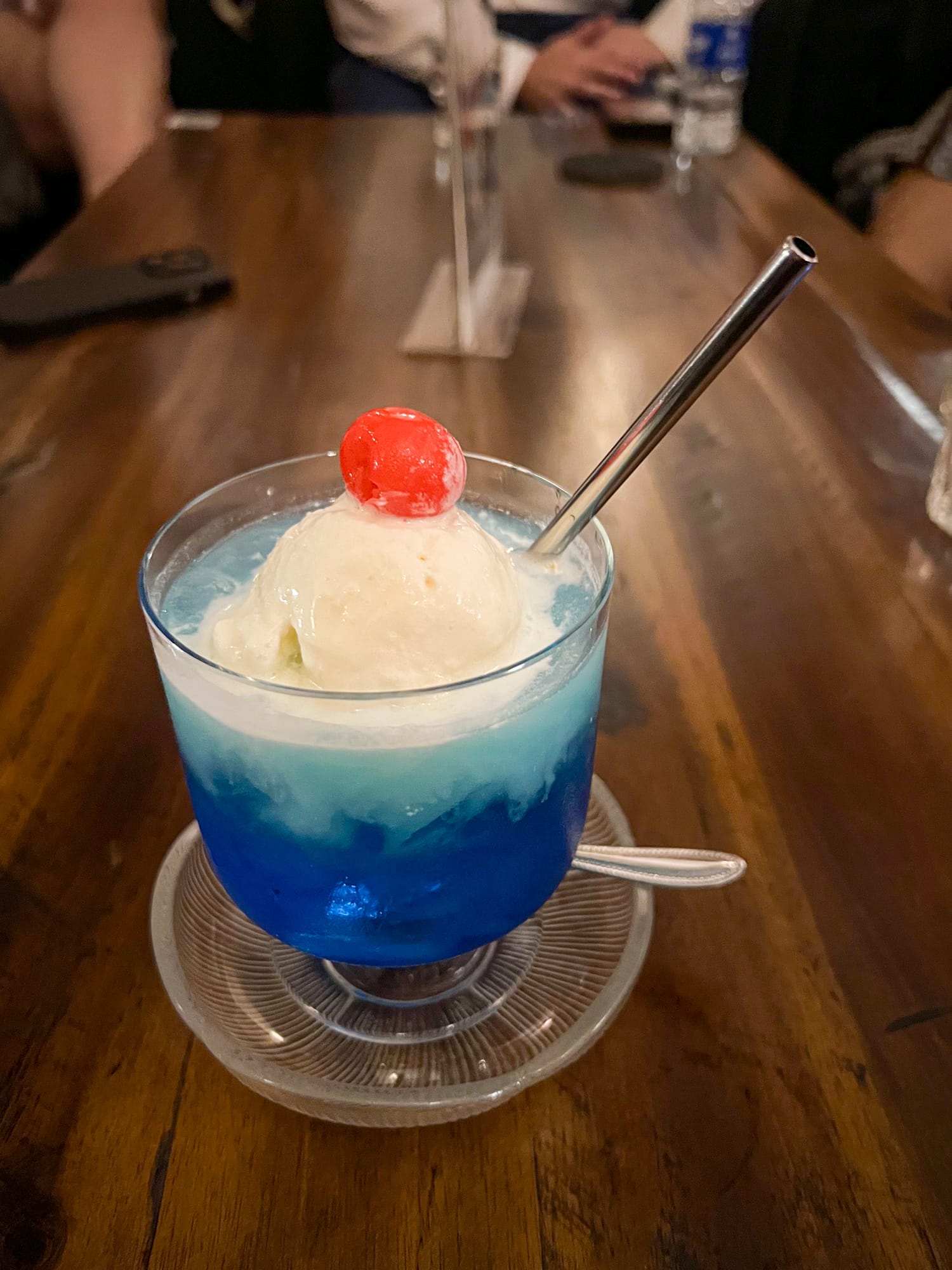 Musical instruments were set up; there were record players with vinyl and an overall relaxed vibe. Live performances are held on Thursday and Sunday evenings.
As it was getting late, I didn't want a coffee drink, so I ordered a blue curacao ice cream soda out of curiosity.
The colorful concoction of orange-flavored liquor and vanilla ice cream felt like a playful way to conclude an eventful evening.
Address: 77-79 Lý Tự Trọng, Phường Bến Thành, Quận 1, Thành phố Hồ Chí Minh, instagram.com/coikissa.saigon
14. 43 Factory Coffee Roaster
43 Factory Coffee Roaster is a coffee shop I spent much time admiring online but didn't have time to visit in person, at least not in Saigon.
They have a second location in Da Nang on the central coast of Vietnam, which I saw the day after leaving Saigon.
I found the minimalist aesthetic of the Saigon location's interior highly appealing.
It looks like a peaceful place to sip a fresh-brewed cup of Arabica Single Origin coffee, which they source from outside Vietnam.
Brewing methods include a shot, filter, or milk base. As I experienced in Da Nang, each coffee is served with tasting notes and information about the origin of the beans.
43 Factory Coffee Roaster will appeal to coffee nerds, who won't mind paying more for imported coffee.
Address: 178a Pasteur, Bến Nghé, Quận 1, Thành phố Hồ Chí Minh, 43factory.coffee
15. The Pastry Boutique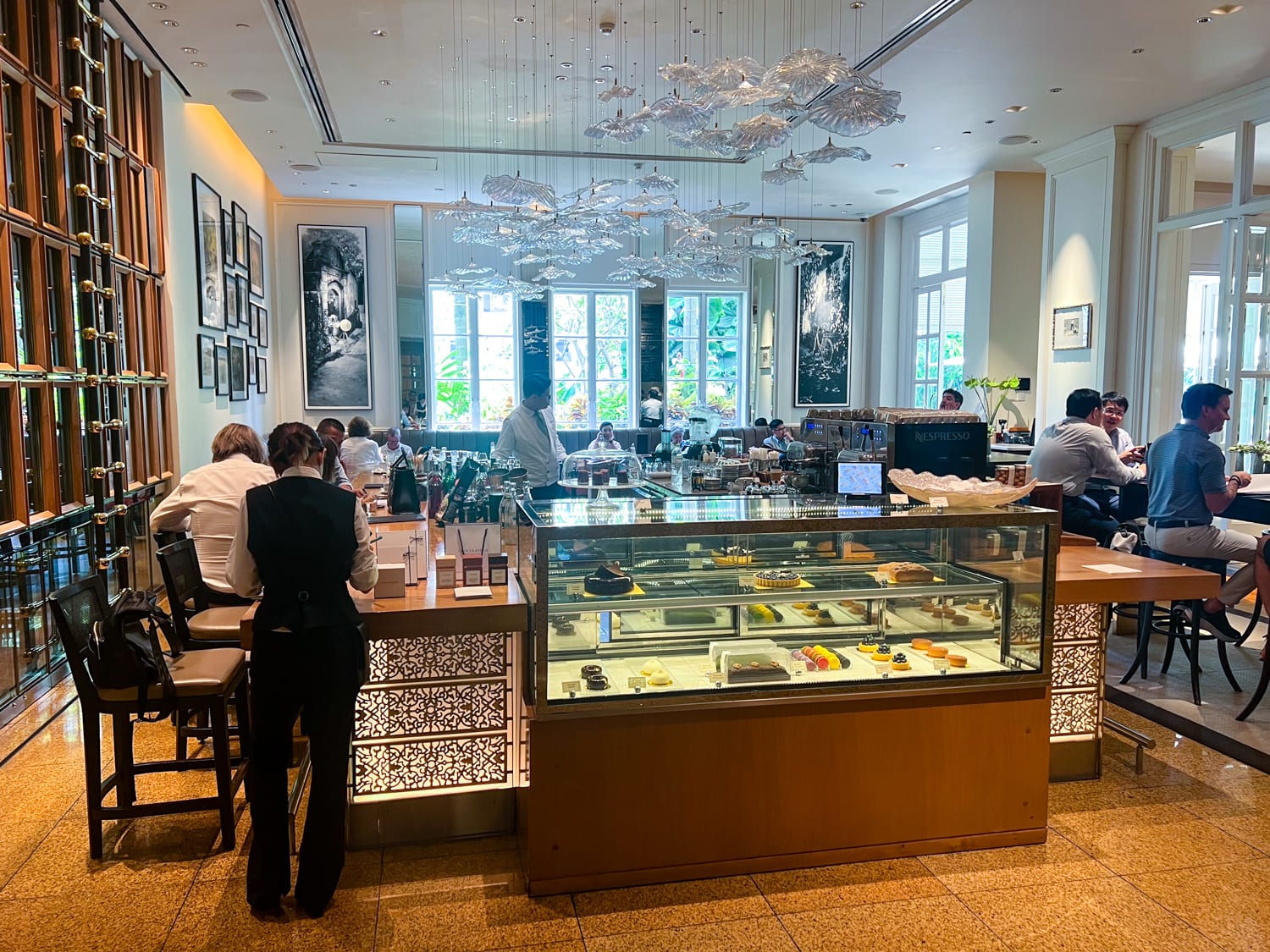 While exploring the city on Google Maps, I came across The Pastry Boutique at the Park Hyatt Saigon.
From previous experience, I knew we could count on it to be a quiet place to enjoy a well-crafted drink and dessert.
Upon arrival at the hotel, we entered a world of luxury, which extended to The Pastry Boutique, with its wrap-around coffee bar and a display case full of pretty pastries.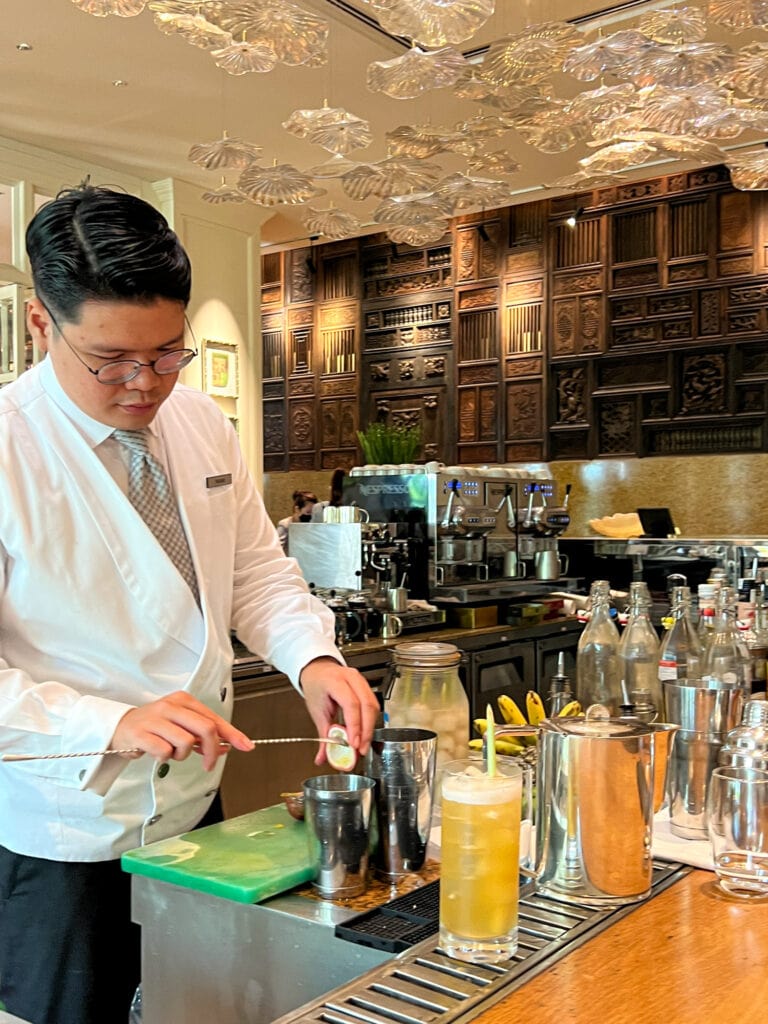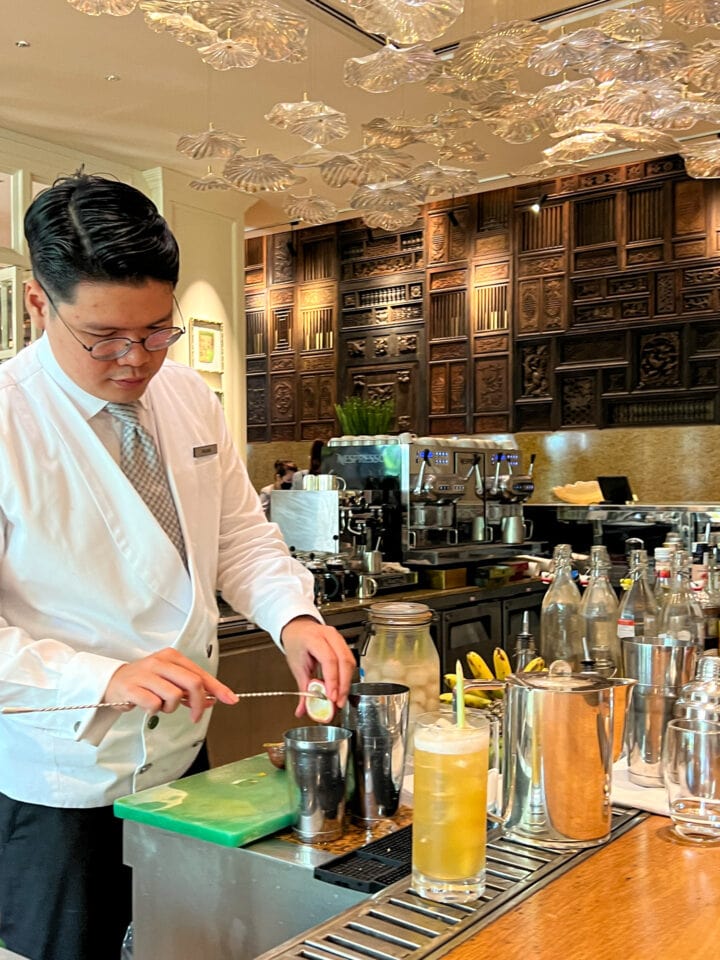 I ordered a green tea with lychee, and Kel got a passion fruit tea.
My pastry was a chocolate sobacha (buckwheat tea) shaped like a doughnut with a mousse-like consistency, garnished with edible gold.
Kel got a white chocolate pastry with a raspberry filling and a wisp of edible silver.
Address: Park Hyatt Saigon 2 Lam Son Square, Quận 1, hyatt.com
16. Landmark 81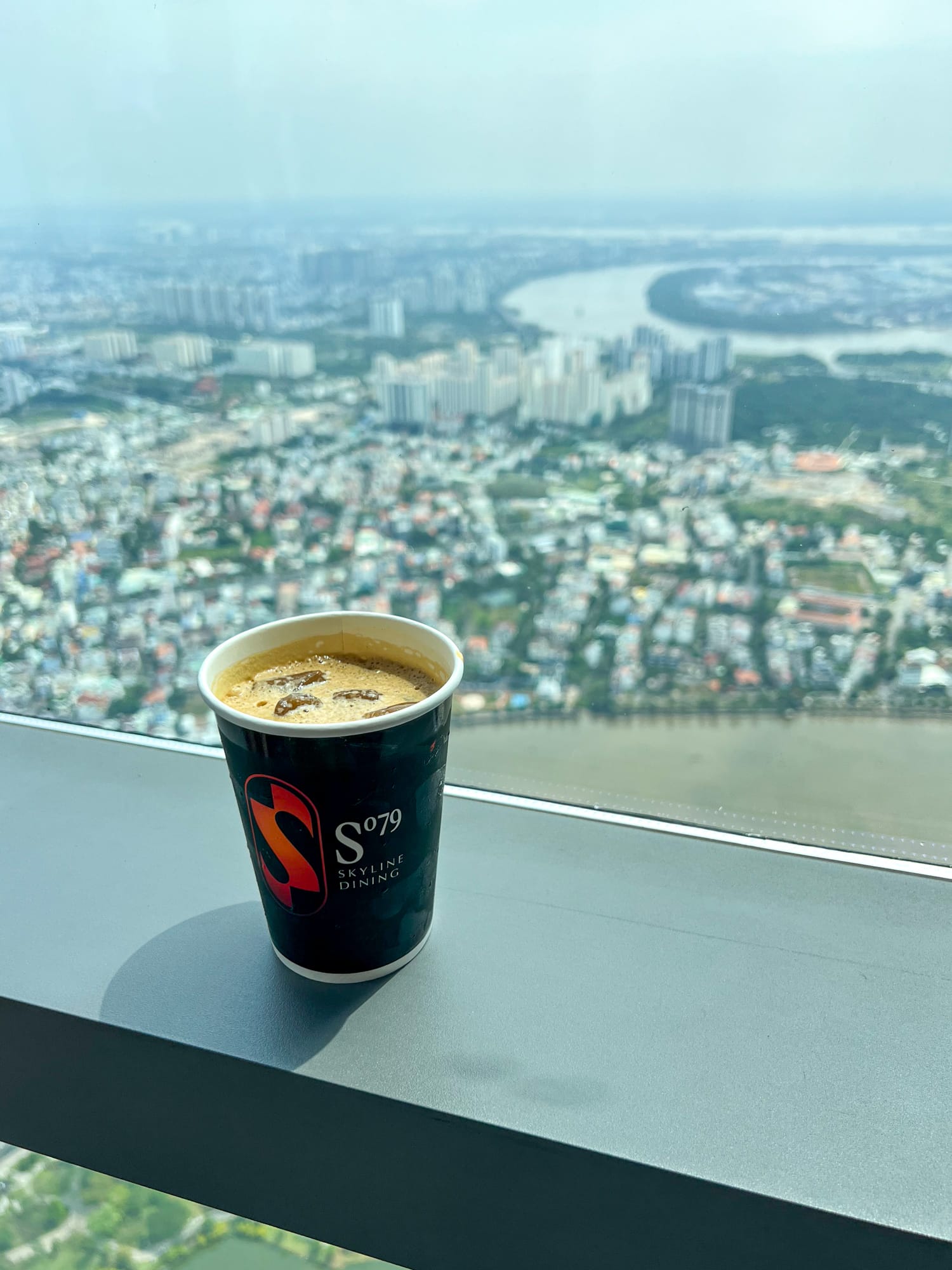 Atop Landmark 81, the tallest building in Vietnam at 1,512 feet (461 meters) and second-tallest in Southeast Asia, you can sip a Vietnamese milk coffee with 360-degree views of Saigon.
After you buy tickets at the SkyView desk in the Vincom Center (the building's shopping mall), each including a drink, you'll be whisked skyward in the country's fastest elevator.
You'll get off on the 79th floor, where you can collect your drink from the So79 restaurant's take-away window.
The restaurant offers seven and 9-course set menus, with an a la carte option "coming soon."
The SkyView observation deck, which includes the 79th, 80th, and 81st floors, was opened on April 28, 2019.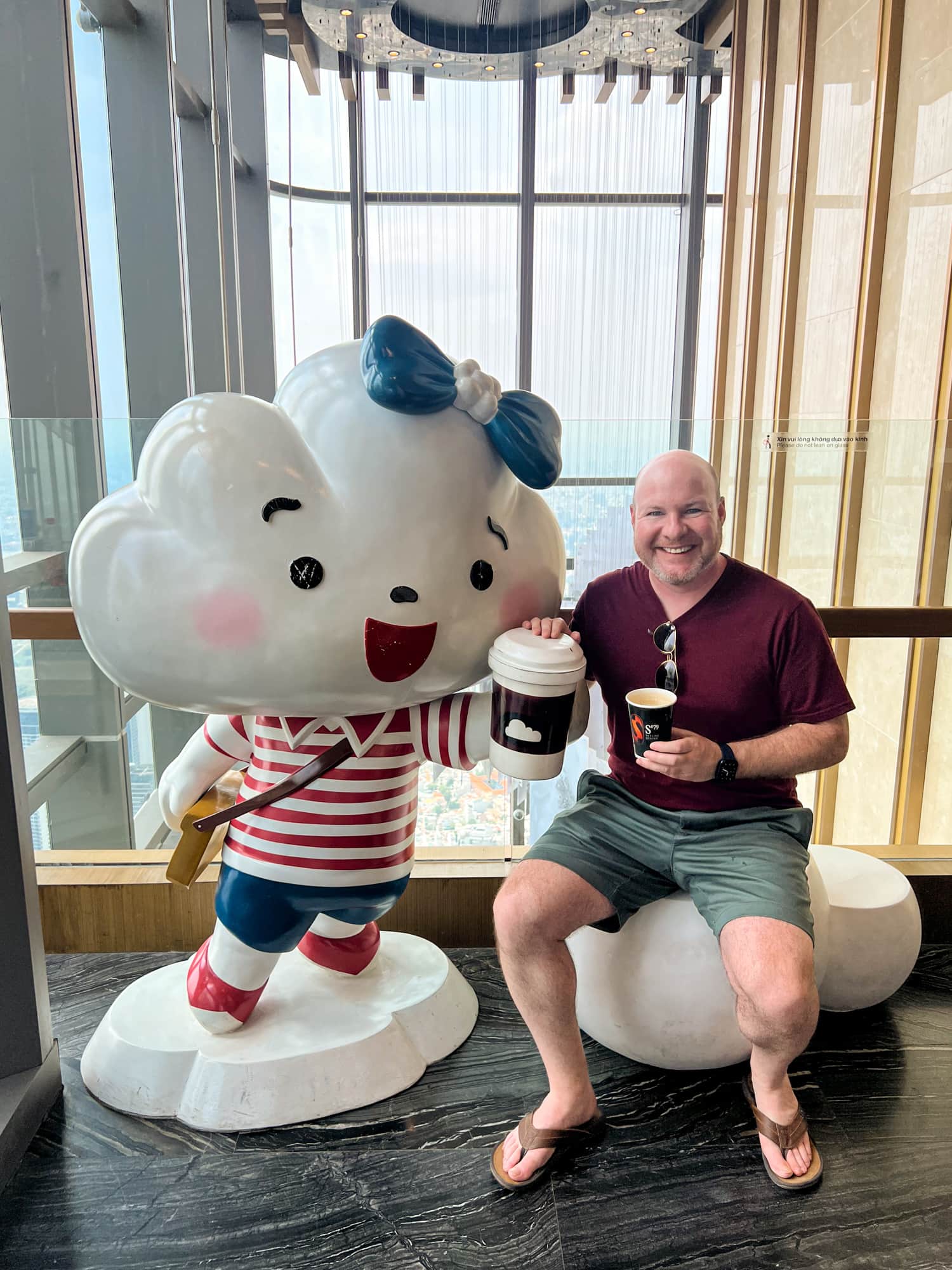 Once you've taken a lap around the 79th floor, walk upstairs to the 80th floor, which features Miwaku Premium, the highest restaurant in Southeast Asia.
Miwaku Premium serves Japanese fusion cuisine, and if we had more time, I would've enjoyed dinner there.
It has a romantic feel; if you're dining on their outdoor patio, you're truly eating in the clouds.
You'll pay for the beautiful view, though. Holiday set menus run $200 or more per person, not including drinks and gratuity.
Our last stop was the 81st floor, where there's a VR experience to terrify you, and you can step outside a glass-enclosed patio for an open-air experience.
Address: 720A Đ. Điện Biên Phủ, Vinhomes Tân Cảng, Bình Thạnh, Thành phố Hồ Chí Minh, landmark81skyview.com
17. Highlands Coffee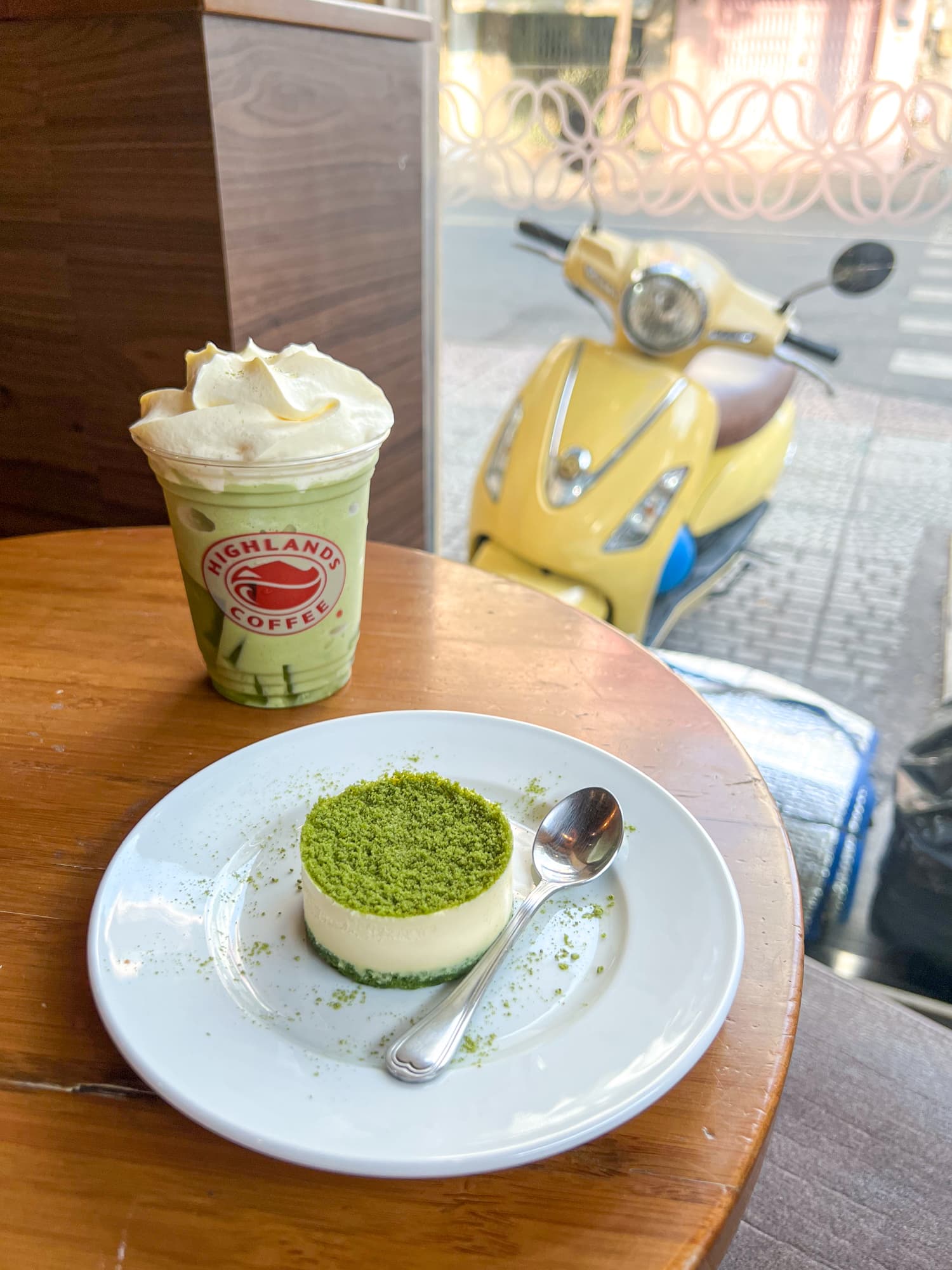 So far, this list has highlighted small and independent cafes in Saigon, except for Cong. However, it's worth mentioning Highlands Coffee, as its presence is inescapable.
Highlands Coffee is a chain of Vietnamese cafes that began in 1999 and has since expanded to hundreds of locations.
Like Starbucks in the U.S., they're everywhere you look. You may eventually buy a drink or a bite to eat at one.
That was the case on our last morning in Saigon, when we were up early for a flight to Da Nang and couldn't find a cafe near us that was 1) open and 2) offered food.
Typical Vietnamese cafes catering to locals often only serve coffee, tea, and smoothies, not food.
I used our only visit to Highlands to order a green matcha freeze (an ice-blended drink with whipped cream) and a small matcha cake, and Kel got a peach lemongrass tea and a cake.
Address: Multiple locations, highlandscoffee.com.vn