Ready to experience luxury with a Vietnamese twist? Welcome to the InterContinental Hanoi Westlake, an IHG Hotel minutes from Hanoi's Old Quarter.
Set on the serene waters of West Lake (Ho Tay), this hotel combines traditional elegance with modern comforts to create a sanctuary for visitors to the energetic capital.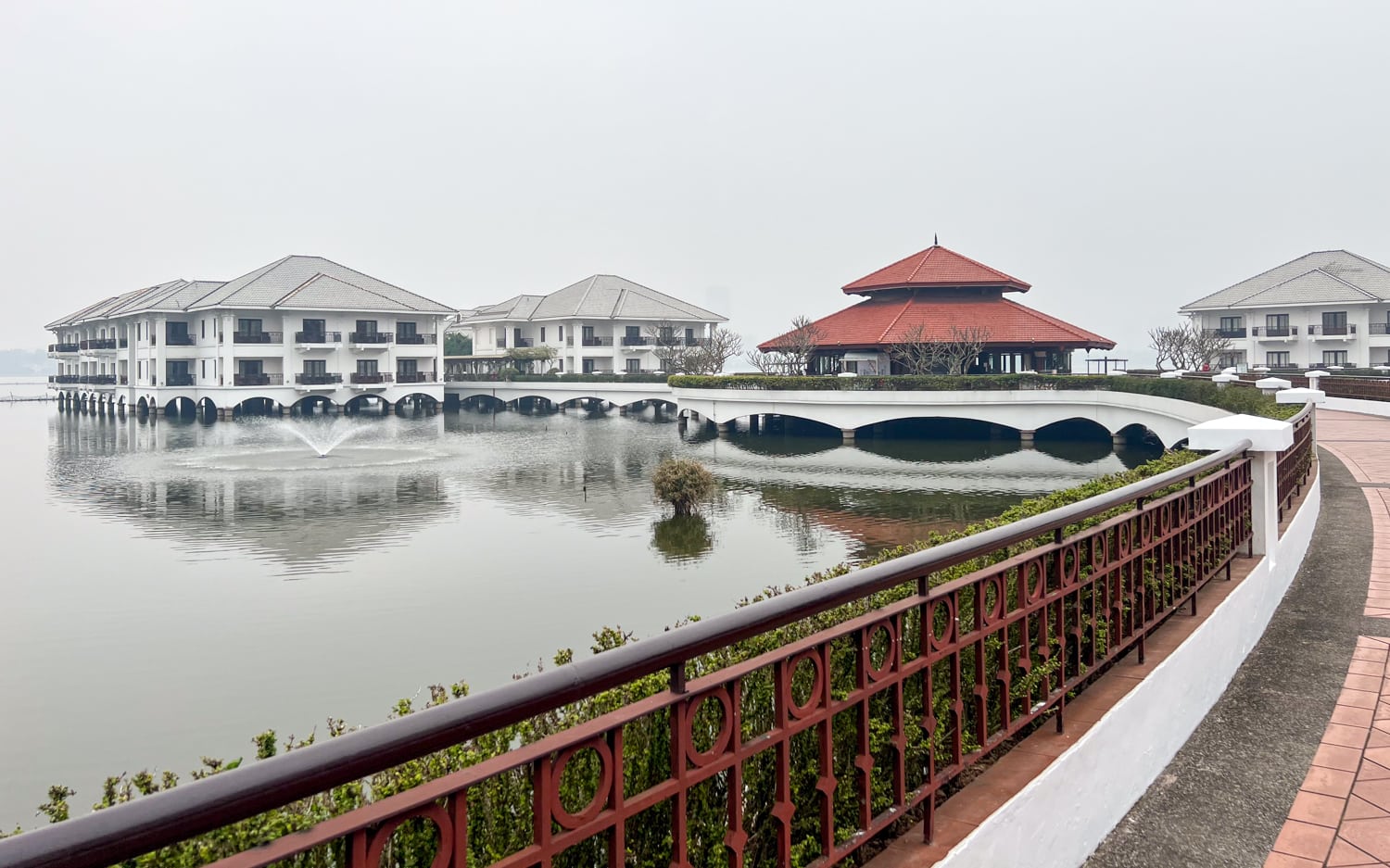 Knowing we'd be tired two weeks into our first trip to Vietnam, I booked the InterContinental's lakeside hotel for our last four nights. I underestimated how much I'd appreciate the decision when we arrived.
Let's see why the InterContinental Hanoi Westlake is an excellent option for travelers in Northern Vietnam.
InterContinental Hanoi Westlake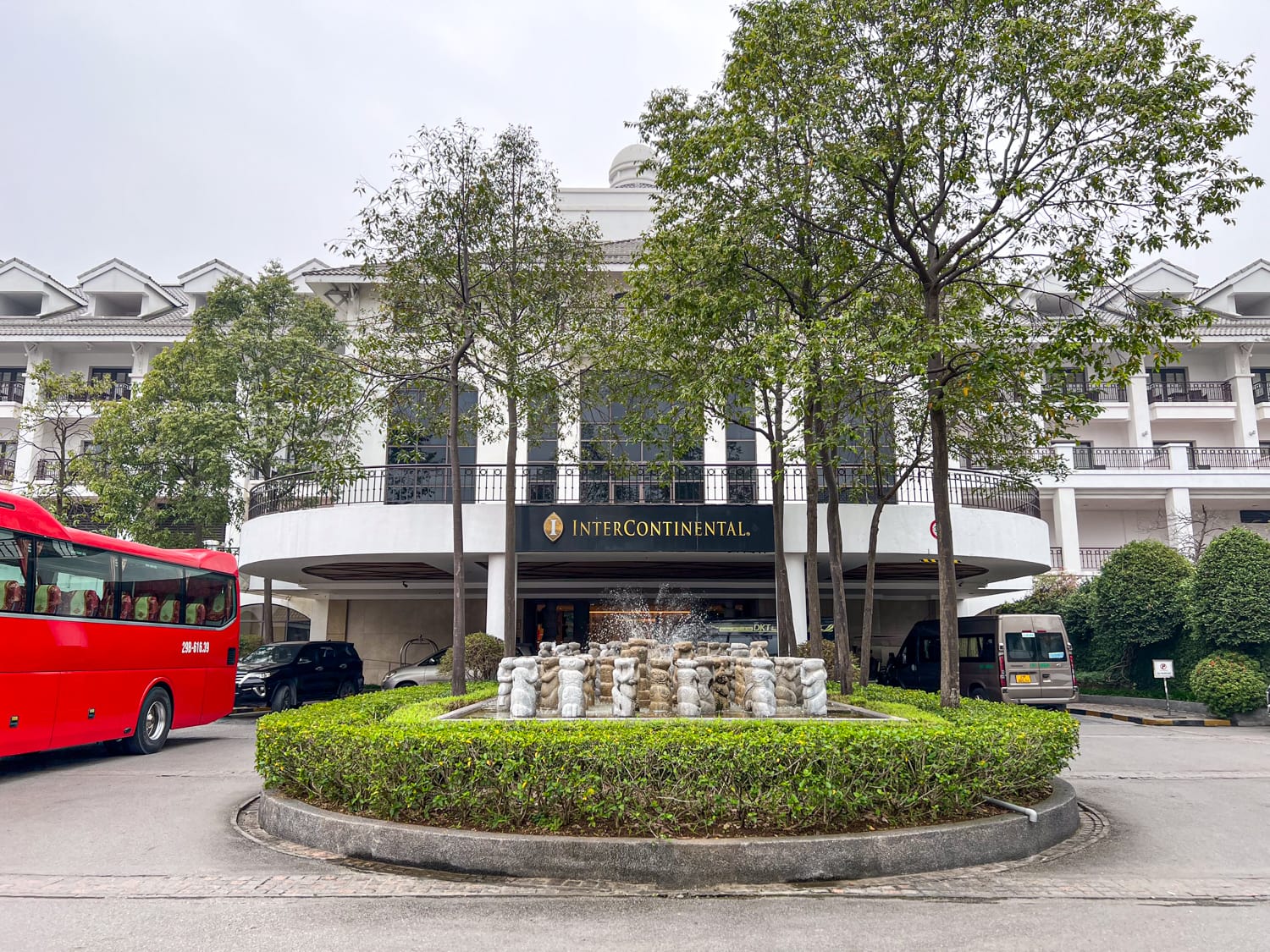 Check-In
The lakeside hotel is a 10-to-15-minute drive north of Hanoi's Old Quarter in the city center, where we were dropped off after a two-day Ha Long Bay cruise.
I called a ride via the Grab app (a rideshare service) that got us there quickly; the short commute is a few dollars, a small price for a resort experience.
My stress levels lowered as we approached the InterContinental Hanoi Westlake in the early afternoon. I'd been nursing a cold since Da Nang and looked forward to relaxing on the hotel grounds for the rest of the day.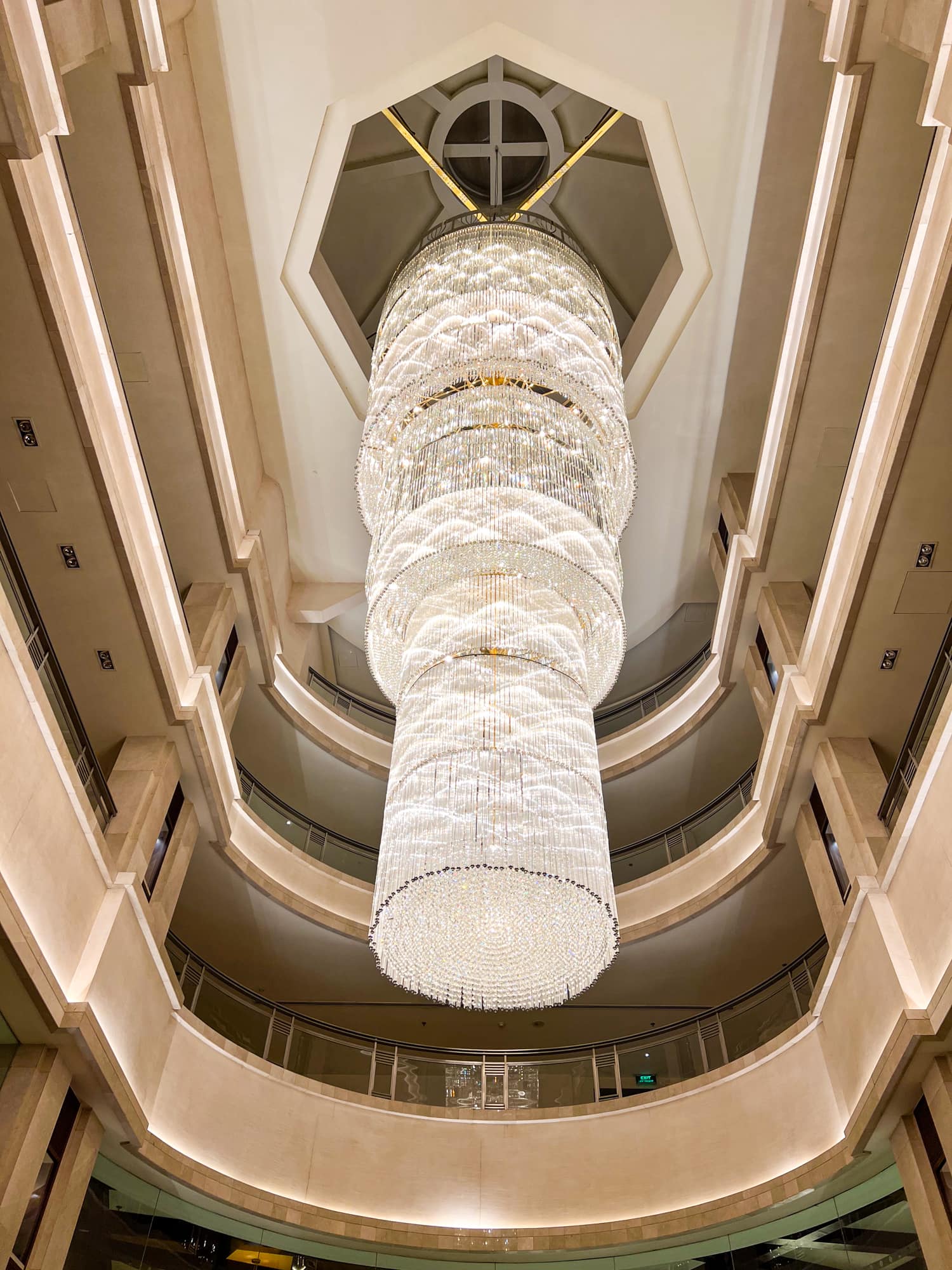 InterContinental Hanoi Westlake was the luxury hotel chain's first property in Vietnam when it opened in 2007. The location on the eastern banks of West Lake, the city's largest lake, helps to distance guests from the noisy streets.
Buildings are laid out to mimic the shape of a lotus flower, the national flower of Vietnam.
The birdseye view on Google Maps makes this design clear, with the three Island Pavilions (each with guest rooms over water) appearing as petals. This satellite view stuck with me as I researched the best places to stay in Hanoi.
Inside the five-story lobby, a massive chandelier beautifully fills out the space above.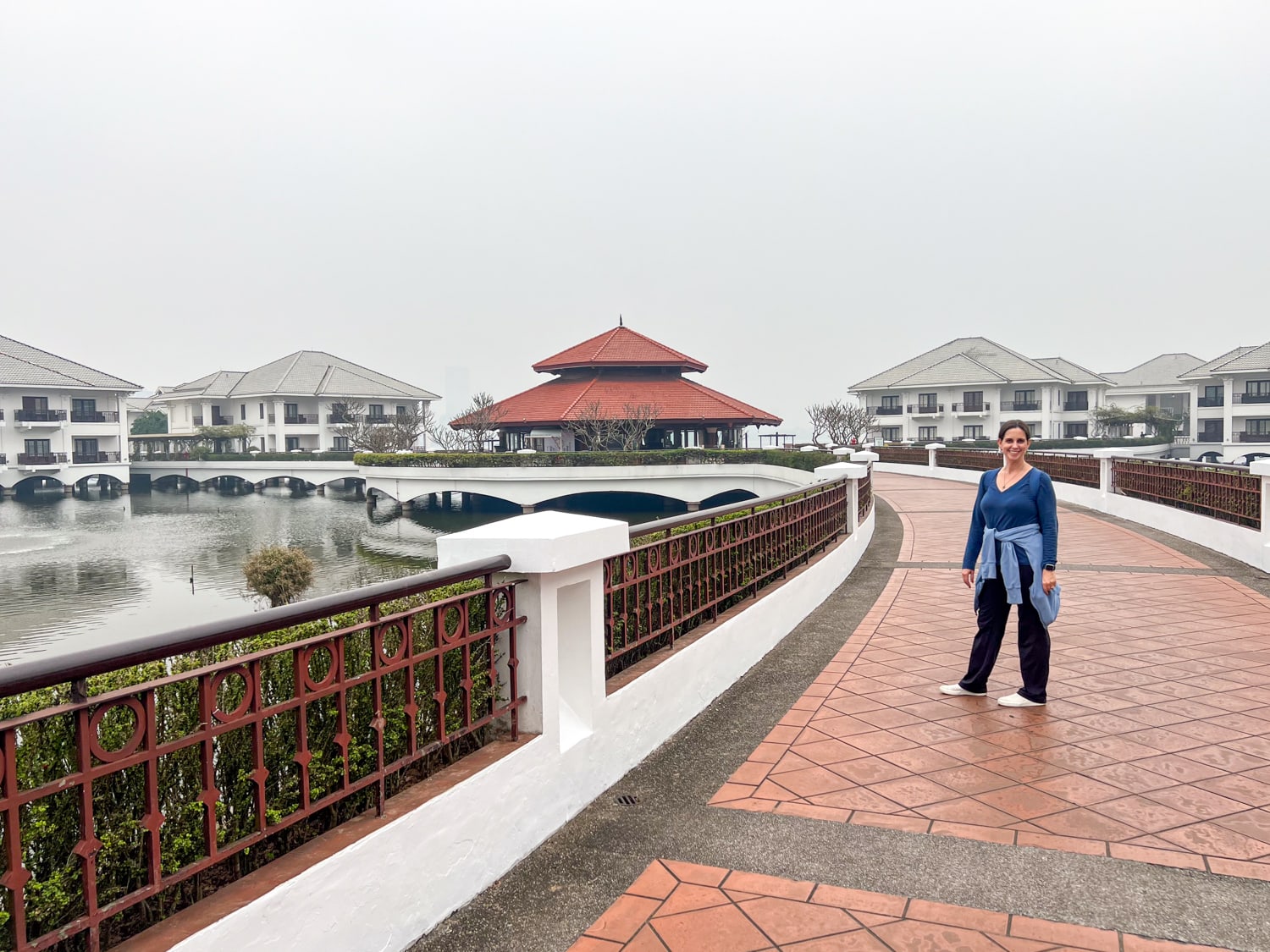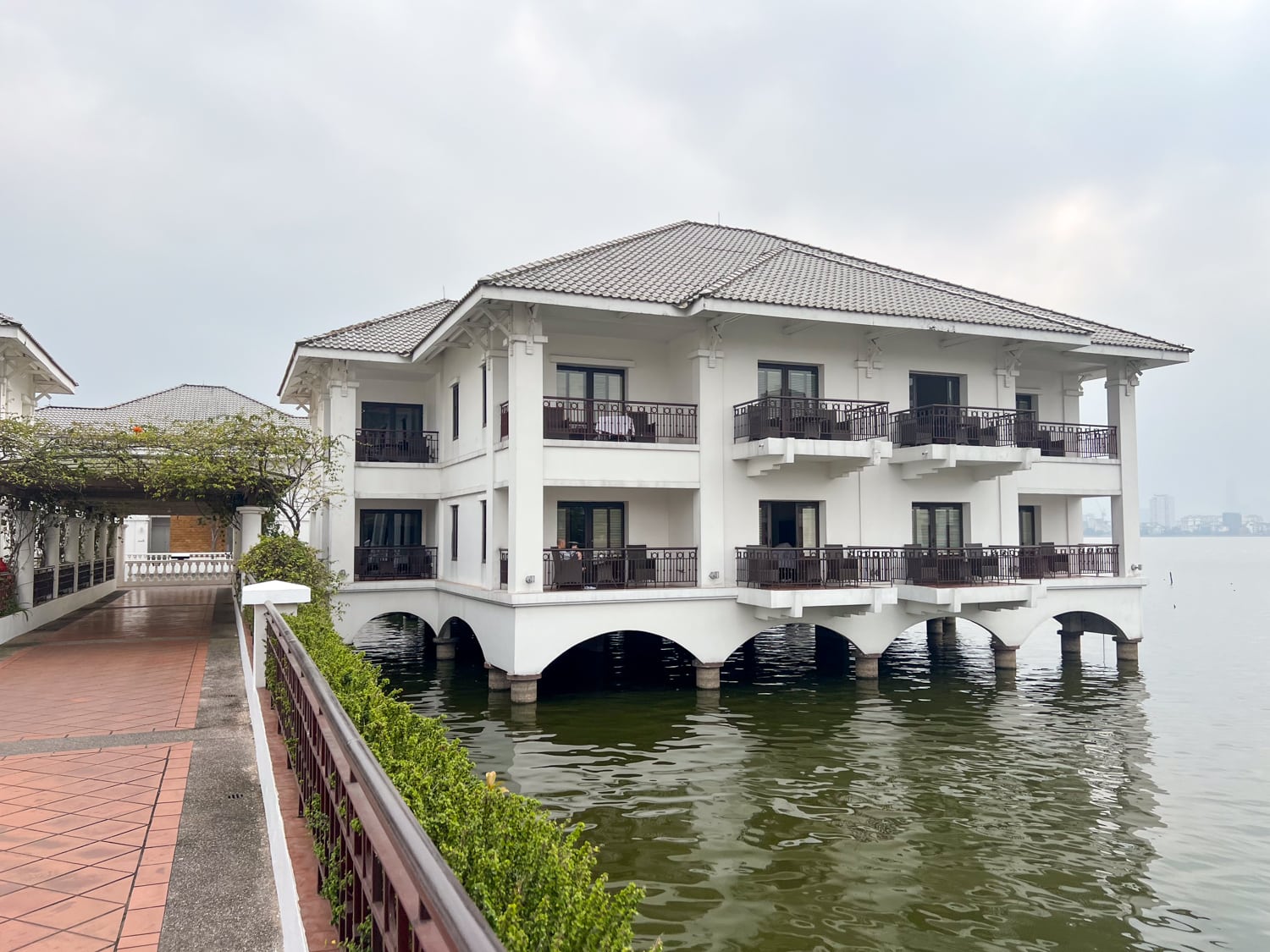 The staff at the front desk spoke English, and the check-in experience was quick and easy. We were then offered a ride to our Pavilion room by one of the helpful staff in a golf-cart-like buggy.
It's only a few minutes' walk; however, it was a nice gesture, and we accepted. The buggy rides are available to guests at any time of day.
There are three Island Pavilions, and each is two stories high. The rooms have private balconies with either a city or lake view.
Classic Room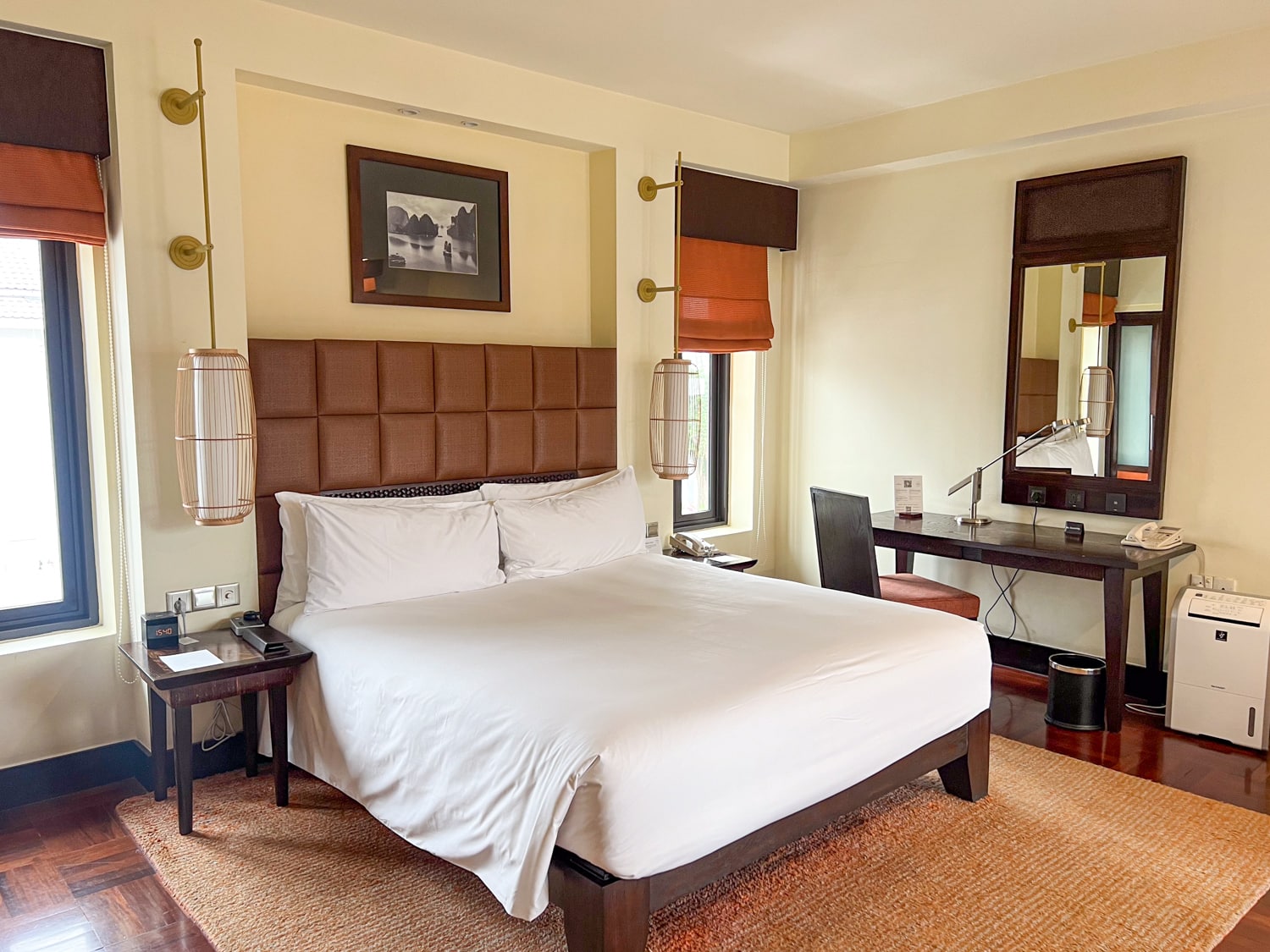 Seeking to balance cost with value, I booked the "King Bed Classic Overwater City View" room. Ours was on the second floor of the middle Pavilion.
The dark wood furniture was attractive, and the large bed and linens were comfortable. Vietnamese decor added warmth, including a rug under the bed and lantern-shaped lights above the nightstands. A framed black and white photo of Ha Long Bay hung over the headboard.
A pillow menu offering ten options, including a water pillow, a hypoallergenic Comforel pillow, and a rattan pillow made of hand-woven bamboo, added to the hospitality. Kel was quick to have me call and order one to be delivered.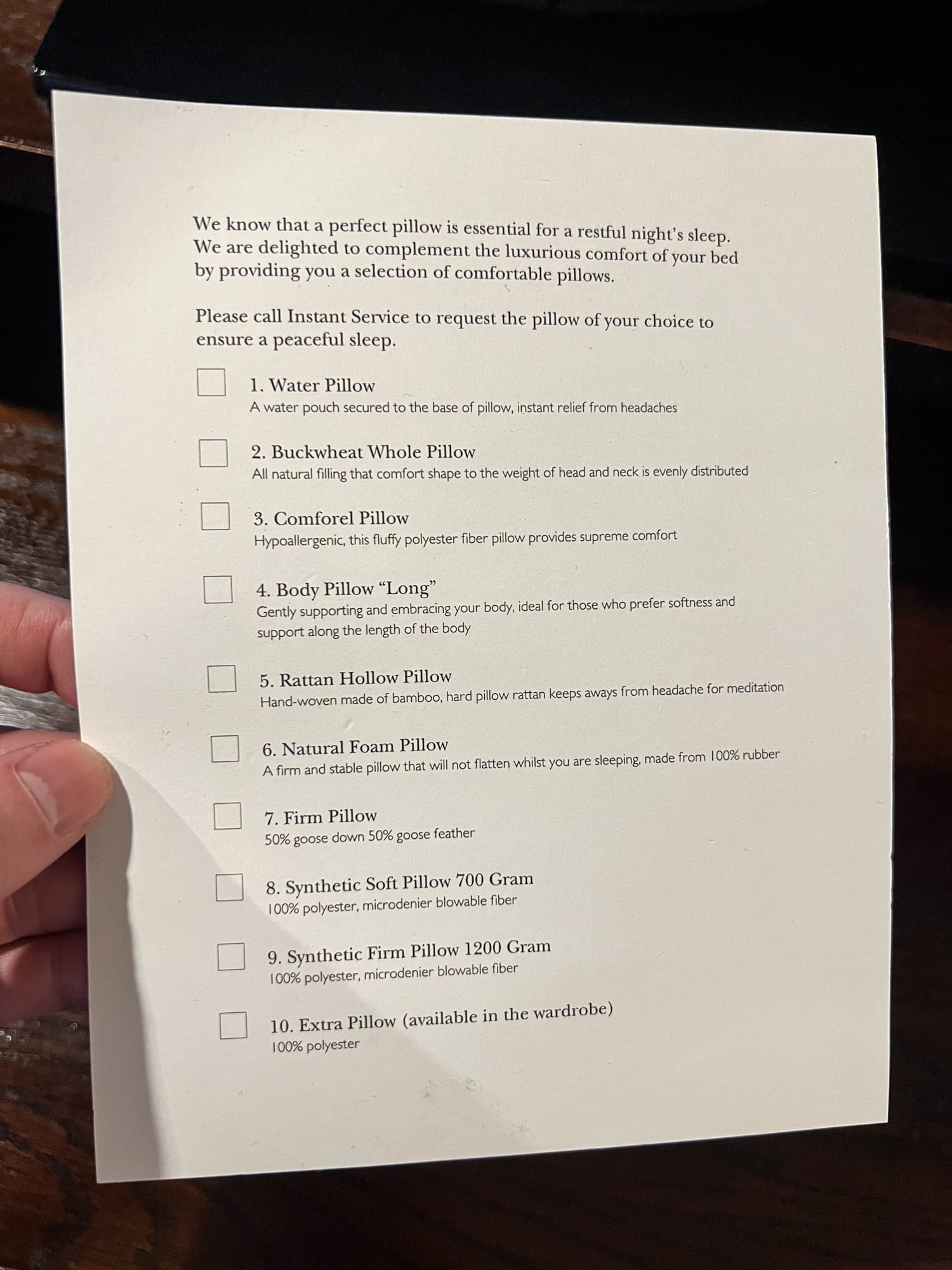 In addition to a medium-sized flat-screen TV (we didn't use it), a large electric air filter was positioned near the desk. The mini-bar was stocked with bottled water, sodas, local and imported beer, and wine.
Free Wi-Fi was available in the rooms and public areas of the hotel. A Business Center is open in the main building for guests who need printers.
The bathroom was spacious and featured double vanities, a large soaking tub, a rainfall shower, a scale, and complimentary bottled water (daily).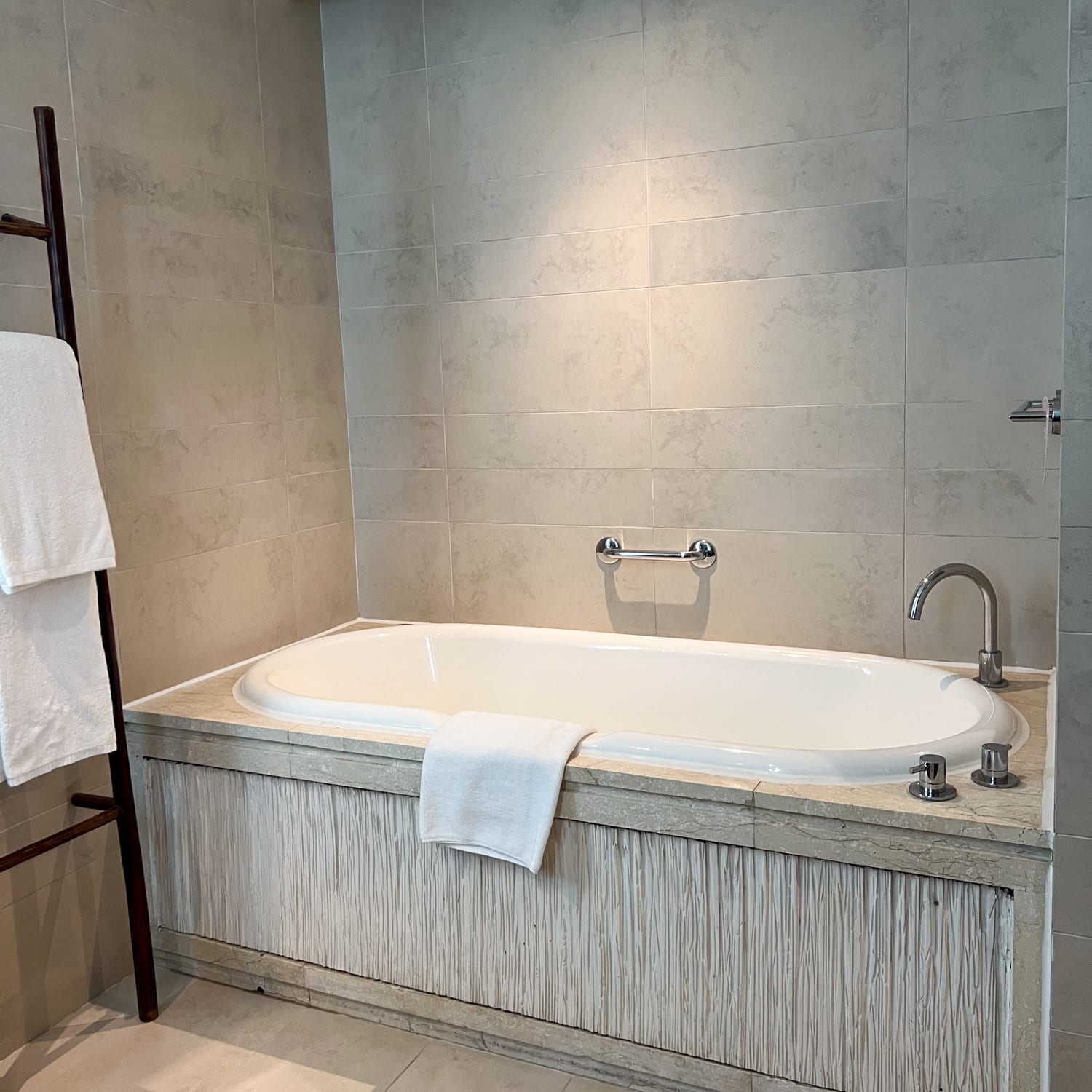 I'd booked a room with a city view as it felt like a good compromise between cost and value. As it turned out, we didn't miss much. It was so overcast and hazy in February that you could barely see the Hanoi skyline across the lake.
Plus, the winter temperatures were cool(60s and 70s F), even chilly at times, as we didn't have the sun to warm us up. So, sitting on the balcony didn't hold much appeal.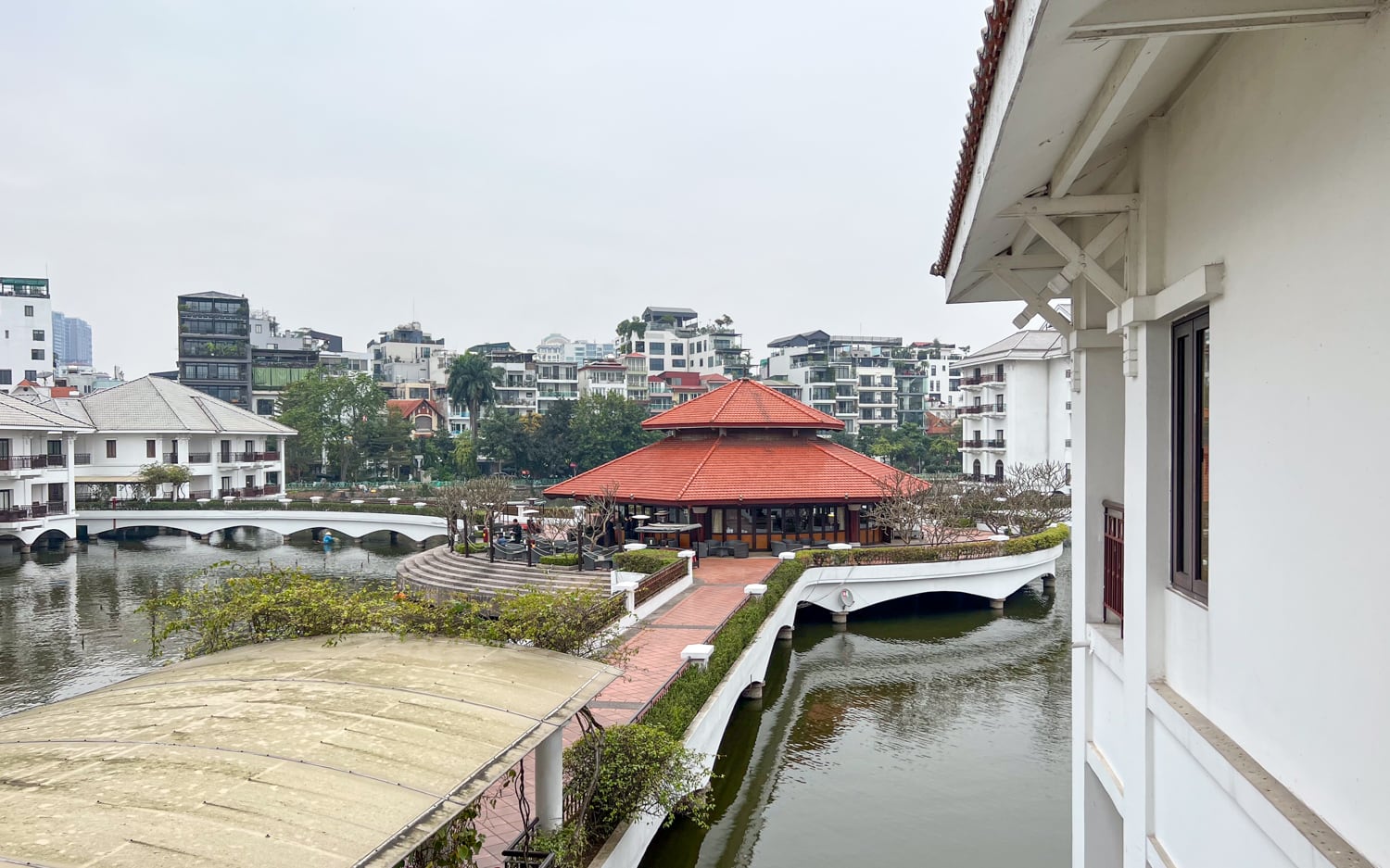 Food and Beverage
The InterContinental Hanoi Westlake has a casual indoor/outdoor bar, several lounges, and three full-service restaurants offering Vietnamese and international cuisine. Plus, room service is available 24/7.
We didn't get to try all the restaurants on the property, so let's begin with the ones we did.
Sunset Bar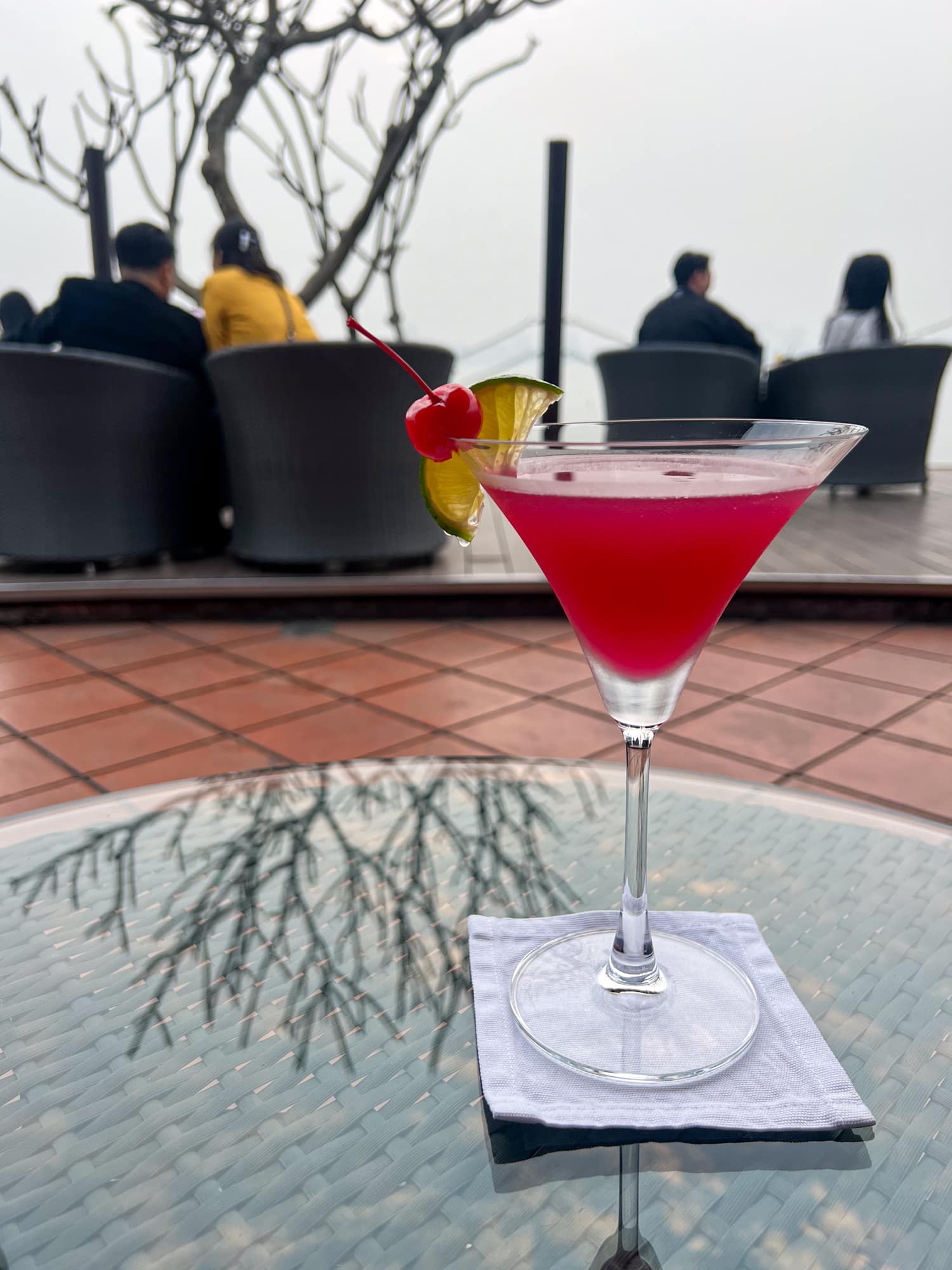 The Sunset Bar feels like the focal point of the hotel property, halfway between the main building and the flowering Pavilions.
The overwater bar is open from 4 p.m. to midnight daily and is ideal for catching a sunset with a drink.
Of course, given the weather we were experiencing, there was no hope of seeing a colorful sunset over West Lake. Still, at 4 p.m., a handful of guests showed up with us to enjoy a drink by the water.
Kel and I each ordered a colorful cocktail and chatted. While we were there, a violinist and a woman holding balloons walked over to a couple at a table before us.
Then, the gentleman stood up and proposed to his girlfriend. She said, "Yes," and it made me appreciate the moment all the more.
Diplomatic Lounge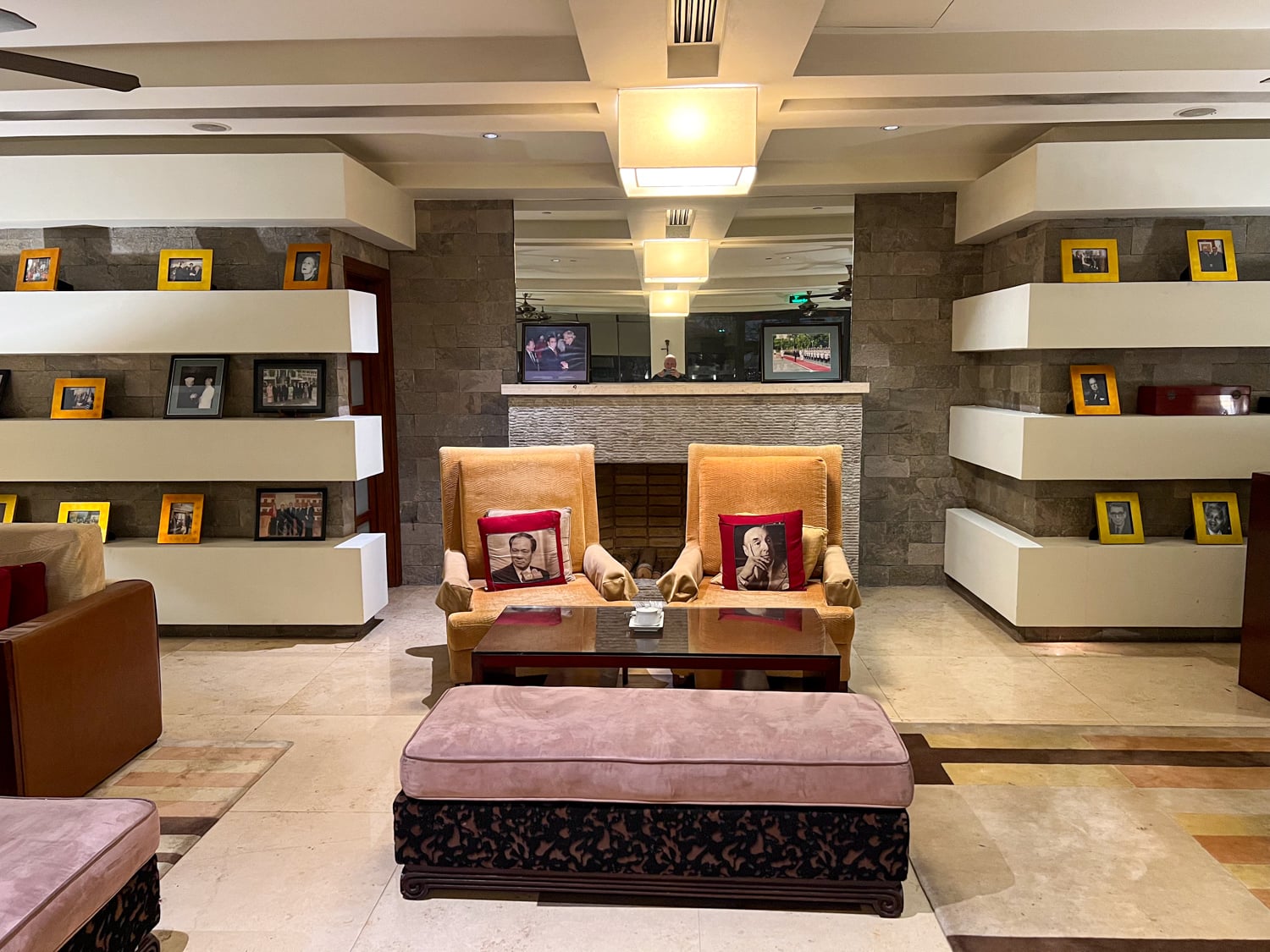 Of the interior spaces at the InterContinental Hanoi Westlake that I saw, the Diplomat Lounge was my favorite. The cozy lounge is on the ground floor of the main building, with a view toward the pretty outdoor swimming pool.
Throw pillows with photos of influential diplomats, including Franklin D. Roosevelt, can be found on chairs and sofas throughout the room. Framed pictures line open shelves along the walls.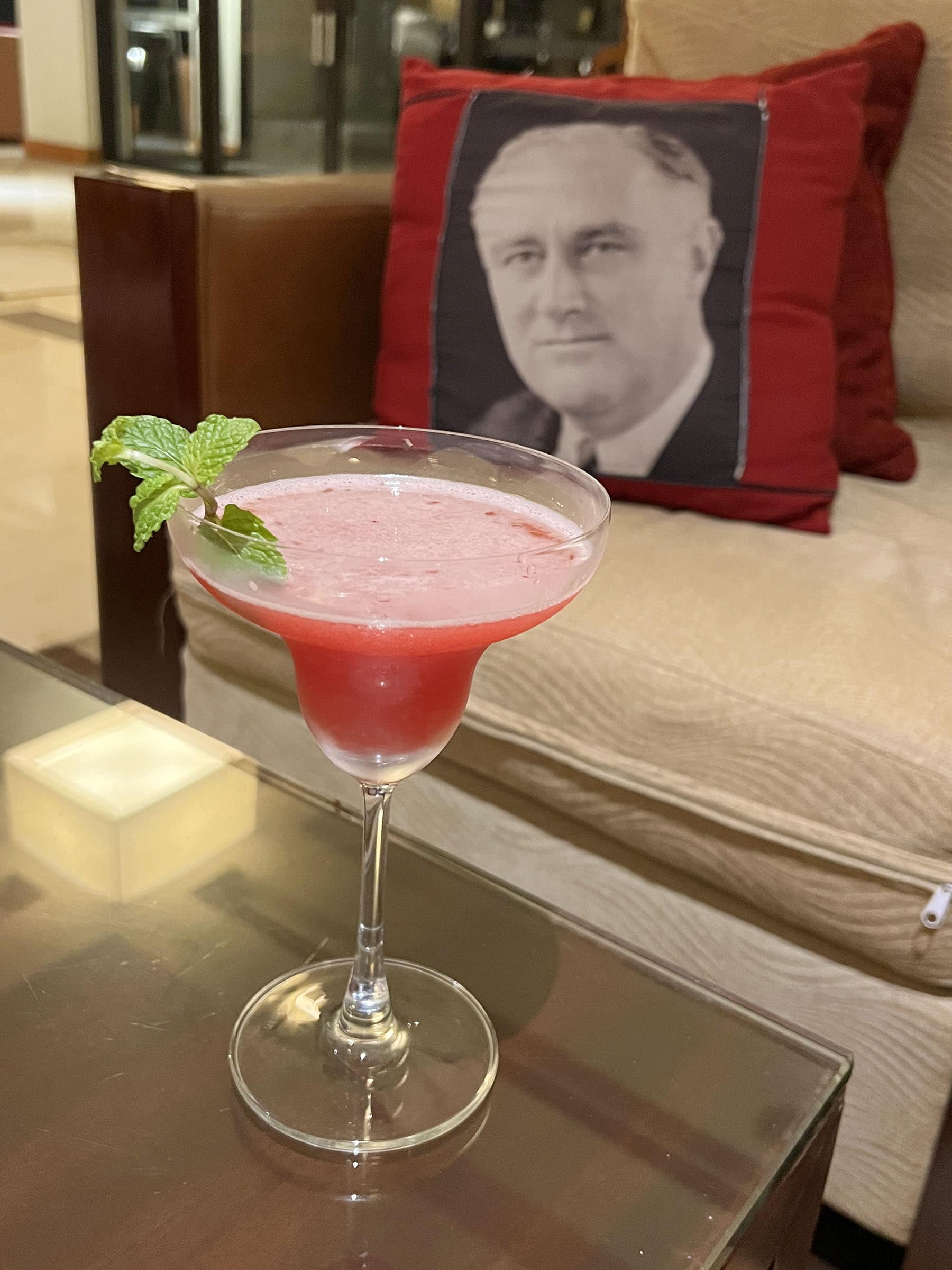 The lounge's aesthetic provided a sense of calm I greatly appreciated after two weeks of touring Vietnam. It's the perfect place to grab a casual bite to eat.
On our third night in Hanoi, we shared a drink, club sandwich, and fries for dinner before meeting a friend for a cocktail tasting at Kuusi by TUNG.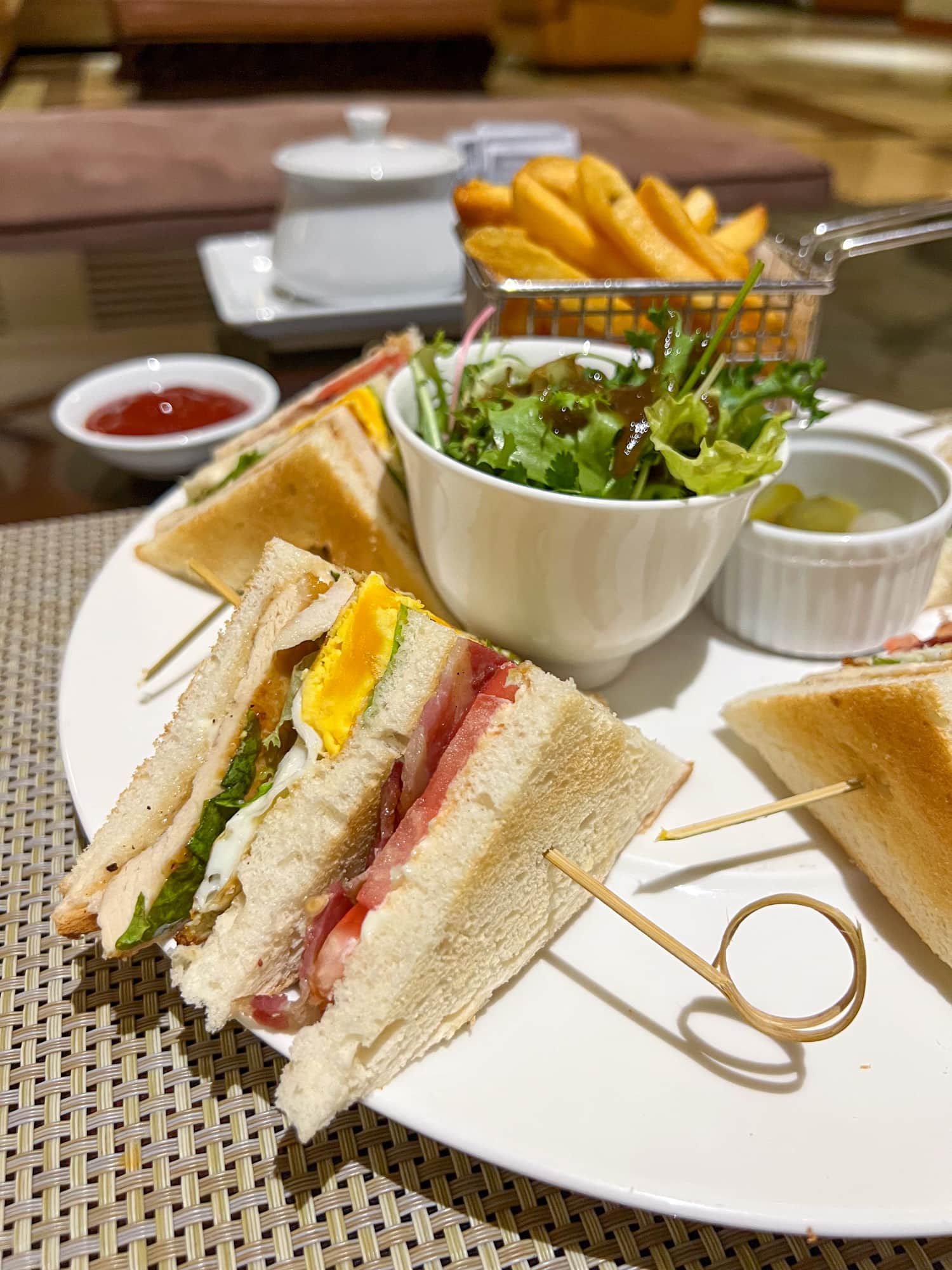 We returned to the Diplomatic Lounge for a casual dinner on our fourth and final night in Hanoi. I ordered the truffled croque monsieur with fries, a delicious rendition of my favorite French sandwich.
When I asked if dessert was available, they offered a delicious scoop of chocolate ice cream garnished with chocolate shavings and strawberries.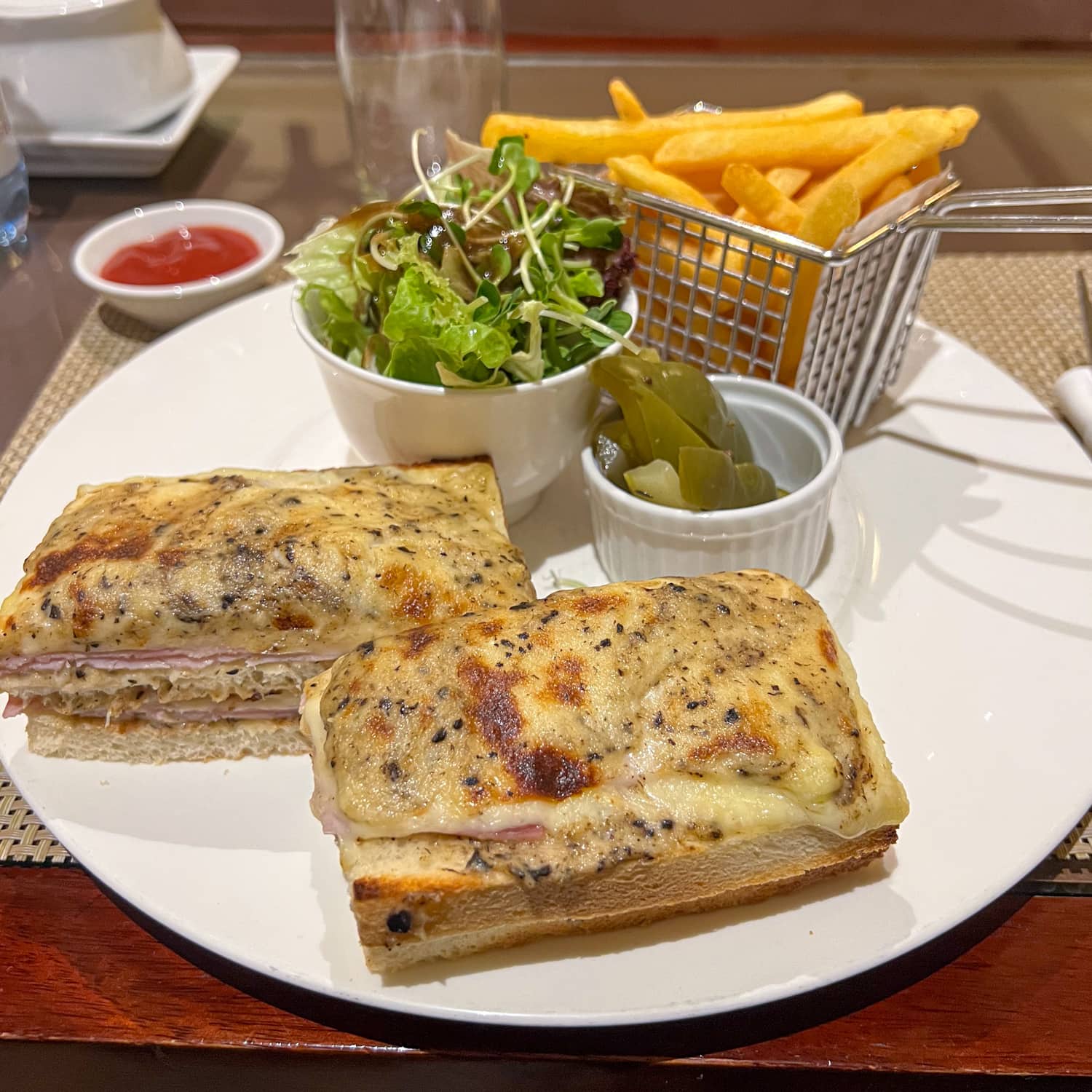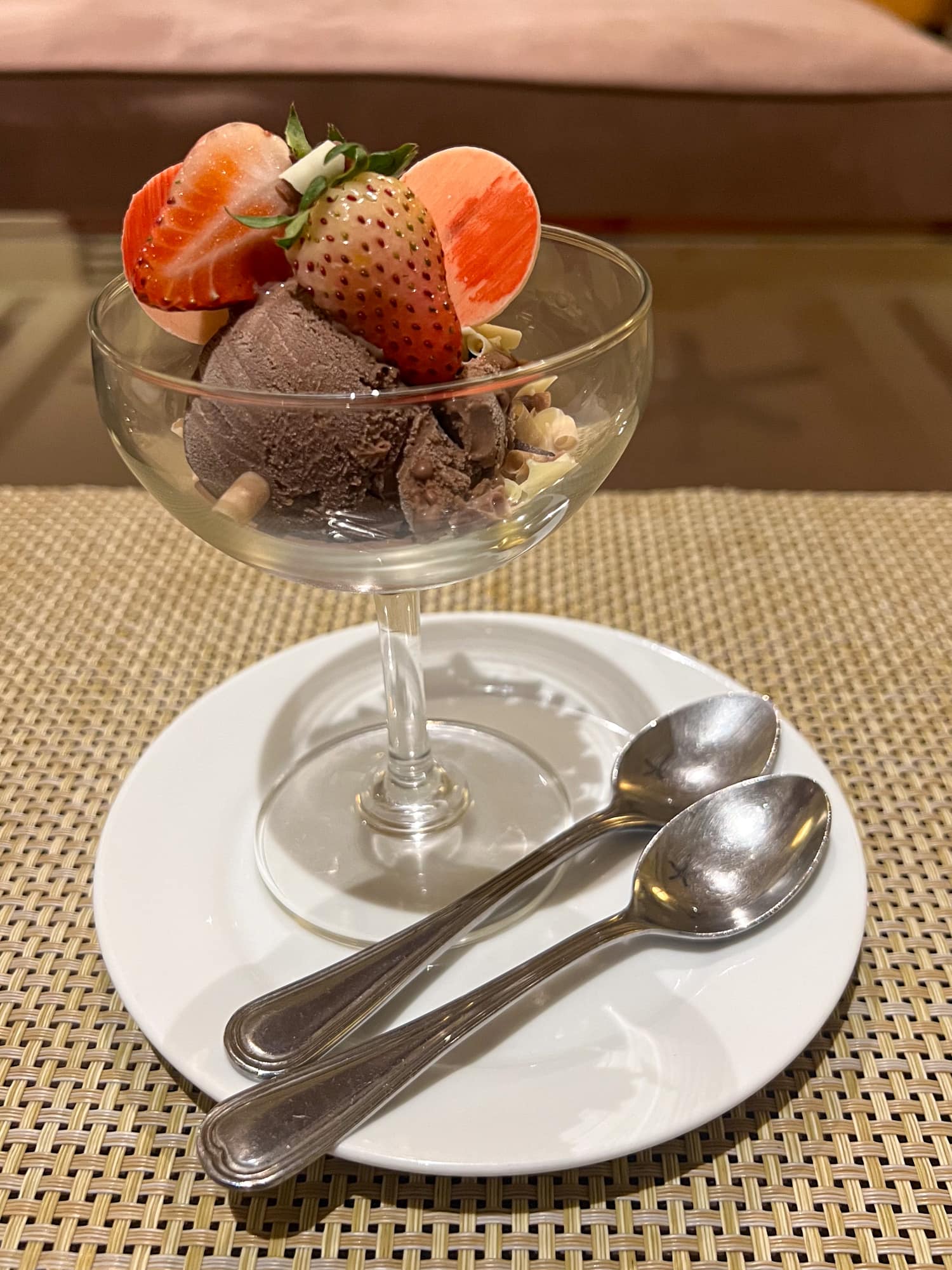 After several weeks of eating Vietnamese food in Saigon, Da Nang, and Hanoi, I was happy to lean into Western comfort food at the hotel on our last few nights.
Club InterContinental Lounge
For a more upscale executive lounge-type experience, this IHG Hotel has a Club InterContinental Lounge. Admission to this lounge offers additional benefits, including complimentary food, drinks, meeting rooms, etc. However, you'll have to pay an extra fee on top of the regular room rate.
Penfolds Lounge
The Penfolds Lounge is the hotel's newest addition and offers space for private dinner parties of up to 20 people. Dishes are presented by the hotel's Executive Chef, and the Sommelier selects premium wines. This space is available upon request.
Saigon Restaurant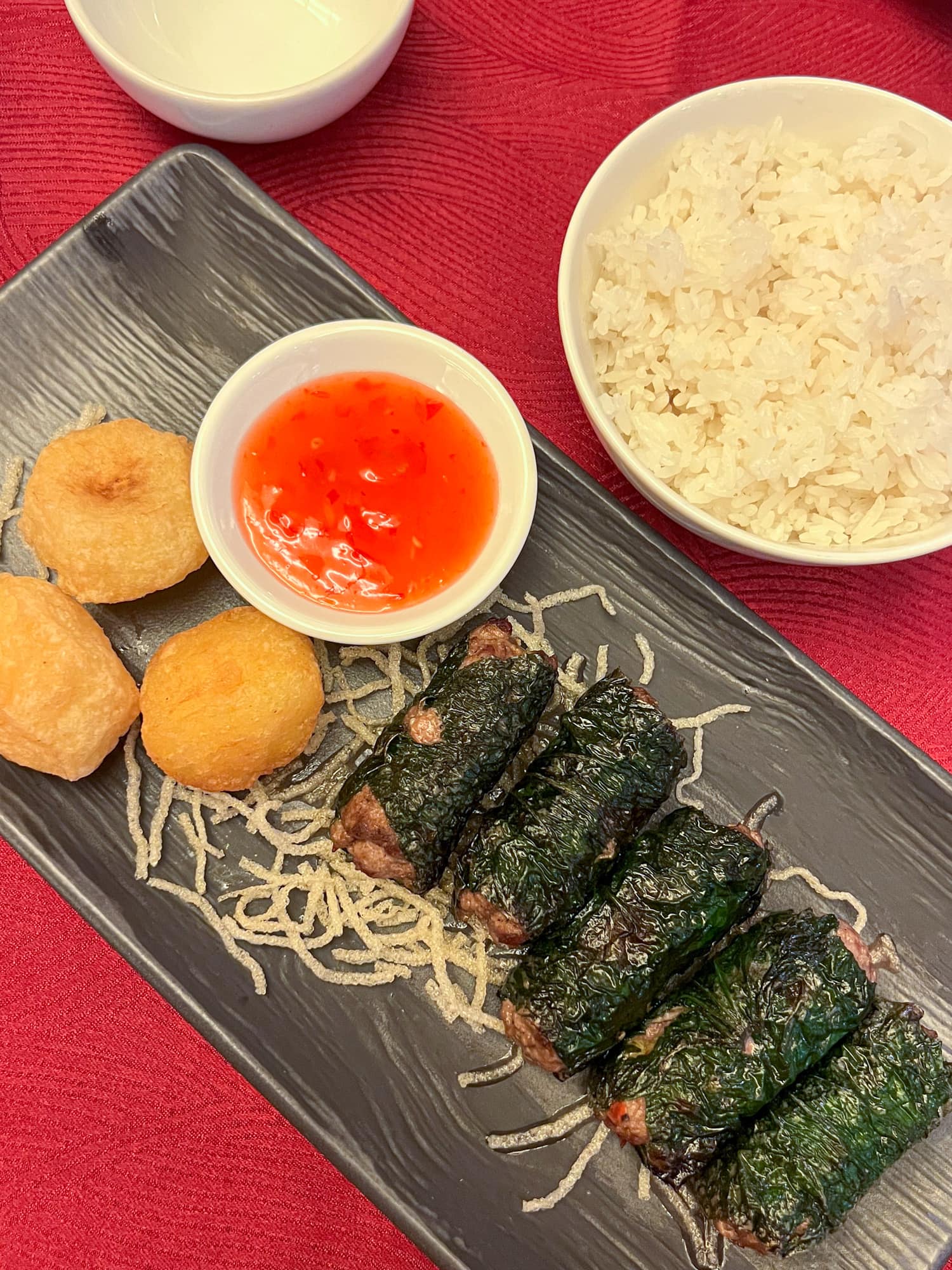 We only tried one of the three restaurants available to guests at the InterContinental Hanoi Westlake: the Vietnamese one on the second floor of the main building.
The Saigon Restaurant had a few other guests when we arrived for dinner on our first day. We were seated in the dining room next to the kitchen, the only separation being floor-to-ceiling glass. For kitchen staff, it's as transparent as you get.
Kel ordered the grilled beef wrapped in "la lot" leaf we'd tried on a street food tour in Saigon. I chose the grilled free-range chicken mountain chicken with honey. Wok-fried duck and roasted pigeon were also available.
For dessert, we got chilled lotus soup with white fungus in longan syrup, unlike anything we'd tried thus far on the trip. I also ordered a Vietnamese coffee creme brulee in case the lotus soup didn't satisfy my sweet tooth.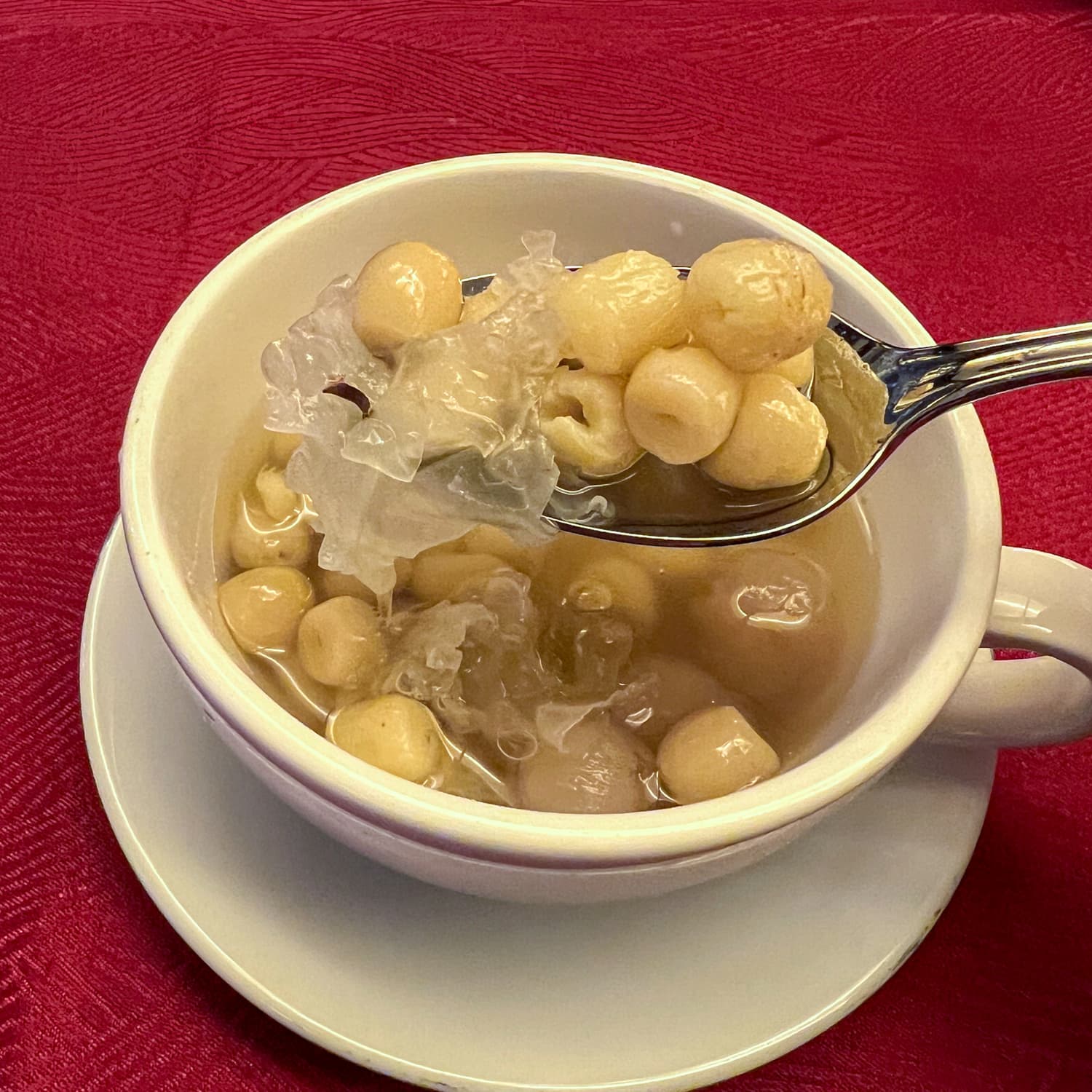 Cafe du Lac
Breakfast, lunch, and dinner buffets and an a la carte menu are available daily at Cafe du Lac, a contemporary French brasserie.
I was so focused on exploring Hanoi coffee shops and bakeries every morning that I didn't take the time to check out the hotel's breakfast buffet.
I wish I had, as I imagine it's quite a spread, and I've since read positive reviews of the Northern Vietnamese pho served.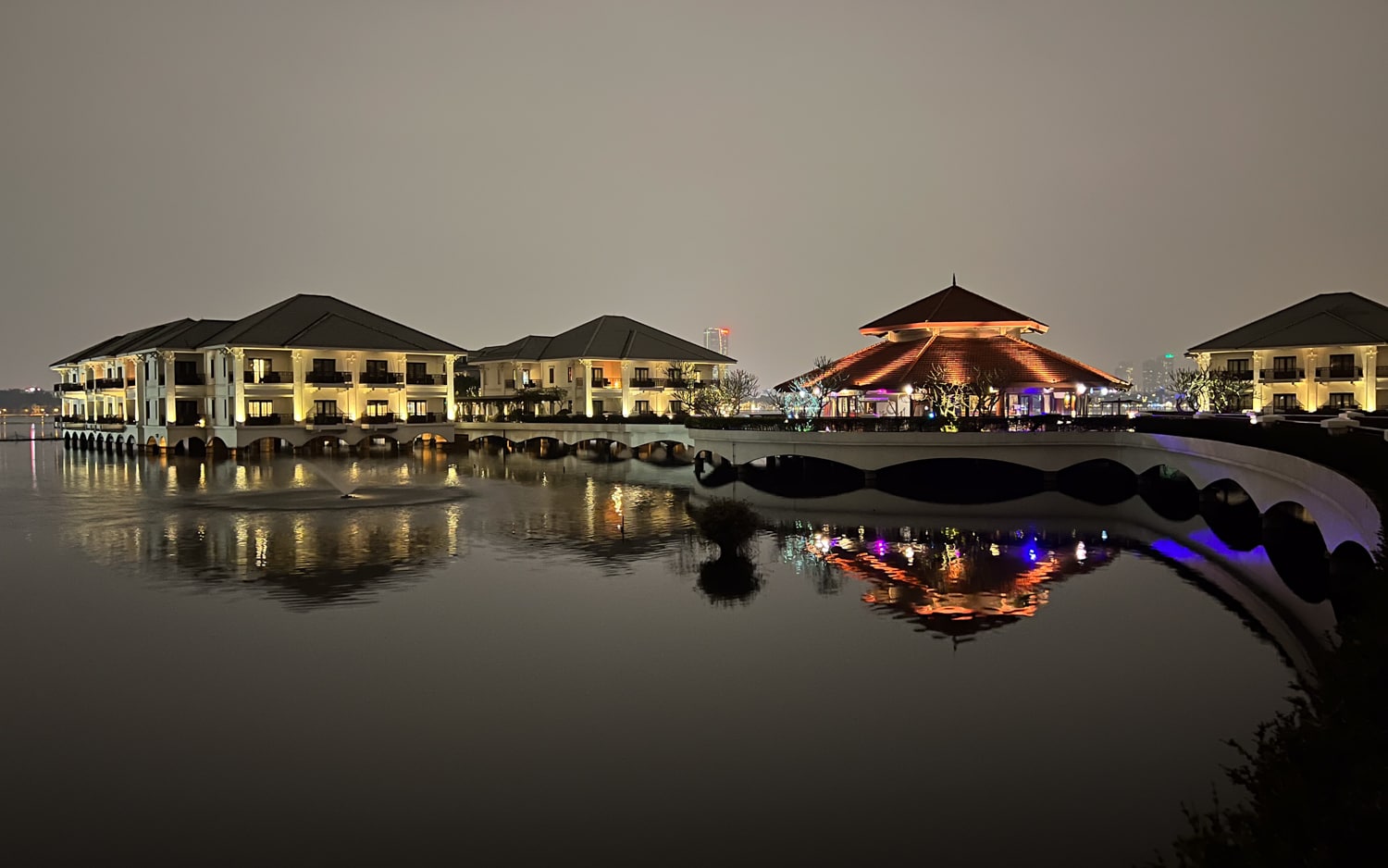 Milan Restaurant
For Italian food, including pasta and wood-fired pizza, hotel guests have access to Milan Restaurant.
This was the least appealing of the three restaurant options, not that I have anything against Mediterranean cuisine! It just felt a bit out of place as a traveler in Vietnam.
Amenities
Pool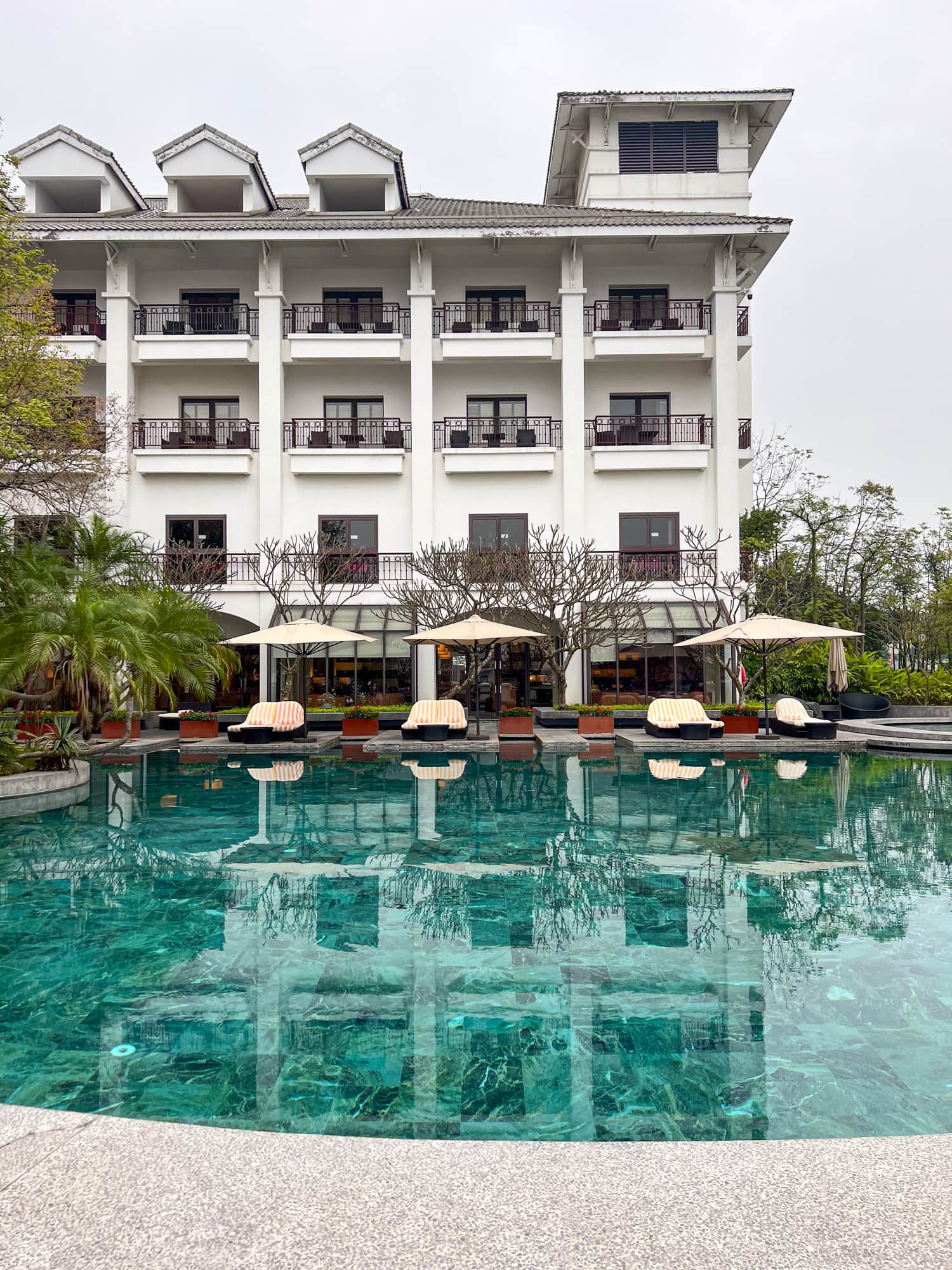 The outdoor pool at the InterContinental Hanoi Westlake is beautiful, thanks to jade green tiling. I imagine when the sun is out, it's even more stunning.
Given the cool weather and lack of sunshine, I didn't go for a dip, though I thought about it every time we walked by. The pool is open daily from 7 a.m. to 7 p.m.
Fitness Center
I also popped into the gym near the hotel's entrance to do my due diligence, even though I had zero desire to use it. The usual assortment of free weights, machines, and cardio equipment for basic workouts is available. The gym is accessible 24/7.
Final Thoughts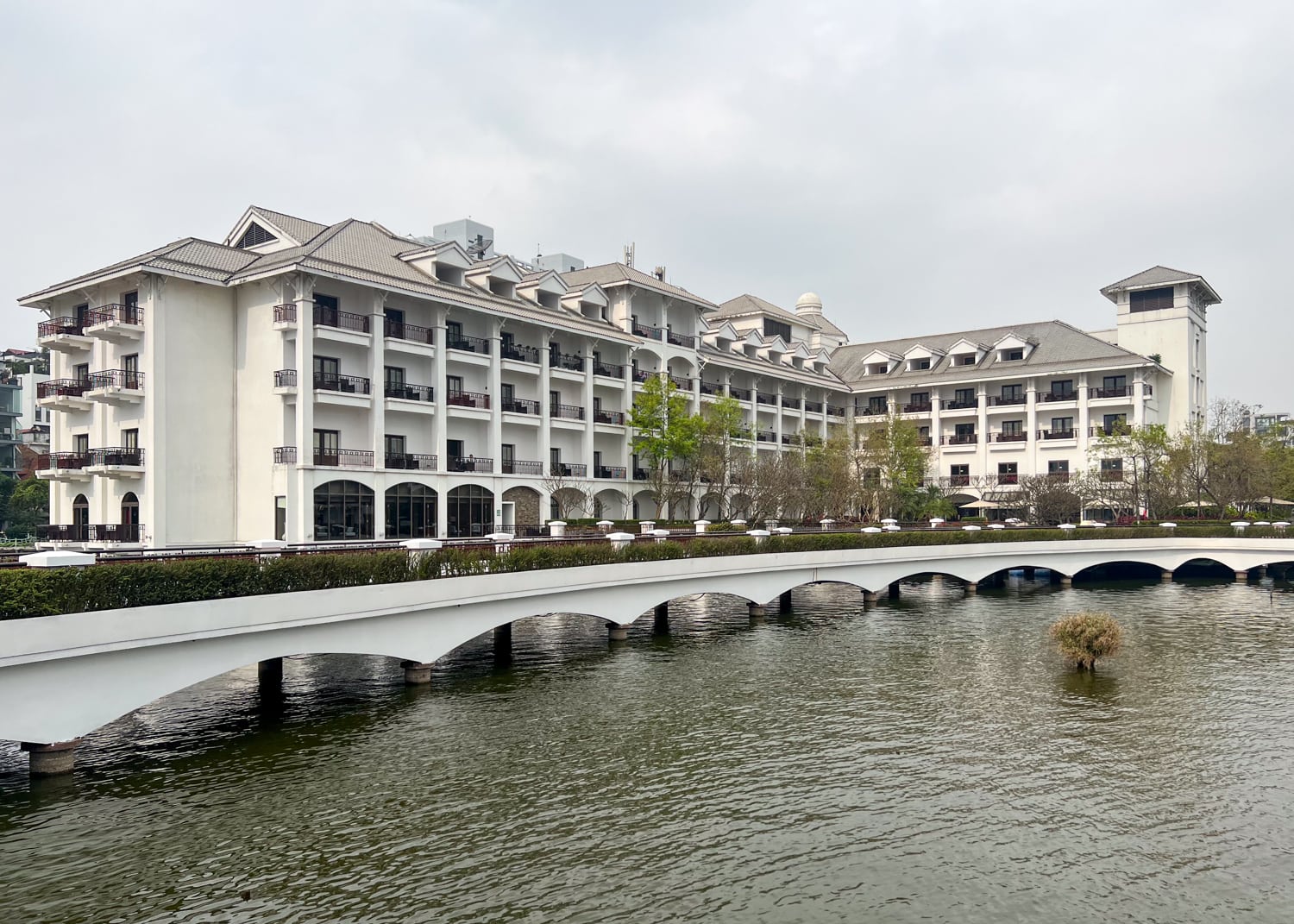 When the time arrived to say goodbye to Vietnam and depart Hanoi for Tokyo, we checked out at the front desk. I used Grab one last time for a ride to Noi Bai International Airport, about 14 miles north of the hotel (and a minimum 30-minute drive).
And so, our stay at the InterContinental Hanoi Westlake came to a close, leaving us with many memories. From the tranquil setting on West Lake to the overwater Sunset Bar, where even cloudy winter days couldn't dim the romantic ambiance, this hotel is a refuge amid Hanoi's spirited chaos.
The food and beverage program—a mix of Vietnamese authenticity and international flair—and the stylish guest rooms and amenities made our final days in Vietnam exceptionally comfortable.
If you're looking for a peaceful escape that offers a taste of both the traditional and the modern, the InterContinental Hanoi Westlake is worth considering.
Cheers to unexpected luxuries, heartfelt proposals, and the promise of future adventures in this vibrant corner of the world.
Read more customer reviews and check prices at Booking.com.
InterContinental Hanoi Westlake
5 Tu Hoa Street, Tay Ho District, Vietnam