In 2001, chef Martin Picard opened Au Pied de Cochon in Montreal to serve, promote, and celebrate Quebecois food.
His meat-heavy menu is full of foods favored by early French settlers in Quebec, including pork, duck, and fish.
The day after my decadent dinner at Joe Beef, I secured a last-minute reservation at Au Pied de Cochon for 9:30 p.m. on a Saturday.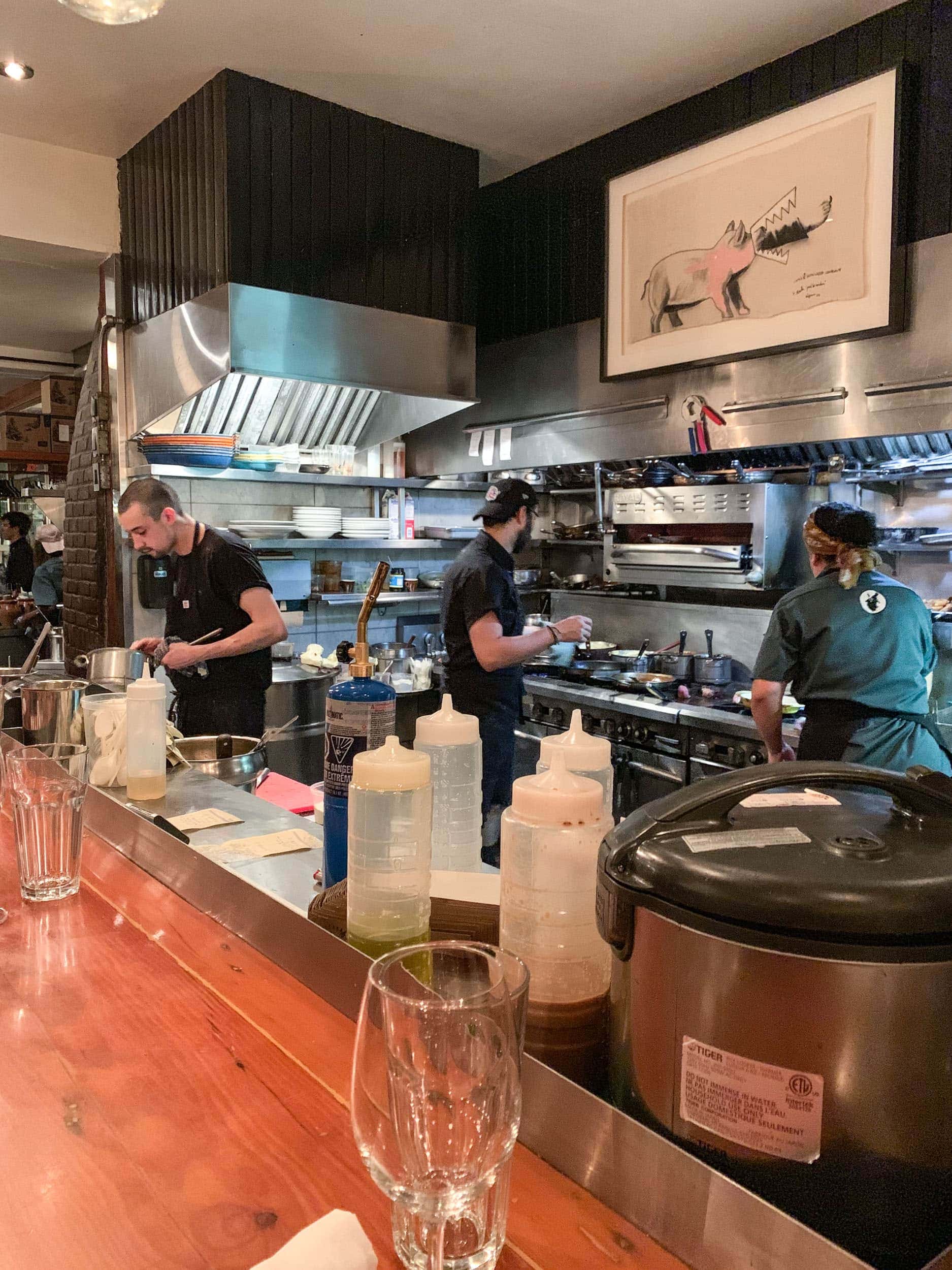 It was the eve of the 2019 F1 race in Montreal, which I'd be watching live from the grandstand inside the track's hairpin turn the following afternoon.
And while I may be new to Formula 1, I'm not the only foodie maximizing his time in cities hosting the race.
Arriving at Au Pied de Cochon
My Uber dropped me off outside Au Pied de Cochon in the Le Plateau neighborhood at 9:15 p.m. Tables filled the sidewalk, allowing diners to take advantage of the warm spring weather.
I entered the hallowed restaurant known for French cuisine and was promptly seated at the bar facing the open kitchen.
It took me a little while to fully realize all the food was prepared in such a small space.
Seated to my left was a woman from California who attends the Grand Prix annually and always dines at Au Pied de Cochon when she's in town. She'd been so many times; she recognized the kitchen staff.
To my right is a younger gentleman from Massachusetts, also in town for the race, whom I'd met the night before at Joe Beef.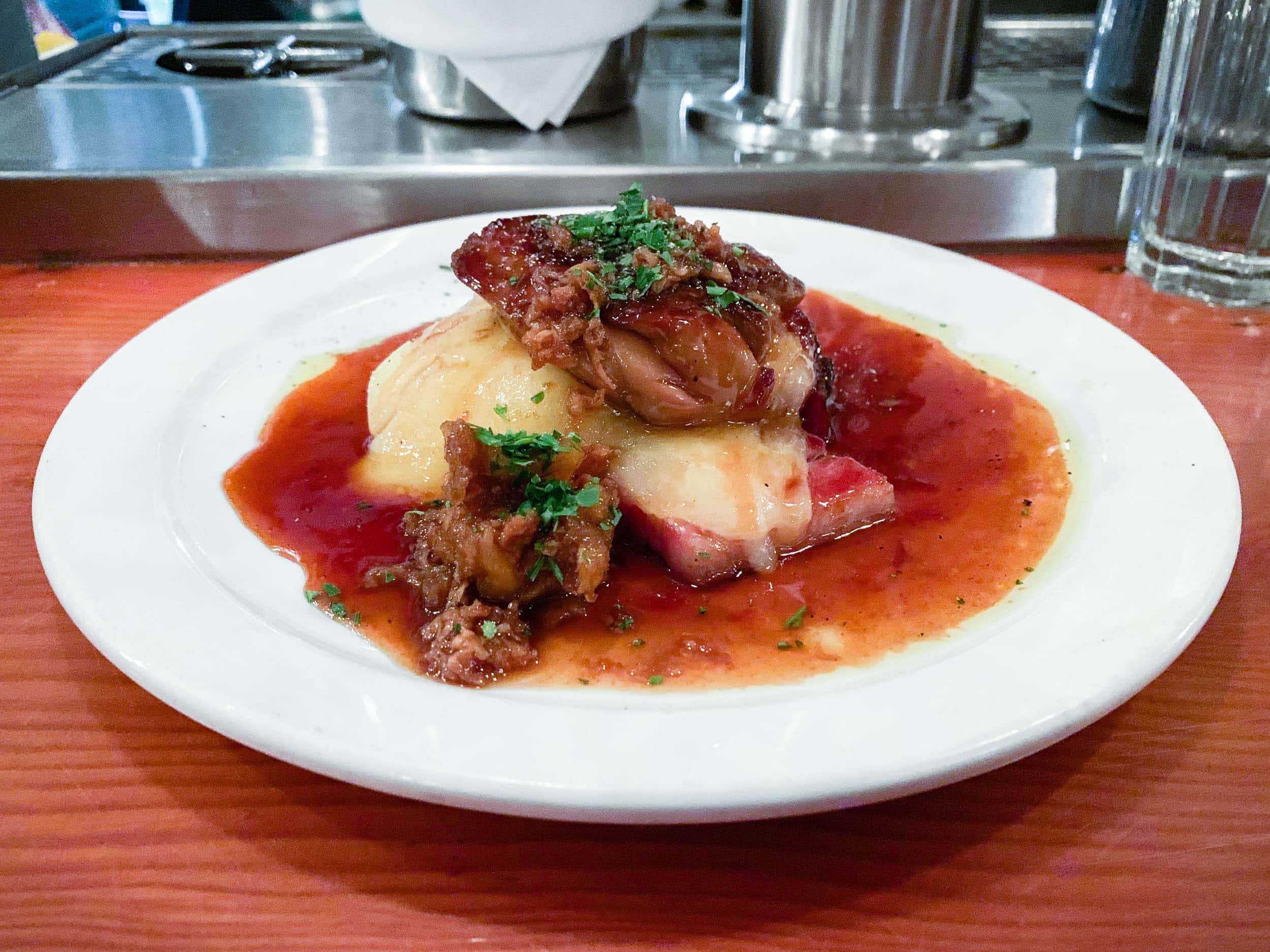 The Menu
Appetizers
Once settled, I decided to forego alcohol despite the restaurant's extensive wine list.
I'd save money drinking water and wouldn't worry about being tired on race day.
The first appetizer on the menu was a foie gras cromesquis (croquette), followed by chicken liver mousse, blue cheese salad, duck carpaccio, and more.
A separate section dedicated to foie gras alone featured four different preparations.
There was the famous foie gras poutine, terrine and truffle maple butter, and the signature Plogue a Champlain.
It was this last option, the Plogue a Champlain, which I chose based on the recommendation of my new friend from Massachusetts. The insanity of this dish cannot be understated.
A buckwheat pancake is topped with potatoes, melted cheese, and a massive hunk of foie gras. Then, the whole dish is doused in maple syrup!
I could feel my cholesterol spiking just looking at it. I savored every single bite of this most obscene appetizer.
Anthony Bourdain wasn't kidding when he said Au Pied de Cochon is "my Waterloo of gluttony. A meal unlike any I've ever had" in his Quebec episode of No Reservations.
Main Courses
If you survive your appetizer, it's on to Round 2 with the main courses. Here's where the dishes go off the rails.
First on the list is a homemade boudin (sausage or blood sausage), followed by a pork chop, boudin tart, halibut fish and chips, foie gras hamburger, beef short ribs, and lobster roll.
The costliest option on the current menu is a rib-eye steak for 120 Canadian dollars ($92), with most entrees priced between $23 to $48.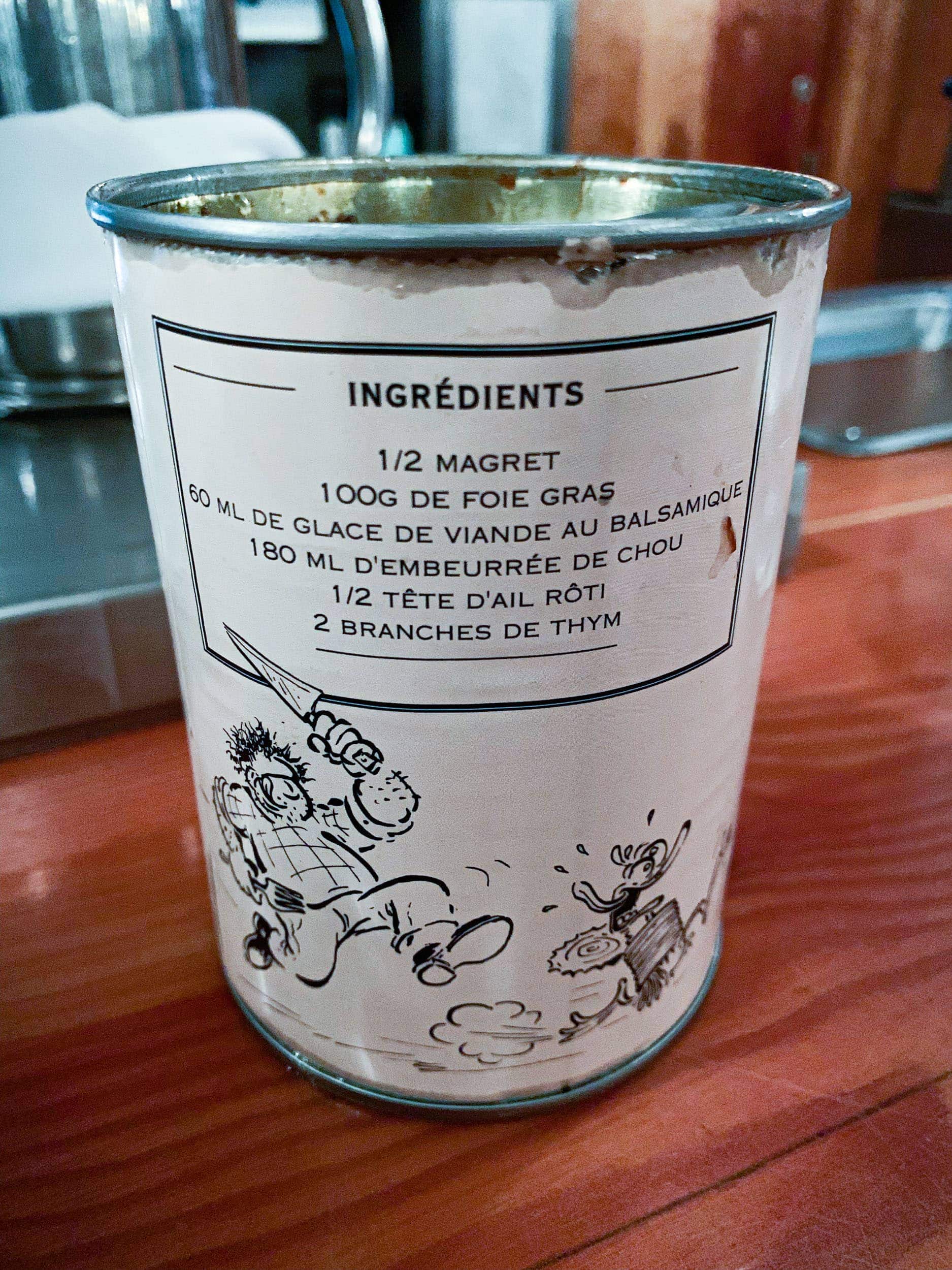 For my main, I ordered the hallmark "Duck in a Can," which I'd recently seen on Bourdain's Newfoundland episode of Parts Unknown.
The plate was placed in front of me with a piece of bread, and the can was then opened and gently dumped on top by the waiter.
It held its shape surprisingly well. And to nobody's surprise, there were also 100 grams of foie gras inside the duck.
I focused my efforts on the duck, though it was hard not to take bites of the luscious foie gras.
The duck meat and juices were delicious, but I left a lot behind. The Plogue a Champlain was already taking its toll, and I was slowing down.
Related: Best Places to Eat in Montreal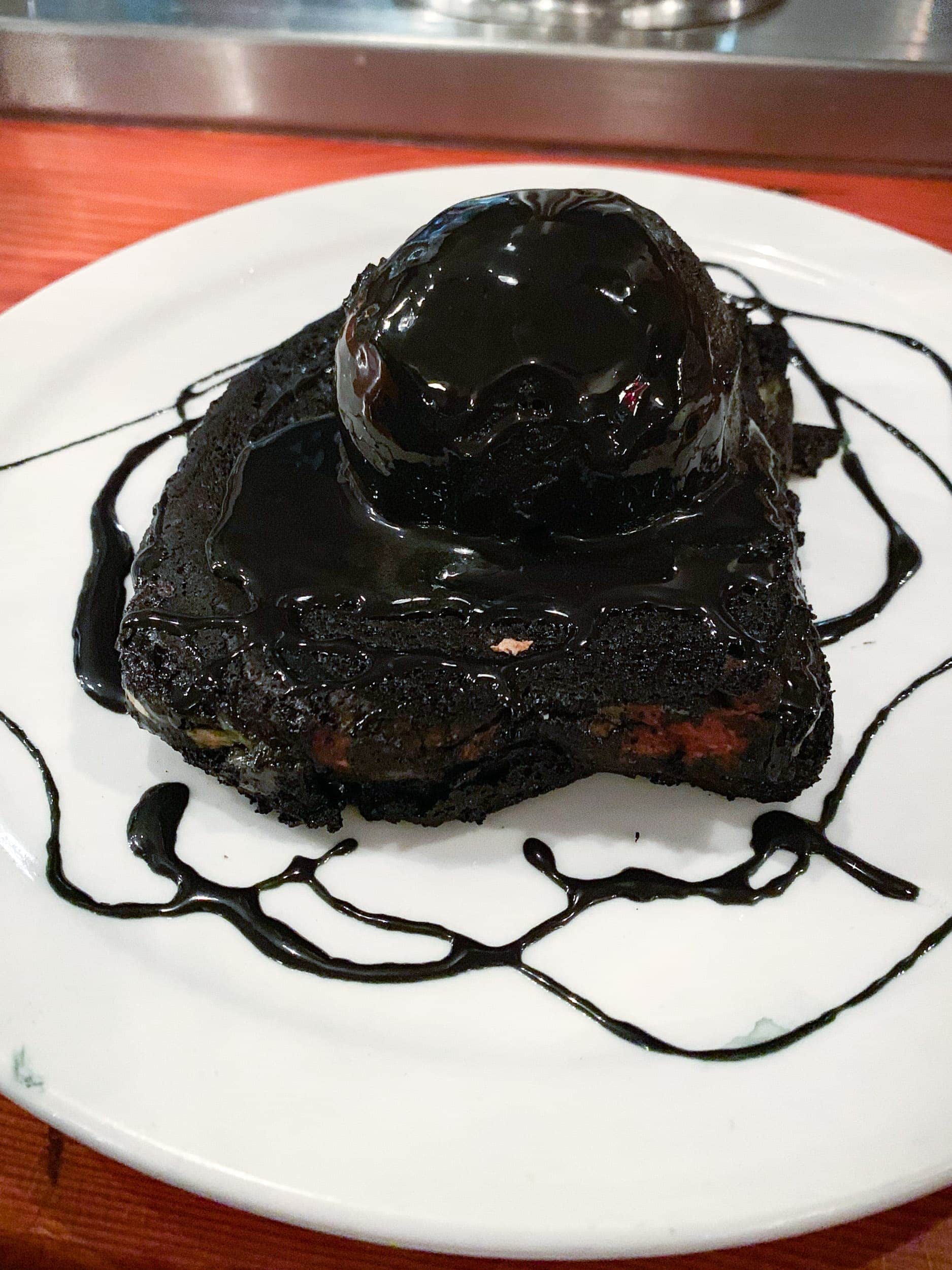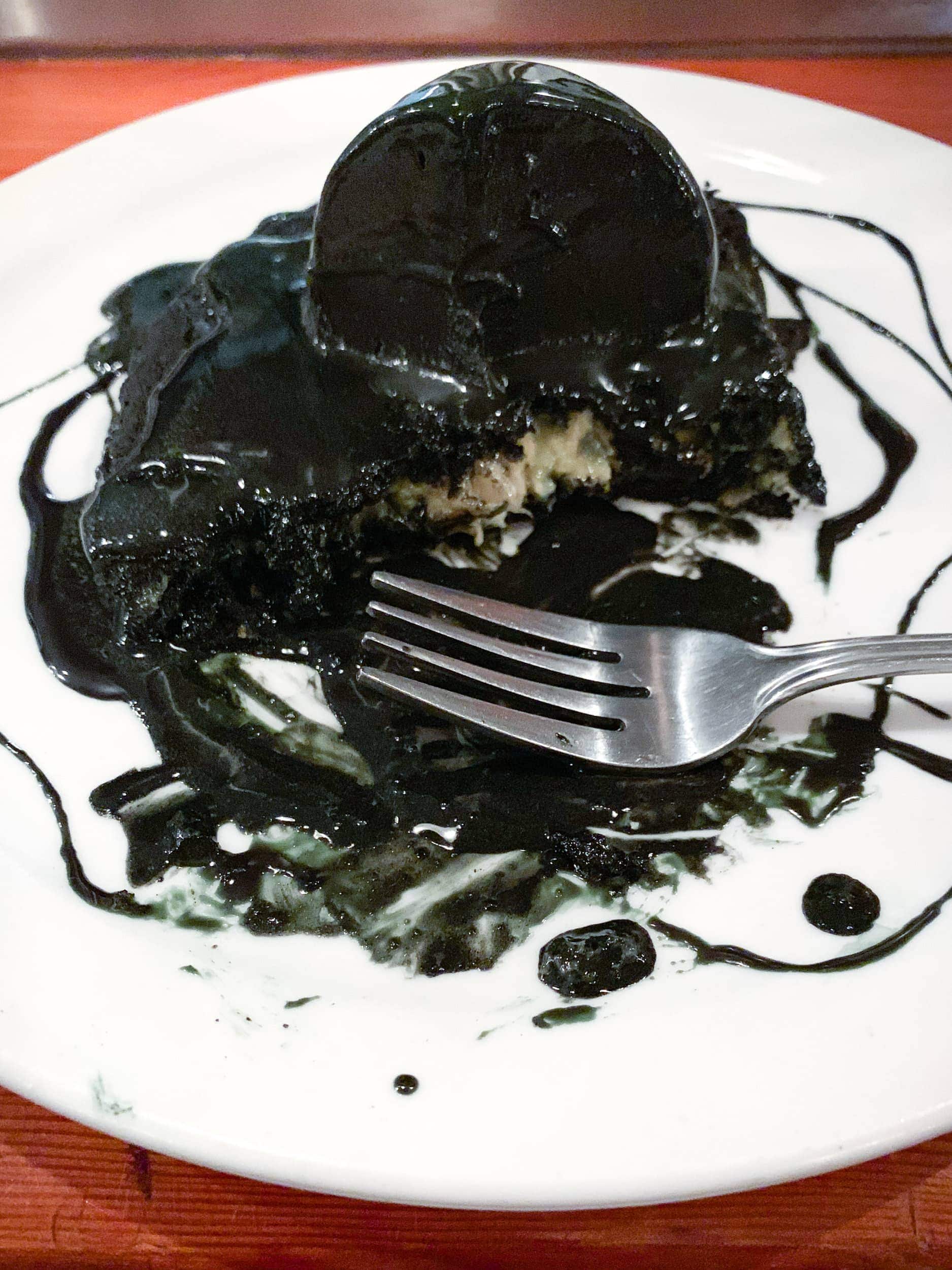 Desserts
It was time to turn my attention to dessert, which, to be frank, I had been looking at since the beginning, as everything was on the same one-page menu.
Maple toffee milkshake, maple creme brulee, maple syrup pie, and french toast were all vying for my attention.
I would've ordered the milkshake had the woman next to me not ordered the French toast.
A jet-black plate of French toast arrived, stuffed with bananas, and topped with dulce de leche and black maple ice cream. The black was achieved using activated charcoal.
She was kind enough to offer me a bite, and I knew I'd be ordering the same thing when it was my turn.
Having the whole dessert to myself was pure gluttony, and I loved every bite yet could only finish half of it before tapping out.
Related: Pasjoli, a French Bistro in Santa Monica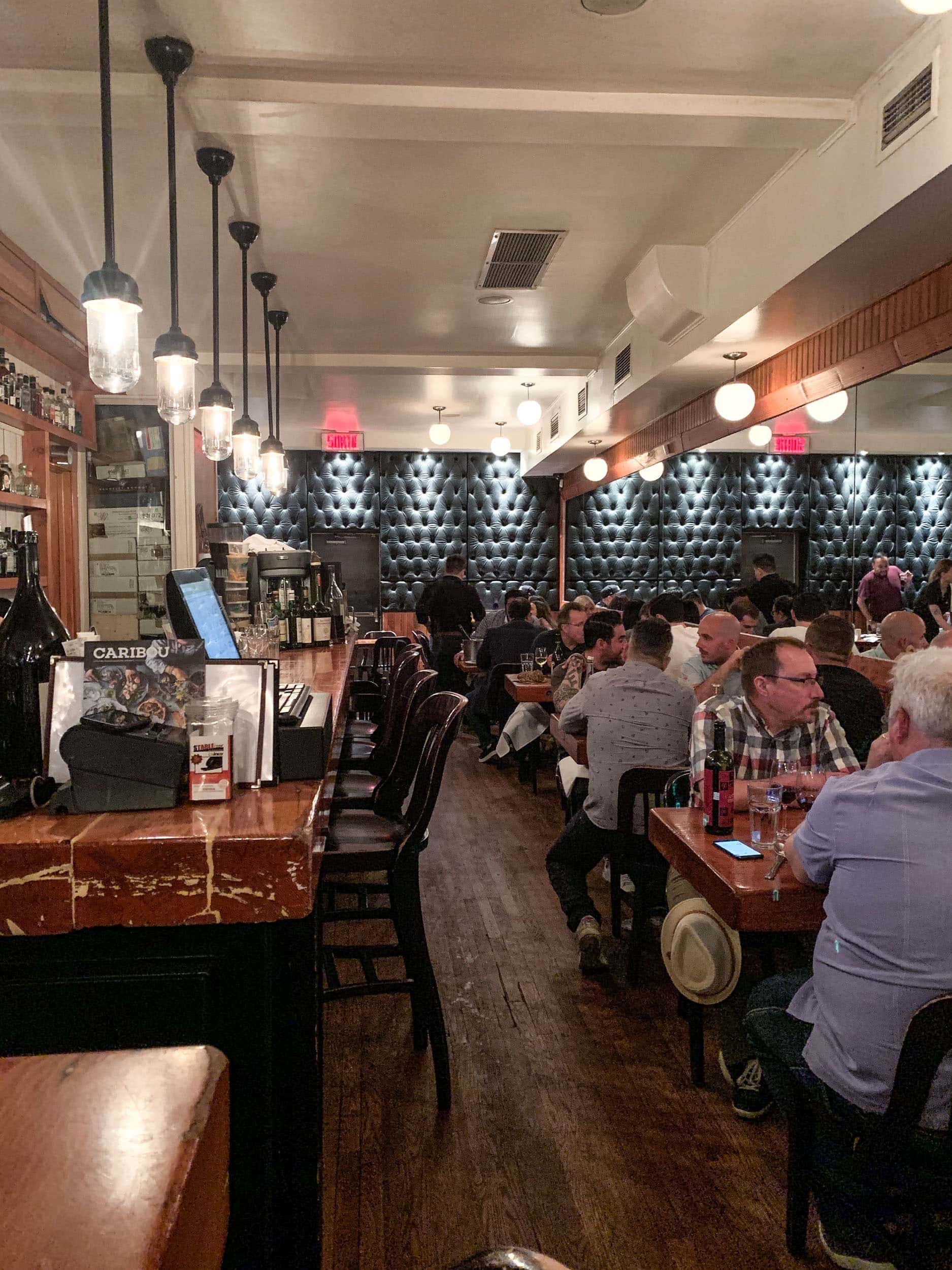 Cost
My three-course dinner, plus tax and tip, at one of the best restaurants in Montreal came to 120 Canadian dollars ($92), slightly more expensive than my dinner at Joe Beef.
The strength of the U.S. dollar right now also means it's an excellent value for the quality and quantity of food served.
Overall, I agree with those who say dinner at Au Pied de Cochon is a once-in-a-lifetime experience.
Only I know I will be back in Montreal for a third time because the city is too fantastic not to continue exploring. And next time, I'll recognize less is more.
Poutine with foie gras and a glass of French red wine sounds perfect.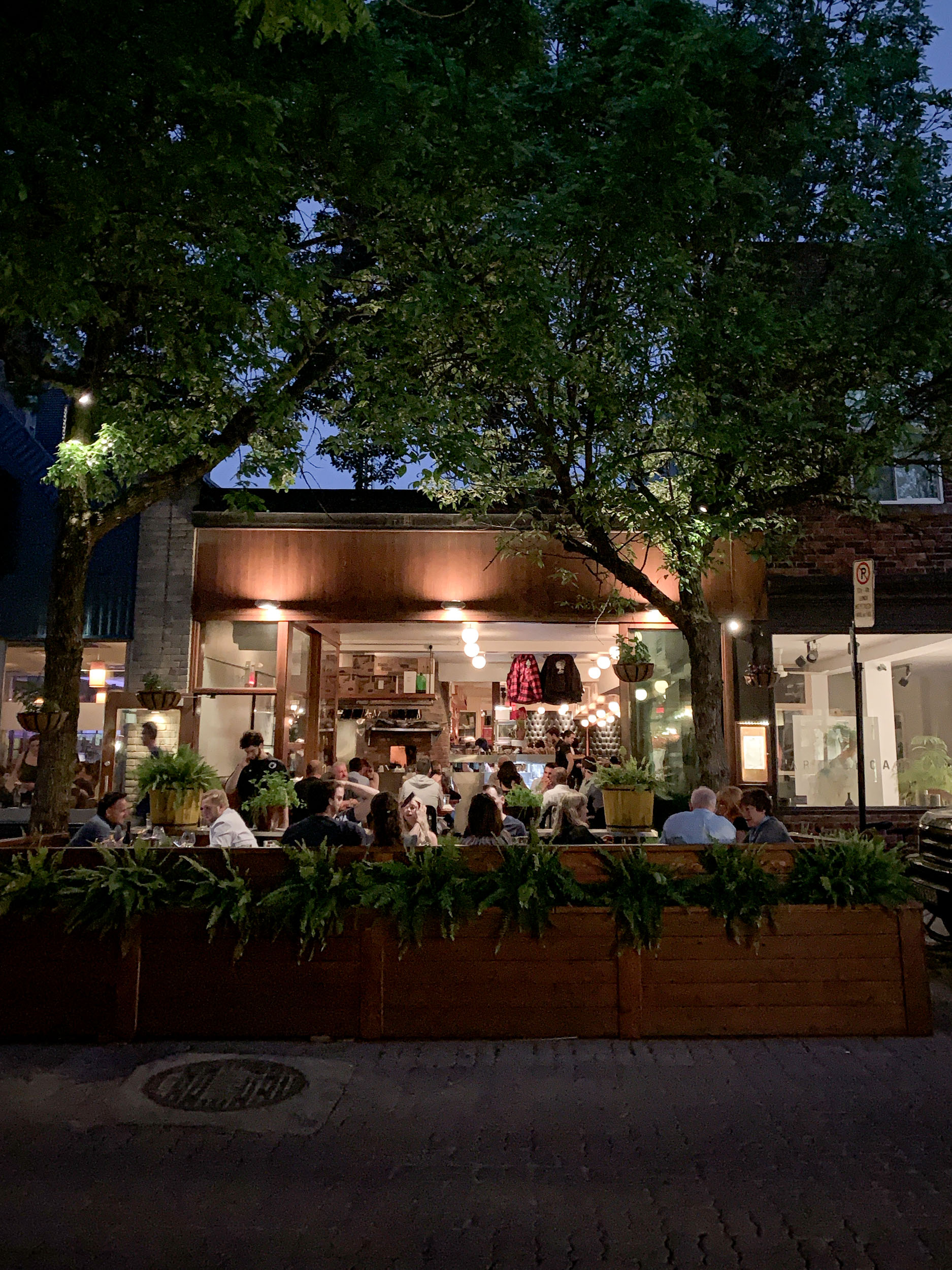 Plan Your Visit
Au Pied de Cochon (website)
Address: 536 Duluth Est, Montreal, Quebec, Canada
Hours: 5 p.m. to midnight, Wednesday through Sunday
Dress: Casual
Reservations: Recommended. More info on their website.