If you thought Saigon (aka Ho Chi Minh City) was all about pho and motorbikes, think again. This dynamic South Vietnamese city has been shaking up something special in its cocktail scene. I discovered that Saigon's best bars have much to offer to thirsty travelers.
In the heart of District 1, a handful of bars redefine what it means to enjoy a night out in Saigon.
There's a cocktail bar for every taste, from the botanical wonders at Summer Experiment to the speakeasy vibes at Rabbit Hole and the classic elegance at Stir.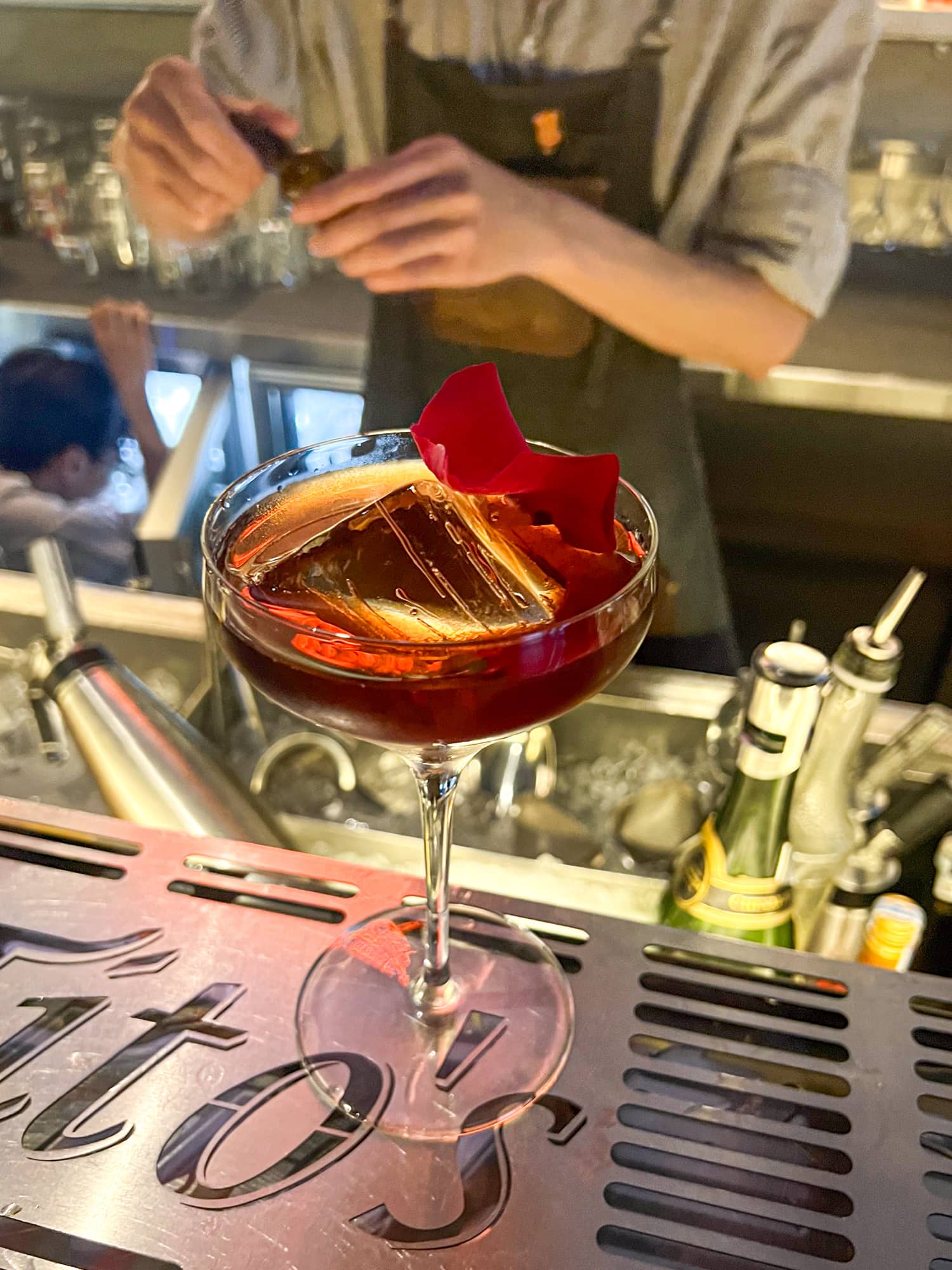 So, if you want to swap your beer glass for something more sophisticated, you're in for a treat.
Let's dive into the best bars in Saigon's District 1 and discover what makes this city's cocktail scene genuinely intoxicating.
Where To Drink in Saigon
The following bar recommendations are based on my first trip to Saigon, Vietnam, to attend a friend's wedding.
Summer Experiment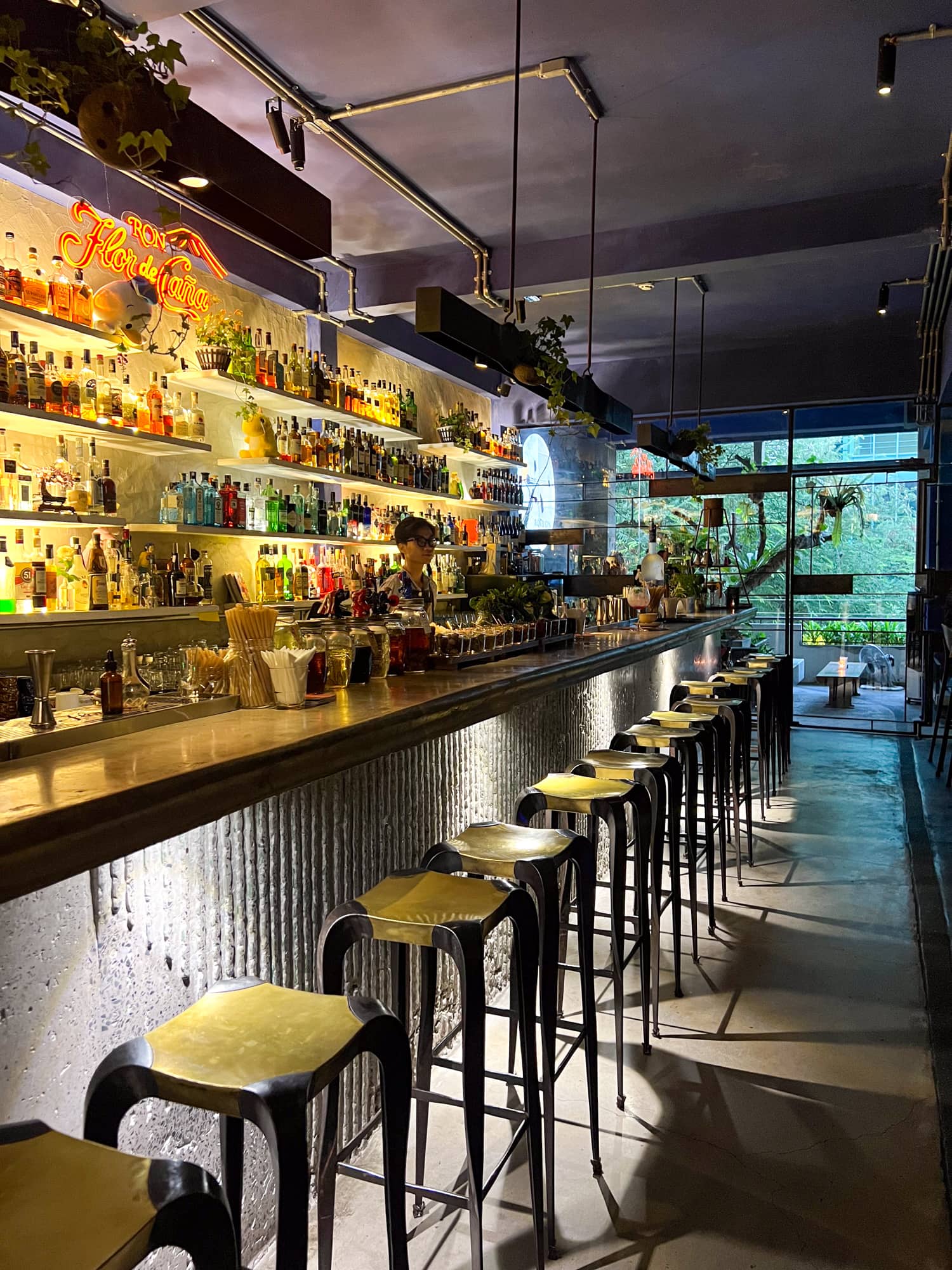 Summer Experiment is a cocktail laboratory where magic happens in every glass.
Founded by Australian mixologist Jay Moir in 2019, his second bar in the city (after Layla near the Opera House) quickly became a cornerstone in Saigon's burgeoning craft cocktail scene.
What sets it apart? Think of it as a flavor playground with local ingredients like Vietnamese coriander and lychee starring in your drink.
But it's not just the cocktails that have people talking; it's the whole experience.
The team has a knack for storytelling, weaving narratives into each drink description on the menu that makes you feel connected to Vietnamese culture.
This blend of innovation and tradition has made Summer Experiment an influential force, inspiring a new wave of cocktail craftsmanship in Saigon.
First Experience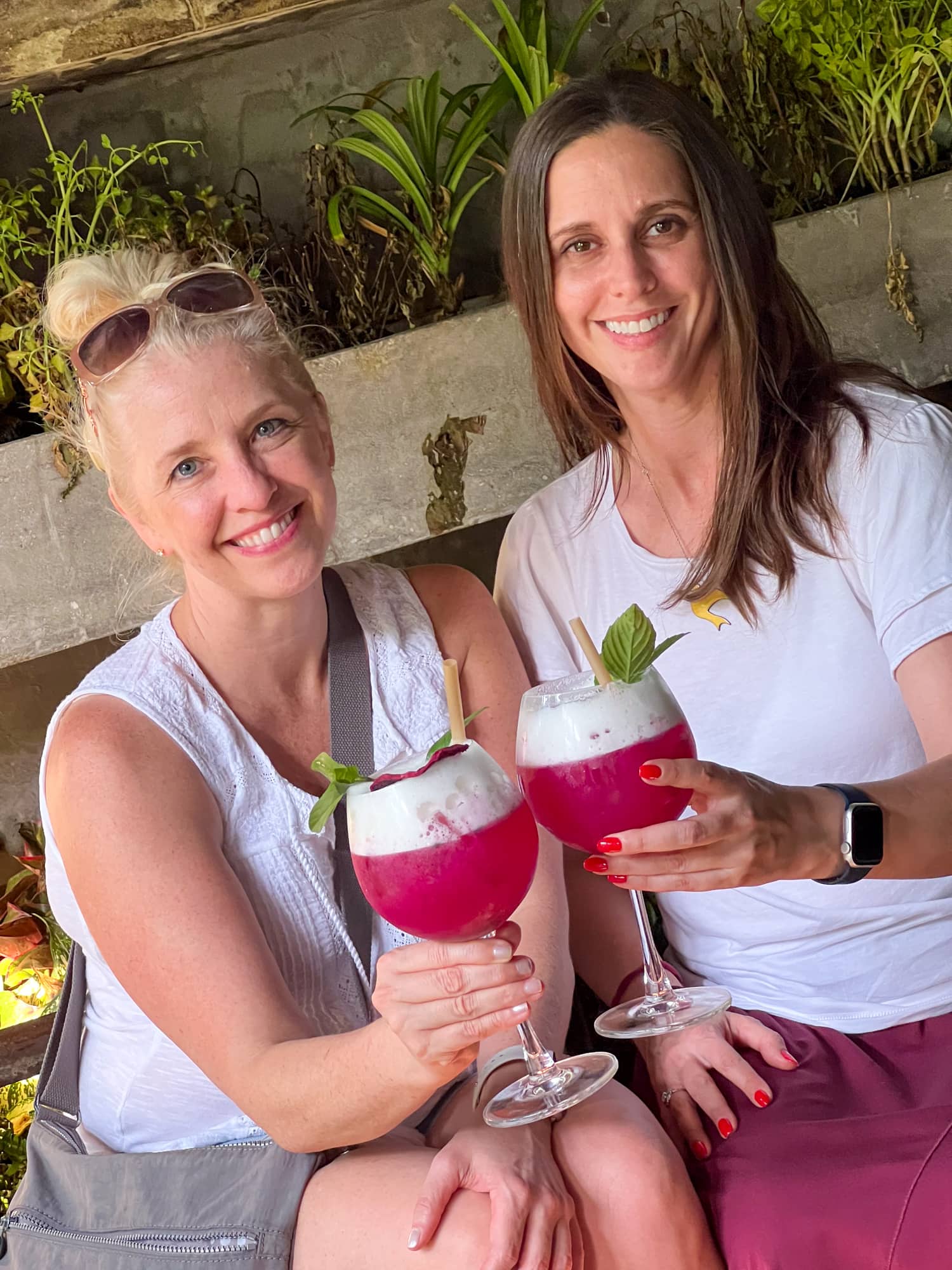 Kel and I dropped by Summer Experiment for the first time soon after they opened on a Thursday afternoon. I wanted to grab a quick drink and check it out before heading to my friend's rehearsal dinner.
To their credit, there's a sign outside at street level; however, the letters in the logo are hard to read, so it's easy to miss.
But, once you confirm you've got the correct building and walk up to the second floor, the bar's entrance becomes obvious.
It was only 4:30 p.m., so we had the bar to ourselves for their Crafted Garden Happy Hour. Choosing from among the dozens of creative cocktails wasn't easy.
We began with the colorful Dragon's Delight (Bacardi Carta Blanca rum, infused guava syrup, red dragon fruit puree, basil, sparkling wine).
Despite being short on time, we had the bartender's full attention and squeezed in another cocktail, the Bee On Your Knees.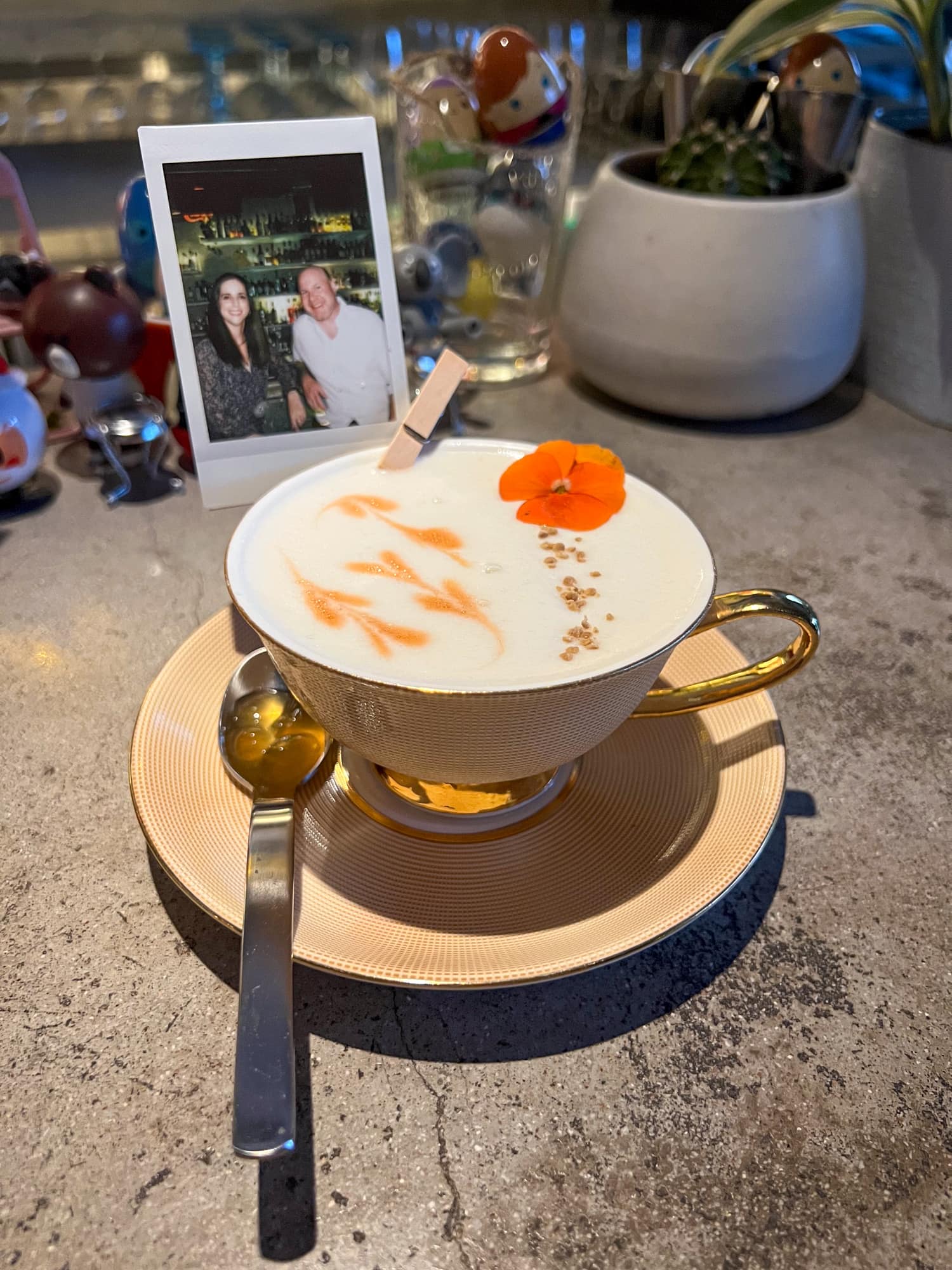 On the menu, it's described as "tea driven, honey sweet, tangy, creamy."
This complex cocktail is made with Sous Vide Bombay Sapphire chamomile honey gin, egg white, bee pollen, and lemon perfume.
Plus, everyone who orders it receives a Polaroid picture, an unexpected bonus. The photo is clipped to the drink before delivery; we kept it as a souvenir.
A Return Visit
A few days after the wedding, Kel and I returned to Summer Experiment on a Saturday night to continue working through the menu. We had more time and invited our friends to join us (which they did).
The first drink I tried on my second visit was the Milk Batch Baby, a Japanese-inspired ice cream-like concoction made with liquid nitrogen, Roku Gin, green tea, yuzu puree, and milk batch topped with bamboo charcoal dust and edible flowers.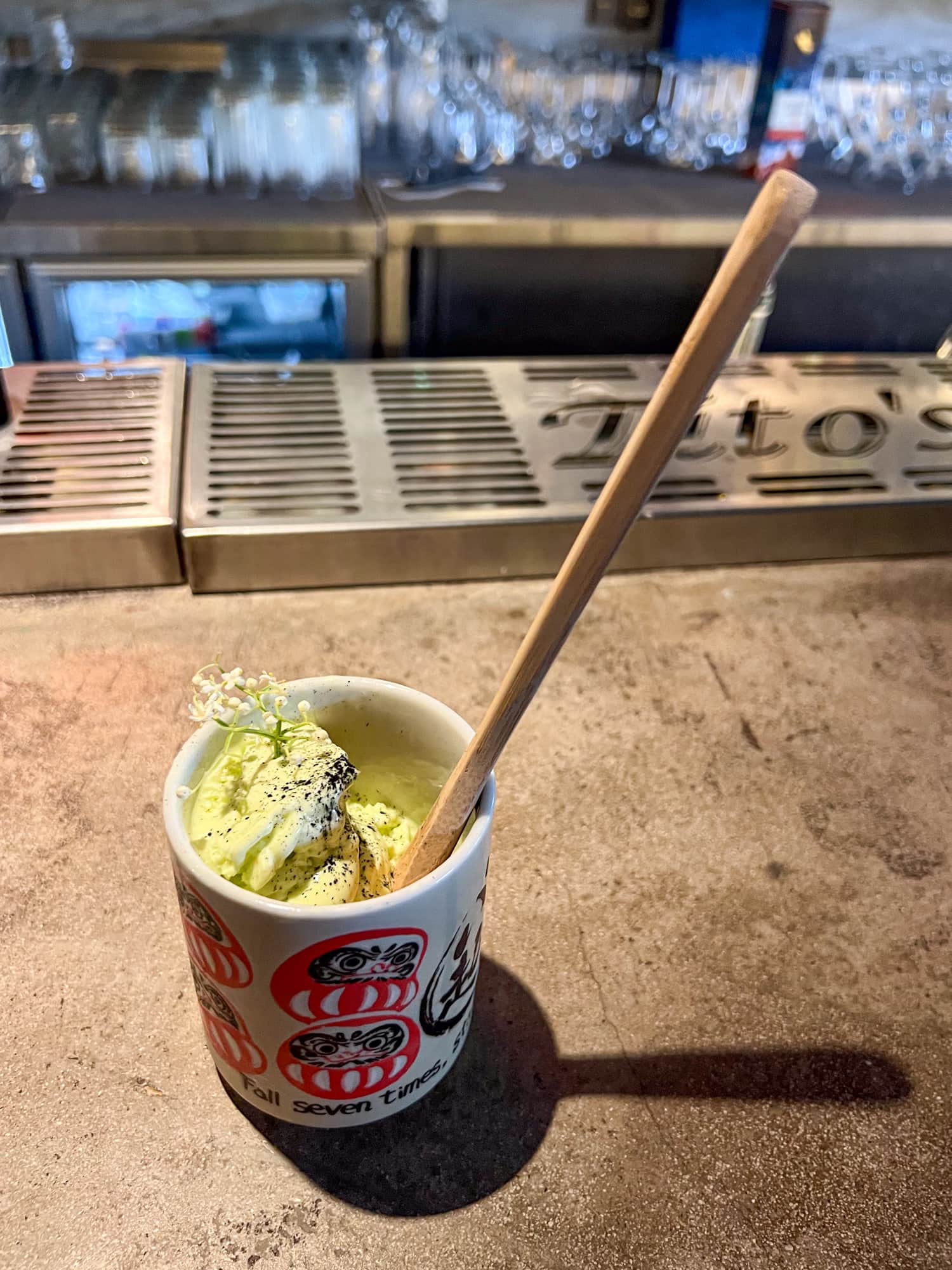 It was served in a small white mug with a long wooden spoon. The taste, texture, and presentation were all delightful.
Kel took a turn ordering a frozen drink, the Caramel Ripple with Tito's Handmade Vodka (our hometown favorite). Neither of us found this one as appealing, though.
Given the strength of the U.S. dollar, we could afford to keep trying drinks for a fraction of the cost we pay at home (the cost at happy hour is about $4).
My second drink of the second visit was On Cloud 9, which owed two-thirds of its height to bubbles that jiggled when you gently shook the glass.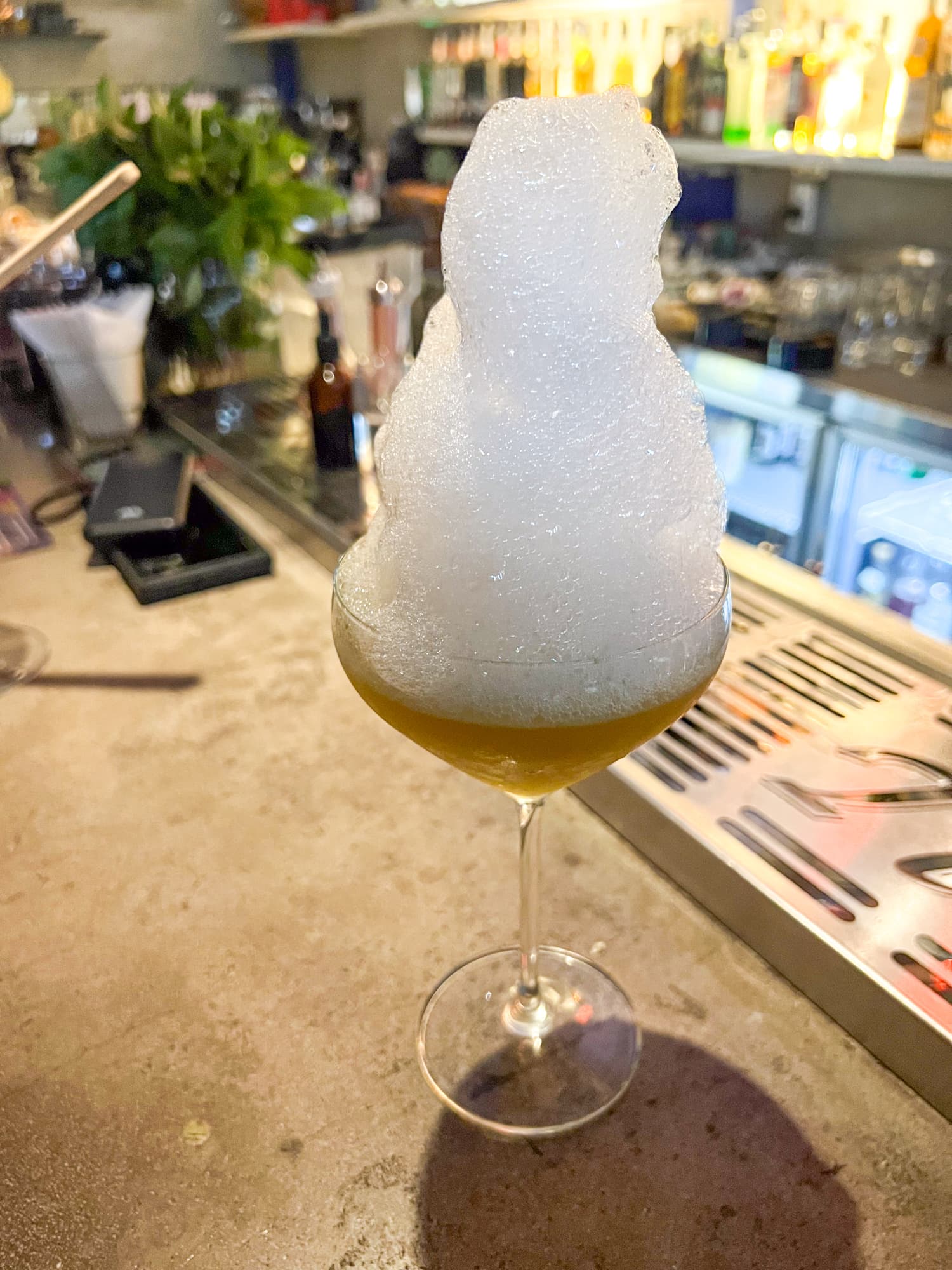 This was a light and enjoyable mixed drink to conclude our visit to one of the best cocktail bars in Saigon. Should we have had more time in the city, I have no doubt we'd have returned for more.
Summer Experiment accepts walk-in guests and reservations. The best time to arrive is early, as our attempt to stop by on a Friday night after the wedding was a no-go; the place was packed with young locals.
Smoking is not allowed inside (thankfully). However, there's a small plant-filled rooftop terrace overlooking the street where people can light up.
Summer Experiment is on the second floor at 77-79 Ly Tu Trong, District 1, Ho Chi Minh City, Vietnam. facebook.com/summerexperiment
Rabbit Hole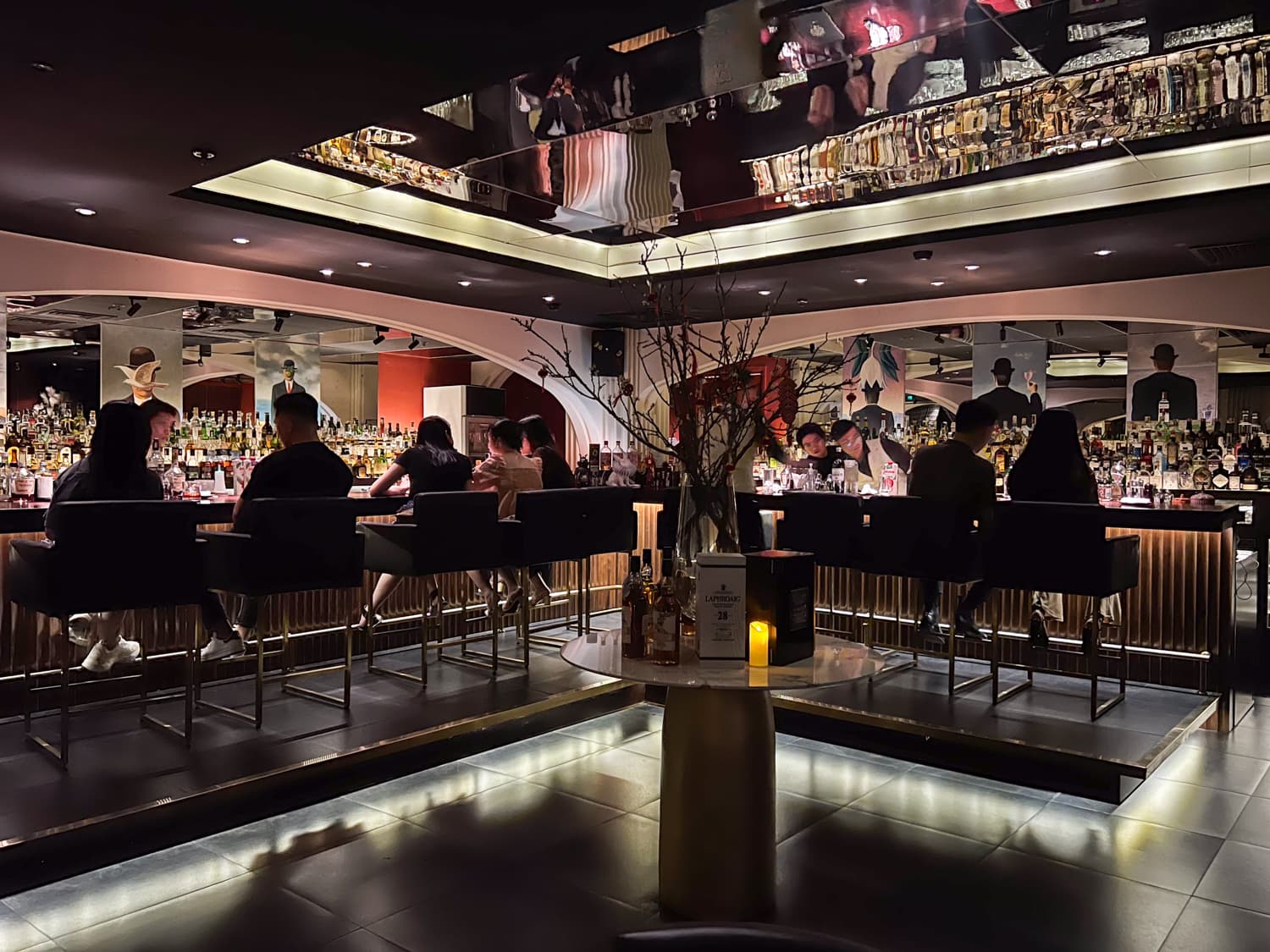 Step into the Rabbit Hole, and you'll quickly realize you've entered a different dimension of Saigon's nightlife.
Tucked away in District 1, this speakeasy-style bar is a labyrinth of mirrors, leather seating, and moody lighting—starkly contrasting the city's neon lights and bustling streets.
The atmosphere is intimate, almost mysterious, making you feel like you've stumbled upon Saigon's best-kept secret.
We dropped by after the rehearsal dinner at my friend's suggestion, and I was impressed with the stylish bar and drinks.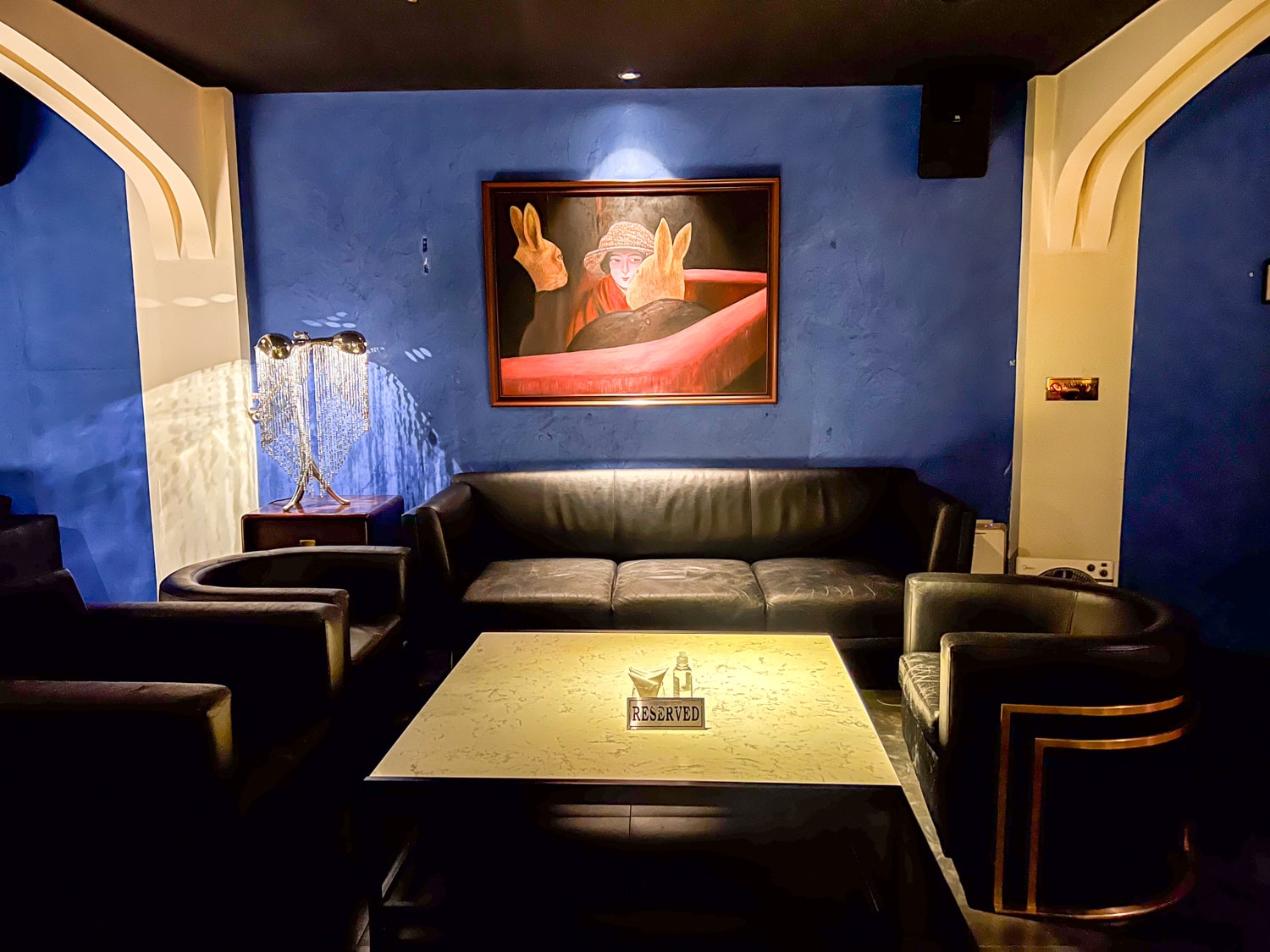 The menu here is a curated collection of Rabbit Hole classics. I was pleased with my choice, Rabbit's Gin Fizz (butterfly pea and chamomile-infused gin, lime and lemon Juice, cream and egg white, and orange flower water).
It reminded me of my first Ramos Gin Fizz at the Sazerac Bar in New Orleans.
We also got the 5-Dollar Milkshake (tawny port, fino sherry, Aperol, Flor De Cana Spresso, salted caramel foam, and mandarin and orange bitters) served with a cracker on top.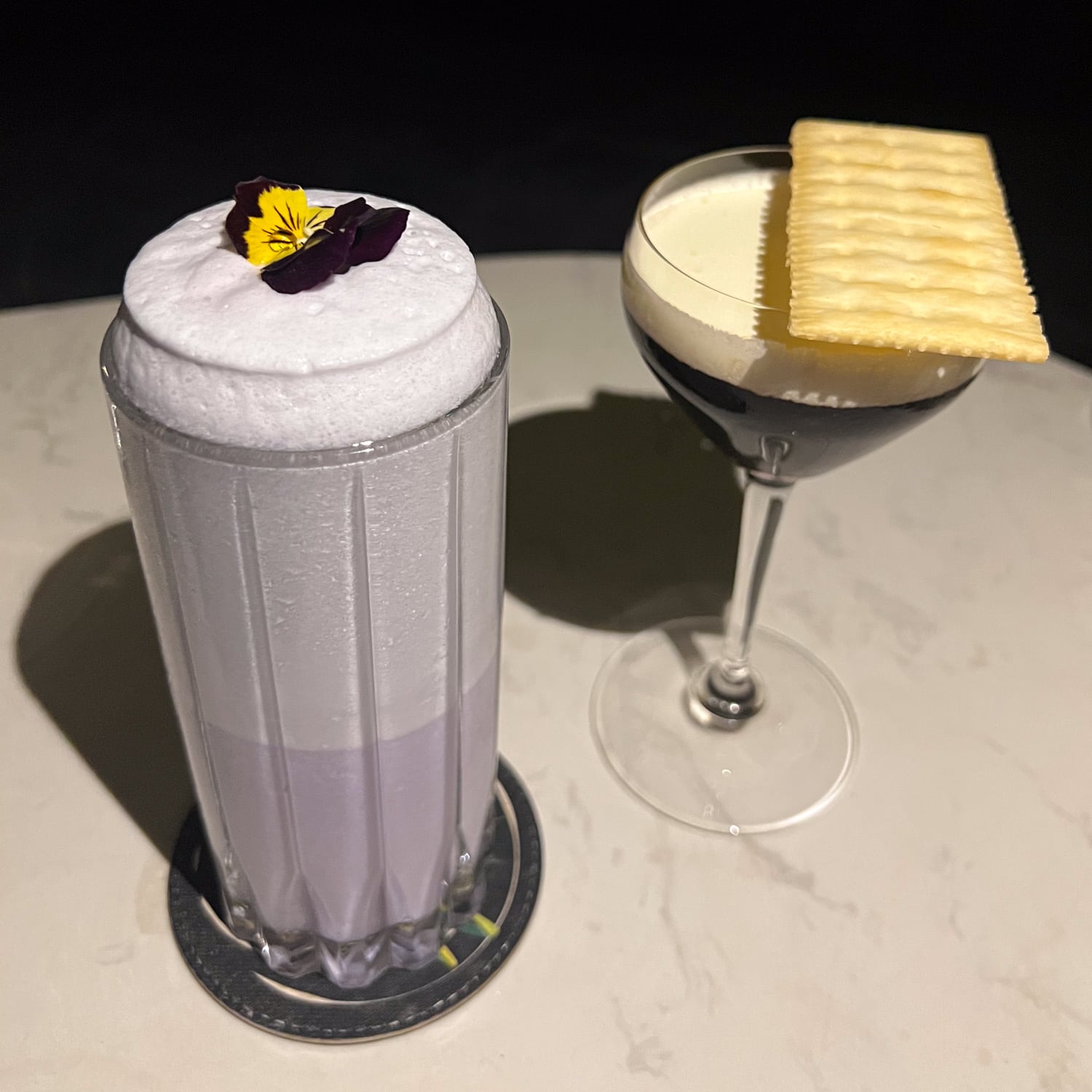 The drinks averaged $15 a pop, which puts them on par with what I pay in the U.S., but I didn't mind, given the quality.
The Rabbit Hole serves a small, international selection of wines by the glass and bottle, and there's a food menu to tempt your taste buds.
Guests can enjoy 30% off all cocktails during happy hour from 6 p.m. to 8 p.m. They feature live jazz performances every Monday, Wednesday, and Friday from 8 p.m. to 11 p.m.
If you want to escape the ordinary and plunge into a world of wonder, the Rabbit Hole is your ticket.
Rabbit Hole is at 138 D. Nam Ky Khoi Nghia, Ben Nghe, District 1, Ho Chi Minh City, Vietnam, rabbithole.com.vn
Stir - Modern Classic Cocktail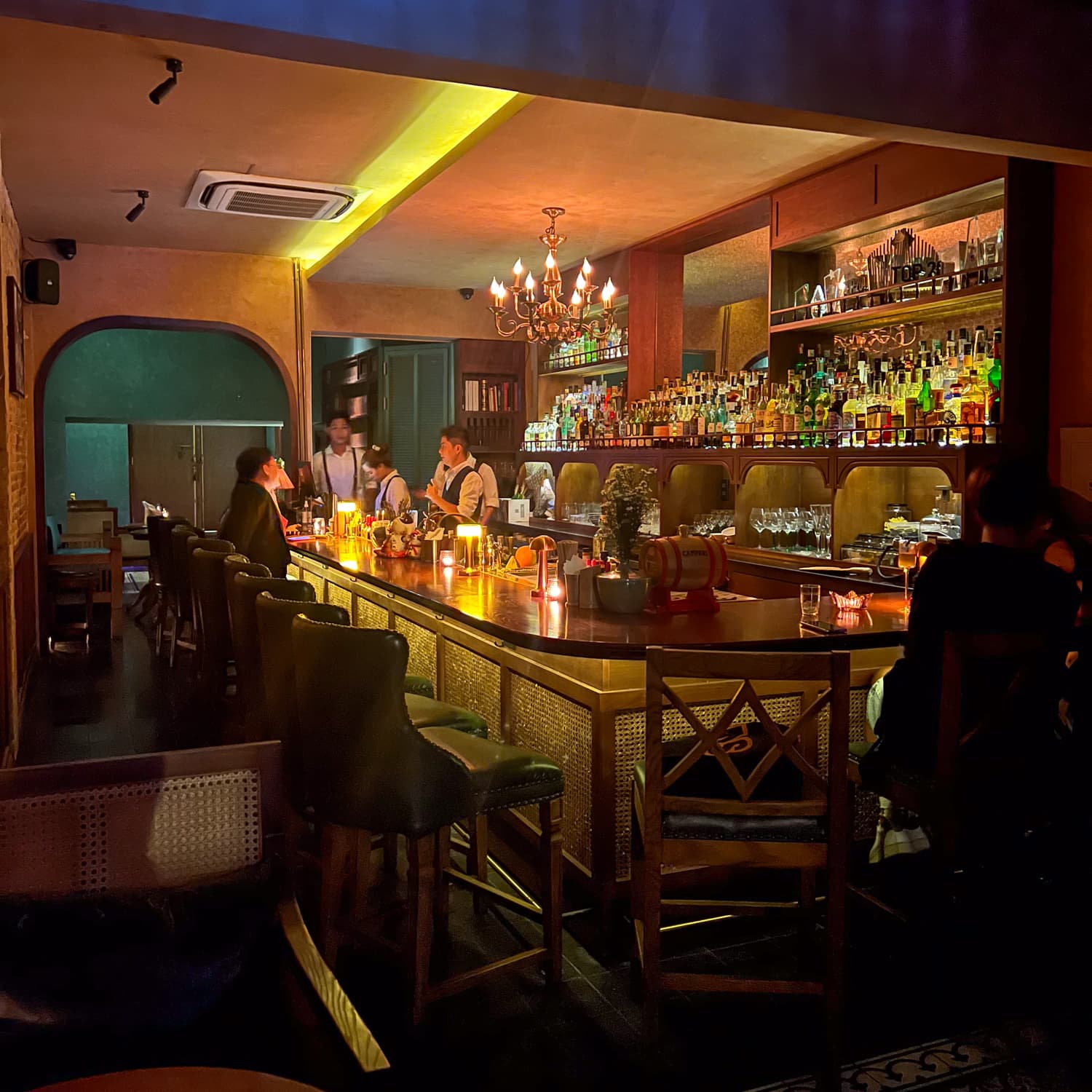 Stir is a sanctuary for cocktail purists in the heart of Saigon's District 1. As soon as you walk in, you'll notice the bar's minimalist aesthetic and a touch of vintage charm.
It's a small space that exudes a sense of calm, inviting you to sit back, relax, and savor the moment.
What is Stir known for? Elegance and simplicity. Unlike other bars that go for the shock factor, Stir focuses on perfecting the classic cocktails.
The bartenders here are skilled artisans, meticulously measuring, stirring, and shaking to create visually attractive and impeccably balanced cocktails.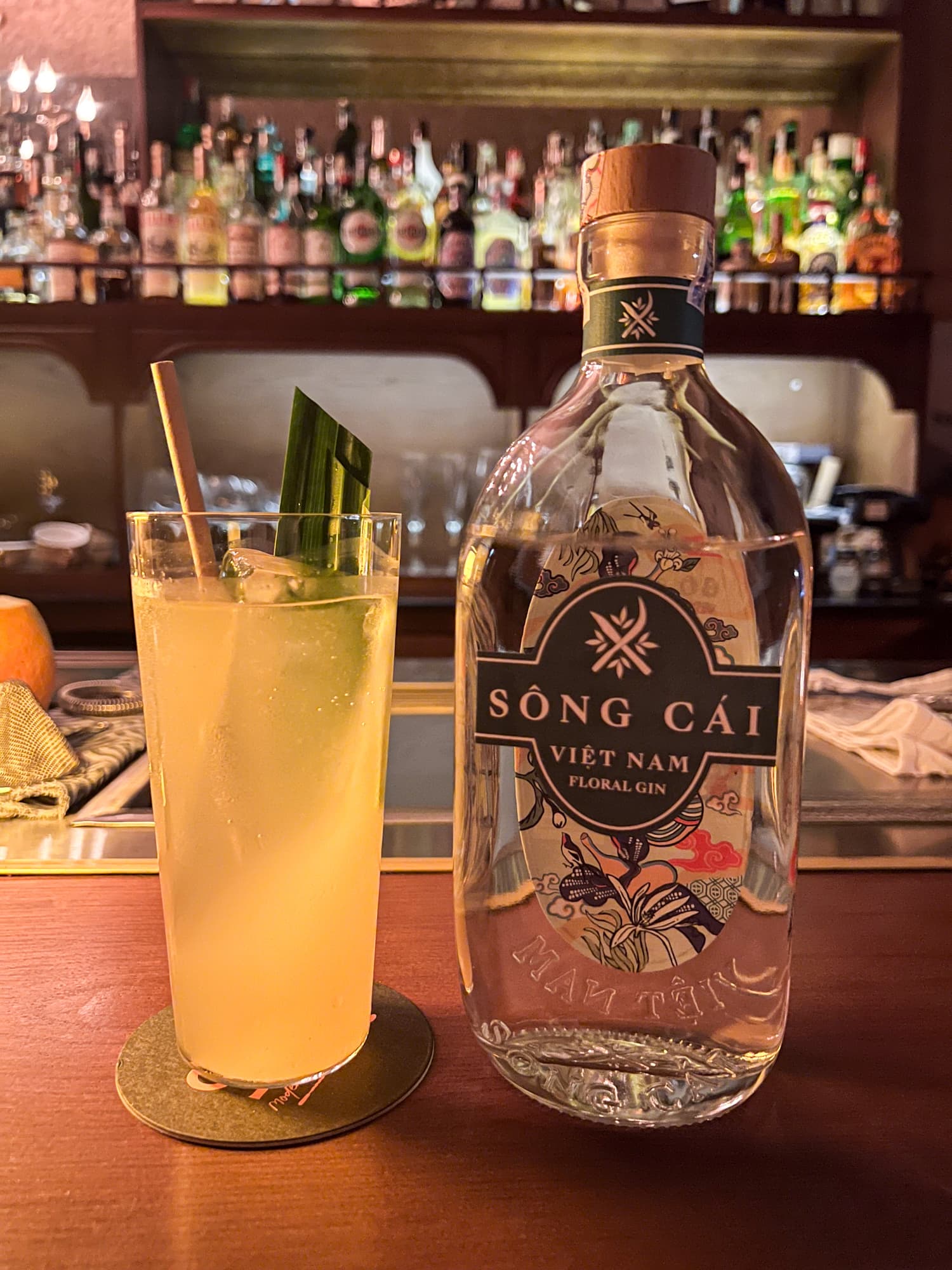 The drink menu is a well-curated selection of timeless favorites, from the Manhattan to the Martini.
But don't let the classic menu fool you; Stir isn't afraid to introduce subtle innovations.
You'll find seasonal specials incorporating local ingredients, offering a unique Vietnamese twist to familiar recipes.
Our Experience
Stir was the third and final cocktail bar we visited on the night of the rehearsal dinner, and provided the most intimate setting.
It was just Kel and I at this one, and we were able to grab seats at the bar. We shared a cocktail made with Song Cai, the first Vietnamese gin.
The distillery's website describes it as "a bold expression of mountain flavors, dried fruits, spices, and seasoned wood."
Stir is on the first floor at 136 Le Thanh Ton, District 1, Ho Chi Minh City, Vietnam, facebook.com/stirsaigon
Nhau Nhau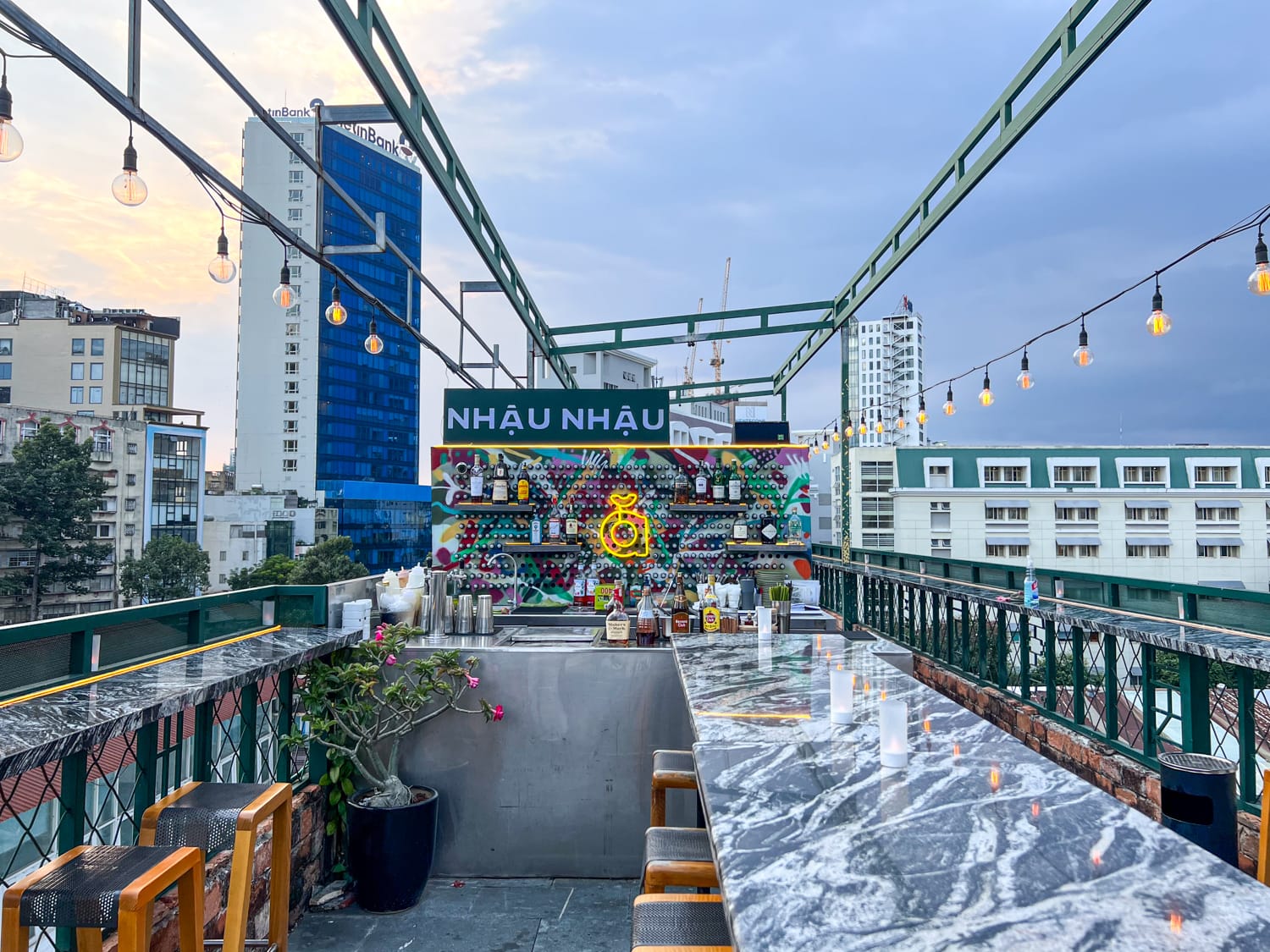 Ready to elevate your Saigon experience—literally? Meet Nhau Nhau, a rooftop bar in the same building, and by the same owners, as Anan Saigon, one of Asia's best restaurants (and the first in Vietnam to receive a Michelin star).
Dinner at Anan Saigon led Kel and me first to grab some high-quality drinks at Nhau Nhau.
This narrow bar is perched atop a six-story tube house a few blocks west of the Saigon River and is an ideal place to enjoy a pre-dinner drink.
Rooftop bars, known locally as skybars, are popular thanks to Saigon's mild climate (the average annual temperature of 82.8 F).
What's In a Name
In Vietnamese, "nhau" signifies a social gathering centered around food and drink, often beer or rice wine. But it's more than just a casual hangout; it's a tradition that fosters community and friendship.
Picture a table full of Vietnamese cuisine, from grilled meats to seafood and plenty of drinks. The atmosphere is boisterous, filled with laughter, chatter, and the clinking of glasses.
Unlike formal dining, nhau is laid-back and spontaneous. It can happen anywhere, from street corners to rooftops and at any time.
The experience is similar to that of tapas in Spain or Japanese izakaya.
Since Kel and I were looking forward to a big dinner, we only tried the drinks at Nhau Nhau.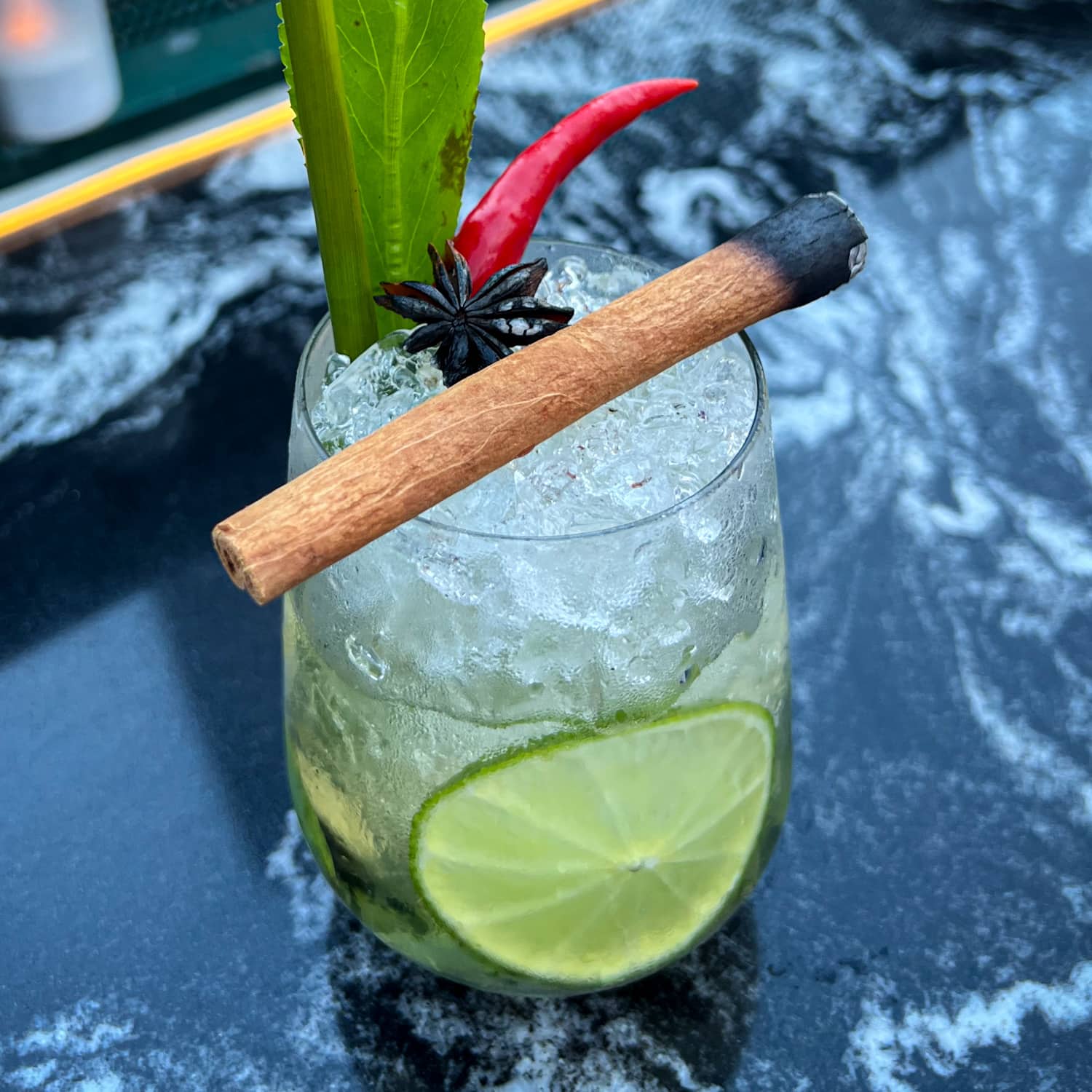 Our Experience
We arrived at 5 p.m. on a Wednesday. There was the option to sit inside at Nhau Nhau on the second floor, but I was curious to see the views from the roof.
A tiny elevator brought us up, and we had the place to ourselves until my friend Troy arrived.
Kel ordered one of the signature cocktails, a beautifully presented Phojito made from gin, pho herbs, sugar, and lime.
Meanwhile, I matched Kel's violet shirt with the Mulberry Clover Club (gin, bitters, and egg white), a delicious cocktail.
Related: Best Coffee Shops in Saigon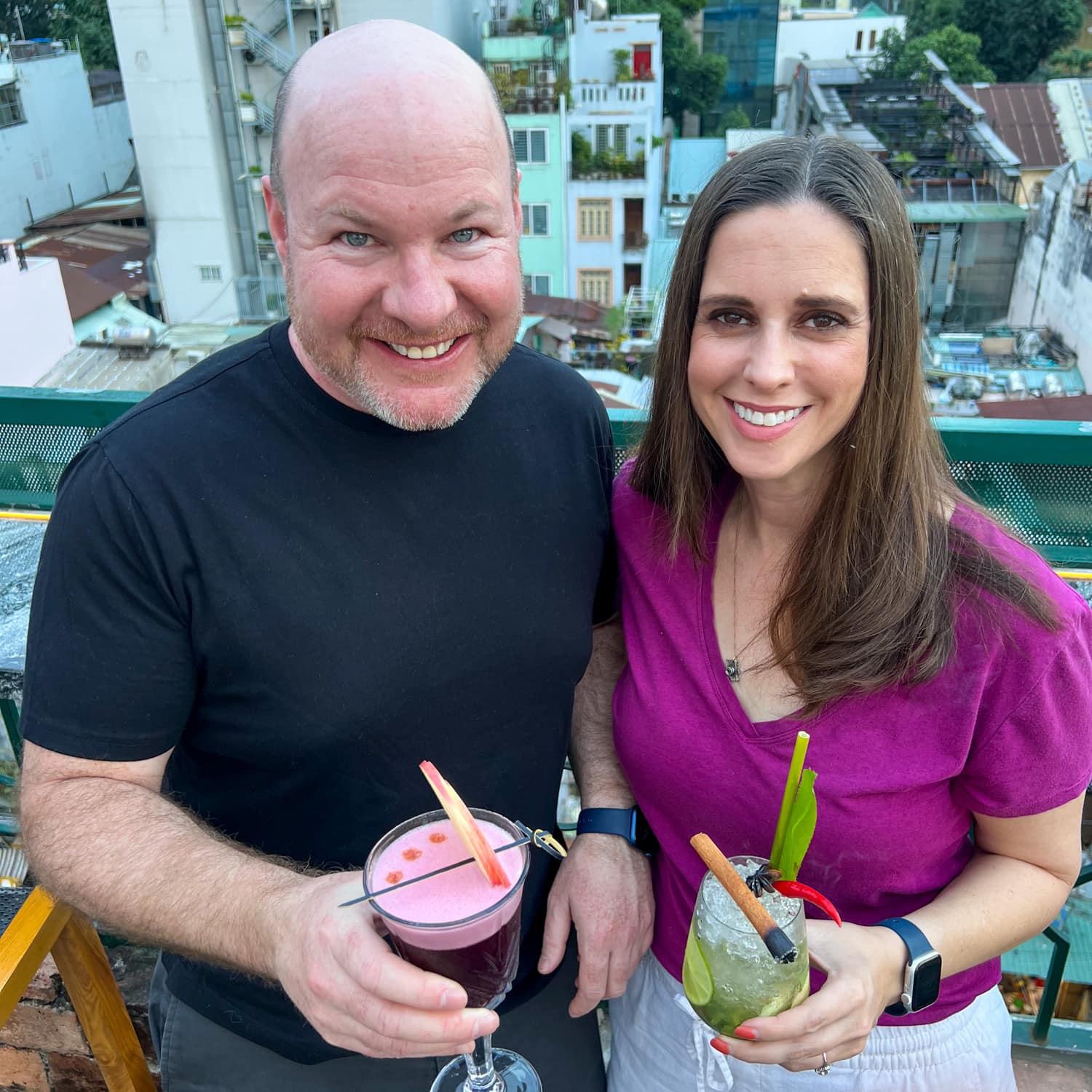 We enjoyed our drinks and catching up with Troy (who'd also arrived that week from the United States) while taking in the great views.
The Saigon Skydeck on the 49th floor of the nearby Bitexco Financial Tower is visible. We visited it a few days later for the panoramic view.
Nhau Nhau is at 89 Ton That Dam, District 1, Ho Chi Minh City, Vietnam, facebook.com/letsnhaunhau
Quickfire Round
Based on my research, the following bars were on my list of places to try, but I ran out of time. Hopefully, you won't!
Wrapping Up
From stylish bars like Summer Experiment to the allure of Rabbit Hole and the sophistication at Stir, District 1 is the best place to dive into Ho Chi Minh City's vibrant nightlife.
Whether you're after the best rooftop bar views or looking to discover hidden bars that offer a unique twist, there's something for everyone.
If you're a casual spot seeker or a classic cocktail bar lover, this guide has hopefully given you a taste of the best Saigon offers after the sun goes down.
So, the next time you find yourself navigating the busy streets of this Vietnamese city, remember that an enjoyable experience awaits you just around the corner. Cheers to your next great night out in Saigon!