Vietnamese street food is famous, and it was an aspect of the culture I was excited to explore. My friend Nick, whose wedding Kel and I attended, organized a Saigon street food tour.
The timeline would be tight. The walking tour was scheduled for the day after we arrived in Saigon (also known as Ho Chi Minh City) in South Vietnam.
We'd be jetlagged and still experiencing the culture shock of arriving in a new country. But, I didn't want to miss the opportunity to learn about local cuisine.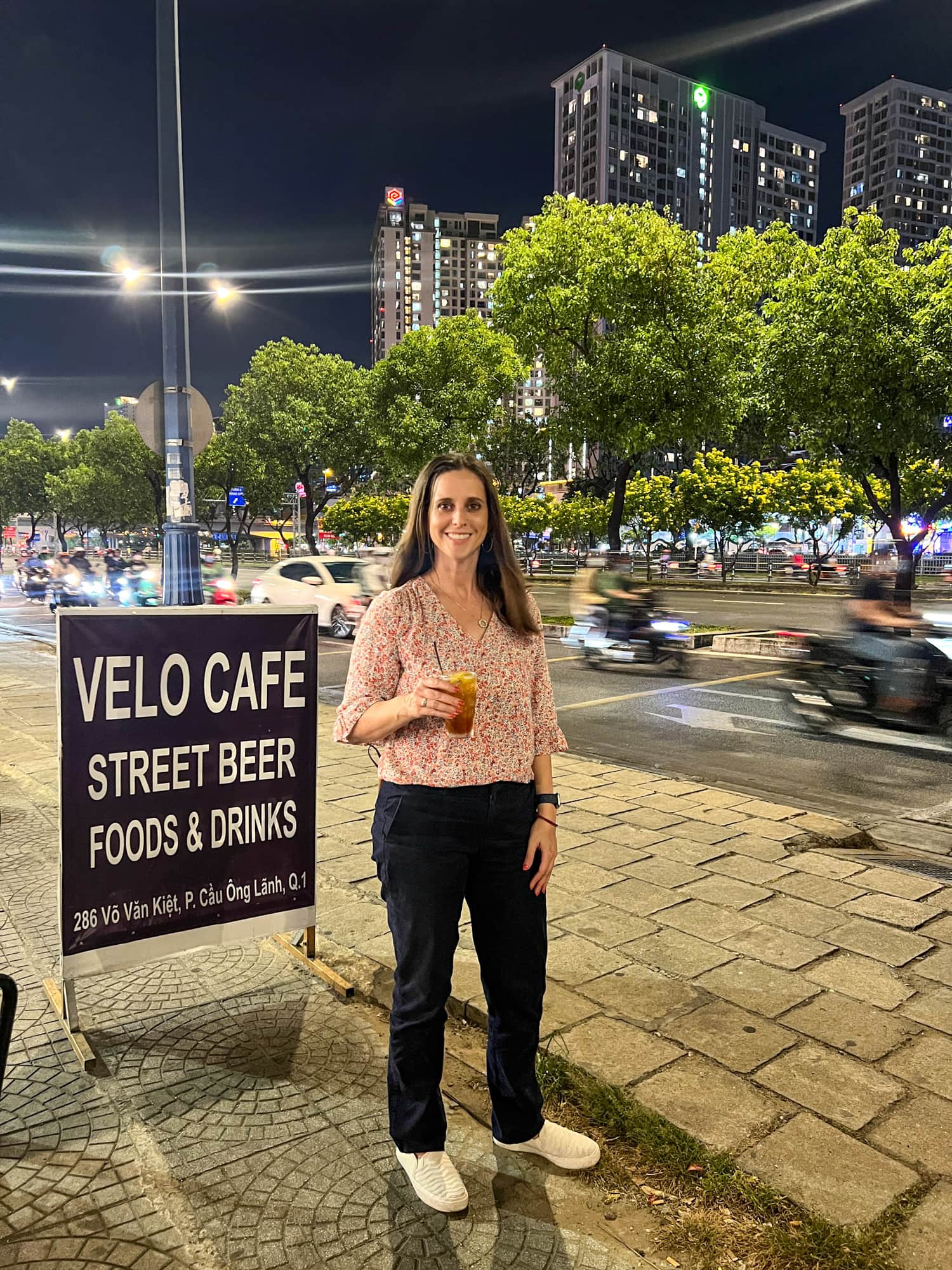 Nick had chosen the Saigon Street Food by Night tour from Urban Adventures at $32 per person (plus gratuity).
The evening promised three hours of authentic food as a local guide introduced us to traditional street eats at different locations.
Street Food in Saigon
The meeting point for our culinary adventure in the streets of Saigon was the Ho Chi Minh Fine Arts Museum in District 1. Coincidentally, it was only a block from the guesthouse where we stayed for the week.
District 1 is the main tourist area in Saigon, where many of the city's attractions and plenty of good Vietnamese food can be found.
We arrived at the stated meeting time of 5 p.m. However, others staying further away arrived about 20 minutes late.
Nobody minded the late start since it was only our friend group on the city tour.
There were ten of us, and the maximum group size for this Saigon street food tour was 12. Our booking was big enough to qualify as a private tour.
Our English-speaking guide, Thuong, introduced himself. He's been leading street food tours for six years, so we knew we were in good hands.
It was less than a ten-minute walk to our first stop, where we took our seats on tiny plastic stools set up around a table on a sidewalk.
Bo Kho (Beef Stew)
Our first Vietnamese dish was hu tieu bo kho, or beef stew with noodles.
Each half-portion delivered to the table had tender chunks of beef atop noodles and bean sprouts, all bathed in a savory broth. Carrots and spring onions were also used.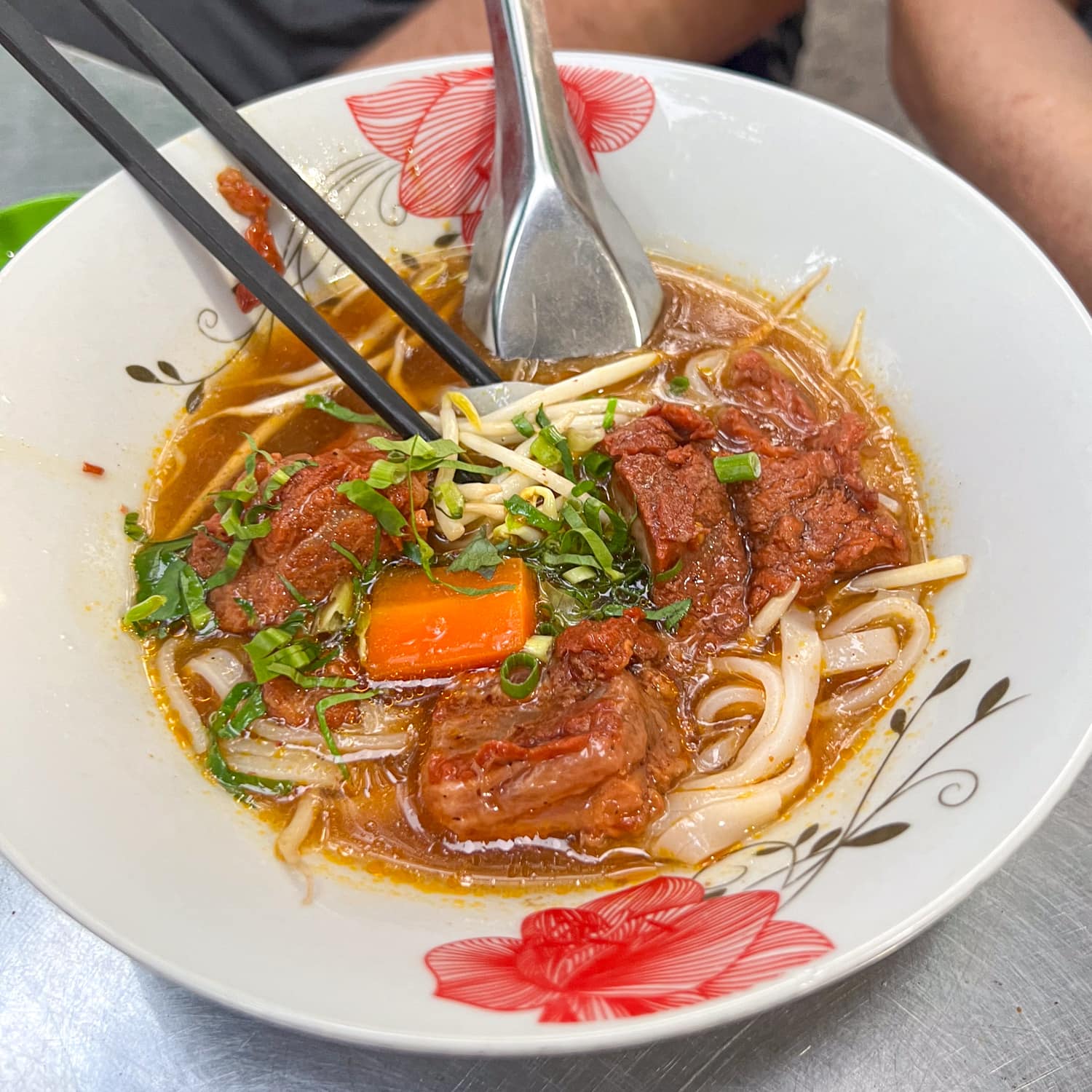 A basket of fresh green Thai basil, quartered limes, and small bowls of salt were on the table for those who wanted them.
Kel and I thoroughly enjoyed this traditional Vietnamese dish. It was both our favorites from the tour; Kel might even say it was her best meal of our two-week trip! A whole portion would've cost $2.
I was as curious about where we were physically as the food. I knew small plastic stools were part of the local culture, but I wasn't prepared for how awkward it felt to sit so low.
According to our tour guide, short plastic stools are preferred by many Vietnamese people because they feel more relaxed in them, are cheaper to buy, and signify more affordable places to eat versus high-backed chairs in restaurants.
Fifteen years earlier, I'd spent four months backpacking in Southeast Asia, including Thailand, Cambodia, and Laos. However, I don't recall the tiny plastic stools being as common in those countries.
Perhaps it wouldn't have bothered me if I were 20 years younger or grew up with the custom. Coming from the United States, I found it quite uncomfortable.
In addition, it was loud. There's a constant buzz from the endless number of motorbikes whizzing through the streets of Saigon.
It would take us a week to get the hang of crossing the street, so I appreciated being on a walking food tour. Strength in numbers!
Xa Xiu (Cantonese-style BBQ Duck)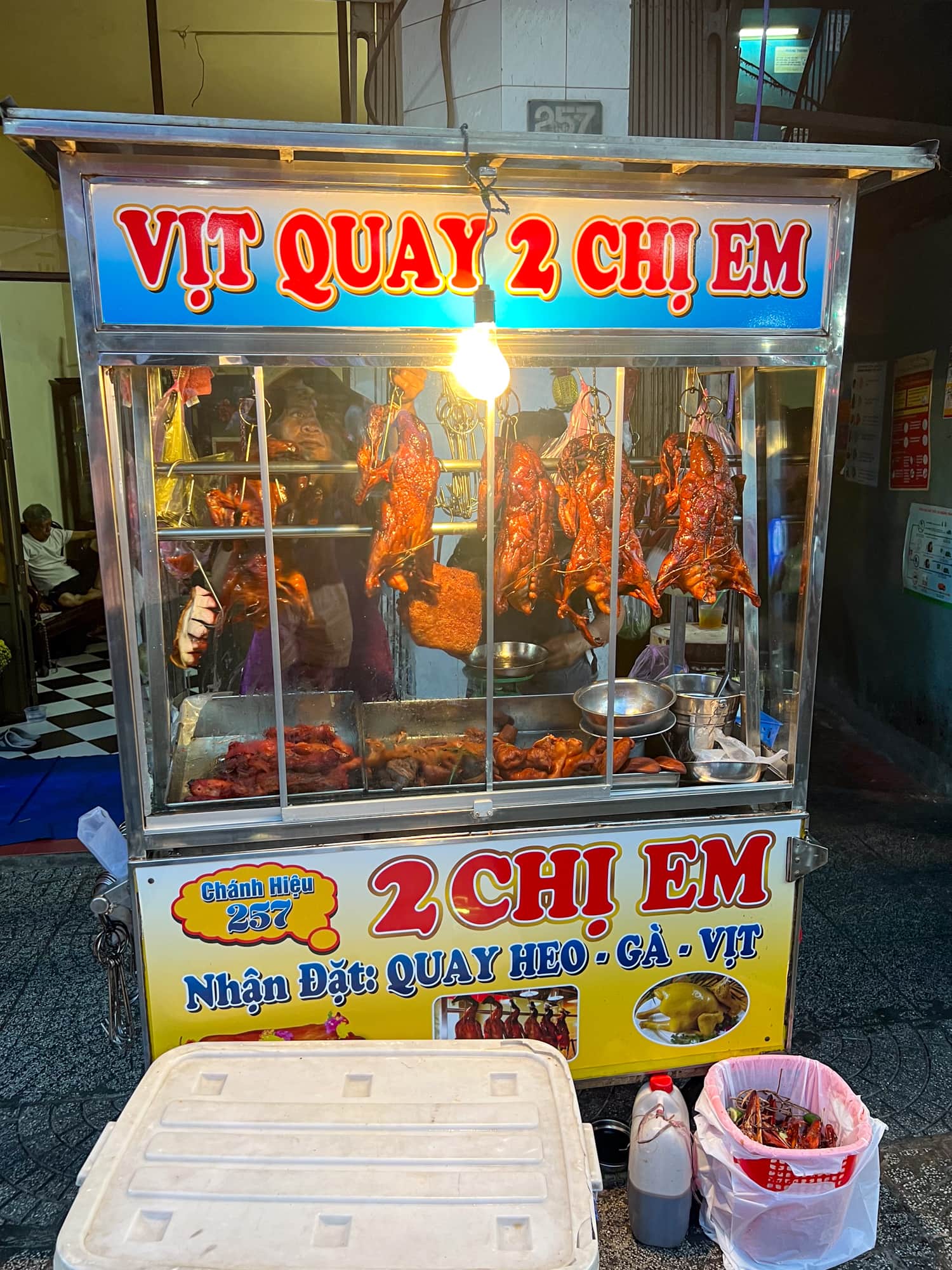 Our second vendor on the Saigon street food tour was about a 15-minute walk from the first.
In a small glass display case, barbecued ducks were hanging by their necks. A single light bulb illuminated the man's offerings.
Our guide ordered xa xiu, the Vietnamese name for Cantonese-style barbecued duck. This recipe is often made with pork, too.
The food vendor began chopping up one of the ducks and served it to us in two plastic bins with sliced cucumbers. We started picking out pieces by hand.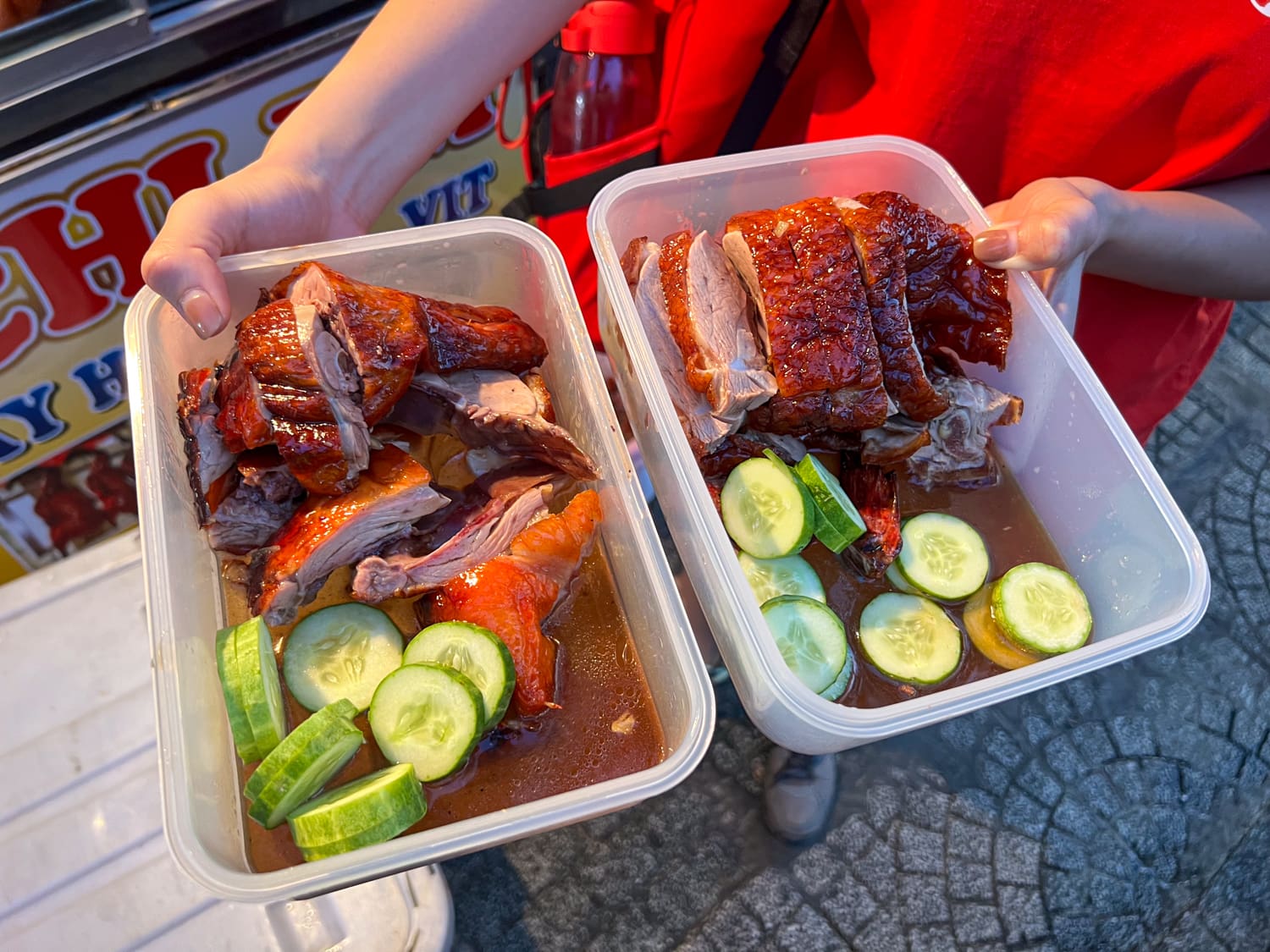 The duck glistened under the light and was another delicious dish of the tour. Pieces of fresh-baked baguette were also provided, perfect for soaking up the meat's juices.
We didn't even have plastic stools or tables to sit on here. We ate on our feet. Xa xiu, it turns out, is typically eaten as a takeaway meal.
Banh Trang Nuong (Pizza)
It was about 6:10 p.m. when we left the duck vendor for another of the local eateries, less than a ten-minute walk away.
Several Vietnamese people were operating a street food stall with a grill there. On top, getting nice and toasty for us was banh trang nuong.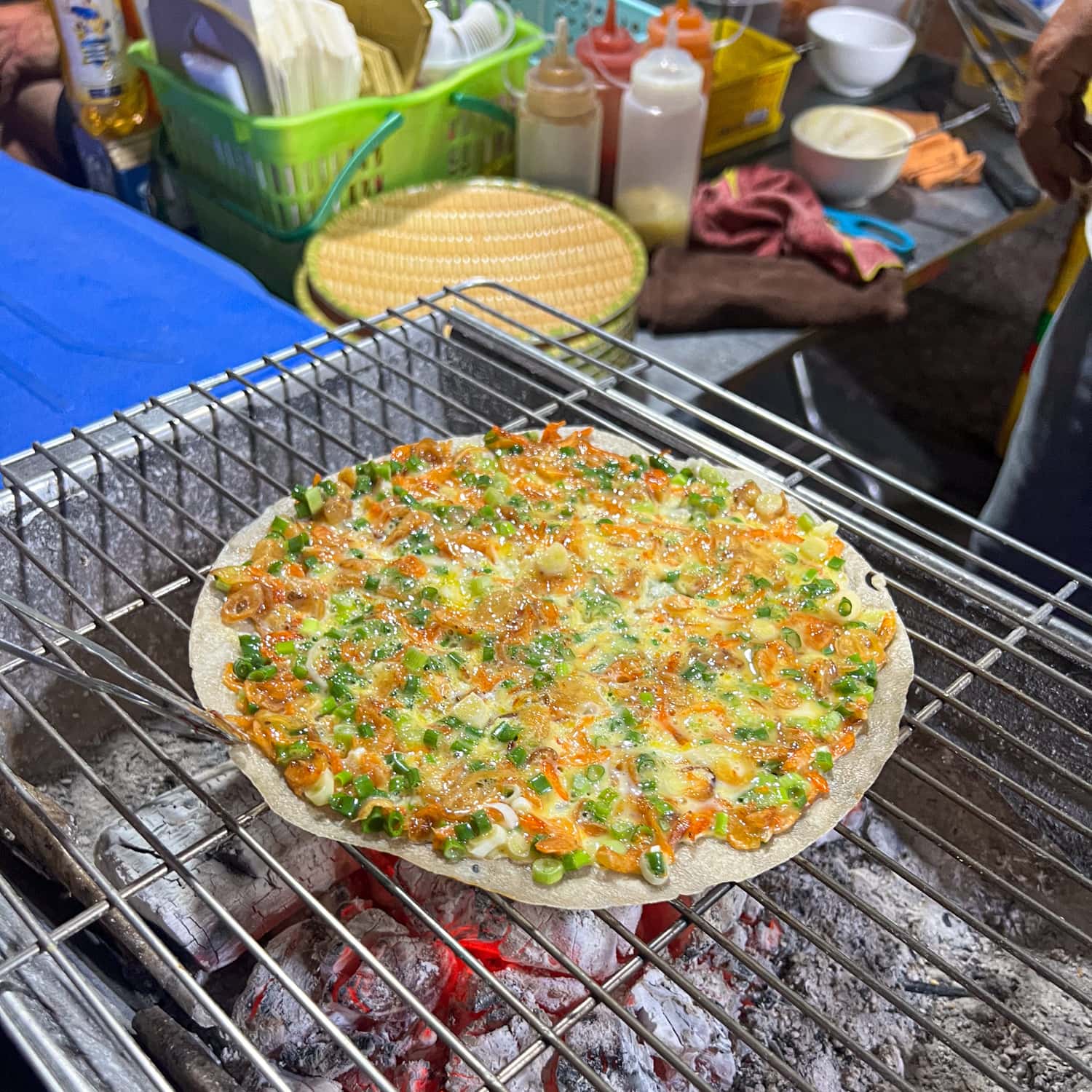 This popular Saigon street food is made with grilled rice paper topped with eggs, shrimp, spring onions, and fried onions. It's finished with generous drizzles of mayo and chili sauce.
Our banh trang nuong was served with cups of sweet kumquat iced tea while we sat on little blue plastic stools around a table to the side of a small alley.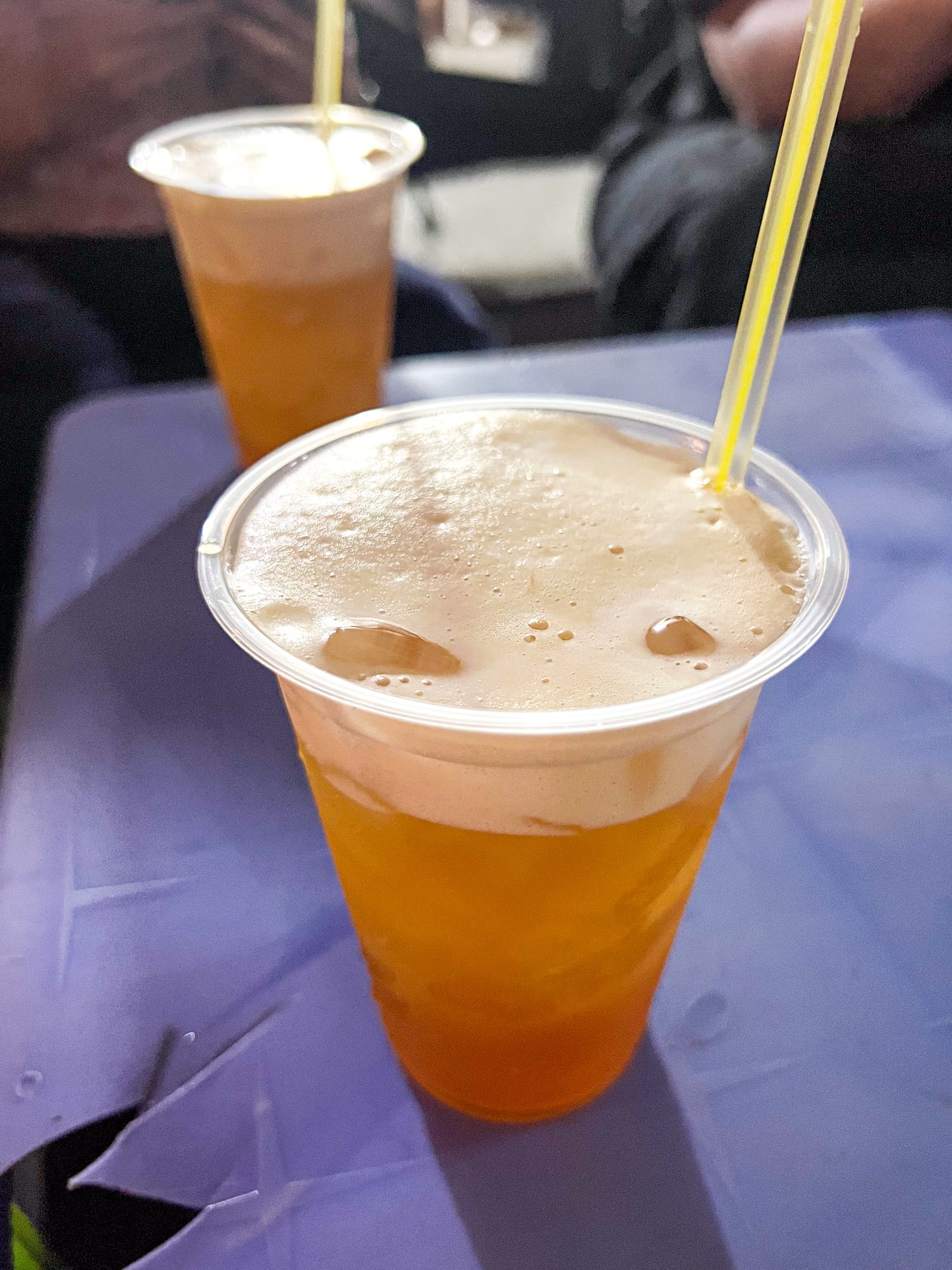 The tasty food was just one dollar per order, a terrific deal for tourists.
After hanging out for a bit, we moved on to our fourth stop on the street food tour. We had our longest walk between these two spots at about 30 minutes.
Iced Vietnamese Coffee
Around 7 p.m., we arrived at Velo Cafe, along a busy thoroughfare that runs east-west through Saigon along a river.
Small lawn-style chairs with backs were available, which were more comfortable to sit in.
A round of green tea was provided, as is customary at Vietnamese cafes. If we weren't on the tour, these would be free.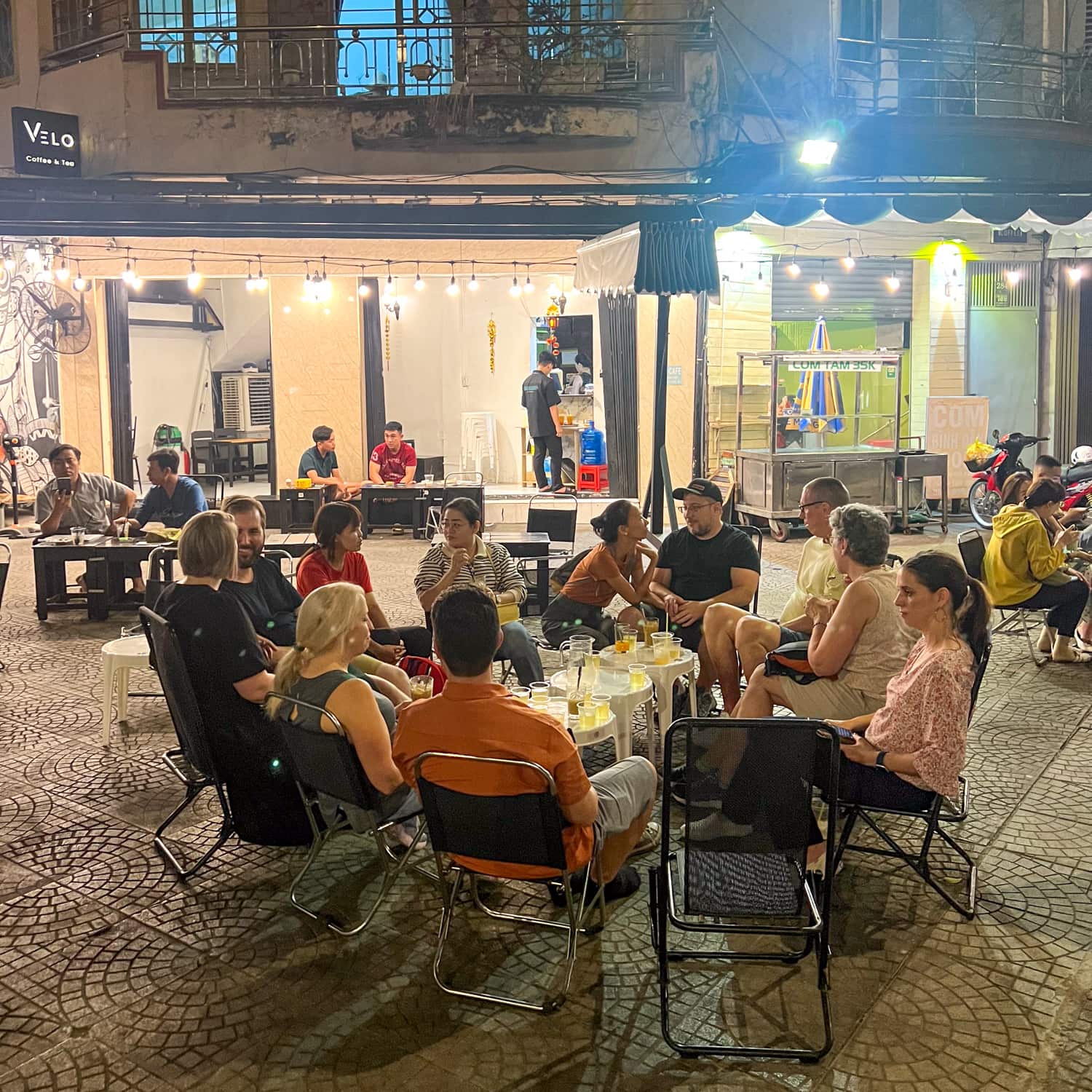 Everyone interested in trying a Vietnamese iced coffee was given the opportunity. I'd barely been in Saigon for 24 hours; it was already my third coffee there.
The sweetened condensed milk sets Vietnam's iced coffee apart from the usual iced black coffees or lattes I'm familiar with from the States.
I'd bring this newfound habit home with me. Not a bad thing!
Related: New Vietnamese Cuisine at Anan Saigon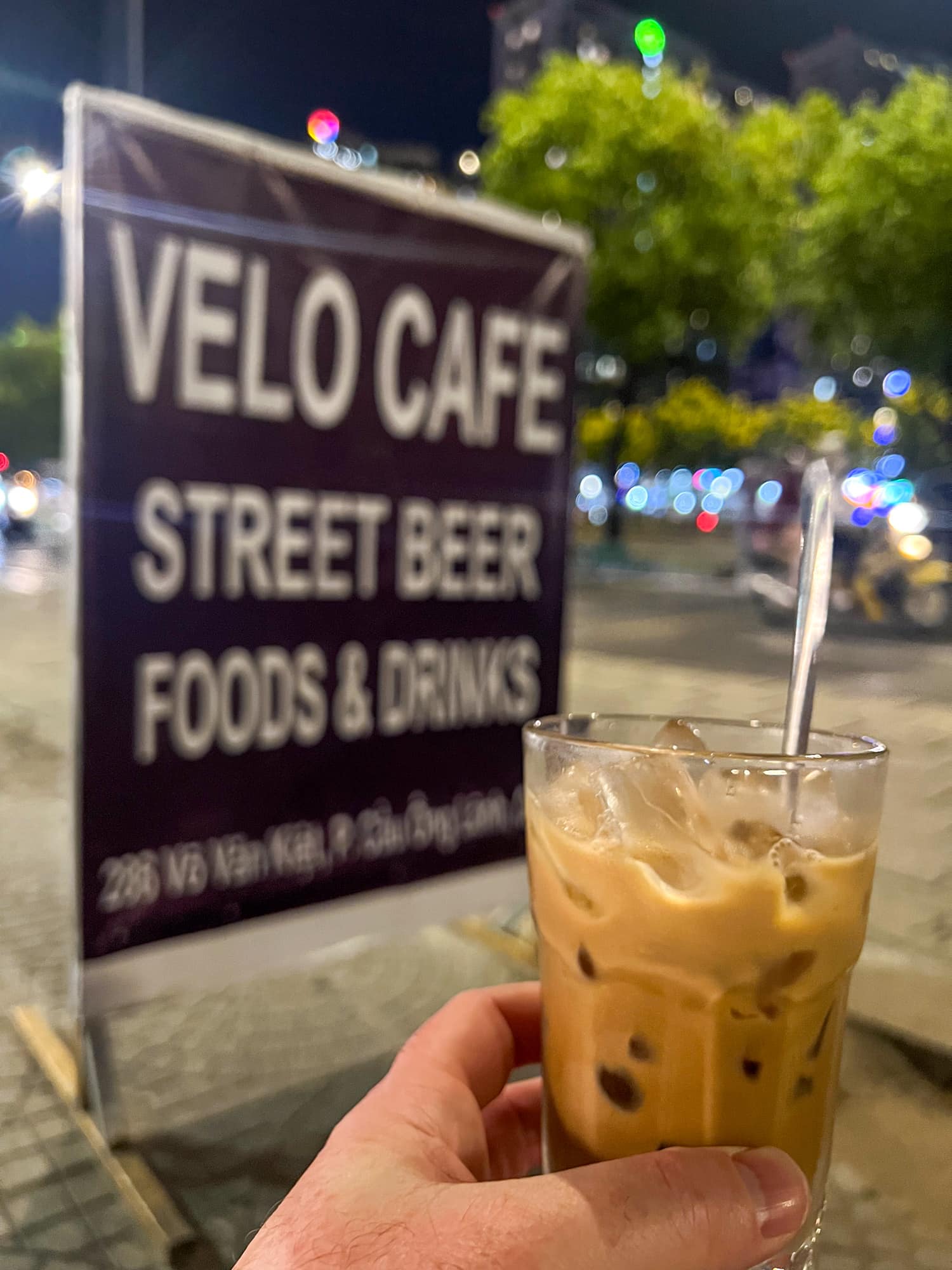 Meanwhile, Kel was sipping on an iced peach tea. Vietnamese cafes typically serve teas and often fresh fruit juices and smoothies.
So, even if you're not a coffee drinker or trying to keep your caffeine consumption down, I encourage you to try Saigon's best cafes.
After about 45 minutes of hanging out at Velo Cafe, we walked a minute up the street to our fifth food vendor.
Banh Cuon Nong (Rolled Sheets)
Banh cuon nong is a dish from North Vietnam made with steamed rice flour pancakes dipped in fish sauce and rolled with eggs, minced pork, and wood ear mushrooms. It's topped with bean sprouts, Thai basil, and fried shallots.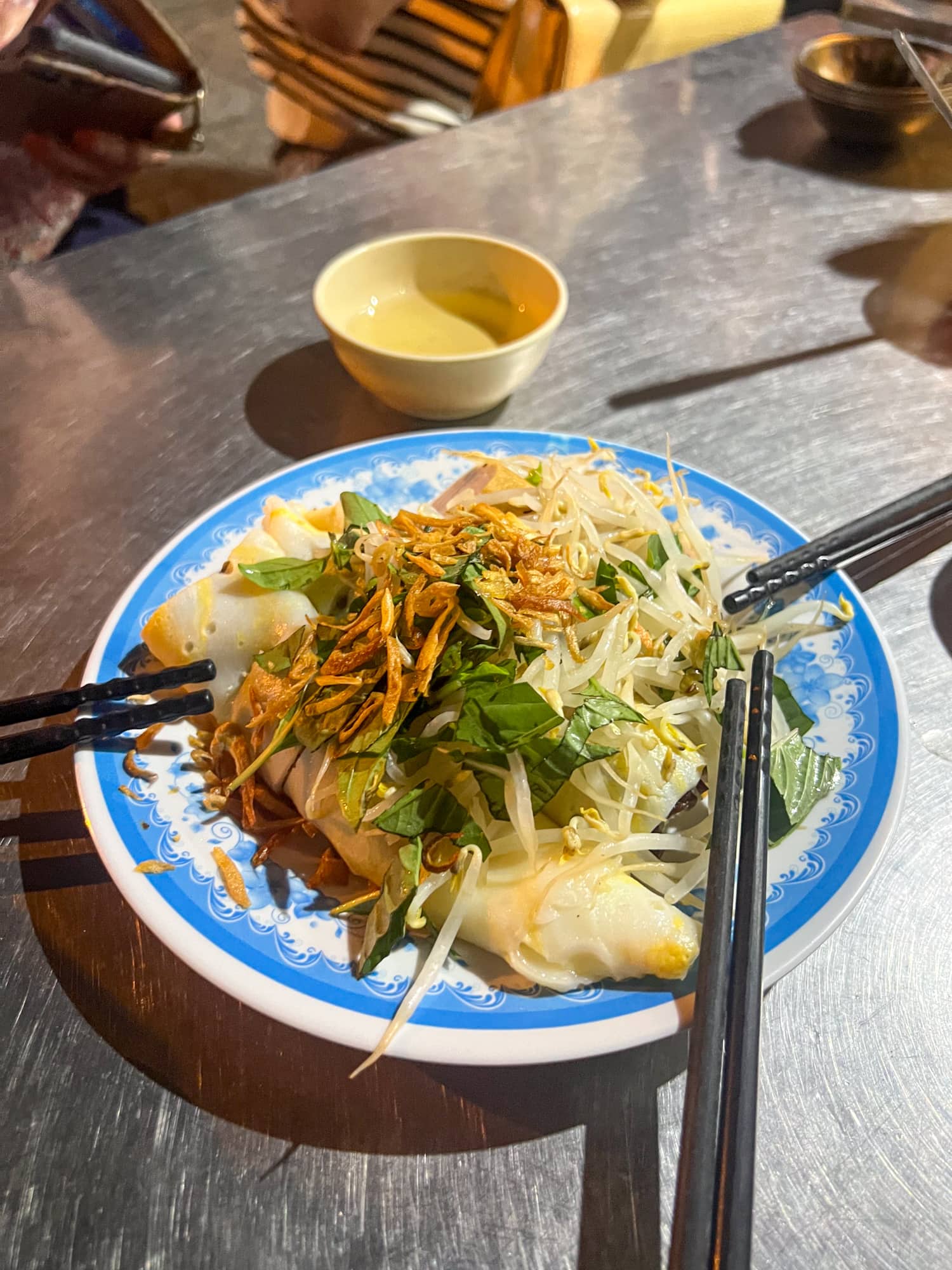 A small bowl of nuoc cham, a typical Vietnamese dipping sauce, was also provided, along with chopsticks.
This light meal is often eaten as breakfast, and while it originated in the north, it can now be found throughout Vietnam.
We were only at this street vendor for about fifteen minutes before we walked another block up the street to our final stop of the night.
Vietnamese Beer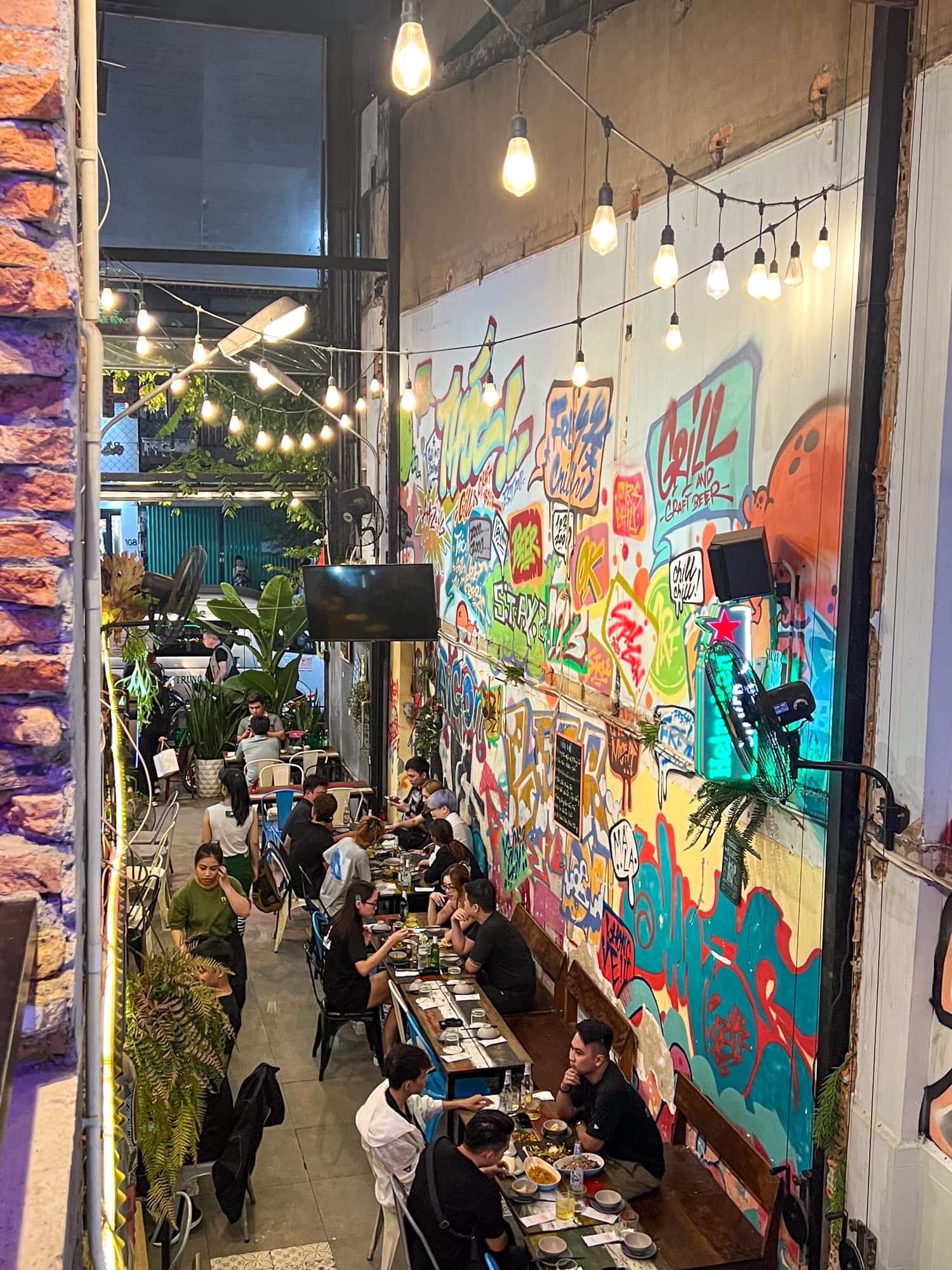 At Thoc Grill & Craft Beer, a large, colorful mural fills one side of the restaurant. Our tour group was led upstairs to a long table, where we were served Saigon Special bottled beer and rice crackers.
I appreciated the entertaining space but was feeling exhausted from jetlag.
I barely managed a sip of the domestic beer, which would be available everywhere, and suggested to Kel that we head back to our guesthouse for the night.
Related: Best Bars in Saigon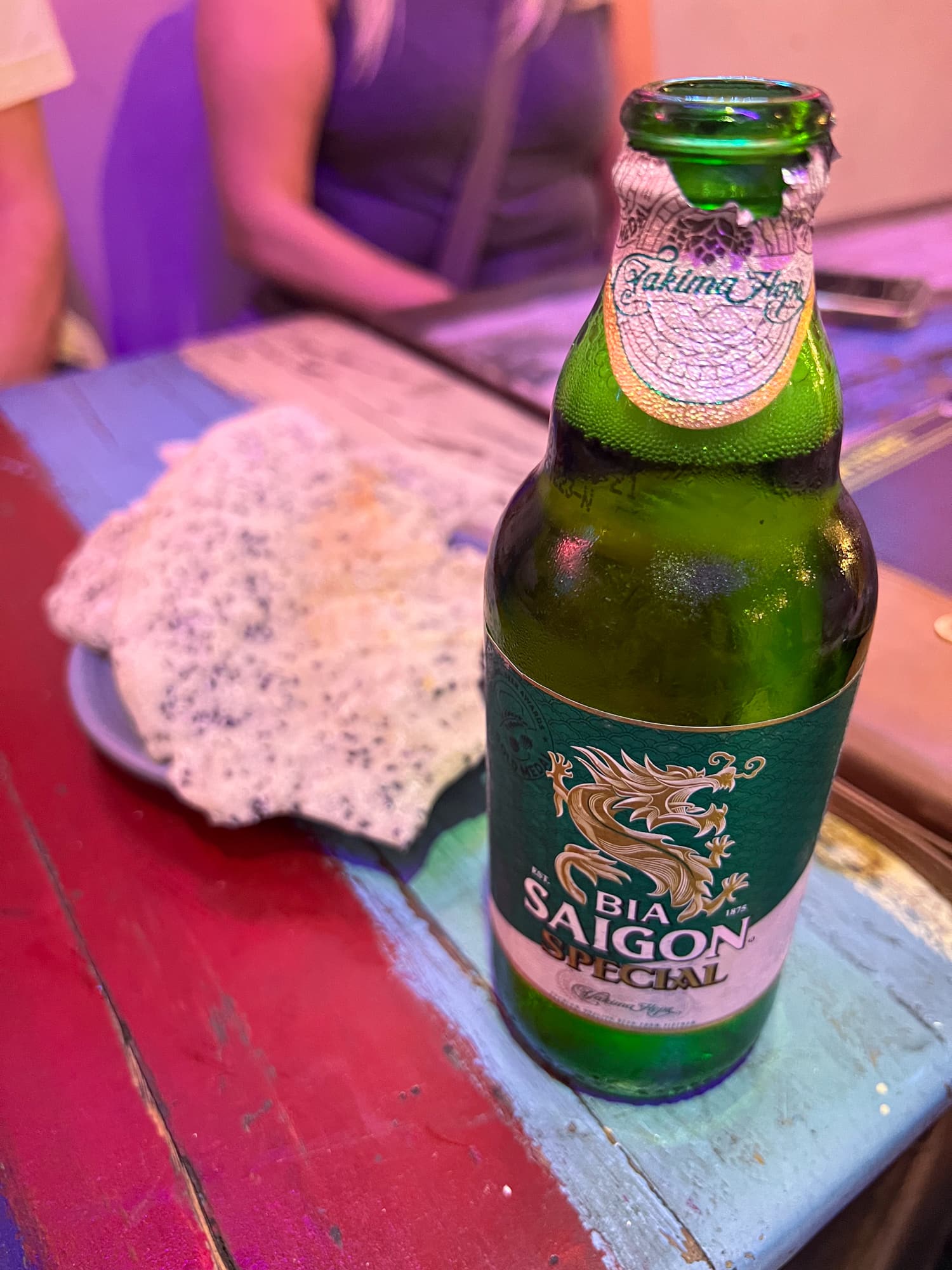 It was about 8:20 p.m., and we'd been walking and eating for about three hours (on top of earlier in the day when we explored District 1 as well).
Final Thoughts
Overall, I felt our Saigon street food tour was well worth the $32 we each paid.
The culinary tour served as an introduction to different dishes found throughout the city (and country). It's perfect for food lovers.
And, short of having Vietnamese friends, it's the best way to gain some confidence and begin ordering street food for yourself.
Whether we went to the best places in District 1 for these specific foods, I can't say.
If you're interested in the walking tour we went on, check it out at urbanadventures.com.
A motorbike food tour is another option for sampling Saigon's cuisine. During these tours, you'll hop on the back of a motorbike and zoom through the streets and hidden alleyways with your guides.
We took a motorbike tour in Da Nang, a coastal city in Central Vietnam, and it allowed us to cover more ground than we would've on foot.
Get Your Guide offers a Food and Sightseeing Motorbike Tour with 11 tastings for $25.