I couldn't pass up the opportunity to explore the best speakeasies in Seattle during my first trip to the Emerald City.
Having written about secret bars in Austin and San Diego, I was excited to see what Seattle offered.
Joining me at all but one of the speakeasy bars on this list was my girlfriend, Kel, whose business trip brought us to the Pacific Northwest.
If you're looking for a speakeasy vibe with incredible cocktails, keep reading. Seattle has some of the most extraordinary spaces I've seen.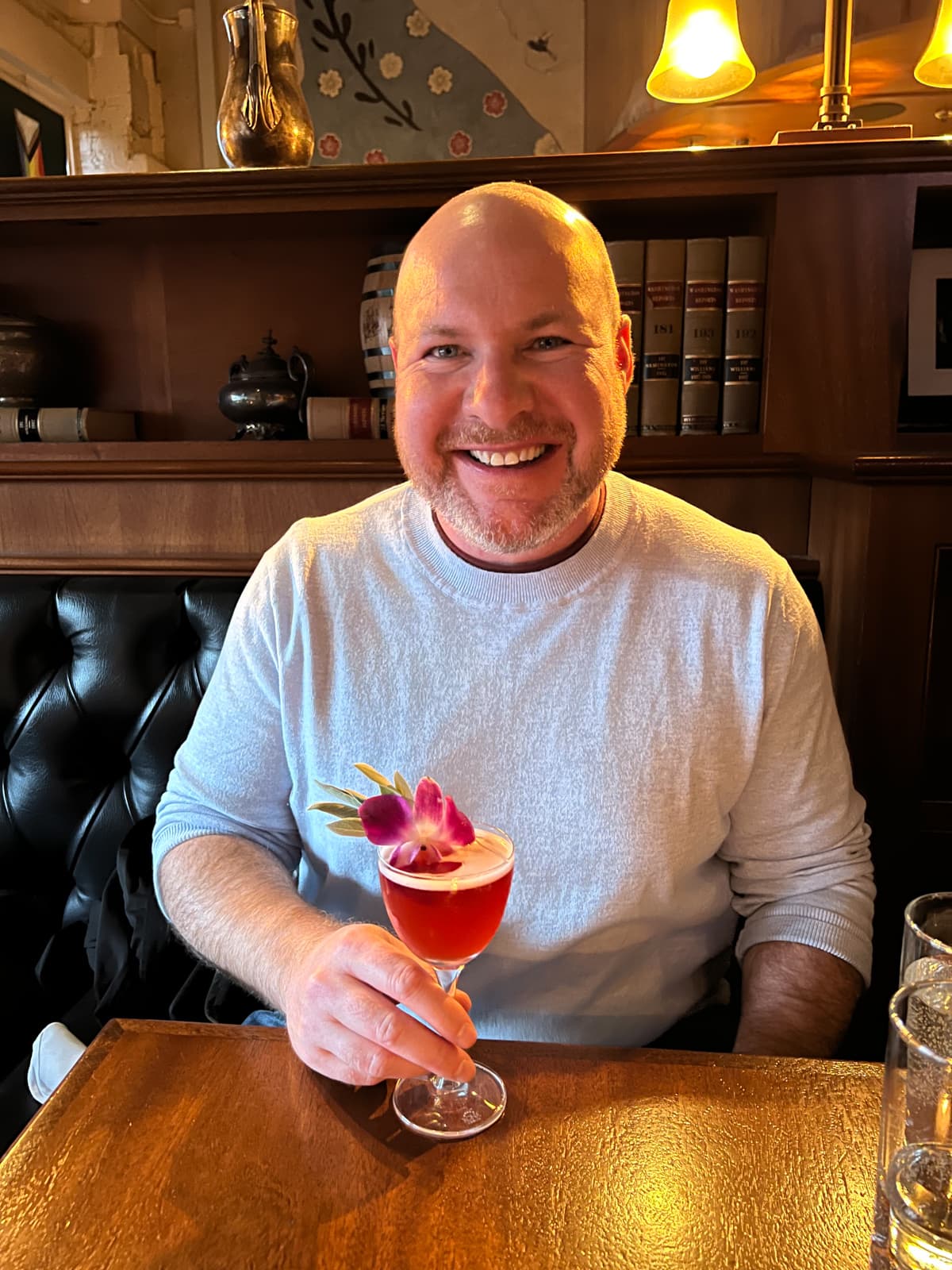 Seattle Speakeasies
1. Needle & Thread
We'll begin our intoxicating journey at Tavern Law restaurant on the southern edge of the Capitol Hill district. Here, you can access the Needle & Thread speakeasy.
Tavern Law takes its name from the "Pioneer Inn and Tavern Law" that U.S. Congress passed in 1832, allowing inns and saloons to sell alcohol to customers regardless of whether they rented a room for the night.
The interior looks like a law library, with lots of bookcases; a roulette wheel hangs over the bar.
We sat at a table opposite a bank vault door by Norris Safe & Lock Co., the entrance to Needle & Thread.
I wanted to spend time at Tavern Law, so we arrived for happy hour ahead of our reservation at the speakeasy.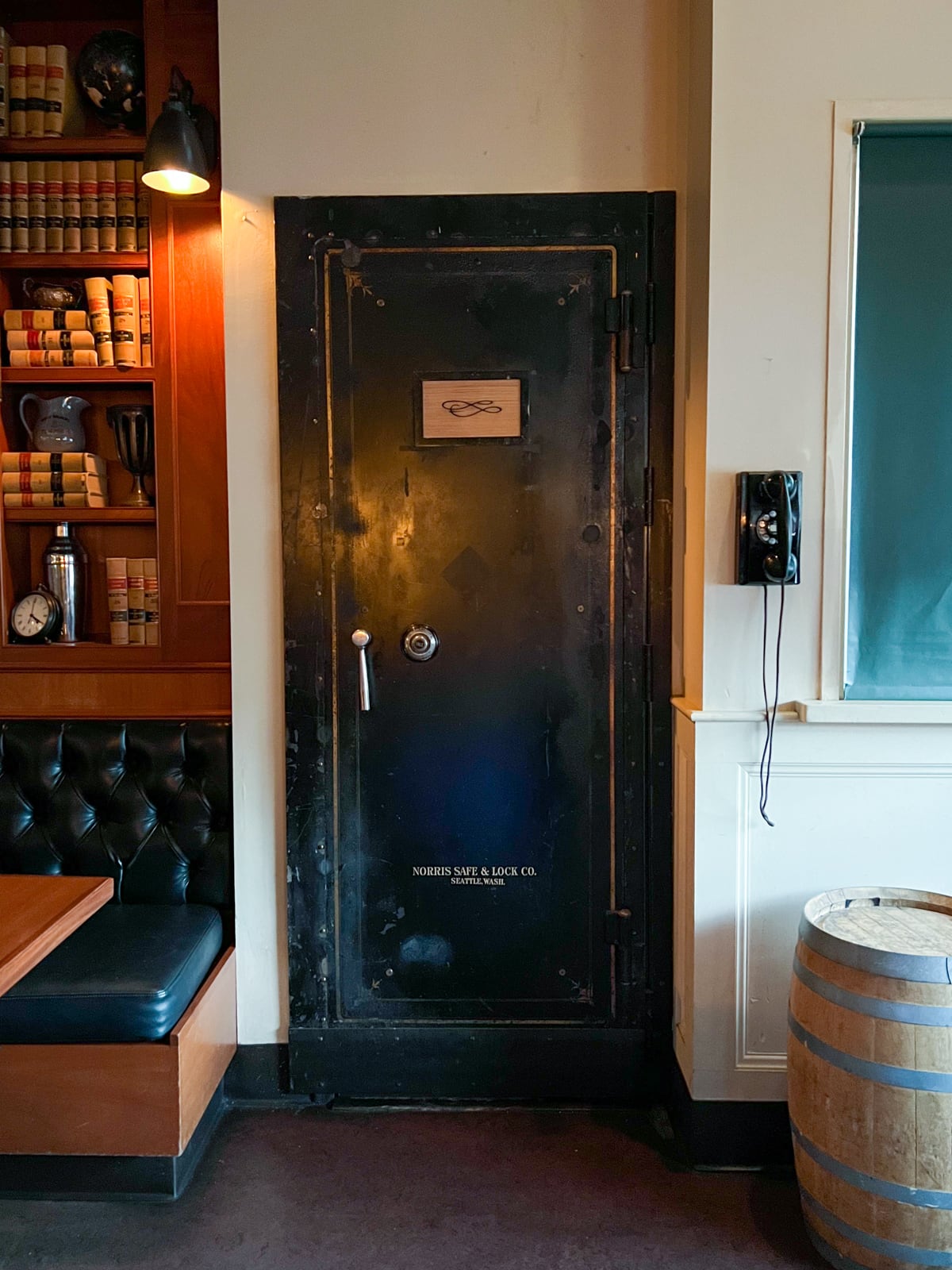 Happy Hour at Tavern Law
It was a good thing, too, because Tavern Law serves amazing cocktails and food.
I ordered a Scarlet Decline with vodka and pomegranate liqueur; Kel got the Bitter & Jaded gin drink.
We shared cheddar and corn cracklins with serrano pepper fondue and a Tavern Burger with onion jam, provolone, and a generous portion of pork belly for dinner.
A slender salted chocolate chip cookie further impressed me.
Full from dinner and our Tavern Law bill paid, it was time to pick up the rotary phone and speak the secret words handed to me by our server.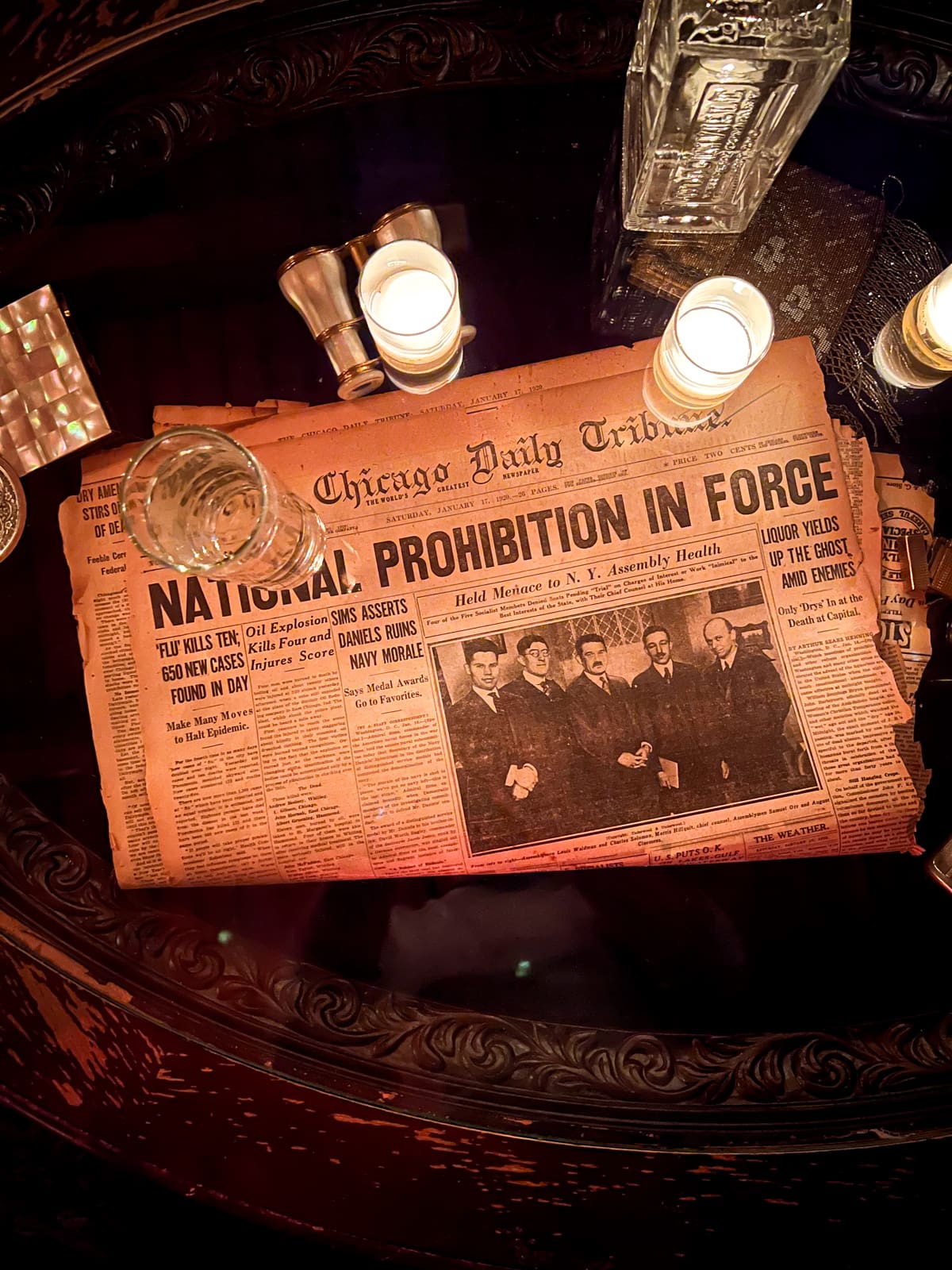 The door to Needle & Thread, hidden in plain sight, opened, and we were led upstairs to an intimate space and one of Seattle's best-kept secrets.
A Prohibition-era copy of the Chicago Daily Tribune set the mood under the glass top of a wooden coffee table.
We sat at the bar, where the bartender inquired about our preferences.
There's no menu at Needle & Thread; great drinks are tailored to the individual guests.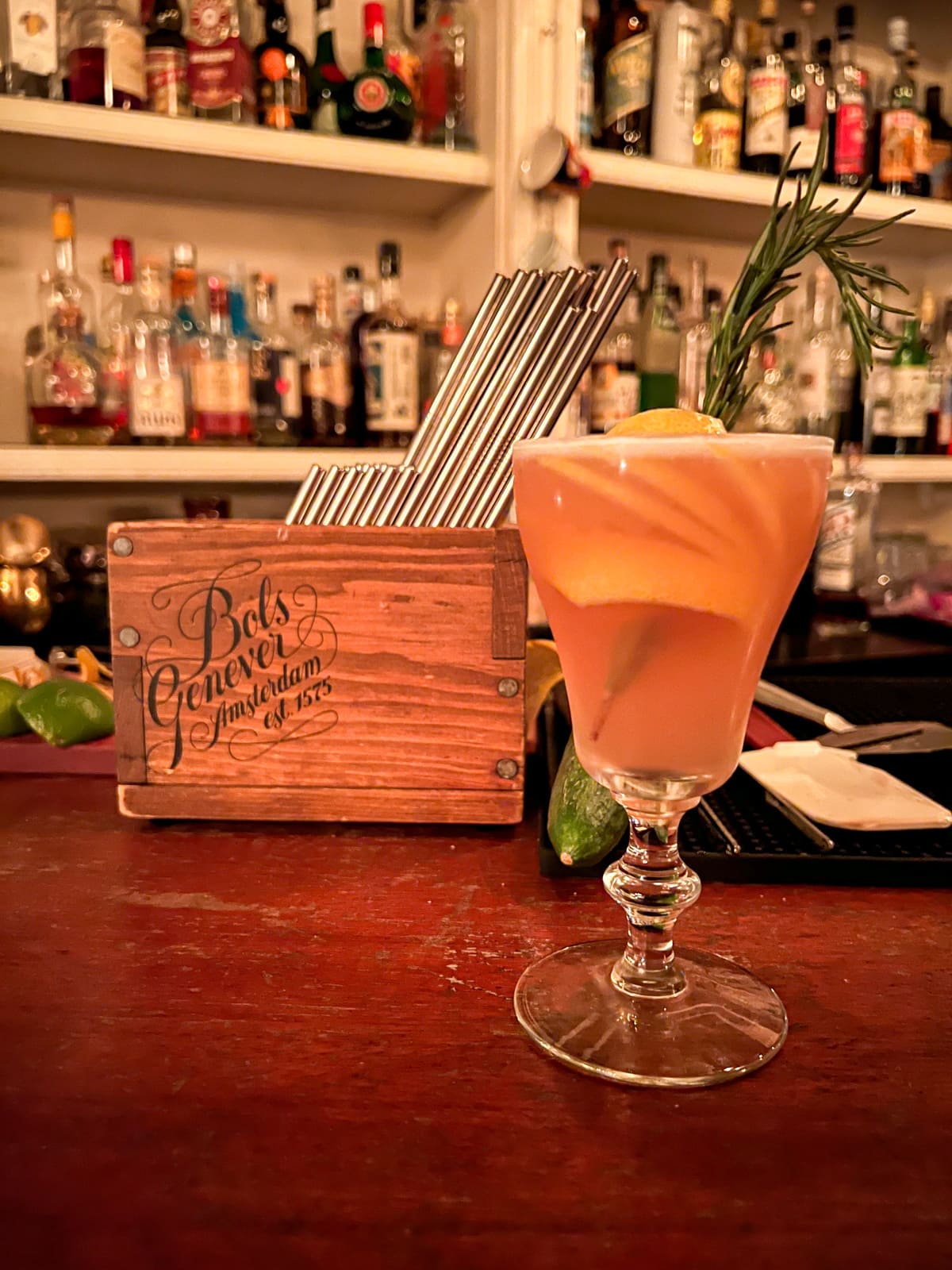 I shared my preferences (citrus, sweet, vodka, gin), and he produced a mixed drink garnished with lemon slice and rosemary that hit all the right notes.
Kel and I chatted with each other and the bartender for about an hour on a relatively quiet night.
If we'd had more people with us, I would've enjoyed sitting around the coffee table or in some of the comfy-looking chairs in the room.
How to visit: Make a reservation for Needle & Thread up to seven days in advance. Tell the host(ess) at Tavern Law you've got a reservation, and you'll receive a password. Pick up the black phone by the bank vault door and state your name and password at the assigned time. Get it right, and the door will open.
1406 12th Ave, Seattle, tavernlaw.com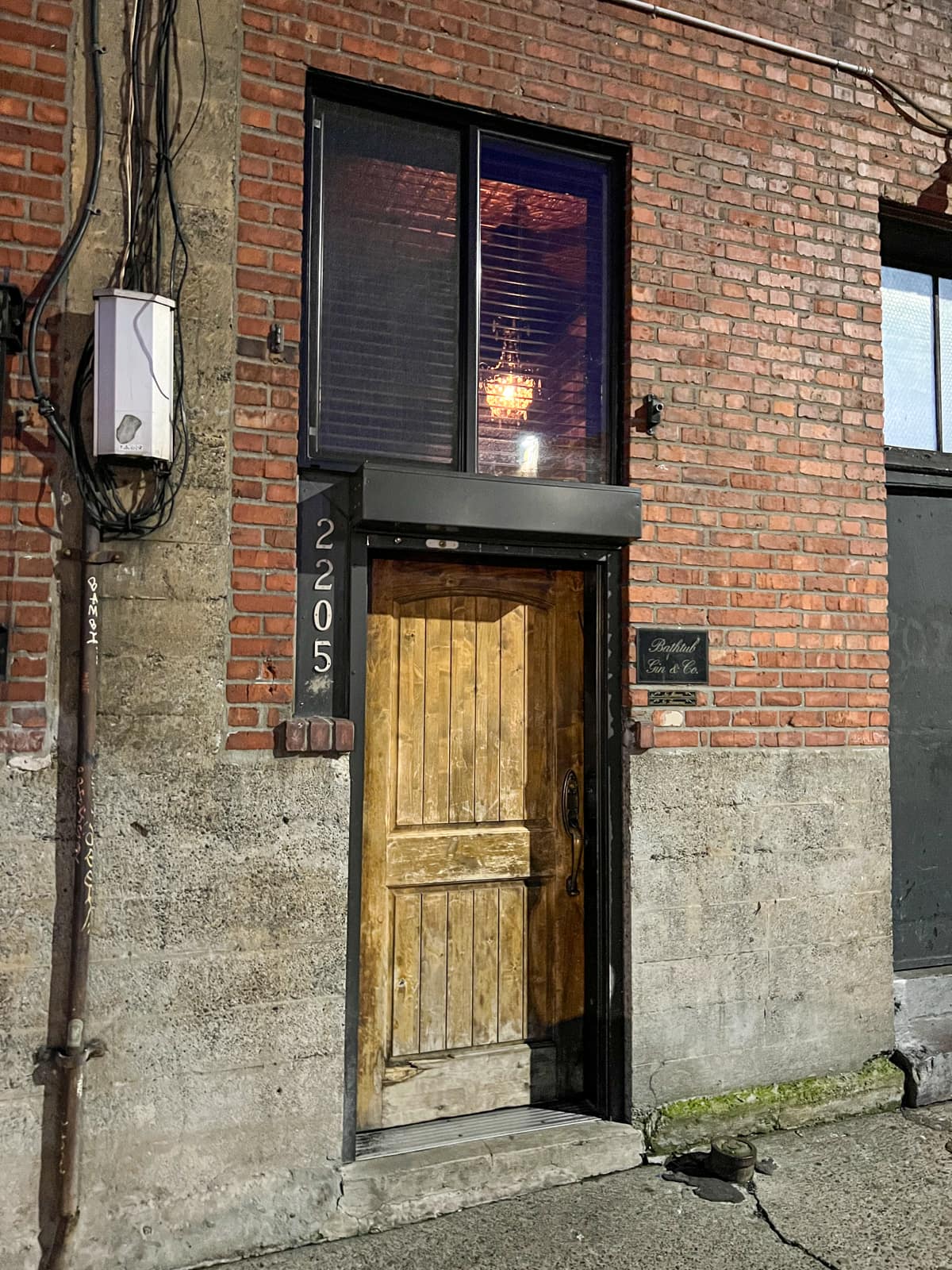 2. Bathtub Gin & Co.
In my pre-trip research, Bathtub Gin & Co. in the Belltown neighborhood near Pike Place Market was often listed as one of the best speakeasies in Seattle.
The entrance to this small, split-level cocktail lounge is through a nondescript wooden door in an alley.
A silver sign on the brick wall and a crystal chandelier visible through the window let you know you're in the right place.
Bathtub Gin opened in 2009 in the old boiler room of a former hotel. Seating is limited, and they don't accept reservations, so unless you arrive when they open, take what you can get.
We walked up a short flight of stairs to cushioned stools at a tiny bar in this cozy hideaway. I counted four small tables on the lower level and one baby bathtub.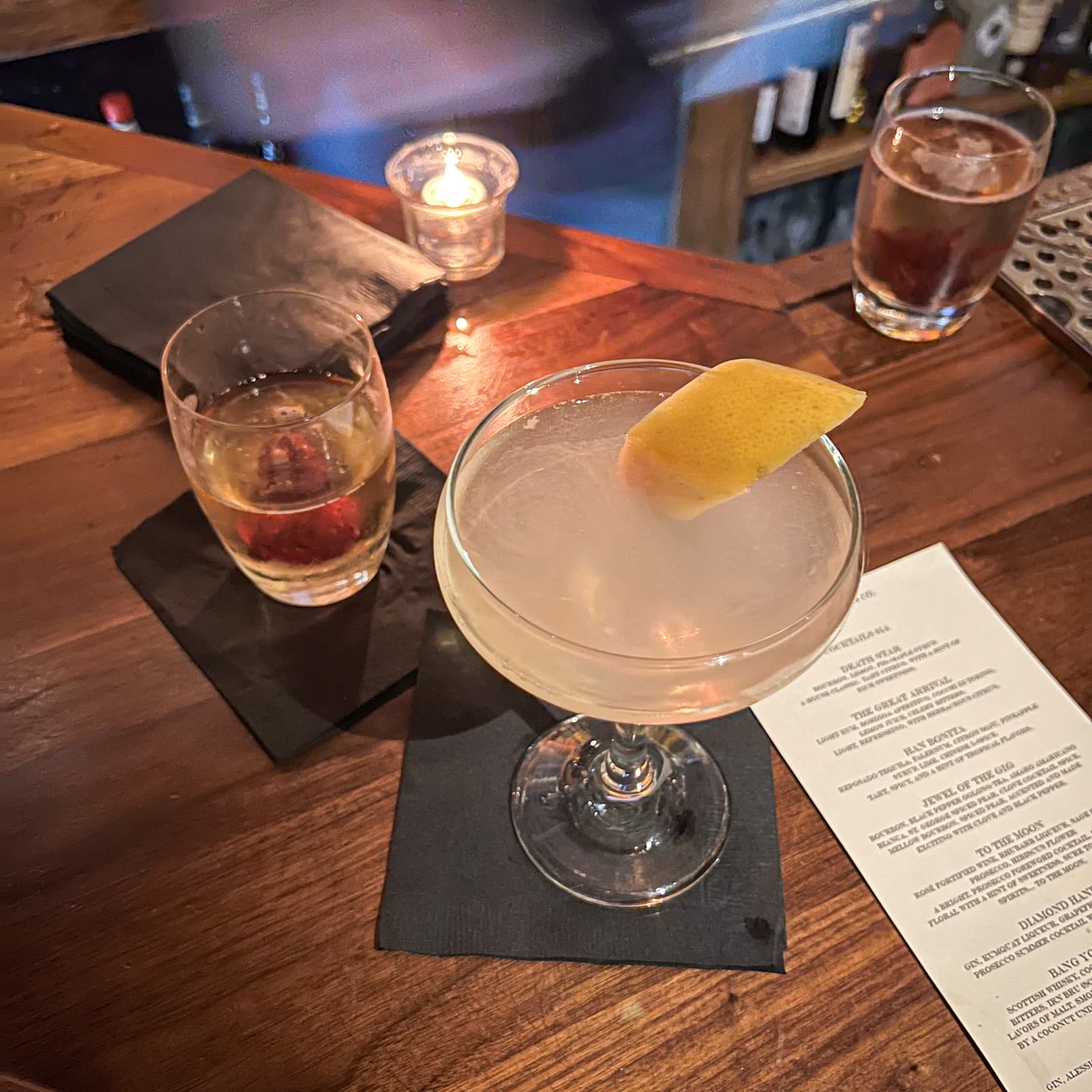 The menu featured many appealing drinks. I tried The Great Arrival with light rum and celery bitters, described as "light, refreshing, with herbaceous citrus," but I didn't like it.
The bartender was kind enough to offer me something else, and I went with Diamond Hands. The combination of gin, kumquat liqueur, grapefruit liqueur, lemon, and prosecco suited me better.
Meanwhile, Kel thoroughly enjoyed To The Moon with fortified rose wine, rhubarb liqueur, sage honey, prosecco, and hibiscus flower.
2205 2nd Ave #310, Seattle, bathtubginseattle.com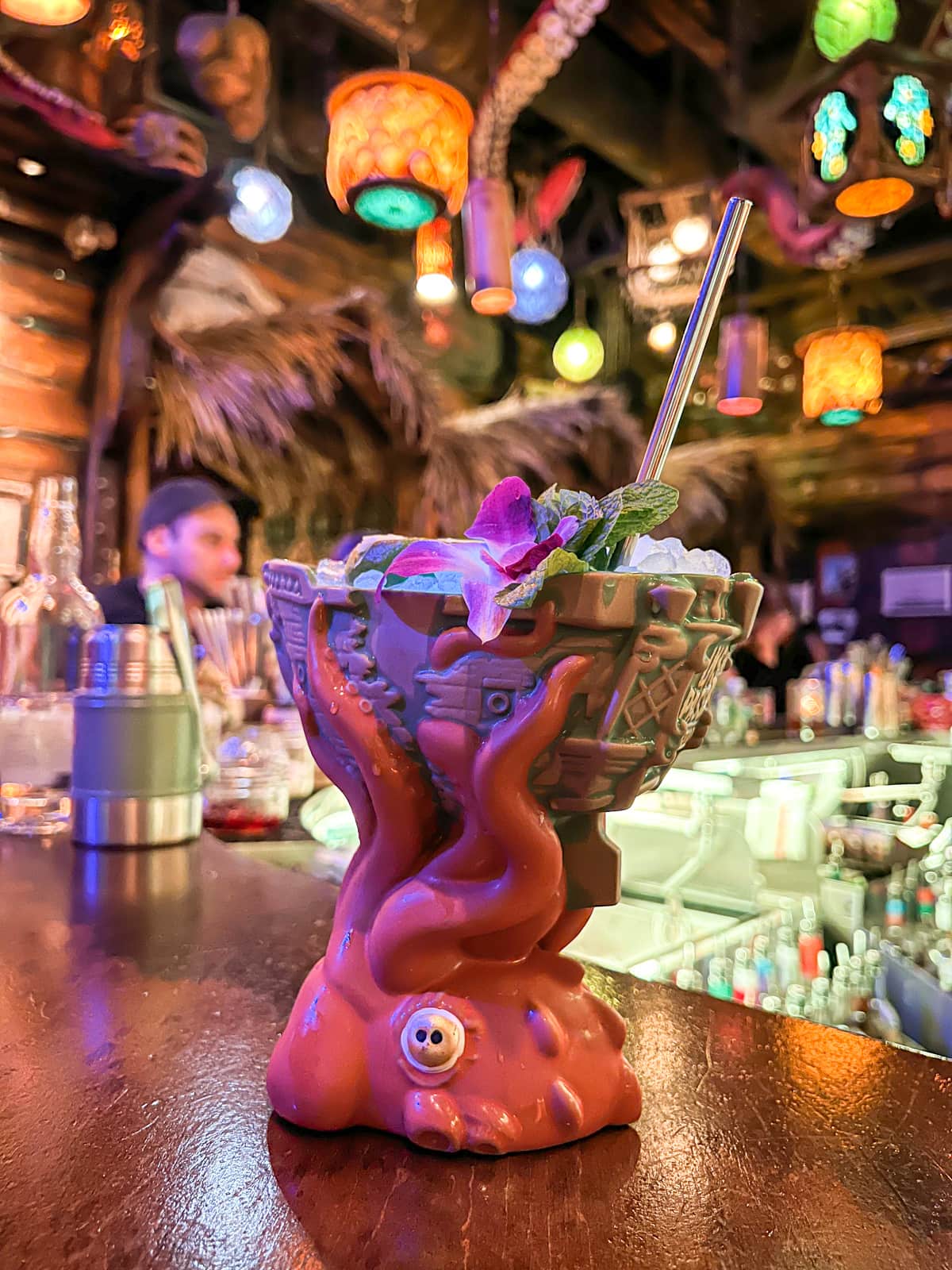 3. Inside Passage
On the same block as the Starbucks Reserve Roastery, back in Capitol Hill, is Rumba, a Caribbean bar featuring more than 200 rums.
It was 8 p.m. on a Sunday, and the place was popping. I hadn't been able to get a reservation for Inside Passage, a separate establishment within Rumba.
It would be a one-hour wait for Inside Passage, winner of Eater's 2021 award for most innovative theme bar.
Since it was our last night in Seattle, we ordered a few rum drinks. When two seats became available, our server let us know, and we paid our bill and entered Inside Passage.
The nautical-themed Seattle speakeasy offers an immersive tropical experience, complete with a sea monster named Kiki, whose 18-foot tentacles sprawl across the space.
We were seated at the end of the bar, where I looked over the innovative cocktails while watching them be made.
I chose the namesake Inside Passage with a mix of Jamaican, Guyanese, and Bajan rums, served in a ship pulled down by Kiki the sea monster.
Other signature drinks include the One-Eyed Willie ("Goonies never say die!") served in a smoking skull and The Amazombie 2.0 (a poke at Amazon.com)
How to visit: Make a reservation up to three weeks in advance; otherwise, walk-ins are welcome. Go to Rumba and either confirm your reservation with the host(ess) or inquire about availability for Inside Passage. You'll be added to the waitlist if seating isn't immediately available.
1108 Pike St, Seattle, insidepassageseattle.com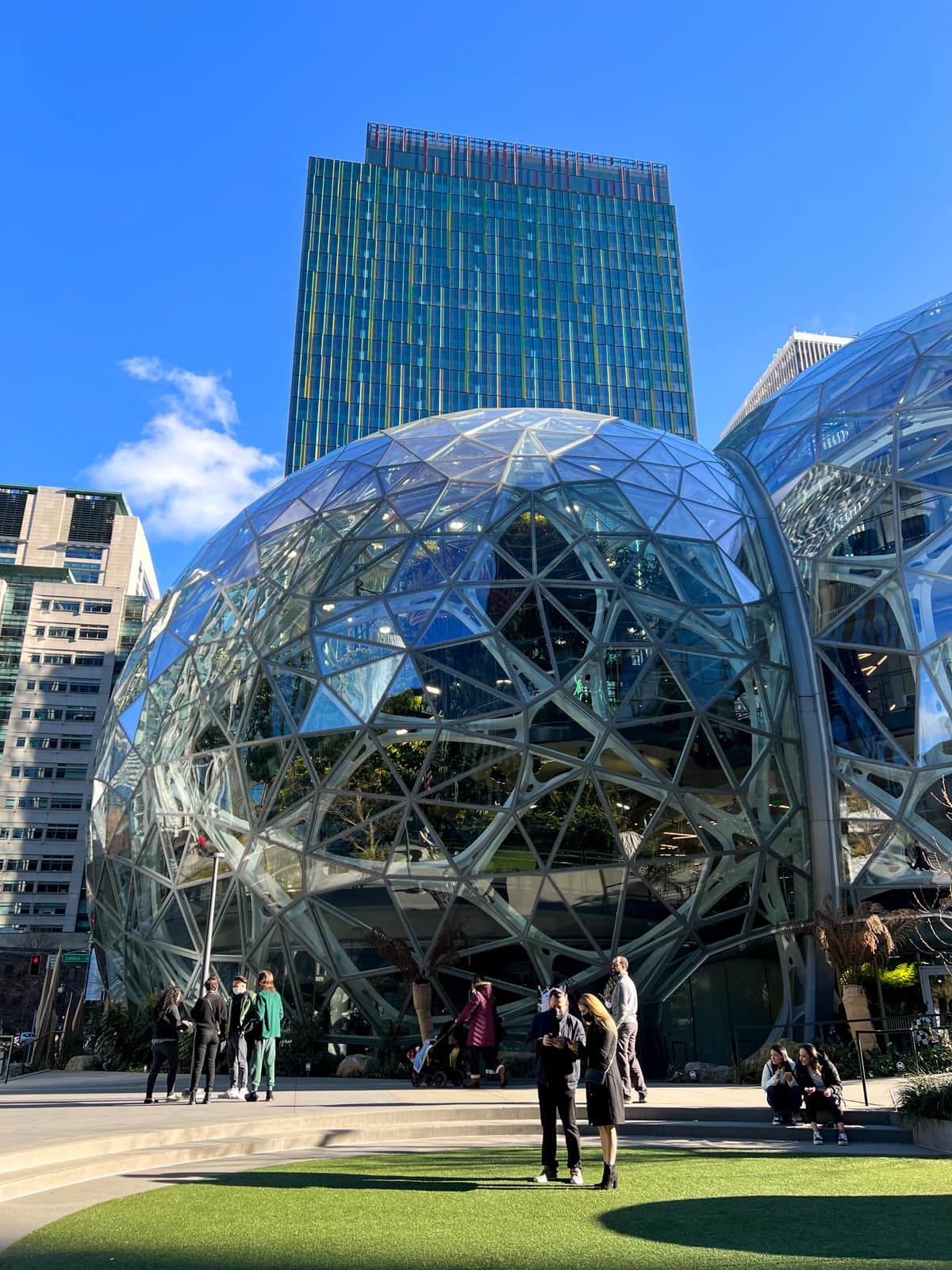 4. Deep Dive
The Spheres, a part of Amazon's corporate headquarters in Seattle, include office space and 40,000 plants from around the world.
It's a unique building, but in keeping with this story's theme, I will focus on the exquisite speakeasy within.
Opened in 2018 at the base of the Amazon Spheres, Deep Dive is essentially a Curtis Steiner art installation that houses a cocktail bar.
The local Seattle artist-curated most of the intriguing items on display in collaboration with friend and owner Renee Erickson of The Walrus and The Carpenter.
Upon entering, one of the first things I noticed was a taxidermied squirrel displayed in a glass case at the bar.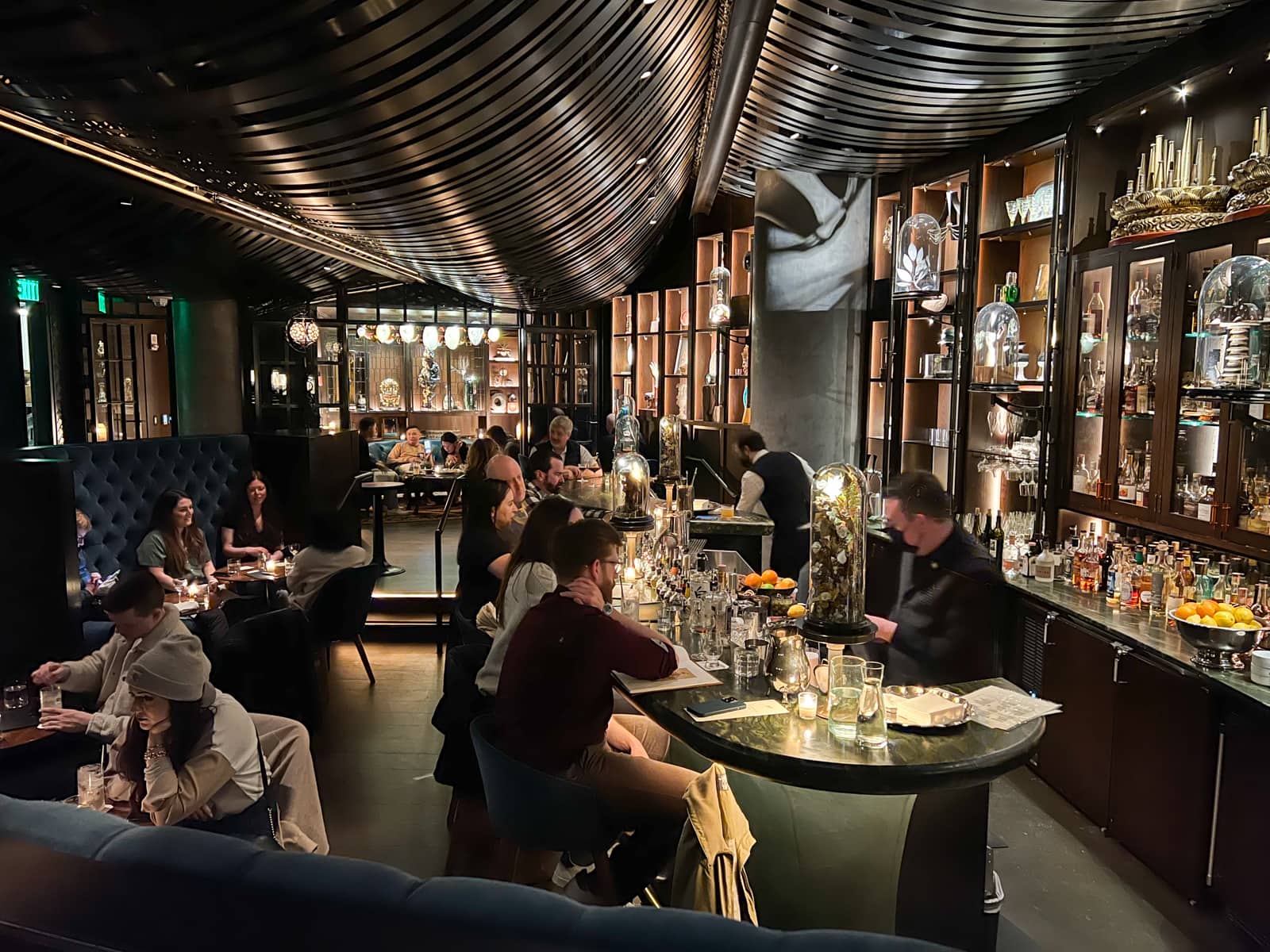 A similar glass case next to the seats Kel and I chose at the bar featured a bottle of Hibiki 21 Years, a rare Japanese whiskey that costs $180 per serving.
Before looking at the menu, I took a quick peek at the back room, which was meticulously set up and simply gorgeous.
A glass chandelier Steiner designed with another local artist, John Hogan, evoked works of art at the Chihuly Garden and Glass Museum.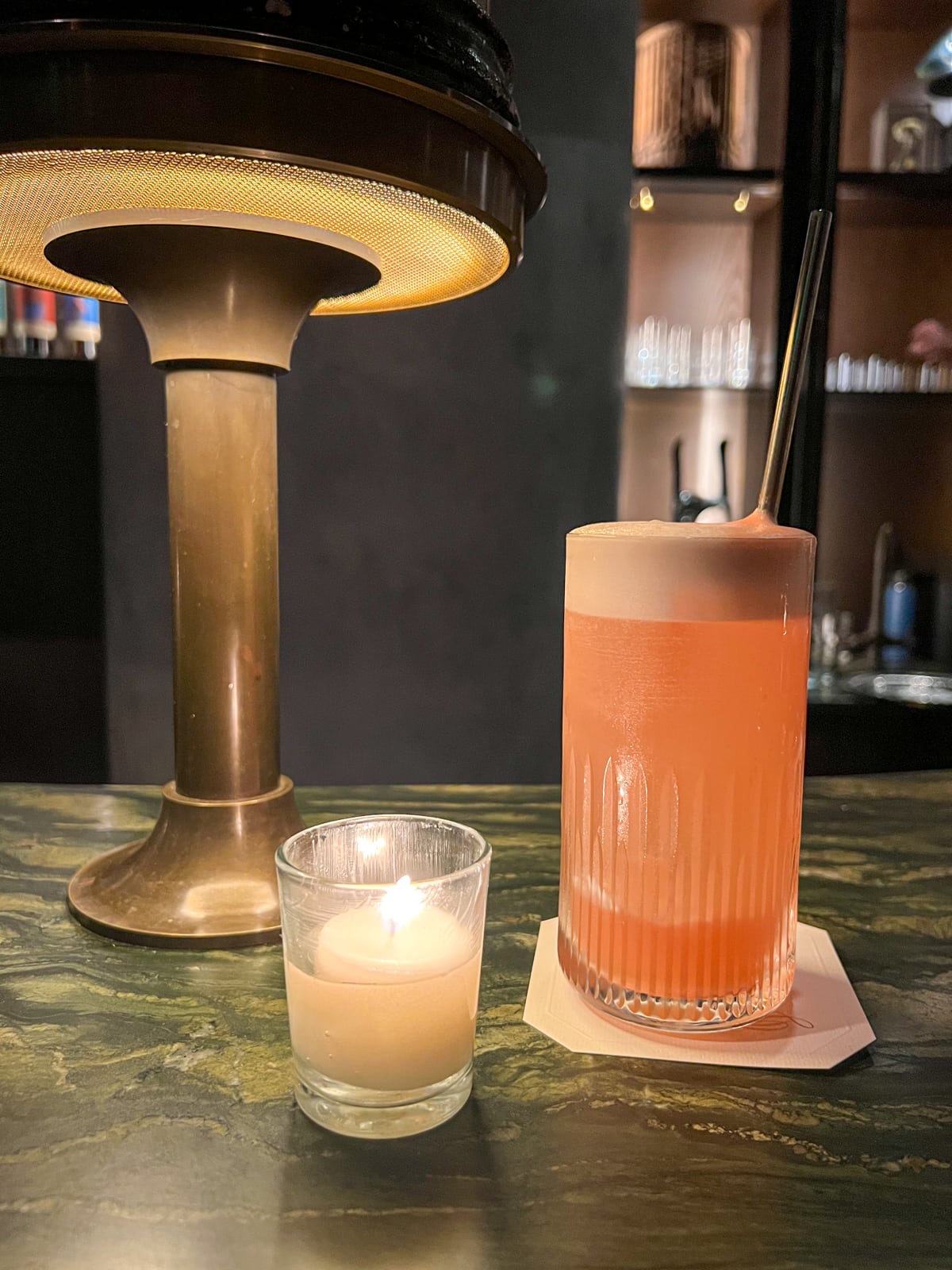 Once my curiosity had calmed down, I returned to the bar and perused the cocktail menu.
I settled on a Cosmo Fizz with vodka, cranberry shrub, lime, orange, cardamom, rose cider, and egg white.
The complex yet delicate drink made by expert bartenders was delightful and refreshing.
Deep Dive is easily one of Seattle's best speakeasy bars and one I would gladly revisit the next time I'm there.
How to visit: Reservations are available via OpenTable on Sundays; otherwise, get there when it opens to ensure a seat.
620 Lenora St, Seattle, deepdiveseattle.com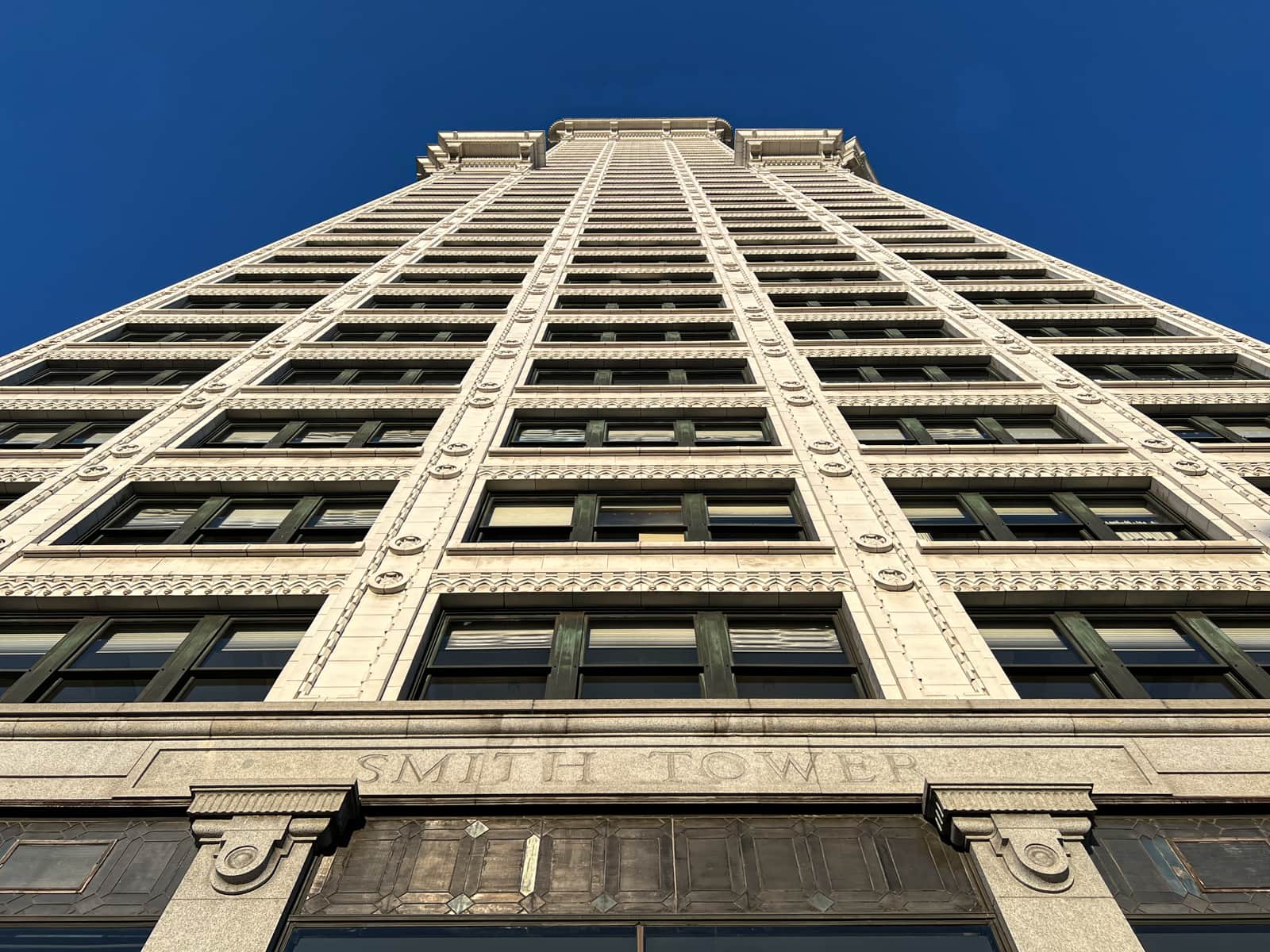 5. Smith Tower Observatory Bar
Occupying the 35th floor of the historic Smith Tower skyscraper on Second Avenue in downtown Seattle, the Smith Tower Observatory Bar offers spectacular 360-degree views.
On a chilly, blue-sky afternoon, I approached Seattle's oldest skyscraper, which opened more than 100 years ago on July 4, 1914.
It was the tallest building west of the Mississippi River and remained the tallest building on the West Coast until the Space Needle opened in 1962.
Access to the Observatory and bar, which includes exhibits on the history of the building, a ride in the original Otis elevators, and scenic views from the top, cost $19.
Roy Olmstead, one of the Pacific Northwest's most successful bootleggers during Prohibition, operated a radio station with his wife from the Smith Tower.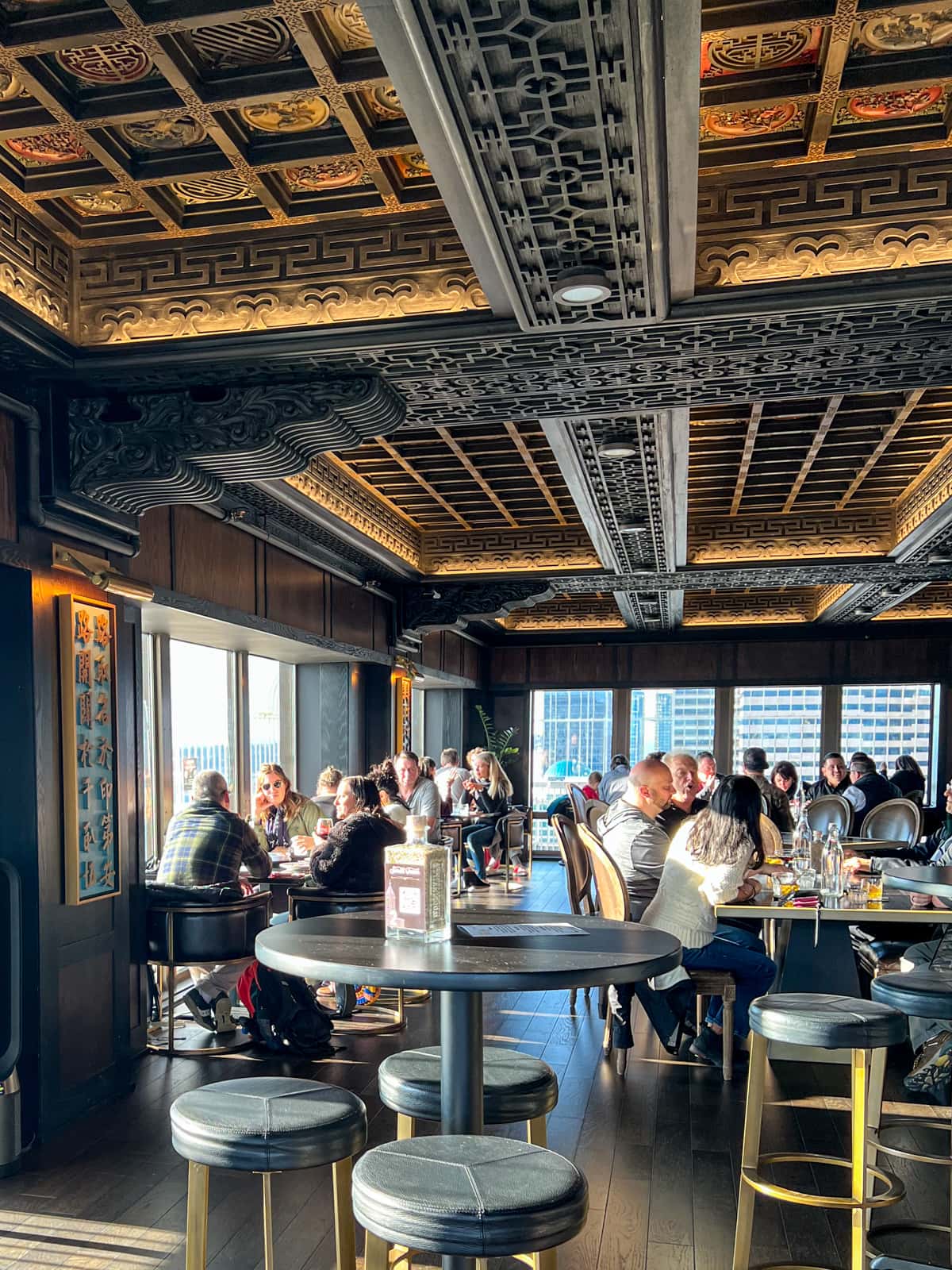 On the 35th floor, you'll exit the elevator into The Chinese Room, adorned with an incredible wooden ceiling.
A host showed me to a cushioned stool facing south toward T-Mobile Park, home of the Seattle Mariners. But I didn't sit long.
Before ordering my drink, I walked around the outdoor observation deck. Signs act as a guide to notable buildings and geographical features.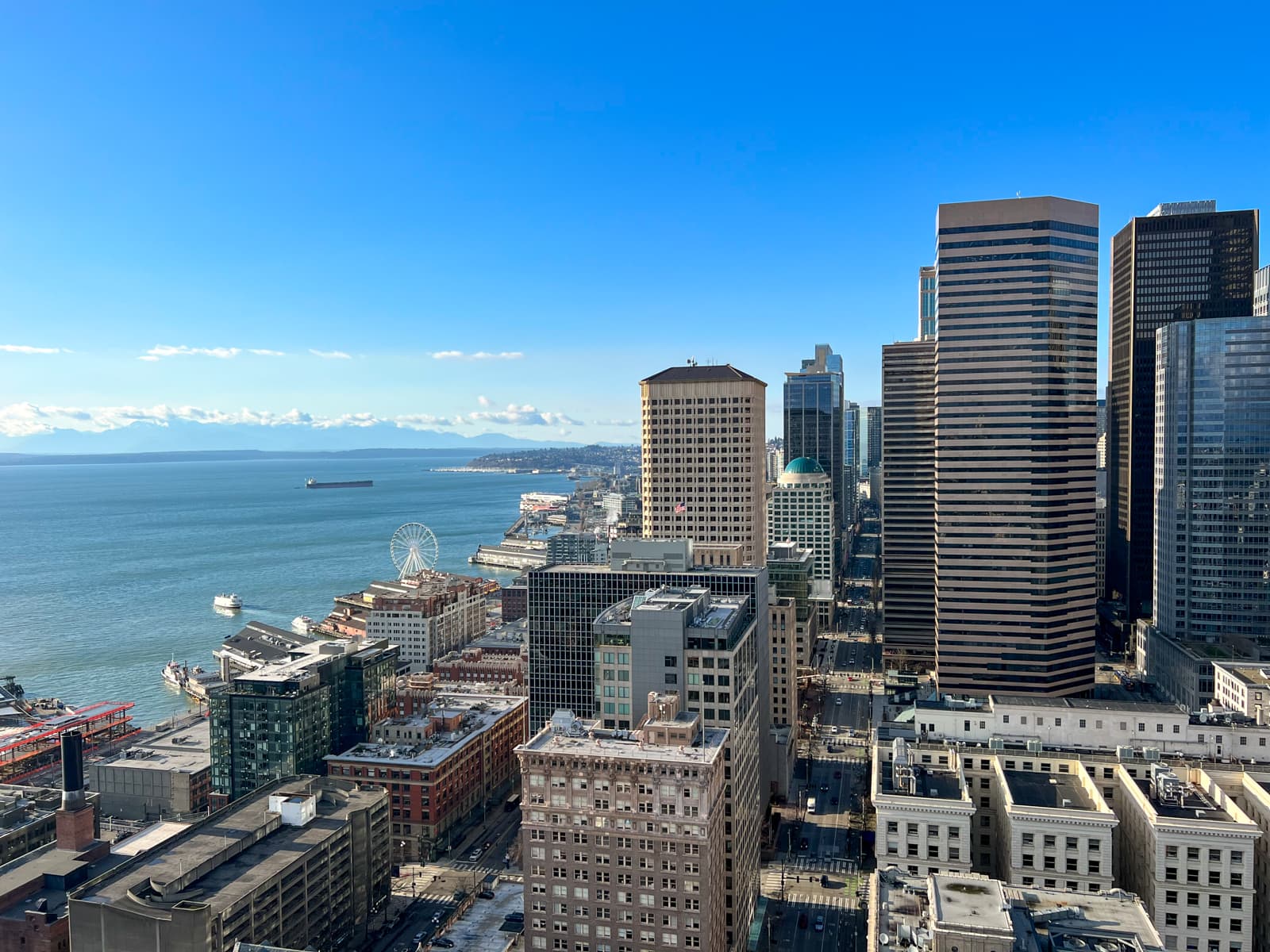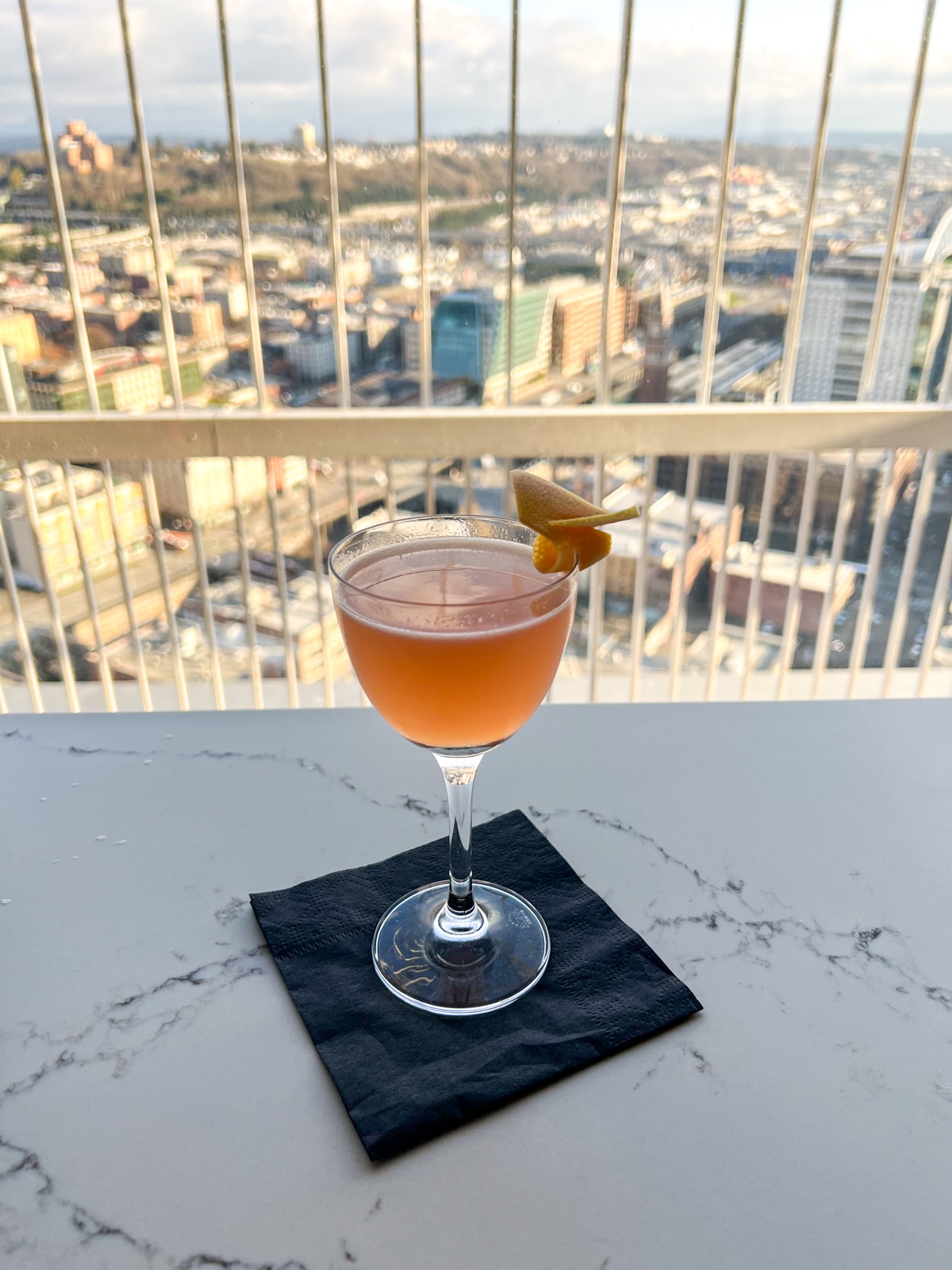 Once I'd made my way around the deck, I returned to my seat and ordered a Pink Elephant cocktail with orange-infused Wheatley Vodka. It was crisp and refreshing.
Signature cocktails run from $12 to $16, which isn't bad if you stay awhile. Otherwise, admission and a quick drink plus tip can total $40 or more, making it one of the pricier Seattle bars.
Fans of the Old Fashioned have nine to choose from, three of which are barrel-aged and available as a flight for $30.
Barrel-aged cocktails are available, too, including a negroni, mai tai, and paper plane.
How to visit: Enter the Observatory check-in two doors from the main lobby and pay for admission. A self-guided tour leads to an elevator, where you'll be taken to the Observatory and bar. Seating is first-come, first-serve in this Seattle speakeasy, so arrive early to ensure seating. The Observatory is open after 3 p.m., Wednesday to Sunday.
506 2nd Ave #35, Seattle, smithtower.com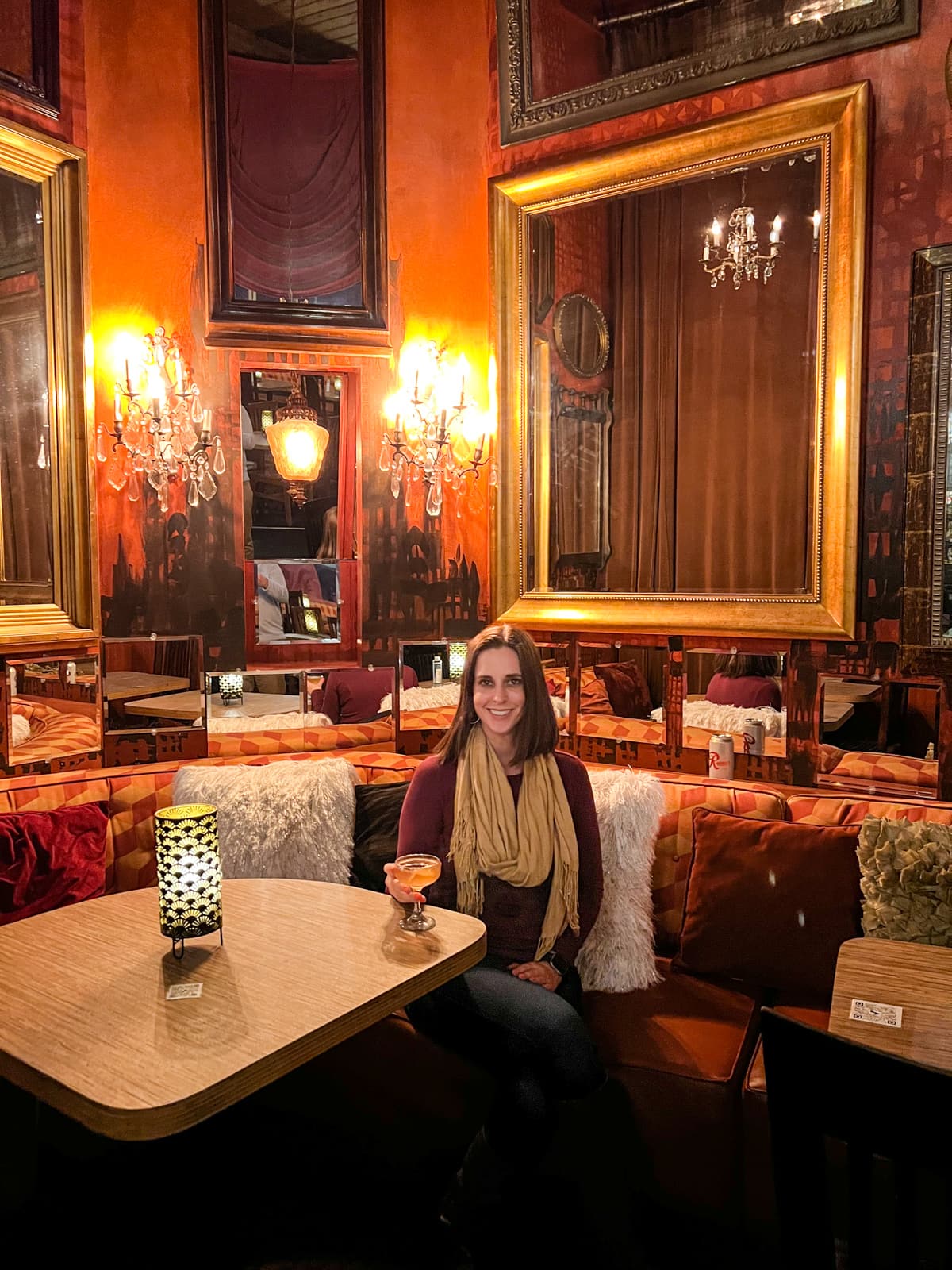 6. BackDoor
The BackDoor is a speakeasy bar behind Roxy's Diner and Norm's Eatery in the Fremont neighborhood.
Kel and I liked the decor, including painted murals on the walls, chandeliers, and re-purposed windows hanging from the ceiling.
One cozy corner, pictured above, had cushy seating with fluffy pillows and many mirrors.
I ordered the Purple Flamingo, described as "a tropical trip on a winter's night." The tall, fruity cocktail was made with Wheatley Vodka and black currant puree, among other lesser ingredients.
In addition to a rotating list of seasonal signature drinks, you can order classic cocktails and locally produced wine, beer, and cider.
How to visit: Reservations can be made through OpenTable or walk in.
462 N 36th St, Seattle, backdoorfremont.com
This next speakeasy was visited by Kel only, and she describes it in her own words.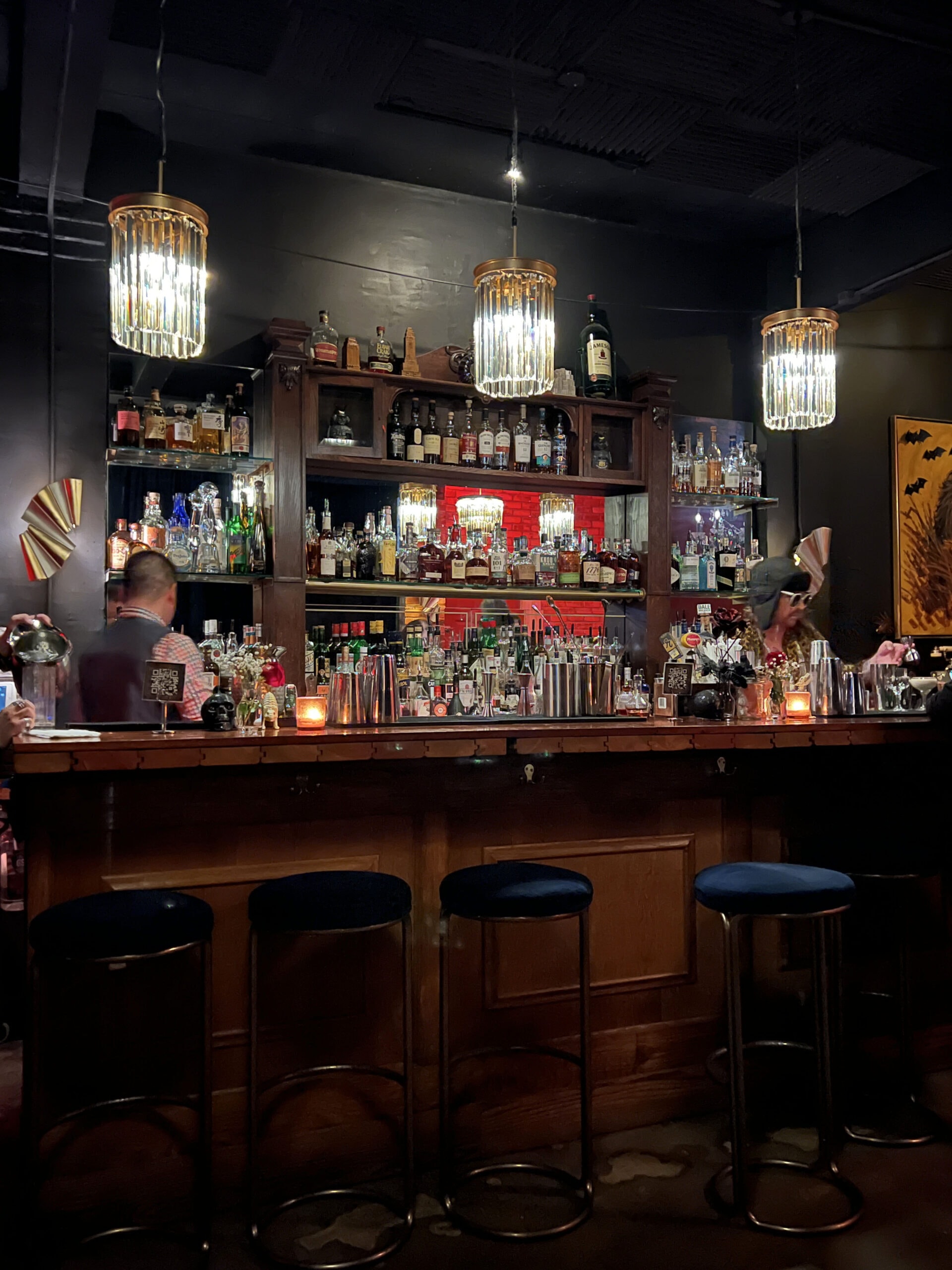 7. The Alley
Nestled in a nook off California Avenue's alley, this West Seattle speakeasy is easy to miss. Black walls, chandeliers, and a well-stocked bar create a cozy atmosphere.
The drink menu furthers the Prohibition-era vibe with Bee's Knees, Sidecars, and Hemingway Daiquiris.
Other eras are featured on the Art Deco menu, including the Golden Age 1860-1919, Repeal 1934-1960, Dark Ages 1970-1995, and the Renaissance 1996-Present.
Classics like Old Fashioneds and Sazeracs and original creations are offered by the bartenders on duty. 
My friend Angie chose a Tequila Sunrise with tequila, orange, and grenadine, topped with a cherry.
A neighboring table's drink, Naked & Famous (mezcal, yellow chartreuse, lime), looked tempting, but I opted for the Jungle Bird.
The bartender happily subbed my rum for gin in the Dark Ages-era cocktail, which included Campari, demerara, pineapple, and a slice of lime.
Our strong, smooth drinks paid homage to libations made in dark corners long ago.
The speakeasy, which opened in the summer of 2018, offers small bites nightly and jazz music on Sundays.
How to visit: Enter through the back of the building off the California Avenue alley. The speakeasy is behind the Bonjour Vietnam restaurant, facing a parking lot near SW Oregon Street. Look for the small nook, walking through the glass doors with metal bars. If no one directs you to the secret opening, face the metal lockers and open the third door from the bottom right. Pull the door handle to swing the lockers open. Seating is first-come, first-serve, so arrive early. The Alley is open from 5 p.m. to Midnight, Sunday to Thursday, and 5 p.m. to 2 a.m. Friday and Saturday.
4509 California Ave SW, Seattle, thealleyws.com
Speakeasies I Didn't Get To
It was challenging to fit these six speakeasies into a long weekend in Seattle. There were a few places I didn't get to, which will have to wait for next time.
More noteworthy speakeasies in Seattle:
Knee High Stocking Co. - Craft cocktails and Filipino-American comfort food by reservation only, Thursday to Saturday. Anthony Bourdain featured it on one of his TV shows.
Tin Lizzie Lounge - Prohibition-style speakeasy with an antique bar in the MarQueen Hotel.
The Diller Room - Dating back to 1890, this speakeasy is in the lobby of the former Diller Hotel. During Prohibition, a Chinese laundry operated on the ground floor, a front to continue selling alcohol.