The Sand Bar Cottage Inn is a charming bed and breakfast in the heart of Bar Harbor, Maine. Housed within a historic building that offers stylish decor and modern comforts, the inn provides a warm and inviting atmosphere.
This B&B on Frenchman Bay is the perfect place to relax and recharge between outdoor adventures on land and water.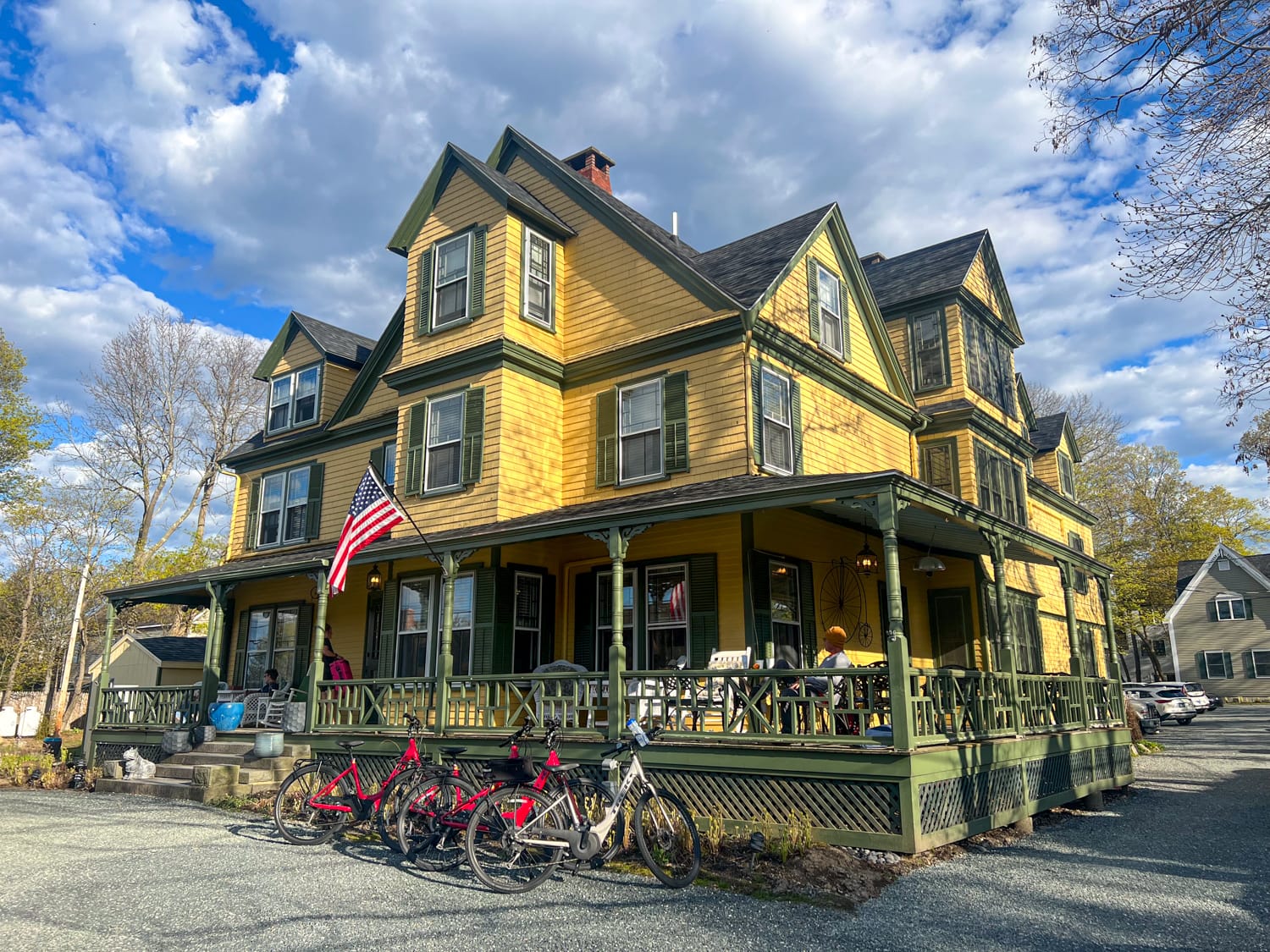 I arrived at Sand Bar Cottage on the first day of a three-day tour of coastal Maine with Summer Feet Cycling.
The cycling trip in Acadia National Park was arranged as a part of my attendance at the AdventureELEVATE North America conference in Portland, ME. The purpose of the event is to promote adventure travel.
We pulled into the B&B's gravel driveway after spent driving up the coast from Portland and cycling the Schoodic Peninsula of Acadia.
My first view of the original three-story, yellow-and-green Boscobel Cottage (seen above) had me excited to see inside.
Sand Bar Cottage
History
The main building was constructed in 1887 by Colonel James Foster. One year later, the Chauffeur's Cottage was built on the same property to serve as the servants' quarters.
To the right of the front door, a plaque indicates The Manor House Inn has been added to the National Register of Historic Places.
Location
Sand Bar Cottage lies between Billings Avenue and Eden Avenue in the West Street Historic District.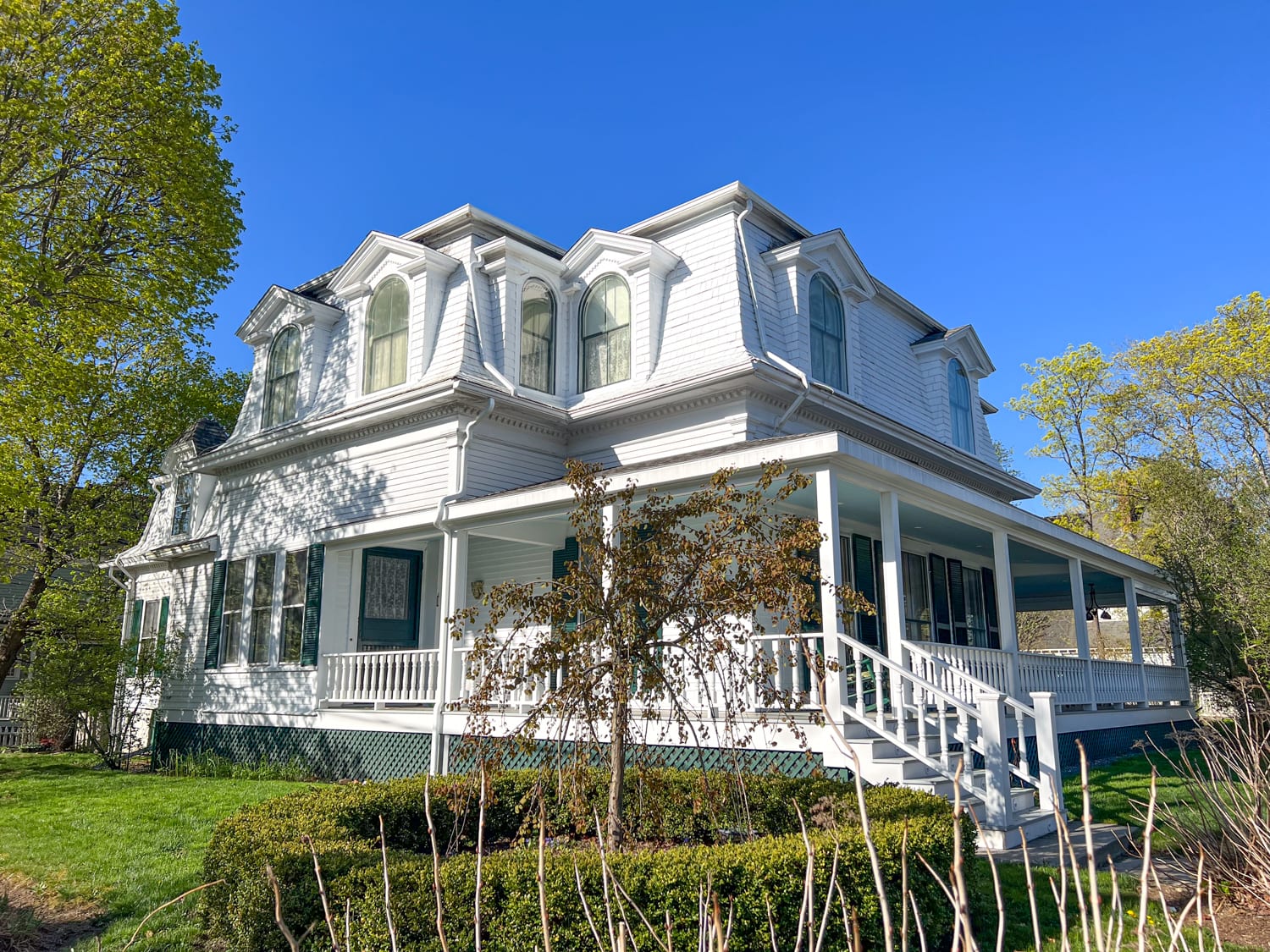 Here you'll find 17 well-preserved summer cottages built between 1870 to the 1910s by wealthy families who vacationed in Bar Harbor.
One of the most impressive is "La Rochelle," a 41-room red brick mansion that resembles a French Chateau.
Today, it's home to the Bar Harbor Historical Society and is open to the public. Adult admission is $15, and a weekly guided tour is available for $20.
A short five-minute walk east of Sand Bar Cottage will take you to the village green, Agamont Park, and many fun seafood restaurants.
Walk one block north of the inn, and you'll reach the waterfront, where you can walk across a Bar Island Land Bridge (a sand bar) to reach Little Island.
Warning: this can only be done 90 minutes before or after low tide. Trying to cross at any other time of day can leave you stranded on Little Island for 9 hours.
I didn't walk across it; however, several others on my tour did so early in the morning during low tide.
Common Areas
The first thing I noticed upon entering the Sand Bar Cottage Inn was the attractiveness of the interior rooms.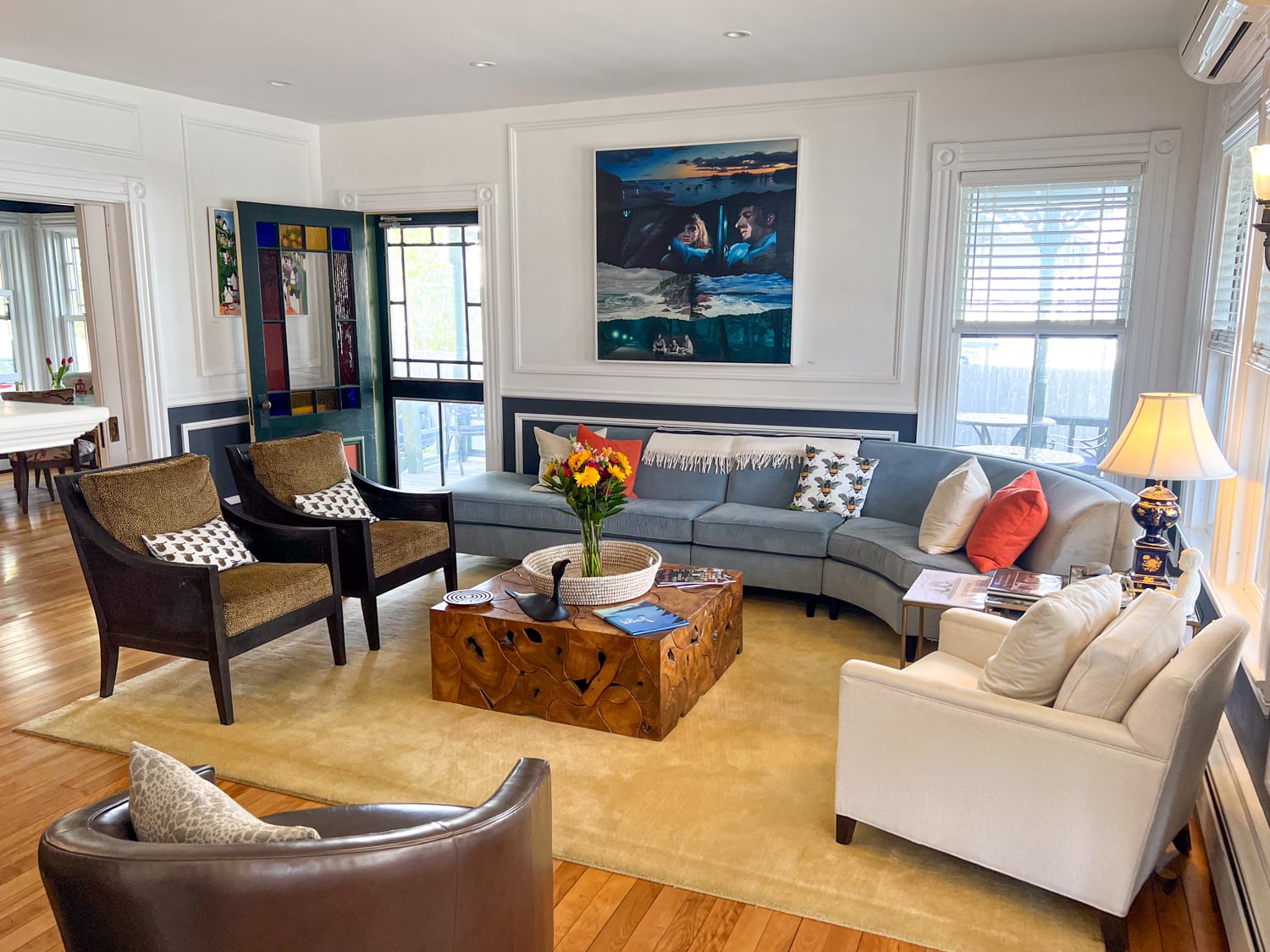 The foyer and living room were modern, with lots of natural light and contemporary art handpicked by the owner. Fresh flowers were a nice touch.
Guests check in at a small front desk in the living room. Chris, the Innkeeper, was friendly and efficient at getting our tour group situated.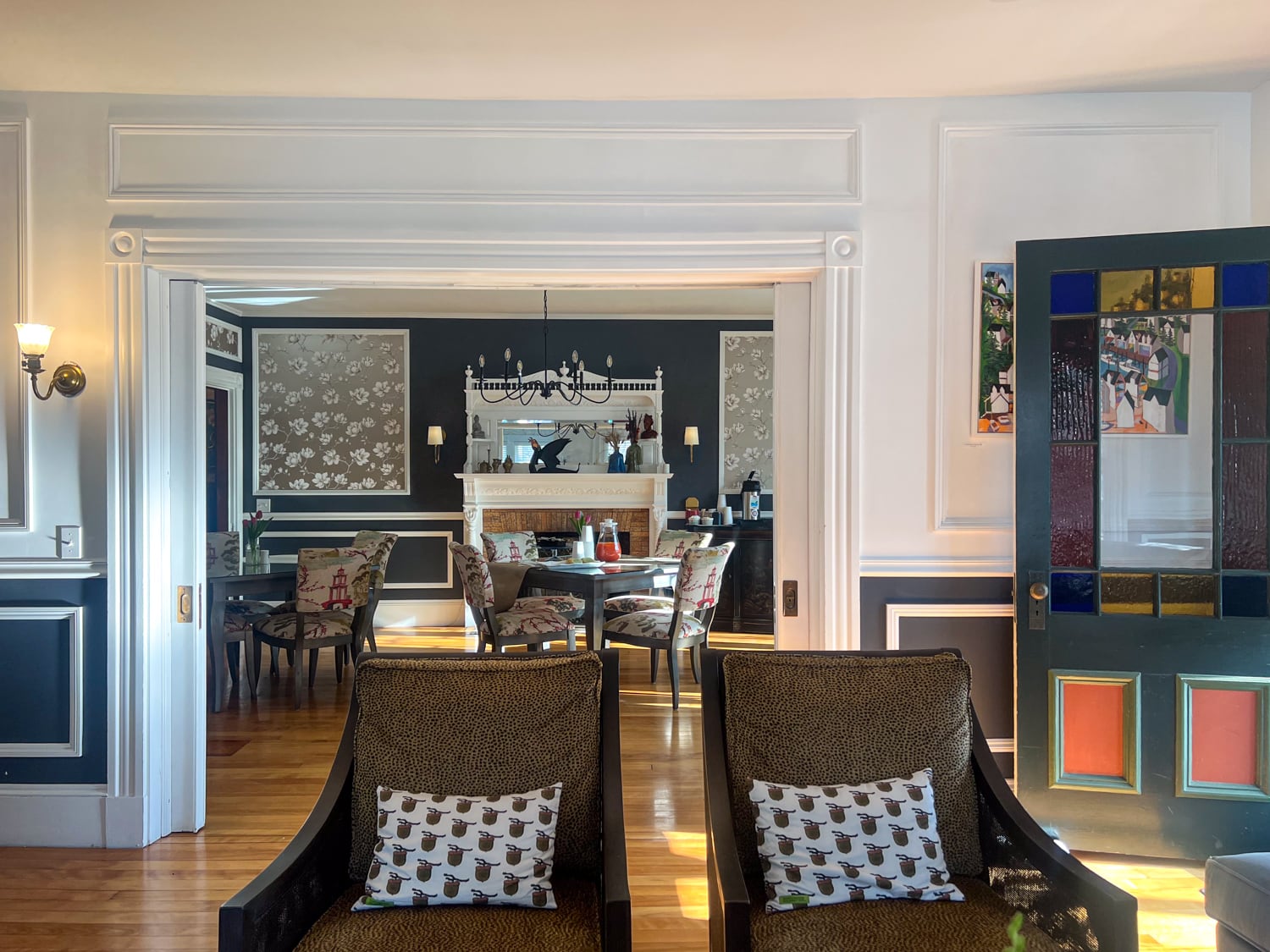 The B&B's interior design was updated ahead of the 2021 season in collaboration with Ethan Allen's Portland Old Port Design Center.
I was assigned a room on the third floor of the Boscobel Cottage.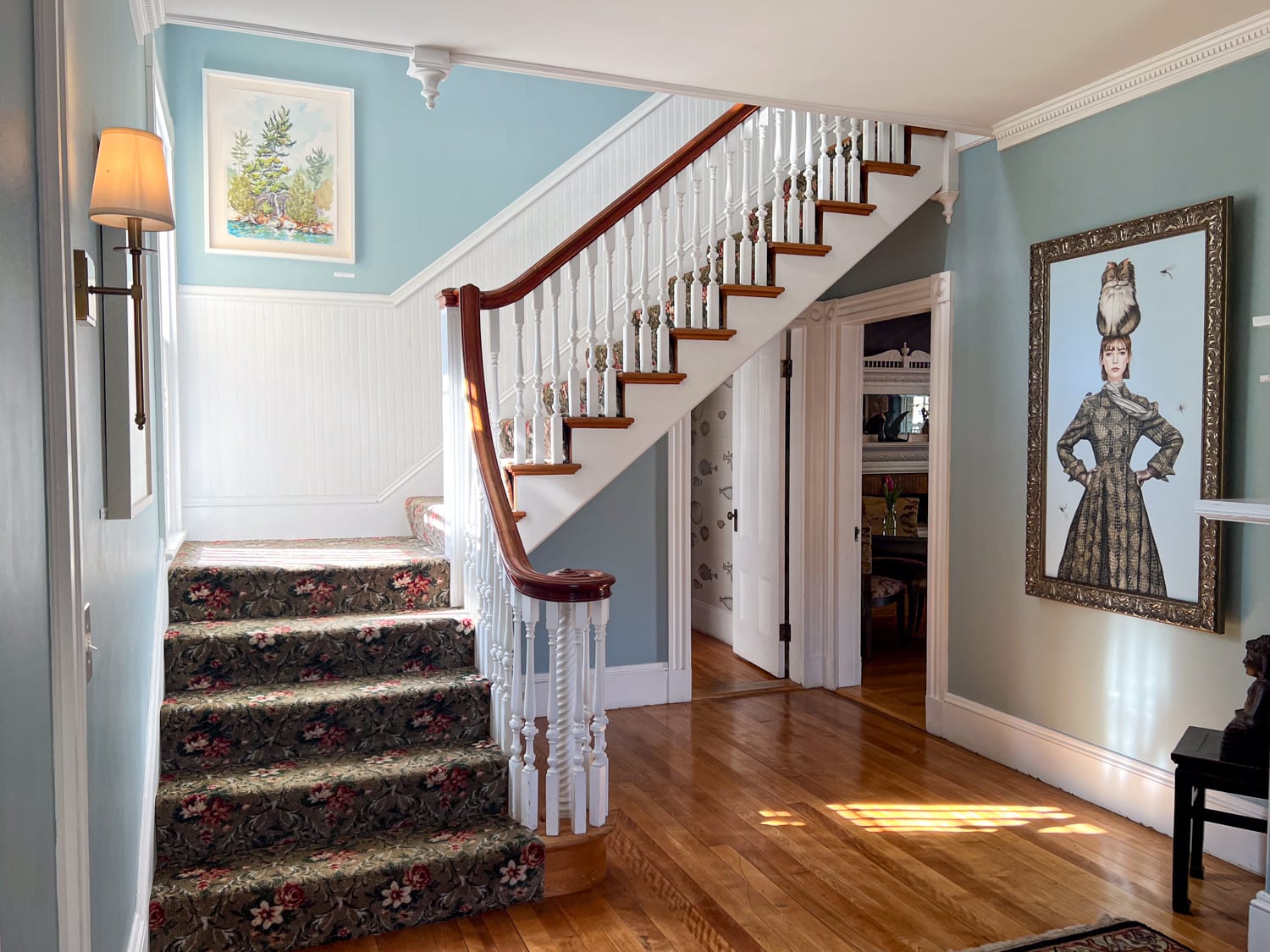 Opposite the staircase, there's a painting of a cat on a woman's head entitled "Cossack Hat" by Cuban-born artist Carlos Gamez de Francisco. I enjoyed it every time I walked up and down the stairs.
Rooms
Boscobel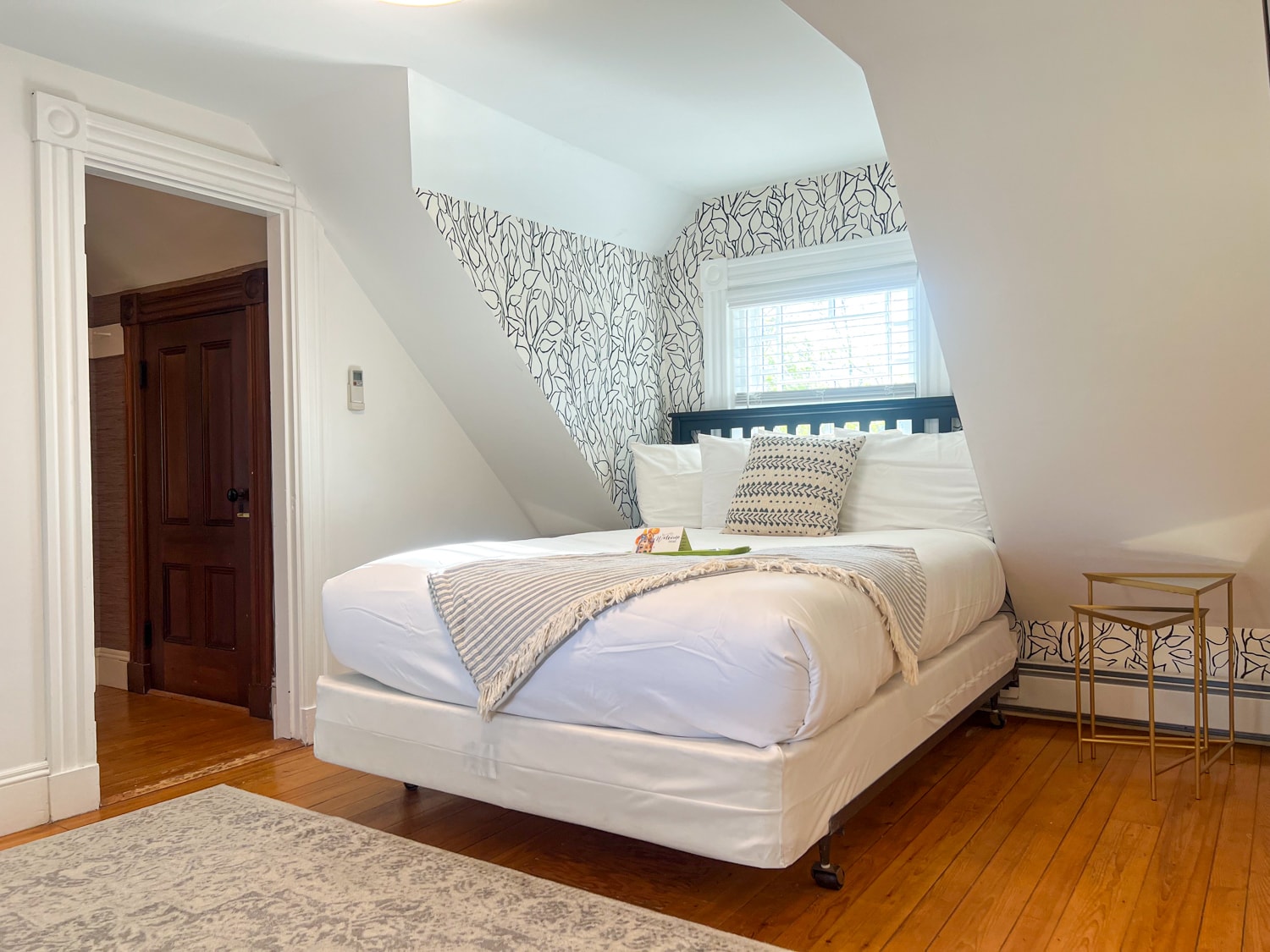 The three-story Boscobel Cottage features nine guest rooms across the second and third floors. Let's begin with my guest room on the third floor.
My room door opened into a unique space at the end of a short hall. The first thing I noticed was the dormers defined the space. The bed is located within one of them.
And when you're in bed, you face a dormer that has been furnished with two chairs and a small round table. Above the window is the air-conditioning unit.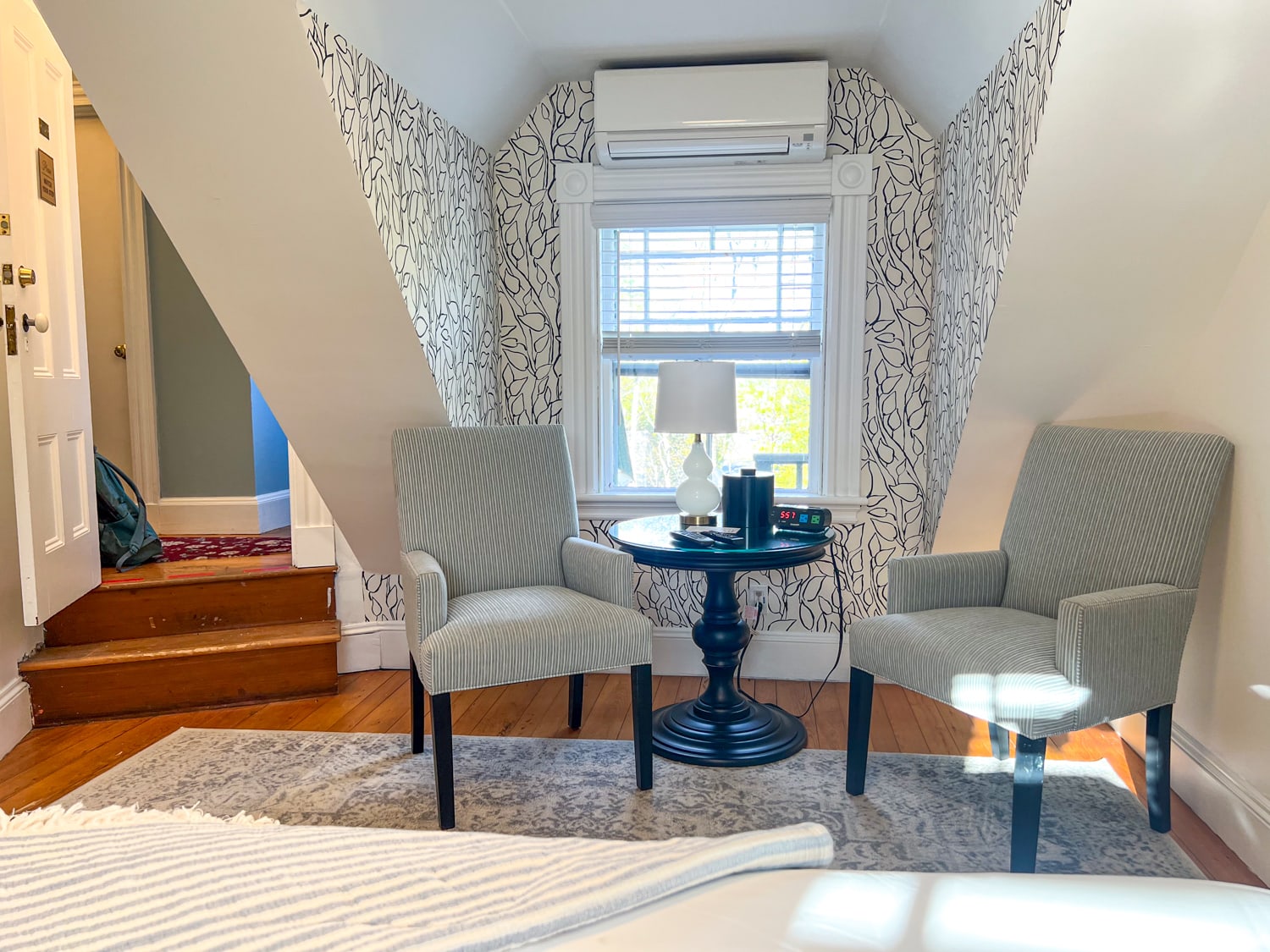 When you walk through a small space toward the bathroom, there's a reading chair, ottoman, and dresser to your left in another dormer.
The bathroom was nicely decorated. I liked the blue and white wallpaper and appreciated the window, which looked out over the driveway.
The shower is off to the left of the sink and offered me just enough space. Taller or larger adults may find it less comfortable, though.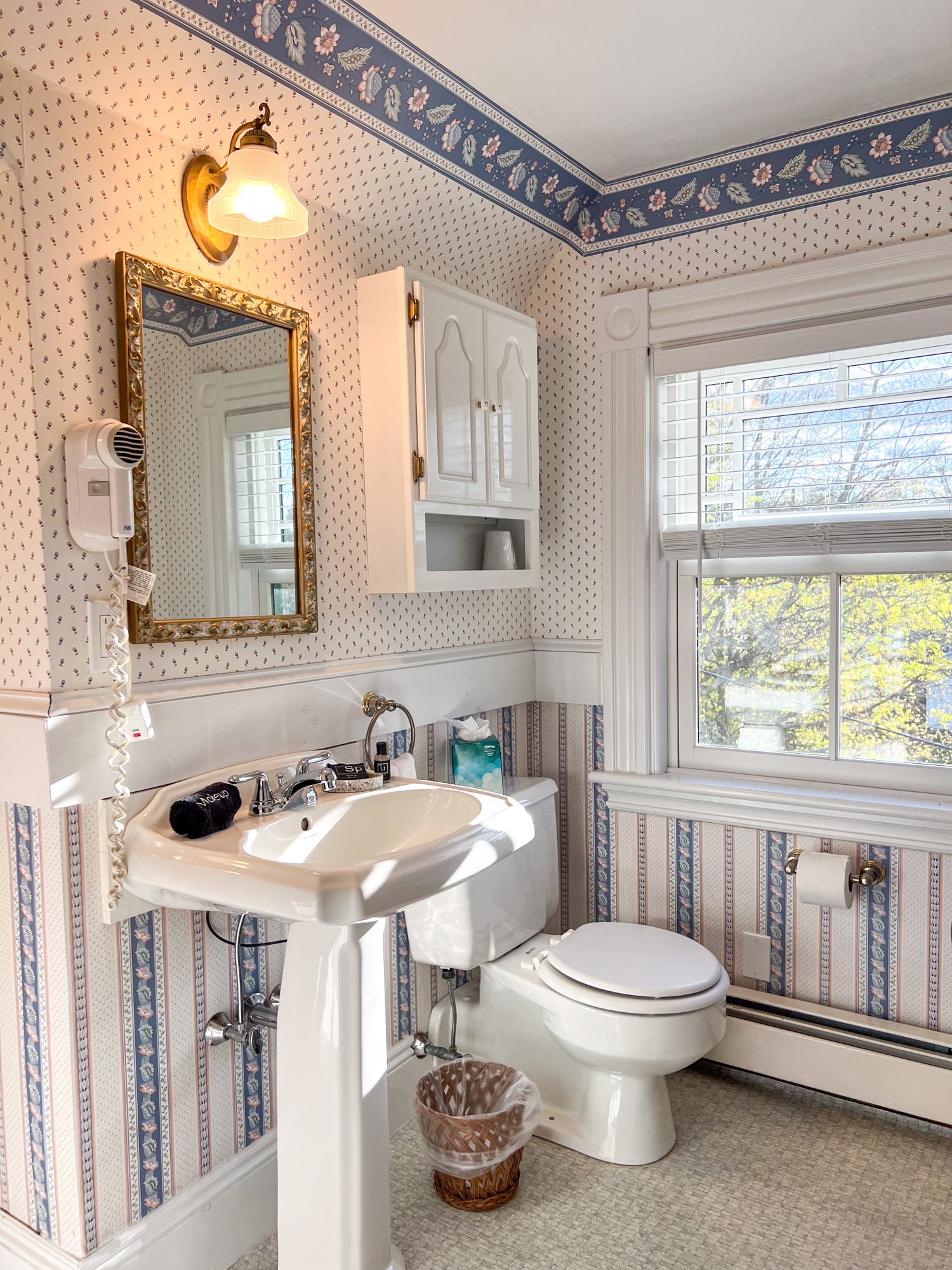 Every room in the Boscobel Cottage includes:
Individually controlled air conditioning and heat
Free Wi-Fi
Flat-screen TV
Private bathroom
Bath amenities and blow dryers
100% cotton bed linens and towels
Some rooms feature a fireplace or a partial ocean view. Sizes vary as well.
On my second day in Bar Harbor, I saw a few of the second-floor bedrooms after guests had checked out and they'd been cleaned.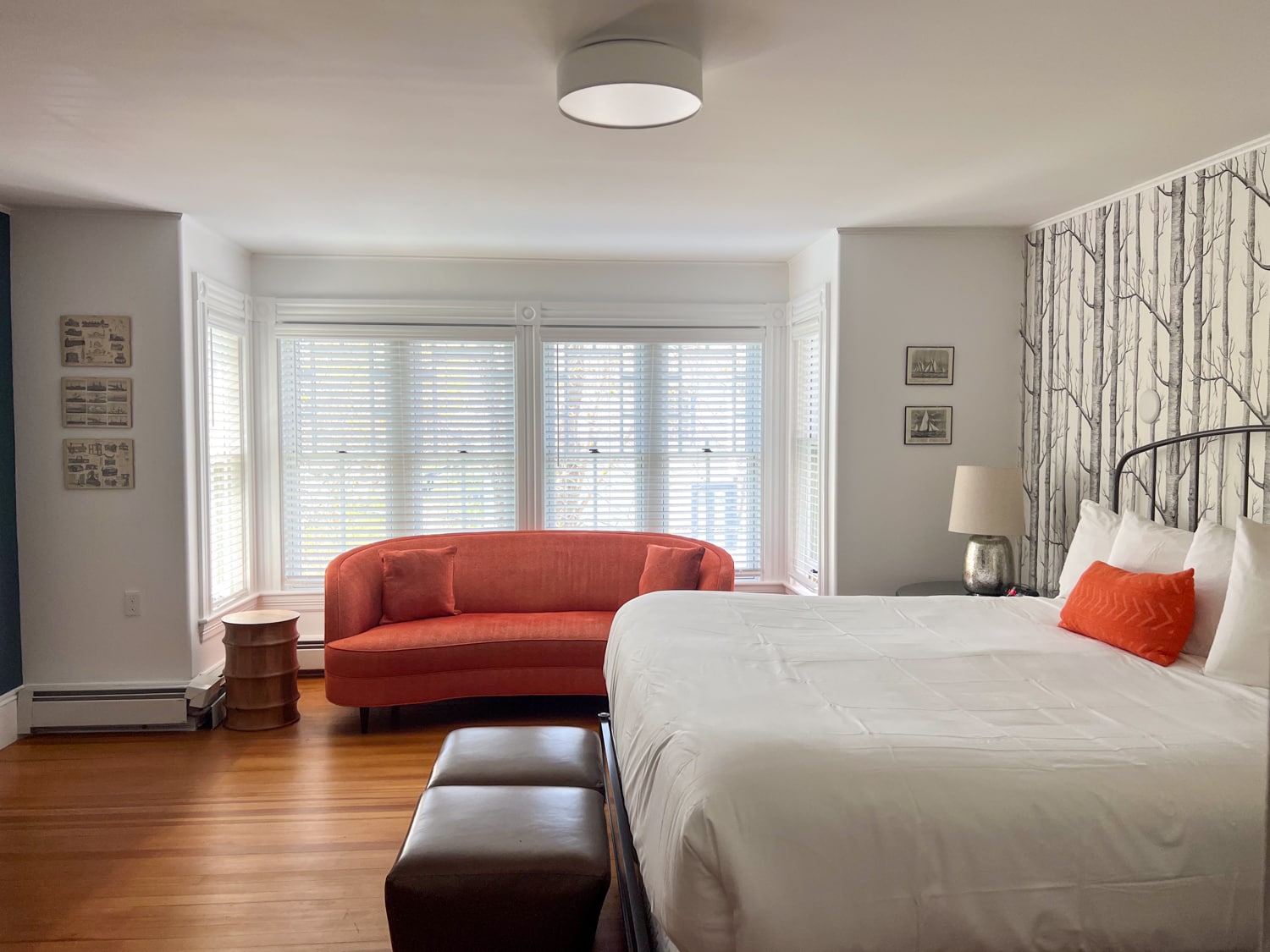 The more spacious room at Sand Bar Cottage featured an orange couch and bay window, with a bathroom across the narrow hall. The other room I saw was much smaller but had an ensuite bathroom.
Chauffer's Cottage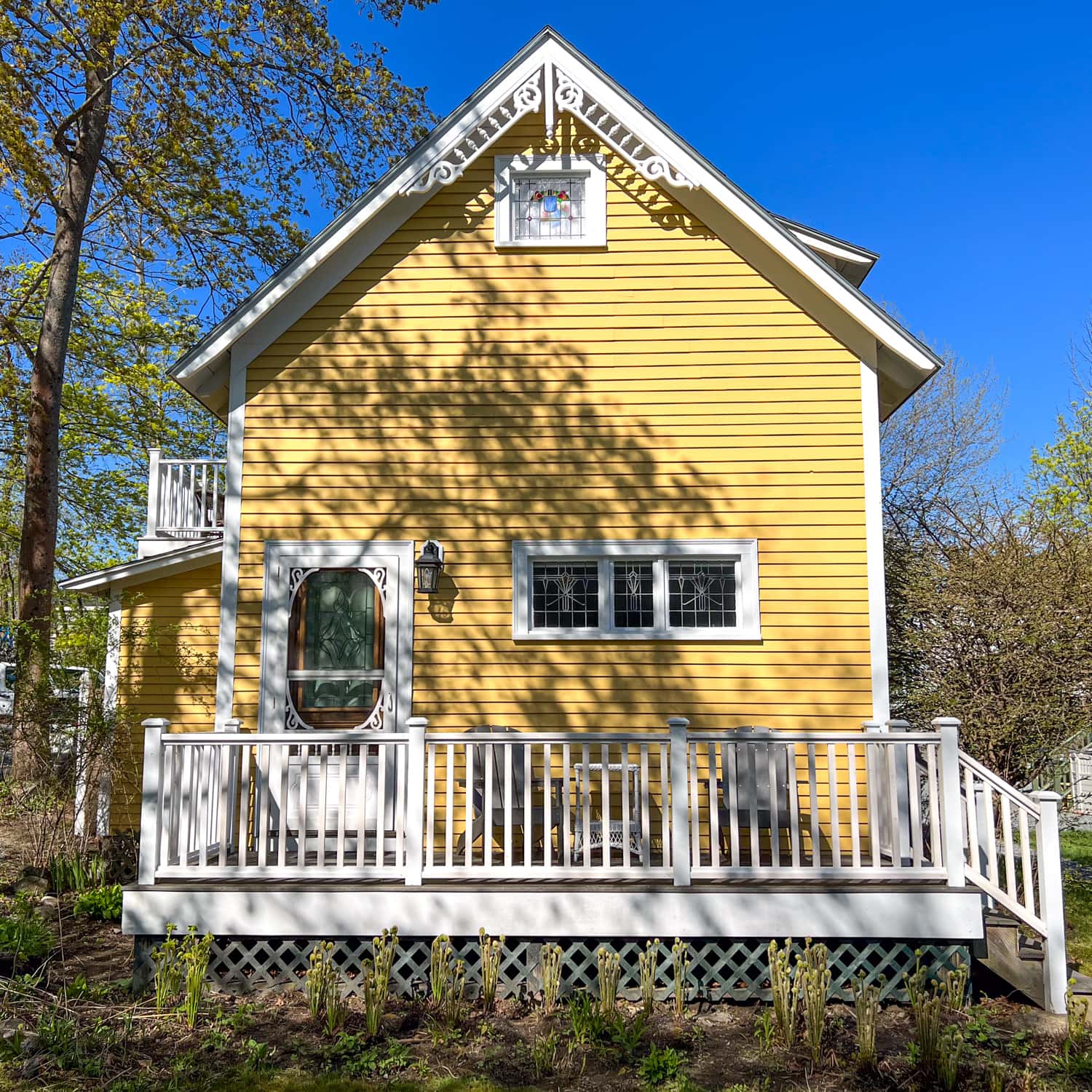 Adjacent to the Boscobel Cottage is the Chauffeur's Cottage, the second-oldest building on the one-acre property.
The pretty yellow building with white trim features original stained glass windows and three guest rooms, each with a private entrance.
Related: LimeRock Inn in Rockland, Maine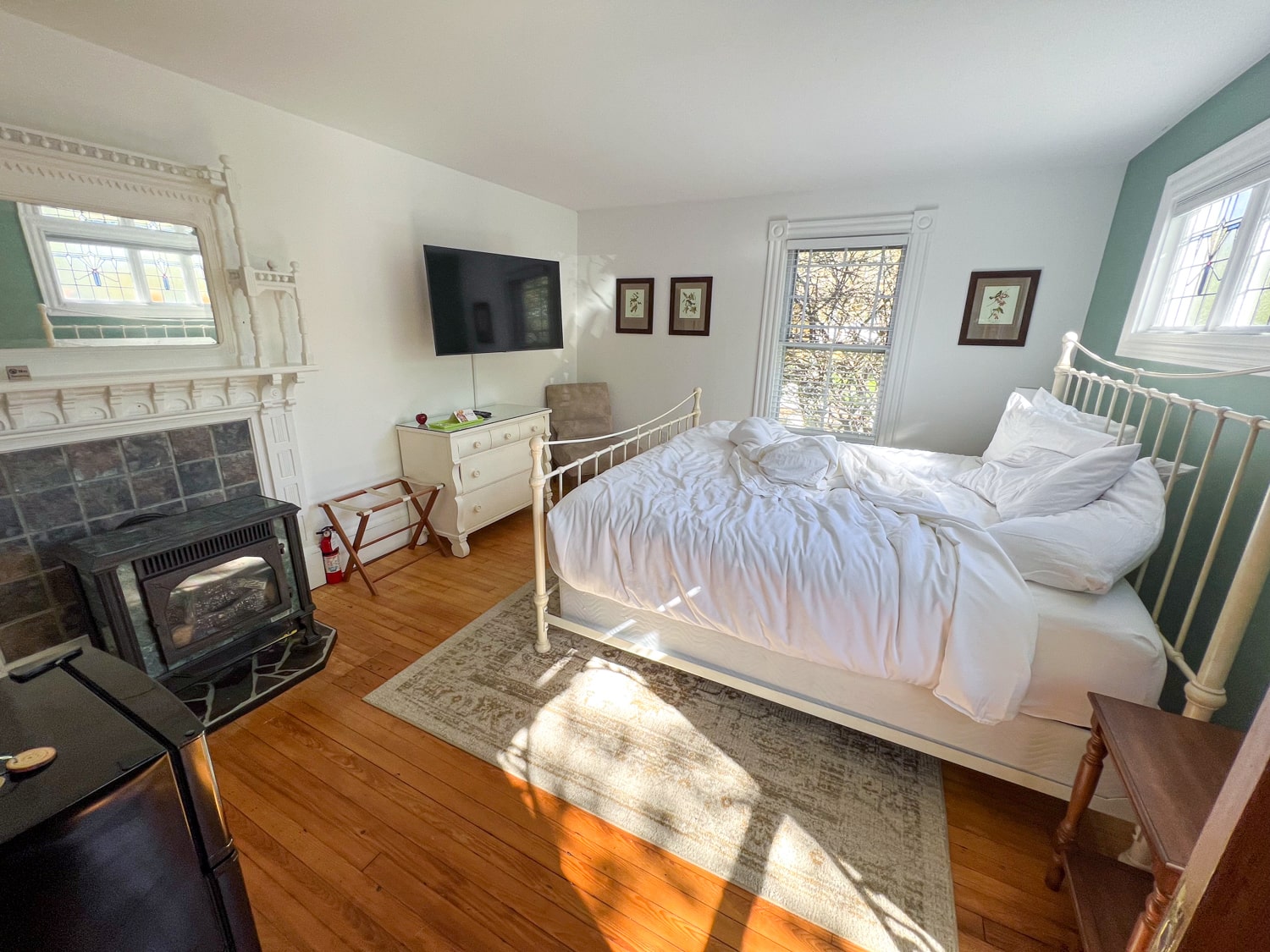 One of the journalists on my cycling tour stayed in the Chauffeur's Cottage at Sand Bar Cottage Inn, so I could also see one of those rooms.
The lower level guest room was quite large and included a king bed and everything mentioned in the Boscobel rooms, plus a fireplace and private porch. There was also a small fridge, and the bathroom was ensuite.
Garden Cottages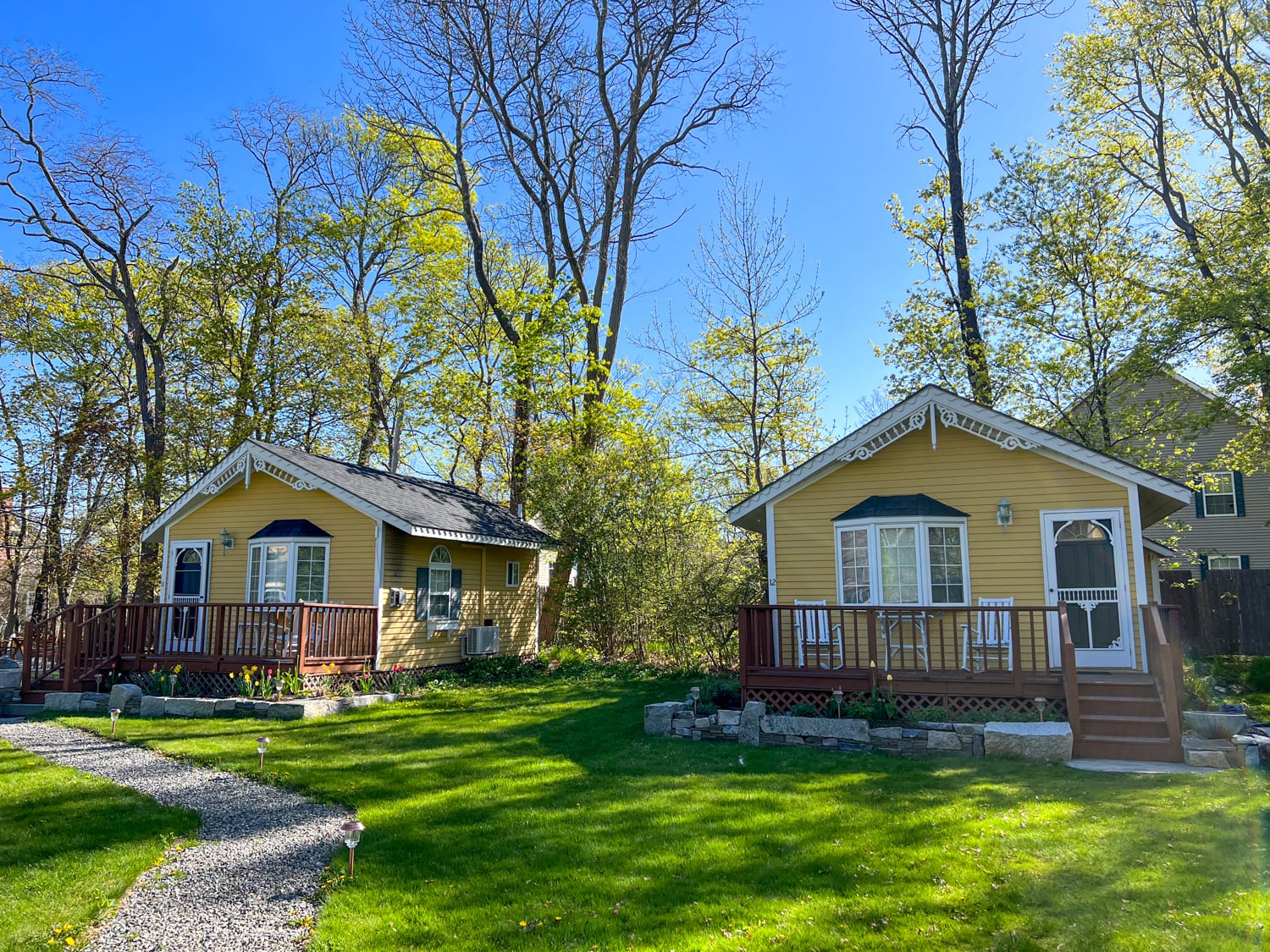 Two Garden Cottages are also on the grounds, each with a private porch and gas fireplace. These options are private and a good choice if you don't want to share a wall with other B&B guests.
They face the main house, with a lawn and gravel pathway in between.
At one end of the lawn is a gazebo. Opposite it and closer to West Street is a fire pit and seating area for guests to enjoy in the evenings.
Acadia Cottage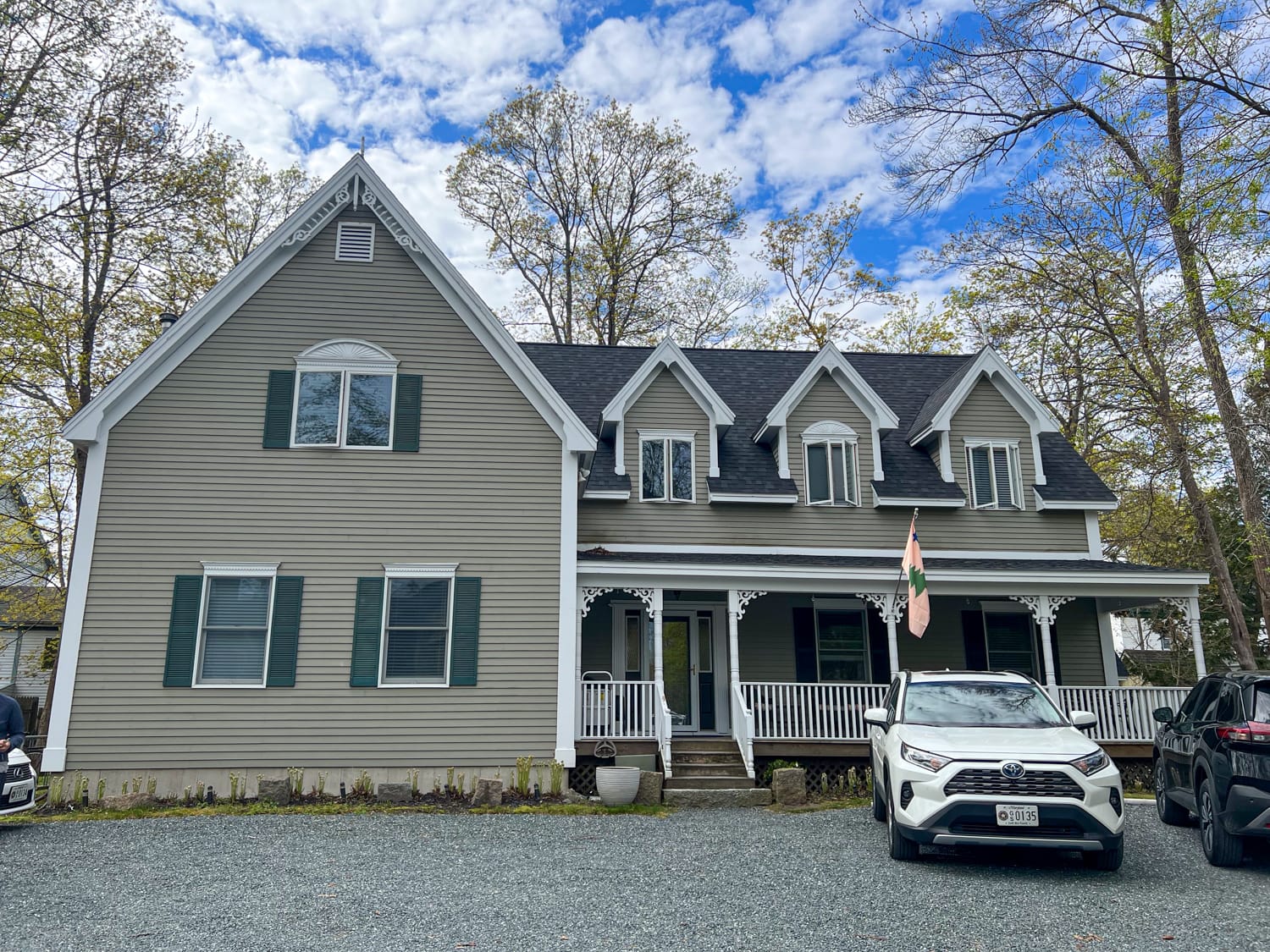 The most recent addition to the property is the Acadia Cottage, which was built in 2000. This two-story structure has a shared porch and large modern guest rooms with Whirlpool tubs and gas fireplaces.
Food and Drinks
Now that we've covered the beds, I want to turn your attention to the breakfasts.
The Sand Bar Cottage Inn offers two delicious meal options every morning: sweet and savory. The cost of breakfast is included in your room rate.
Guests can enjoy their breakfast on the porch, as I prefer, or in the dining room. Coffee and tea are self-serve and available inside.
American Breakfast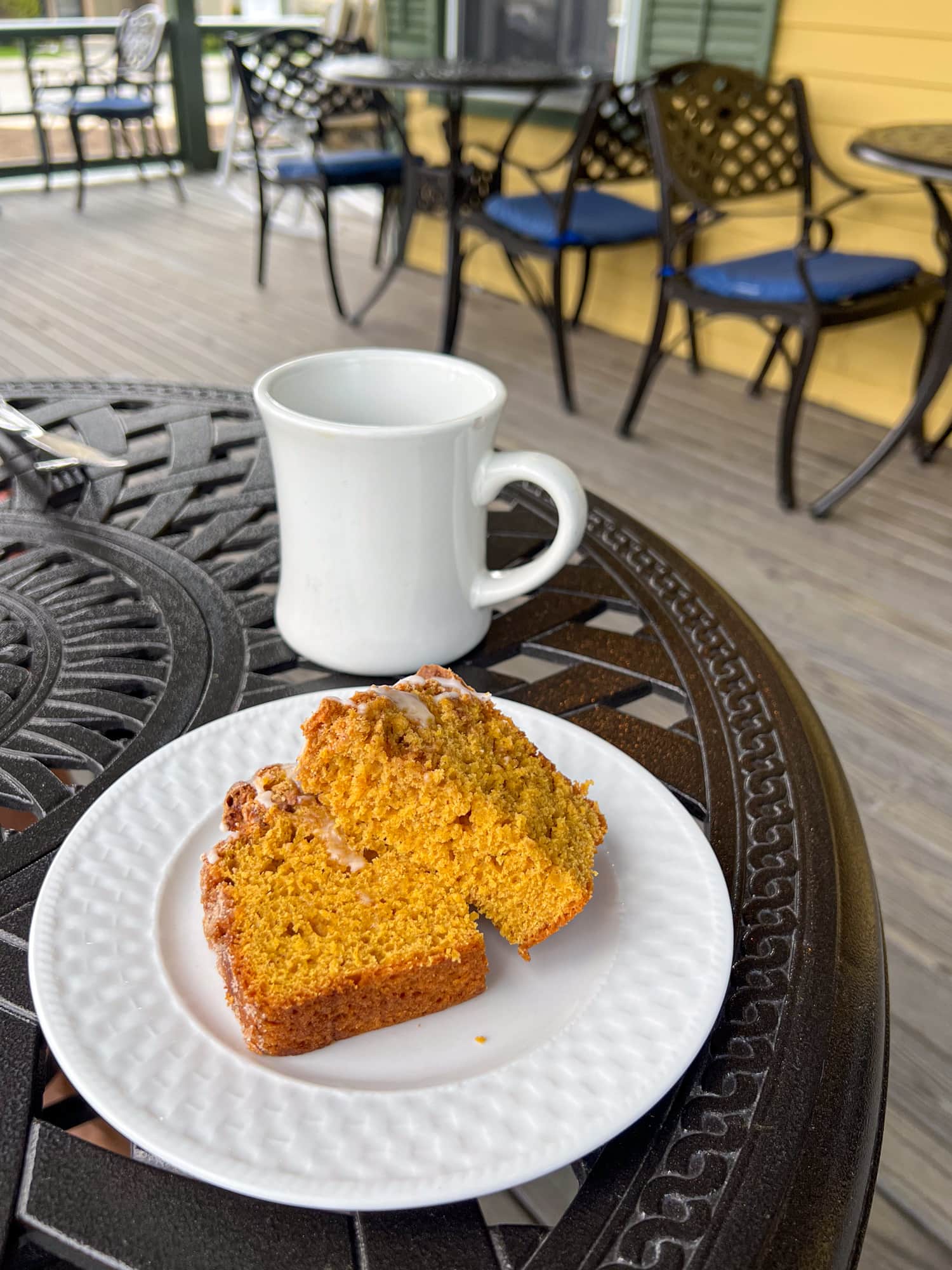 After my first night sleeping at Sand Bar Cottage, I descended the stairs and poured myself a piping hot blueberry coffee from Carrabassett Coffee Company.
Carrabassett is a small-batch coffee roaster 130 miles northwest of Bar Harbor in Kingfield, near Sugarloaf ski resort.
Chris was delivering slices of iced banana bread and taking orders as guests seated themselves.
The options that morning were Nantucket pie with bacon, egg, and cheese or strawberry waffles with whipped cream.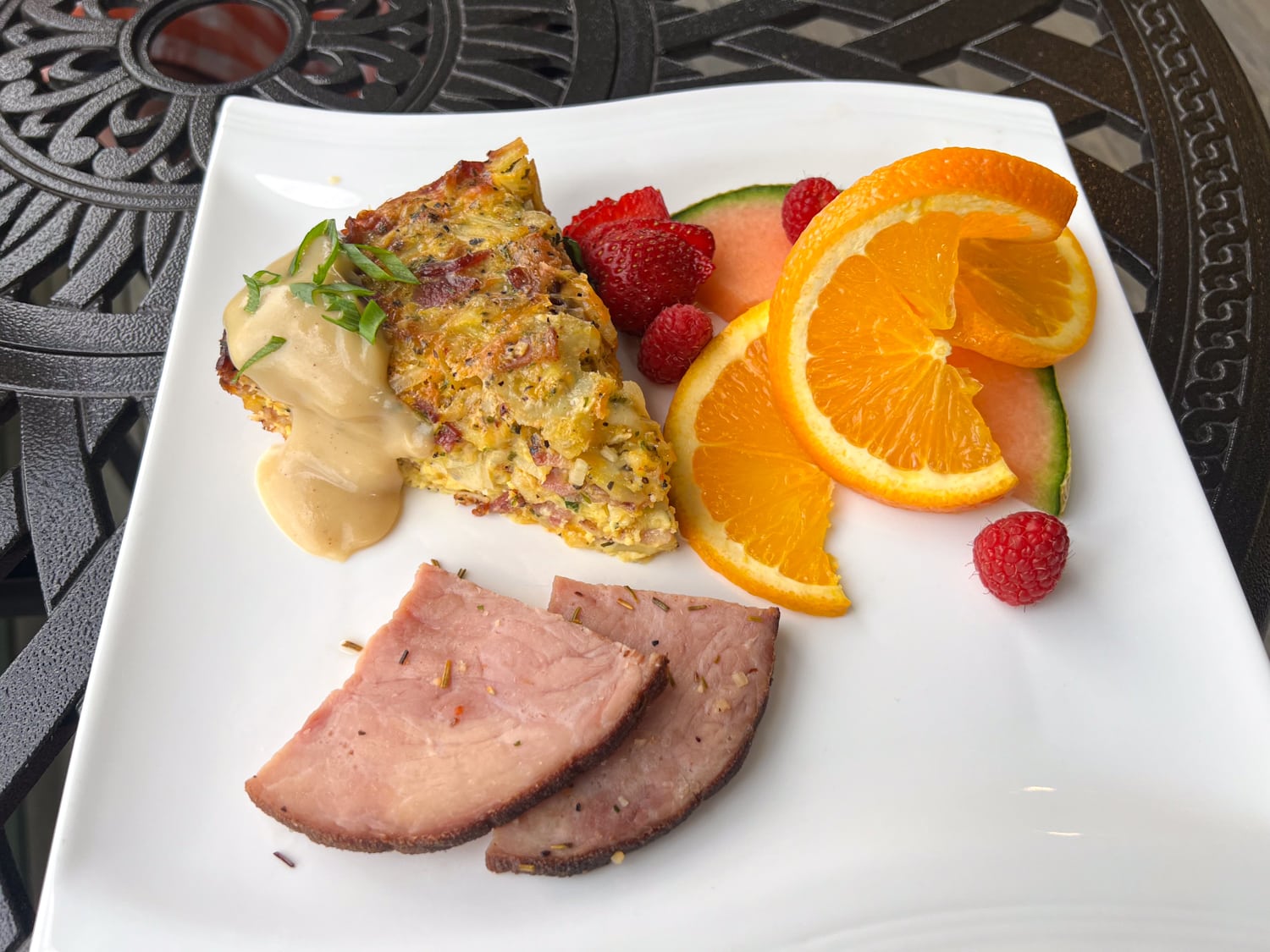 I went with the Nantucket Pie, which did not disappoint, and it was nicely presented with fresh berries and an orange slice.
As a result, I felt well-fed ahead of my morning cycling on Park Loop Road in Acadia National Park.
Breakfast began with pineapple bread on my second and last morning at Sand Bar Cottage Inn.
The entrees were pumpkin pancakes with apple cider maple syrup, and, well, that's all I needed to know. I can't recall the savory option that day!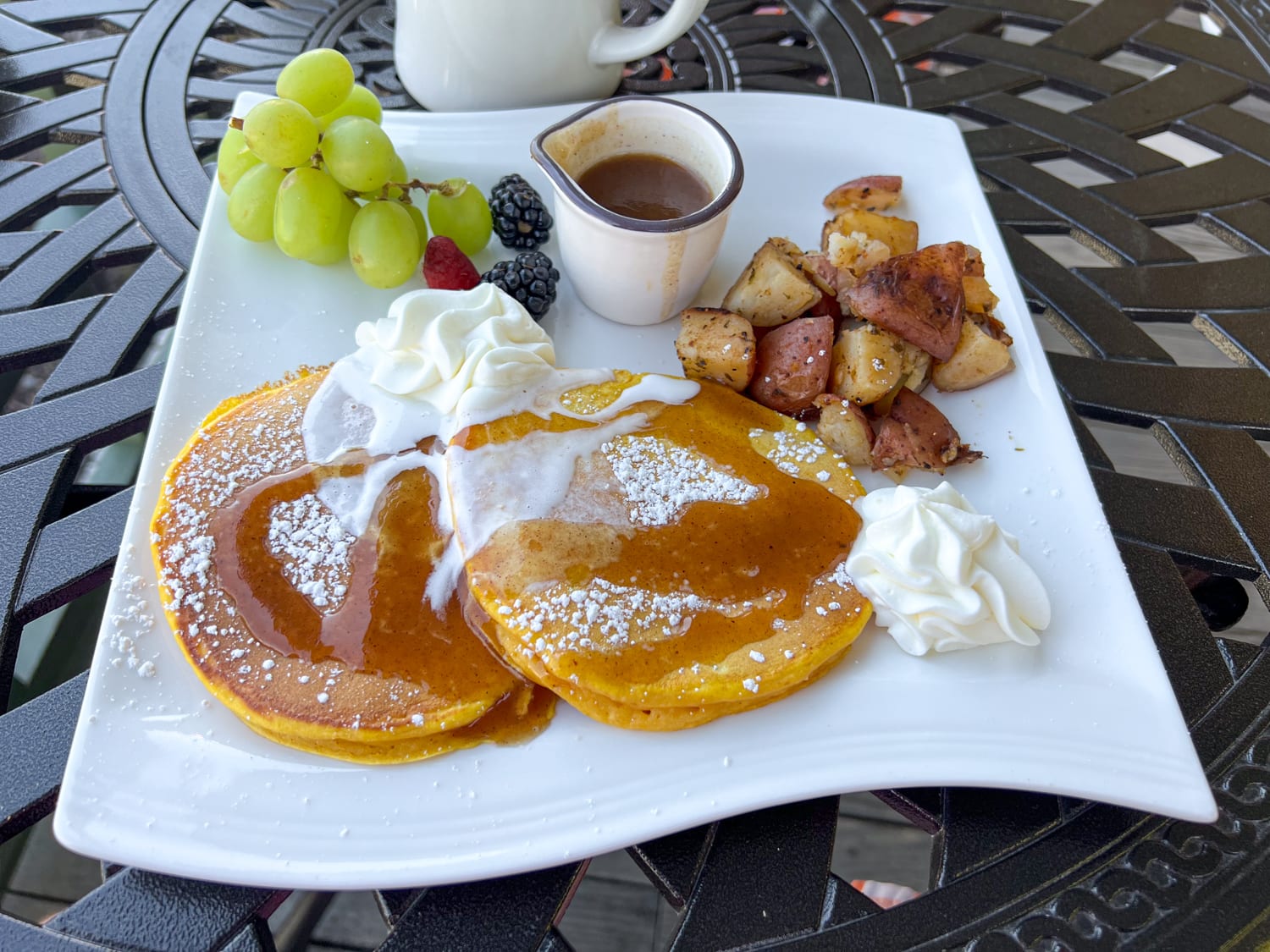 The pancakes were served with syrup on the side, roasted potatoes, and fruit.
Beyond the excellent breakfasts, another time of day would appeal to guests with a sweet tooth.
Afternoon Tea Time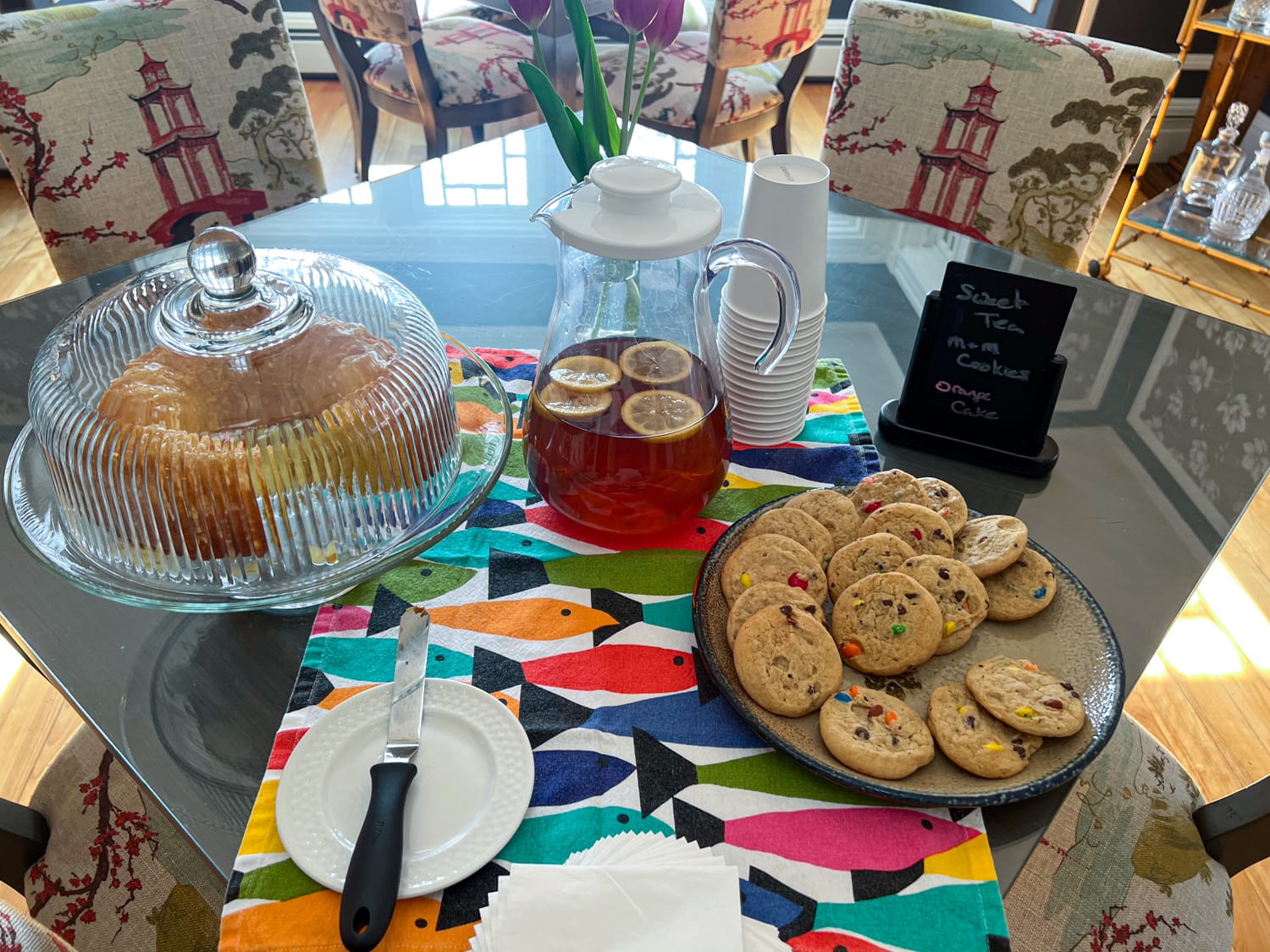 Two homemade pastries and a cold drink were available in the dining room every afternoon.
The day I checked in, there were sugar cookies and chocolate cake. The next day, fresh-baked M&M cookies and orange cake were on offer.
Having something fun to snack on after returning to the inn from your afternoon activities is a welcome touch.
Related: Cayena Beach Villa in Colombia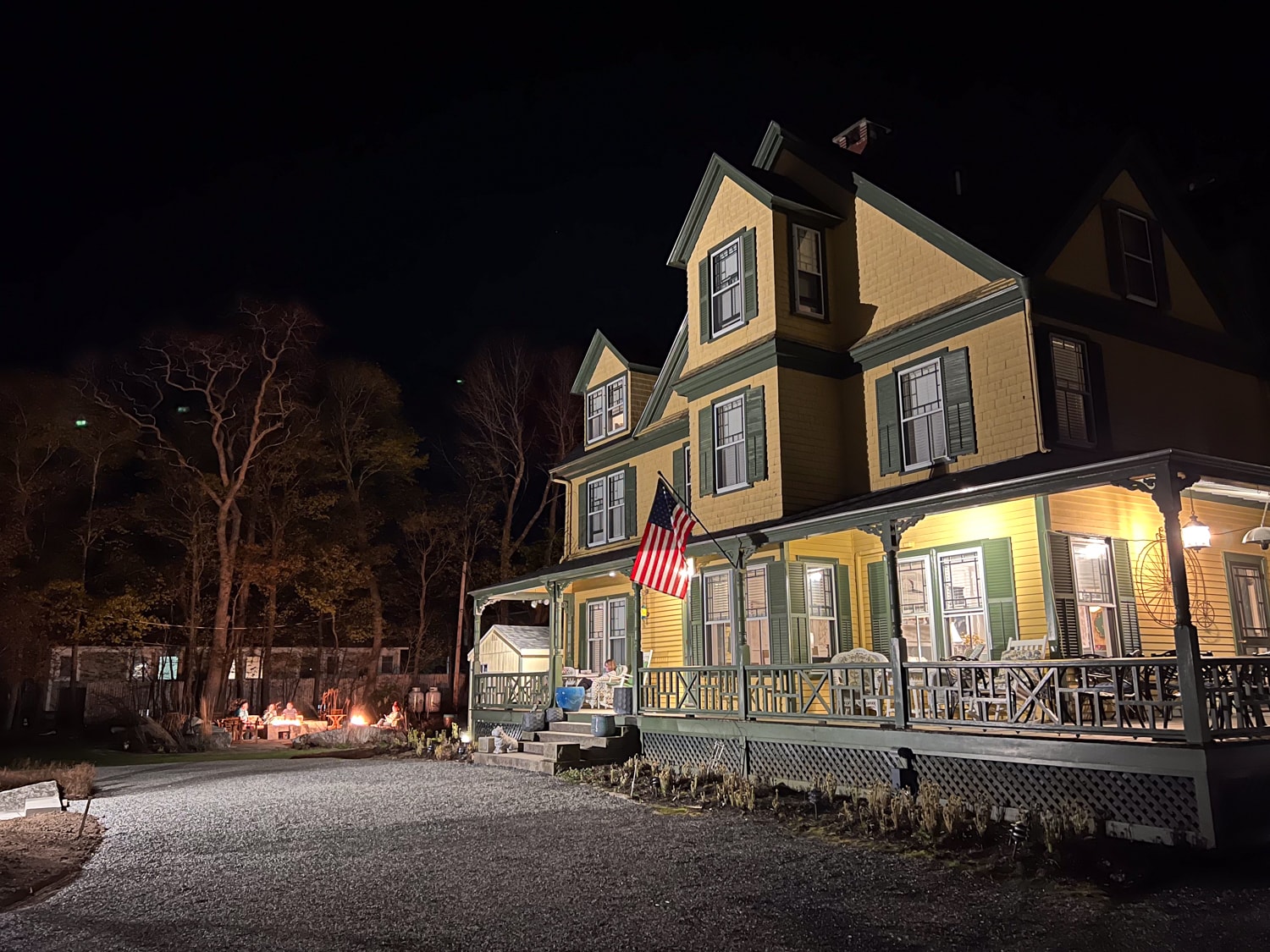 The boutique hotel was attractive inside and out. Its great location on historic West Street and proximity to downtown Bar Harbor and Acadia National Park were unbeatable. Many popular points of interest are within a short walk.
Chris, the courteous innkeeper, was friendly and helpful. And the chef, whom I didn't get the chance to meet, delivered delicious breakfasts promptly.
The Sand Bar Cottage is smoke-free, and free private parking is available. Pet owners take note—it's not pet friendly. There are no elevators in either of the multi-story buildings.
My stay at the Sand Bar Cottage Inn lived up to the experience I'd hoped for on my first visit to Bar Harbor, Maine.
Plan Your Trip
Sand Bar Cottage Inn
106 West St
Bar Harbor, ME 04609
United States
Open from early May to early November.
To check availability and pricing, visit the official website.
If you prefer to fly into Bar Harbor instead of driving, the nearest airport is Hancock County-Bar Harbor Airport, a 12-mile (20-minute drive) from the inn.
_____
My stay at the Sand Bar Cottage and tour with Summer Feet Cycling were arranged in partnership with the Adventure Travel Trade Association and Maine Office of Tourism as part of my attendance at AdventureELEVATE North America.