The Texas State Fair kicks off its 137th year in Dallas on September 29, 2023.
The State Fair of Texas, as it's formally known, is one of the longest-running fairs in the United States and, at 24 days, one of the country's largest.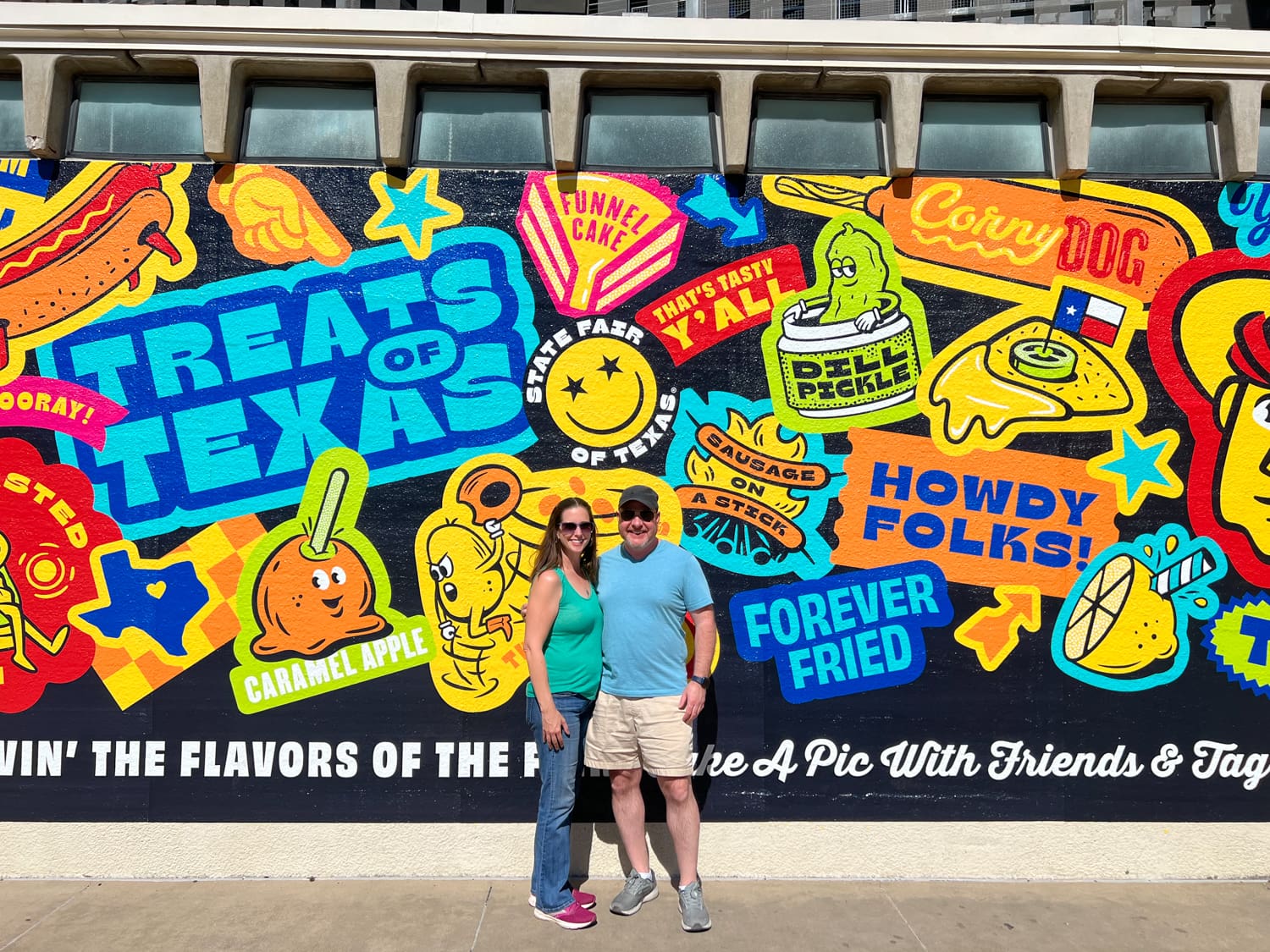 In 2021 alone, 2.2 million visitors entered the gates of the historic Fair Park, a National Historic Landmark in South Dallas. That's an average of about 91,000 people per day.
As you can imagine, it takes an army of food vendors to feed that many people.
While the Fair operates as a nonprofit, there's plenty of money to be made by vendors selling deep-fried foods.
There's a reason the Fair is known as the "Fried Food Capital of Texas."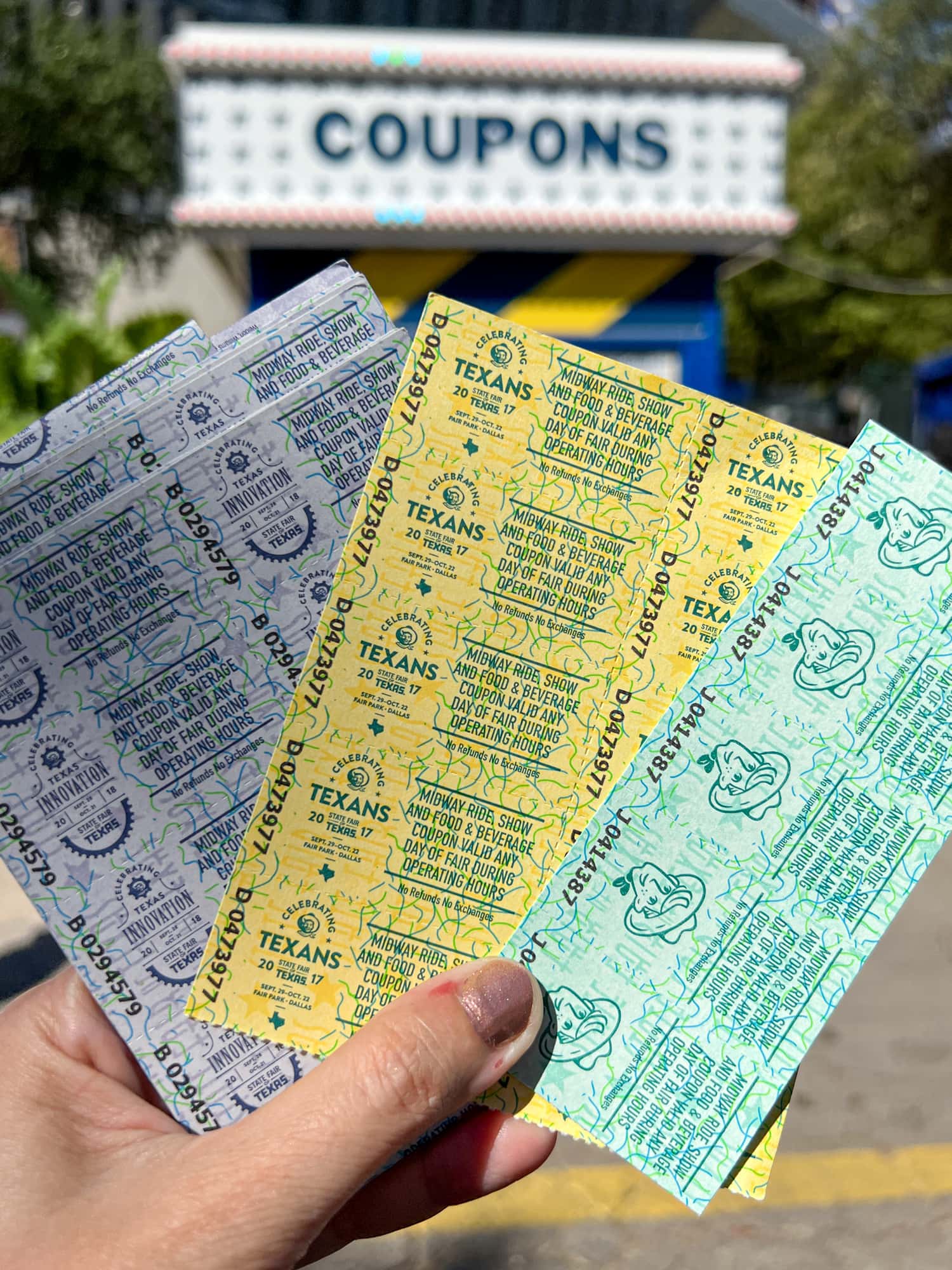 Coupons As Currency
In addition to one-day admission tickets, which range from $15 to $25 for an adult, you'll have to buy coupons for food, drinks, and Texas Star Ferris wheel rides.
The price of admission includes live concerts, livestock shows, the Texas Auto Show, and other forms of free entertainment.
All food and drink purchases must be made using coupons, available for sale at ticket booths for $1 per coupon.
According to my girlfriend Kel, a self-described "Texas chica," this is double the previous 50 cents per coupon rate. We have inflation to blame.
Coupons are sold in increments of ten, and there's no discount for buying 50 or 100 at once.
They can be bought with cash, credit card, or a combination of both, as I found out when I exchanged $8 in coins (received as a change for a ride on the green DART rail line) plus $2 on a credit card.
In addition, Kel had more than $100 worth of coupons left over from the 2017 and 2018 Fairs. Unused tickets from prior years are valid.
What follows is my introduction to the Texas State Fair based on my first time in 2022, including all the fried foods we could handle.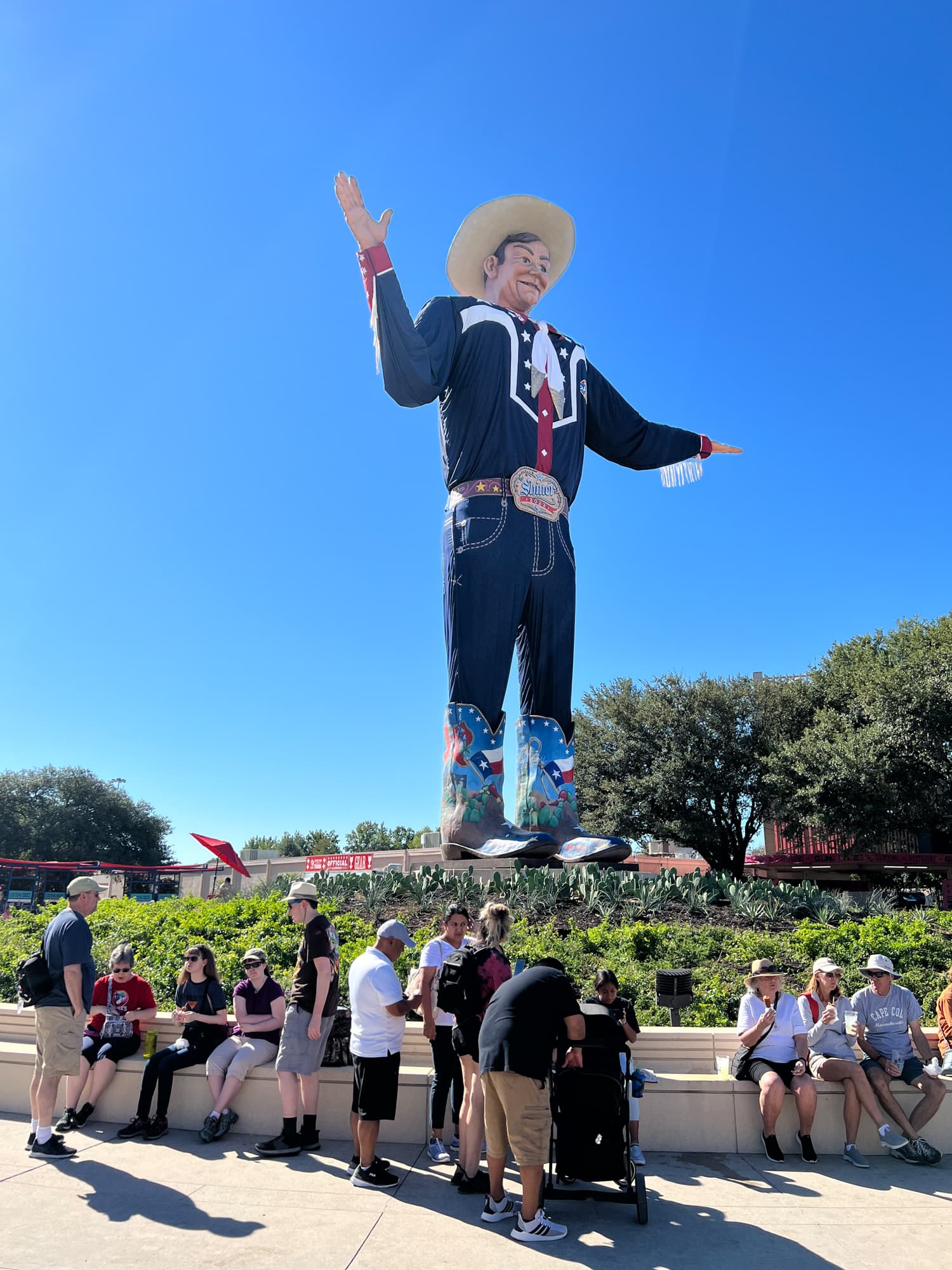 Texas State Fair Food
First, a word of warning. There's more fried food at the Fair than any one human can handle in a day.
Kel and I had a two-fold strategy. First, prioritize finalists and winners of the Big Tex Choice Awards, a competition every summer before the Fair begins.
The 2023 winners are:
Best Taste — Savory: Deep Fried Pho
Best Taste — Sweet: Biscoff® Delight
Most Creative: Bourbon Banana Caramel Sopapillas
For 2022, the winners were:
Best Taste — Savory: Fried Charcuterie Board
Best Taste — Sweet: Peanut Butter Paradise
Most Creative: Cha-Cha Chata
Second, we agreed only to take a few bites of whatever we bought. This would allow us to try more foods and, I hoped, keep us from overeating.
Meeting Big Tex
Our first stop after entering Fair Park was to meet Big Tex, a 55-foot tall animatronic cowboy dressed in Dickies clothes and a Shiner belt buckle.
Big Tex is the world's tallest cowboy and an icon of the Texas State Fair. He's welcomed visitors with a friendly "Howdy, folks" since 1952.
Related: Best Restaurants in Dallas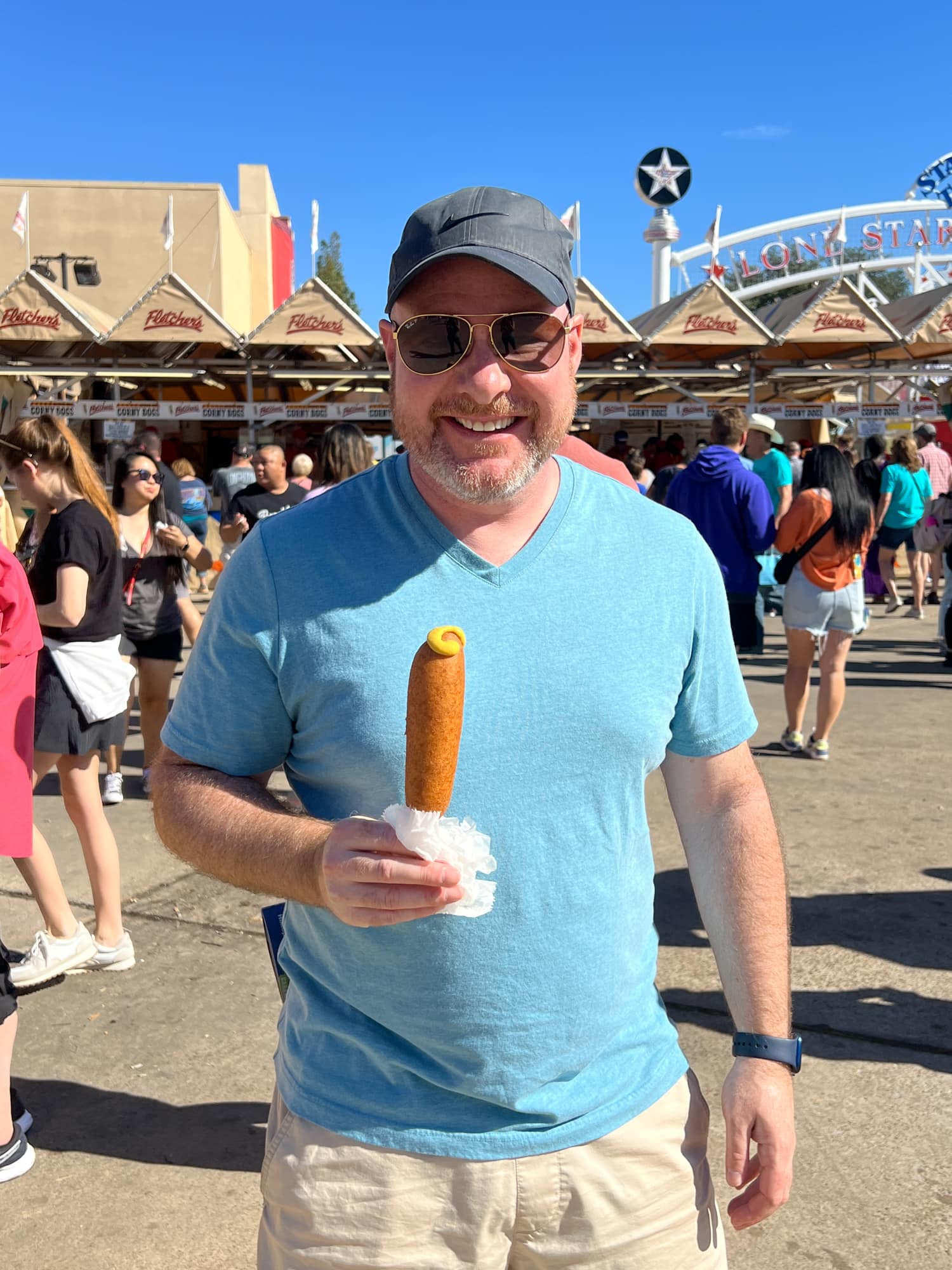 Fletcher's Corny Dog
The circular plaza with Big Tex is home to another State Fair of Texas hero — Fletcher's corny dogs.
For my first food order at the Fair, I got an Original corn dog for seven tickets ($7).
After topping it with yellow mustard, I took my first bite of this delicious deep-fried dog. The slightly crisped exterior gave way to a doughy interior and hot dog.
I could've eaten a few of these, as the day was just starting (it was 10:45 a.m.).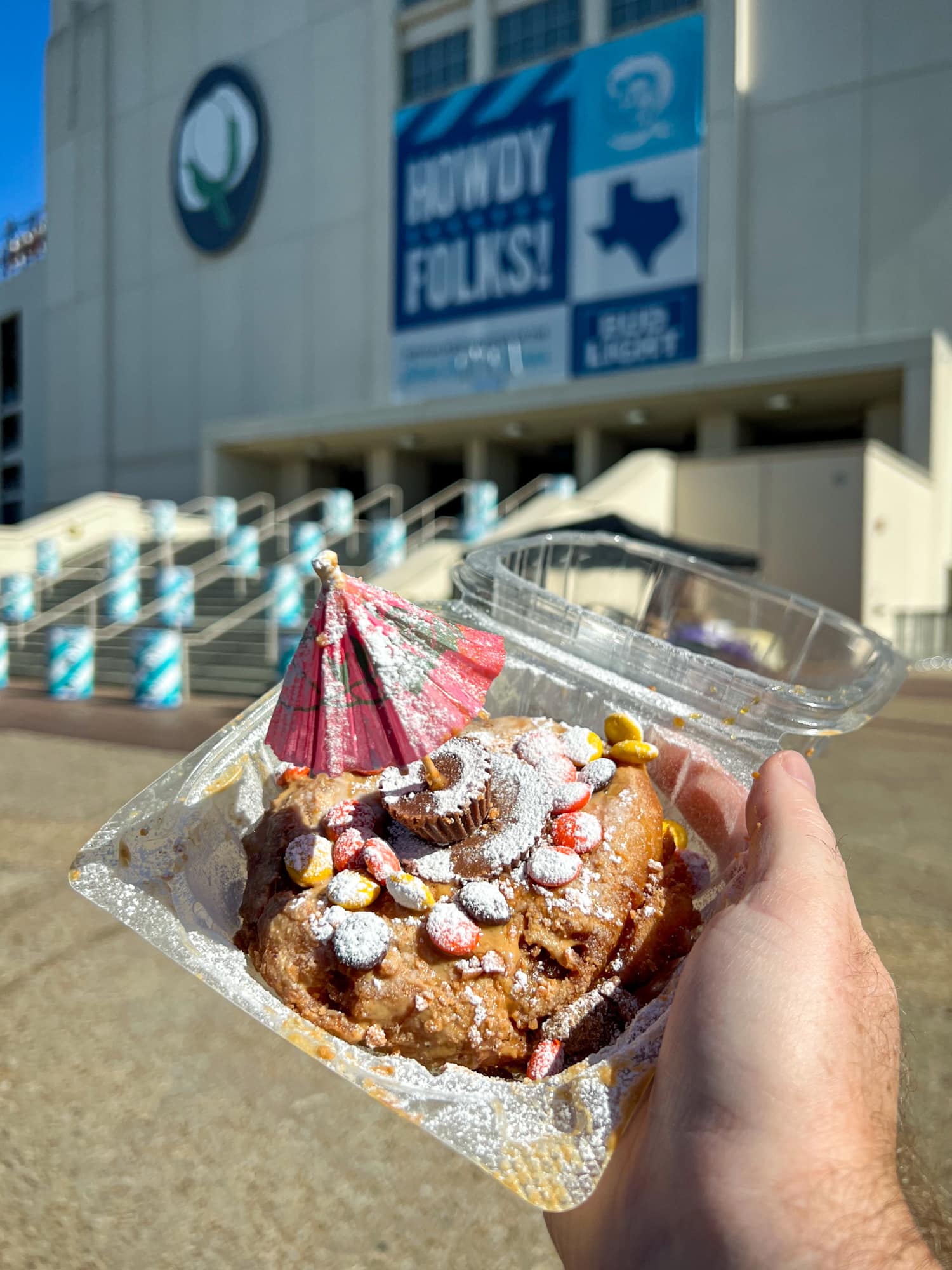 Peanut Butter Paradise
After walking past a lagoon with pedal boat swan rides, we came upon Cotton Bowl Stadium, which hosts college football games on Saturdays during the Fair:
State Fair Classic - This game has been held since 1925 and currently features Grambling State University v. Prairie View A&M University.
Red River Showdown – In a legendary game from 1929, the University of Texas (Longhorns) plays the University of Oklahoma (Sooners).
In Cotton Bowl Plaza, we found the Peanut Butter Paradise by Southside Steaks & Cakes, winner of the 2022 Big Tex Choice Award for "Best Taste — Sweet."
This bad boy was a whopping 20 coupons, which, at the time, still wasn't registering as $20.
Paradise includes a deep-fried, caramel-filled honey bun smothered in creamy peanut butter and topped with regular and mini Reese's Peanut Butter Cups, Reese's Pieces, and crushed Butterfingers.
The chocolate melted in the sun and 80-degree weather, making it an even gooier dessert to consume with a plastic spork.
I love Reese's, peanut butter, and chocolate, but this dessert felt like a hot mess, literally and figuratively. If I were a teacher, I'd give it a "B."
Once the $20 cost sunk in, I thought it was overpriced.
Note: While a metal fork would make life easier, they're unfortunately prohibited, along with metal knives. Perhaps a metal spork would be allowed? See the FAQ for what you can and cannot bring.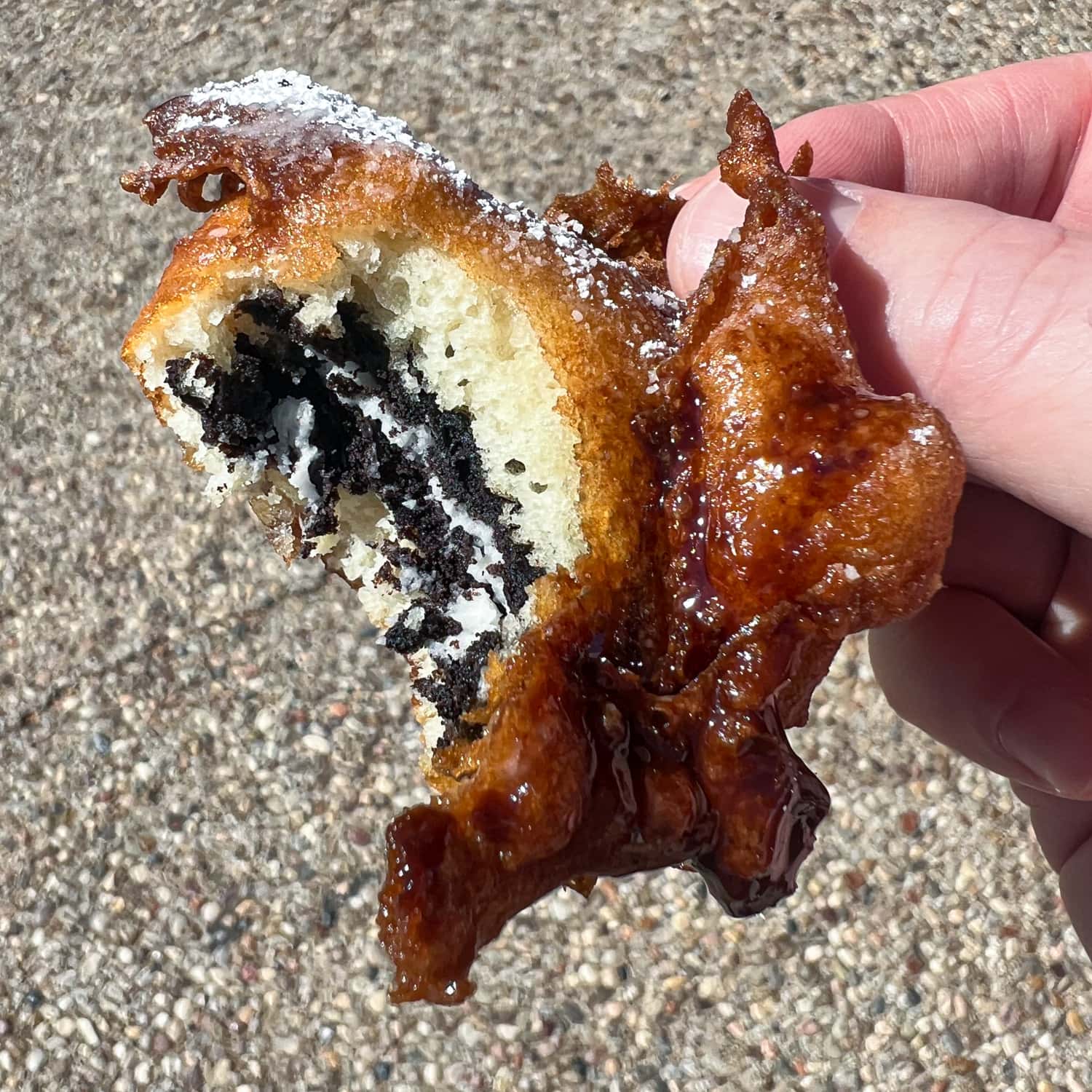 Deep-Fried Oreos
Kel had told me she always gets deep-fried Oreos at the Texas State Fair, so I wanted to try this Fair classic, too. We didn't have to look far.
We got deep-fried Oreos from Ruth's Tamale House in the same plaza as Peanut Butter Paradise.
One order was eight coupons ($8) and included three cookies drizzled with chocolate sauce and topped with powdered sugar.
It only took one bite to realize why deep-fried Oreos are a Texas State Fair staple.
The proportion of fried dough to cookie felt just right. I liked the chocolate of the cookies, and the price was reasonable.
Pro Tip: Later, I saw at least one stand selling deep-fried Double Stuf Oreos. Keep an eye out if you want to double your pleasure.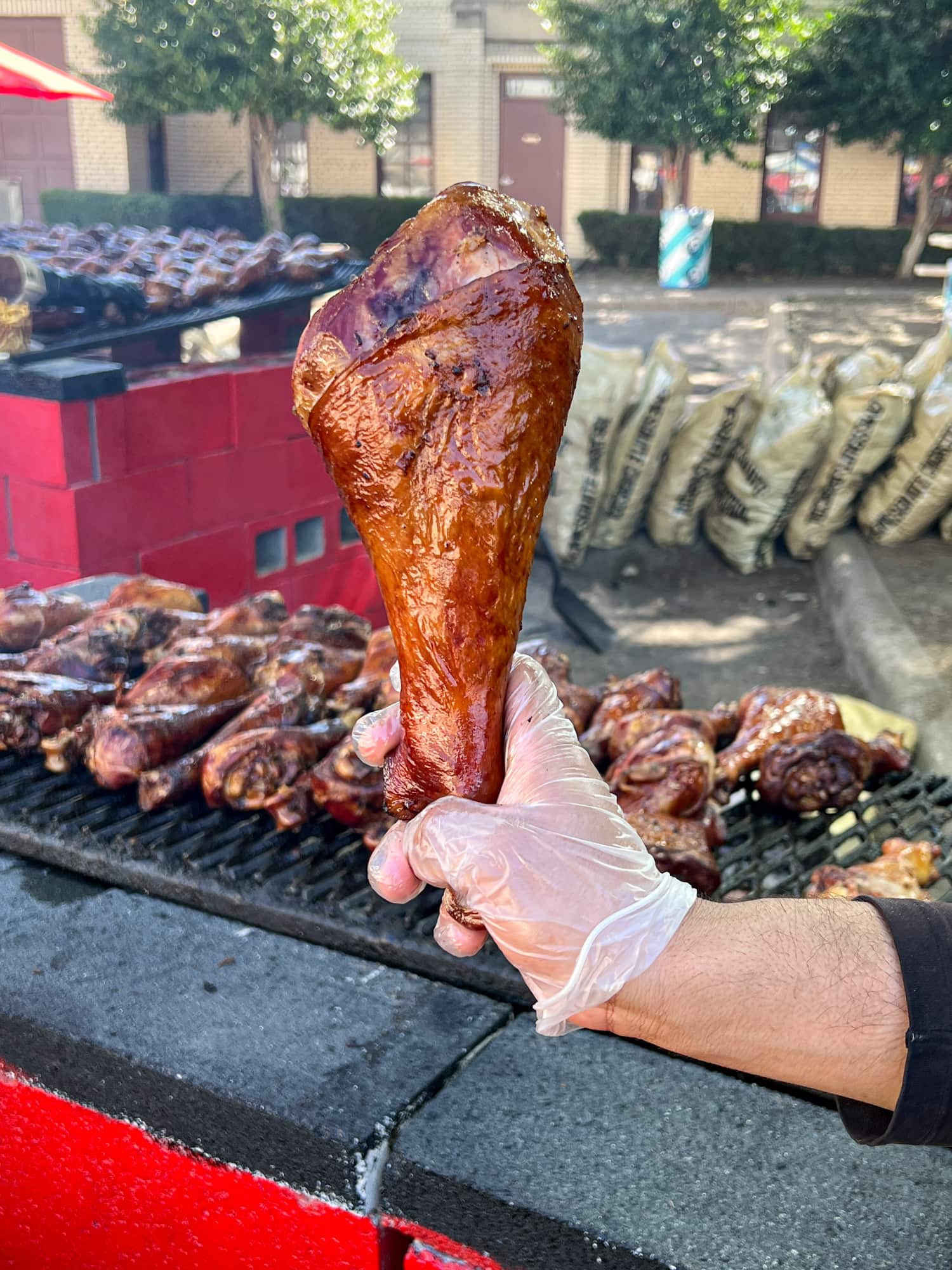 Turkey Legs
Even before noon, people walking around the Texas State Fair with giant turkey legs were common.
A giant hunk of grilled turkey will set you back 22 coupons ($22). We were more focused on the sweets, so we skipped the turkey.
Related: Texas Renaissance Festival
Fried Charcuterie Board
After a detour through the Birthing Barn and the Swine Barn, both full of pigs small and large (and pregnant), we found the 2022 Big Tex Choice Winner for "Best Taste — Savory" at Nevin's Hamburger / Nevin's Corndog.
At age 22, Josey Nevins Mayes became the youngest concessionaire to win a Big Tex Choice Award. And she did it with her Fried Charcuterie Board.
According to a story in The Dallas Morning News, the inspiration came from the charcuterie boards she made for friends.
What's inside these little triangles? More than you'd imagine!
Chopped mozzarella, salami, prosciutto, and green apples are mixed in balsamic vinegar and olive oil, sealed in a wonton wrapper, deep-fried, and finished with cold goat cheese and Mike's Hot Honey.
You get three pieces for 16 coupons ($16). Would it be better than the winner of the sweet category?
A resounding "yes" would be our answer. Thanks to the premium ingredients and flavors, Kel and I agreed it was our favorite bite of the Fair.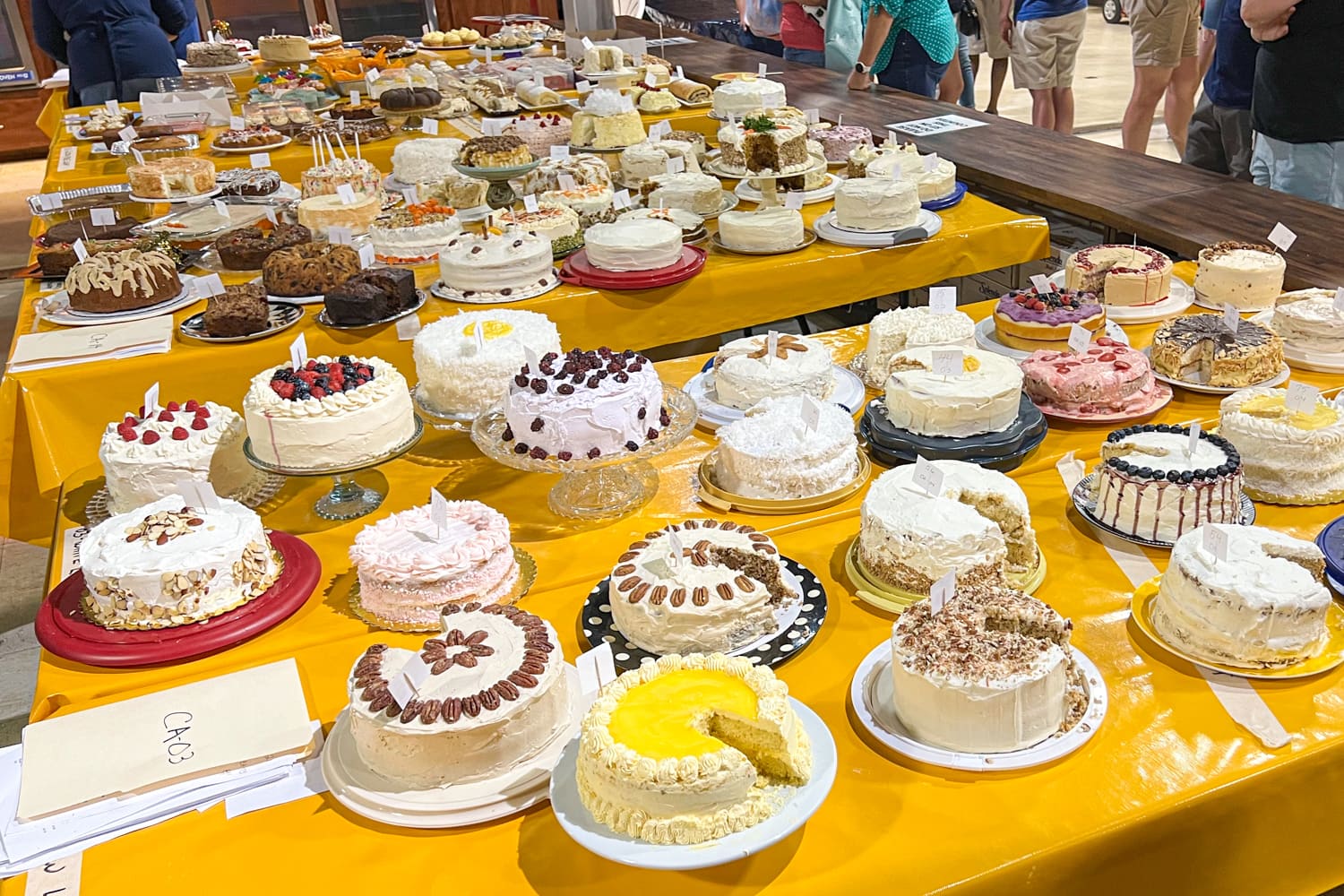 Intermission
Between food vendors, there was a lot to see. We walked through a petting zoo full of cute goats, llamas, alpacas, and one giant Texas longhorn.
On our way to see a human-sized butter sculpture of Big Tex, we passed a cake competition in full swing.
There were cakes upon cakes, organized by category; judges were hard at work taste-testing and rating them all.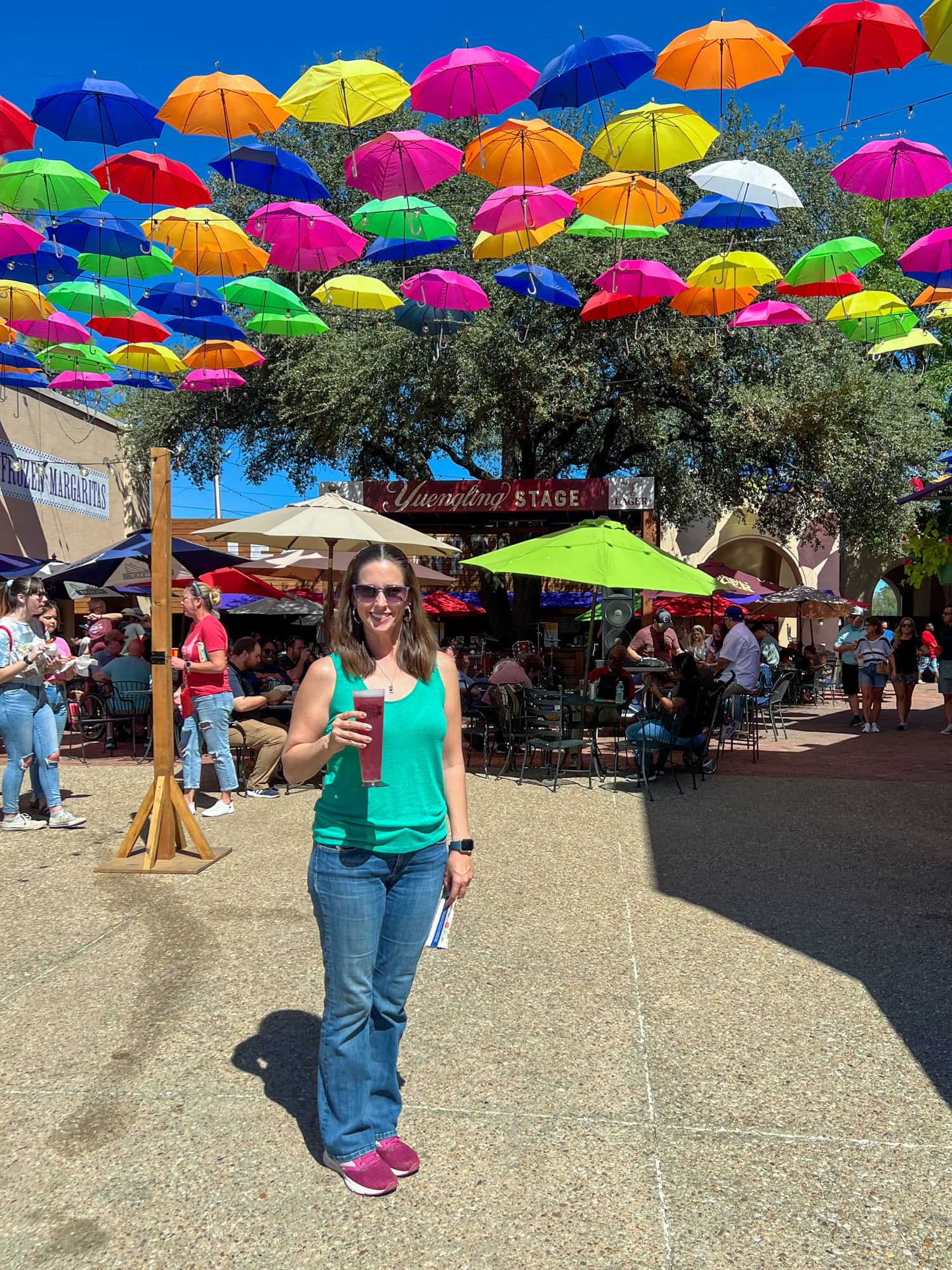 We also passed through the Texas Wine Garden, where Kel ordered a cider.
I exchanged five coupons ($5) for a St. Arnold Old Fashion Keg Root Beer, which tasted mighty fine on a warm fall day in Dallas.
I was purposefully skipping alcohol at the Fair to save coupons for food. And I knew a drink or two would tire me out faster than sticking to water and soda.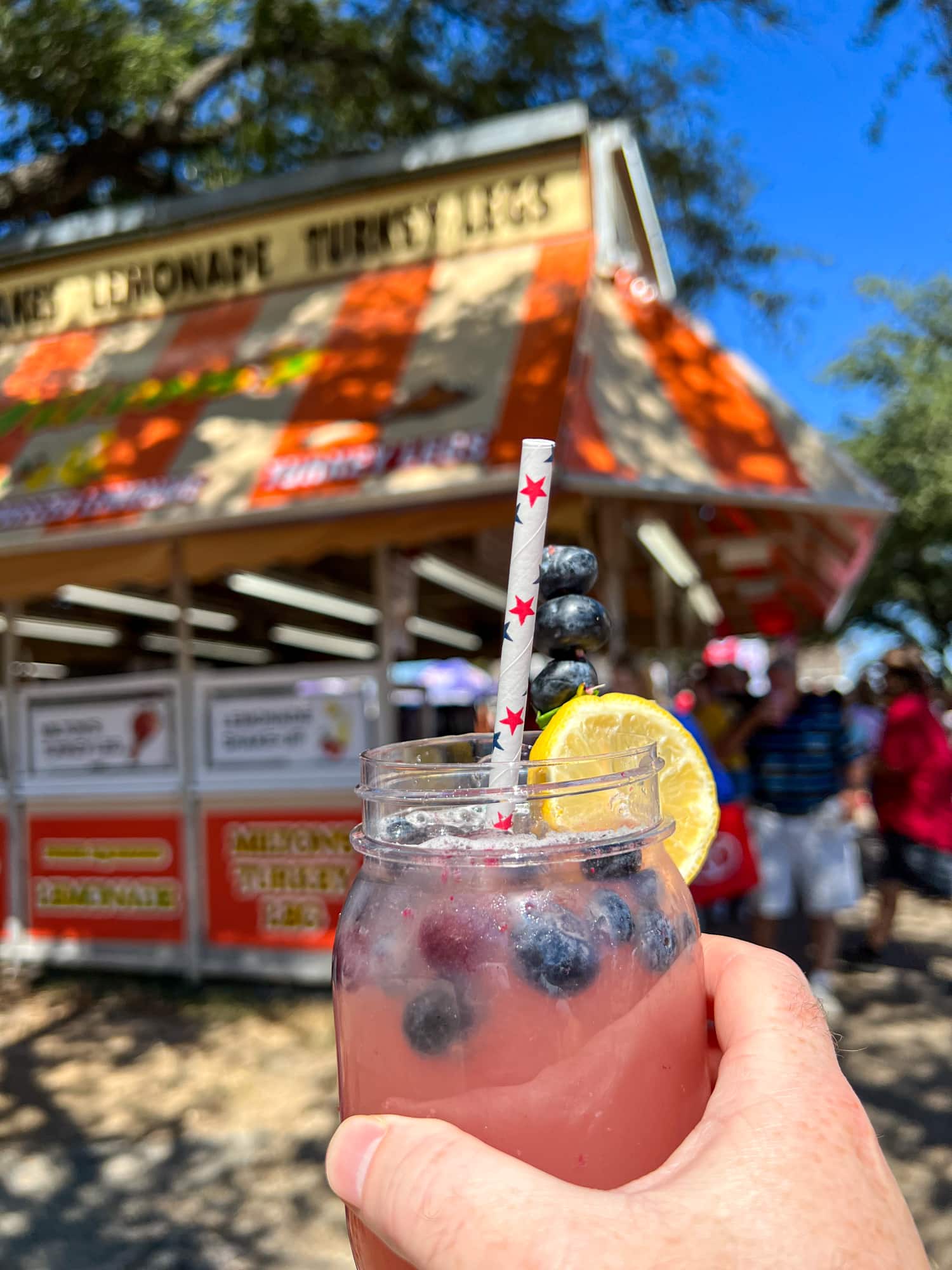 La Bluebonnet
After catching the 1 p.m. pig races (a real squeal), it was time to resume our taste adventure.
La Bluebonnet, available at Milton's Turkey Legs for ten coupons ($10), was a Big Tex Choice Awards finalist in the "Best Taste — Sweet" category.
It's a lemonade-like drink made from fresh-squeezed citrus juices and blueberries, served over ice, and garnished with a lemon slice, mint leaf, and more blueberries.
The refreshing Bluebonnet is served in a plastic Mason jar with a paper straw, a nice touch in terms of presentation. The blueberries were the healthiest food I ate all day.
Related: Afternoon Tea at The French Room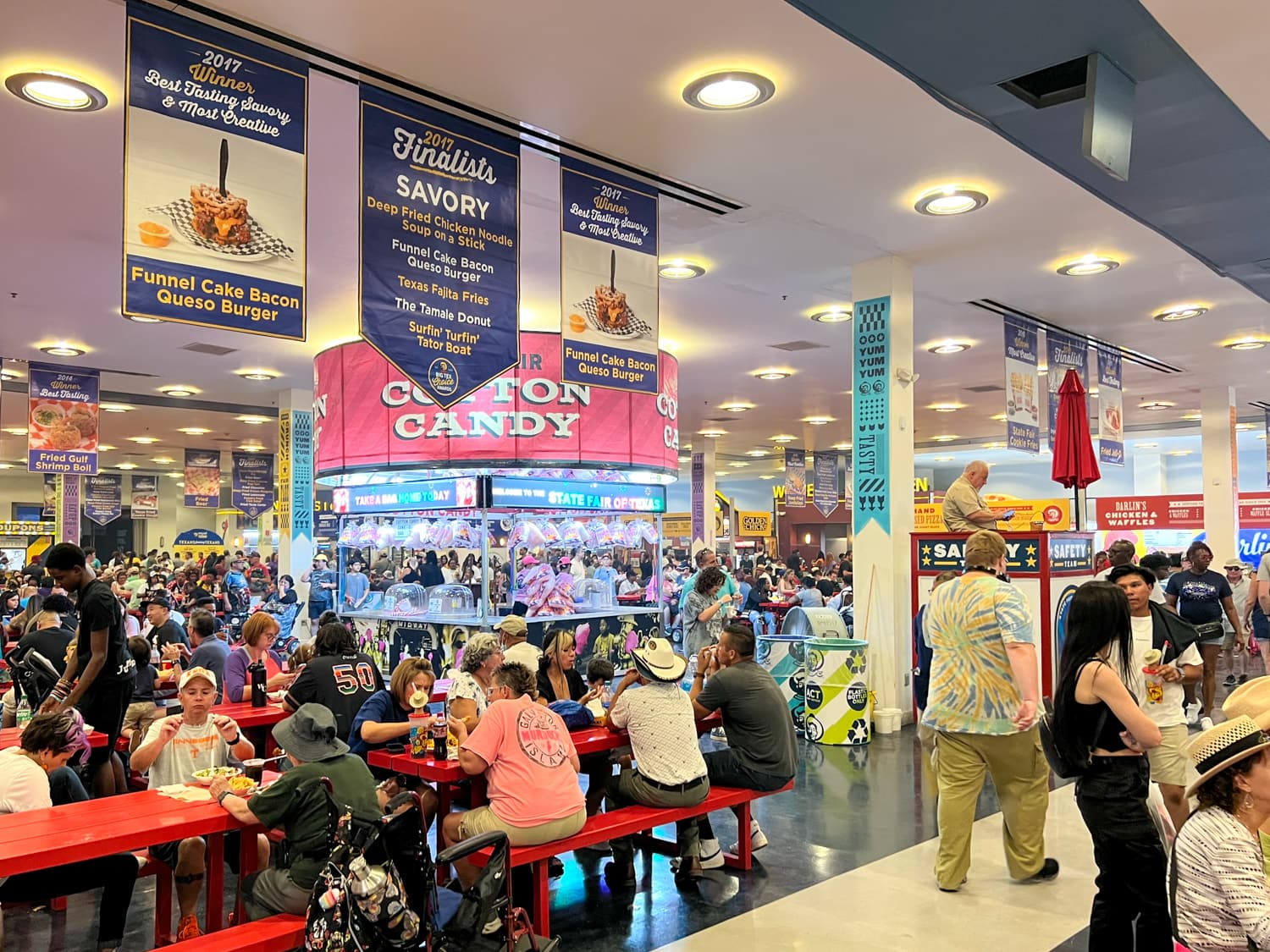 Food Court
After taking photos in front of Big Tex, we made our way to the Tower Building Food Court.
It was 1:30 p.m., and we'd been at the Texas State Fair for about three hours. I was starting to feel tired as we entered the bustling food hall.
Inside, there were people everywhere. It was lunchtime, and people were excited to try everything offered.
Banners highlighting past food competition winners hung from the ceiling. It was an impressive display of overindulgence.
The 2017 winner for "Best Taste — Savory" and "Most Creative" was the Funnel Cake Bacon Queso Burger. It sounds like a heart attack on a plate.
Another finalist in the savory category that year was Deep Fried Chicken Noodle on a Stick, a more appealing option.
Related: Soba Noodles in Dallas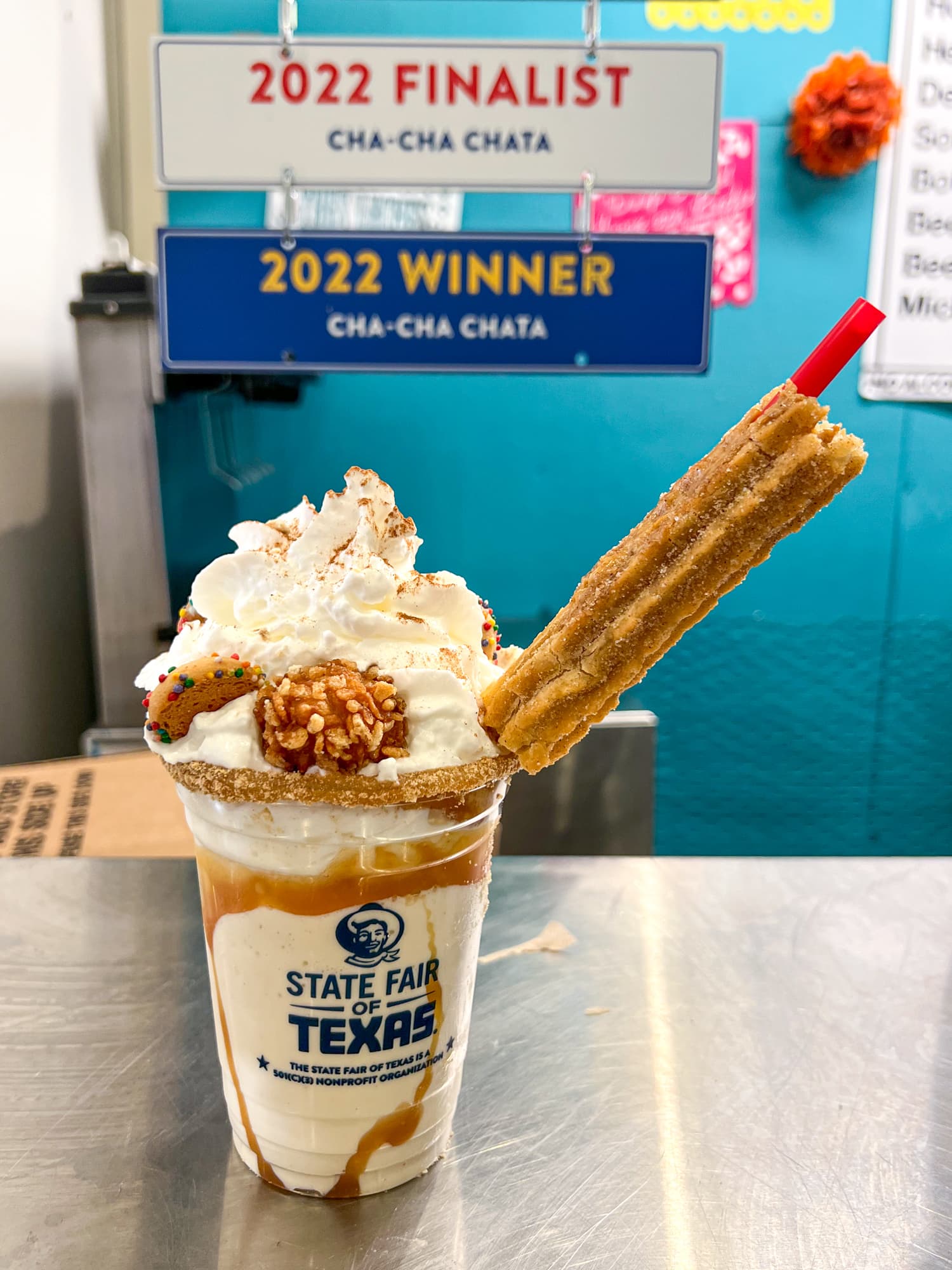 Cha-Cha Chata
At Ranchero Deep Fried Love, we found the Cha-Cha Chata, the 2022 Big Tex Choice Award winner in the "Most Creative" category.
For 16 coupons ($16), you get two types of milk and vanilla ice cream blended into a horchata and poured into a cup with caramel and cinnamon.
The creamy shake is topped with whipped cream, mini cinnamon cookies, a deep-fried arroz con leche (rice with milk) bite, and a churro over a plastic straw.
On presentation alone, I thought the Cha-Cha Chata was a winner. It looked delicious, and I enjoyed hitting the cold vanilla ice cream once we got through the whipped cream.
The cookies and deep-fried ball of arroz con leche didn't add much for me in terms of flavor, and I didn't even bother biting into the churro. The cold milkshake is what I enjoyed most.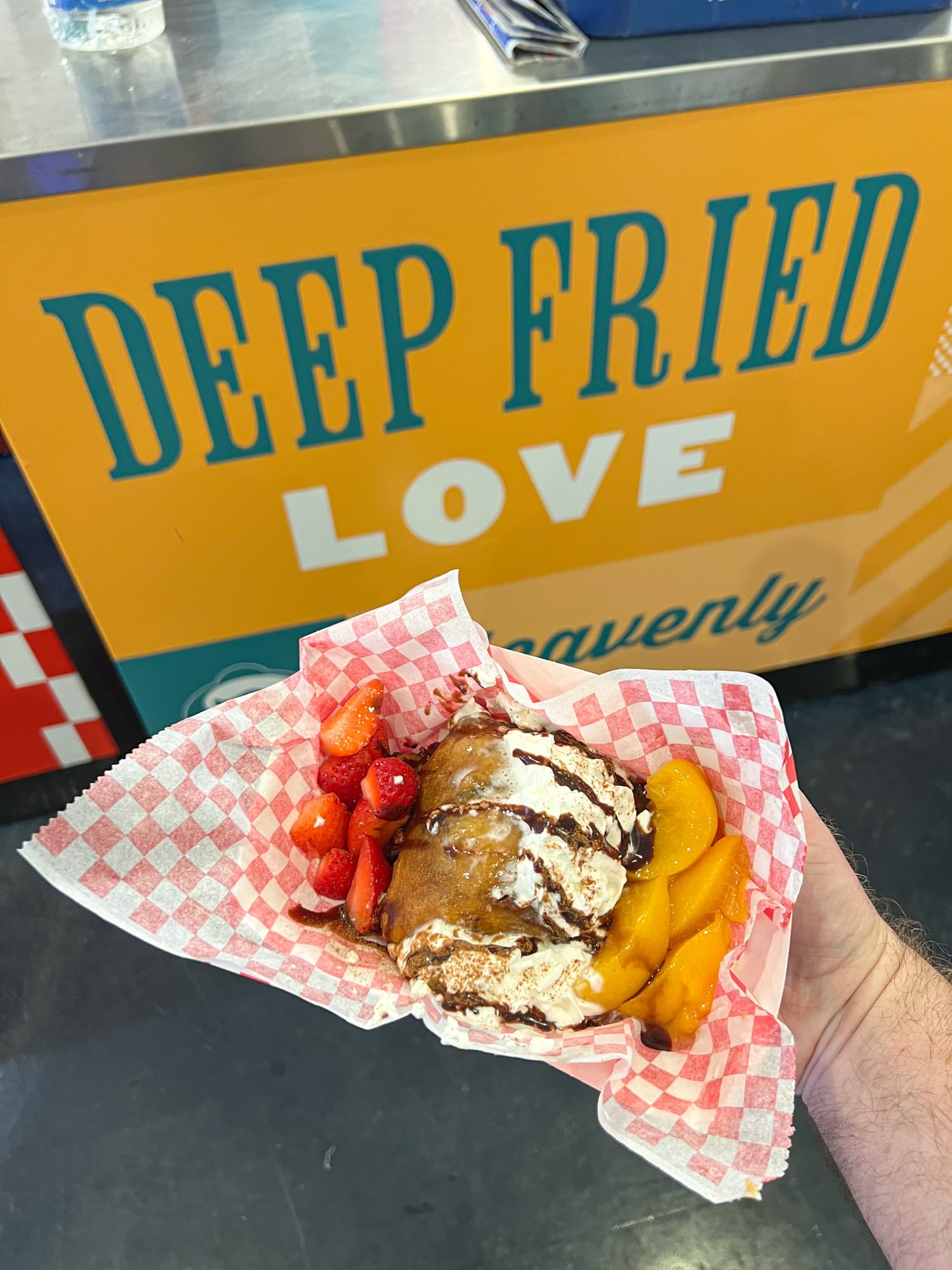 Deep-Fried Chocolate Tres Leches Cake
While ordering the Cha-Cha Chata from Deep Fried Love, we noticed they also sold a deep-fried chocolate tres leches cake.
We ordered a serving for 14 coupons ($14), noting it was a Big Tex Choice Award finalist at the 2012 Texas State Fair.
Kel loves tres leches cake, and she enjoyed this version. It was too far removed from a traditional tiramisu, one of my favorite Italian desserts, for me to appreciate.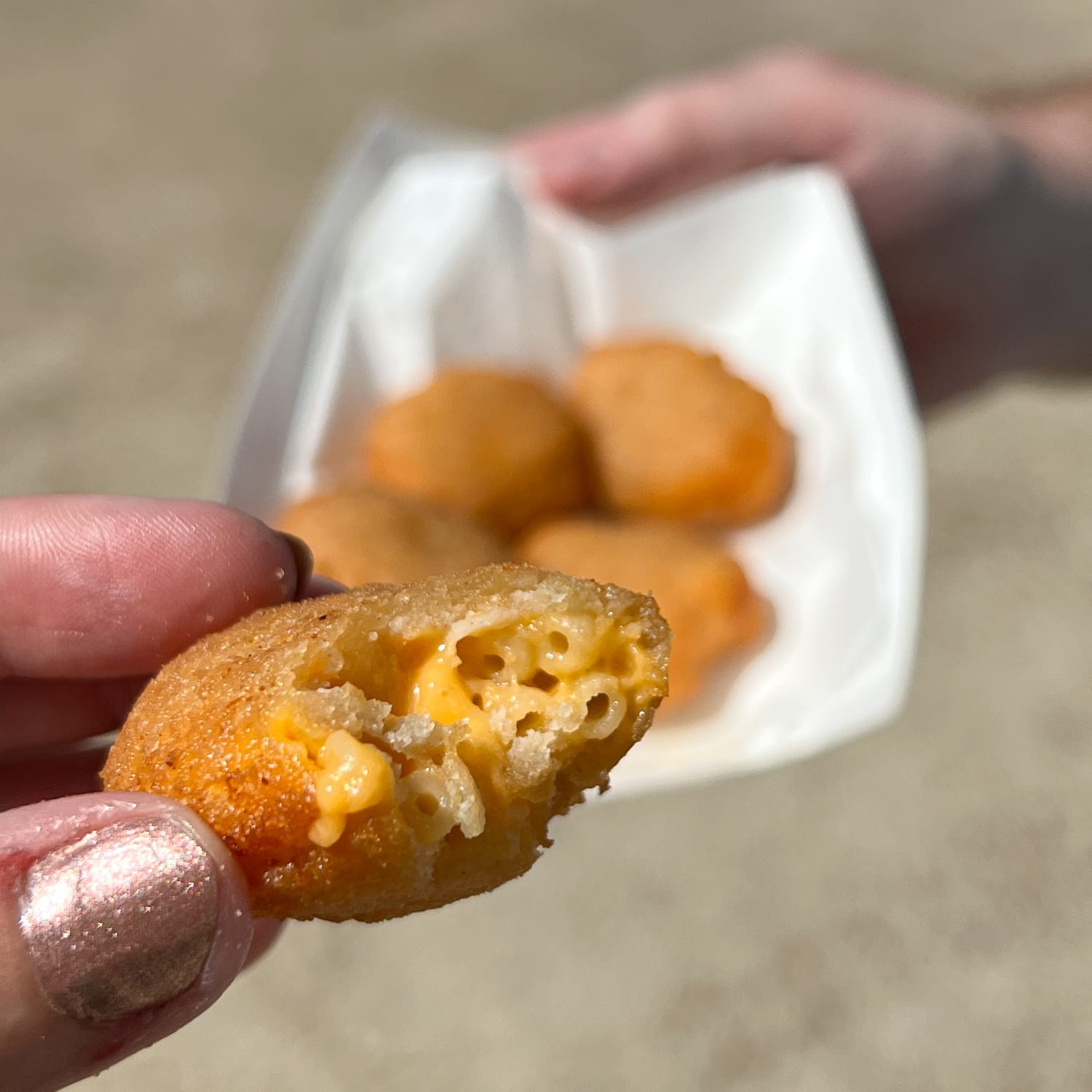 Deep-Fried Mac' n Cheese
I could feel my anxiety rising inside the food hall, so we exited after finishing our desserts.
The first food vendor we saw sold deep-fried mac 'n cheese, which I wanted to try.
I'm sure I've had versions of it before and enjoyed them. The Texas State Fair was no different.
We received five macaroni and cheese nuggets for eight coupons ($8). Each had a thin golden-brown fried crust. Inside, soft and creamy cheese and pasta.
They reminded me of the cheese-filled chicken nuggets my Mom used to heat up for me as a kid.
Related: Brunch at Mansion Restaurant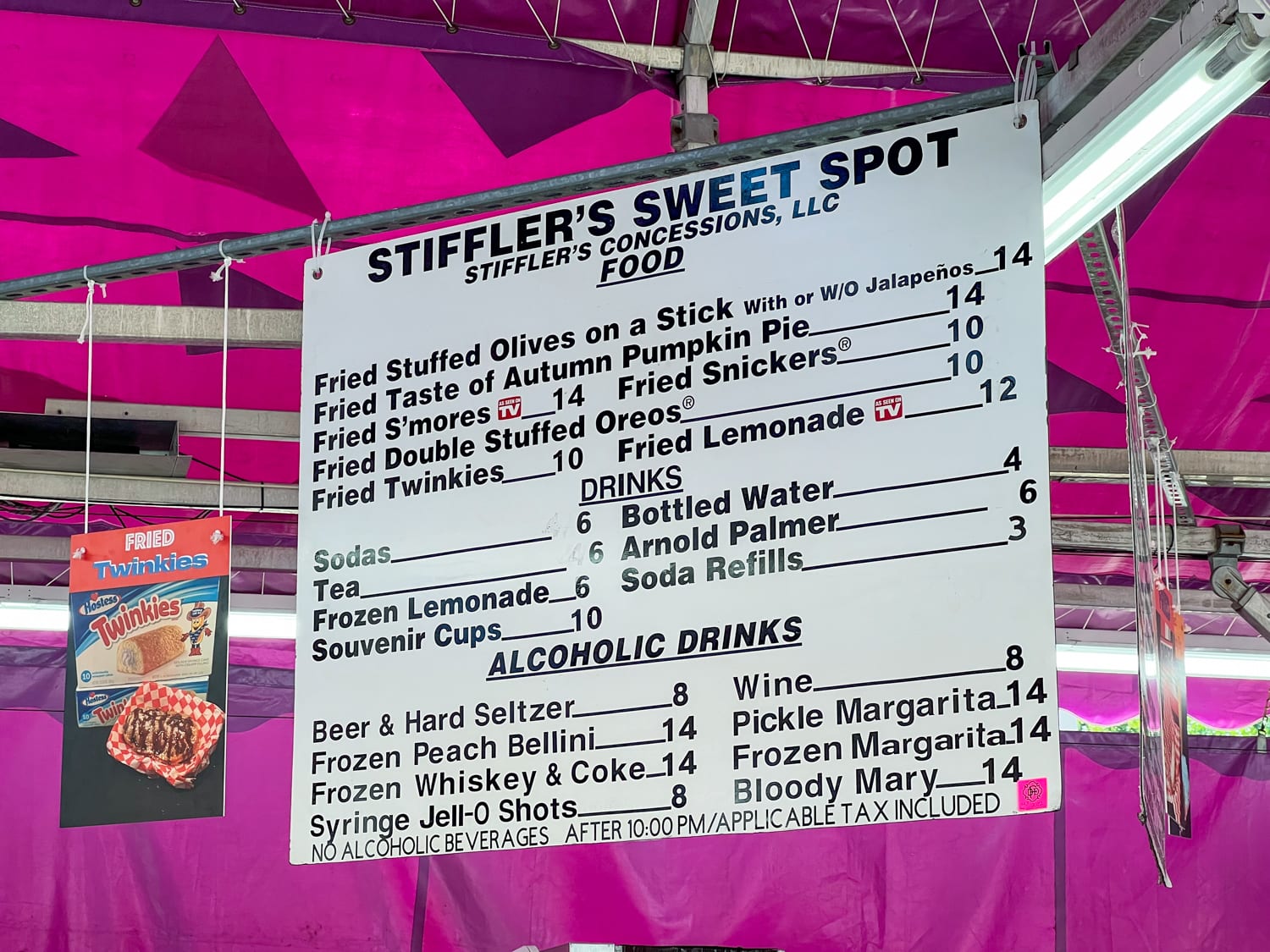 Deep-Fried Twinkie
A Twinkie was one of the only deep-fried foods I knew I wanted to try when I entered the Texas State Fair.
It's the kind of treat that sounded outrageous to me as a kid, but I never had the chance to try it.
As we've already seen, state fair snack recipes have since evolved into the obscene with wild ingredient combos.
I suppose a deep-fried Twinkie was once just as sensational, although now it seems merely quaint!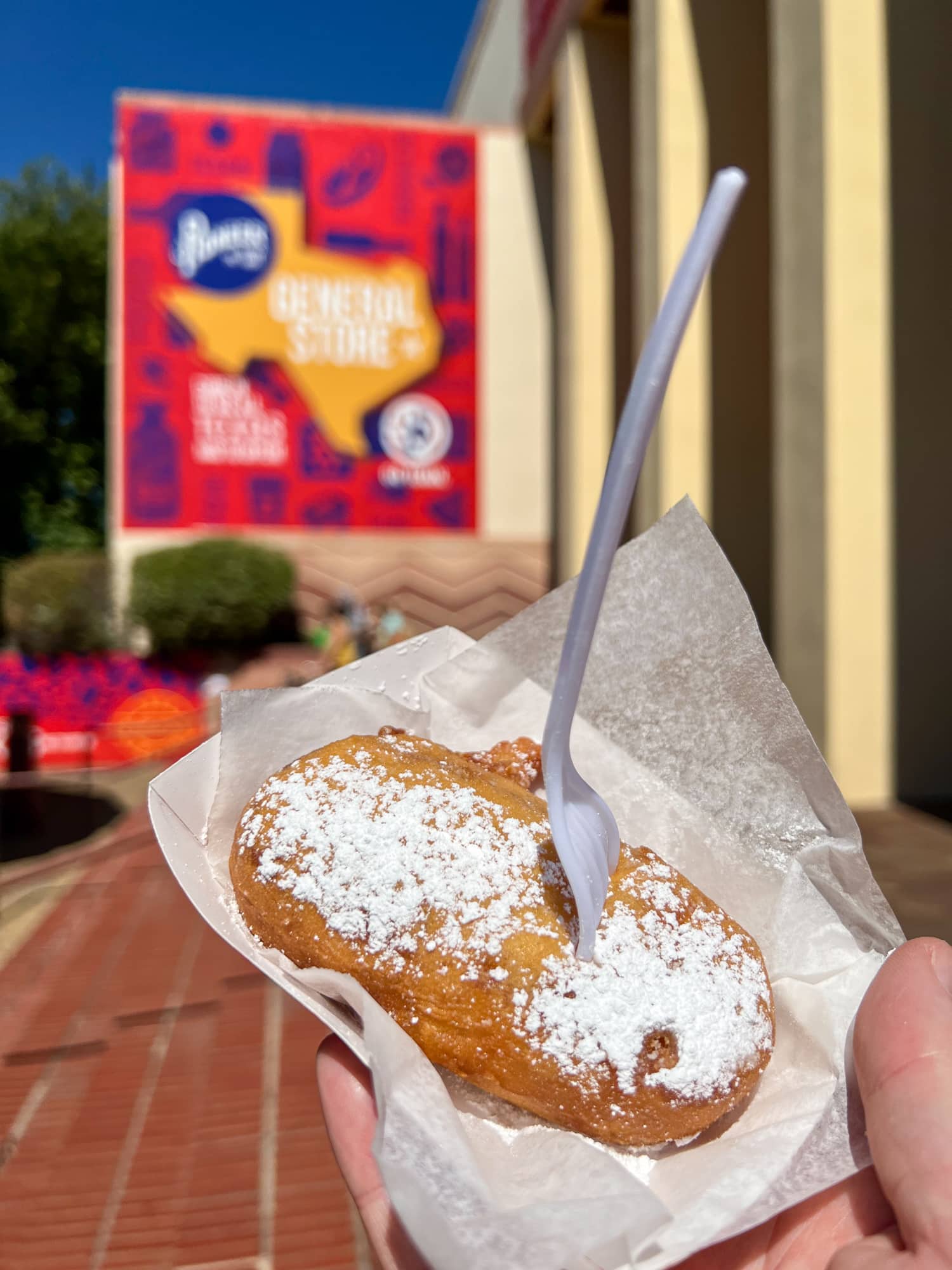 Stiffler's Sweet Spot
We stopped at Stiffler's Sweet Spot; I'm assuming a nod to the character from the "American Pie" movies. Their menu had a Twinkie and much more.
Fried Taste of Autumn Pumpkin Pie? Yes, please! Fried S'mores? Double yes! Fried Snickers? I was curious, but Kel waved me away from it.
Had I ordered all three, it'd have been another $38 on top of the $10 for the Twinkie.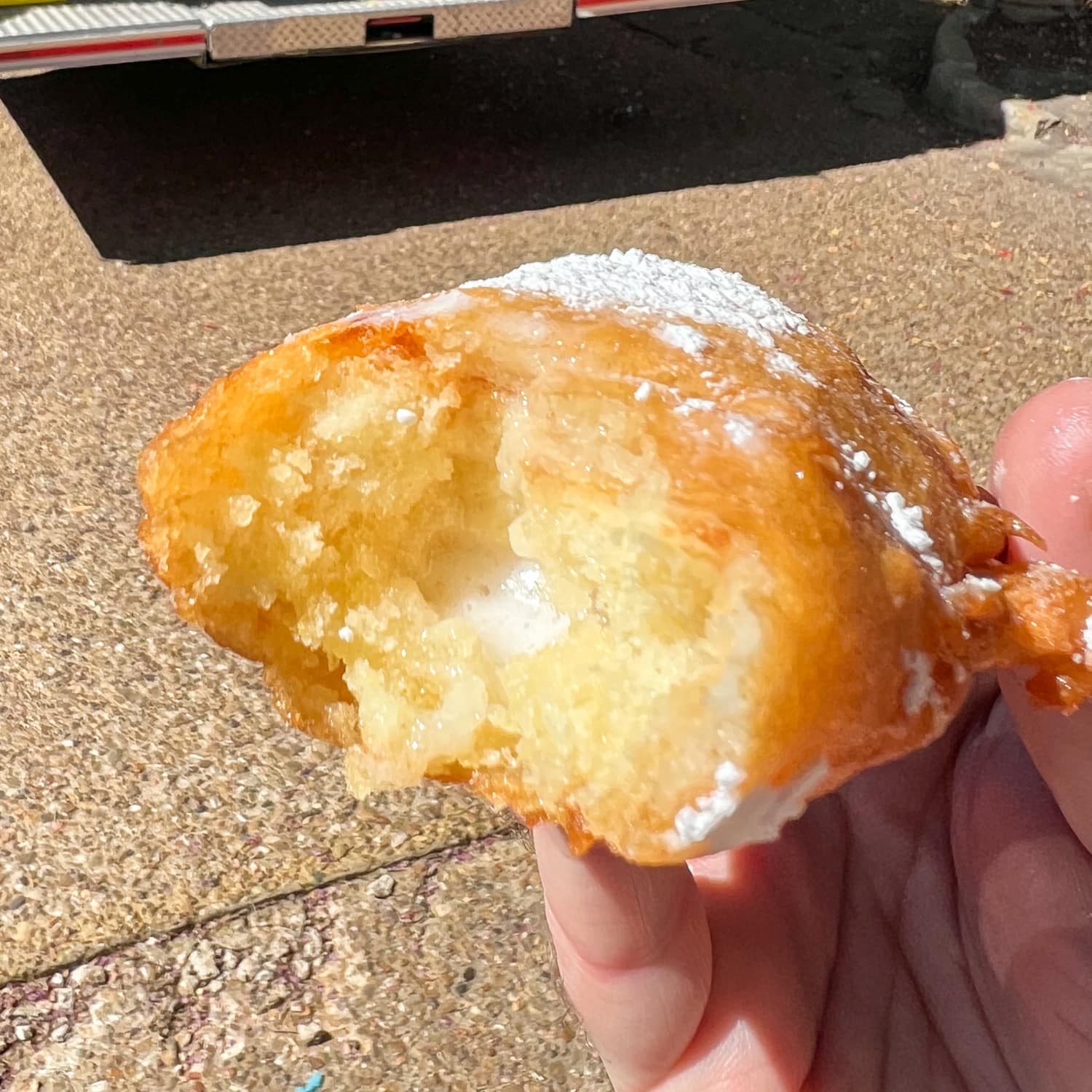 Ten dollars is a lot, but this is the Texas State Fair, and I was getting used to the high costs.
I took a bite and instantly enjoyed the warmth of the cake inside. The cream was a bit runny compared to a regular Twinkie at room temperature.
Like the Oreo, Twinkies are an excellent option for deep-frying — they're small, easy to handle, and full of nostalgia.
(My Mom never bought me Twinkies as a kid; perhaps that's why this classic snack cake still captures my curiosity.)
After the Twinkie, we walked through Midway, full of carnival rides and games.
Related: Tips to Enjoy the State Fair of Texas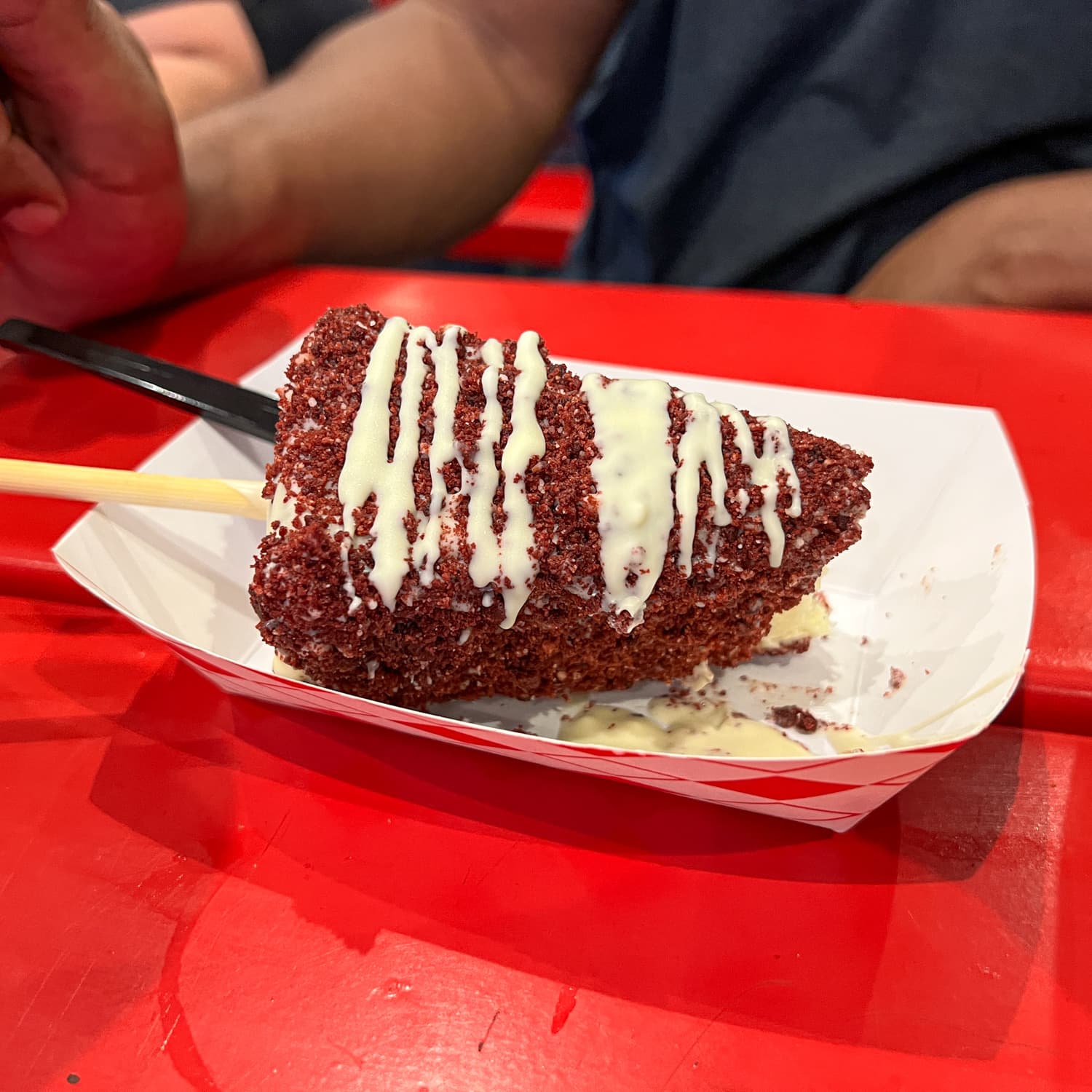 Red Velvet Cheesecake
Towards the end of our run through the State Fair of Texas, my desire to spend $10 to $20 per food item was waning.
Kel politely asked a few people for photos of their delicious-looking desserts.
First, there was Drizzle's Chocolate-Dipped Cheesecake on a Stick, one of the new foods at the Texas State Fair.
Each slice of New York-style cheesecake is dipped in Belgian chocolate and rolled in toppings like red velvet cake.
We saw a lot of people with these in the food court. I would've loved to try it, but was too far gone. Doesn't it look amazing?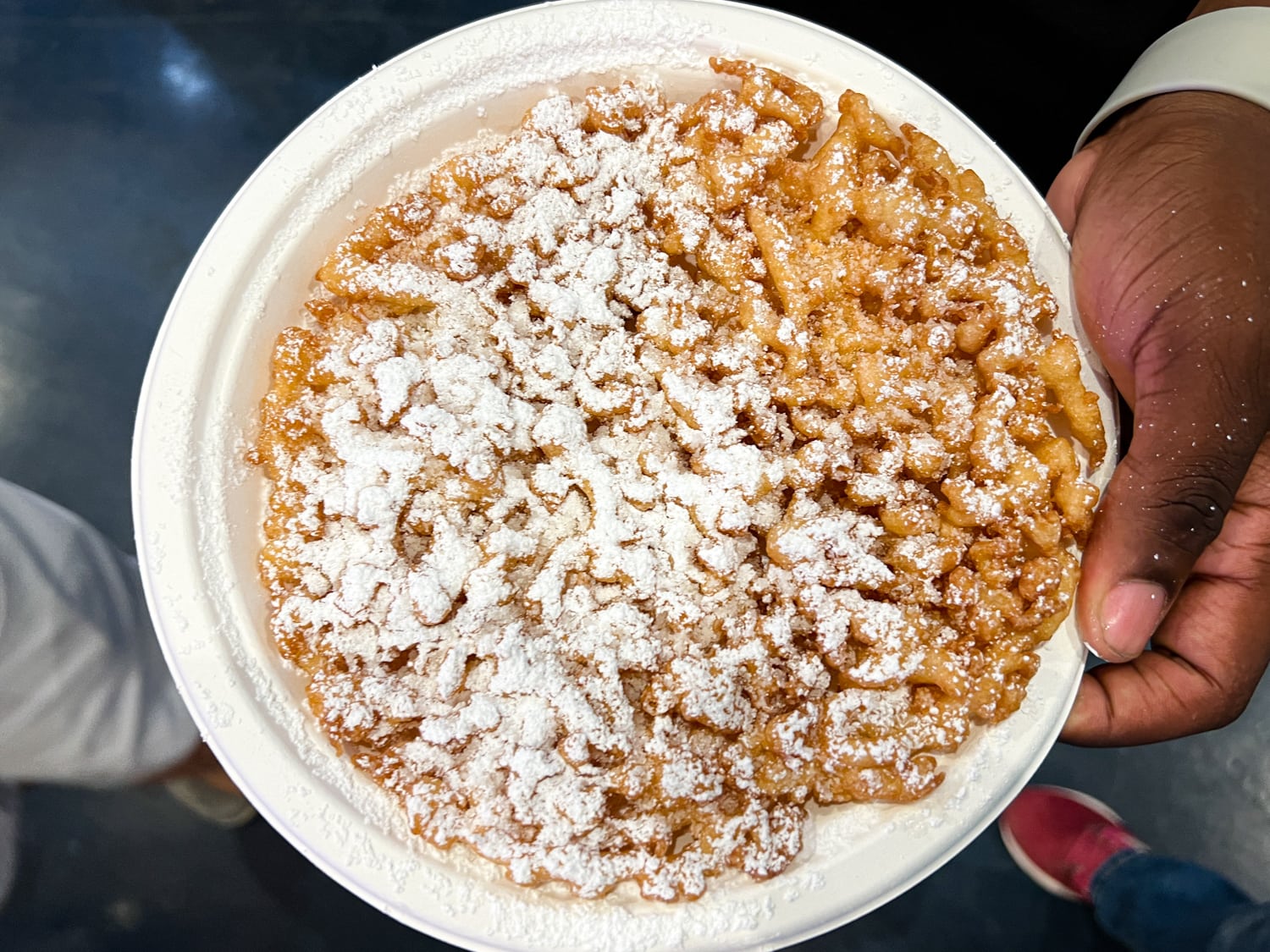 Funnel Cake
And, of course, there were funnel cakes. I don't know the history of fried dough, but I'm guessing these bite-size bits are one of the earliest iterations.
Related: Best Bakeries in Austin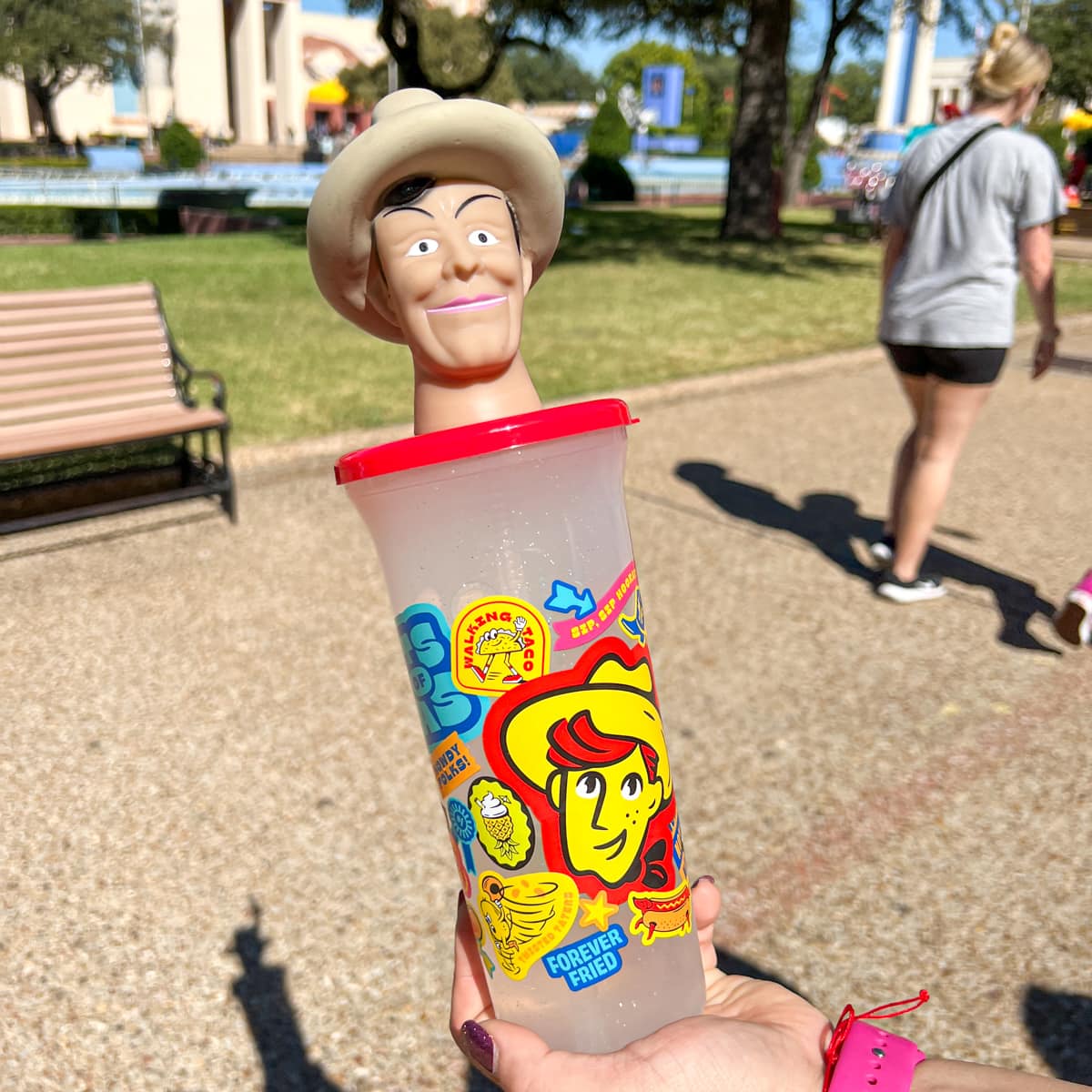 Final Thoughts
My first trip to the Texas State Fair in Dallas was fun, albeit overwhelming.
The 277-acre fairgrounds meant lots of walking to explore, even with Kel, a Fair veteran, as my guide.
I'm glad we arrived a half-hour after the gates opened, as it was packed by the time we left around 3 p.m. Being around tens of thousands of strangers wore on me.
I'm an introvert and have a time-limited internal clock about big events. The smaller Austin Food + Wine Festival is more comfortable for me.
And then there was the food. Having never been to a state fair, almost everything deep-fried was new and intriguing.
I wanted to try it all but knew one day wasn't enough. And there were limits to how many deep-fried food items I wanted to consume.
Here's a recap of my first foray into deep-fried Texas State Fair food:
Favorites: Deep-Fried Oreos and Twinkies, Fried Charcuterie Board
Worth the Money: Fletcher's Corny Dog, Deep-Fried Mac' n Cheese, Cha-Cha Chata
Tasty but Overpriced: Peanut Butter Paradise, La Bluebonnet
I'd Pass (but Kel liked): Deep-Fried Chocolate Tres Leches Cake
Once wasn't enough for a fair this large. I don't know if I'm sufficiently inspired to clog my arteries there annually, but every few years sounds fun.
Next time, I'd like to visit at dusk/evening, watch live music, and see the State Fair of Texas rodeo.