Stepping into serene Tei-An, a Japanese restaurant by chef Teiichi Sakurai, in downtown Dallas was a relief from the harrowing drive into the city.
It was my first trip to the Big D since moving to Texas, and I'd chosen Tei-An at One Arts Plaza (in the Arts District) to commemorate the occasion.
I arrived at 11:30 a.m. for my reservation and was promptly shown to a seat facing the serene rock garden within a horseshoe-shaped sushi bar.
Jazz music was playing, and a steady stream of customers came in soon after.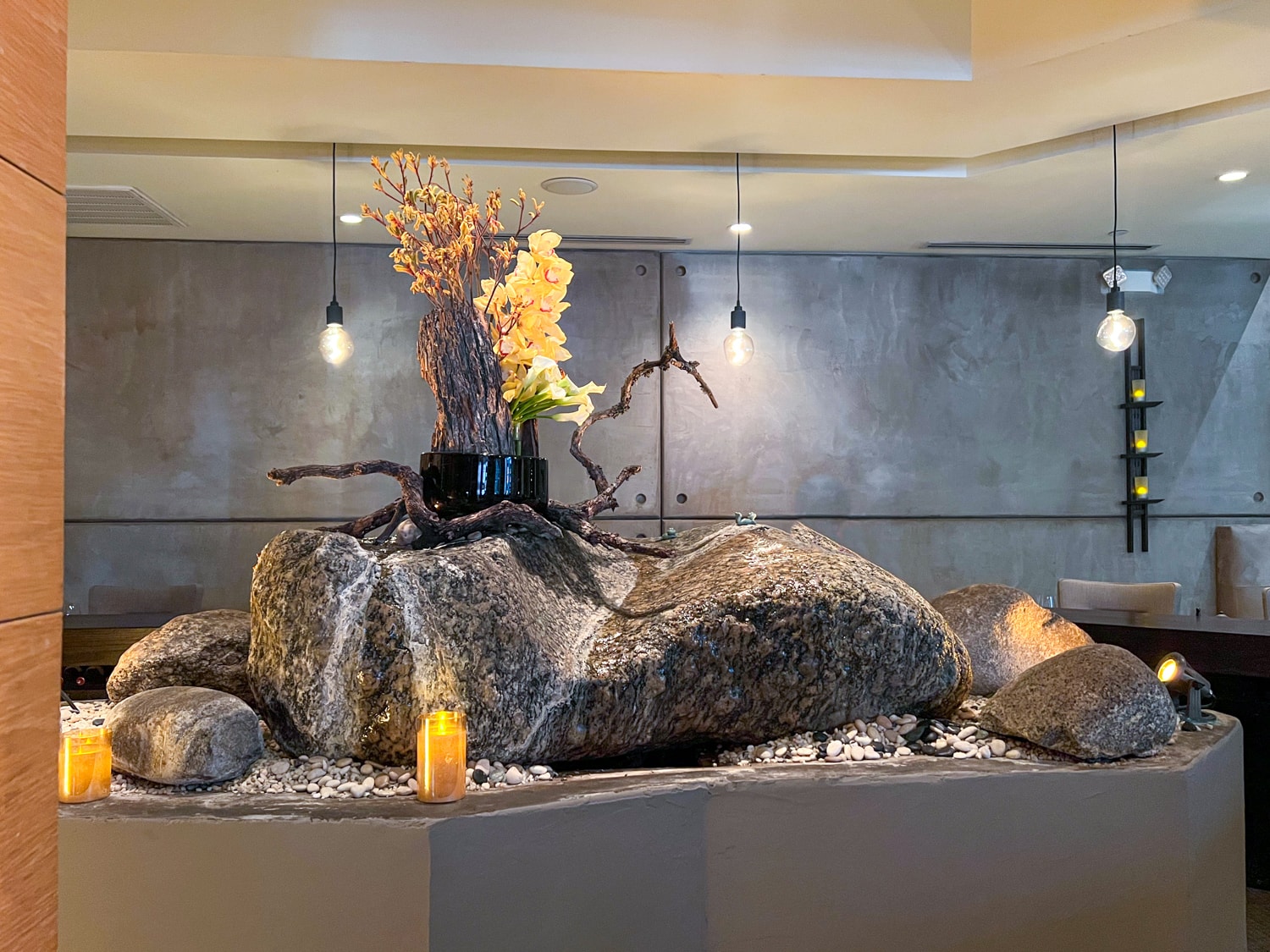 About the Chef
Japanese-born chef Teiichi Sakurai came to Amarillo, Texas, in 1985 as an aviation student on an exchange program.
Despite getting his pilot's license, he moved to Dallas. He began working as a sushi chef at Royal Tokyo, slowly introducing diners to various sushi.
In 1995, he opened his first restaurant, Teppo, serving yakitori and sushi, followed by Tei Tei Robata Bar three years later.
He eventually sold both restaurants to his head chefs and began studying the art of soba noodle-making. This included a four-week program at the Tsukiji Soba Academy in Tokyo.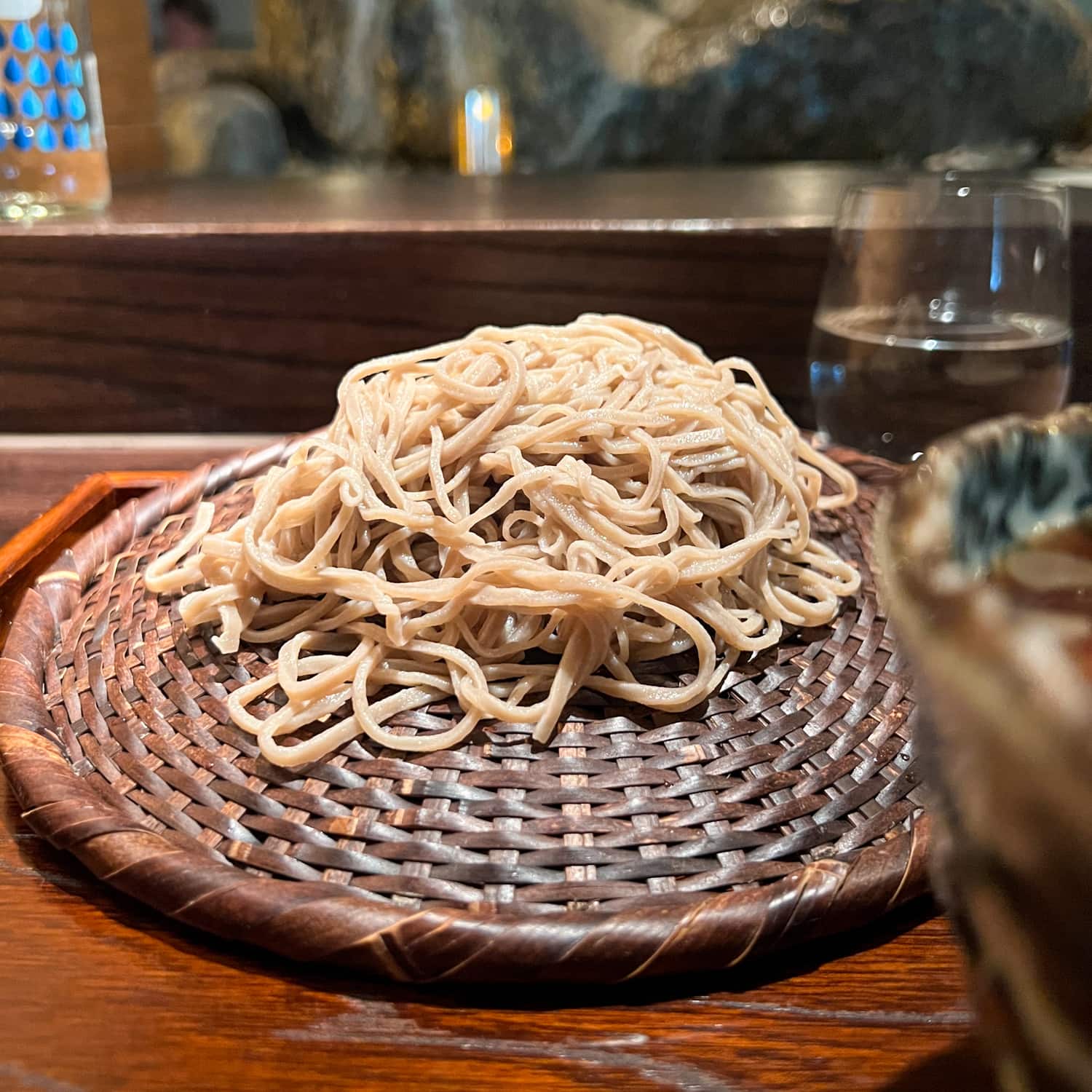 Soba noodles are made from buckwheat flour and originated in the Edo period in Japan (1603 to 1867). These thin, fragile noodles are either served chilled with a warm dipping sauce or hot in soup.
In August 2008, Sakurai opened Tei-An in Dallas, an authentic soba house and one of only a handful of restaurants in the United States known for making soba noodles on-site.
Teiichi Sakurai is a six-time Semifinalist for a James Beard Award for Best Chef in Texas and the Southwest. D Magazine lists Tei-An as the best restaurant in Dallas right now.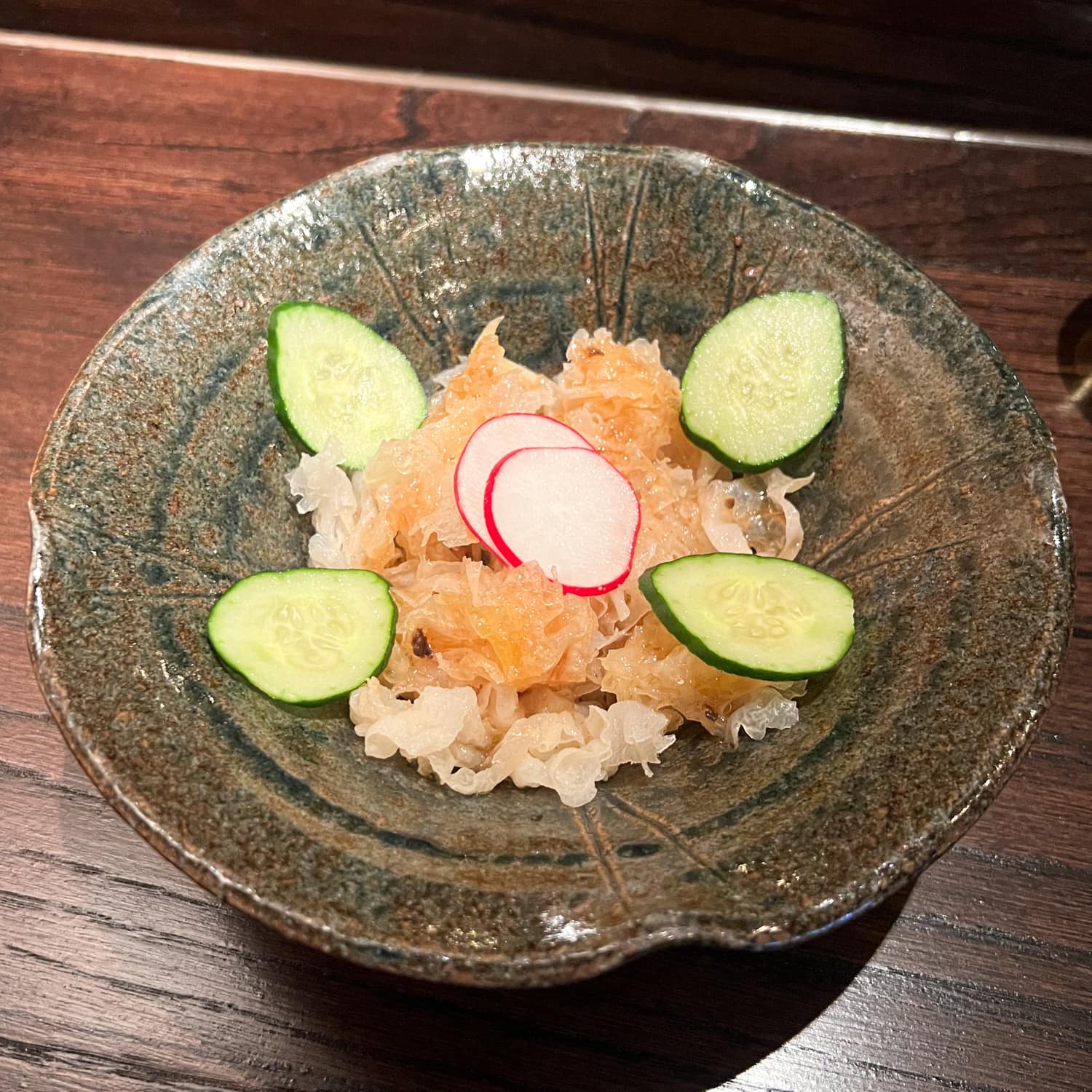 Lunch at Tei-An
Once seated, I was greeted by Jack, a waiter who offered me still or sparkling water. I chose the former and was provided a steady supply of Richard's Rainwater.
A paper menu listed the day's specials, noting ultra-seasonal fish flown in from Tokyo's Toyosu Market goes door to door in less than 20 hours.
The Toyosu Market is the successor of the Tsukiji Market, which I visited in 2011, and permanently closed in October 2018.
I was primarily there to try the fresh soba noodles, but I couldn't pass up a few bites of raw fish.
At Jack's suggestion, I began with a white seaweed salad. The cold and crunchy salad was an excellent start to the lunch.
Related: Best Restaurants in Dallas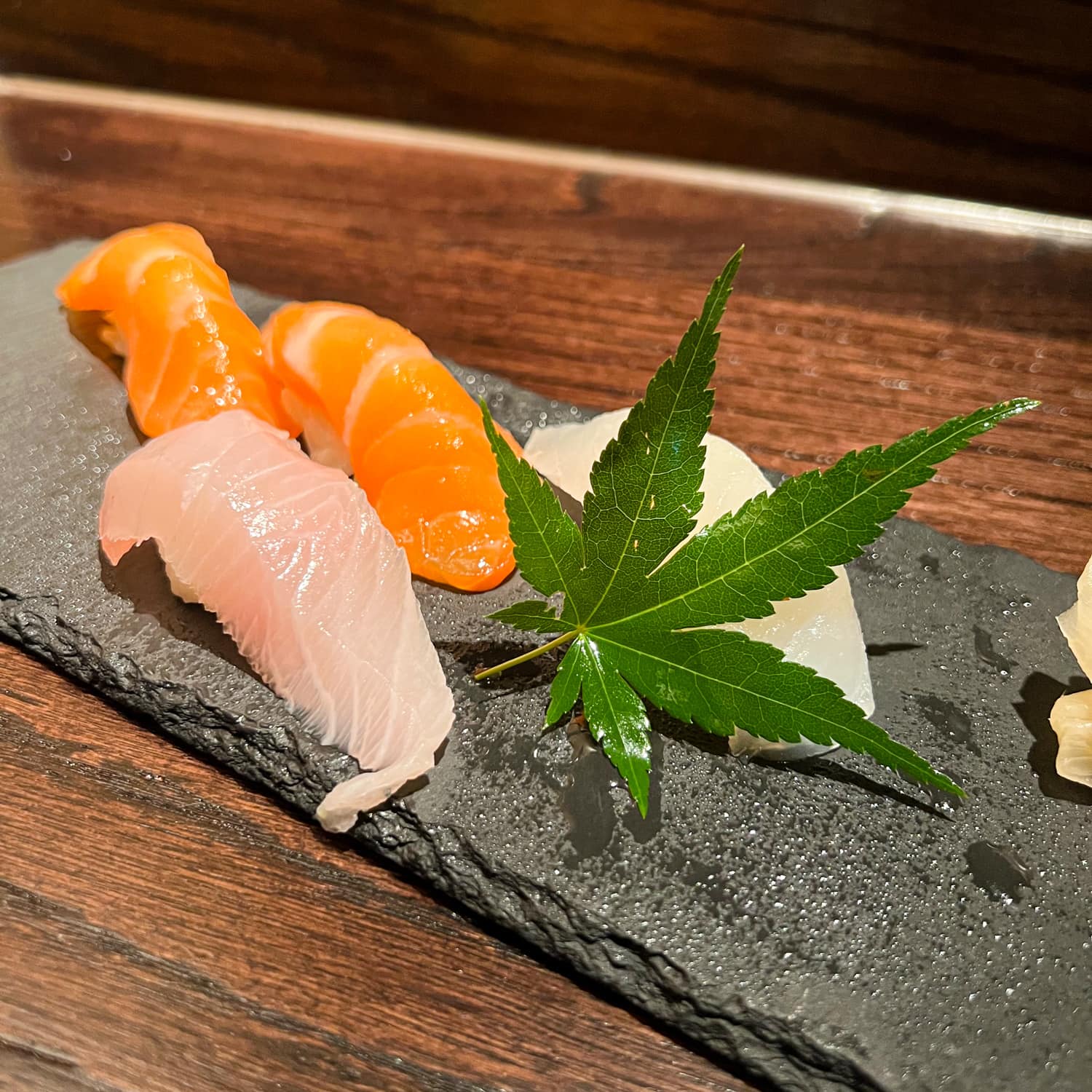 Sushi and Specials
Next at Tei-An came the four nigiri I ordered: two pieces of Scottish salmon, baby yellowtail, and snapper. The yellowtail and snapper were two of the day's specials.
Pricier picks by the chef that day included Spain super toro ($13.50 per piece of sushi or $80 for premium sashimi), grilled Chilean sea bass ($34), grilled unagi eel ($38), and bluefin tuna collar ($125).
For fans of Wagyu beef, there was Miyazaki Beef A5 BMS12 sushi or sashimi ($11 or $66 per piece, respectively) and a Washu tomahawk steak for $225. You can make it rain with a "black truffle shower" for an additional $150.
The luxury options are there, and undoubtedly many customers choose them.
I appreciated that Tei-An in Dallas can walk the line between a fine dining establishment and a more casual lunch spot for budget-friendly soba noodles.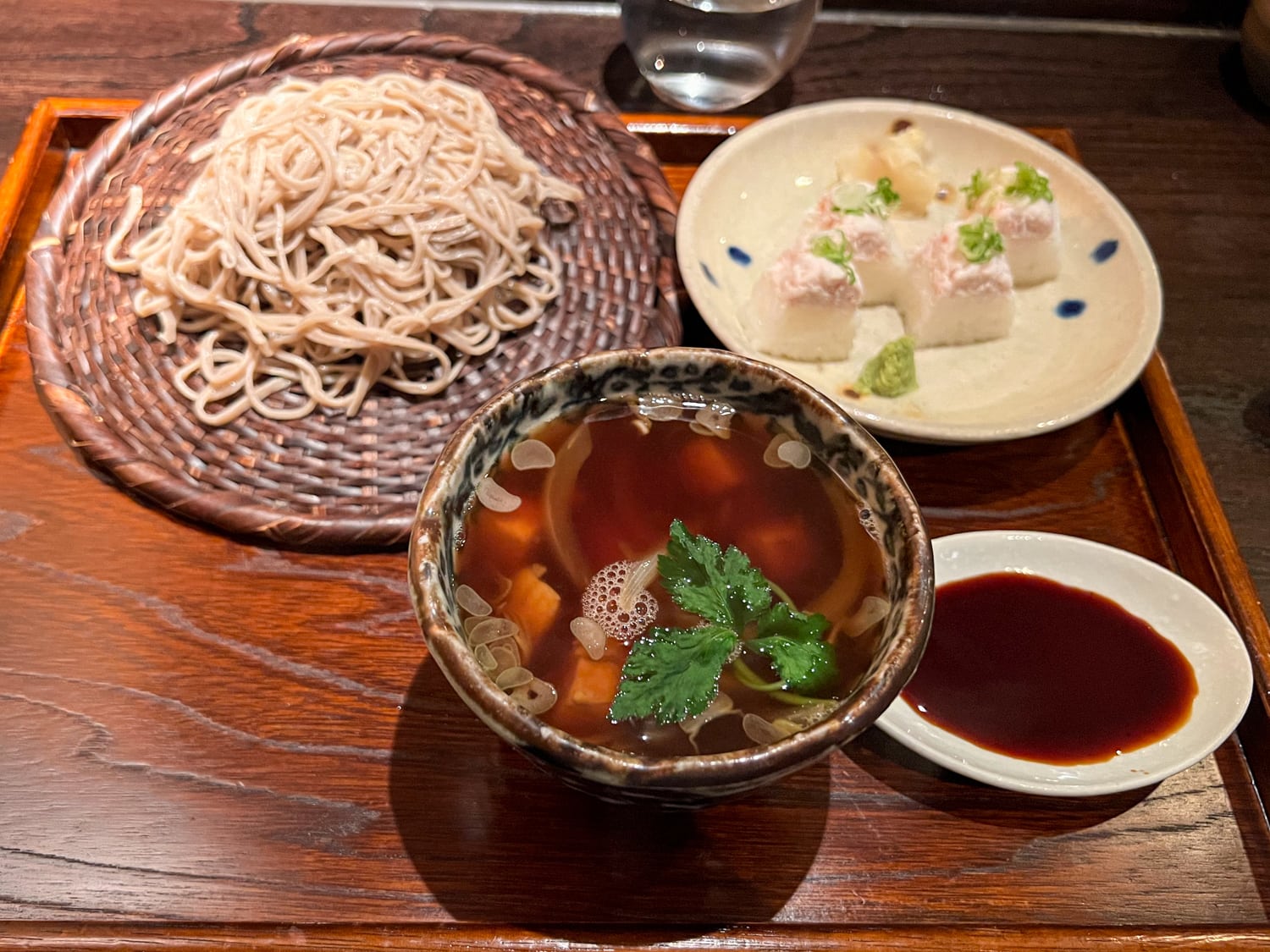 Soba Noodles
Initially focused on the daily specials, I considered ordering the seasonal summer tomato soba noodles.
However, I was most interested in trying the traditional option, so I settled on classic soba noodles served on a bamboo mat with soy dipping sauce and chicken breast ($16).
A wooden tray was placed in front of me with a pile of naked noodles, a bowl of soy-based sauce with tender chunks of chicken, and four pieces of sushi (a pleasant surprise).
I got to work with chopsticks in hand, dunking noodles in the rich broth, trying not to make a mess as I ate them.
When the noodles were gone, Jake came over with a pot of broth and topped off my bowl. I then proceeded to drink from the bowl 'till that was gone, too.
Related: Afternoon Tea at The French Room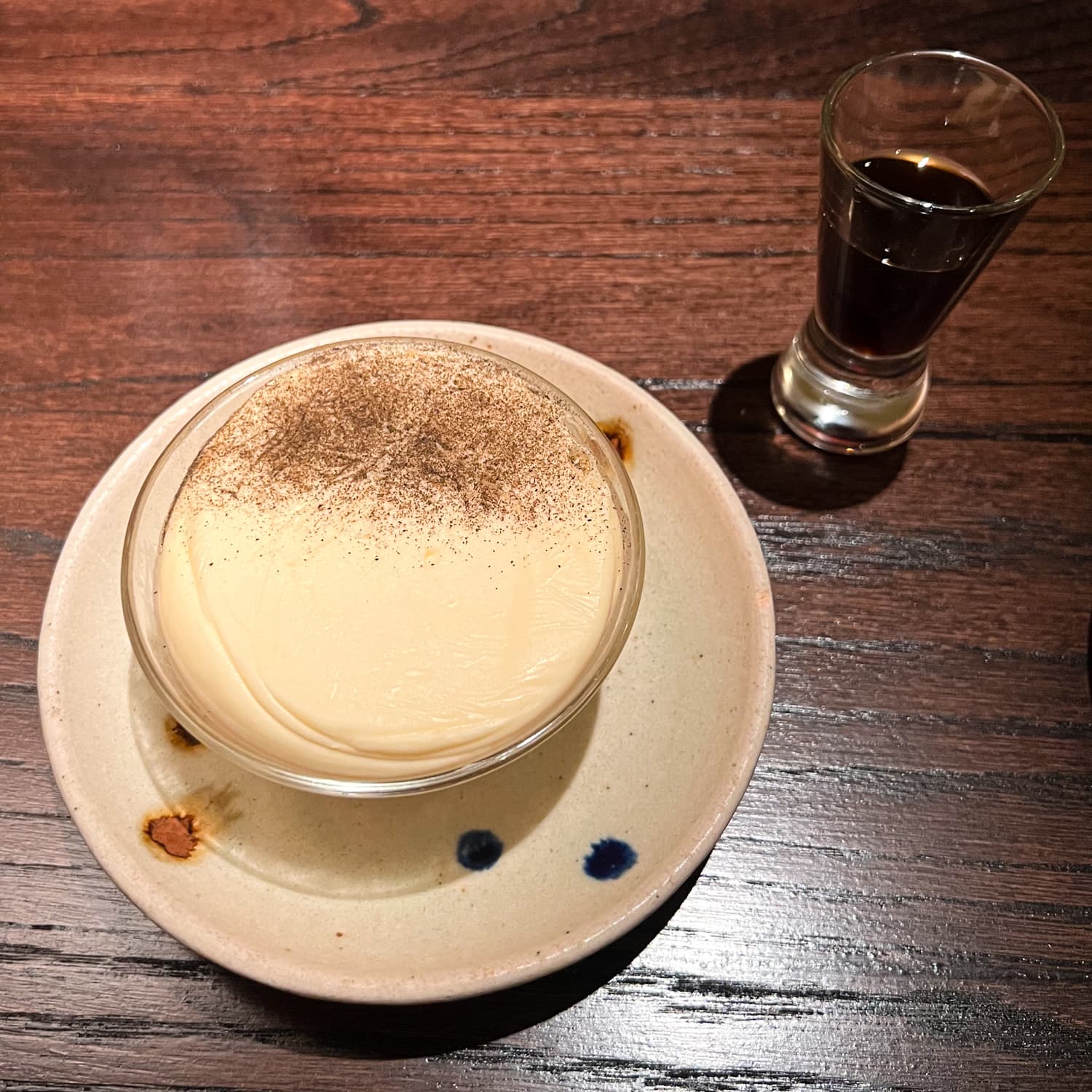 Dessert
When the wooden tray was cleared, I returned to looking at Tei-An's online dessert menu. Unable to decide between two tempting options, I ordered them both.
First, there was an Earl Grey tiramisu topped with black tea powder, with a choice of dessert sauces: caramel, white chocolate, or housemade black honey "Kuromitsu."
I'm a bit of a traditionalist regarding one of my favorite Italian desserts, though I remain curious about different approaches.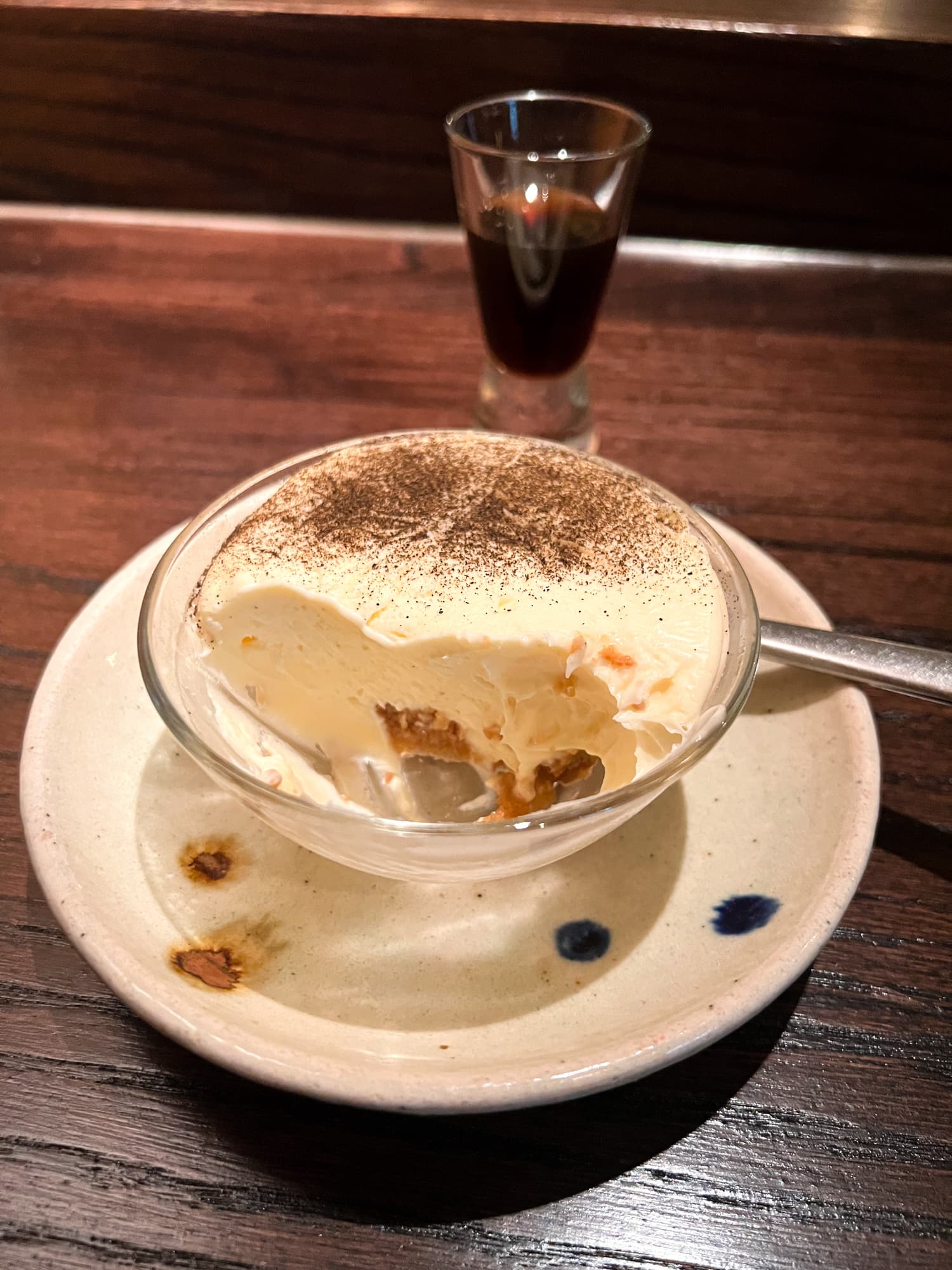 I've had matcha tiramisu at Fukumoto, one of the best sushi restaurants in Austin, for example, and it was pretty good. I'd put Tei-An's Earl Grey tiramisu on the same level.
After taking a few bites, I poured some black honey into the bowl and took a few more. Then, I turned my attention to dessert number two.
Related: Brunch at The Mansion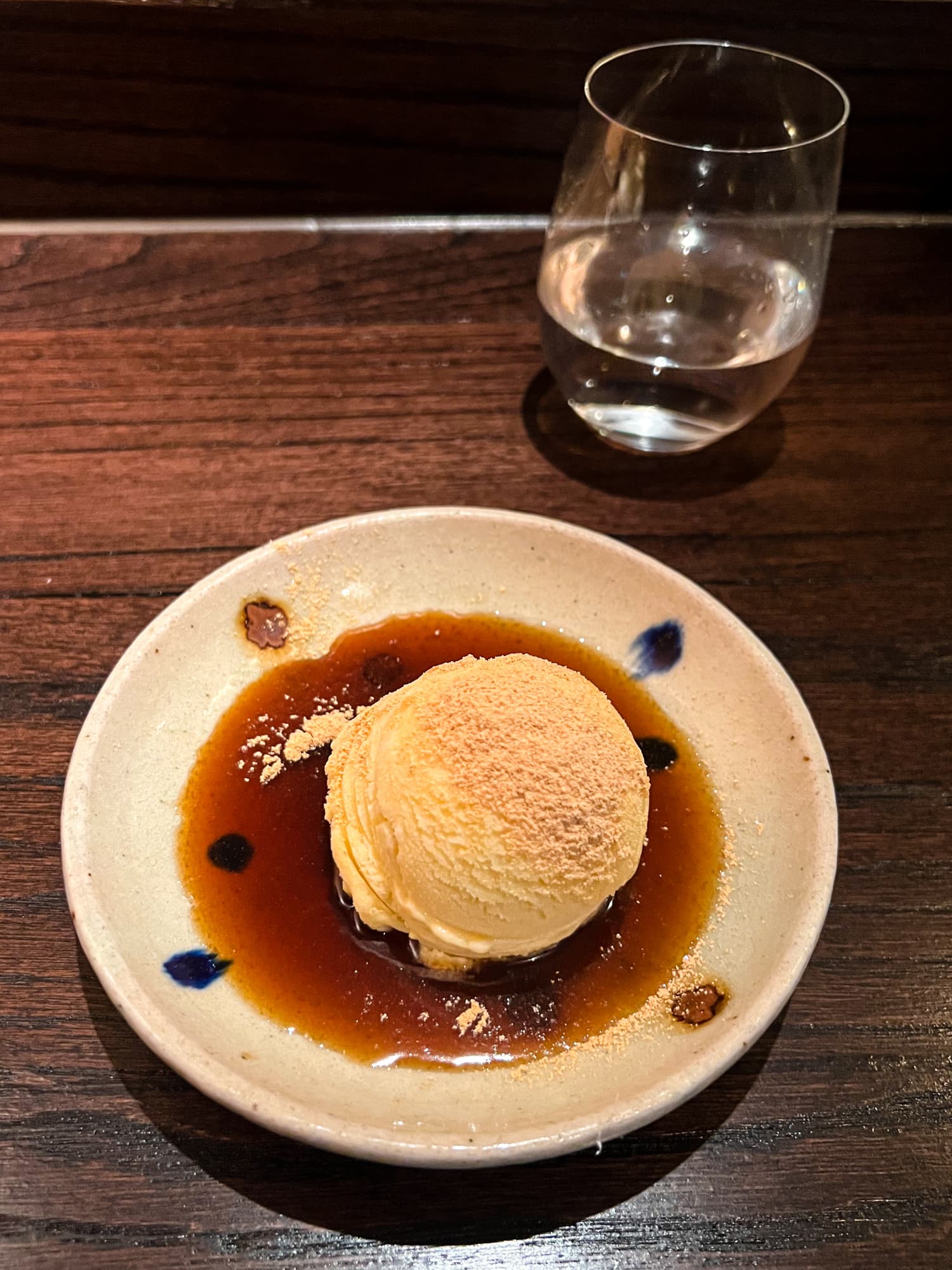 Soba ice cream with black honey sounded too cool to pass up, given soba is the house specialty. This dessert arrived with a scoop of ice cream on a plate full of sweet black honey.
In the battle of Tei-An desserts, the winner in my book was the soba noodle ice cream with black honey.
The total for my multi-course lunch at Tei-An Dallas, including still water and tax, was $94.25.
Had I just gotten the soba noodles and water, lunch would've come in around $30, including tax and tip.
Lunch and dinner are available a la carte, and there's a chef's omakase experience for $120. A premium seasonal omakase is available with three days' notice for $250.
Visit Tei-An in Dallas