Over several trips to Southern California, I've searched for the best speakeasy in San Diego.
Guided by a local friend and my research, I've compiled this list of excellent speakeasy bars to recommend.
Since my first trip to San Diego included a side trip to Temecula, an hour north of San Diego, to go wine tasting, I've included a speakeasy there too.
San Diego Speakeasies
Prohibition Lounge
On my first trip to San Diego, I arrived on a Friday afternoon, giving me one Saturday night out on the town.
My friend suggested we head to the Gaslamp Quarter, the city's central nightlife district. We started with a drink at Rustic Root, a rooftop bar on Fifth Avenue.
As we sipped cocktails, my friend offered a few options for our next stop. I picked Prohibition Lounge because of the name and the proximity (across the street).
The entrance to this hidden bar is a dark metal door with "Law Office" and the name of Eddie O'Hare, Esq. in gold lettering.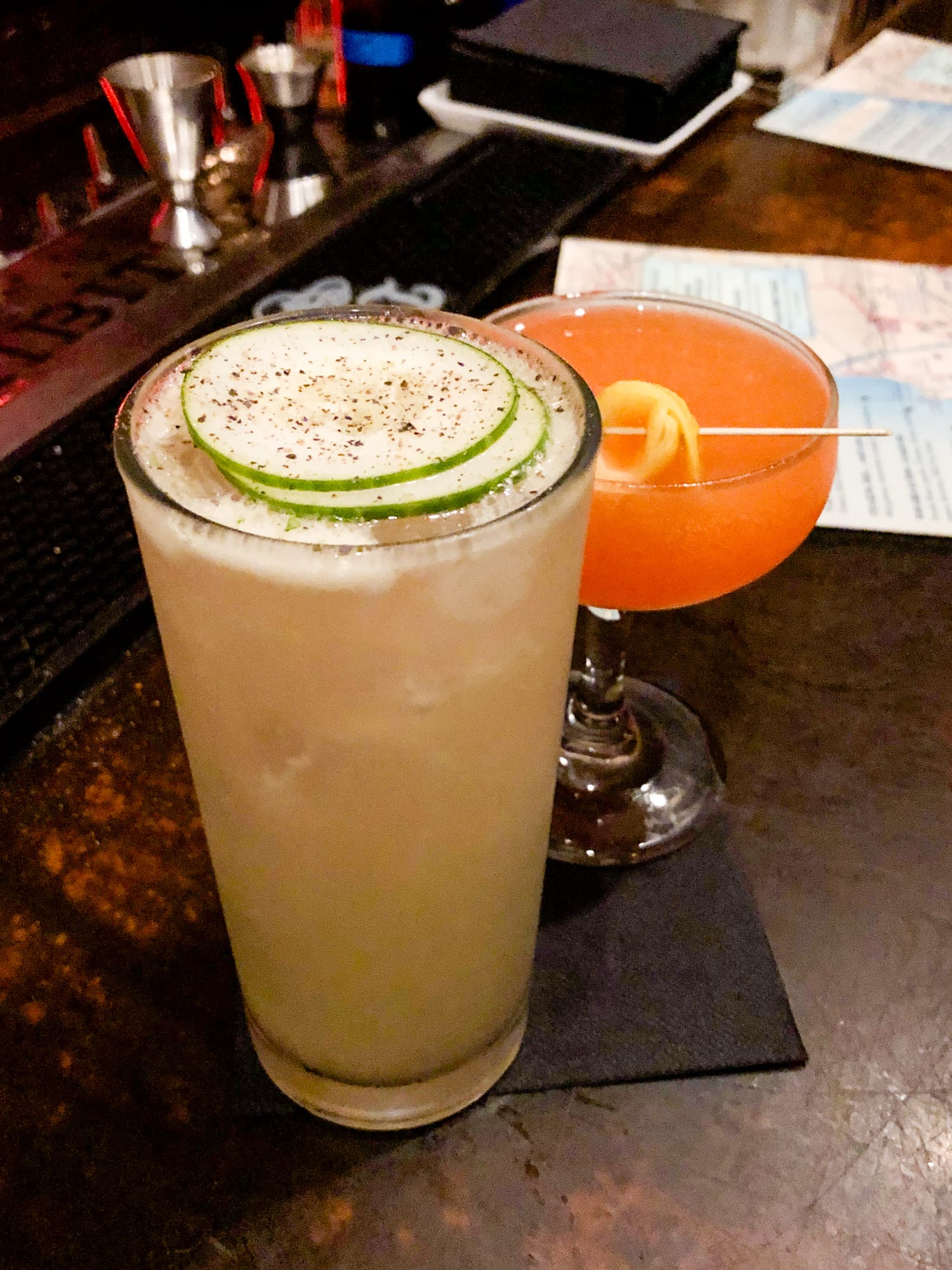 A friendly bouncer stood outside the Prohibition era bar. It was about midnight, and a small line of thirsty partygoers had formed.
After a ten-minute wait, we paid the $10 per person cover charge and entered the basement bar.
Descending the stairs led to a dimly lit underground location with a live blues band performing to an attentive crowd.
Groups of friends and couples on dates were enjoying a collectively fun experience.
An exposed brick wall ran the length of the space. The mix of candles and lamps offered just the right amount of light.
Silver paneling along part of the ceiling helped reflect some light, while old tiles created visual interest on the floor.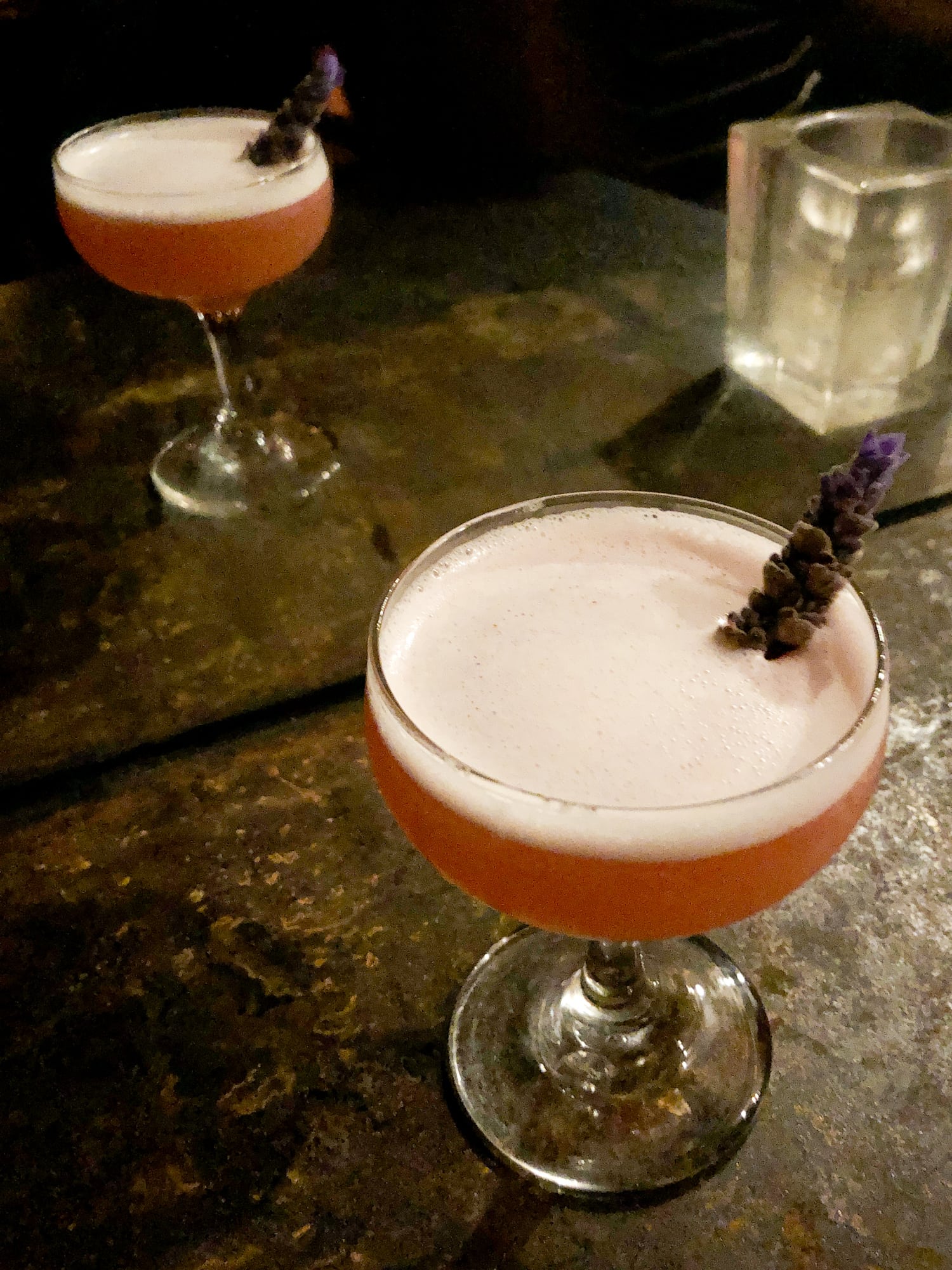 I ordered Not a Morning Person at the small bar in the back. The bartender made it with You and Yours Sunday Gin, lemon, honey, raspberry, and R&D lavender bitters.
Garnished with a sprig of lavender, it was light, sweet, and easy to drink. Including tip, the cocktail costs $15.
As it was getting late, we left a little after 1 a.m. Nevertheless, I was thrilled to have hit on precisely the kind of bar I was looking for that night.
Prohibition has a dress code, doesn't take reservations, and asks that you don't use your phone at the bar (oops). Check their website for details.
548 Fifth Ave, San Diego, CA, prohibitionsd.com
Related: Speakeasies in Austin
False Idol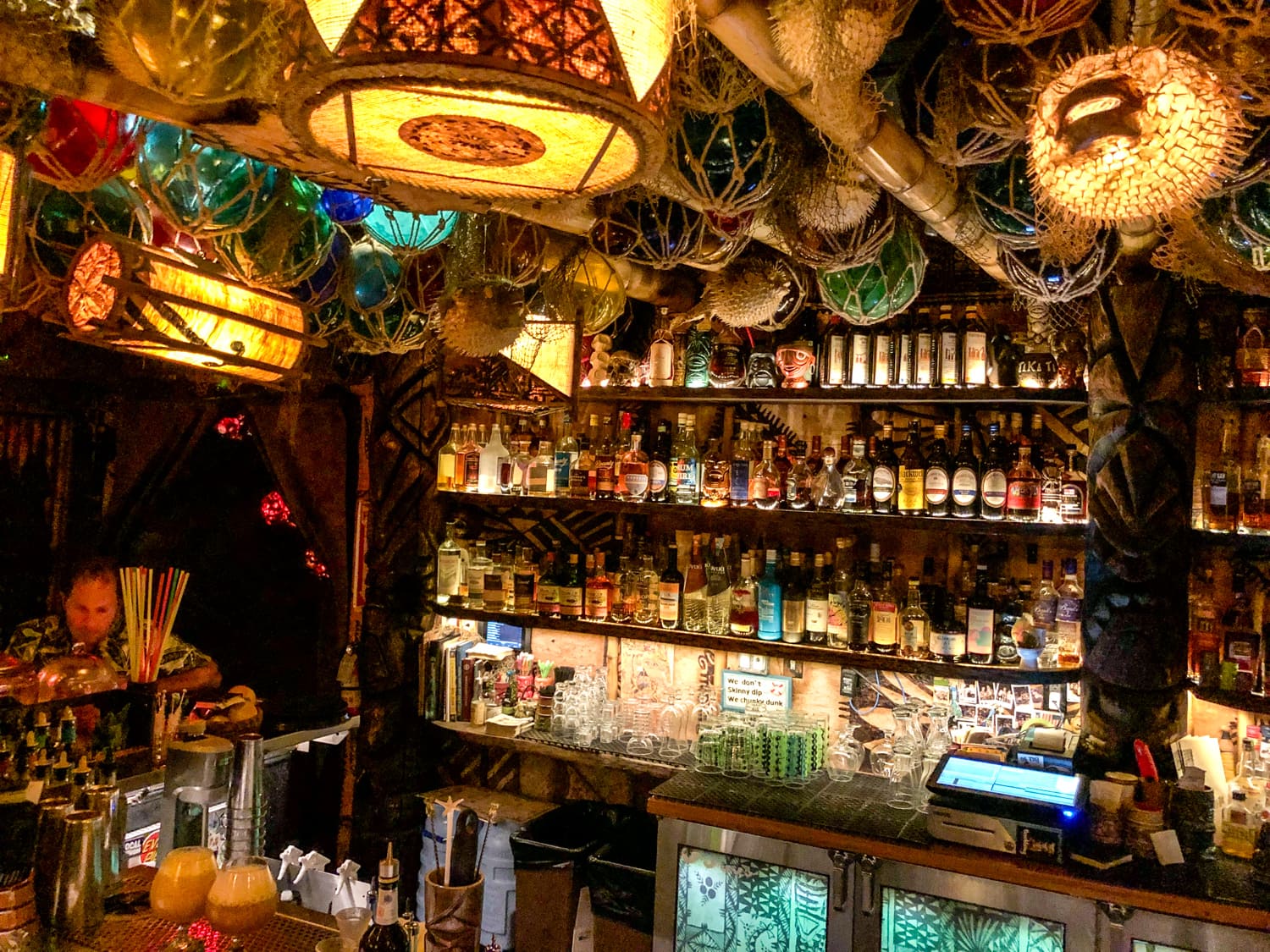 Tucked in the back of Craft & Commerce restaurant, False Idol is a speakeasy bar within a bar in the back of Little Italy dining district.
Following a relaxed Sunday afternoon, including a swing through Pacific Beach, my friend and I dropped into False Idol at 7:15 p.m.
We were there to grab tropical drinks before our much-anticipated dinner at Born & Raised, four blocks away.
I don't recall making a reservation, as it was a Sunday evening, and I suspected we wouldn't need one. However, one is recommended Friday and Saturday nights.
Once the hostess confirms availability, you enter False Idol through a mock cave opening with shrunken heads.
Inside, this tiki bar speakeasy in San Diego is reminiscent of a secret cave.
Immersive details include pufferfish lights, bric-a-brac hanging from the ceiling, and a wall of skulls and painted wood carvings.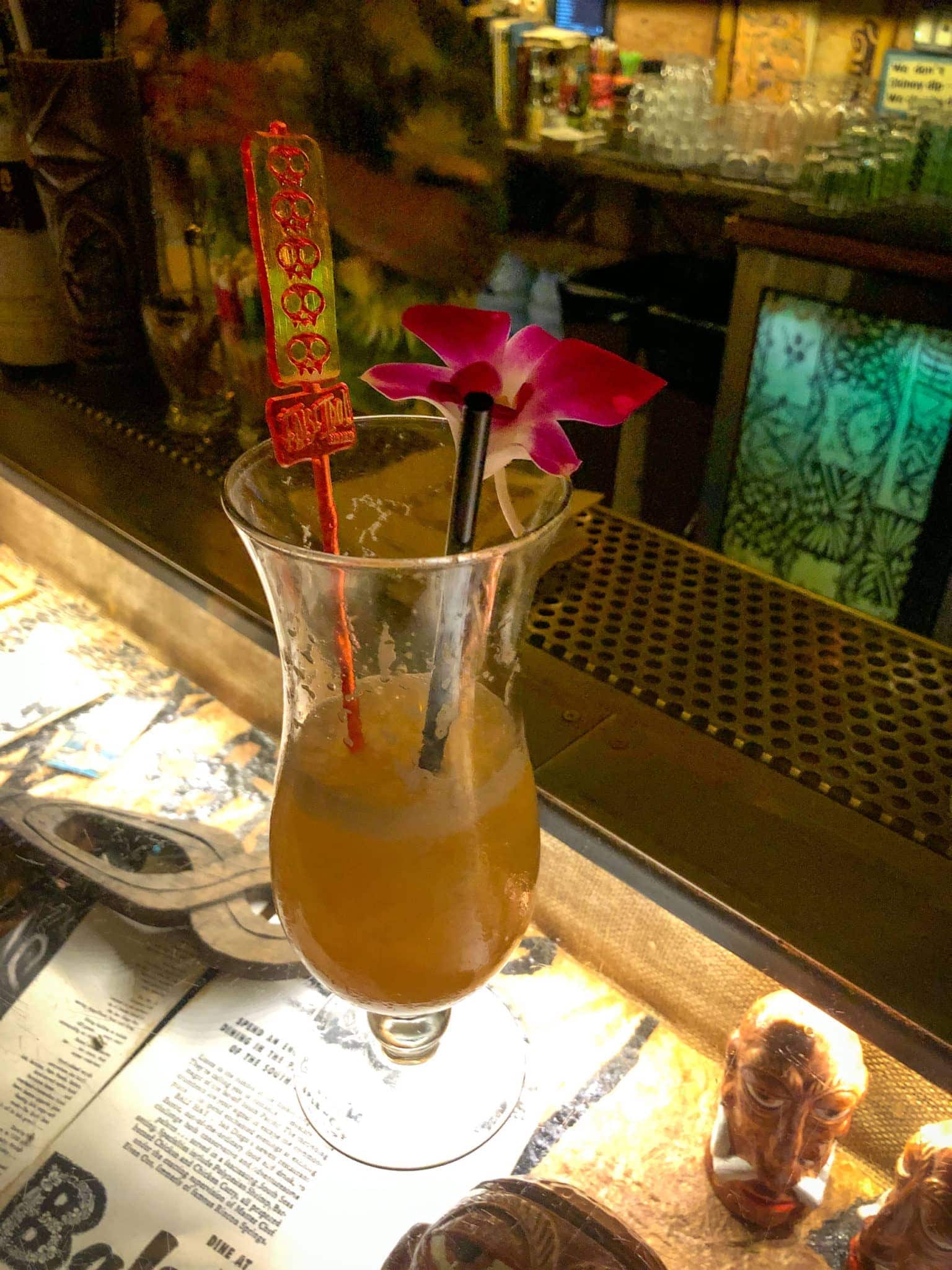 The cocktail menu can be hard to read in the low lighting; however, if you can make your way to the glass bar, you'll have an easier time flipping through it.
I ordered Tonight or Never, made of rum, honey, fresh citrus, and pineapple juice, for $13.
It was served in a tall glass and garnished with a fresh flower, and it reminded me of my trip to French Polynesia 11 years earlier.
The vibe was friendly and relaxed. I debated squeezing in another of their inventive cocktails before dinner, but I didn't want to rush it. I'll be back, False Idol; I'll be back.
675 W Beech St, San Diego, CA, falseidoltiki.com
Related: Speakeasies in Seattle
Raised by Wolves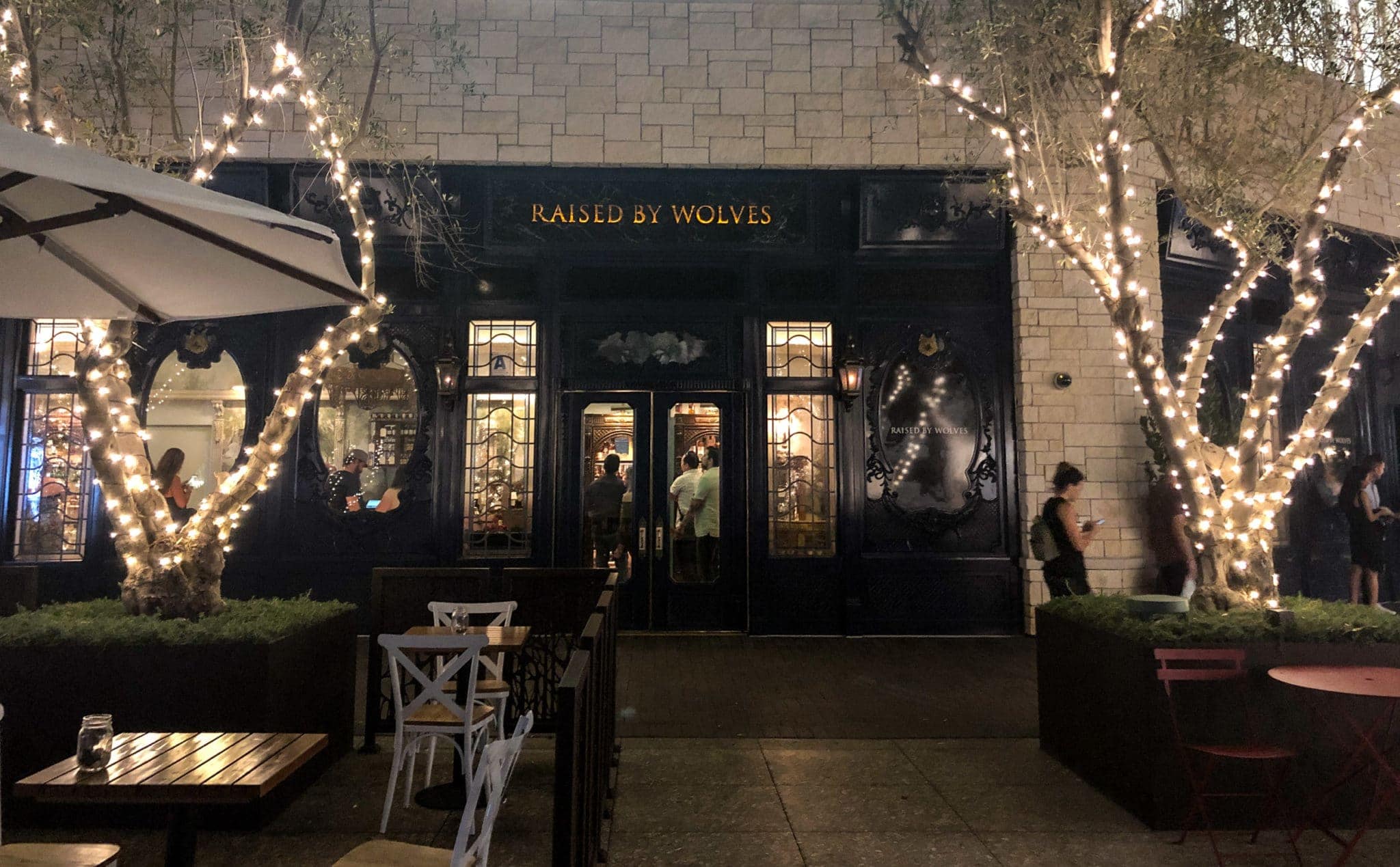 No search for the best speakeasy in San Diego would be complete without a drink at Raised by Wolves.
Opened in April 2018 for $3 million, Raised by Wolves is located in the Westfield UTC mall in northern San Diego, east of La Jolla.
A secret speakeasy in a suburban mall? Sounds strange, I know, but bear with me because it's worth suspending your judgment.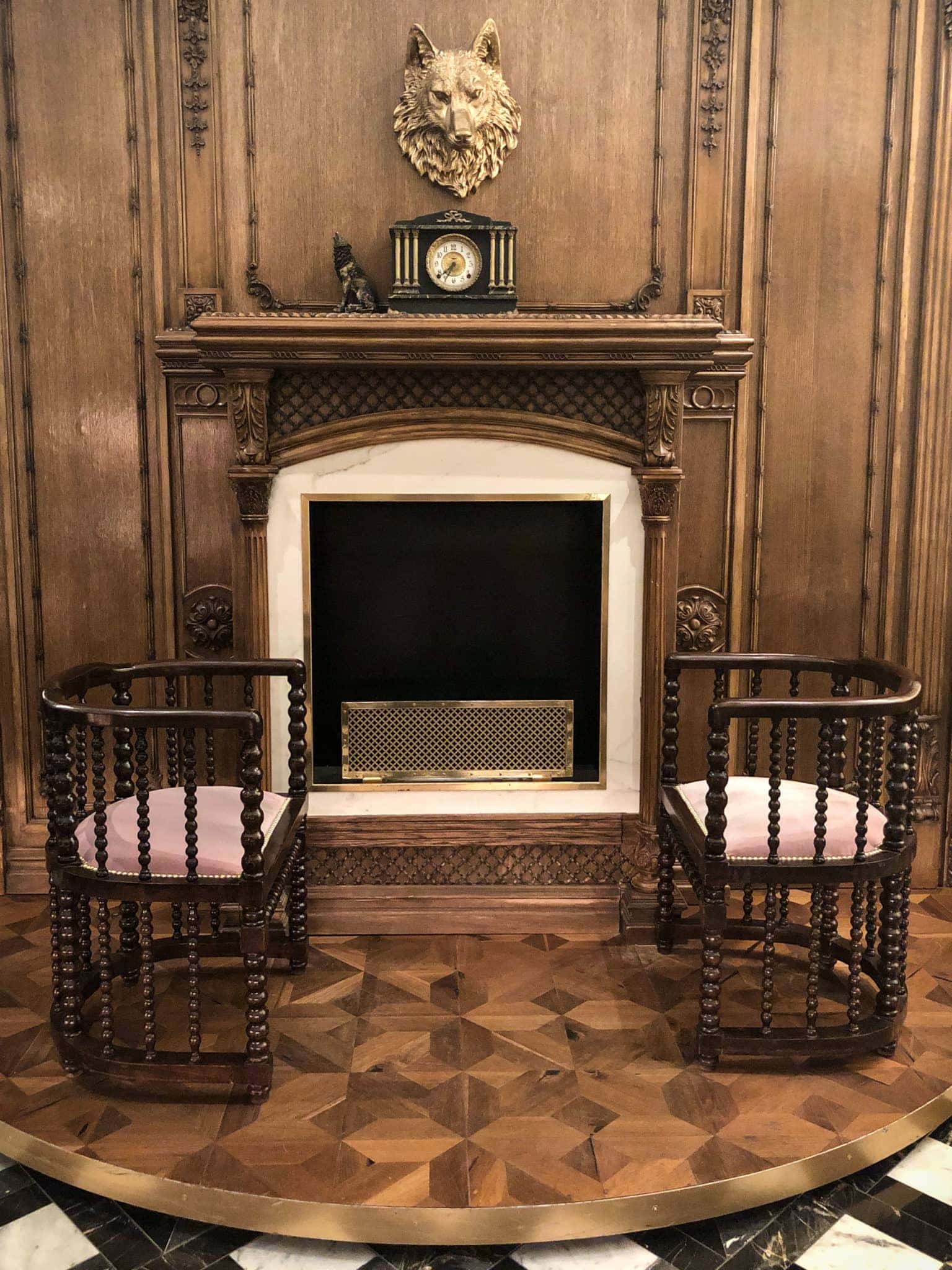 When you enter the Raised by Wolves storefront, you're entering a boutique liquor store featuring brands you'll recognize to rare finds sourced from estate sales that get into four and five-figure territory.
It's the most beautiful liquor store I've ever seen. Find the hidden entrance behind the rotating oak fireplace, and you'll be transported to a bygone era.
You're no longer in a mall -- you're in a Prohibition-era space. Wood paneling creates warmth, while the stained-glass dome ceiling adds elegance.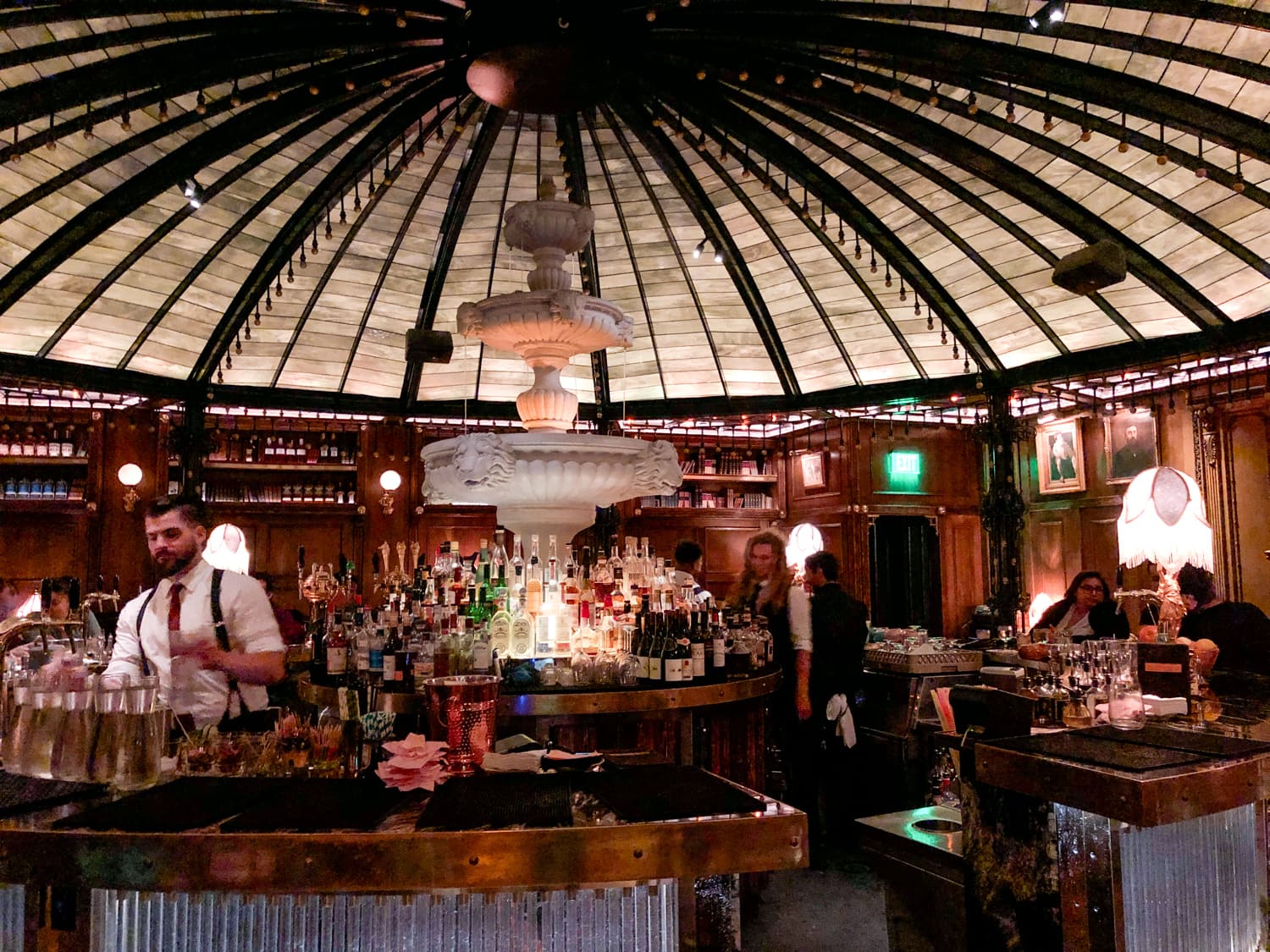 A water fountain in the center of the 22-foot marble-topped bar is a focal point of this drinking den, regardless of where you're seated.
Old books line the walls, and amusing portraits of animals hang between them.
The old-time ambiance extends to the men's bathroom, which features an ornately designed sink, the kind you'll likely see in a European palace.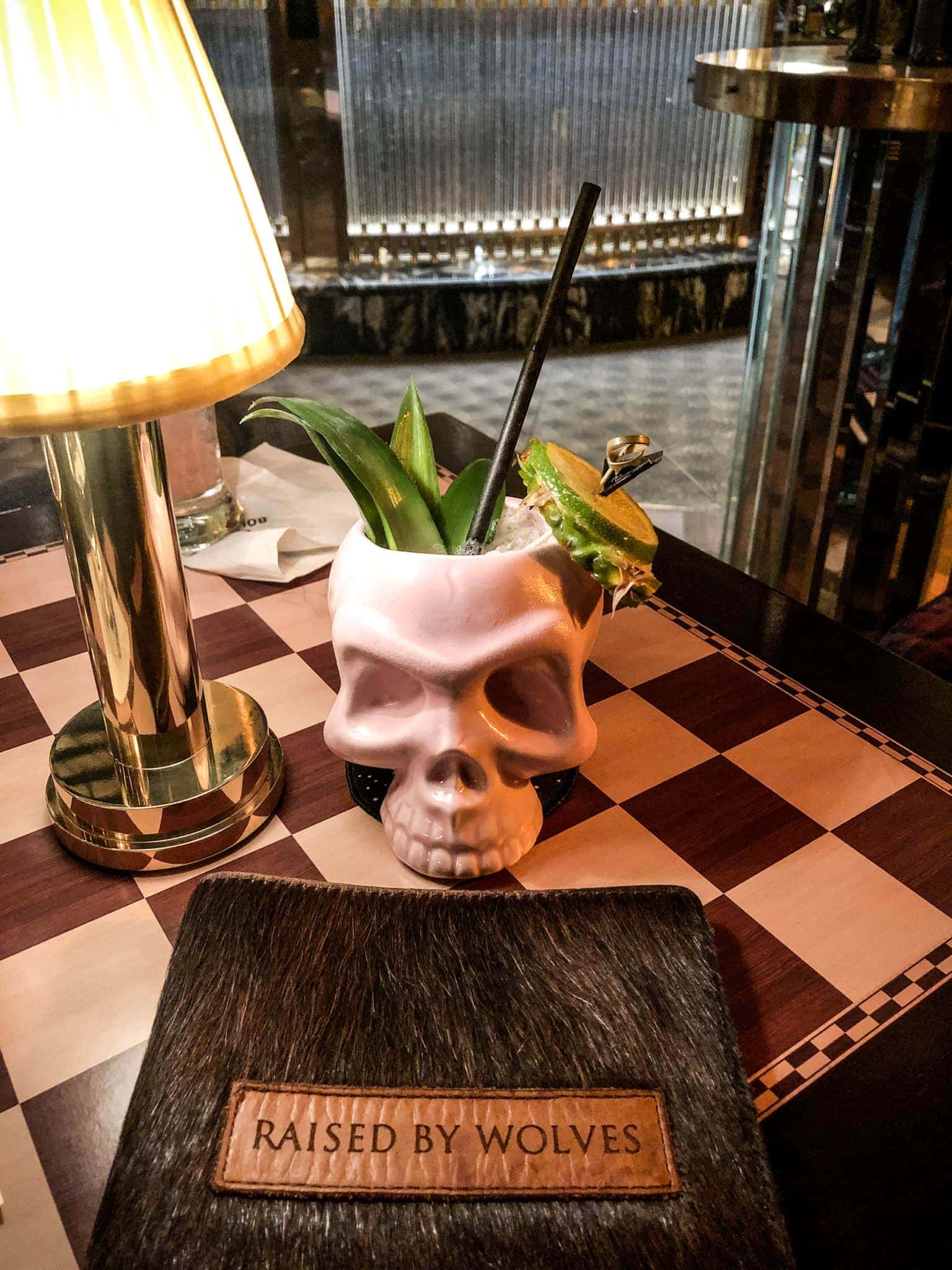 My friend and I were seated at a two-person chess table with a side drawer for the pieces (it was empty). The cocktail menu is constructed of leather and animal hair.
Flipping through it, my friend noted the reserve cocktails page with their premium spirits collection, like the Vintage Old Fashioned with 1960s Very Old Fitzgerald 8yr bourbon for $790.
Thankfully, despite the $3 million price tag to open Raised by Wolves, most signature cocktails are priced between $9 to $12.
To kick things off, I ordered the Painted Lady, which consisted of vodka, lime, aloe liqueur, snap peas, Bianco Vermouth, and a pinch of sea salt.
I enjoyed that, so I followed it up with the Rattlesnake Venom: Jamaican rum, dark rum, lime, Medjool dates, pineapple, and Amaro Nonino.
The tiki skull it was served in reminded me of False Idol, which happens to be another bar operated by the same hospitality company.
The retail shop is open daily from 11:30 a.m. to midnight; cocktails are available from 4 p.m. till closing.
A limited selection of beer and wine is also available. Reservations recommended.
For high-resolution photos of the store and bar interiors, check out this review by Eater San Diego.
4301 La Jolla Village Drive, Ste #2030, San Diego, CA, raisedxwolves.com
Related: New Orleans Cocktail Bars
Noble Experiment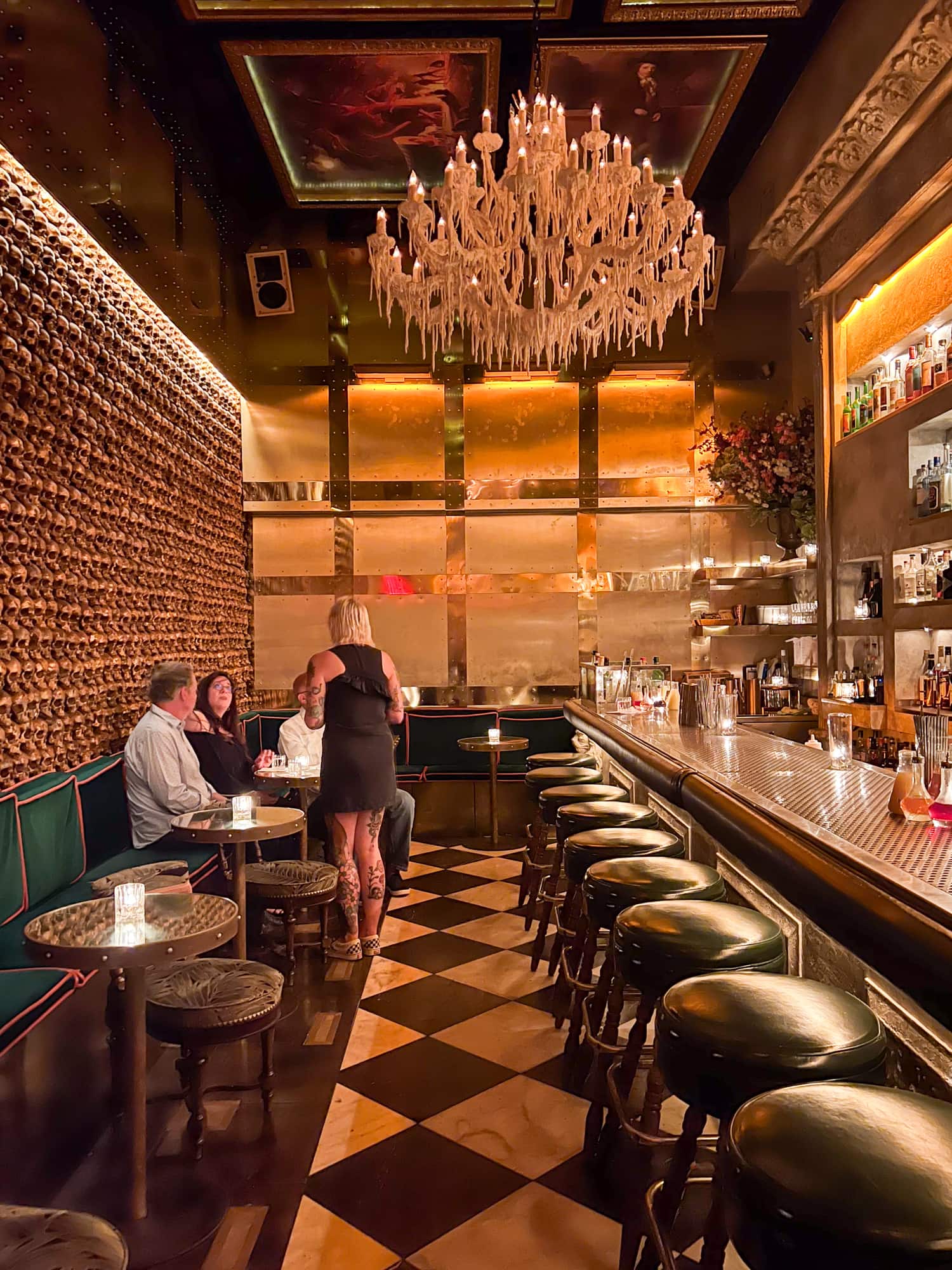 The first speakeasy I visited when I returned to San Diego was Noble Experiment, inside the Neighborhood restaurant in the Gaslamp Quarter.
While they accept walk-ins if space allows, your best bet is to make a reservation up to two weeks in advance. Guests are allowed one hour.
Upon entering the Neighborhood, guests go toward the restrooms in the rear and push a wall of kegs that's actually a hidden door. To the host stand, at least.
Note directly in front of you is a wine fridge with a "Young Blood" sign above it. This is the entrance of the second speakeasy to open here.
Young Blood offers a three-course cocktail experience for a flat fee (currently $67 + tax and tip). Reservations are required and accepted up to a month in advance.
Once the hostess was ready, she showed me to my stool at the far end of the bar inside Noble Experiment.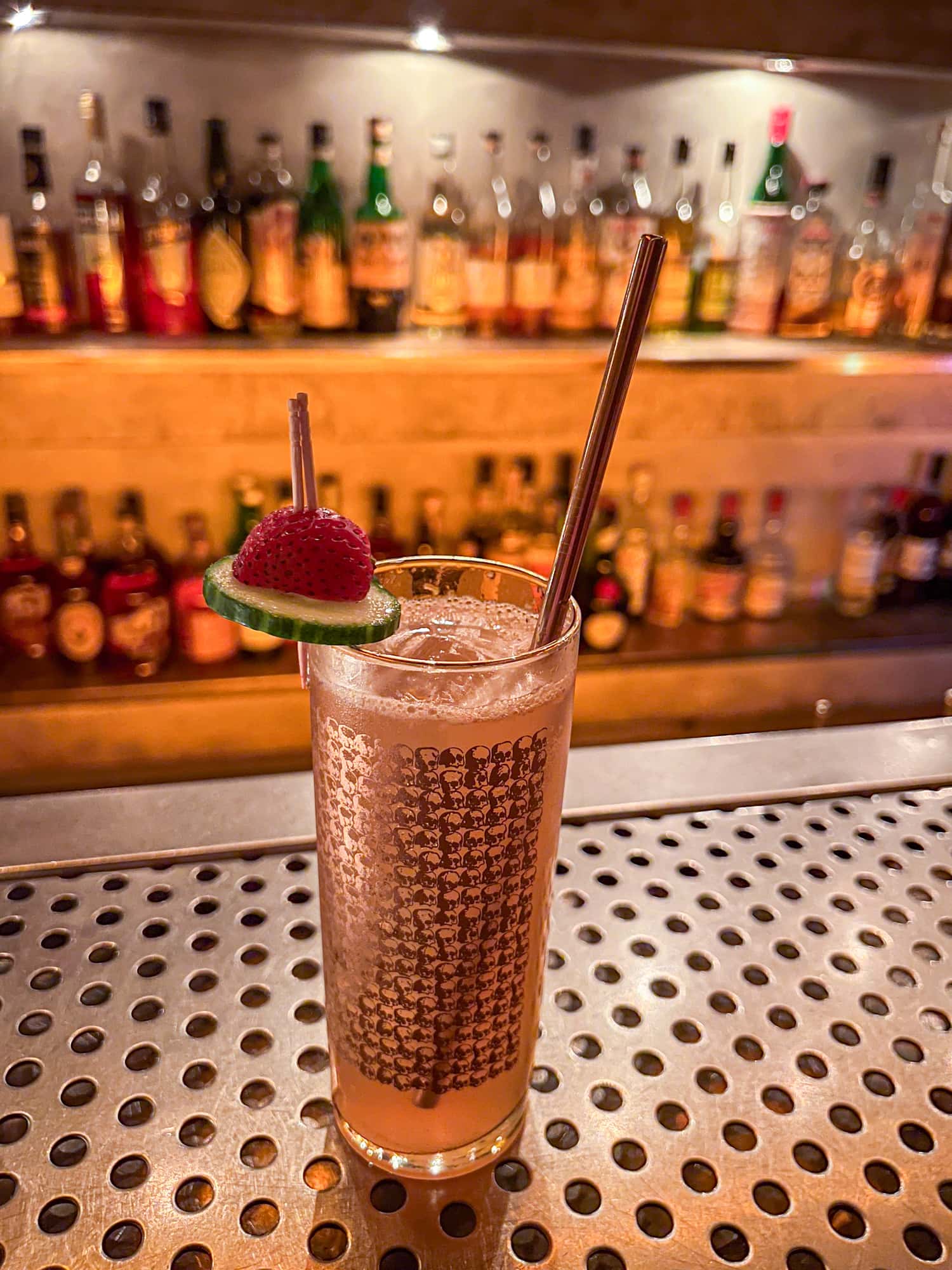 A wall of skulls lined the wall opposite the bar in the 750-square-foot room. Framed paintings plastered the ceiling, and a white chandelier appeared to be dripping melted wax.
There's no menu at Noble Experiment. Like Attaboy, the famous cocktail bar in New York City, the bartender takes your preferences and makes you a drink.
The mixologist made me a Troublemaker with Ford's Gin, fortified wine, strawberries, cucumber, and lemon. I was happy with it, but I prefer menus.
777 G St, San Diego, CA, nobleexperimentsd.com
Vin de Syrah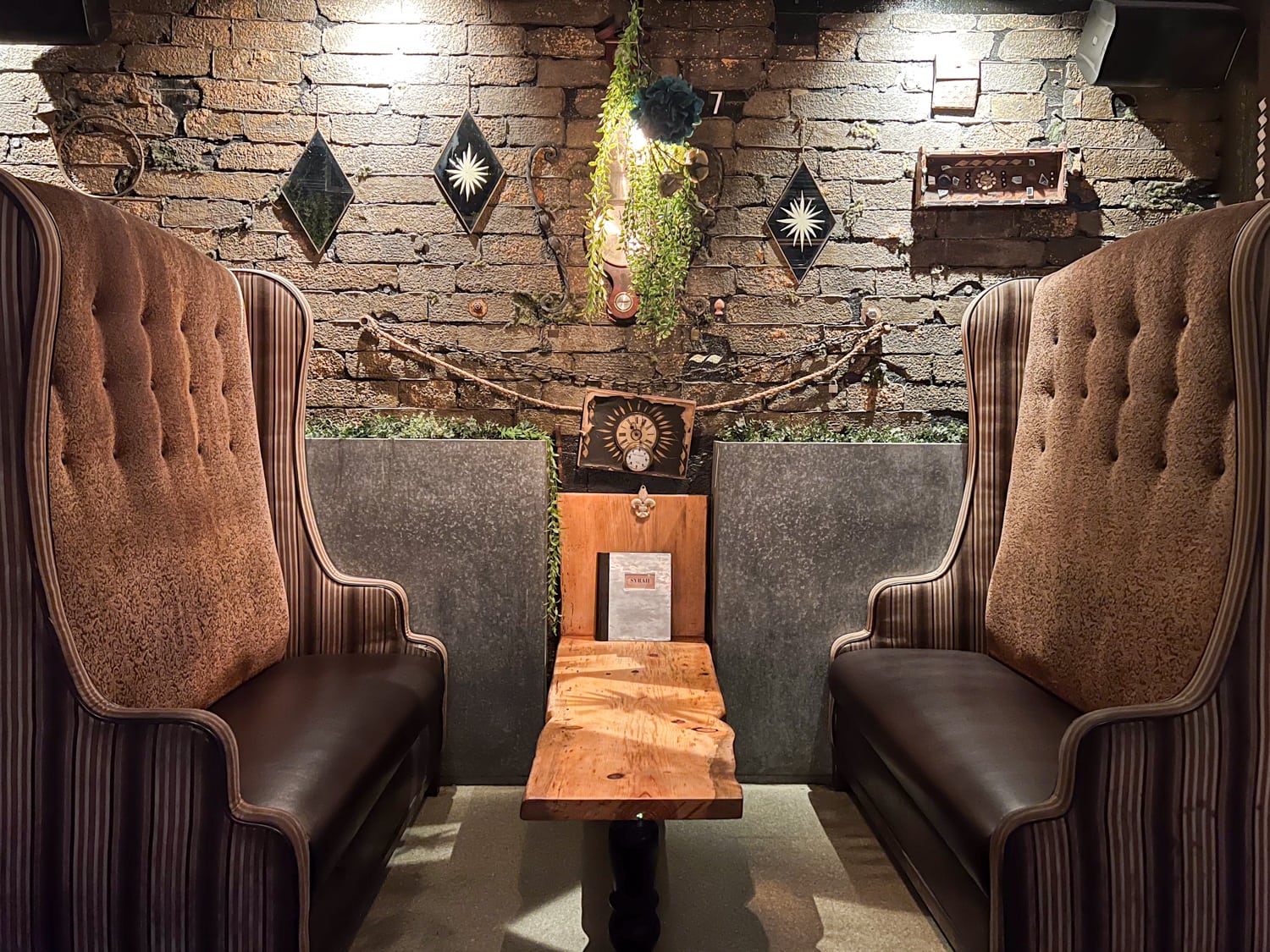 Vin de Syrah bills itself as a spirit and wine lounge, and it's well worth a visit.
This whimsical secret bar has an Alice in Wonderland vibe. Visitors are greeted with a neon sign stating, "We're All Mad Here."
Inside, there's a long bar running down the left side of the spacious room, tables in the middle, and semi-private booths along the right side.
Treating it more like a San Diego speakeasy than a wine bar, I ordered one of their specialty cocktails.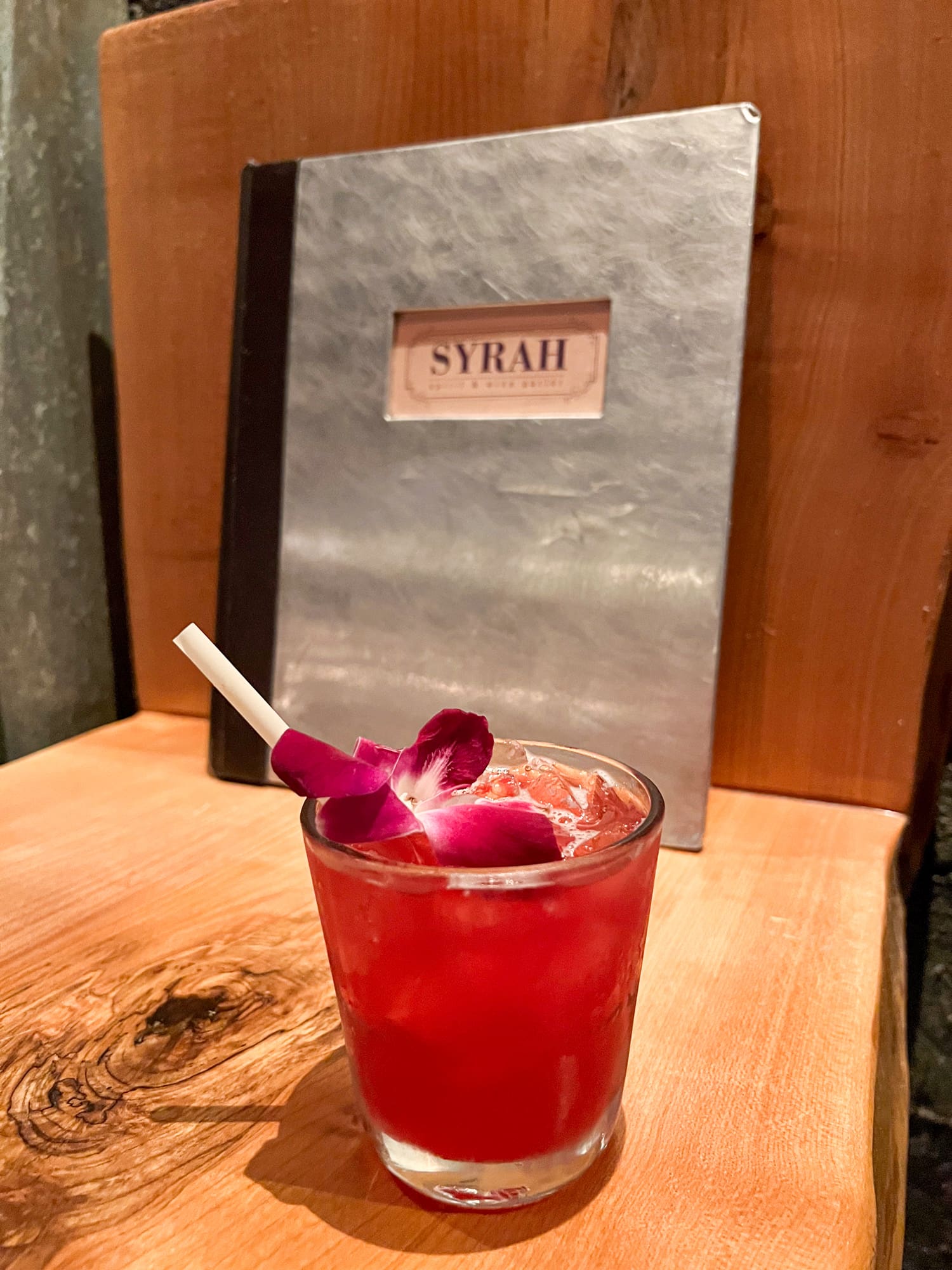 Beet It is made with Tito's Vodka, Giffard Passionfruit, beet cordial, lime, and coconut milk. I love the color beets bring to mixed drinks; this one didn't disappoint. All the cocktails are made from scratch.
The food, wine, and spirits menu is on their website.
901 Fifth Ave, San Diego, CA, syrahwineparlor.com
Related: Best Bars in San Francisco
Temecula Speakeasy
Thompson & Twain Provisioning Co.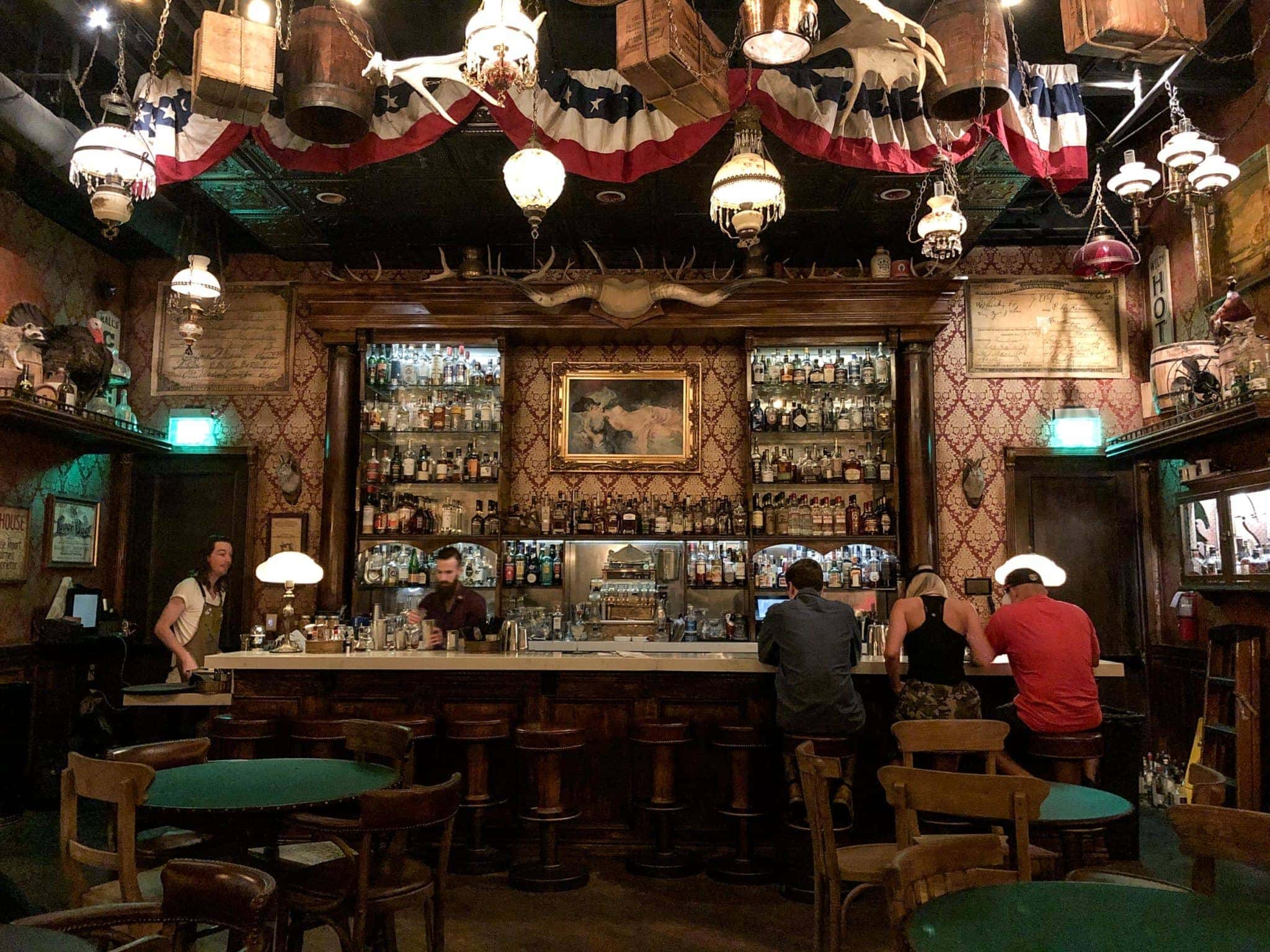 The beige curtain in the casual Crush & Brew dining room, a new American restaurant in Old Town Temecula, could easily be mistaken for a passage used by the wait staff.
Walk through it into a hidden hallway, and you'll begin to feel a change in time and place.
At the end, there's the sizable bank vault-like entrance to Thompson & Twain Provisioning Co. Swing the door open and enter an old west saloon from the 1800s.
A stuffed raccoon and rooster peer down from a shelf on the wall while antlers and red, white, and blue banners hang from the high ceiling.
The handsome bar beckons you to come forward. Cocktails only at this cool speakeasy, which emphasizes rye and bourbon whiskies, gin, and liquors popular during the period.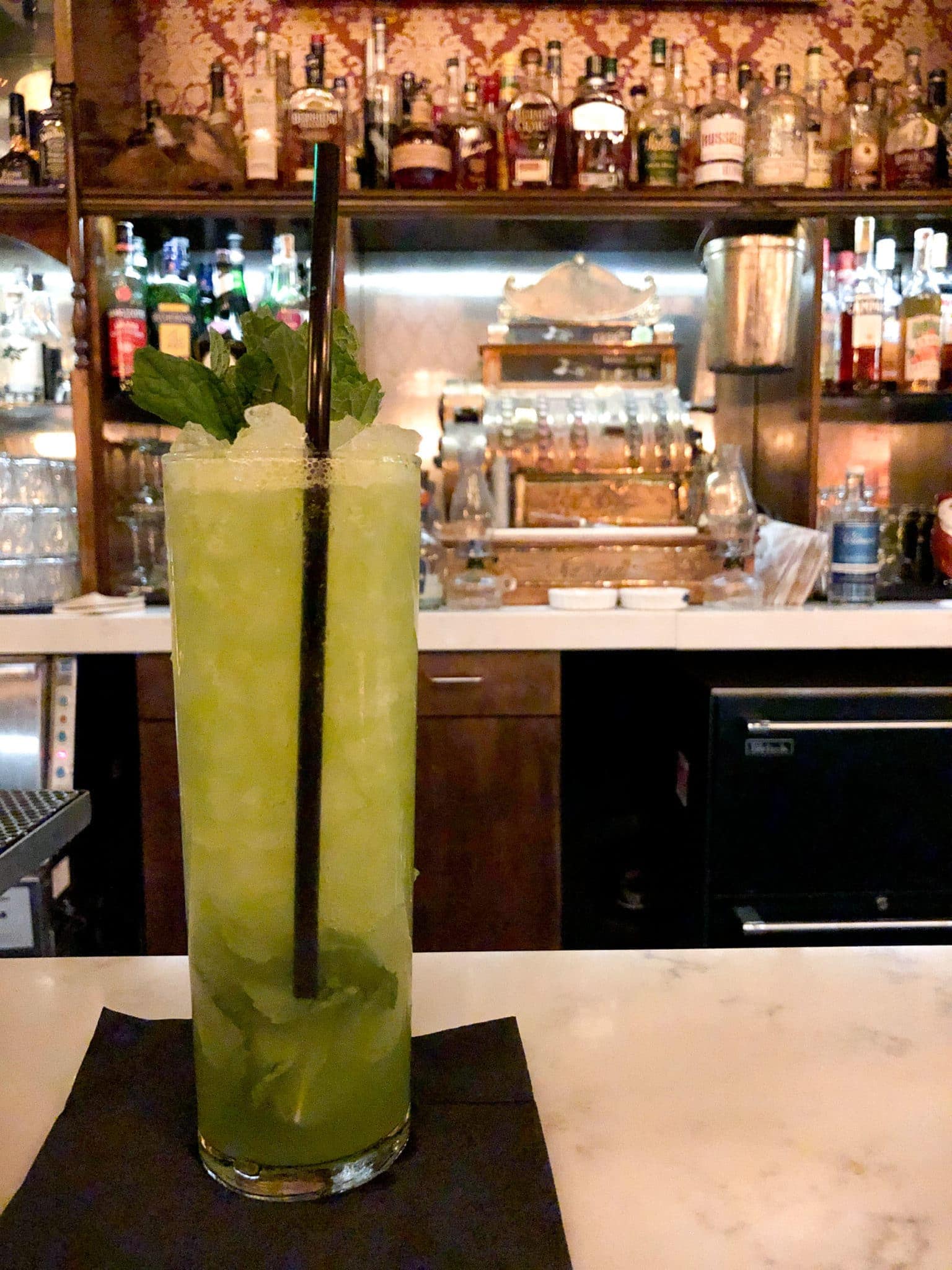 I began with the Eastern Pioneer: gin, cucumber juice, Suze, mint, and lime in a tall glass. It was as refreshing as it sounded and didn't take long to finish.
I grew slightly more adventurous for my second drink, opting for the Lariat: gin, Italicus Rosolio, Green Chartreuse, lime, and bitters.
It was served with a slice of lemon peel resting across the top of the glass, adding a citrus fragrance before every sip.
The Lariat was more potent, so I didn't need to finish it before meeting my friend for dinner in Crush & Brew.
My two drinks plus tip cost $32, putting it on the costlier end of the spectrum.
For those needing a break from wine tasting in Temecula, I highly recommend a reservation at Thompson & Twain.
Overall, I was impressed with the quality of cocktails, service, and ambiance at all five of these fine establishments.
28544 Old Town Front Street, Temecula, CA, thompsonandtwain.com
Final Thoughts
So far, I've adored San Diego's secret bars and intend to return for more good times.
If you're looking for a speakeasy in San Diego, here are a few more places I'd like to try on future trips to Southern California.