A dozen years after my first trip to Japan, I returned with an eye toward fine dining. Led by chef Hiroyasu Kawate, Florilege in Tokyo offers guests French-Japanese cuisine in a communal setting.
In 2018, Florilege was awarded two Michelin stars for his efforts. More recently, Florilege ranked #7 on Asia's 50 Best Restaurants list for 2022 and #27 on the World's Best Restaurants list for 2023.
My first experience at a Michelin-starred restaurant in Japan lived up to expectations. Read on for more about my memorable lunch at Florilege and where the chef is taking the restaurant in the future.
Past, Present, and Future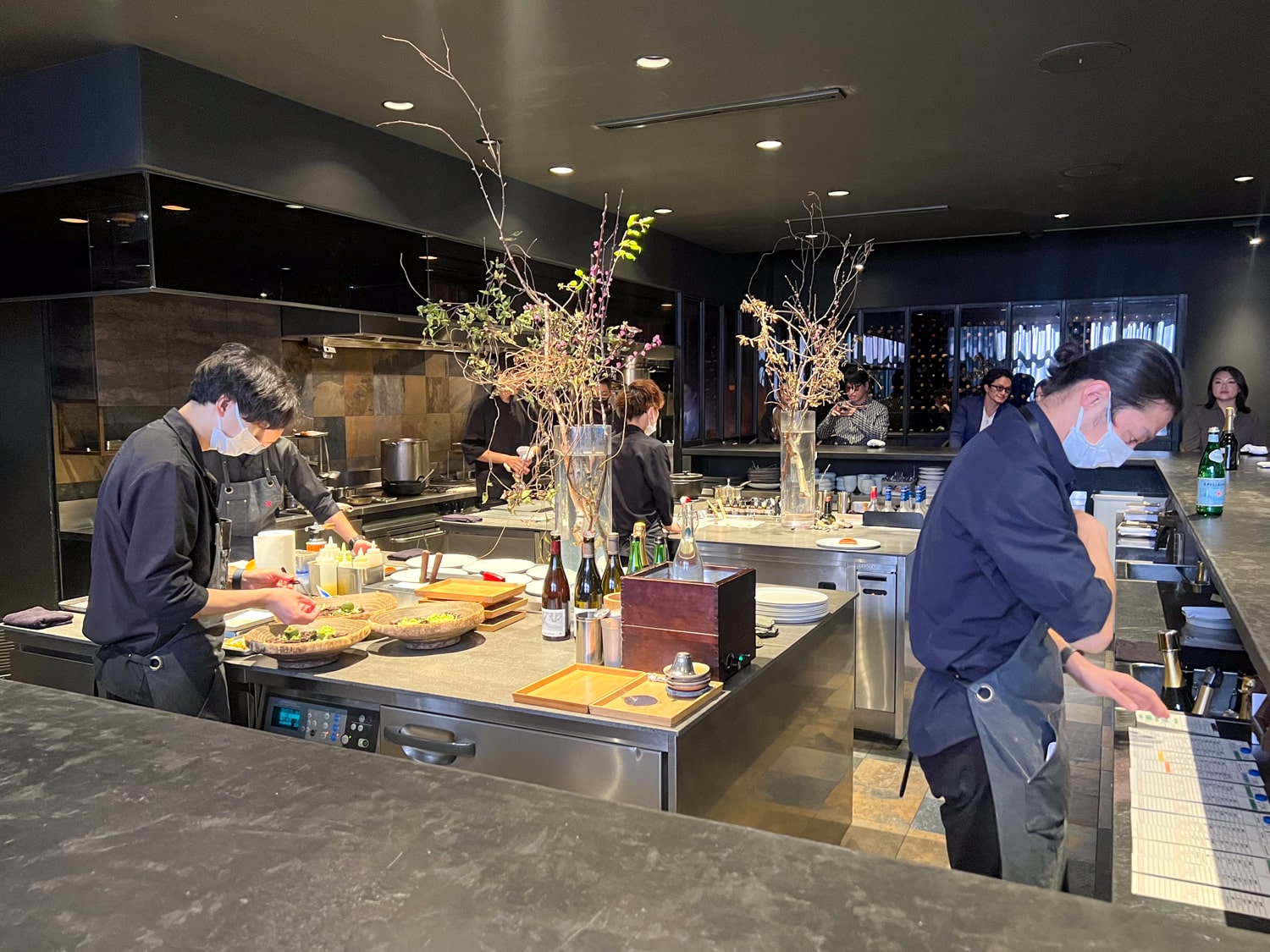 Hiroyasu Kawate was born to be a chef. His parents owned a Western-style restaurant, and his brother and cousin pursued cooking as a career.
Chef Kawate began working in kitchens at 18 and moved to France, where he worked at Jardin des Sens in Montpellier.
He ultimately returned to Tokyo in 2007, taking a job as sous chef at Quintessence, a French restaurant that earned three Michelin stars in November of the same year. (Incredibly, this happened within two years of opening.)
In 2009, at 30 years of age, he opened his first restaurant, Florilege. The restaurant's name means "a collection of beautiful poems like flowers."
And according to their website, "These poems are made by warm-hearted people. Our restaurant is also a collection of respect and passion by the producers and chefs, and also warm support by others."
In March 2015, Florilege moved to Jingumae in Shibuya City, occupying a below-street-level space with an open kitchen and U-shaped counter.
Florilege was awarded two Michelin stars three years later, which it has retained ever since.
As I sat down to write about my experience at this, Florilege's second location, I learned that the restaurant would be temporarily closing on July 21, 2023. It will be moving to a new location, yet to be disclosed.
Additionally, the chef has shared publicly that he will be relaunching Florilege with a plant-based focus.
This reminds me of similar recent transitions by world-class restaurants like Geranium in Copenhagen and Eleven Madison Park in New York City.
As my dining experience at Florilege was earlier in 2023, what follows reflects the chef's focus at that time. I have no doubt the new tasting menus will be equally excellent.
Lunch Tasting Menu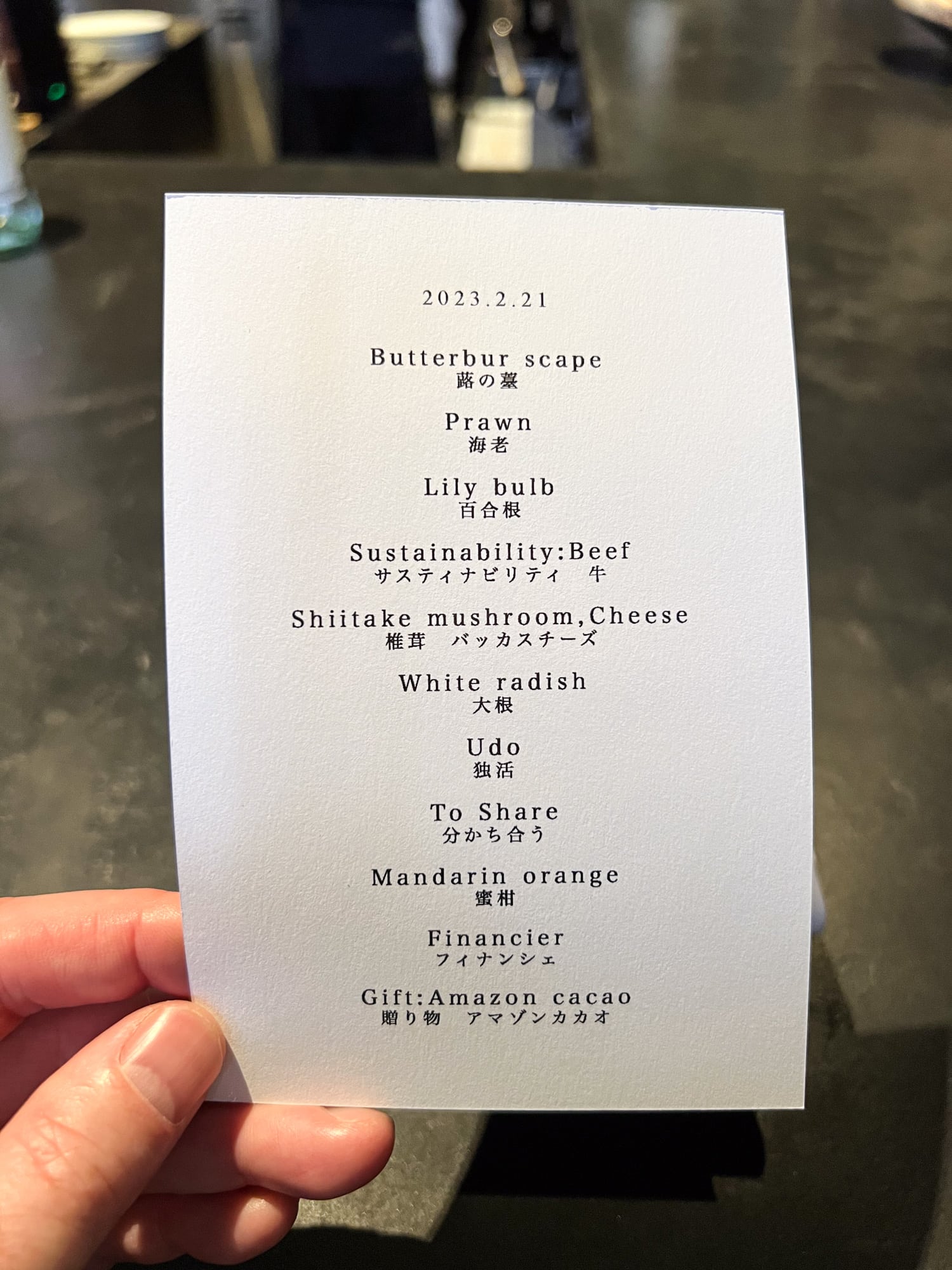 One of the reasons I chose Florilege for my first Michelin-star meal in Japan was its value proposition. When I was in Japan, the U.S. dollar was near a 10-year high against the yen.
Florilege offers three menu options:
Lunch (7 dishes) - 7,500 yen, or about $52
Lunch (11 dishes) - 15,000 yen, or about $105
Dinner (11 dishes) - 15,000 yen, or about $105
These prices exclude sales tax and a 10% service charge. I chose the 11-course lunch and had to pre-pay when I made the reservation online.
Including tax and service, my total came to 18,150 yen, or about $127. All I would have to pay for after the meal would be my drinks.
Atmosphere
The atmosphere at Florilege was upbeat. Modern electronic music was playing, and the chefs in the open kitchen were finishing and serving dishes to the guests who arrived minutes before me.
Once I was seated, a cold oshibori (wet towel) was provided to clean my hands, and I asked for Acqua Panna still water. All food and drinks were served from the kitchen side of the counter.
I counted 18 seats around the kitchen; however, I've seen the number 22 referenced in articles, so perhaps a few weren't filled, or I miscounted.
I noticed an equal mix of customers choosing water, beer, and drink pairings for lunch.
Appetizers
The 11-course tasting menu at Florilege began with Butterbur scape, a bite-size appetizer made from a mountain vegetable, served warm with a creamy filling.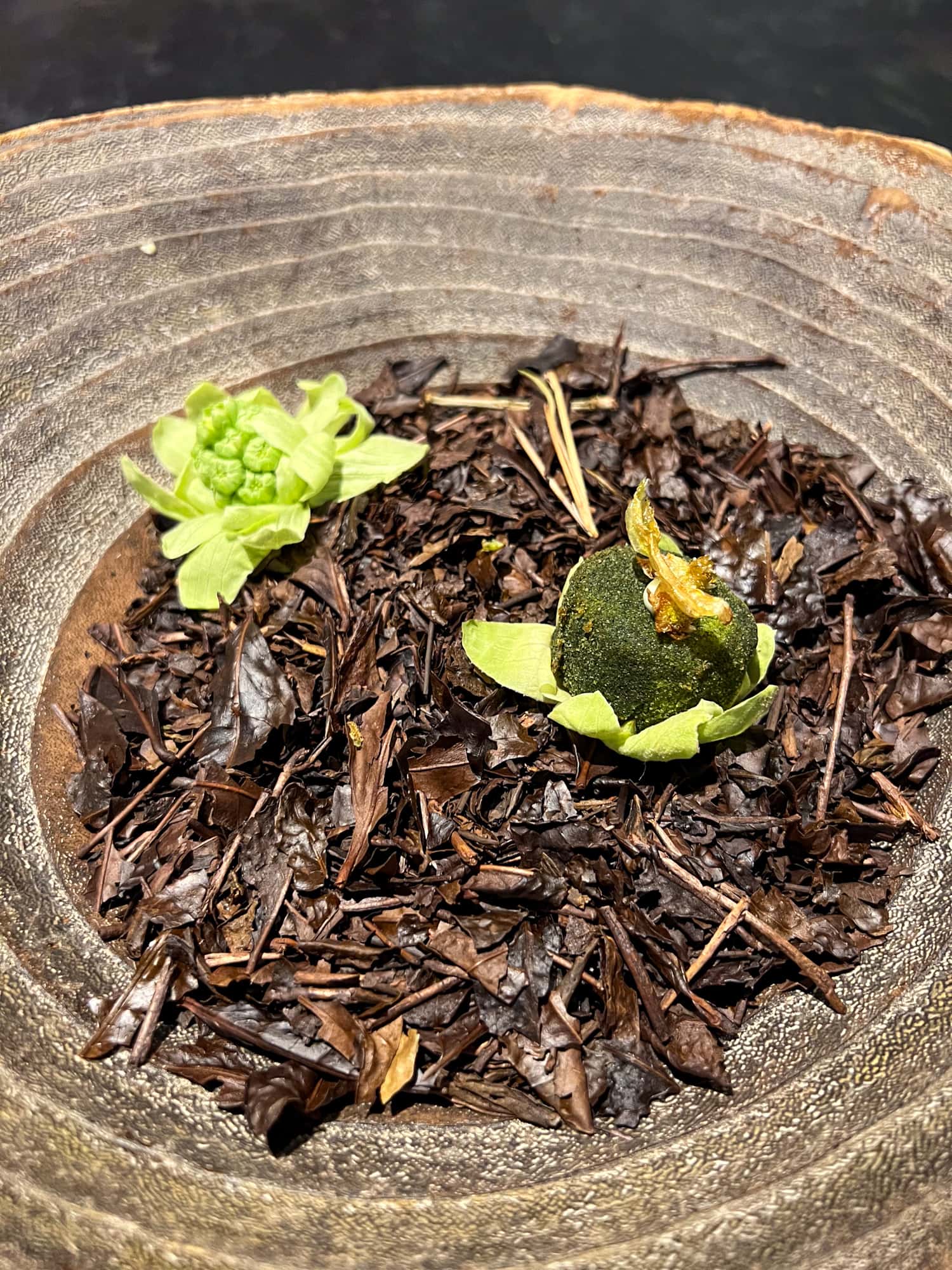 The gentleman serving me was friendly and bilingual, making it easier to keep up with everything he delivered.
Course number two was a cold prawn tartare, with a white layer of cauliflower and an outer orange layer of prawn consomme.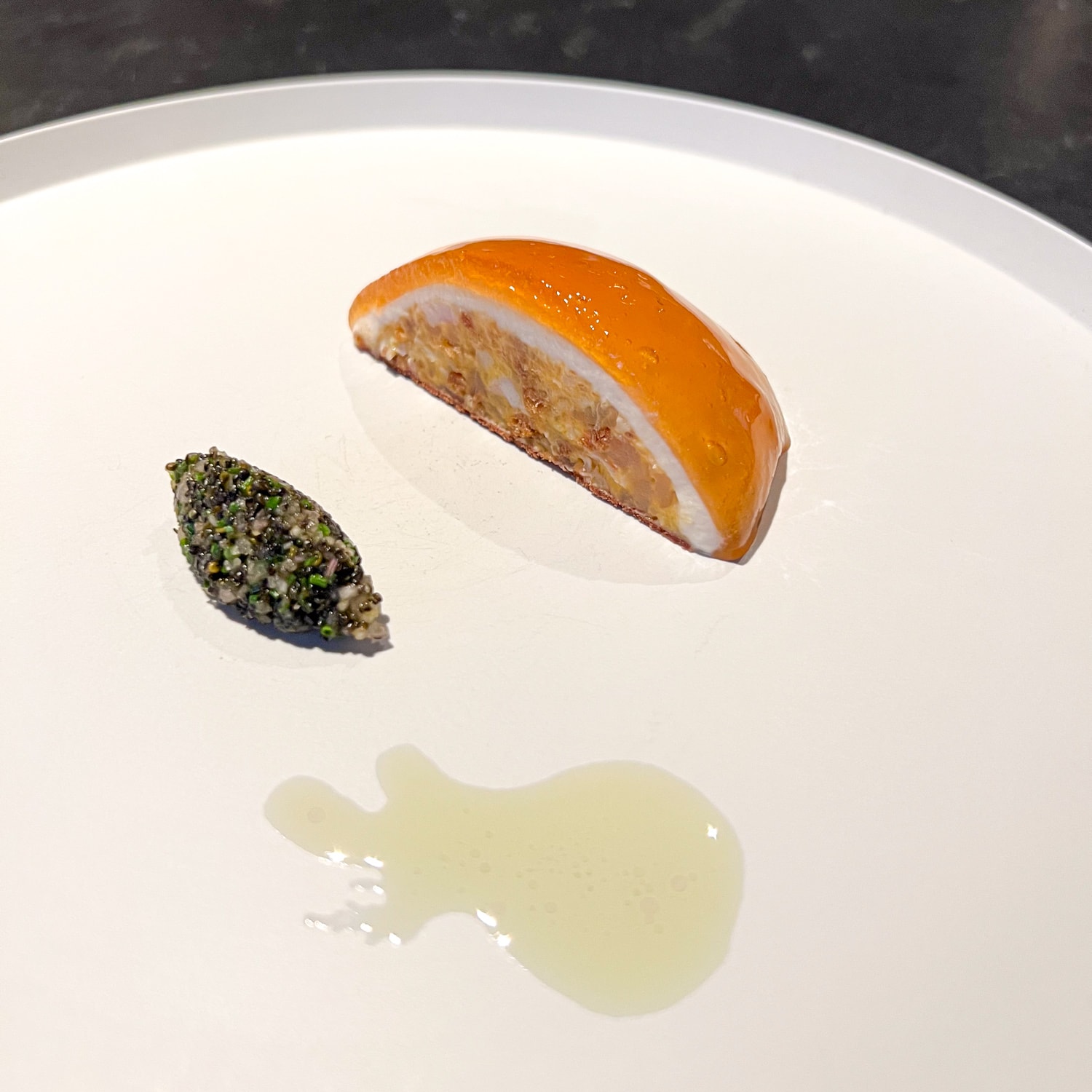 It was served with a quenelle of caviar and wasabi oil. I liked the taste of the salty caviar with the prawn. The wasabi oil was subtle and not spicy.
A piece of fresh-baked bread was provided following the prawn course; it was soft, light, and spongy.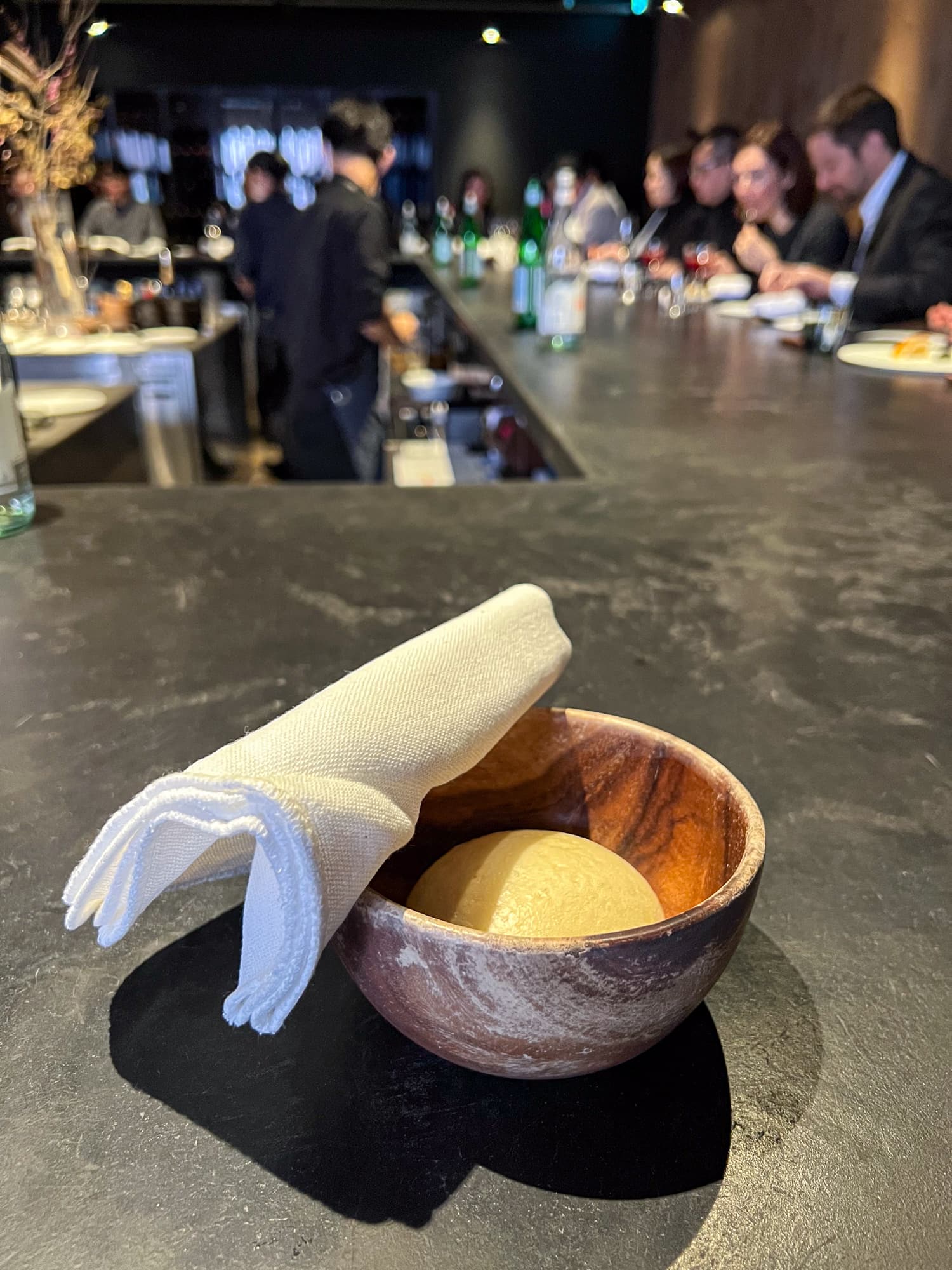 Dishes
Following the bread service at Florilege, a vegetable course was delivered on a thin white plate.
Lily bulb, a vegetable from Hokkaido, had layers like an onion and was served with white cream. I enjoyed both the taste and presentation.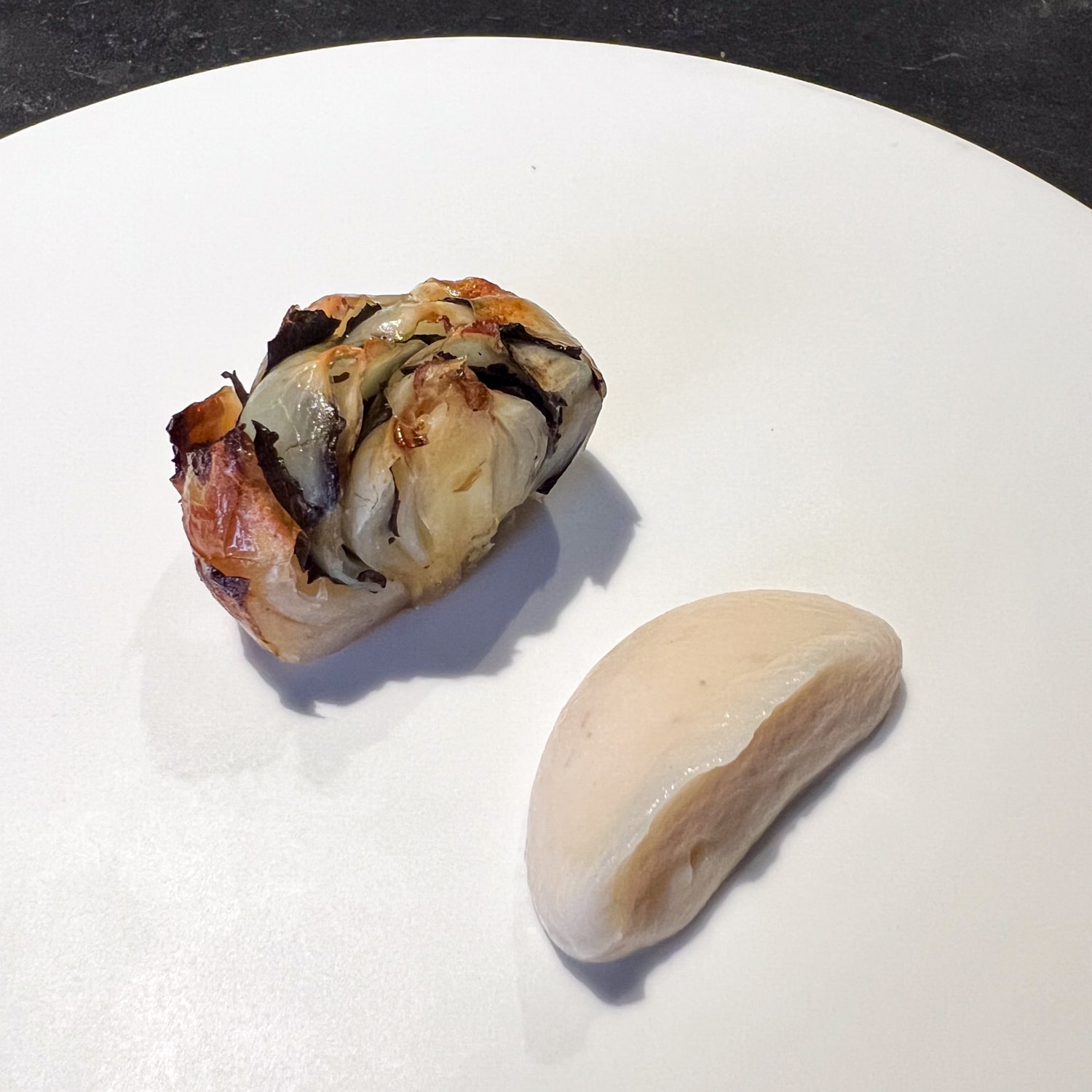 Lunch at Florilege began to hit its stride with course number four, a signature dish of chef Kawate.
Named "Sustainability: Beef" on the menu, this dish uses beef from 13-year-old breeding cows from southern Japan.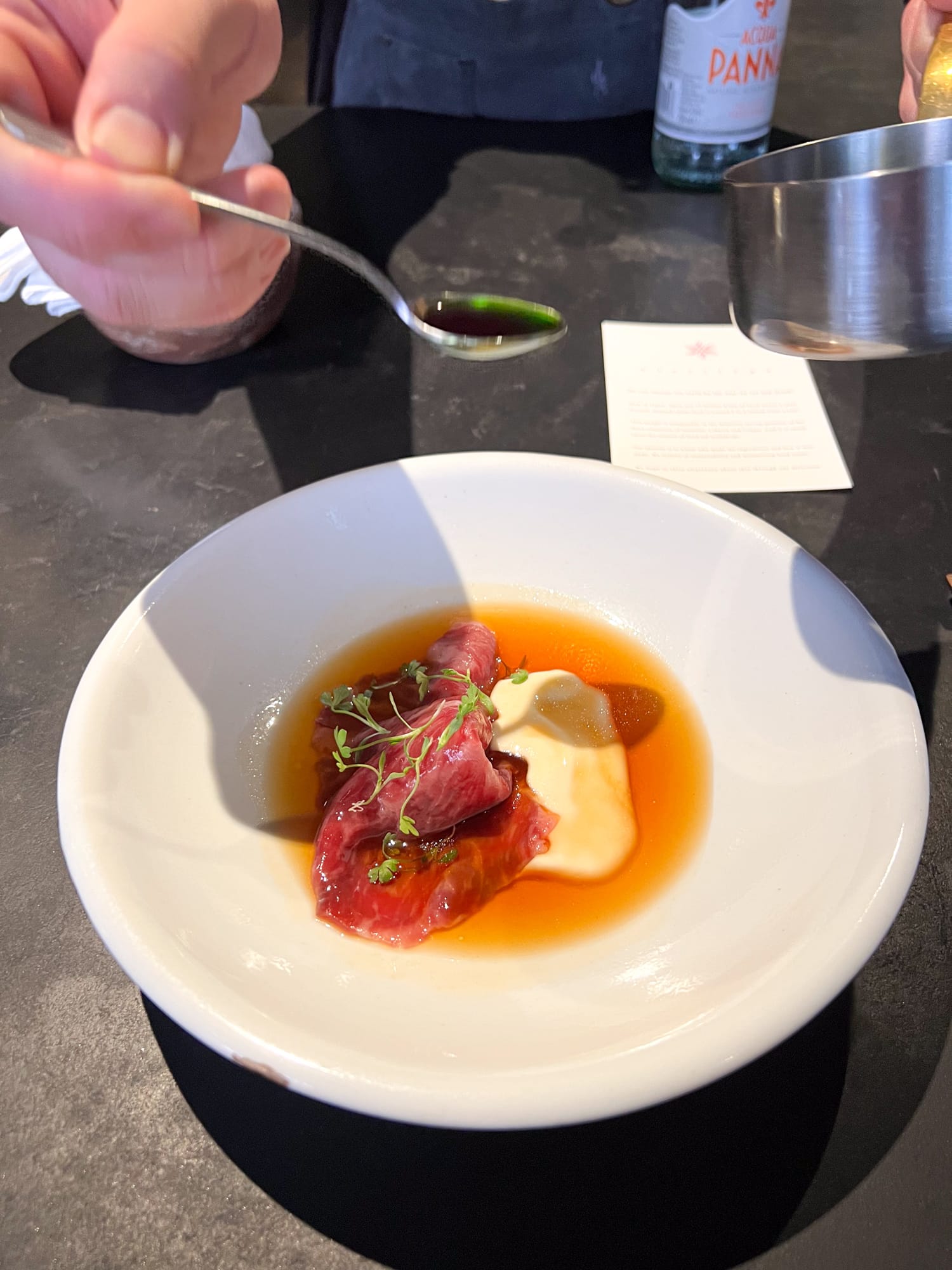 To reduce food waste at Florilege, the vegetable broth is made with scraps that would otherwise be discarded.
The version I tried had white cream of potatoes as well. And it was finished with a green sauce in front of me.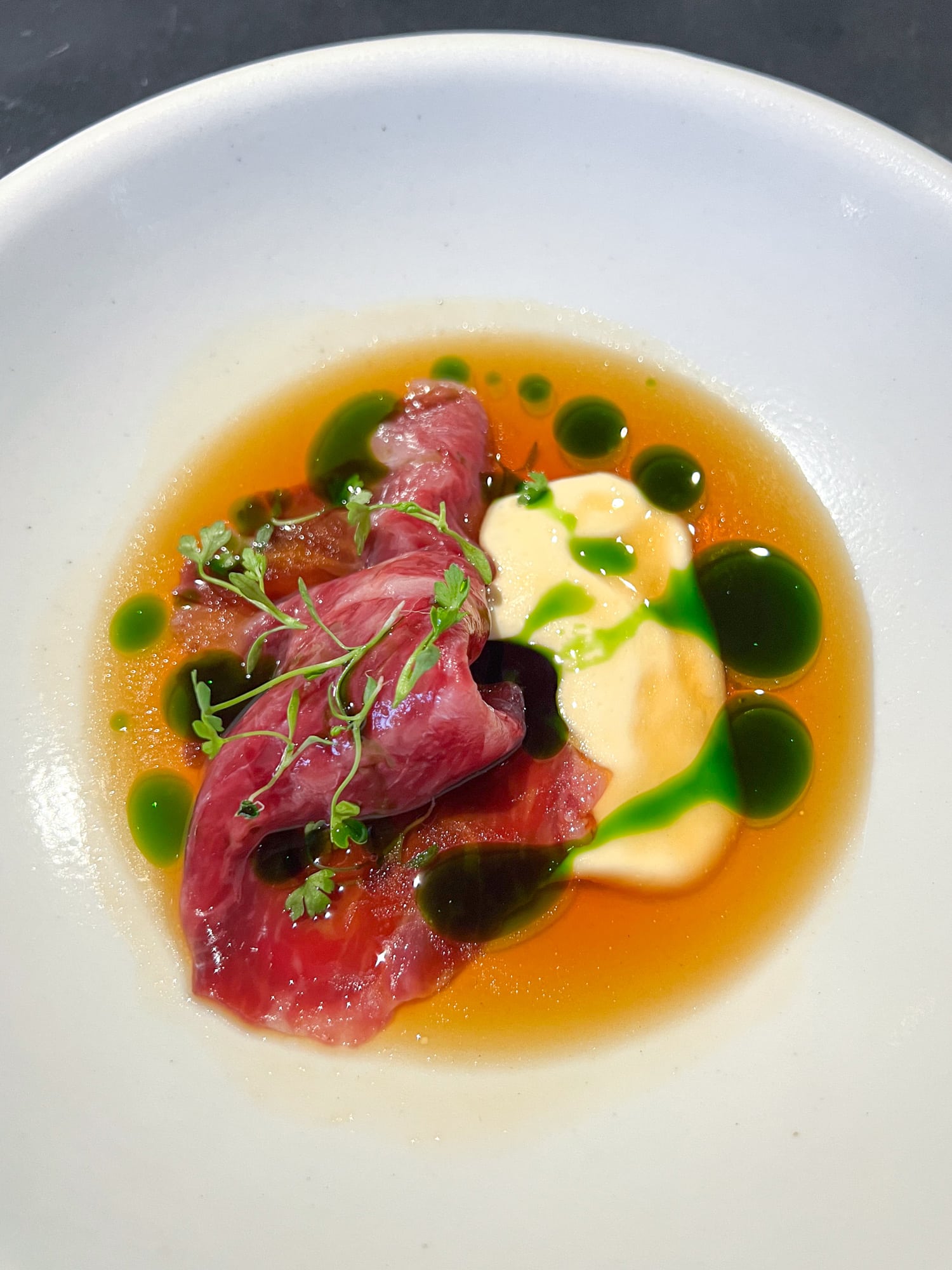 I was also handed a card that stated Japan's food waste was at 17 billion kilos (or about 37.5 billion pounds). Up to half of this is considered edible food waste.
The card, and the dish, emphasized Florilege's commitment to sustainability and reduction in food waste and, thus, the environment.
Shittake mushrooms and Japanese cheese have never tasted as good as they did in course number five.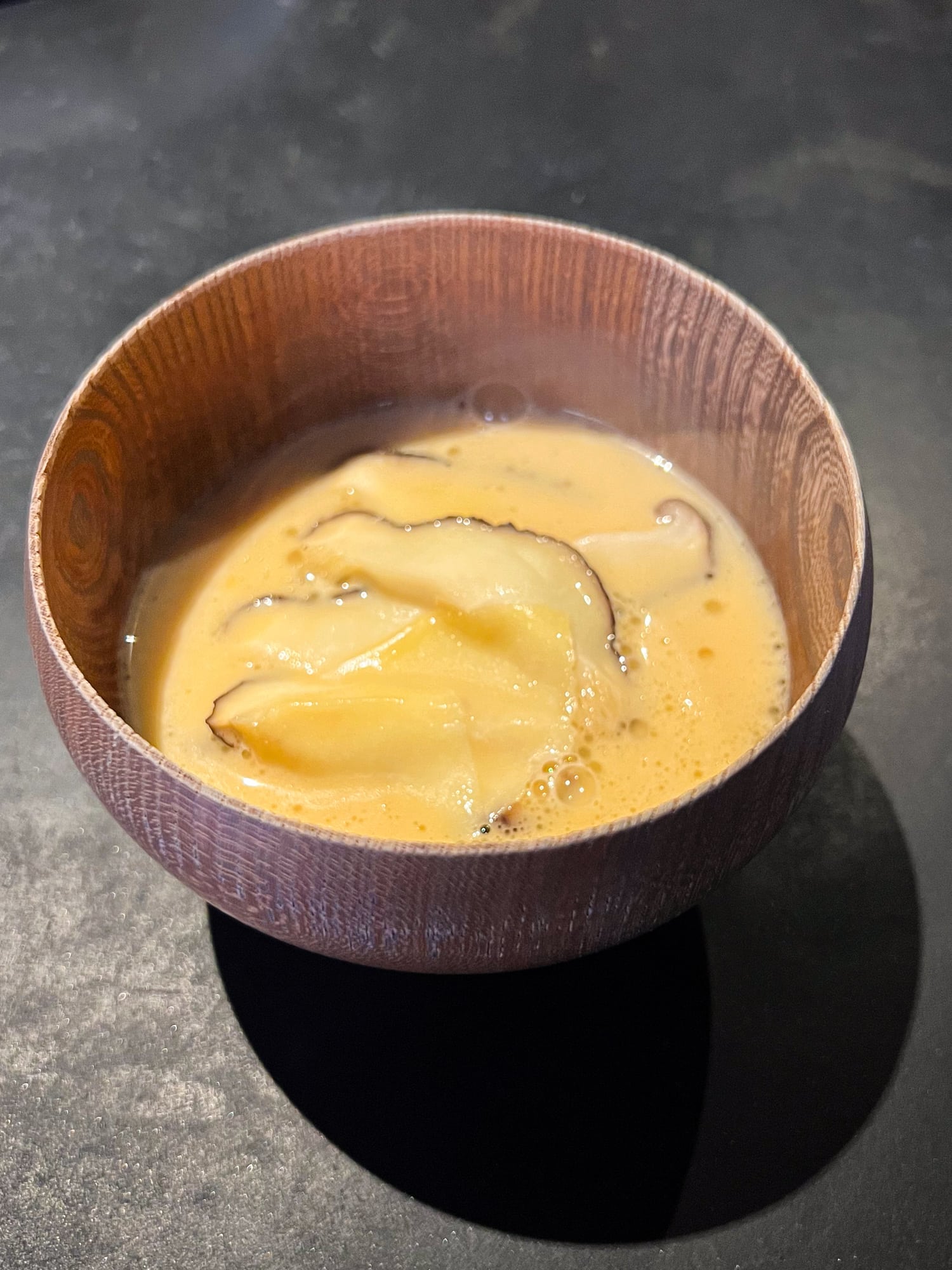 After the mushrooms were gone, a slice of sourdough bread was provided. I was also shown a large hunk of pork from Okinawa, which would be featured in the "To Share" course later in the lunch.
Steamed white radish with a white clam sauce and caviar was served for the sixth course.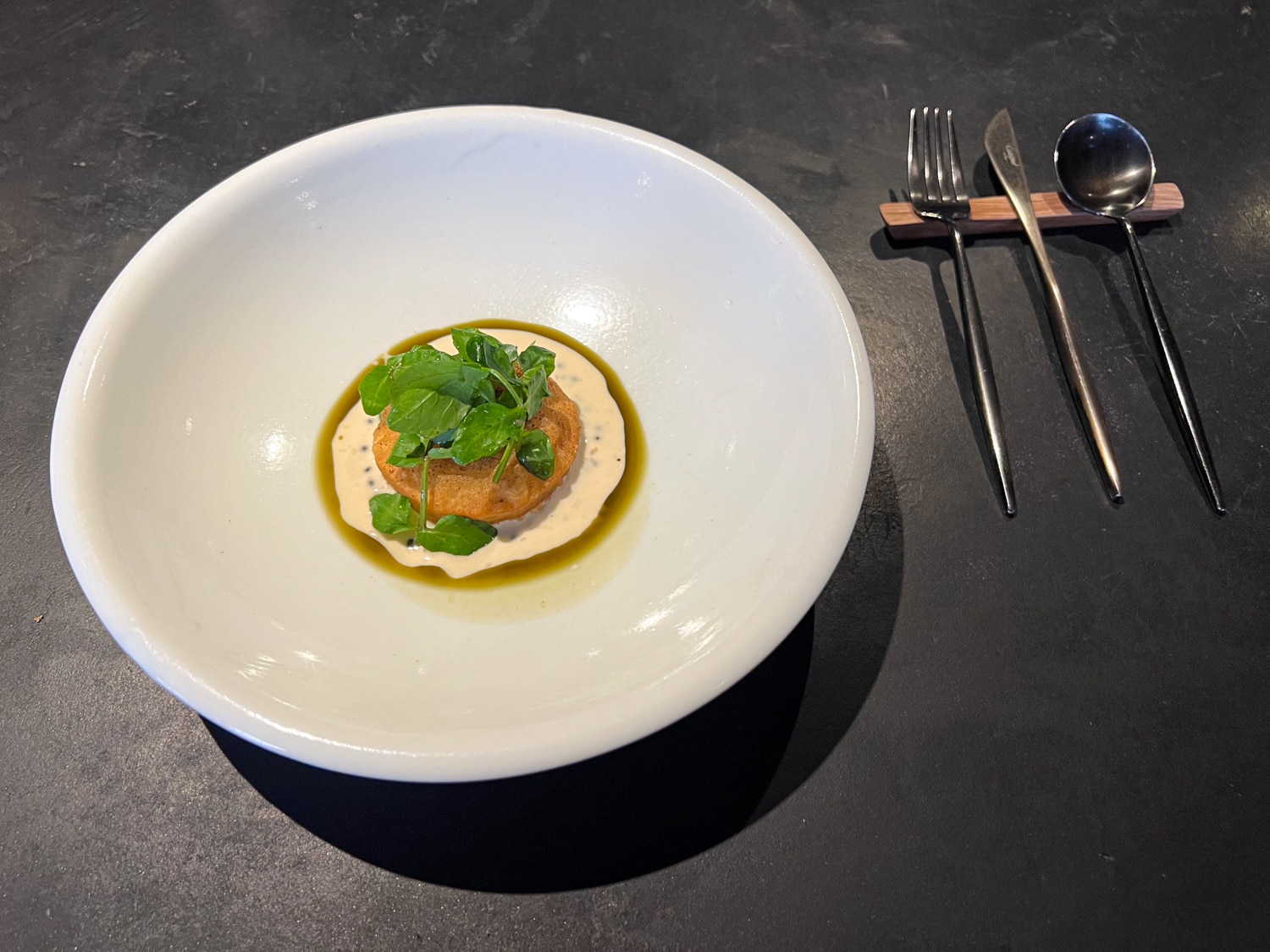 Course number seven was Udo, a mountain vegetable, served with udo ice cream over foam and a small chocolate cookie with udo mousse.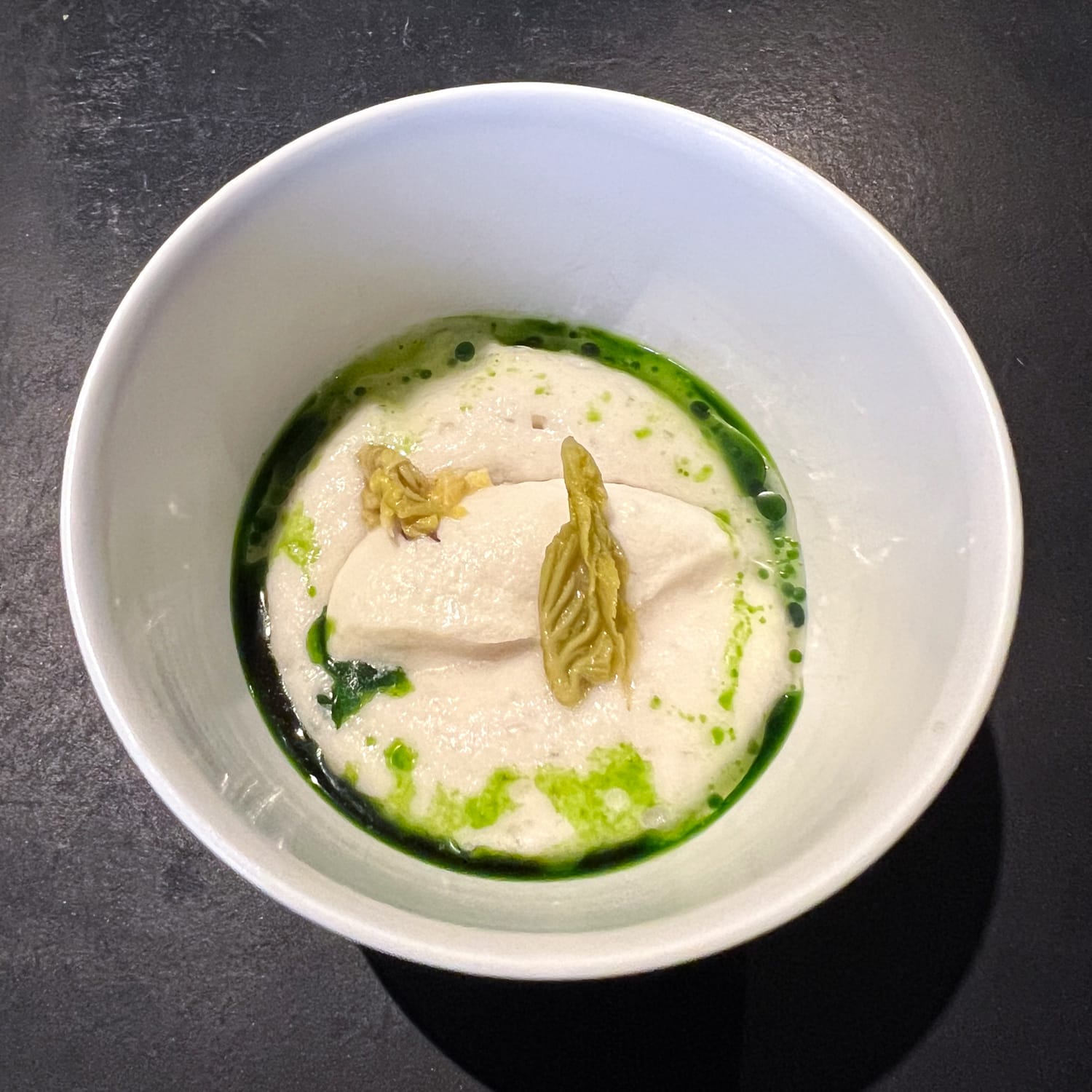 Remember the pork from Okinawa I mentioned? It arrived on a textured black plate with sweet brown sauce and salt. To the side, spinach with a dusting of spinach leaf powder on top.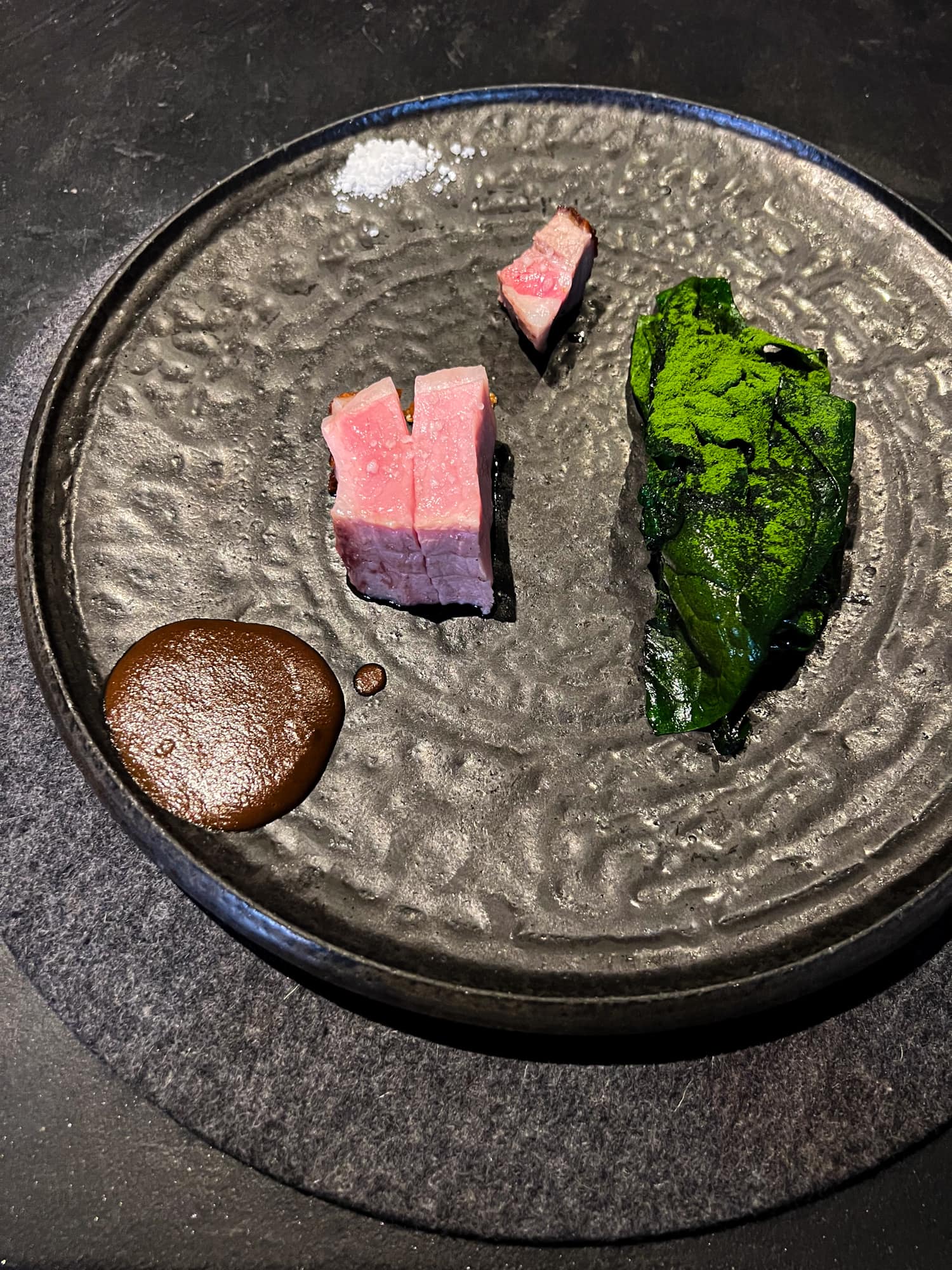 At this point in my meal at Florilege, coffee and tea were offered, as the dessert courses were coming next.
Desserts
First, a colorful mandarin orange mousse acted as a palate cleanser.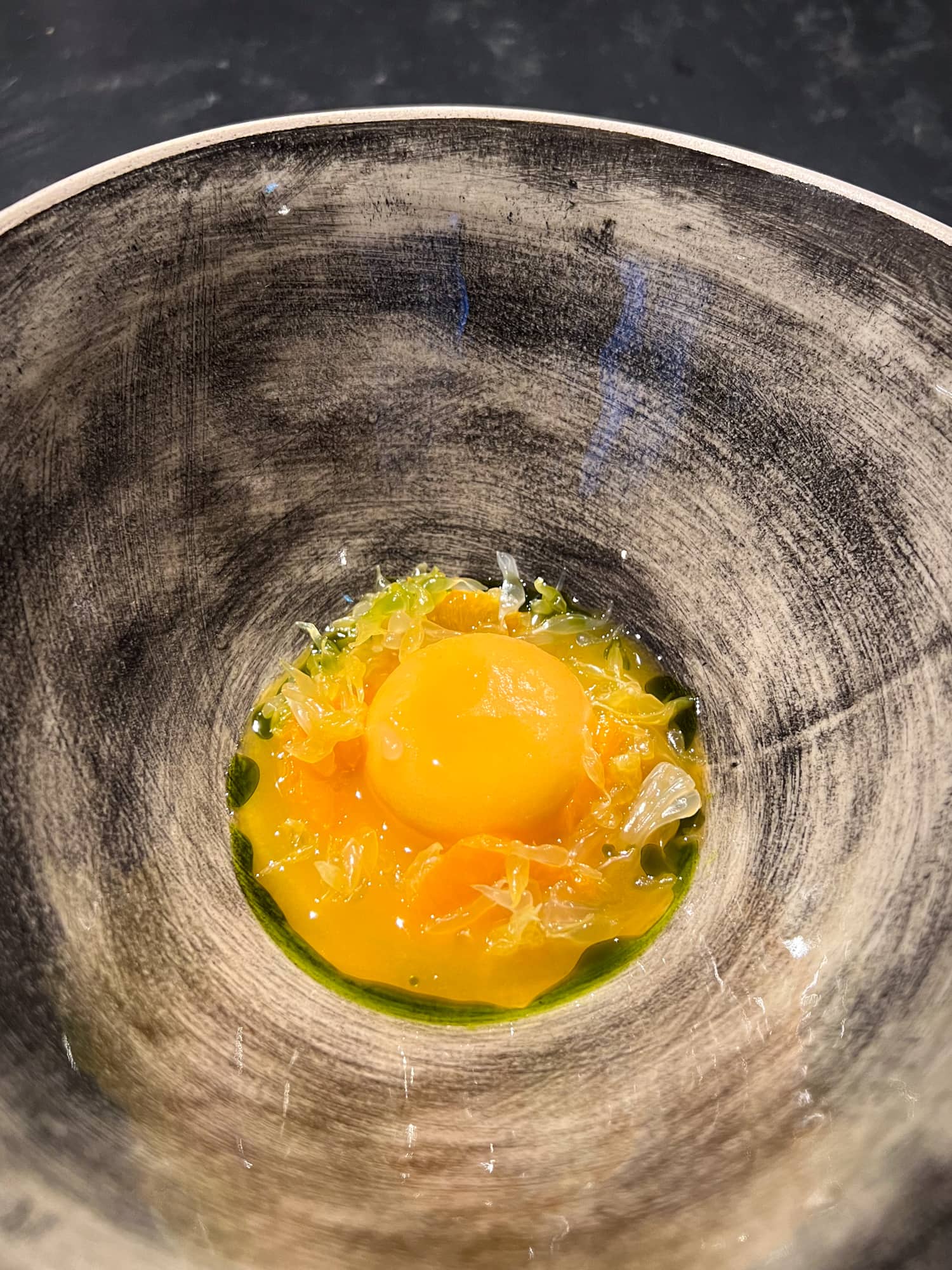 Then, for the tenth course, a fudgy financier with yellow buttercream on top.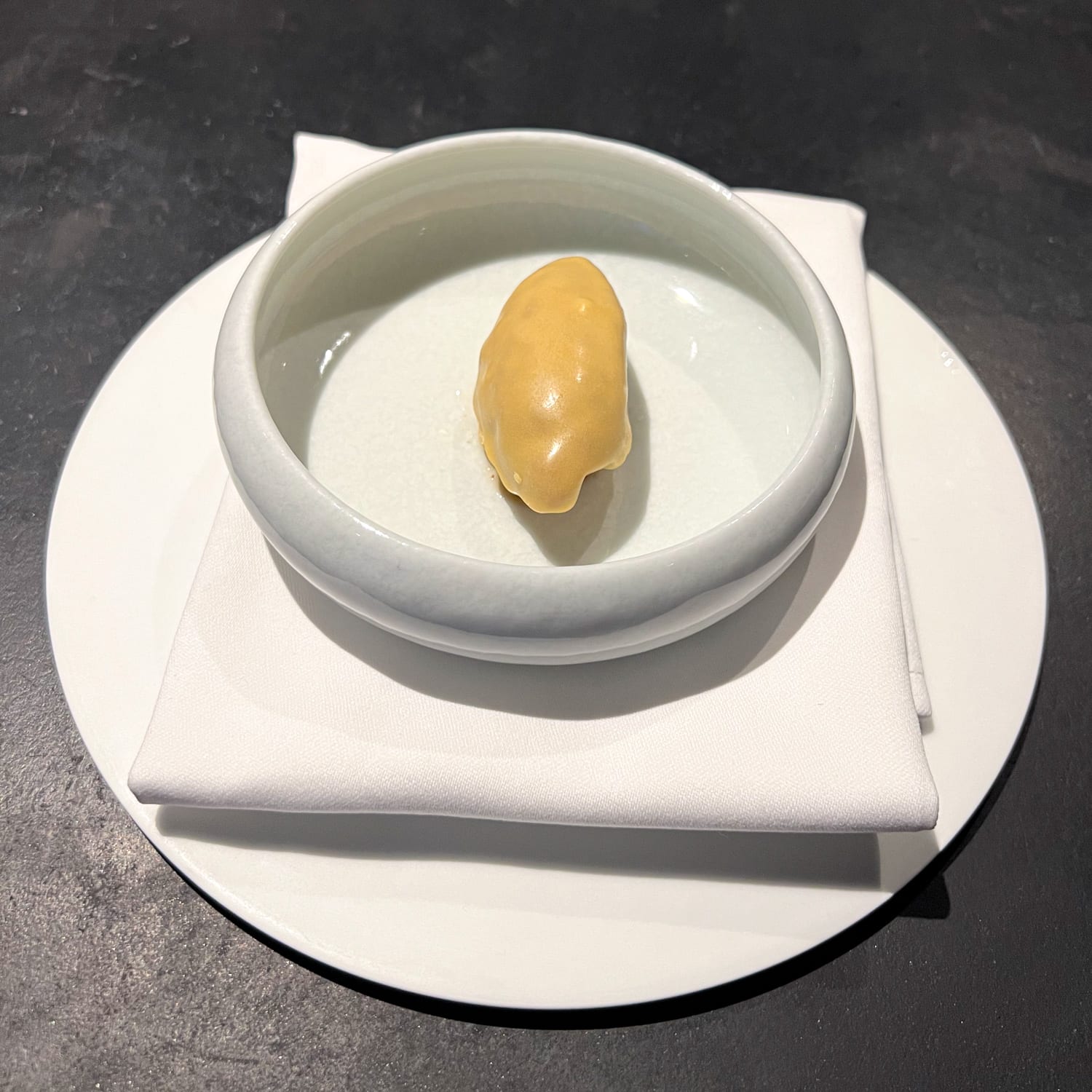 For the eleventh and final course listed on the menu, we were treated to a Gift: Amazon cacao.
Melted chocolate is offered in the middle of a soft shell. The espresso poured on top imparts a coffee flavor. It was served with a dollop of fresh whipped cream.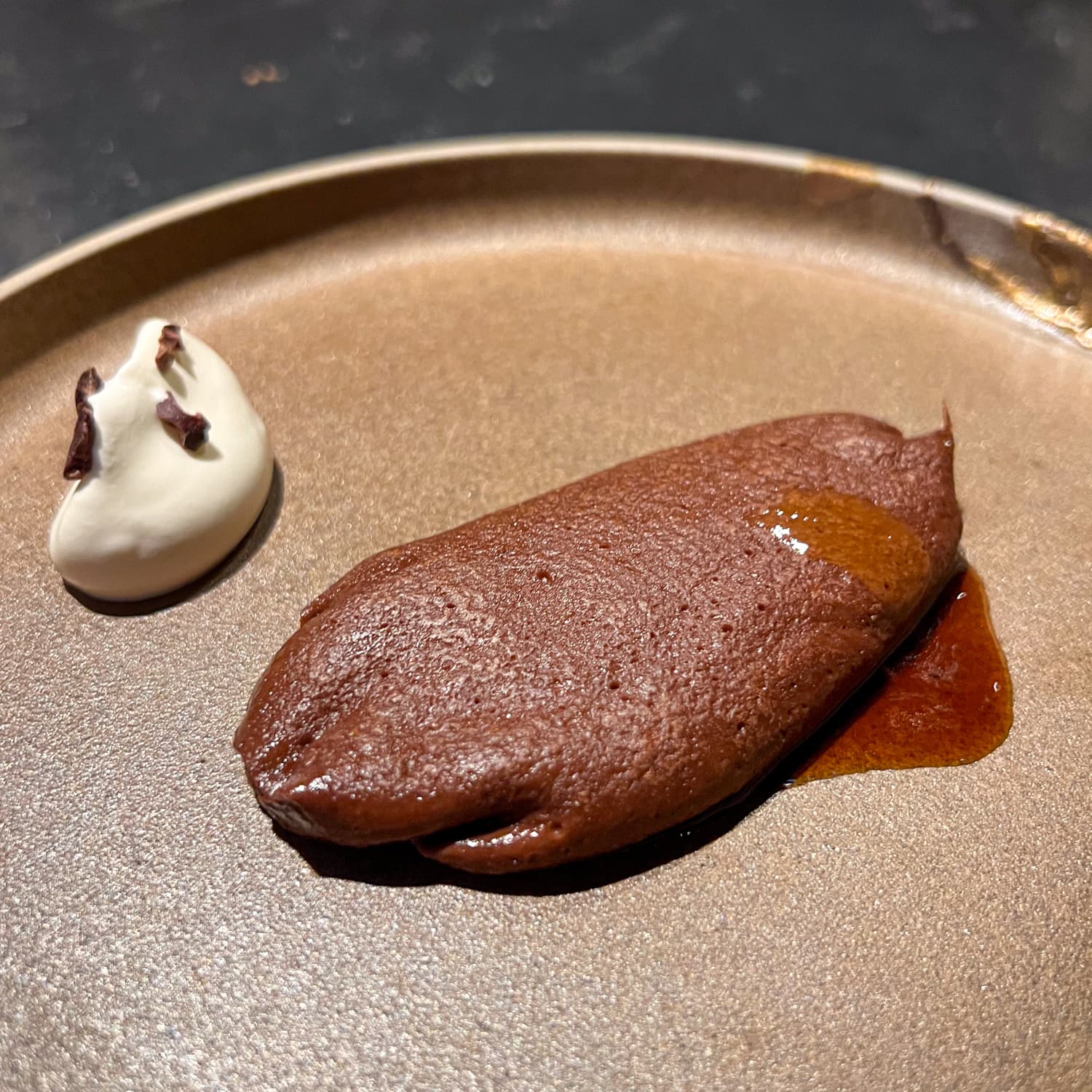 At this point, I thought we'd reached the finish line; however, there was one more surprise to come from the kitchen.
A bright red strawberry coated in a jam to enhance its flavors was placed in front of me. It was a delicious conclusion to a lovely lunch in Tokyo.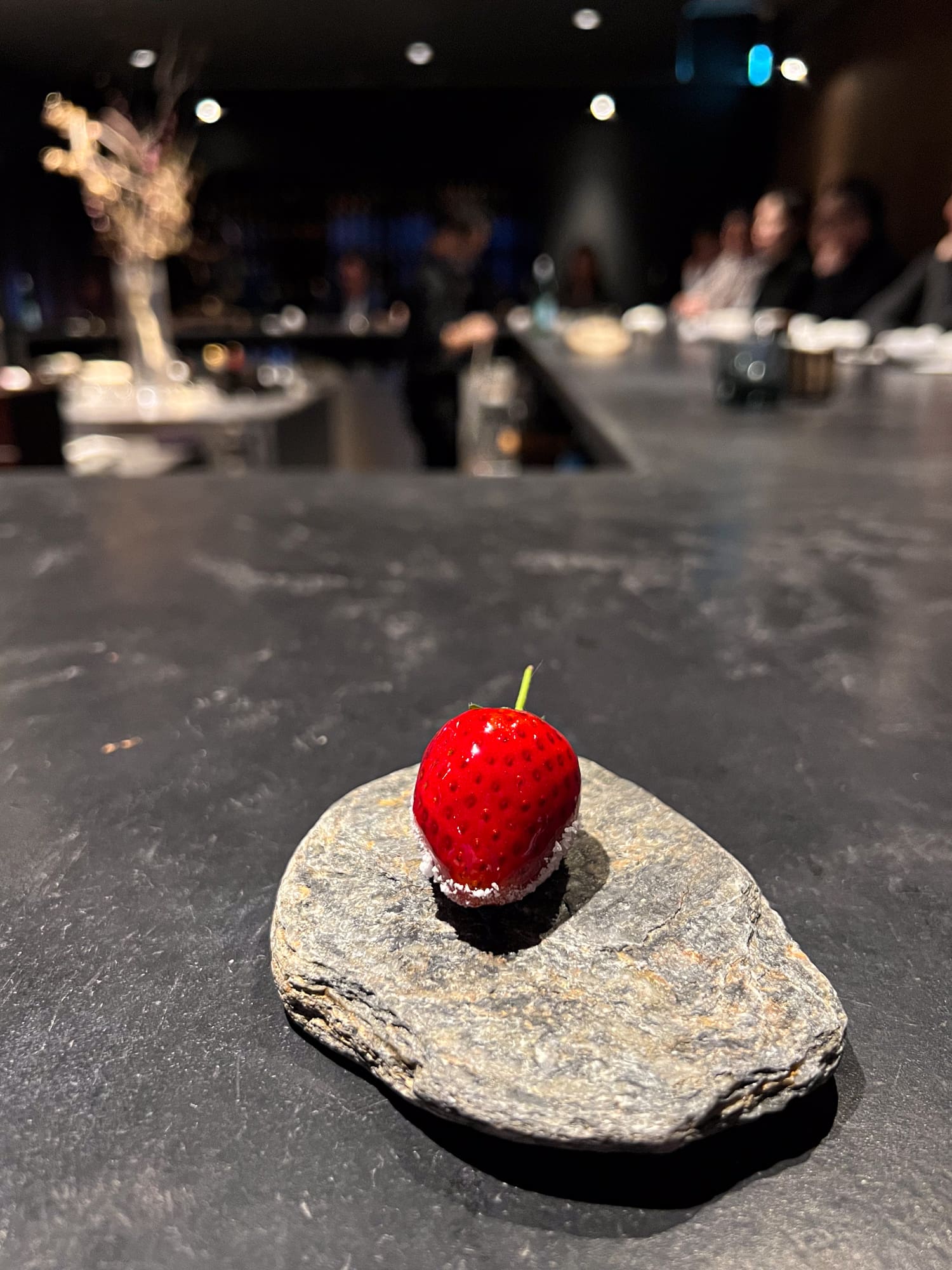 Once the strawberry was gone, it was time to pay for my two bottles of water. The kitchen had been thoroughly cleaned, and at least half the guests had left.
The gentleman who'd been serving me during the three-hour meal seemed a bit more relaxed, and we chatted briefly before I left.
The timing of dishes was pretty consistent, but I felt like the kitchen took longer with the second half of the menu, including the pork and orange mousse.
This left me feeling a little impatient. Three hours felt too long for an 11-course meal. Perhaps it was an off day.
For comparison's sake, I had a 10-course lunch the following day at Sezanne, another Michelin-two star French restaurant, which lasted about two hours.
Visit Florilege Restaurant
Address until July 21, 2023: 2 Chome-5-4 Jingumae, Shibuya City, Tokyo, Japan
Reservations: Necessary and accepted online up to two months in advance. Call the restaurant for reservations of five or more people.
Dress code: Men are not allowed to wear shorts or sandals.
Website