If you're planning a trip to Northern California, and have wine tastings on your mind, consider a road trip from San Francisco to Sonoma Valley.
The Golden Gate Bridge, picturesque Pacific coastline, majestic redwoods, and vineyard views await you.
Given how much there is to see and do, I recommend spending a night or two in the historic town of Sonoma, in the heart of California wine country.
We spent two nights there in collaboration with Sonoma Valley, giving us plenty of time to enjoy the area. But first, we had to get there.
If you're driving direct from San Fran, the travel time is about one hour. But we chose to make a day trip out of it and explore Sonoma County along the way.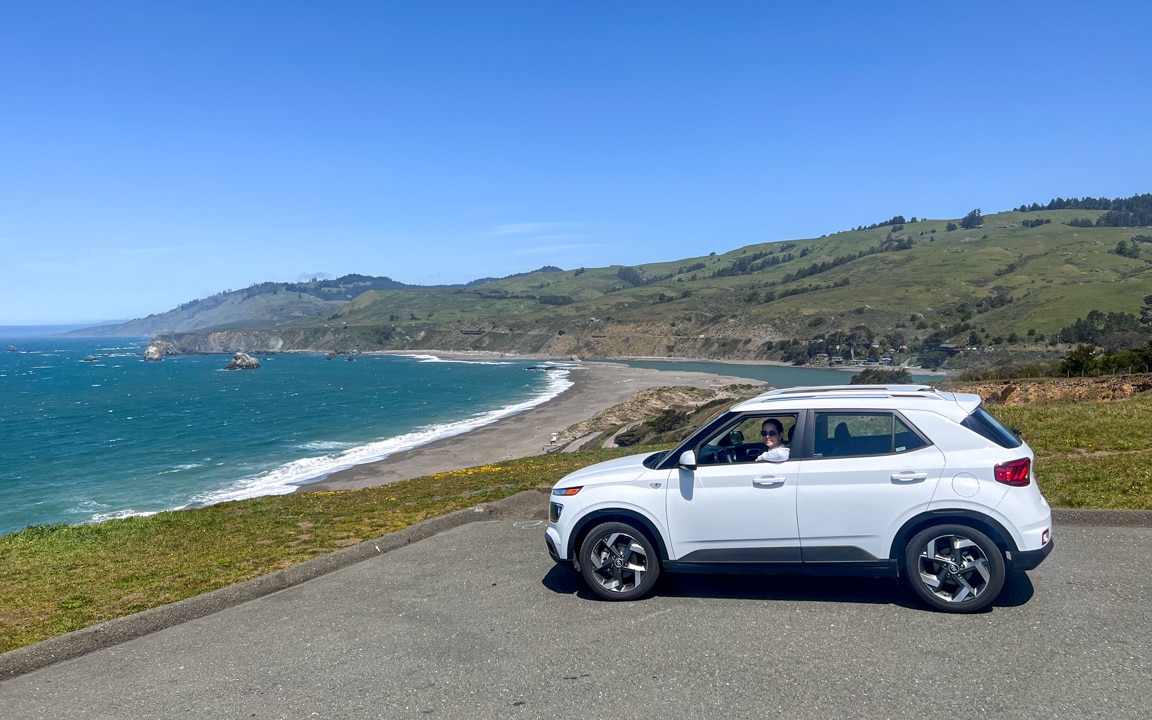 Renting a Car
Before leaving for California, Kel and I used Kayak to book a rental from Budget Rent a Car that we could get near Union Square in downtown San Francisco.
We conveniently returned the car to the Rental Car Center for the San Francisco International Airport (SFO).
The cost was about $300 for three days, including unlimited mileage and gas. We didn't have to worry about filling up the tank before we returned the car.
After several fun days of bakeries and bars in San Francisco, we picked up the car around 8 a.m. Sunday. We were pleased to be given a sporty little white Hyundai VENUE SUV.
Within minutes, we were driving north on Highway 101, which extends from Los Angeles in Southern California through Oregon to Washington.
Attractions
I had much fun putting our San Francisco to Sonoma day trip together. I'm excited to share it with you here.
I've included a few things along the route we didn't have time for but may interest you.
Golden Gate Bridge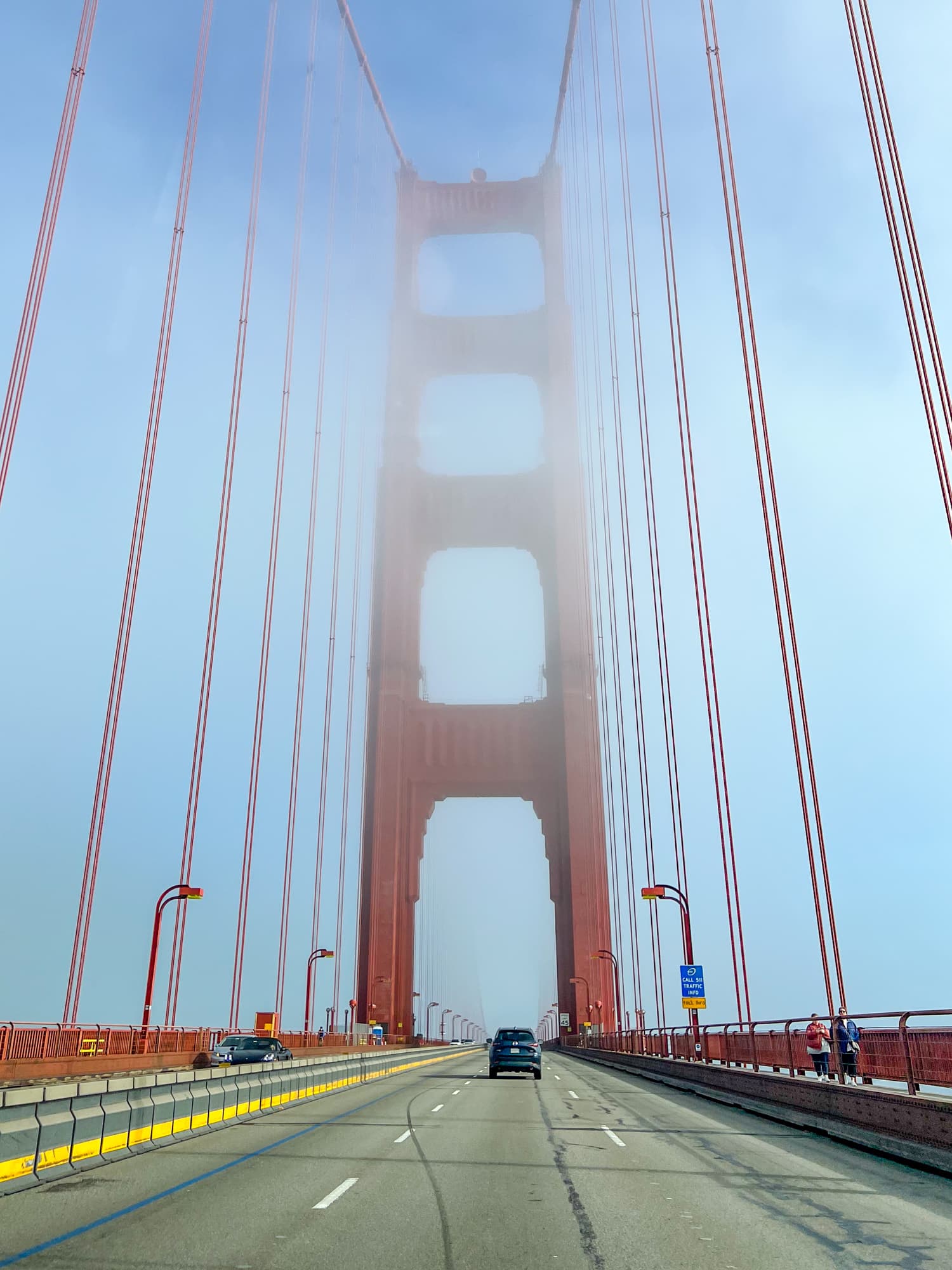 For starters, there's the chance to drive across the Golden Gate Bridge, a symbol of the Bay area, often shrouded in fog. Such was the case on the morning we departed San Francisco for Sonoma wine country.
The Golden Gate Bridge opened on May 27, 1937, after only four years of construction. It was built to connect San Francisco with Marin County across the Golden Gate Strait.
It was the longest suspension bridge in the world at its completion, with a total length of 8,981 feet (2,737 meters).
The color of the bridge is called "International Orange." The architect, Irving Morrow, chose the color because it complemented the natural surroundings and provided visibility in foggy conditions.
Due to the harsh weather, the bridge is fully painted every year. It was designed to withstand high winds and earthquakes and remains an engineering marvel, even by today's standards.
On the north side, we made our first stop of the day by exiting the highway into the H. Dana Bowers Rest Area & Vista Point for a few photos.
Sausalito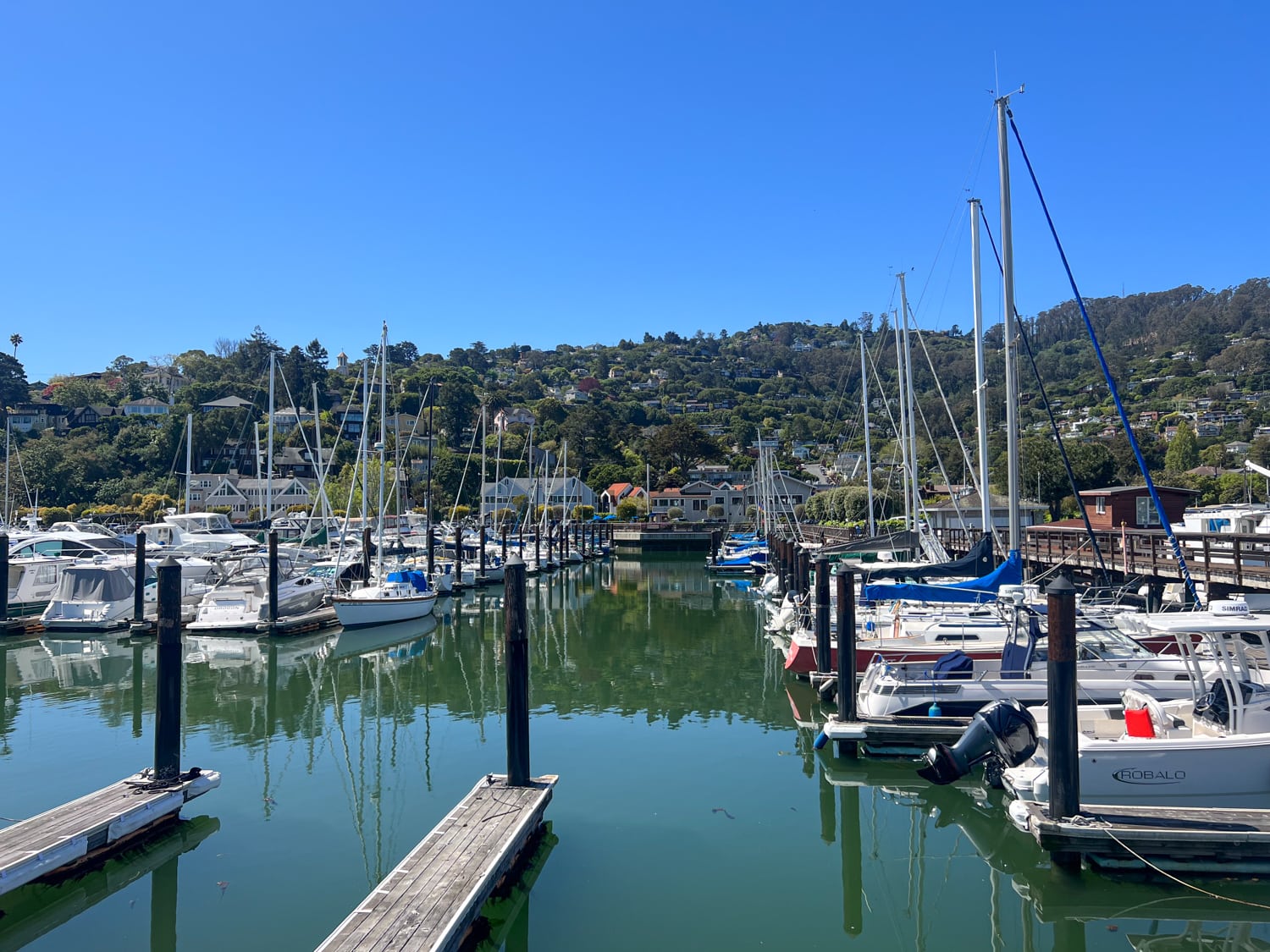 The town of Sausalito, known for its yachting and houseboats, is about three miles north of the bridge.
Because I had lunch in Sausalito a day earlier during a day trip to Muir Woods National Monument, we didn't stop here.
However, it's not far from Highway 101, so you can efficiently work it into your itinerary.
Bodega
It was about 55 miles and an hour's drive from the Golden Gate Bridge to the small village of Bodega in Sonoma County.
Several historic buildings in Bodega were used in Alfred Hitchcock's 1963 horror film "The Birds." The movie was set in nearby Bodega Bay.
The classic black-and-white flick is about birds that inexplicably begin to attack the townspeople of Bodega Bay.
I can't remember when exactly I watched it, possibly in college for a film class. The story and imagery, though, stick with you.
The Birds Filming Locations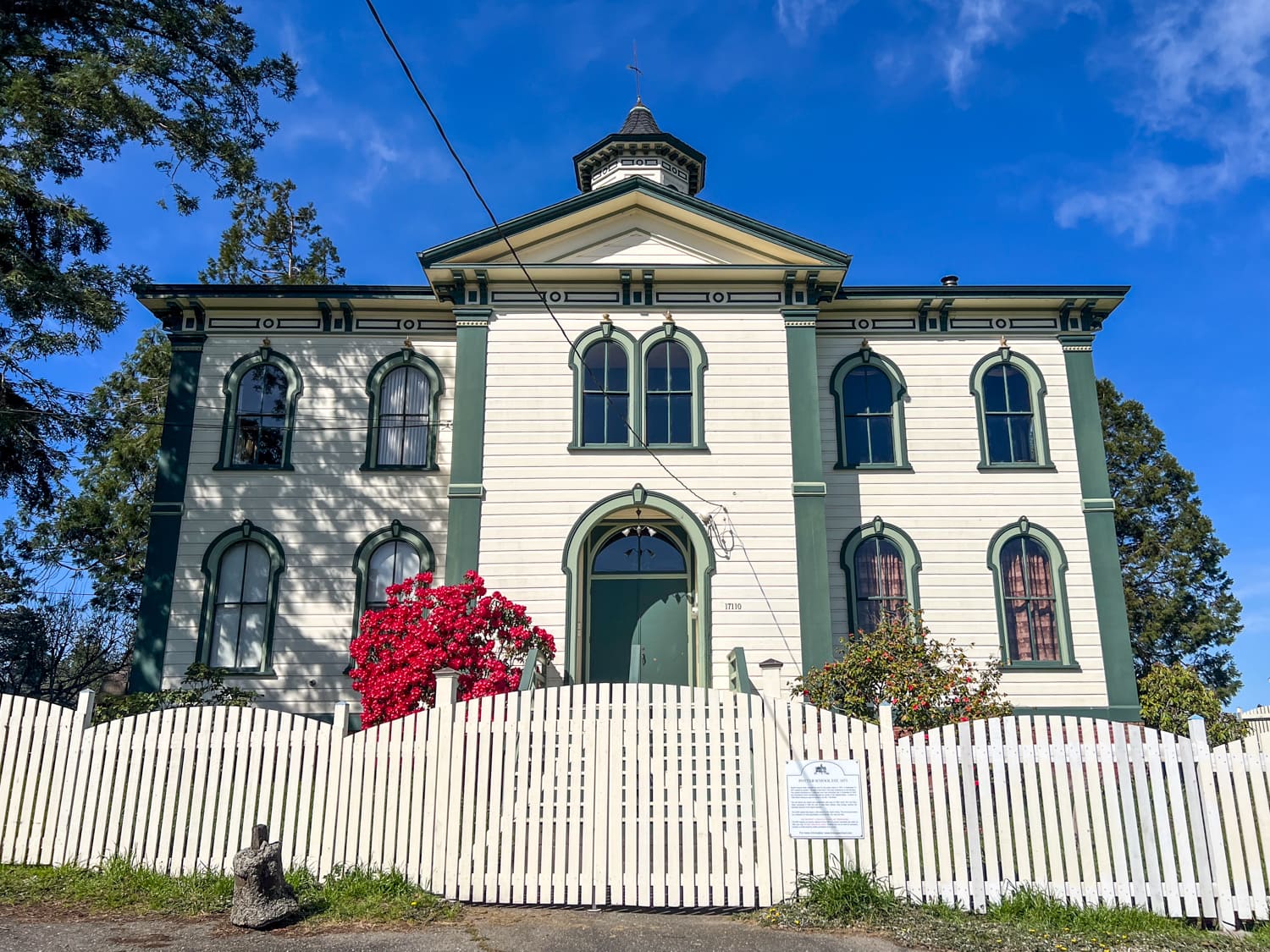 We pulled into the small parking lot of Saint Teresa of Avila Church while the 9 a.m. Sunday mass was happening.
The small white Roman Catholic church was built using local redwood lumber in 1860. I quickly walked around the building but was more excited to see the one behind it.
The Potter Schoolhouse opened as a public school in 1873 and looked much the same as in Hitchcock's movie.
Today, the 6,000-square-foot building is a private residence. If you stop by, do so quietly out of respect for the people living there.
Bodega Bay
Spud Point Crab Company
As we only had a light breakfast at our hotel before checking out early for our San Francisco to Sonoma adventure, I knew we'd be ready for food when we reached Bodega Bay, about six miles west of Bodega.
Hitchcock fans may want to eat at The Tides Wharf & Restaurant. It's another filming location from the movie (although it has been renovated since then). This large seafood restaurant sits on the east side of Bodega Harbour.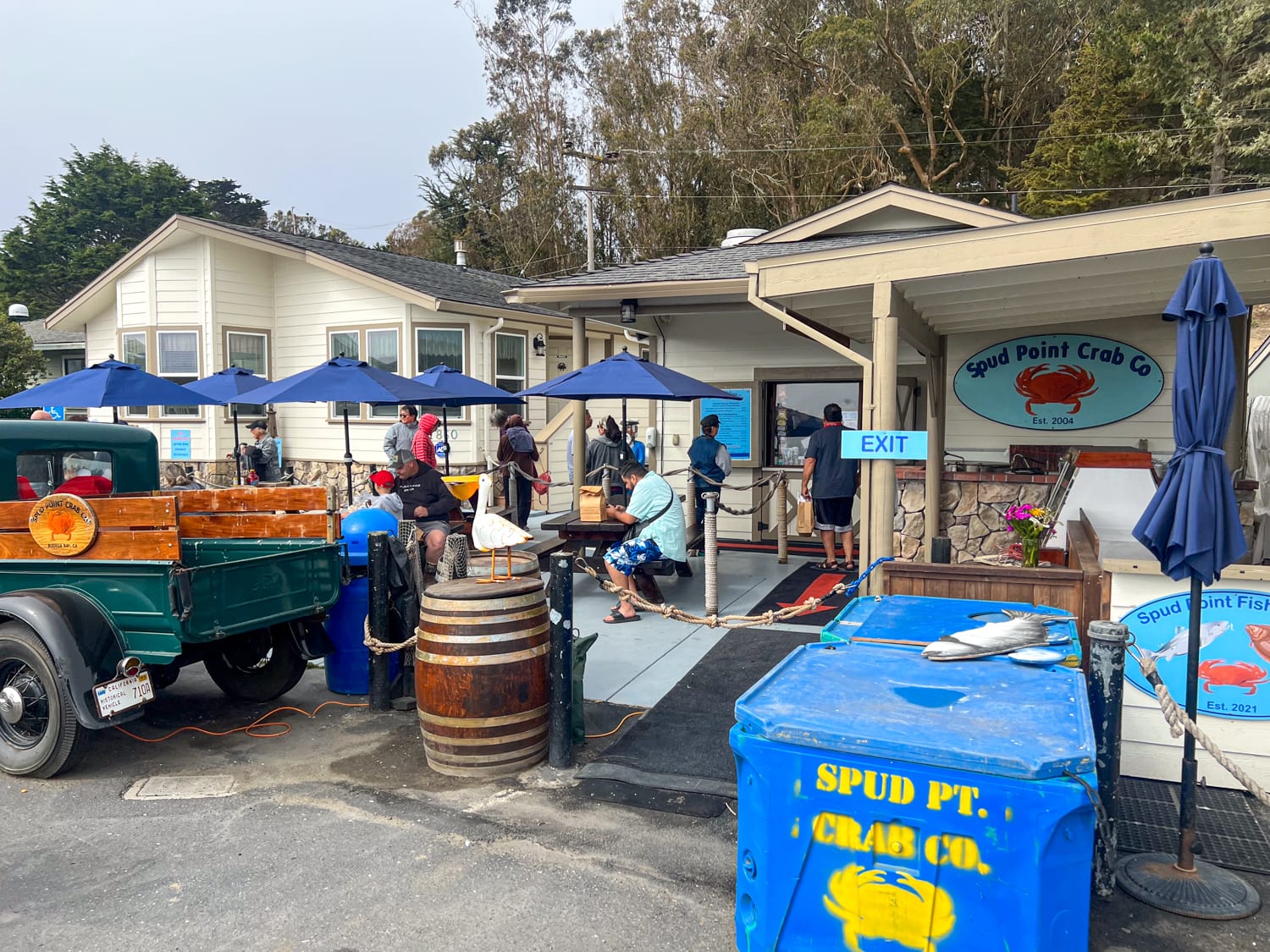 However, while plotting our course to Bodega Bay on Google Maps, I noticed a small family-owned restaurant, Spud Point Crab Co., on the harbor's west side. I thought it'd be fun to check it out.
Little parking was available, but we eventually found space on the side of Bay Flat Road behind the restaurant.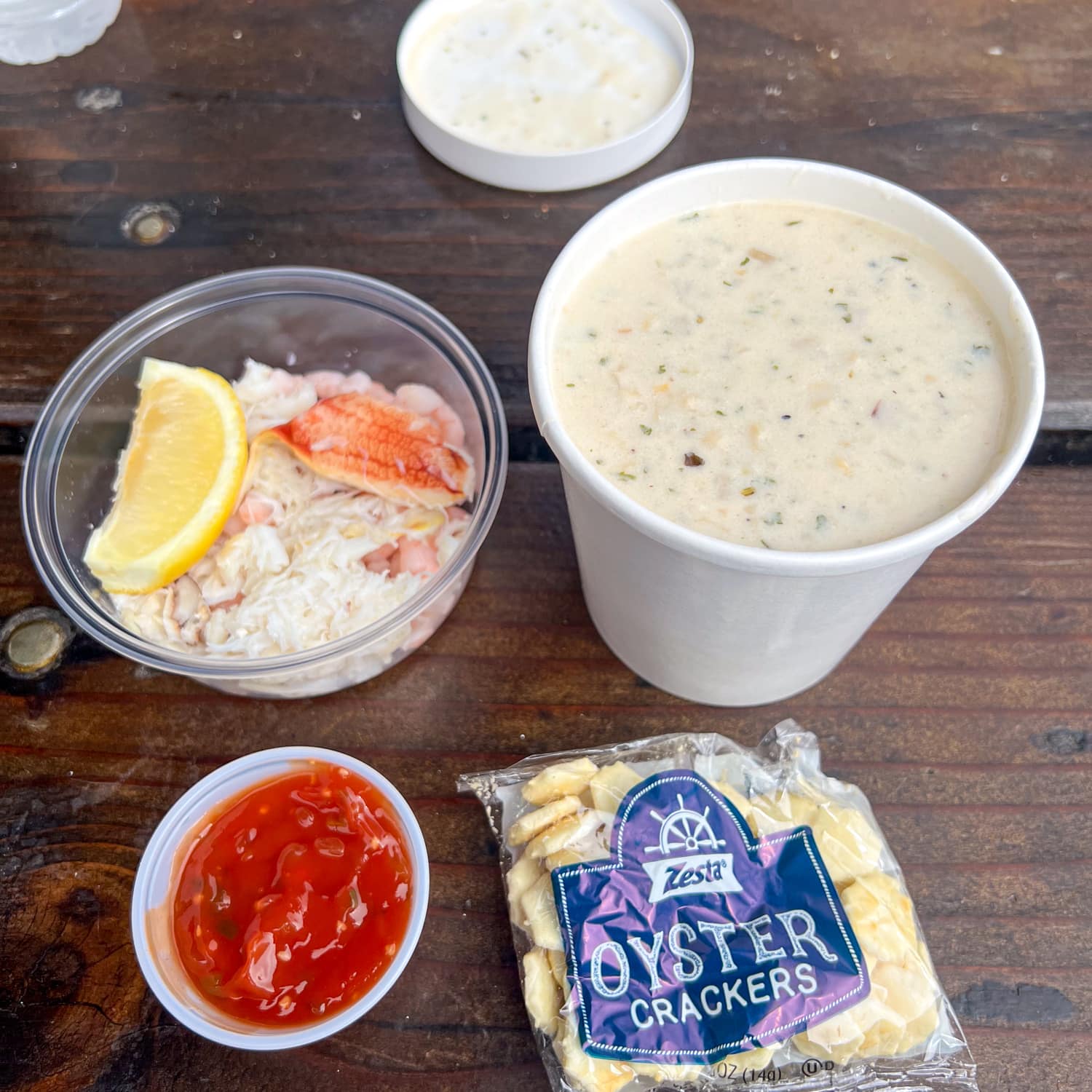 The short line moved quickly. We soon ordered their award-winning New England-style white clam chowder and a seafood cocktail with fresh crab and shrimp.
Hot soup felt appropriate, given the 50-something-degree temperatures and steel grey skies.
Our next stop was Bodega Head, about five minutes south of the restaurant on Westshore Road.
Along the way, we passed the 50th annual Bodega Bay Fisherman's Festival, attracting many visitors from the looks of all the people parking on the road.
Bodega Head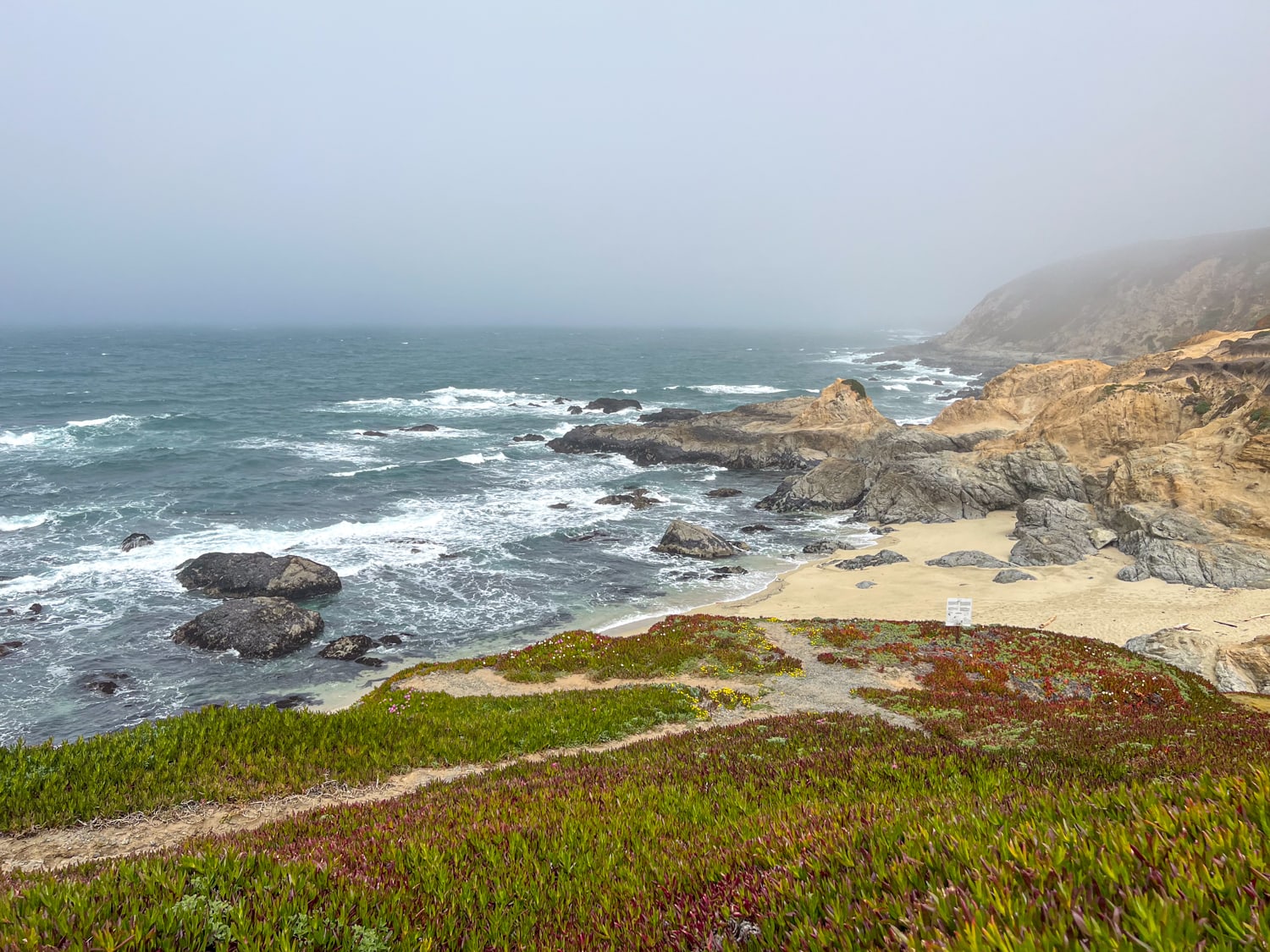 We skipped the festival and continued to Bodega Head, where the winds were high and visibility low.
Bodega Head is a rocky peninsula that juts into the Pacific Ocean. It offers spectacular views of the water and coastline.
A large gravel parking lot marks the Bodega Bay Trailhead and a short hiking trail that winds around the peninsula. Basic toilets are available.
The Bodega Head State Marine Reserve was established in 2010 to protect the rich and diverse marine life. This includes various species of fish, invertebrates, and marine mammals.
I hoped to spot gray whales, which migrate from the warm waters of Baja California north every spring to feed. But the weather wasn't cooperating.
The whales also pass by from late November to January on their way south to give birth. The roundtrip migration covers 10,000 miles and is the longest migration of any mammal.
Sonoma Coast State Park
Driving back to Bodega Bay, we reconnected with Route 1, the Pacific Coast Highway, and continued north on our San Francisco to Sonoma road trip.
This section of California's most famous highway runs through the western side of Sonoma Coast State Park.
Sandy beaches and rocky outcroppings line the coast, and there are plenty of outlooks on this scenic drive where you can pull over safely for pictures.
Blind Beach and Arched Rock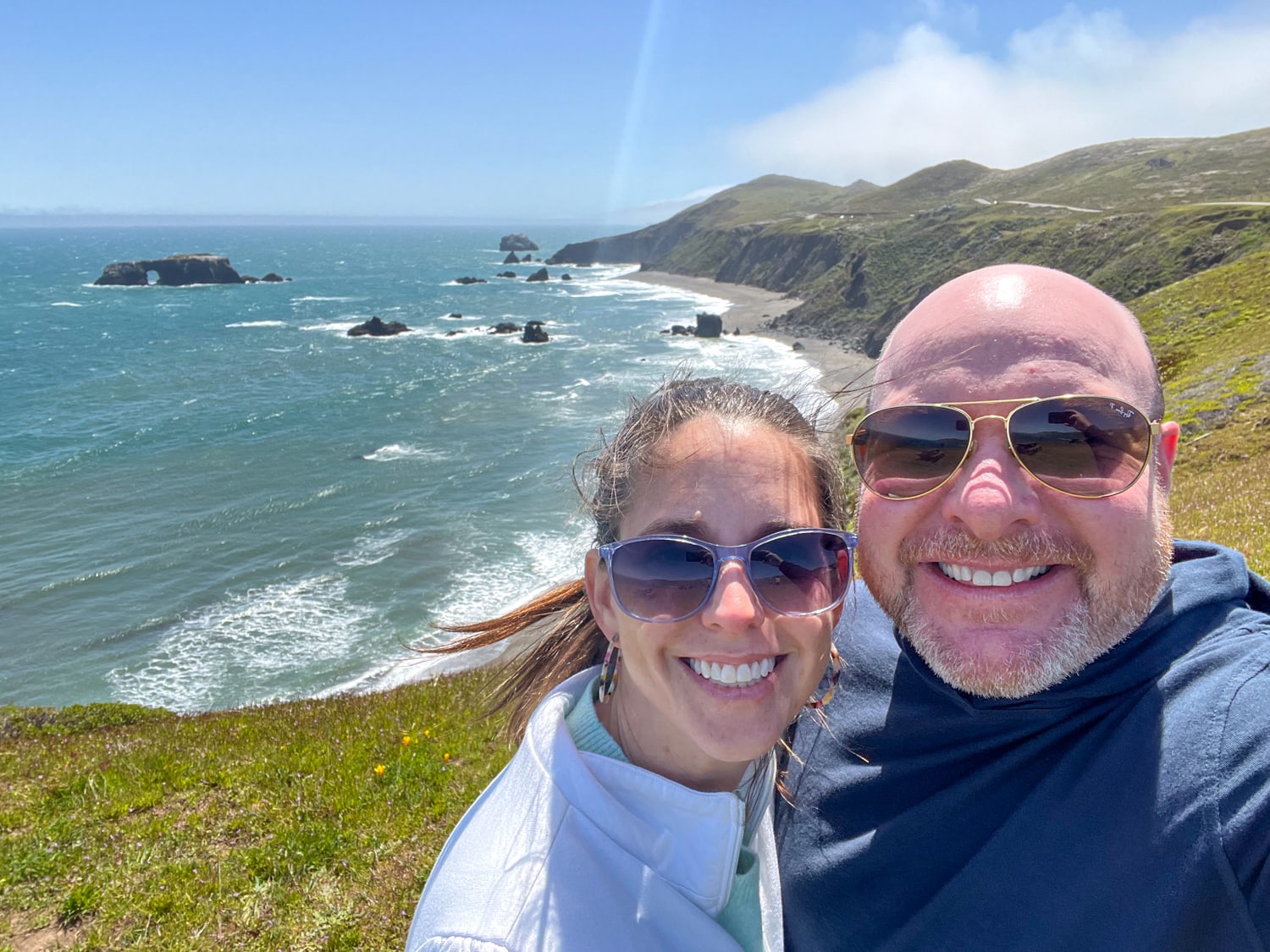 I was grateful the fog and clouds began to clear the further north we traveled.
The sun was soon out, and we had blue skies for Blind Beach and Arched Rock. It's the setting for the final scene in "The Goonies," the 80's classic by Steven Spielberg.
You can access this beach by taking Goat Rock Road off the Pacific Coast Highway.
In the scene, the kids have just escaped the Fratellis after finding One-Eyed Willie's pirate ship in a cave.
After Mikey discovers hidden gems he still has with him, they see the pirate ship sail into the distance.
The telltale sign you're at the correct beach is Arched Rock, which is clearly shown in the movie.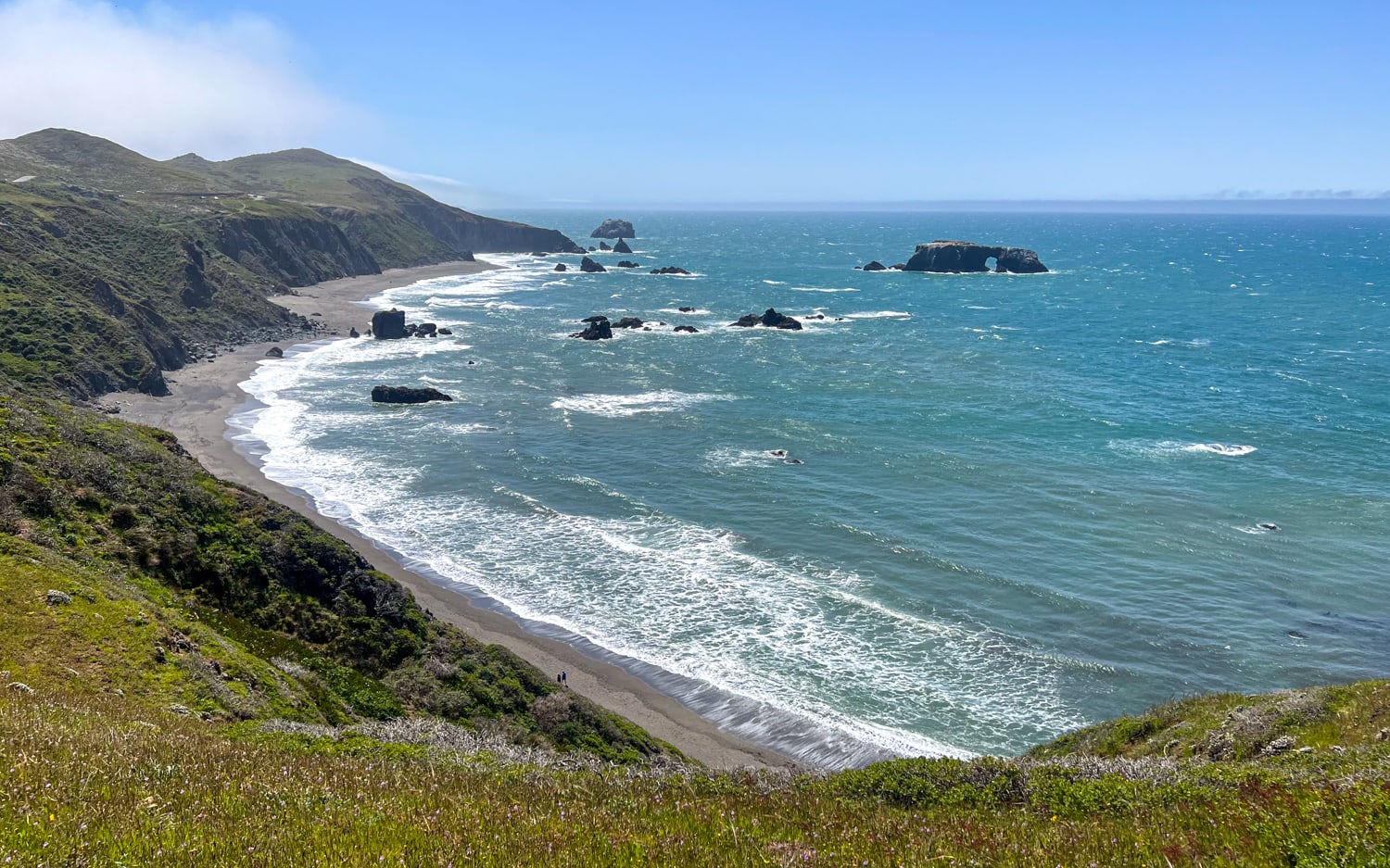 Kel and I are big fans of "The Goonies" and recently saw it at home on the big screen at a local theater.
Our first stop for photos was a parking lot above the sea-level parking lot for Goat Rock State Beach.
I'm glad we did this because I enjoyed this perspective more than the one from below.
Once we'd taken photos, we followed Goat Rock Road north before it made a hairpin turn and continued south to the parking lot.
At this point, the road turns to gravel and is full of potholes, so drive slowly.
View from Sea Level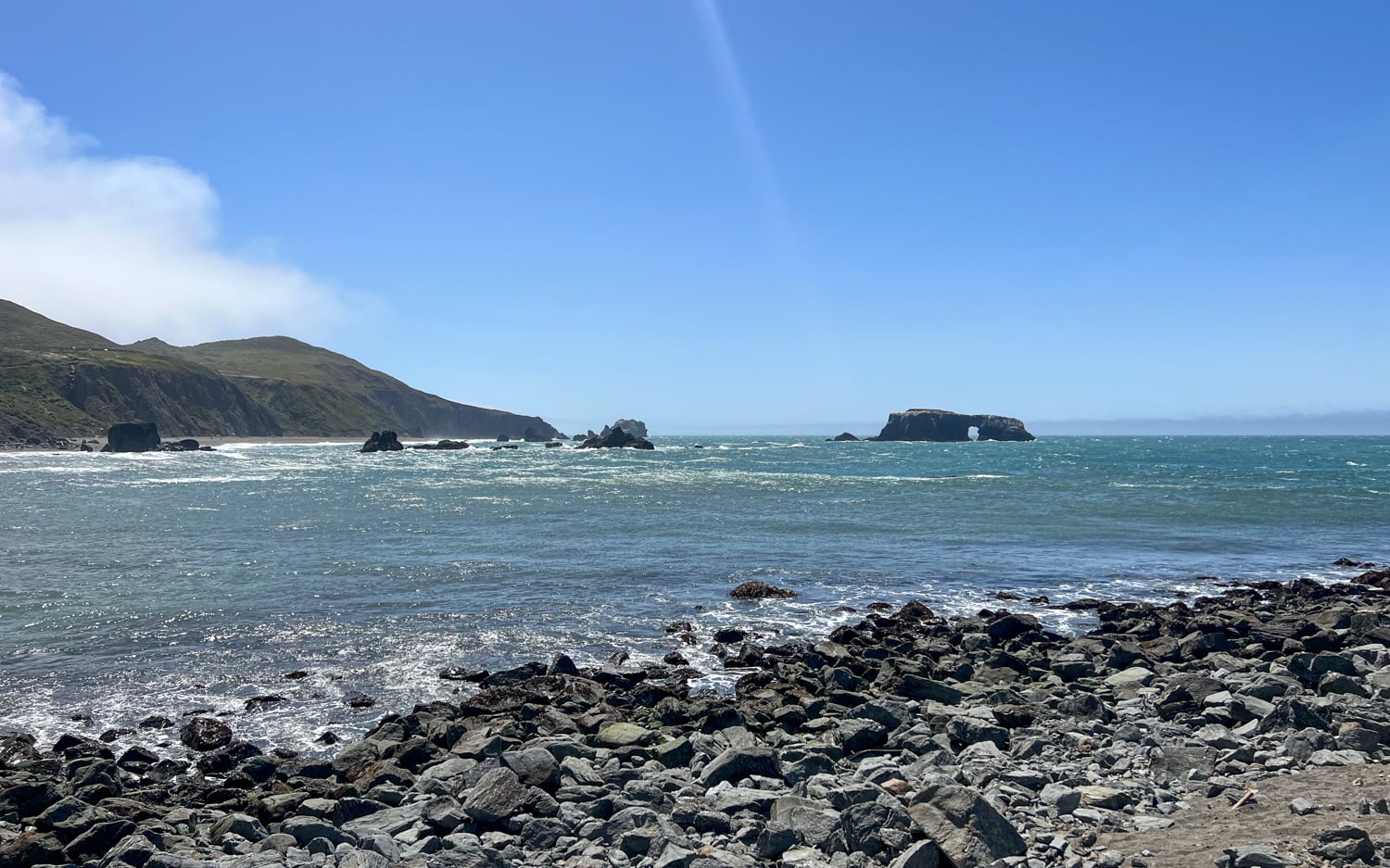 The nice thing about getting down to sea level is that you get the same perspective of the beach, cliffs, and rocks as the actors did in the movie.
It was still windy and cold, so we skipped a walk on Blind Beach and stuck to the parking lot.
I've read the currents can be very strong here, and it's advised not to go swimming or let children or pets get too close to the water.
Goat Rock State Beach, where the Russian River meets the Pacific Ocean, is north of the parking lot and home to a colony of harbor seals.
The Russian River Valley is a wine-growing region in western Sonoma County; as the name implies, the river runs through it.
At this point in our San Francisco to Sonoma road trip, we departed the Pacific Coast Highway and headed east on Route 116 to Guerneville. The road follows the twists and turns of the Russian River.
Armstrong Redwoods State Natural Reserve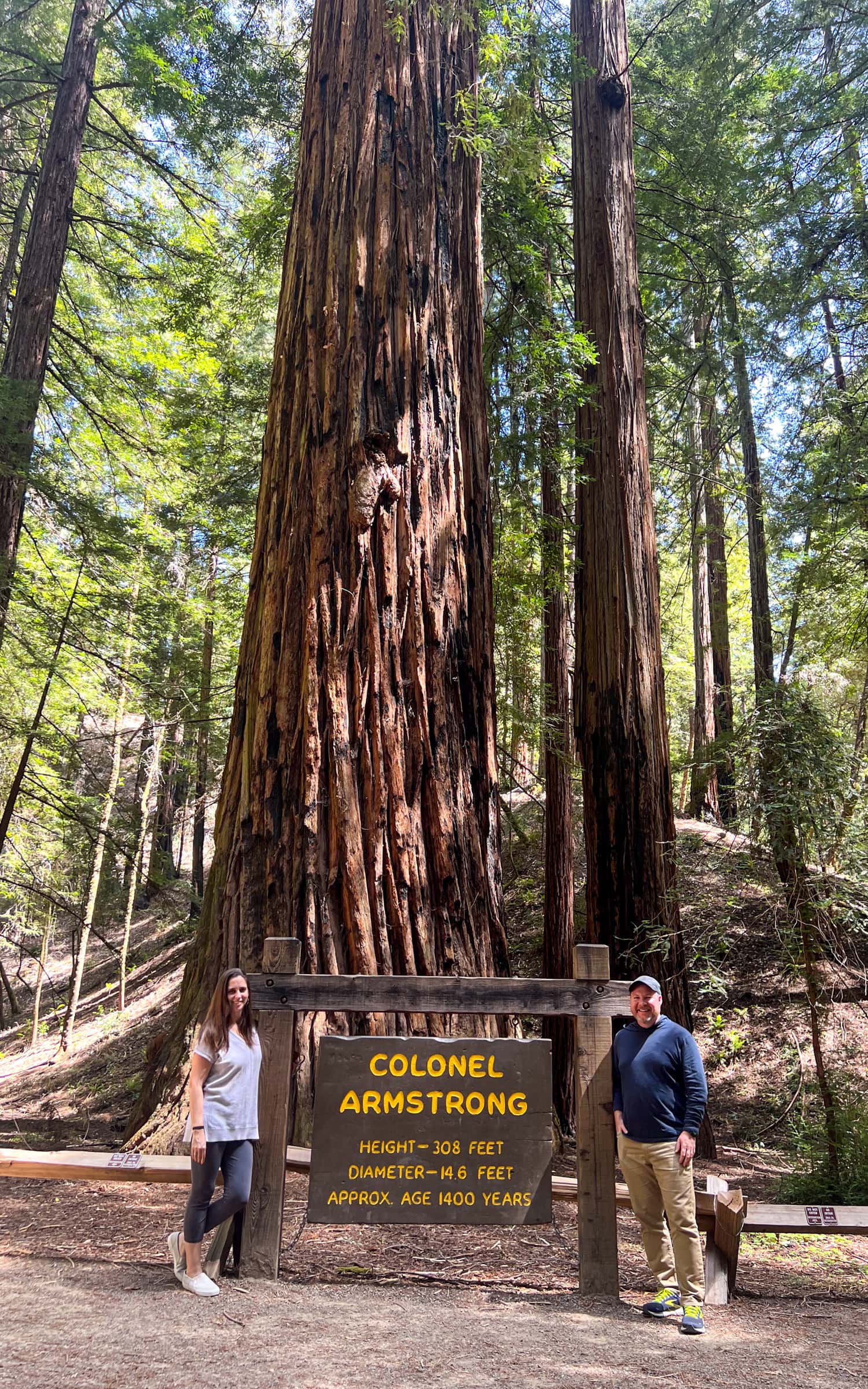 Nestled deep in the heart of Northern California lies natural beauty that has captured the hearts of visitors worldwide for generations: Armstrong Redwoods State Natural Reserve.
This stunning reserve is home to some of the planet's most majestic and awe-inspiring trees. That includes the world-famous Colonel Armstrong, 308 feet tall with a diameter of 14.6 feet. It's approximately 1,400 years old.
After years of watching the news coverage of increasingly devastating wildfires in California, I felt compelled to see the state's redwoods in person.
The experience was incredible, and I'm thankful for all the past work that's been done (and future work that will be needed) to protect these extraordinary trees.
The 75 minutes we spent in the park was long enough to do the short one-mile roundtrip walk from the parking lot to Colonel Armstrong at a relaxed pace.
Korbel Winery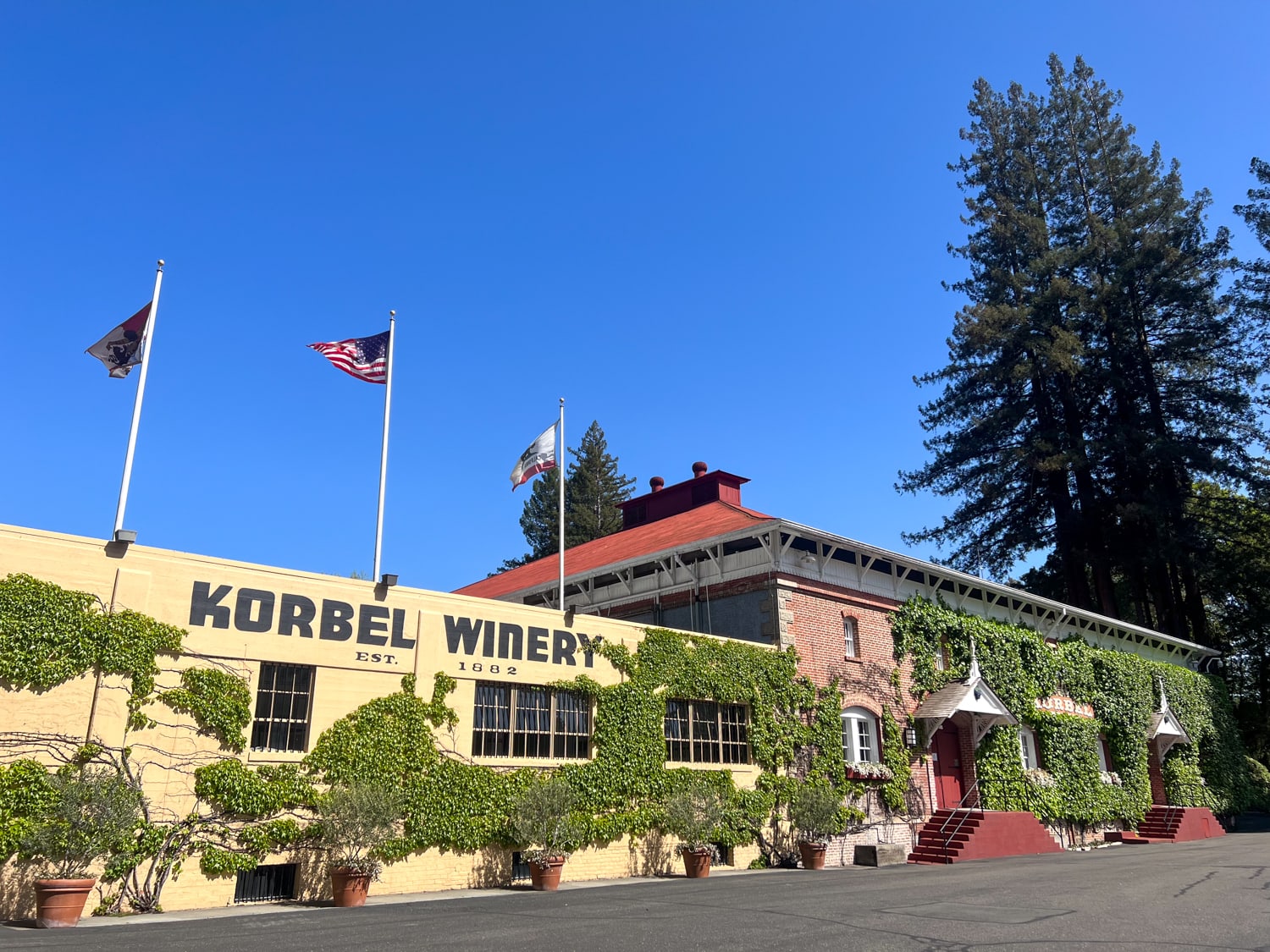 About three miles south of the entrance to Armstrong Redwoods State Natural Reserve is the Korbel Winery, one of the best wineries in the Russian River Valley.
Established in 1882, the winery is so old that it's been allowed to continue referring to its sparkling wines as Champagne, even though they're not made in France.
The only caveat is that they must be called "California Champagne."
Guided tours are offered twice daily at $15 per person and include the winery's museum, Champagne cellar, and a wine tasting with three of Korbel's premium California Champagnes.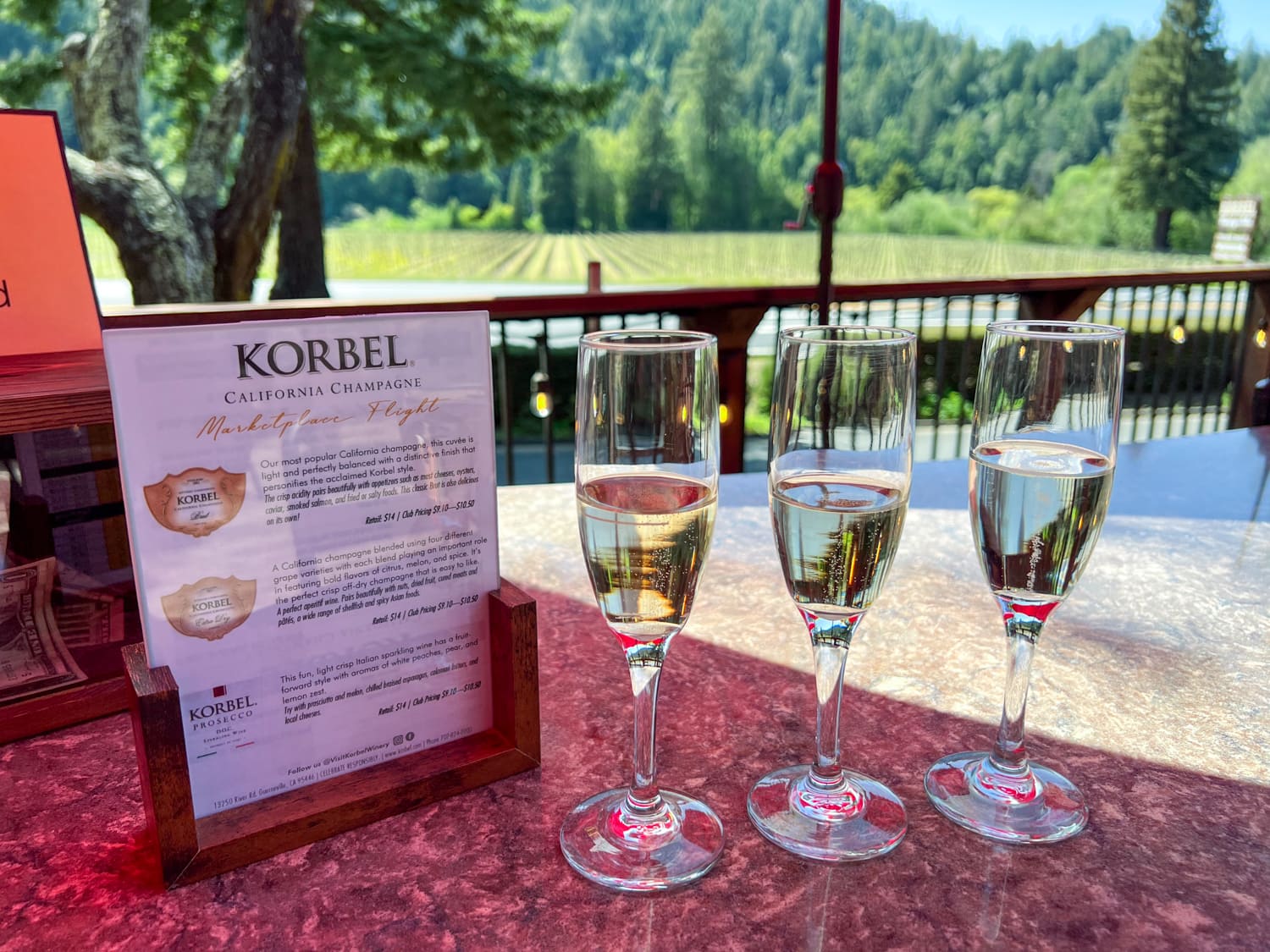 As the last 55-minute tour of the day is at 2 p.m., and we were too late, I was happy to settle for the complimentary Marketplace Flight.
I walked through one of their indoor tasting rooms, but given the warm spring weather, I preferred to experience their wines on the outdoor deck.
The wine tasting includes Korbel Brut, Korbel Extra Dry, and Korbel Prosecco. From the deck, you can see their vineyards, which were planted up to the banks of the Russian River.
After consuming the bubbles (Kel abstained and was my designated driver), we ordered sandwiches from the Korbel Deli for lunch.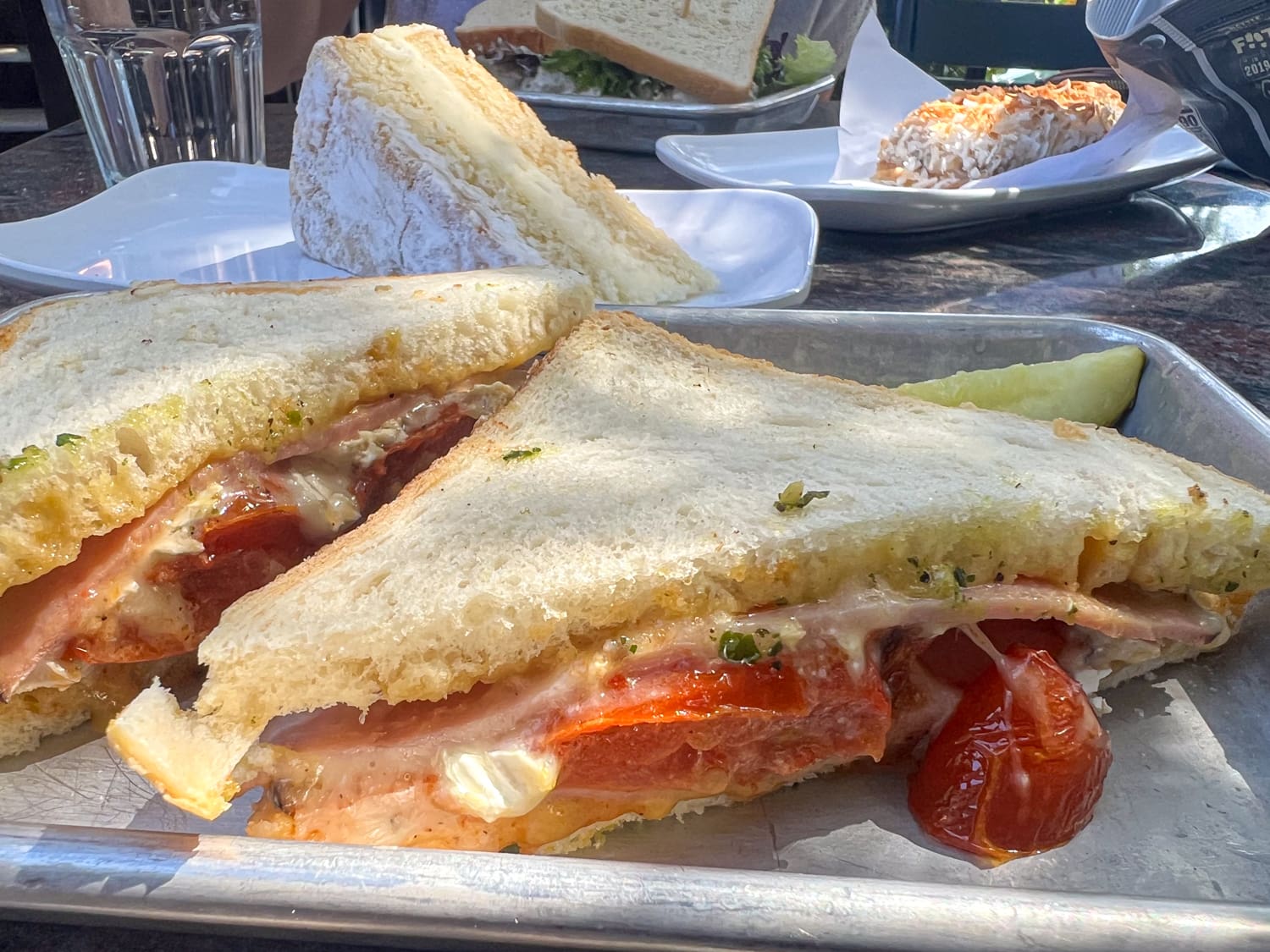 My ham and brie sandwich had a super spicy mustard, making it a little hard for me to eat. I had no such trouble with the light and fluffy lemon mascarpone cake I ordered for dessert.
It was 3:30 p.m. when we finished our late lunch, and we were tired.
We skipped the last stop I had planned (below) and drove straight to Sonoma via Route 101 South and State Hwy 12 East. The 39-mile drive took about one hour.
Charles M. Schulz Museum
Along the way, we passed through Santa Rosa, home to the Charles M. Schulz Museum.
Cartoon fans will recognize the name, as Charles Schulz is the artist behind the Peanuts comic featuring Charlie Brown and Snoopy.
We grew up with Charlie Brown and thought stopping there would be fun, though they close by 5 p.m. daily. Adult admission is $12.
Sonoma Plaza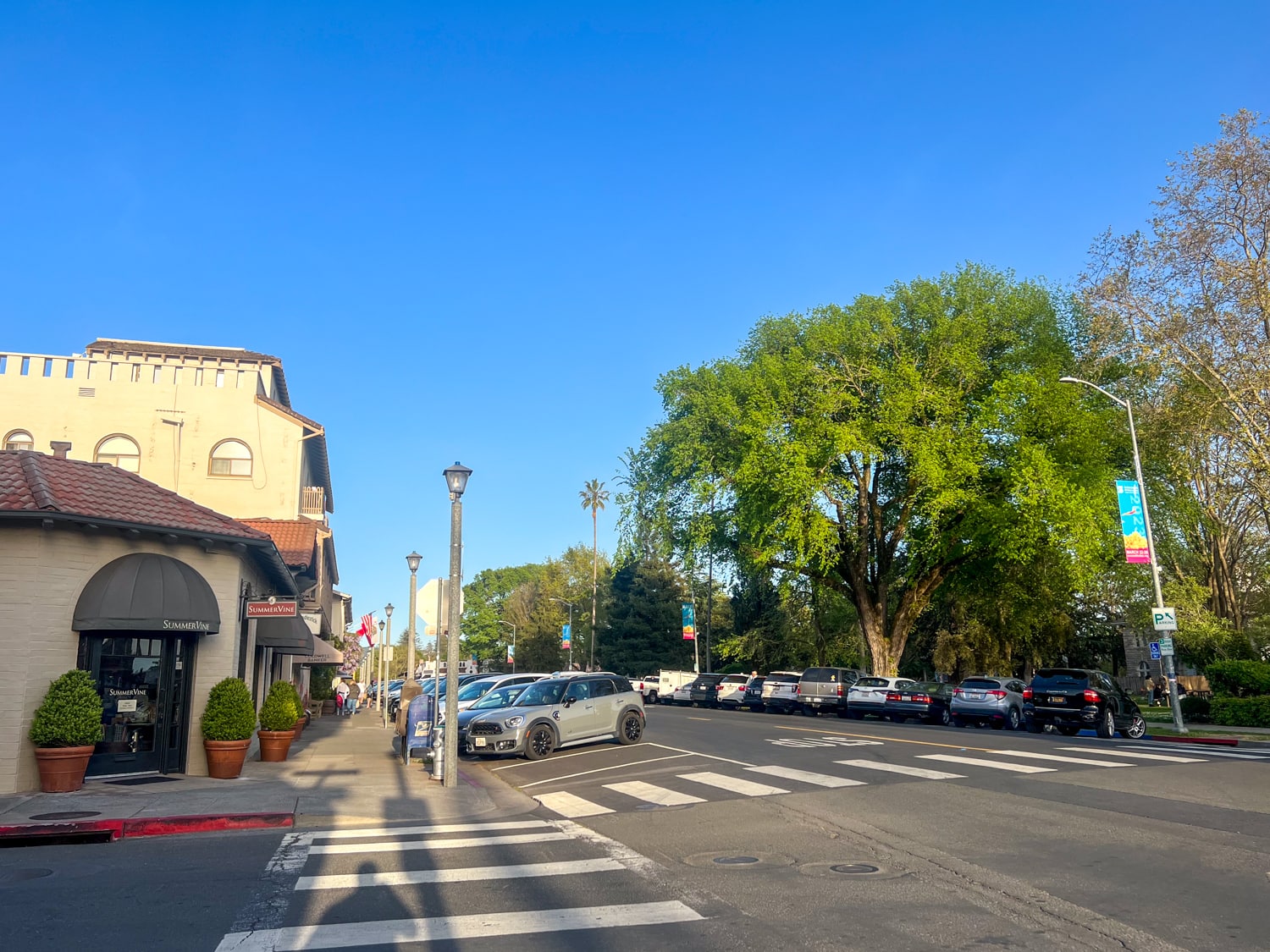 Our San Francisco to Sonoma road trip reached its final destination when we arrived at the historic plaza in downtown Sonoma.
A block away, we checked into our hotel, the Sonoma Valley Inn, and unpacked.
I wrapped up the day with a solo dinner on the back patio of the girl & the fig, a French bistro and staple of the Sonoma dining scene for over 25 years.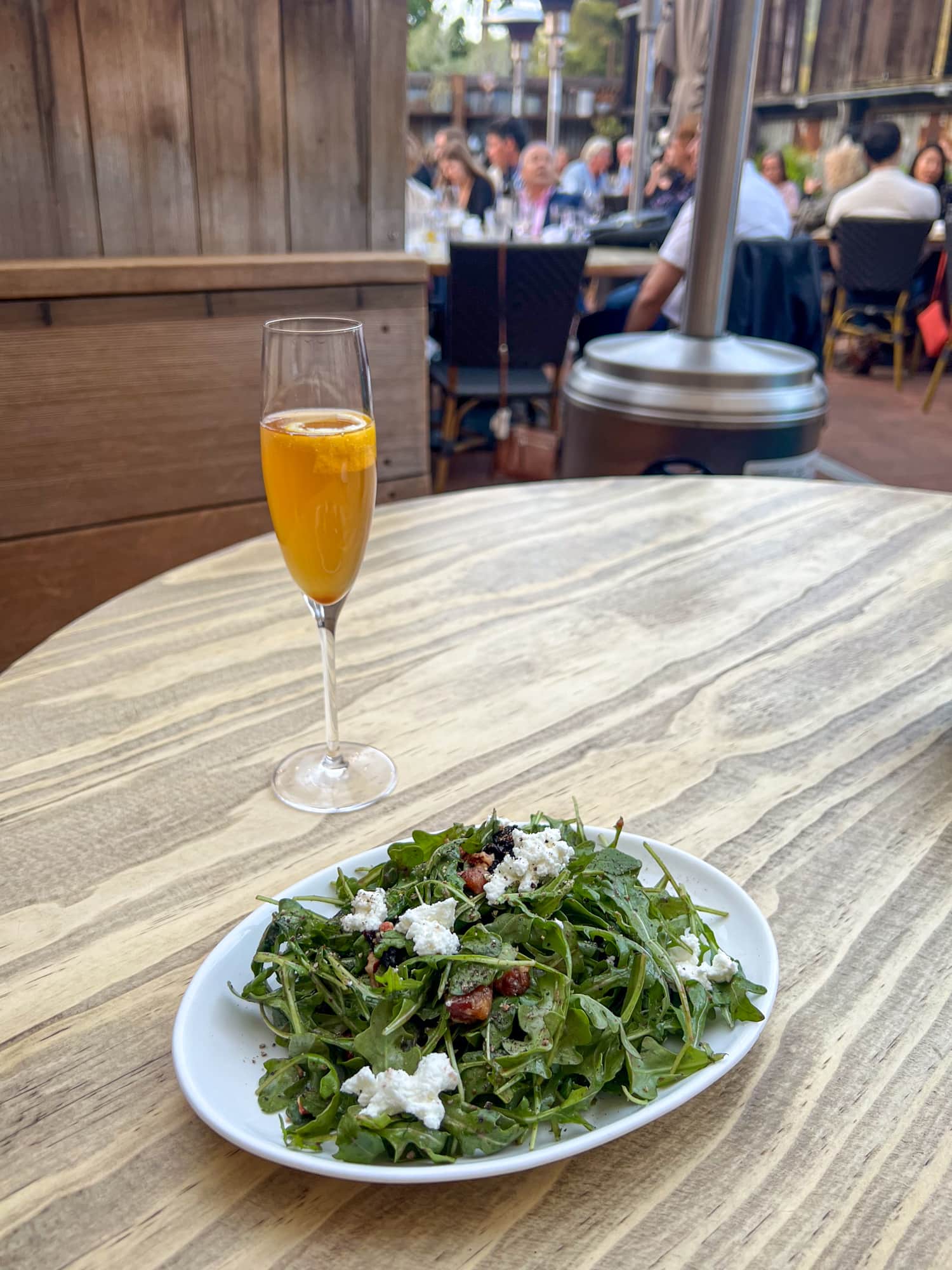 I felt inspired to embrace figs, ordering a Fig Royale with sparkling wine and caramelized fig syrup to drink and a half-order of the signature fig and arugula salad for an appetizer.
My entree was another signature menu item, the wild flounder meuniere on Yukon potato puree and spinach with lemon-caper brown butter. Divine!
I trusted the waiter for dessert when he said the salted fig caramel trifle was intensely chocolatey. After several spoonfuls, I told him he was right.
Since Kel couldn't join me, I brought the experience to her with a few of the restaurant's chocolate chunk sea salt cookies.
We spent the next day and a half discovering wineries in Sonoma Valley, eating terrific farm-to-table food, and hiking in state parks.
Final Thoughts
The best way to experience all there is to see and do in Sonoma County is on a road trip where you can set the schedule.
However, if you're short on time in San Francisco and can only visit Sonoma for a day, your best option is a small group tour.
You can visit on a half-day tour, though some full-day tours also include stops in Napa Valley.
Private tours are a good option if you are going with a group of friends or family.
Whether your wine country tour of Sonoma is on your own or led by a guide, there's no shortage of world-class wines awaiting you.
_____
My stay at Sonoma Valley Inn was part of a trip hosted by Sonoma Valley.