In June 2018, Here Nor There opened its doors in downtown Austin and immediately began serving some of the best craft cocktails in the city.
Speakeasy, cocktail lounge, craft bar. They all apply to one of my new favorite bars to grab a drink.
One of the reasons I like the Here Nor There is that it's a semi-private bar.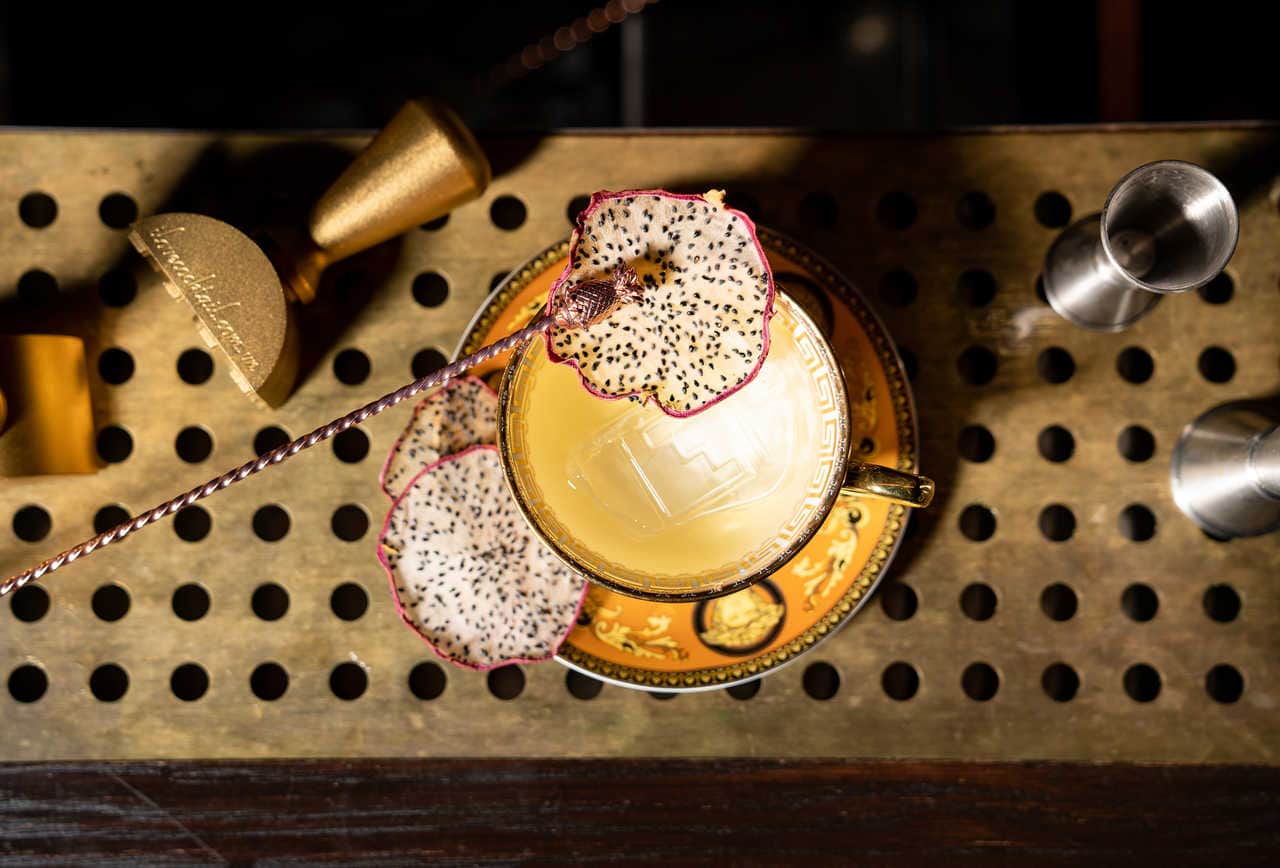 Anyone can download the Here Nor There app from iTunes or Google Play, follow the directions, and make a reservation.
They also cater to members who pay a $500 annual fee to enjoy perks like priority reservations, discounts at pop-up events outside Here Nor There, a custom cocktail named after you, and discounts on rare spirits.
The complete list of member benefits is in the app; membership is invite-only. There's also a Code of Conduct, which applies to everyone.
As a result, Here Nor There feels exclusive while still being open to the public.
In my experience, visiting a half dozen times as a house guest (i.e., non-member), the staff has always been friendly and welcoming.
Finding Here Nor There
Once you've downloaded the app to one of the best cocktail bars in Austin and had a reservation request accepted, you'll receive a confirmation email with the secret door code.
The easiest way to find the entrance is to go to the Driskill Hotel and then walk north on Brazos Street.
You're in the right place when you see a gate with an electronic keypad on your left side. Enter the code, and the gate will open.
On some visits, I've been greeted by an Irish gentleman who confirms my reservation before allowing me to enter the next door, and other times, I've been able to walk right in.
The stairwell leading to the below-street-level lounge is painted in a black-and-white mural, which indicates the attention to detail that goes into everything here.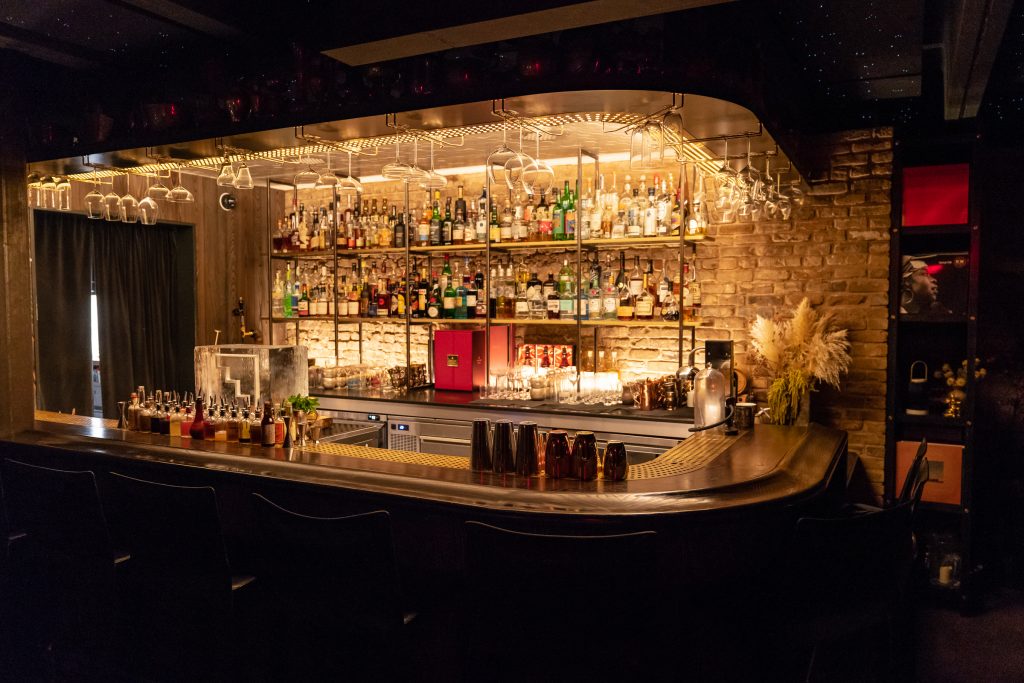 Interior
At the bottom of the stairwell are a host stand and a life-size bear holding a tray.
On my first few visits to Here Nor There, complimentary welcome drinks were waiting there, while on my last few visits, those were provided after I was seated.
Once your eyes adjust to the low lighting, you'll see a variety of different seating options in this cozy space, including:
The small bar
Cushy sofas
A semi-private room covered in antique plates and lit by candles
Two small booths near the entrance
If you're alone or feeling social during happy hour, your best bet is choosing the bar, while the other options offer more privacy if you're on a date.
Related: Best Speakeasies in Austin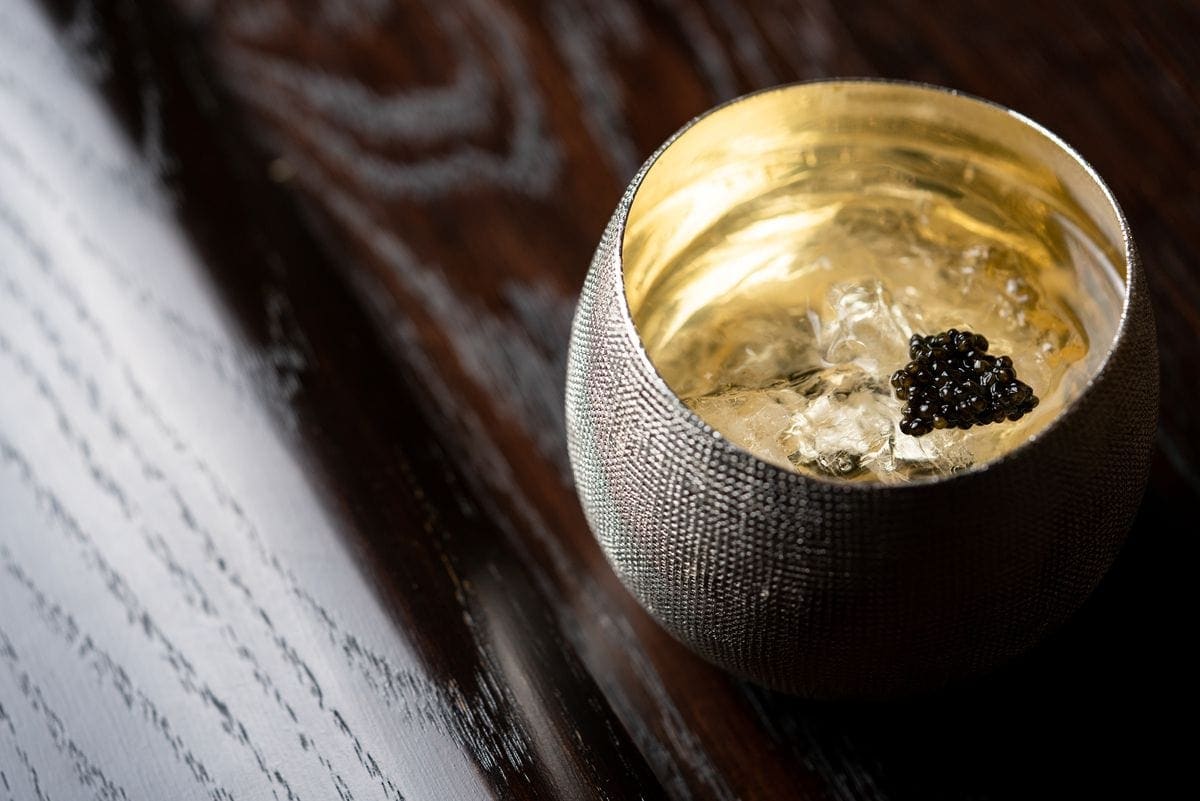 Drink Menu
Here Nor There's initial cocktail menu was created with specific global flavors in mind. As a traveler, the theme was right up my alley.
I began with drinks I was confident I'd enjoy and branched out over time. As a result, I can confidently say I've enjoyed every cocktail I've ordered.
The first drink I tried was From Russia With Love, served in a chilled metal cup:
Beluga vodka
Citrus
Birch
Eucalyptus
Champagne
Caviar
Gold leaf
The touch of caviar was a first for me and elevated the presentation of this great cocktail.
The second drink I tried, Tropic Thunder, evoked Southeast Asian flavors:
Grey Goose
Coconut liquor
Thai herbs and spices
Manuka honey
Mandan
Kaffir lime
Mango
Pineapple
Coconut mylk
Drink number three was a vodka cocktail called Northern Lights, inspired by Scandinavia, a region I visited later that year.
Small touches like branding the ice with their logo further show an attention to detail I find fascinating at this secret bar.
Related: Midnight Cowboy, a Hidden Bar on 6th Street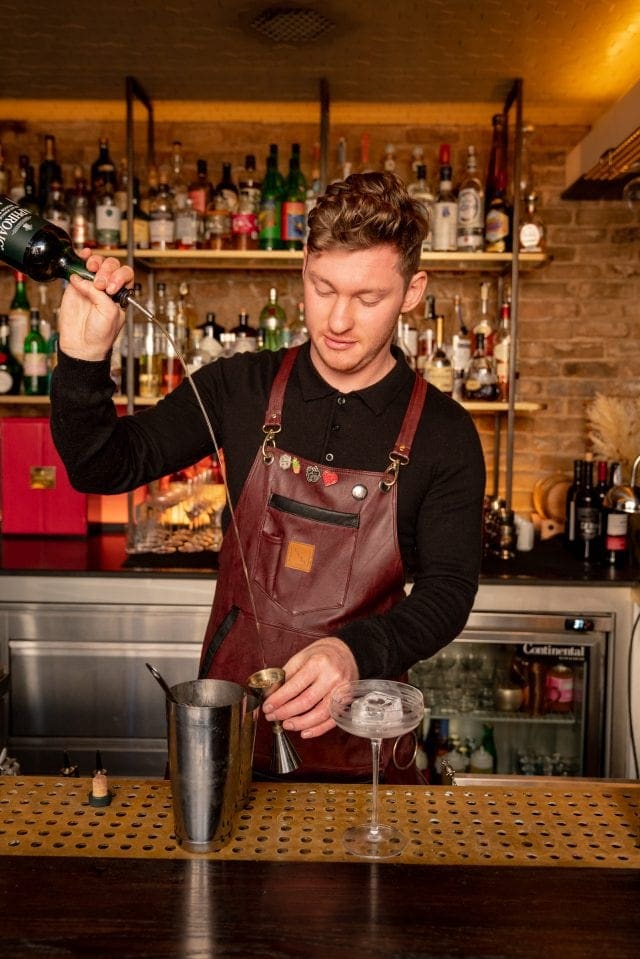 During one visit, my date ordered a drink I hadn't tried before, and when it arrived, it was on fire. She said it was one of the best cocktails she'd ever had.
Here Nor There continues to release seasonal menus with new cocktails.
Prices are in the $14 to $16 range per mixed drink, putting it at the high end of what you'll pay at Austin bars.
The Creators
HNT is run by several business partners, including Terance Robson from Ireland and Nik Zoylinos, "Nik the Greek."
They've successfully brought a world of flavor to an intimate bar in downtown Austin. And I, for one, am thankful.
***
To visit Here Nor There, one of my favorite spots, download their app from iTunes or Google Play and create a profile to request a reservation.
Once approved, you'll receive confirmation via email and future updates about upcoming events.