On my second trip to Montreal, there was no restaurant I wanted to dine at more than Joe Beef, a favorite of the late Anthony Bourdain.
When I was able to make a last-minute reservation through Resy, I excitedly jumped in an Uber for the ride into the heart of Little Burgundy.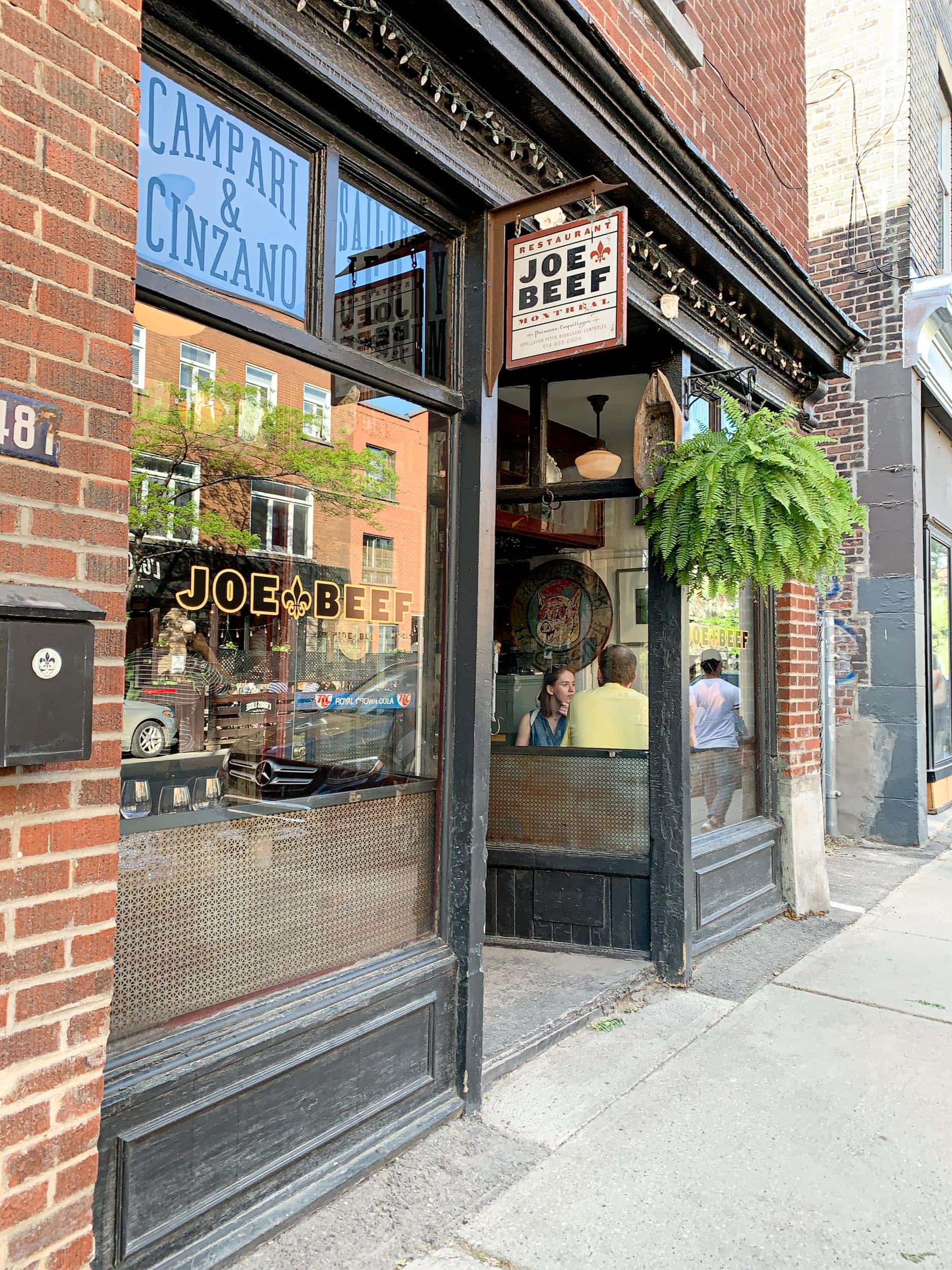 I'd been following Bourdain's recommendations in my travels since discovering Kitchen Confidential and A Cook's Tour in the mid-2000s.
Reading his stories and watching him on TV inspired me to want to break out of my picky eating habits, which I'd carried from childhood into my mid-twenties.
He led me to seek out foods I would never have previously considered, such as the notoriously smelly durian in Singapore and sheep's head (known locally as a "smiley") in South Africa.
Over the years, my tastes have expanded. I don't like everything I try, but I'm willing to give most things a go.
I've been surprised by what I like more than a few times. Sushi, oysters, foie gras, pig's tail, and cow heart are some foods I'll eagerly eat today.
Anthony Bourdain's Celebration of Joe Beef
Bourdain was a champion of Joe Beef and co-founders David McMillan and Frederic Morin.
He featured them on a Montreal episode of The Layover, and Quebec (above) and Newfoundland episodes of Parts Unknown.
"They are Canadian. They are Québécois. And what they bring to gastronomy is a particular embrace of French Canadian lumberjack appetites and joie de vivre—coupled with a deep respect for the traditions of dining and hospitality unique to their region.

They do not look like intellectuals, historians, or gentlemen farmers. They look more like a motorcycle gang or well-fed fur trappers."

-- Anthony Bourdain, Field Notes for Quebec, Parts Unknown (2013)
The more I heard them speak, the clearer it became why Bourdain was drawn to them, and vice versa.
They're all humble, hard-working, and dedicated to producing (and eating) excellent food.
It wasn't my plan, but I happened to be having dinner at Joe Beef on the eve of the first anniversary of Bourdain's death. He was on top of my mind.
Related: Where to Eat in Montreal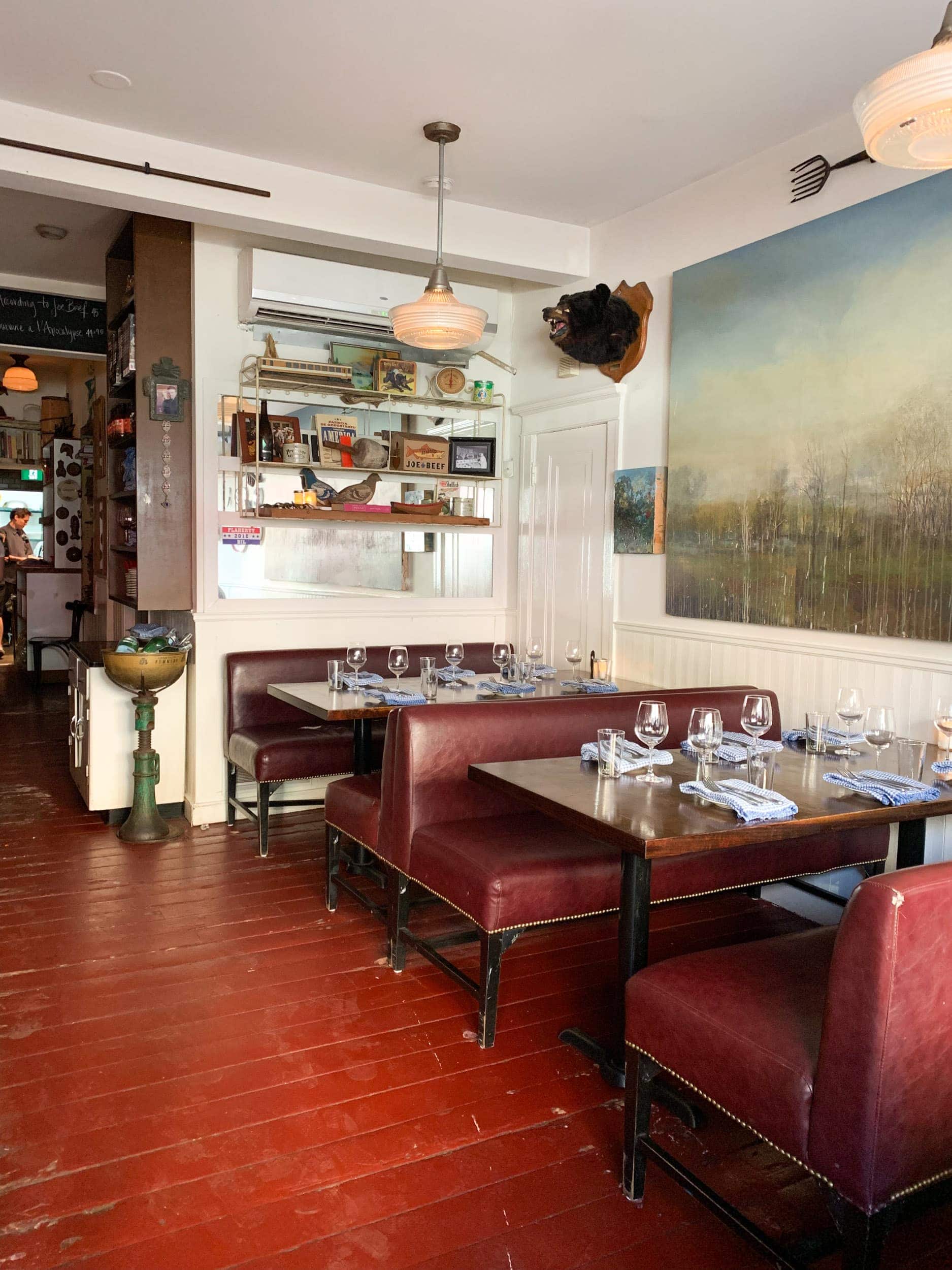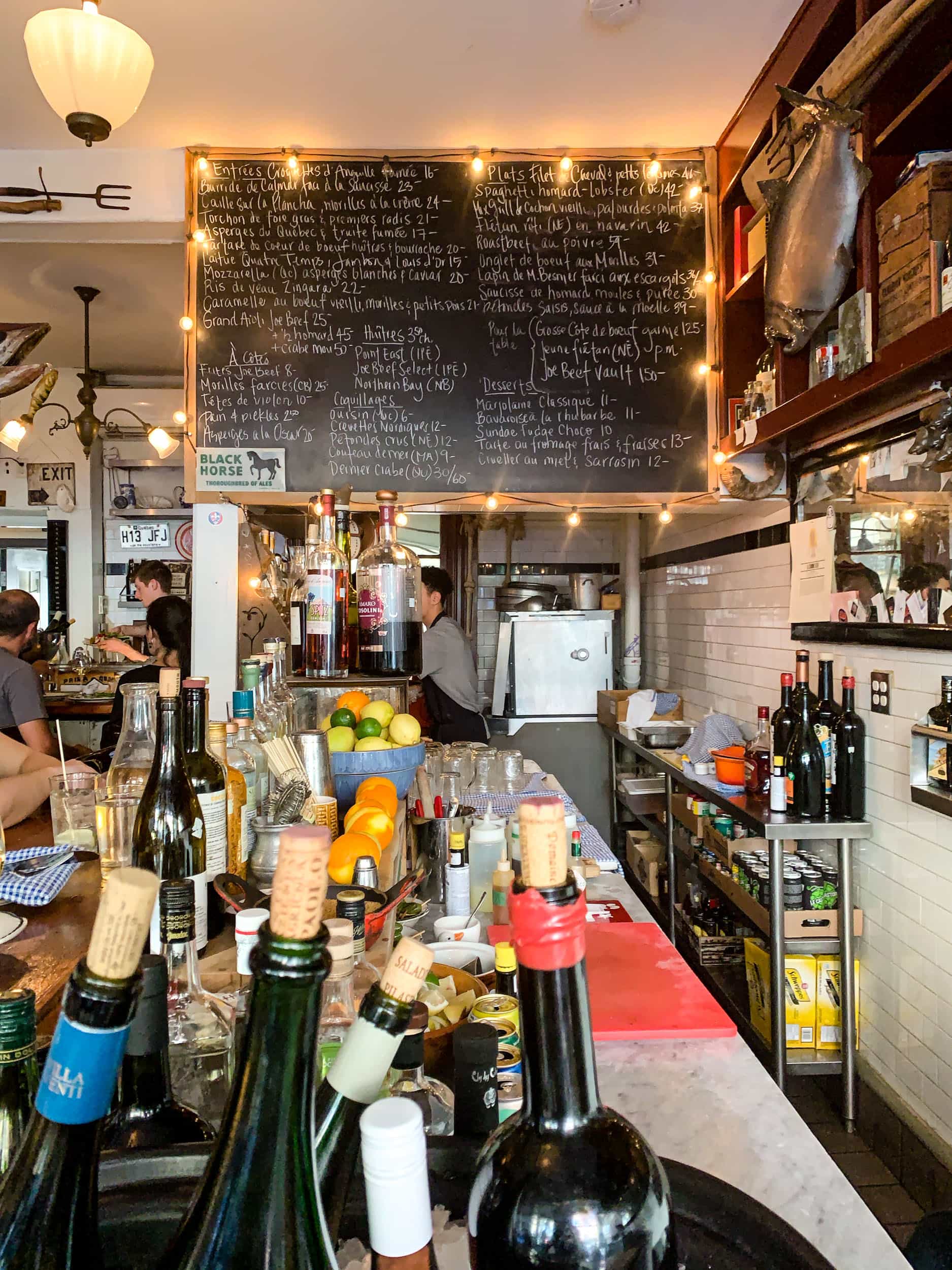 Arriving at Joe Beef Restaurant
Joe Beef opened in 2005 as a 30-seat restaurant. The original dining room is what you see when you walk in the front door.
Due to their growing popularity, they expanded into the space next door in 2011.
It was in this second dining room where the hostess seated me at the end of their small wine bar.
The day's offerings were handwritten in French on a chalkboard menu at the opposite end. Not intimidating at all, I thought!
The young bartenders were friendly and attentive; they helped translate the menu and make recommendations.
Despite sitting in front of a bucket of chilled wine, I bypassed the wine list in favor of a cocktail, The Vijay Singh (gin, chartreuse, tonic water, green tea syrup) featured in The Art of Living According to Joe Beef: A Cookbook of Sorts.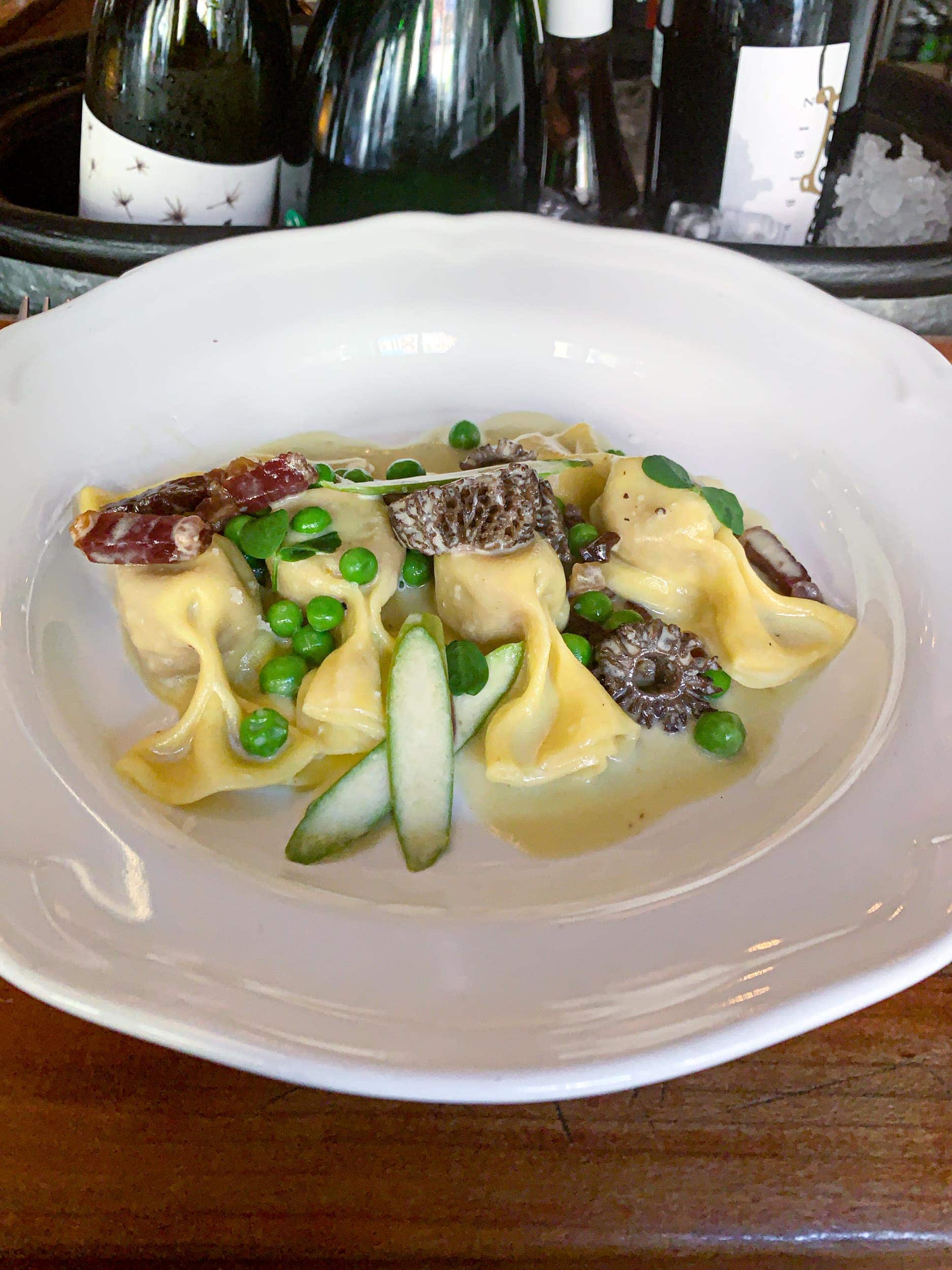 Appetizer
The menu changes so frequently at Joe Beef based on what's in season and available at the market, even if I could read French (by relying on my Spanish), it'll be different by the time you go.
Therefore, let's focus on the incredible three-course dinner I ordered a la carte. To kick the experience off, I went with the caramelized onion and beef-stuffed pasta with asparagus butter.
Four pouches of pasta goodness arrived with a sprinkling of peas, sliced asparagus, mushrooms, and a bit of dried beef. Every bite packed a world of flavor.
Related: Au Pied de Cochon: A Celebration of Quebecois Food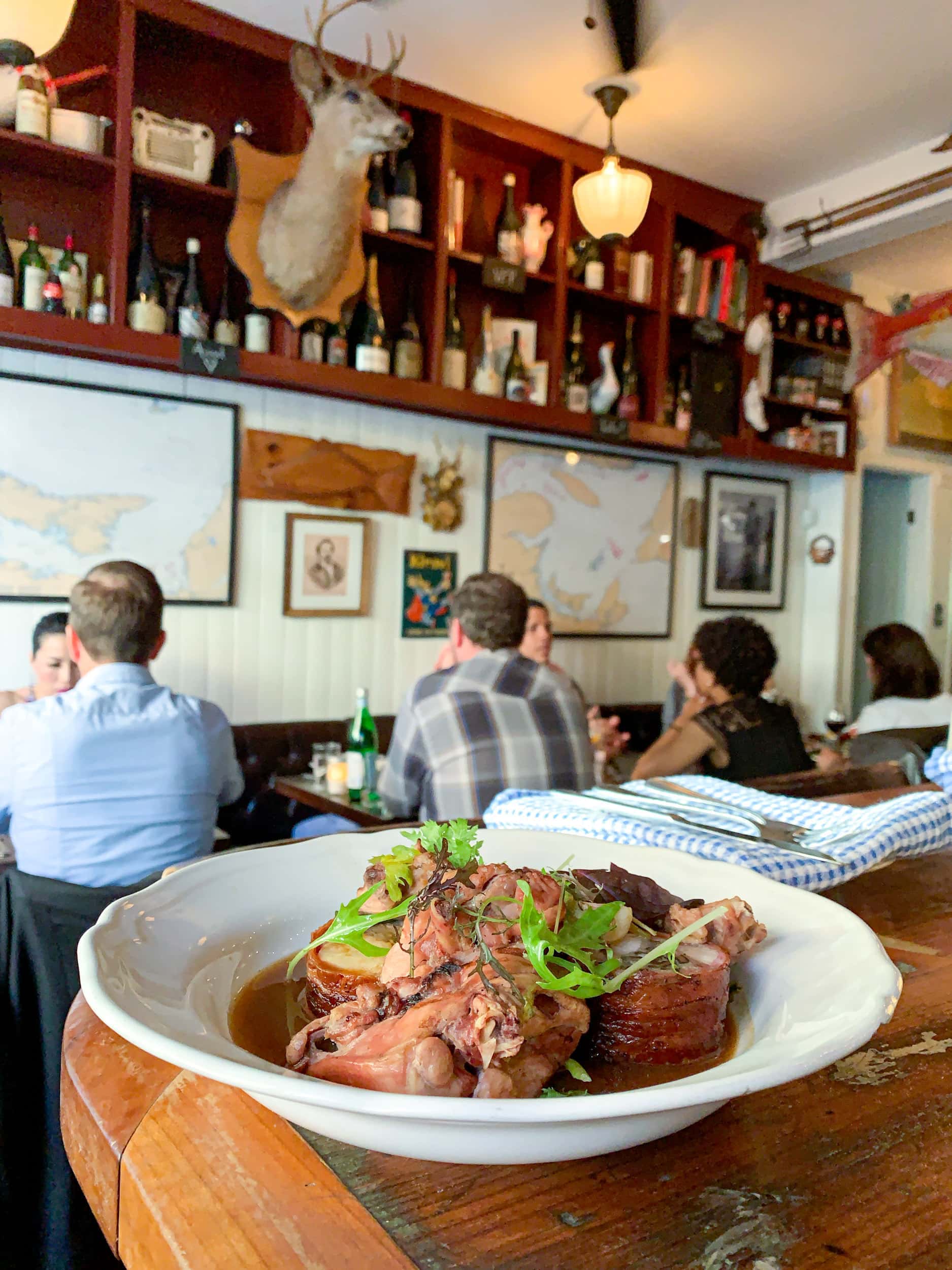 Main Course
I stepped out on a limb and ordered the half rabbit stuffed with escargot (snail) for my main course.
I've tried rabbit a few times before and been disappointed; however, that was far from the case here.
Joe Beef's creative and expert preparation has opened me up to ordering rabbit again.
The portion size was extremely generous, and while I enjoyed it, there was no way I could finish so much decadent food. Anyone ordering the whole rabbit better have plans to share!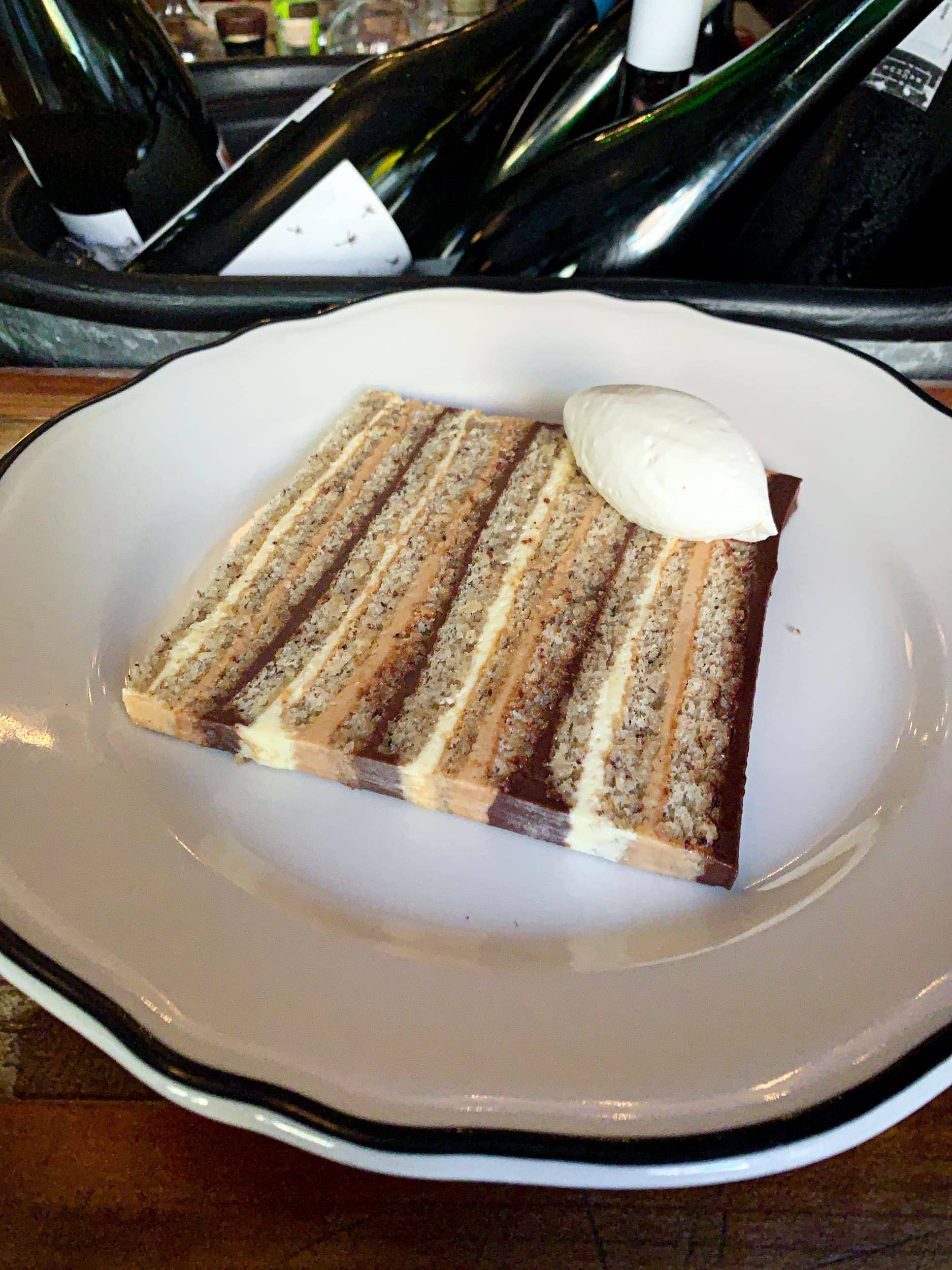 Dessert
The first dessert listed on the chalkboard above the bar was Marjolaine Classique, a layer cake with almond and hazelnut meringues and chocolate buttercream.
French chef Fernand Point created Marjolaine in the mid-1900s at his 3-star Michelin restaurant.
And it was featured in the Quebec episode of Parts Unknown (see video clip above).
Other options included a Bavarian rhubarb dessert, chocolate fudge sundae, strawberry cheesecake, and honey and buckwheat crueler.
As tempting as the sundae and cheesecake sounded, the Marjolaine was new to me, so I decided to try it.
The thin slice of cake arrived with a dollop of ice cream. The presentation needed nothing more as the alternating layers make it beautiful.
Despite being oh-so-full from the heavier dishes that preceded it, I had no problem savoring the layer cake one bite at a time until all I was left looking at was an empty plate.
The bill for my three-course dinner with a cocktail, tax, and tip came to about 112 Canadian dollars ($86 USD).
It was an excellent meal at an affordable price, thanks, in part, to the value of the U.S. dollar.
Joe Beef more than lived up to my expectations. And I know I only scratched the surface of what's created there.
The next time I'm in Montreal, I'd like to try its sister restaurant, Liverpool House.
Related: Canadian Grand Prix in Montreal
Plan Your Visit
Joe Beef (website)
Address: 2491 Notre-Dame St W, Montreal, Quebec, Canada
Hours: 5:30 p.m. to 10 p.m., Tuesday through Saturday
Dress: Casual
Reservations: Recommended. Make a reservation.
To learn more about Joe Beef, I highly recommend listening to this entertaining podcast episode hosted by chef David Chang.