If you're traveling to Central Vietnam and want an exhilarating way to learn about the local cuisine, consider a Da Nang food tour by motorbike.
While I'm writing about this experience now, let's be clear, the idea wasn't mine! I much prefer to have my feet firmly planted on the ground for food tours.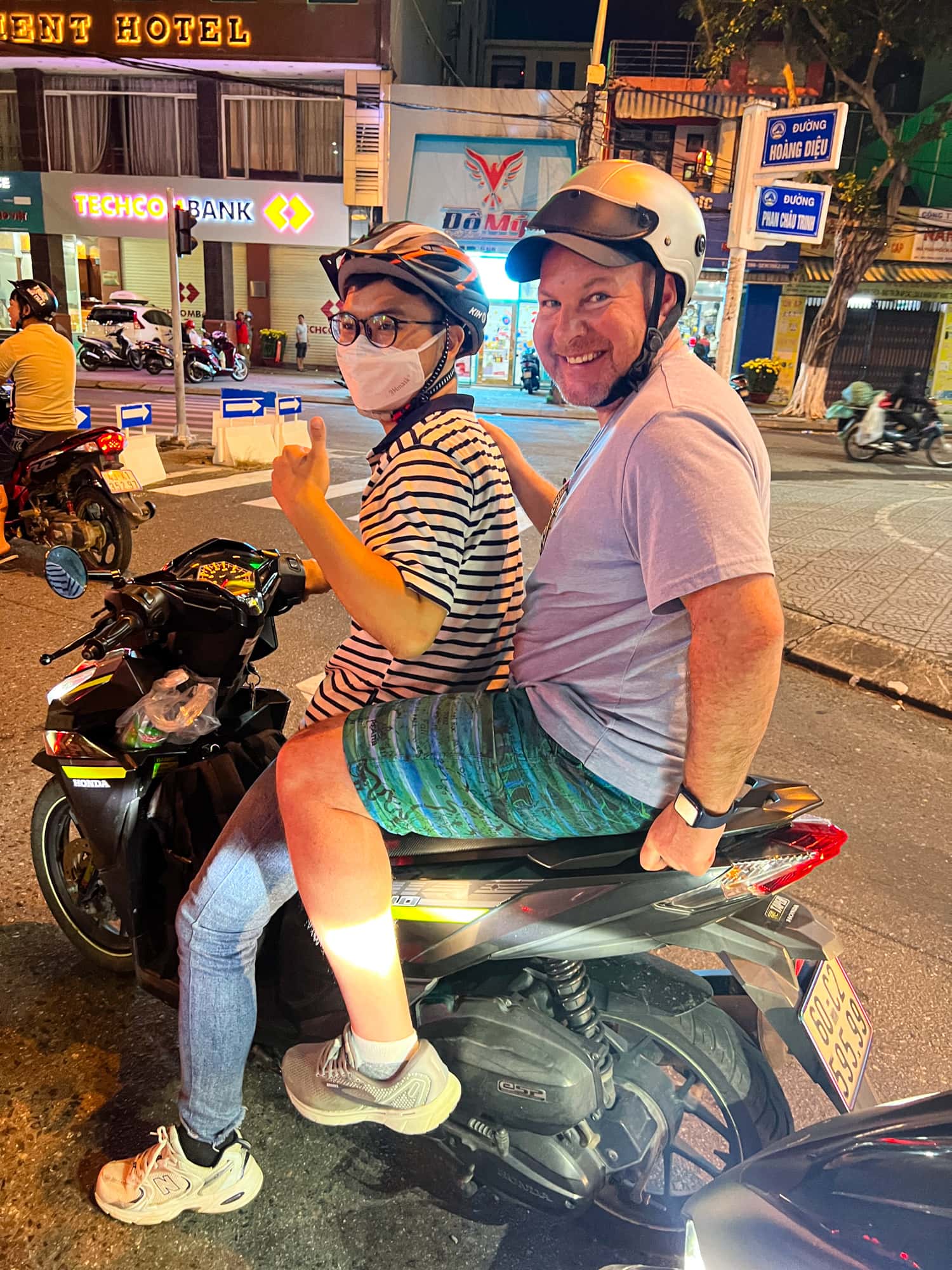 However, when faced with the opportunity as part of a group tour with my recently married friend, Nick, and his family, Kel and I didn't shy away.
What ensued was a four-hour evening adventure through the streets of Da Nang City in search of the best places to try the local food.
During our private tour, we learned about Vietnamese food and culture, witnessed an incredible fire-breathing Dragon Bridge, and had a lot of fun.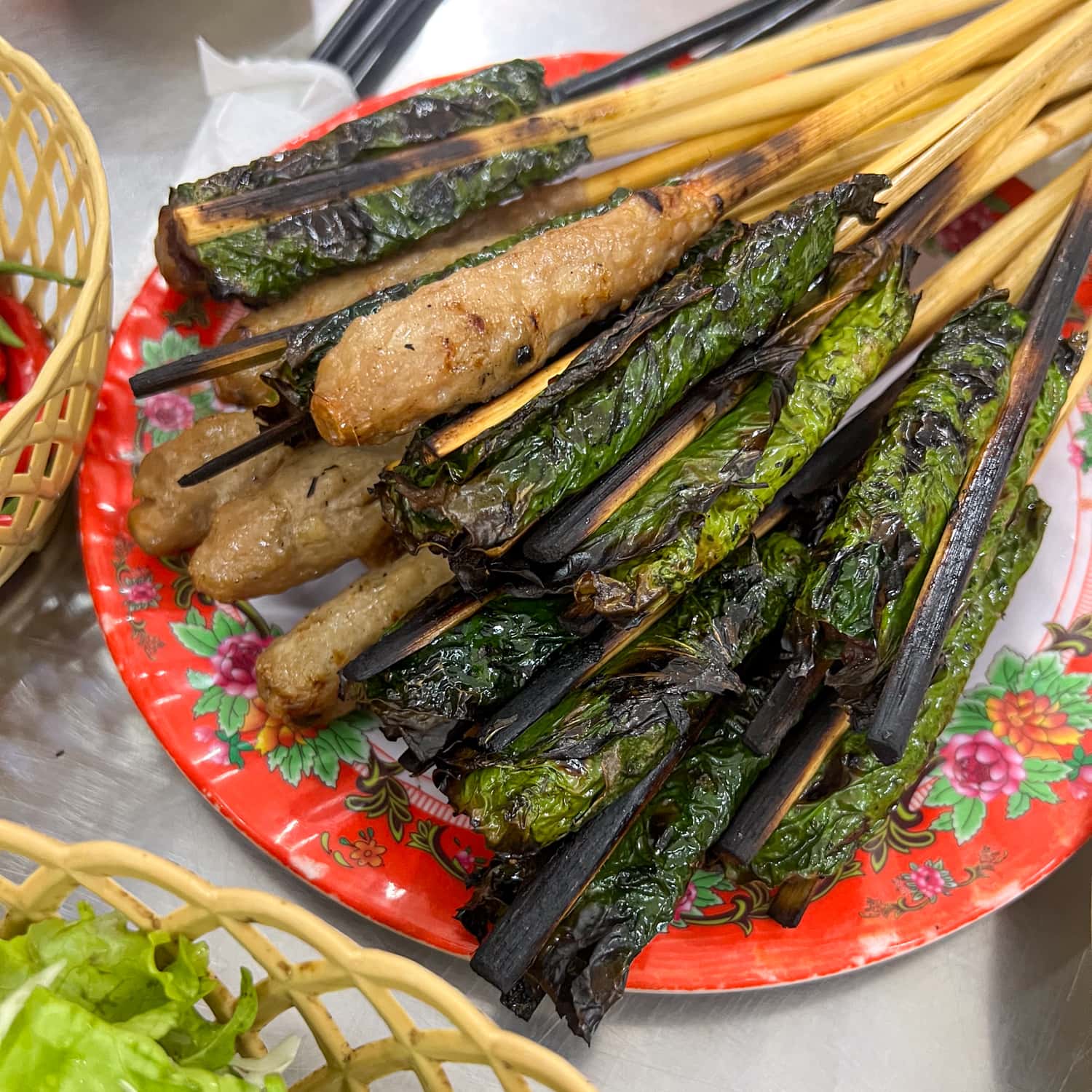 Street Food in Da Nang
Our tour guides met us at 6 p.m. on a Sunday in front of the Cicilia Hotel & Spa, where we were staying. We'd arrived from Saigon a few hours earlier and had yet to see the city.
There were 10 of us traveling together, and therefore an equal number of Vietnamese motorbike drivers were eager to take us around town.
Since we were staying by the beach, it was about a 15 to 20-minute ride west to the city center, where we'd be sampling local dishes.
After witnessing the traffic in Saigon, I was nervous about riding a motorbike in Vietnam.
But it quickly became apparent that our guides drove safely. After all, we were hardly the first nervous tourists they'd taken for a ride.
Pork and Shrimp Dumplings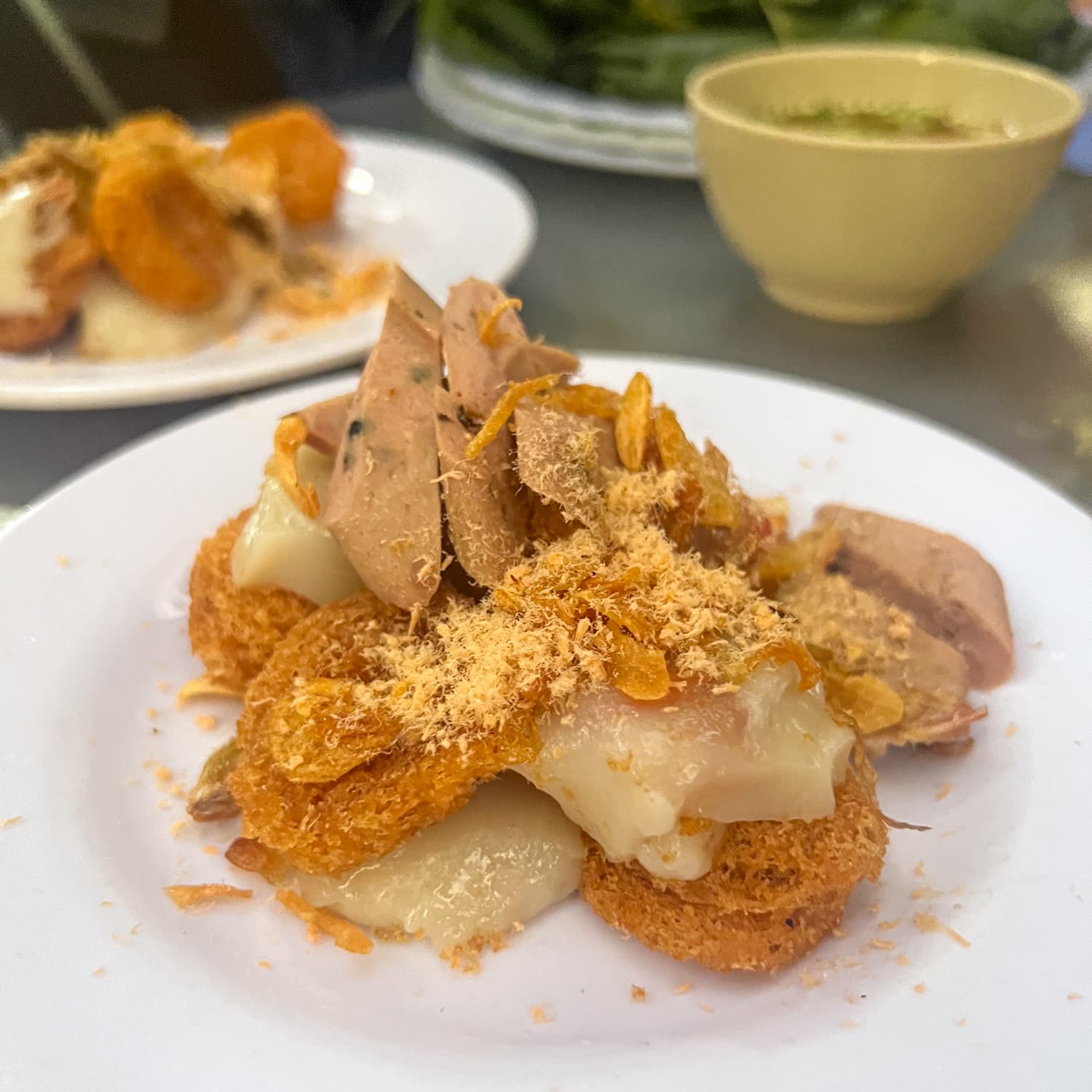 Our first stop of the night was a third-generation street food vendor selling dumplings beside an alley.
We were informed that family members have been running the business for over 86 years.
The seating arrangement featured small blue plastic chairs (with backs) and a metal table on the sidewalk.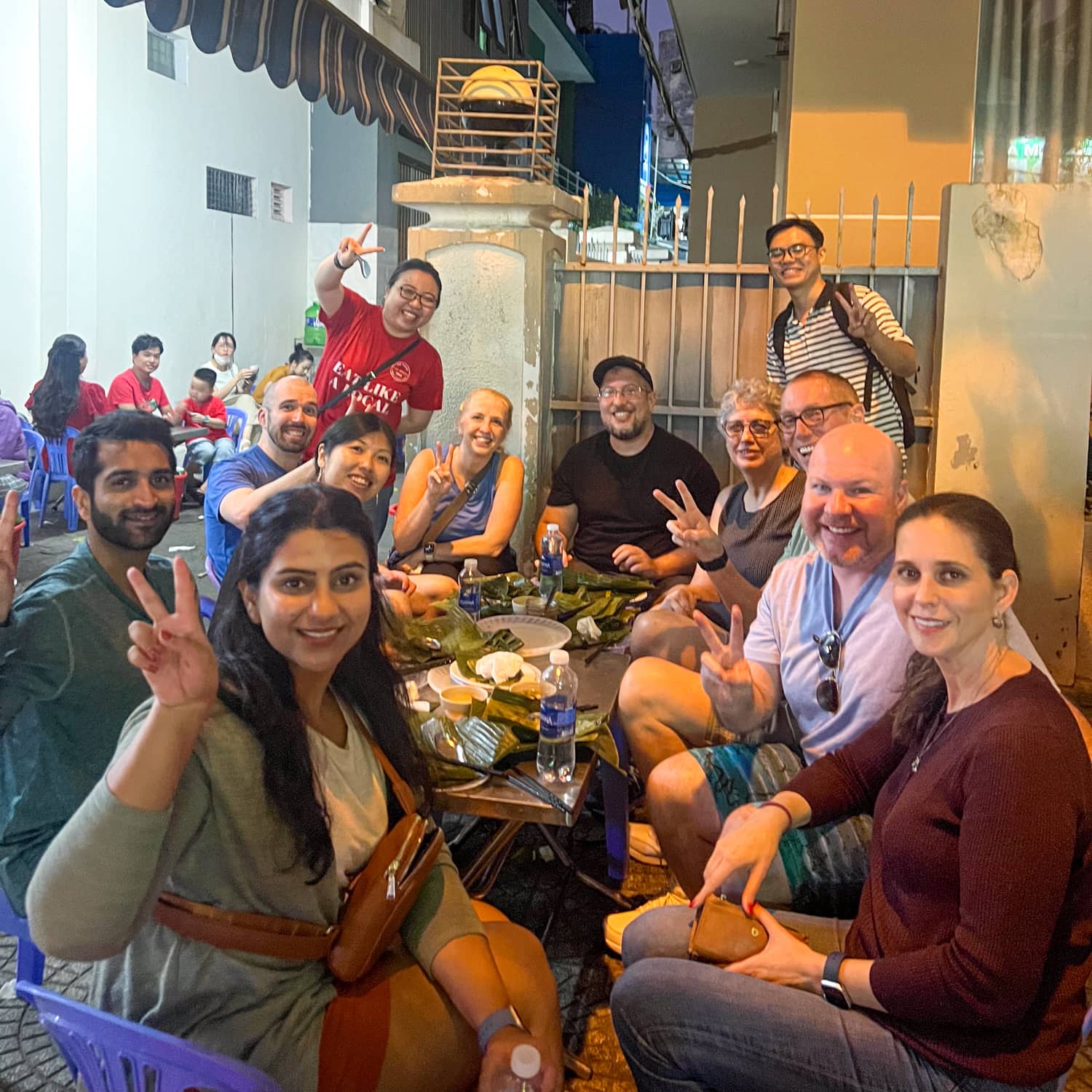 Two popular Vietnamese street food dishes were delivered. The first was pork and shrimp dumplings with rice cakes.
And the second, Banh Nam, was flat steamed rice dumplings with pork and shrimp wrapped in banana leaves. These had a gelatinous texture I didn't particularly like.
Vietnamese Coffee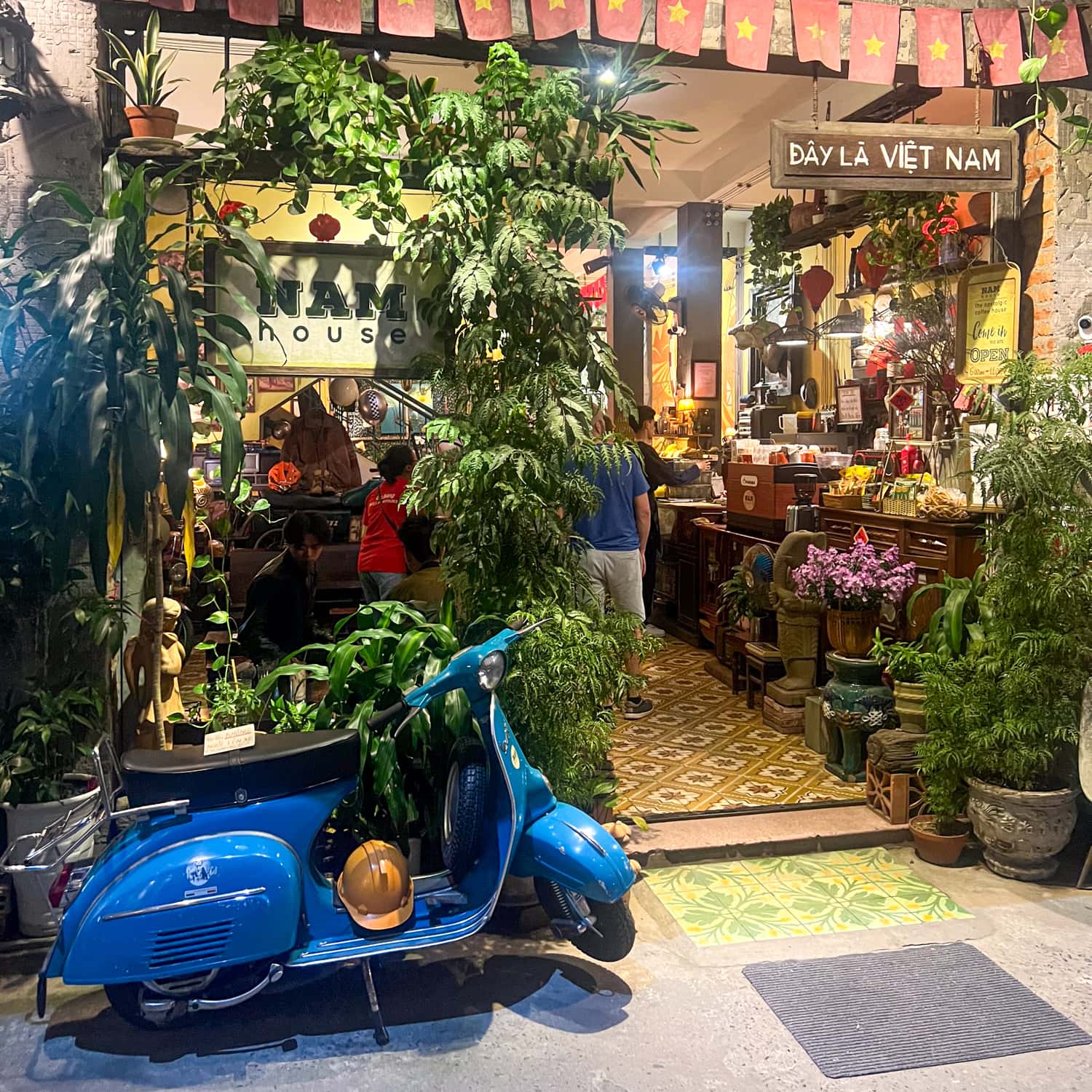 Next, we motored over to the NAM house Cafe, which was full of vintage items like old TVs, camcorders, framed photos, and bric-a-brac.
Our guides encouraged us to look around the two-floor cafe before taking a seat on the ground floor.
There, they introduced us to egg coffee (ca phe trung), a recipe that originated in Hanoi in 1946 and spread throughout the country.
Vietnamese egg coffee is made by mixing raw egg yolks with sweetened condensed milk, butter, and cheese into a foam, then added to the coffee.
The hot version is typically served in an ice bath to keep it at the proper temperature. It's a rich and creamy dessert-like drink.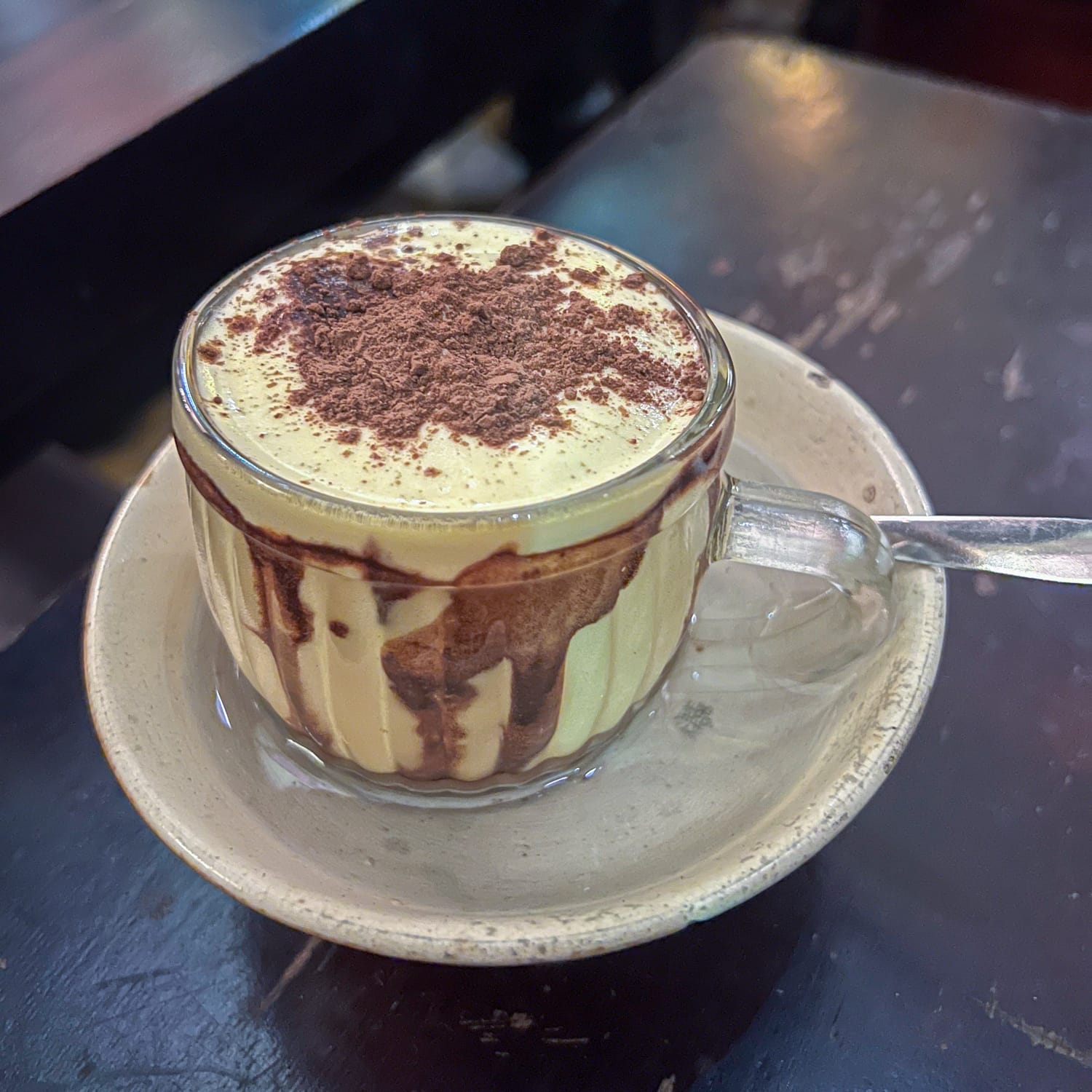 Since I'd already tried egg coffee in Saigon, I ordered salt coffee (ca phe muoi), first served in Ca Phe Muoi in Hue, about 55 miles north of Da Nang.
Salt coffee is typically made using a Vietnamese phin filter. The difference between milk coffee and salt coffee is that fermented milk with salt is used in addition to sweetened condensed milk.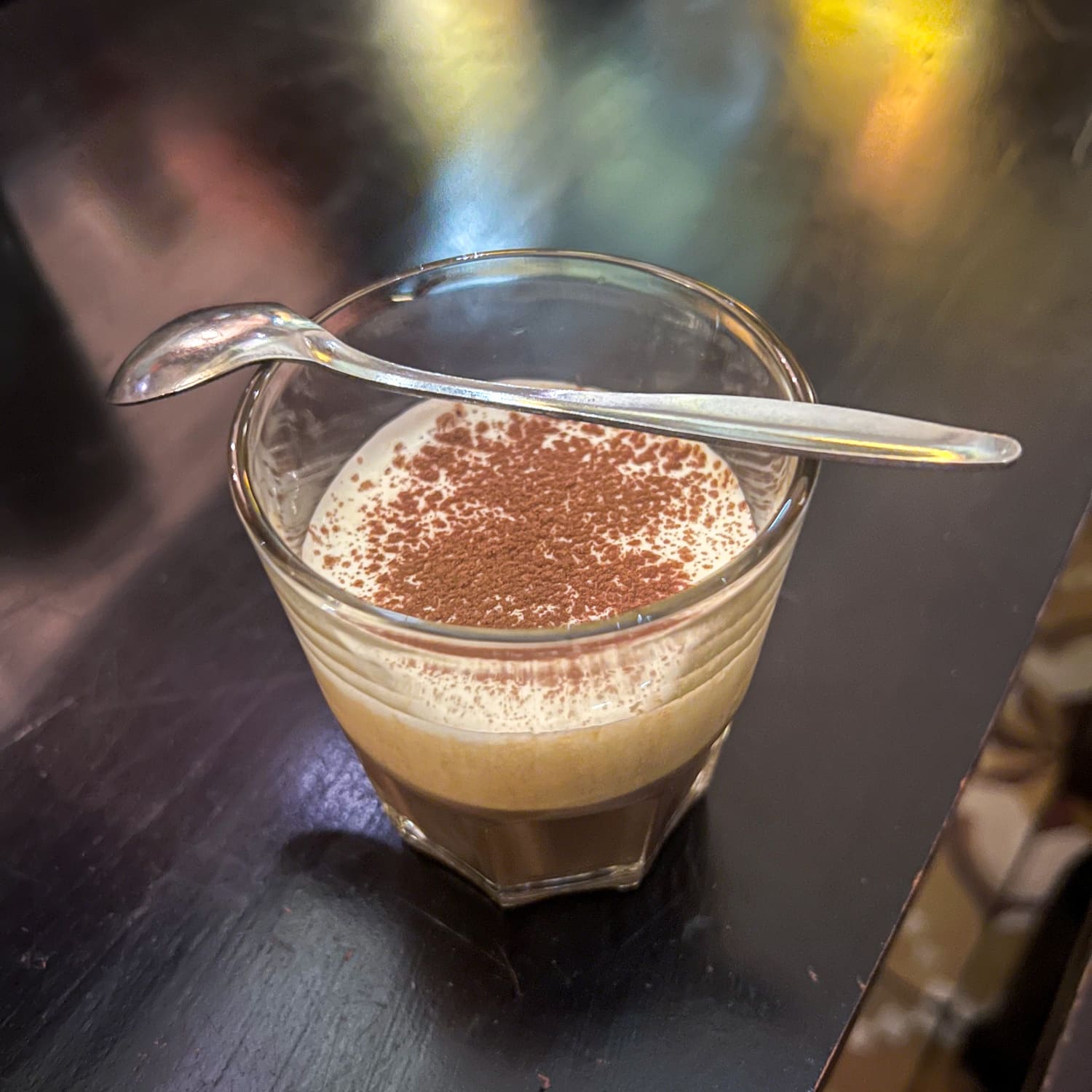 For both the egg and salt coffees, our guides advised us to taste the foam using a small metal spoon before sipping the coffee.
In this way, you prime your palette and can better appreciate these unique drinks.
I also tasted our friend Laura's egg cocoa, a hot chocolate with the same egg foam topping.
While I gravitated toward the hot drinks, Kel ordered coconut cocoa, which she said was similar to a chocolate milkshake.
We spent about 40 minutes at the cafe, as several people wanted to try more than one of the drinks.
Quang Noodles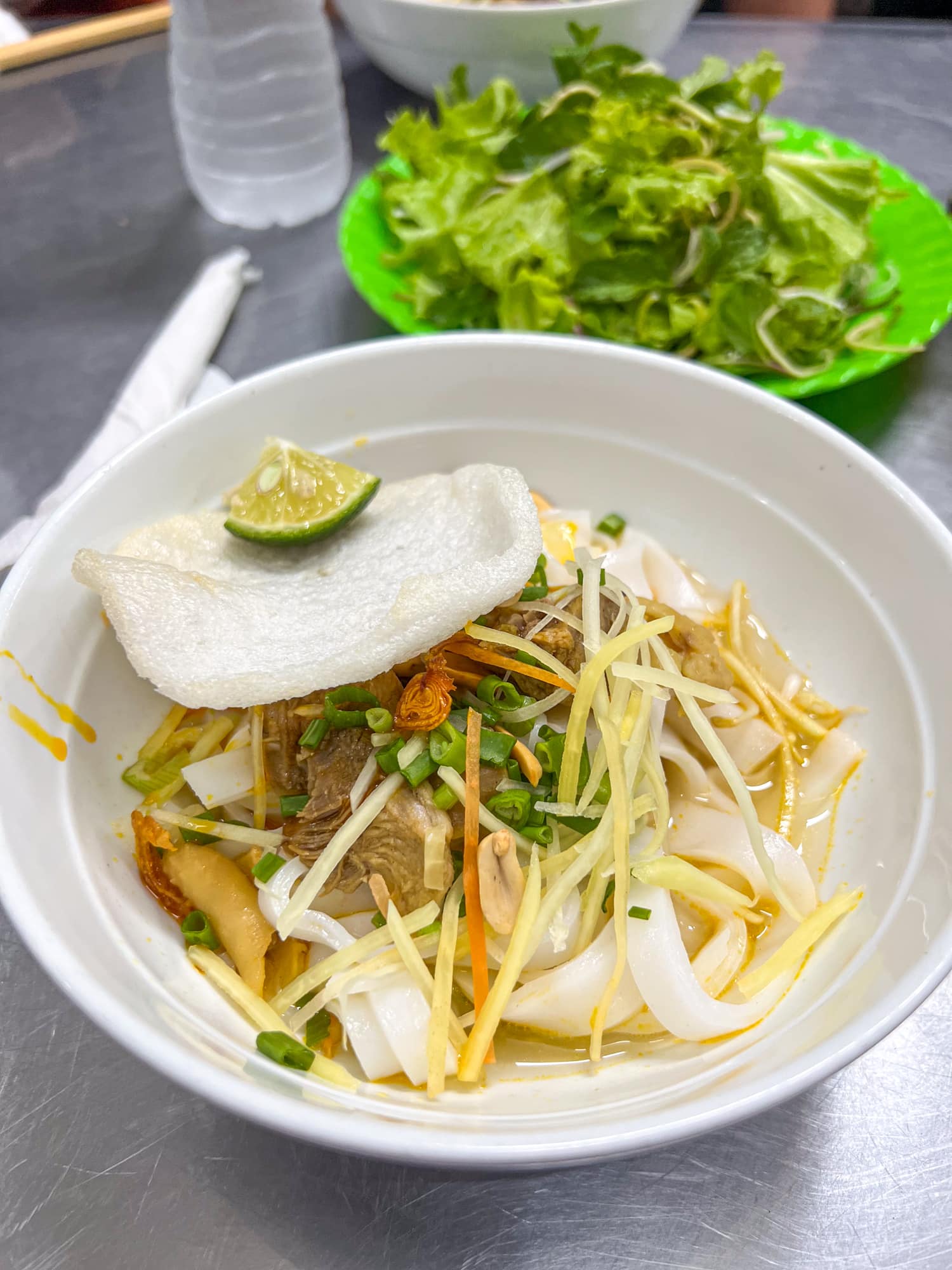 Our third Da Nang food tour stop was Mi Quang 1A, which is both the vendor's name and the noodle soups that are their specialty.
This dish is from the Quang Nam Province in Central Vietnam and features thick, wide rice noodles.
Our options for it included:
Shrimp and pork
Shrimp, pork, and egg
Chicken
I went with the chicken served with dark meat, sliced banana flowers, scallions, a rice cake, and a little lime wedge.
Our drink at Mi Quang 1A was a small glass of green tea.
Grilled Beef, Rice Paper Rolls, and Pancakes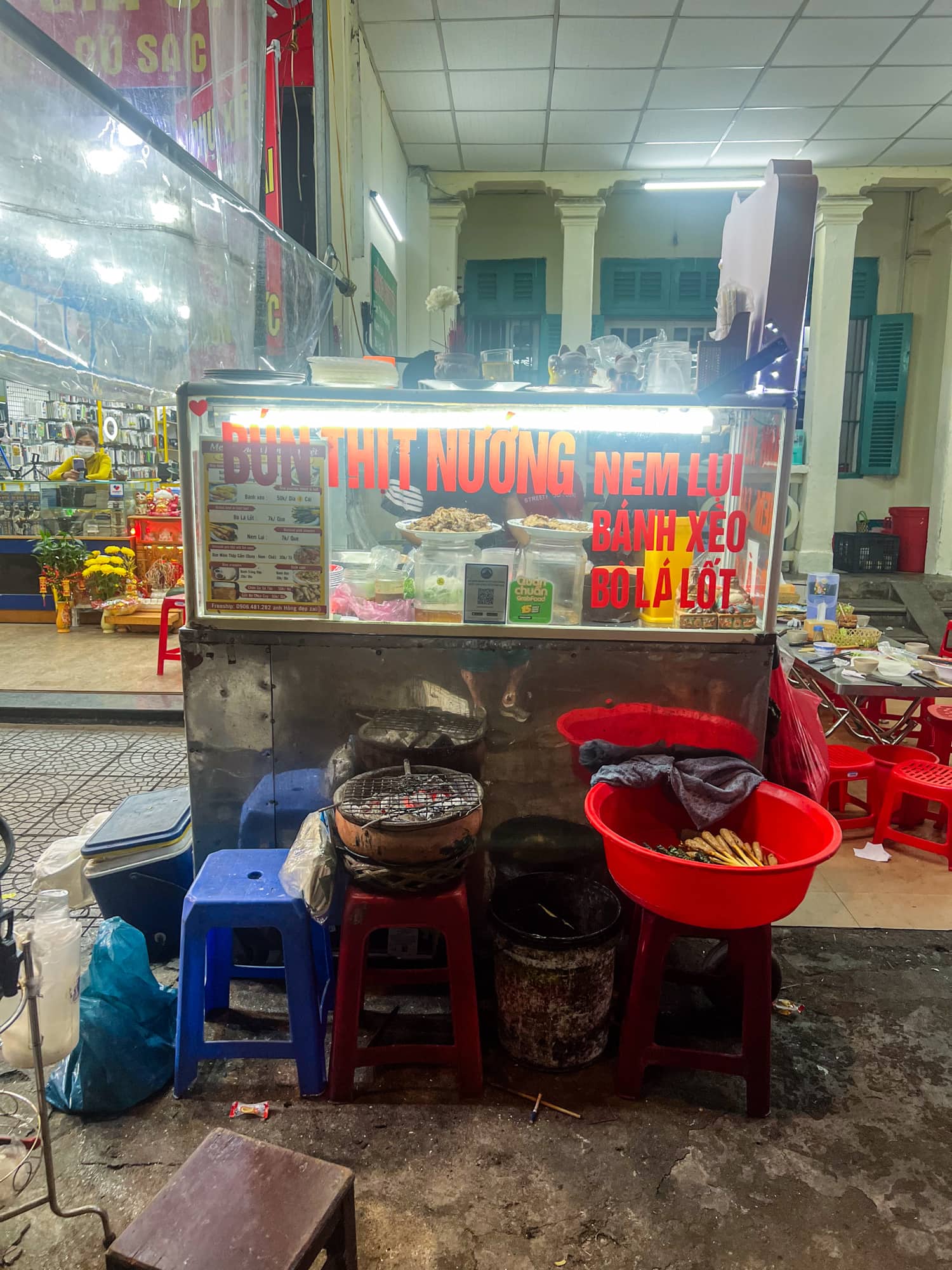 Two hours into our food tour of Da Nang by motorbike, we pulled up at Quan Hong Nguyet, a humble street food stall.
We sat on little red plastic stools at a table and were treated to three different street foods.
First, grilled beef in piper lolot leaves (bo la lot) was presented on skewers. The leaves impart a mild peppery taste to the meat.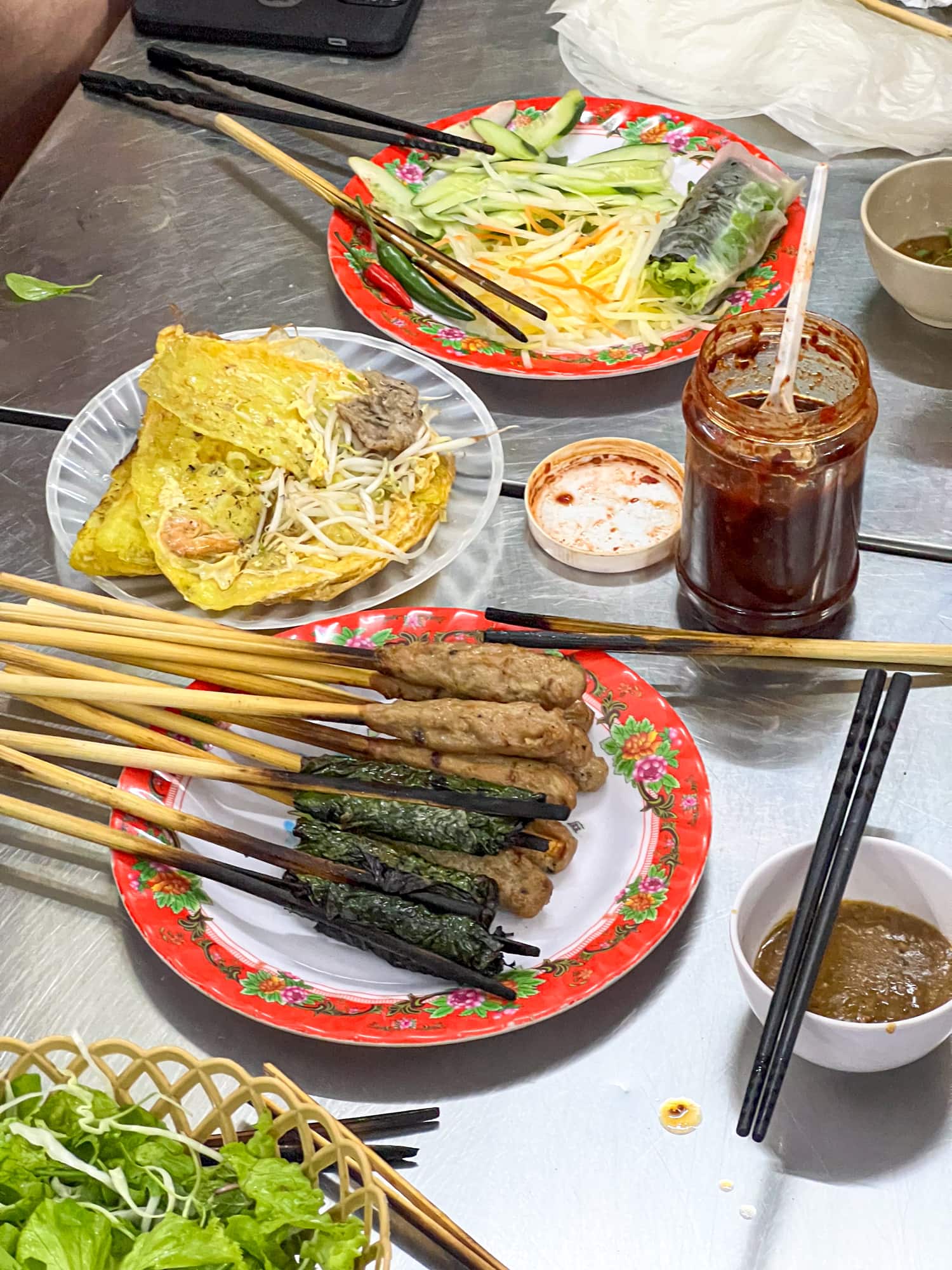 They can be eaten directly from the skewer or used as a filling in a rice paper wrap.
One of our guides taught us how to use chopsticks to fill rice paper with grilled pork or beef and fresh vegetables (pickled papaya, lettuce, and cucumber).
After you've rolled it up, you can eat it plain or add a brown dipping sauce made with pork fat, pate/liver, and peanuts.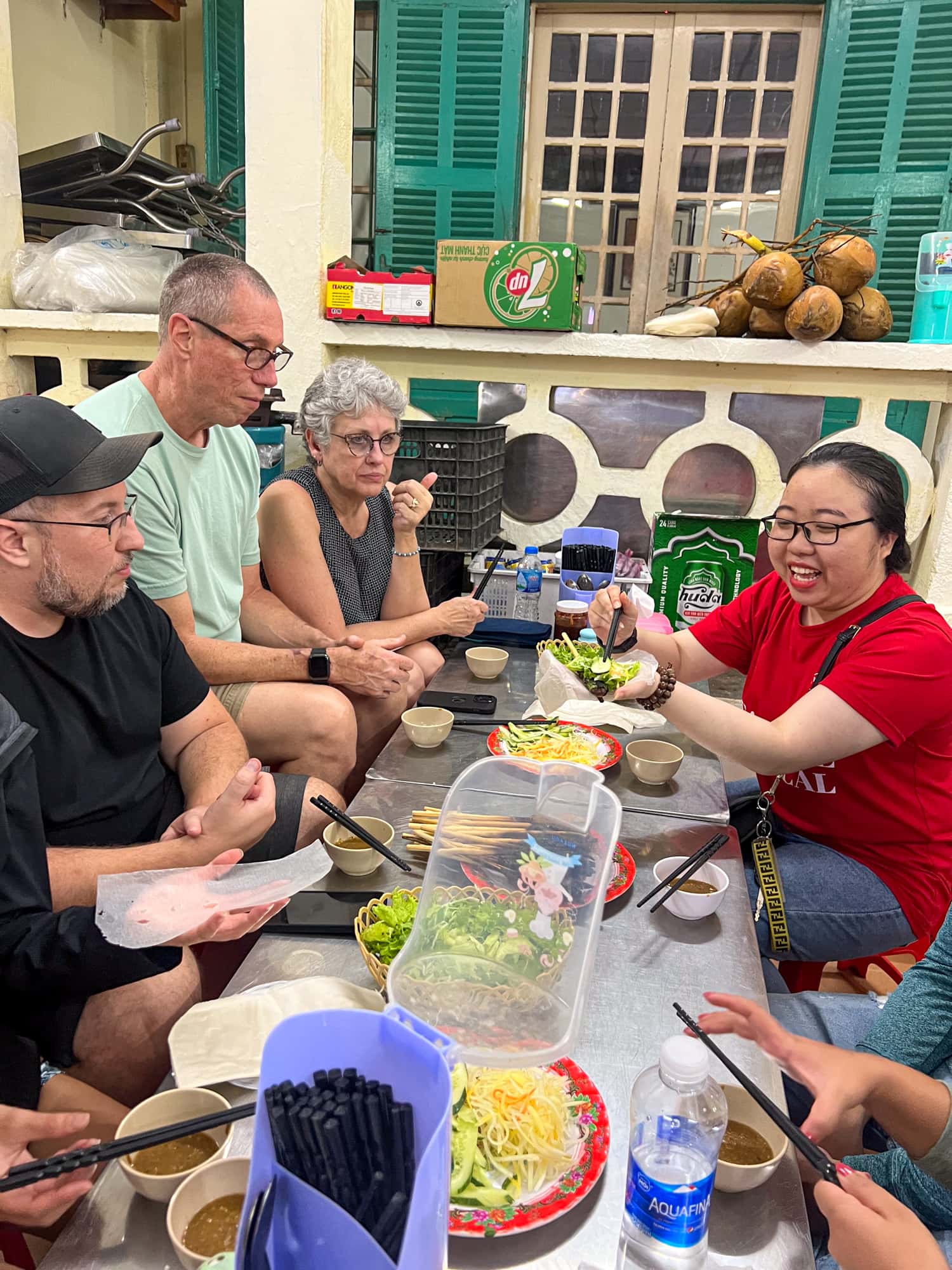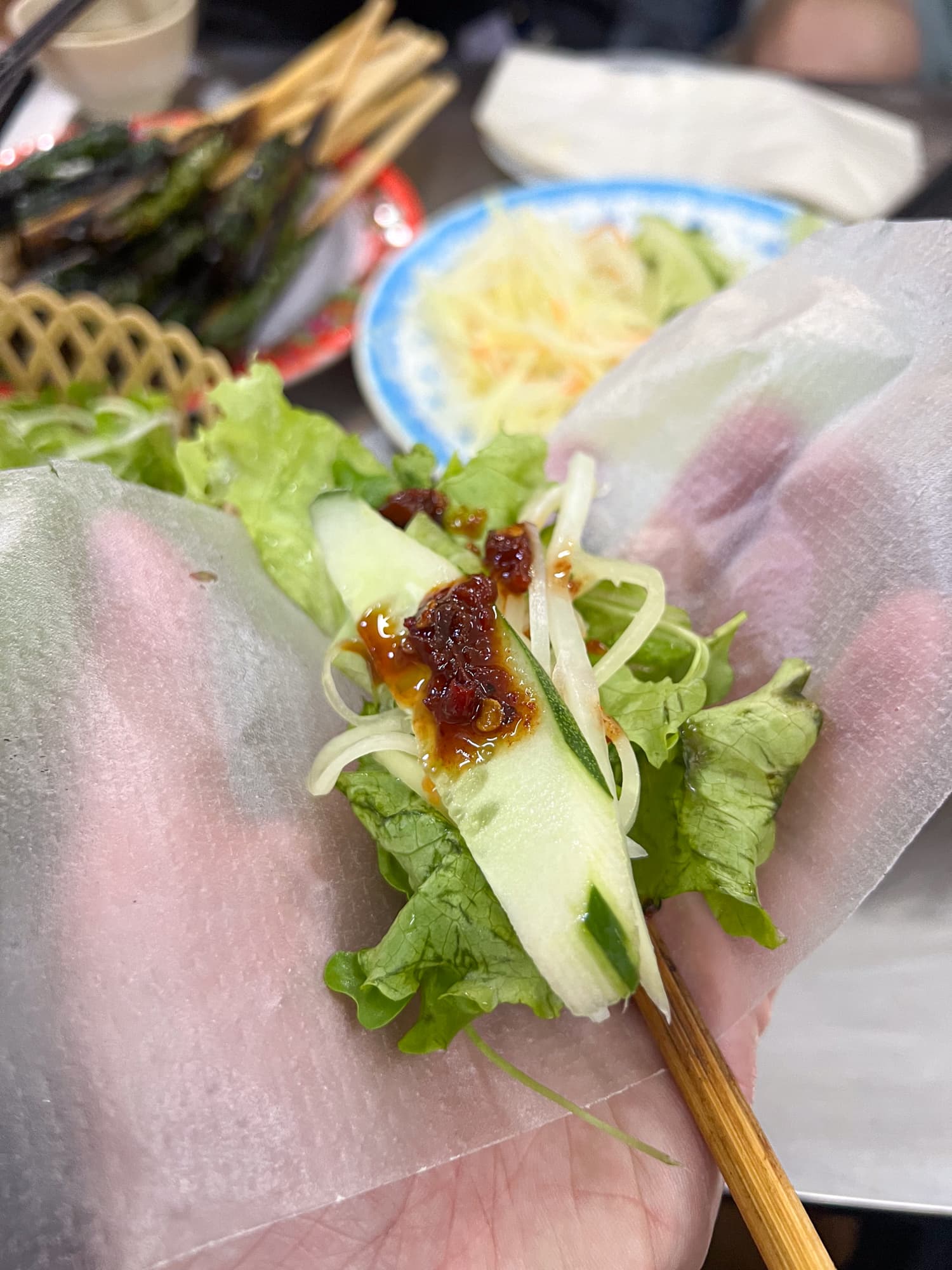 It took a little practice to work with the thin rice paper, but it's surprisingly strong.
I used the grilled pork for my wraps and enjoyed the process of making them, as well as the textures and flavors.
The third Vietnamese street food we were introduced to at this stop was a crispy Vietnamese pancake (banh xeo). Taken literally, the Vietnamese name means "sizzling pancake."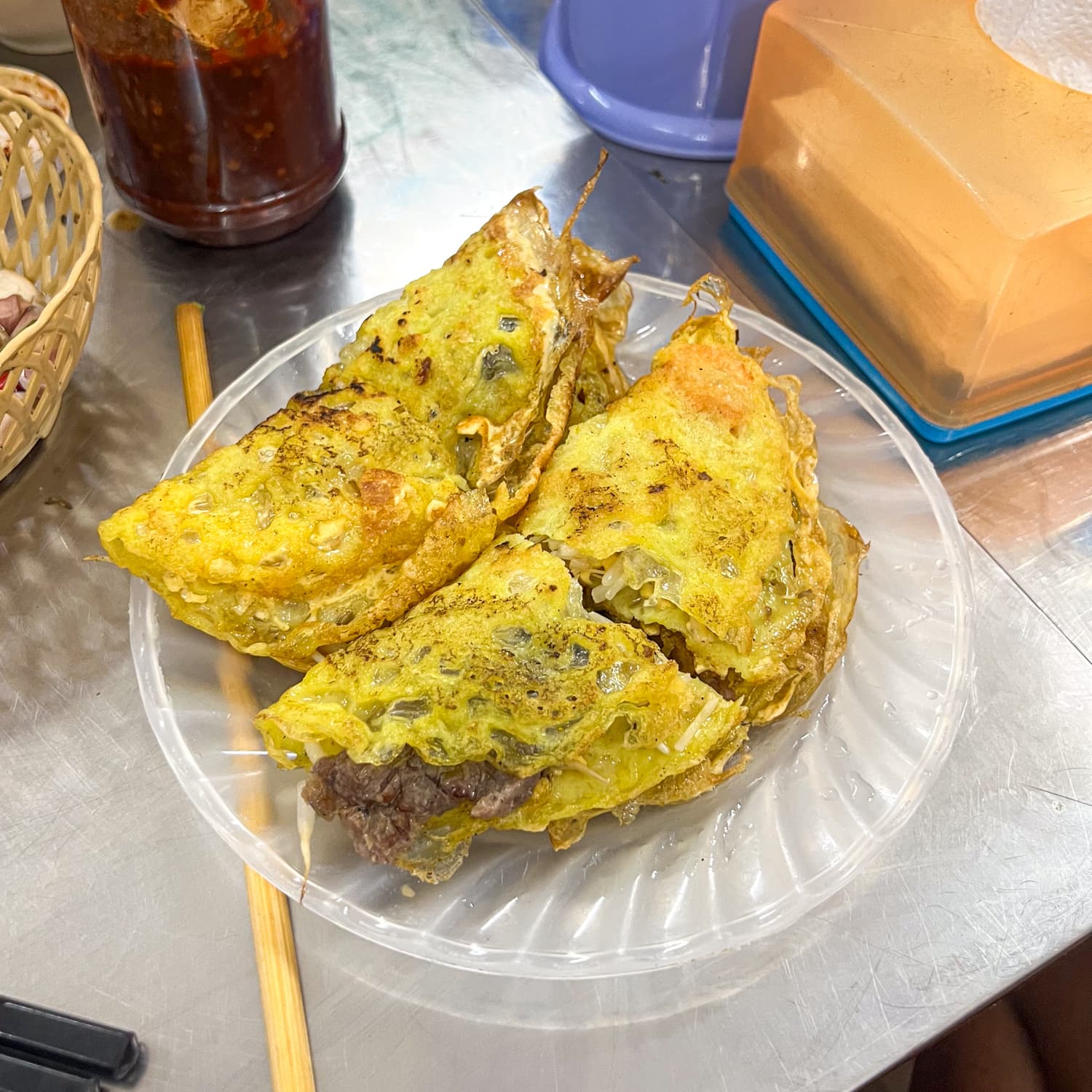 While these pancakes look like they're made with eggs because of their yellow color, eggs are not traditionally a part of the dish.
The color comes from turmeric used with the rice flour and water, all of which make the batter. Common stuffings include pork, prawns, and bean sprouts. We tried ones made with beef.
I liked the Vietnamese pancakes, though I didn't want to eat too many as I worried about filling up before the end of our Da Nang food tour.
Dragon Bridge Detour
At about 8:45 p.m., our guides realized we could see a unique attraction in Da Nang, a fire-breathing dragon-shaped bridge.
We quickly sped east toward the bridge, which spans the River Han.
A few motorbikes in our small-group tour made it across the bridge to the east end, where the dragon's head breathes fire several times at 9 p.m. on Fridays, Saturdays, and Sundays.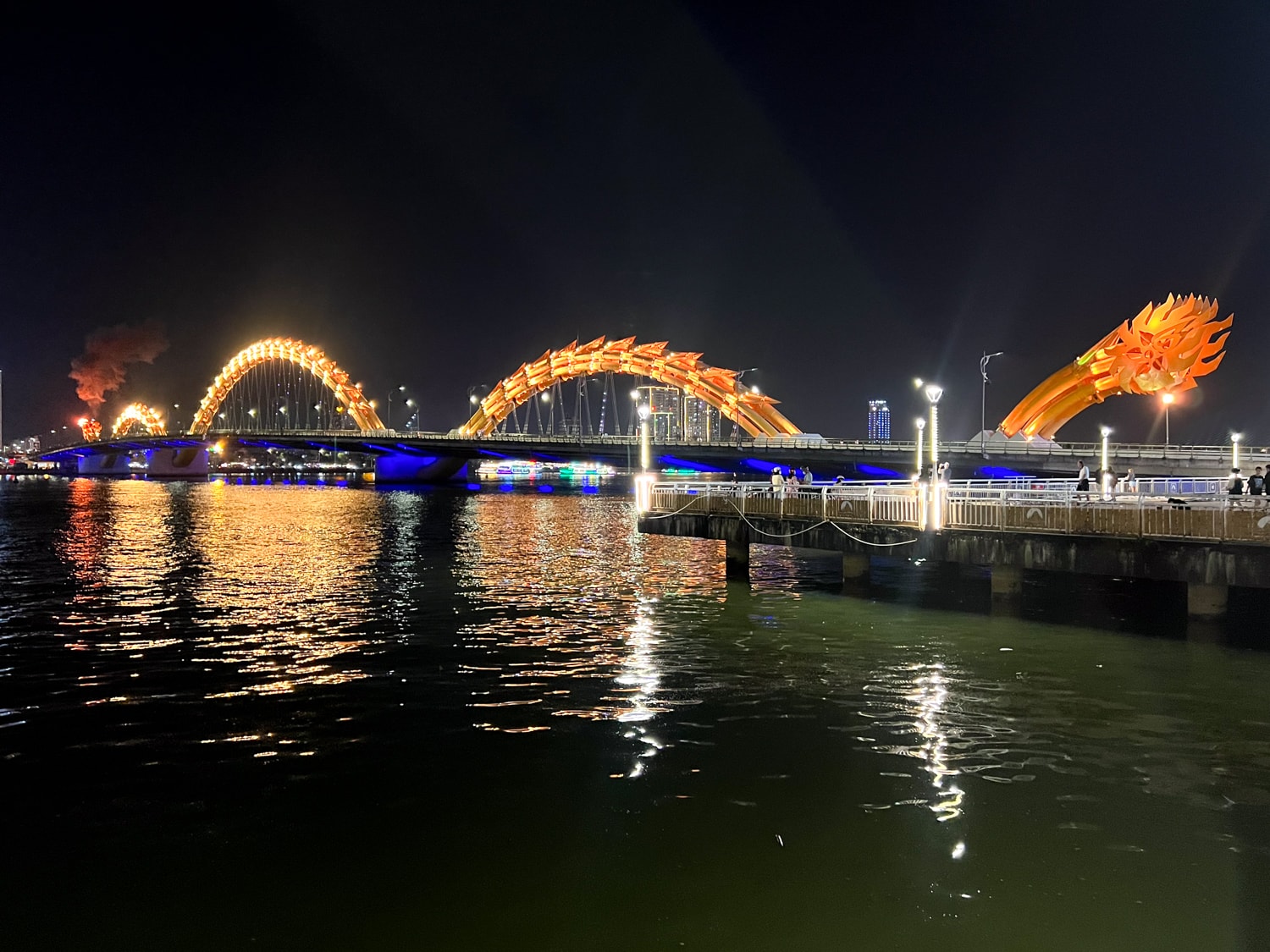 My motorbike and others were too late. By the time we reached the Dragon Bridge, it had been closed to traffic until the fire-breathing show concluded.
Still, we could watch from the west (tail) end of the bridge, and since it was dark, the fire and smoke at the far end were visible.
Once the show was over and the bridge re-opened, all the motorbike guides brought us to our fifth and final street food vendor of the night.
Vietnamese Desserts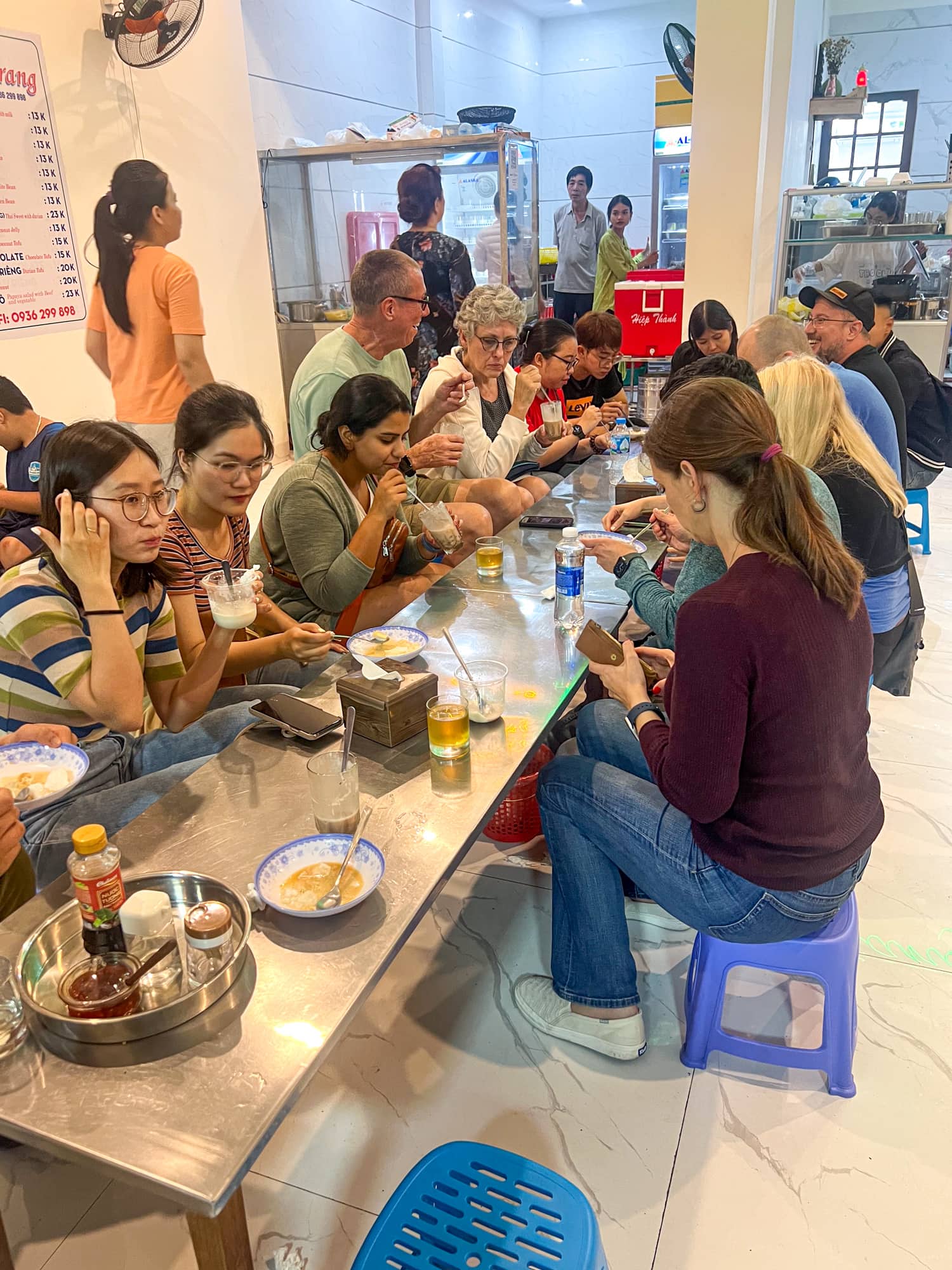 The last stop of our tour was a dessert shop where we tried two traditional cold dishes.
First, a sweet red bean soup (che dau do) was made with red beans and condensed milk and served in a glass topped with ice. A long metal spoon is provided to mix it all up before you drink.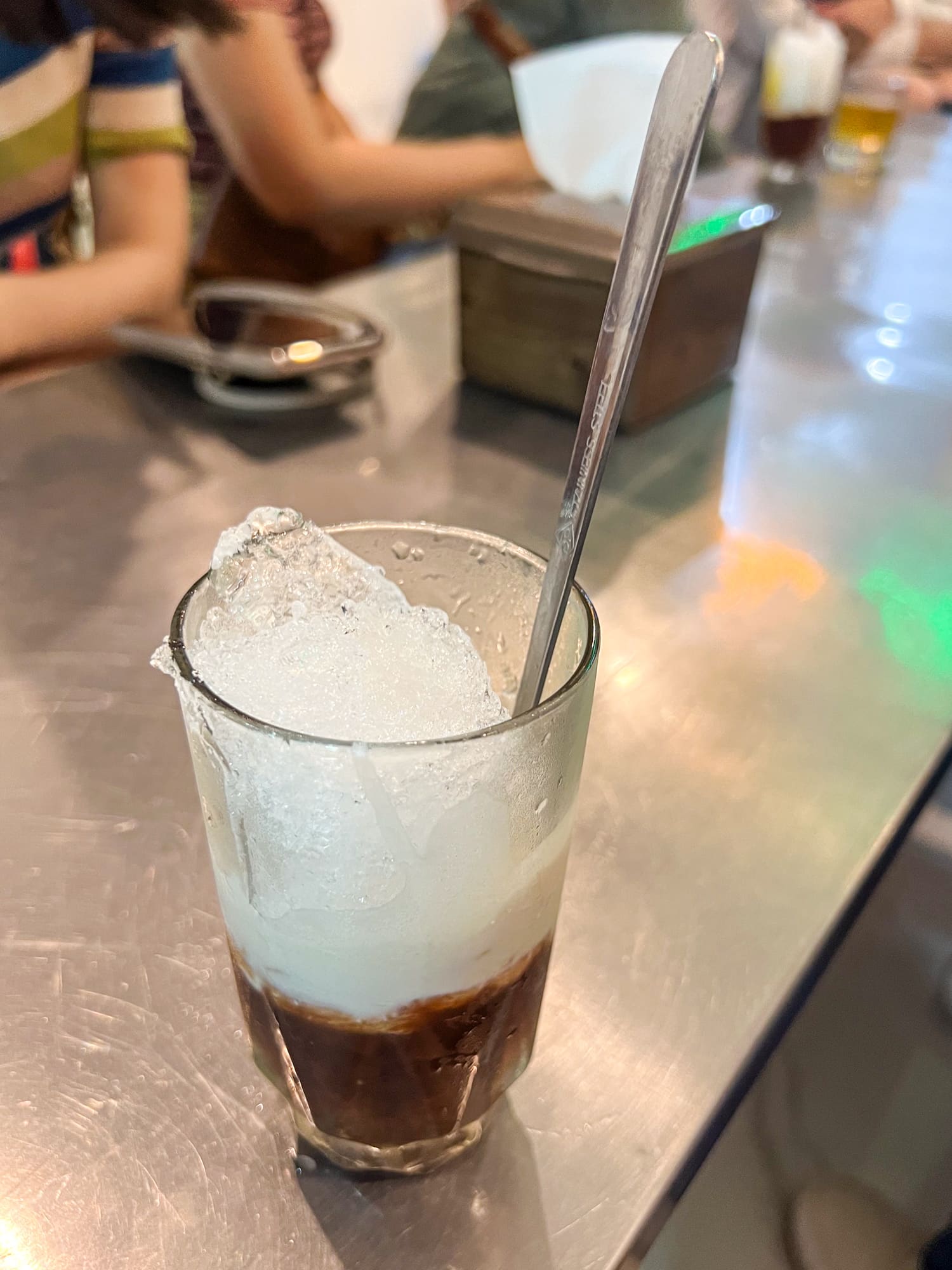 The cold Vietnamese dessert tasted fine, though it'd be the second I'd ultimately prefer more.
Ice flan (kem plan) is a typical custardy flan topped with shaved ice. In this case, it also had a caramel sauce.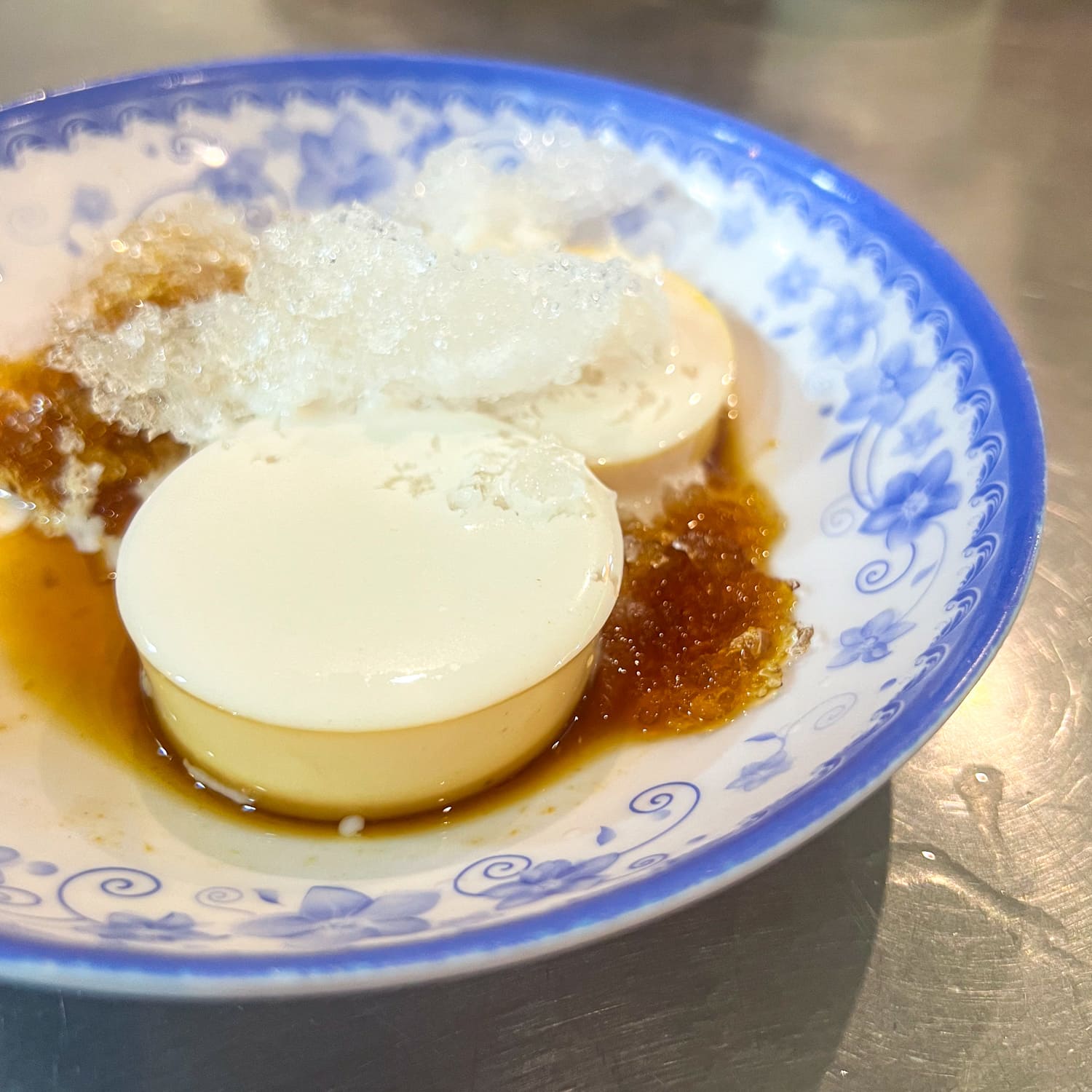 The Vietnamese adopted flan as a dessert during French colonial times, which is also when they picked up their penchant for coffee and cafes.
A little after 9:30 p.m., Kel and I said our goodbyes at the dessert shop. After nearly four hours of riding motorbikes around Da Nang, we decided to treat ourselves to a Grab back to the hotel.
(Grab is an easy-to-use rideshare app in Vietnam.)
Final Thoughts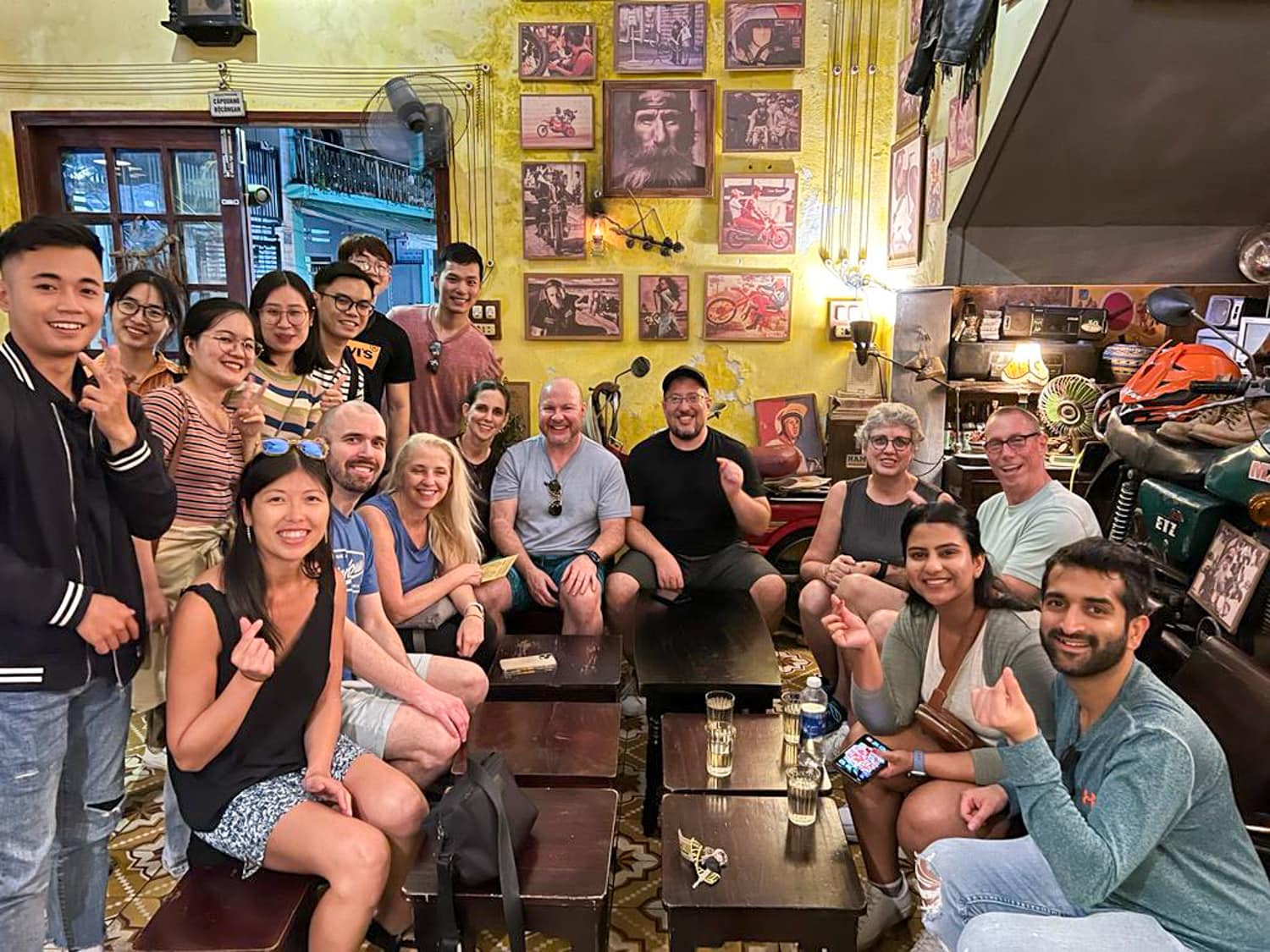 Overall, our Da Nang food tour by motorbike was an unexpected thrill.
We were nervous at first. But, as we spent more time zipping around downtown Da Nang with our friendly drivers, we relaxed and ultimately enjoyed the experience.
Plus, we got to try about ten traditional Vietnamese street foods and drinks before calling it a night.