Dining at Leo in Bogotá, Colombia, was one of the highlights of a food-focused trip to a country I called home for seven years.
Chef-owner Leonor Espinosa and her daughter, sommelier Laura Hernández-Espinosa, developed the Ciclo-Biome menu to showcase native ingredients in Colombian cuisine.
Colombia is the world's most biodiverse country by area and is second overall to the much larger Brazil.
I experienced various geographies and ecosystems there, from the Andes and the Sierra Nevada mountains to the Caribbean coast and desert of La Guajira.
In July 2018, I returned to Colombia to try new restaurants in Bogotá and Medellín and see friends. The first week of my trip was dedicated to dining in Bogotá, the country's capital.
In 2017, chef Espinosa was named Latin America's Best Female Chef by The World's 50 Best Restaurants organization. Going to Leo, her flagship restaurant, was a given.
Last year, Leo was ranked the 14th best restaurant in Latin America and #46 on the world's best restaurants list. In May 2022, she was named The World's Best Female Chef.
[Note: Leo moved to a new venue in June 2021; my description of the dining room is based on their previous space.]
I arrived at noon on a Wednesday for my lunch reservation and was one of the first tables to be seated.
The interior is modern and a little austere. The dining room features an atrium, allowing natural light over half the tables.
I was given a table closer to the entrance, which was considerably darker yet still received light from the street-facing windows.
Ultimately, it didn't matter, as the black tablecloths offered the perfect backdrop for taking photos.
Tasting Menu at Leo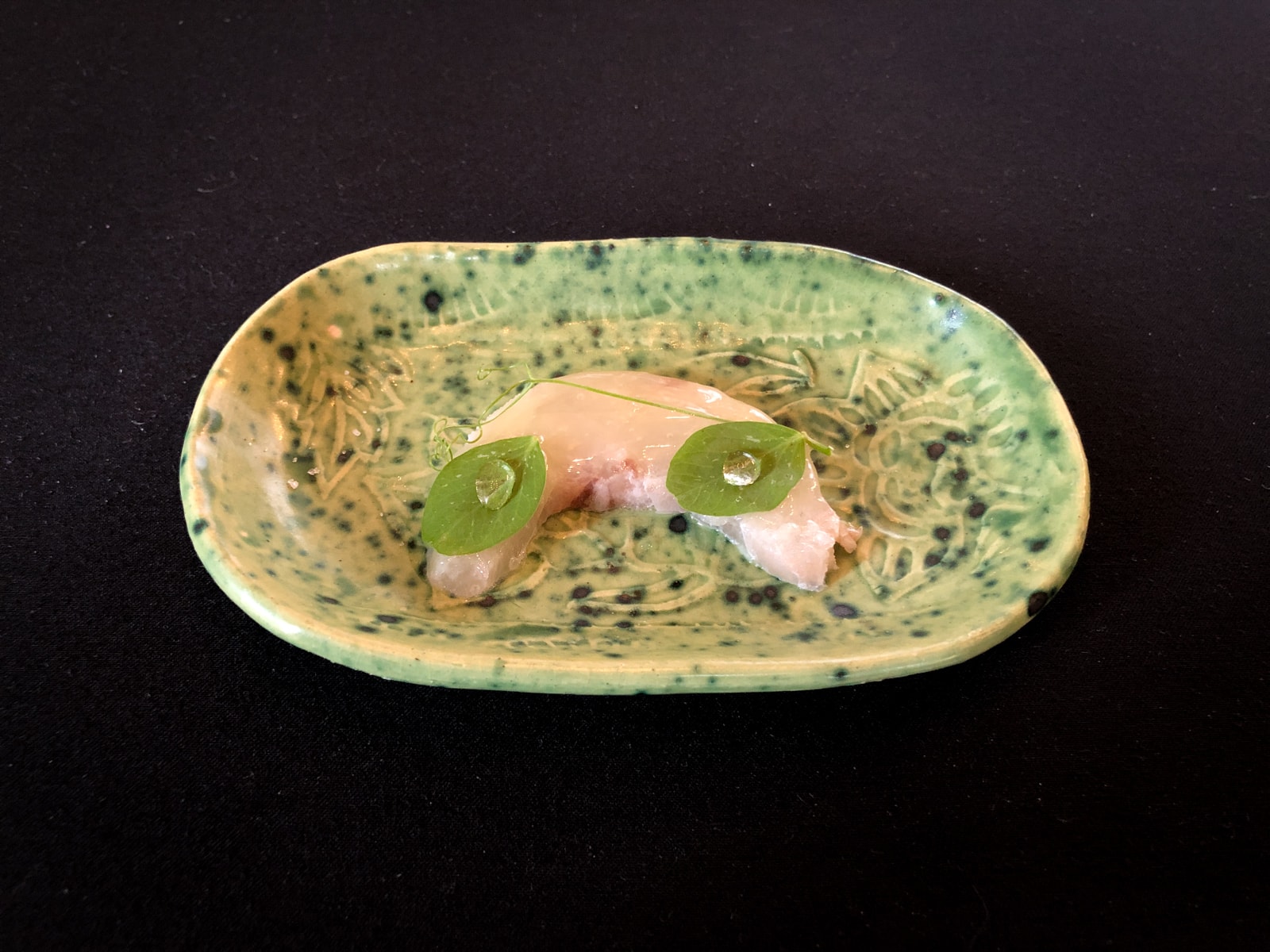 The Ciclo-Biome tasting menu at Leo in Bogotá offers a survey of Colombia's biodiversity, complete with a map showing the origin of Colombian ingredients.
Alcohol and non-alcohol drink pairings are available, and the option for no drink pairing.
The following photos were from Leo's menu on July 18, 2018. I chose the non-alcoholic drink pairing, which was delightful.
Snacks
The lunch began with a few snacks. The first was a slice of white fish from the high Andean forests garnished with páramo leaves and copoazú.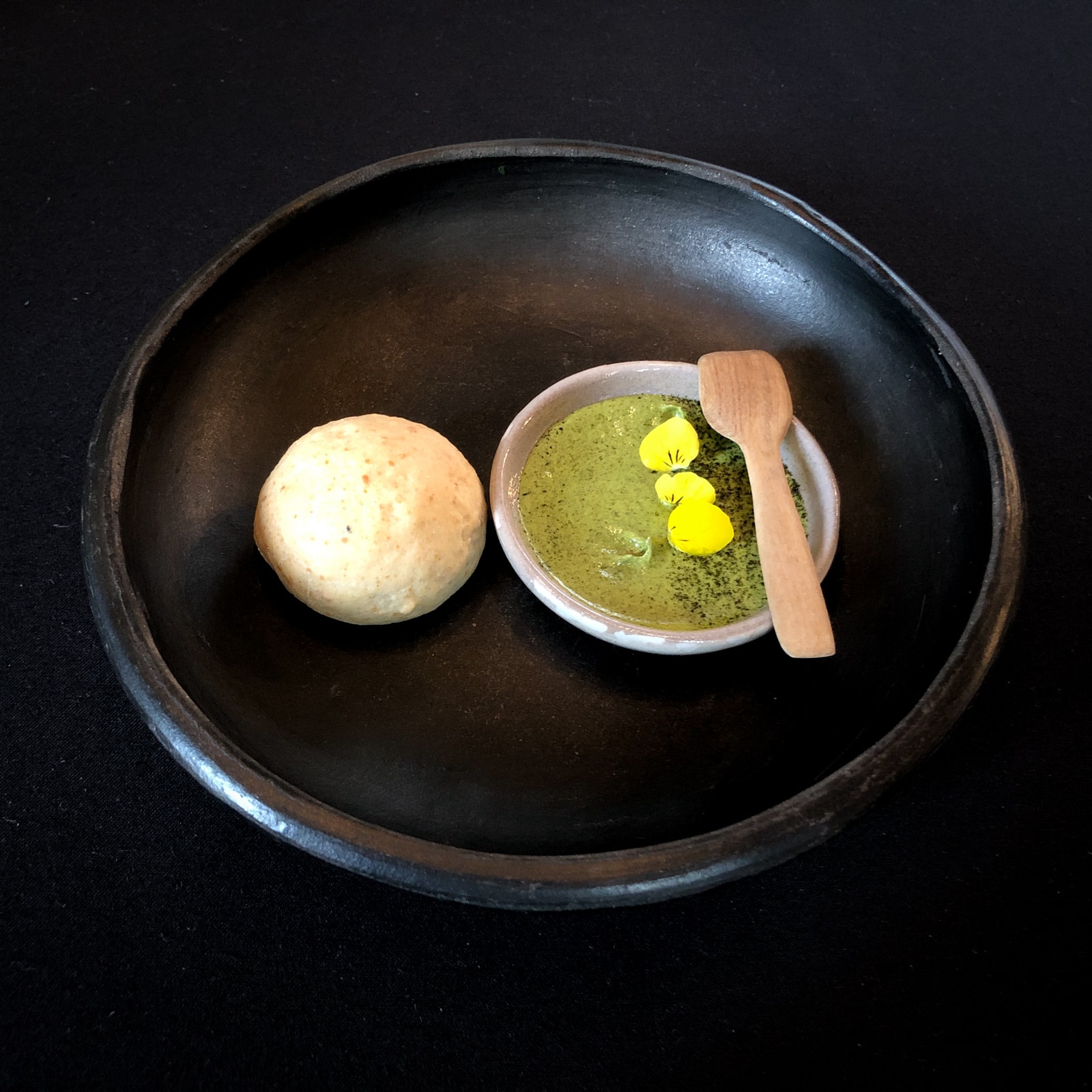 Next, a small biscuit made of achira flour was presented with a green sauce. Achira is a gluten-free alternative to wheat used by the indigenous Chibchas people in Colombia.
Amuse Bouche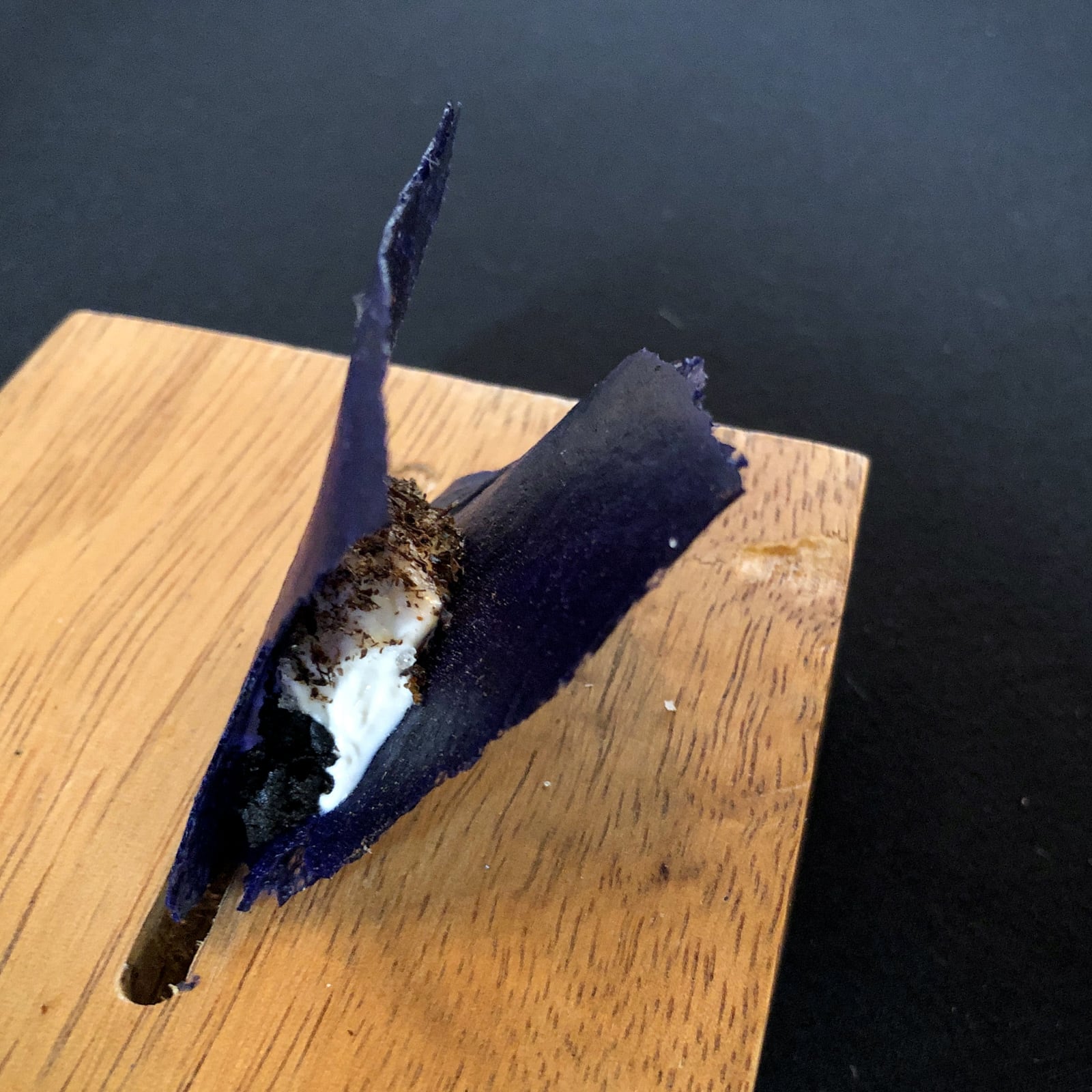 A series of four amuse-bouches followed the snacks. The first was yogurt cheese with limonero ants and native potatoes.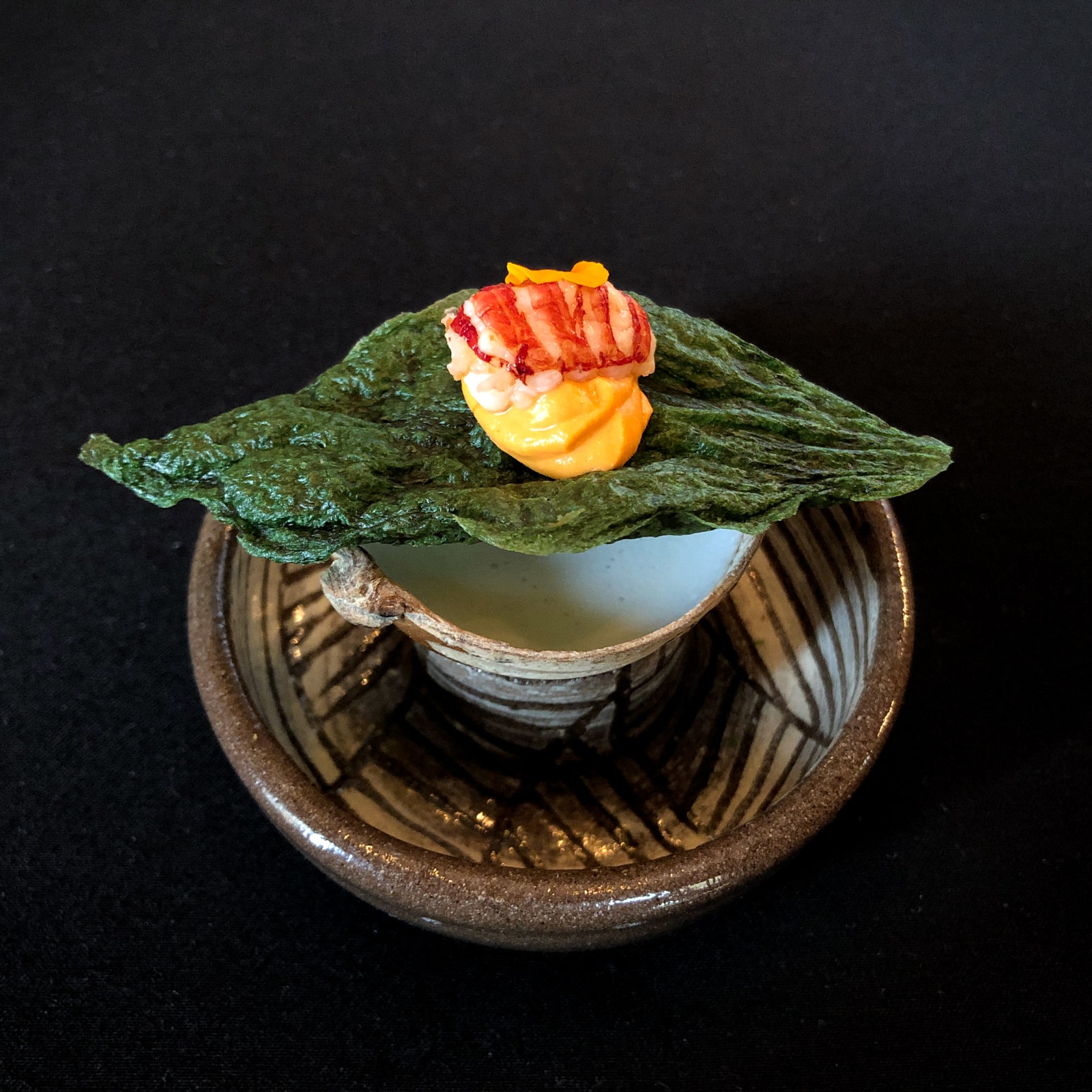 The second was colorful crayfish with mandarin lemon and pepper precariously presented over a cup of coconut milk.
This was one of my favorite dishes, visually and in terms of flavor. My first drink pairing was fresh guava water.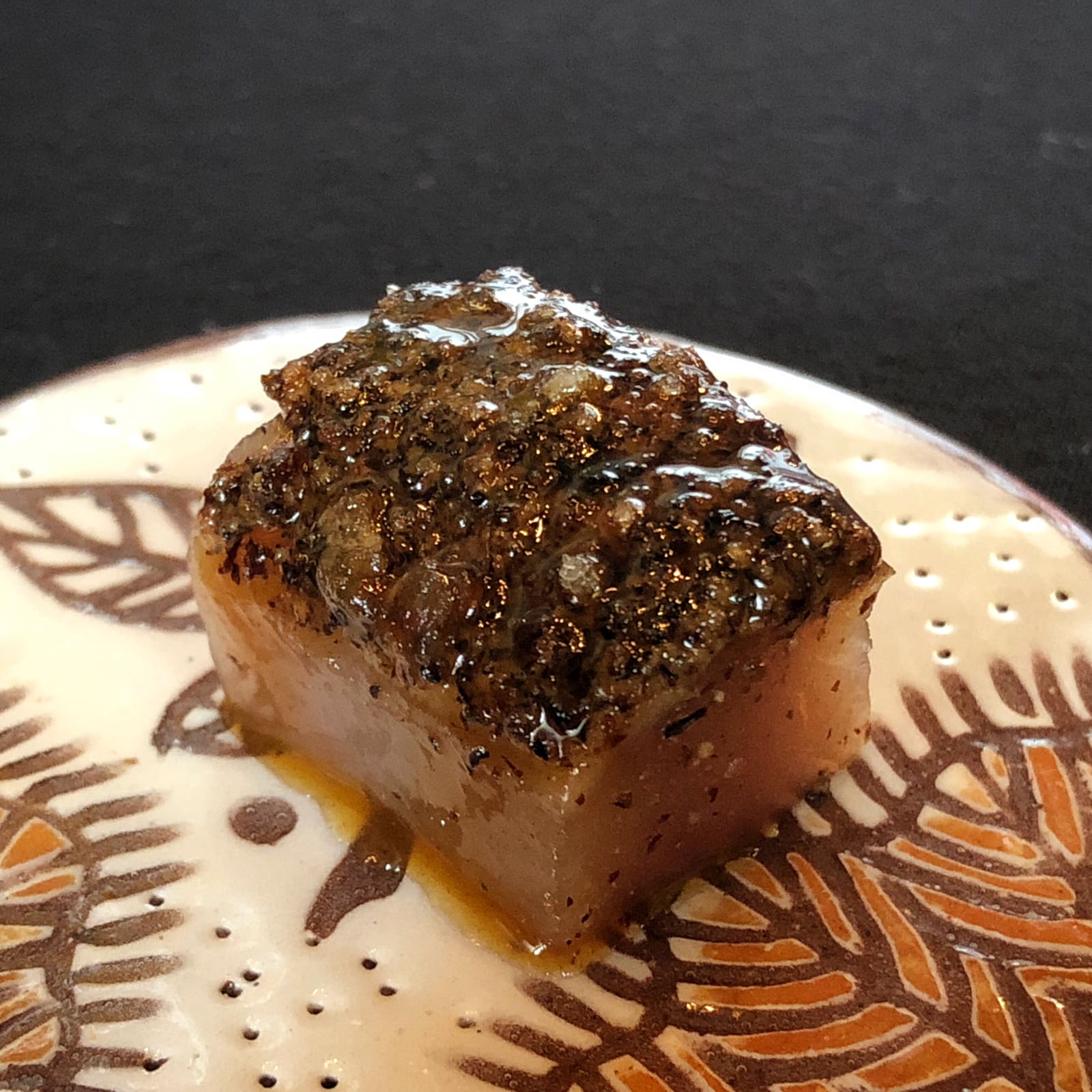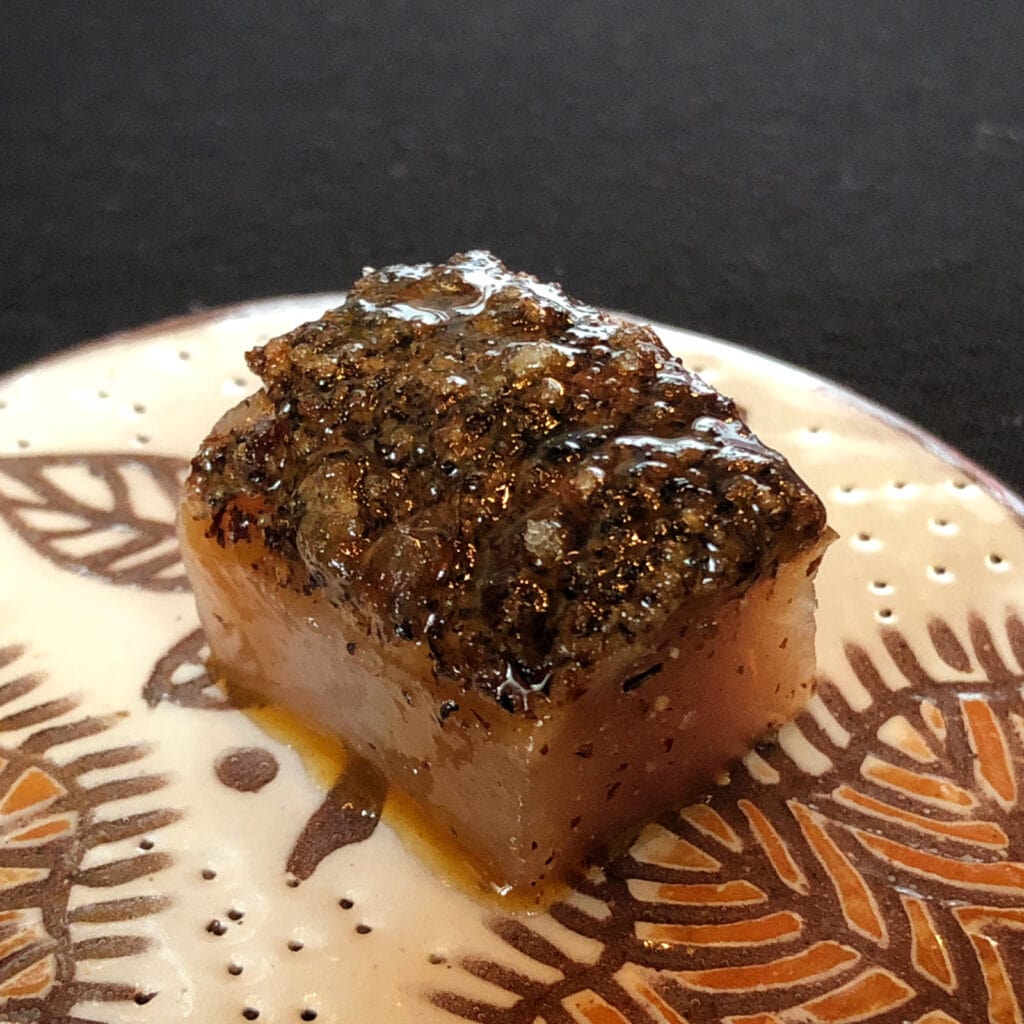 The third amuse-bouche was albacore with Santander ants, long pepper, and molasses.
Ants are a typical snack in Santander, a department in eastern Colombia. I tried them during a day trip to Chicamocha Canyon, the second-largest canyon in the world.
Eating whole dry crunchy ants from a bag was not so great, but they were perfectly palatable crushed up as a garnish at Leo in Bogotá.
Incidentally, I also had the best goat of my life at a restaurant inside Parque Nacional del Chicamocha.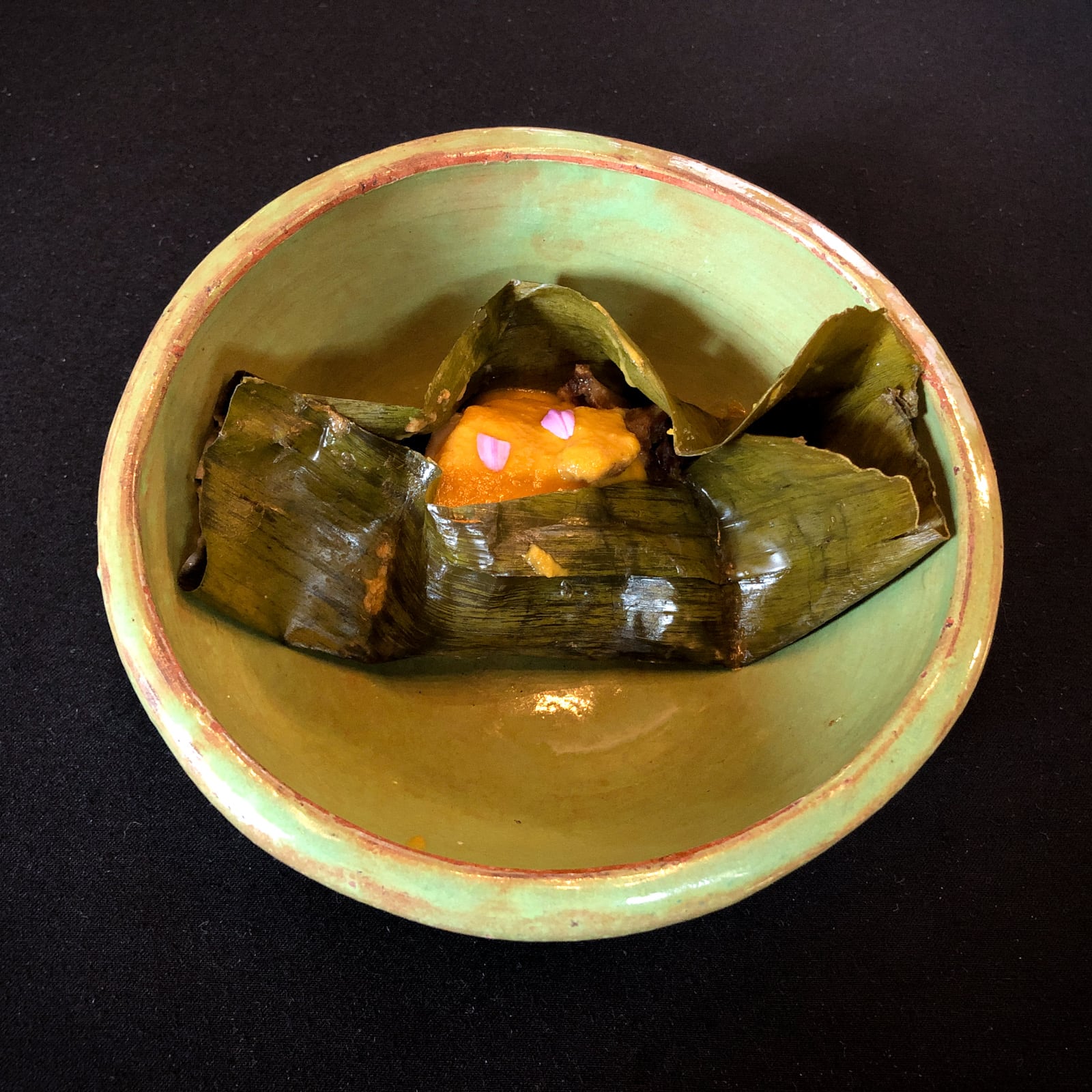 The final amuse-bouche was fish wrapped in a plantain leaf with sea snail and coconut rice.
This was accompanied by my second drink pairing, gulupa juice. Gulupa, also known as purple granadilla, is a part of the passion fruit family.
I became a big passion fruit fan living in Colombia and enjoyed granadilla, though I'd never encountered this variety before.
Main Dishes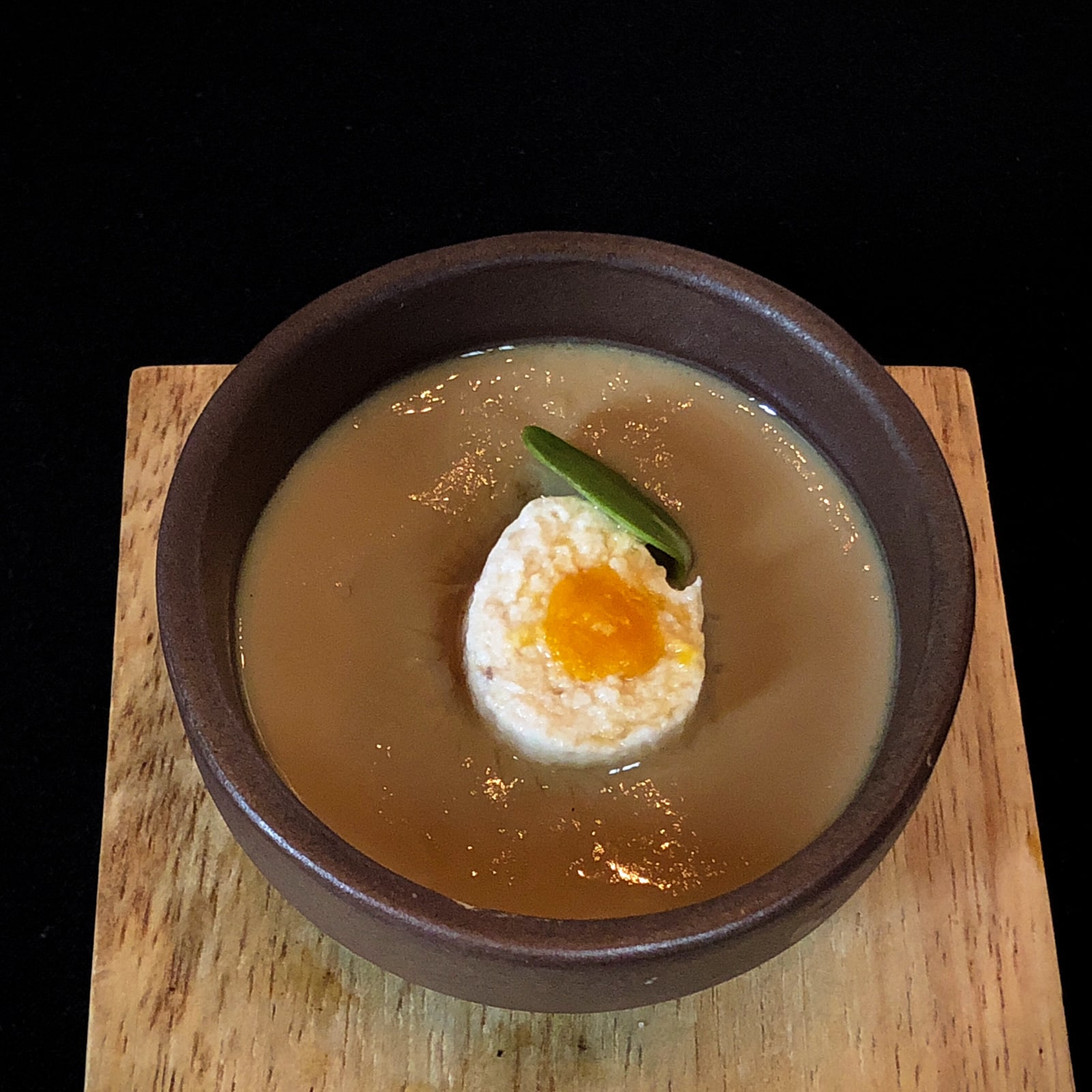 Caiman, yes, you read that right. Caimans are similar to alligators and are common throughout Central and South America.
As much as I'd like to be able to tell you that it tasted like chicken, I can't recall.
The juice pairing was aguajina, made from the fruit of the aguaje palm tree.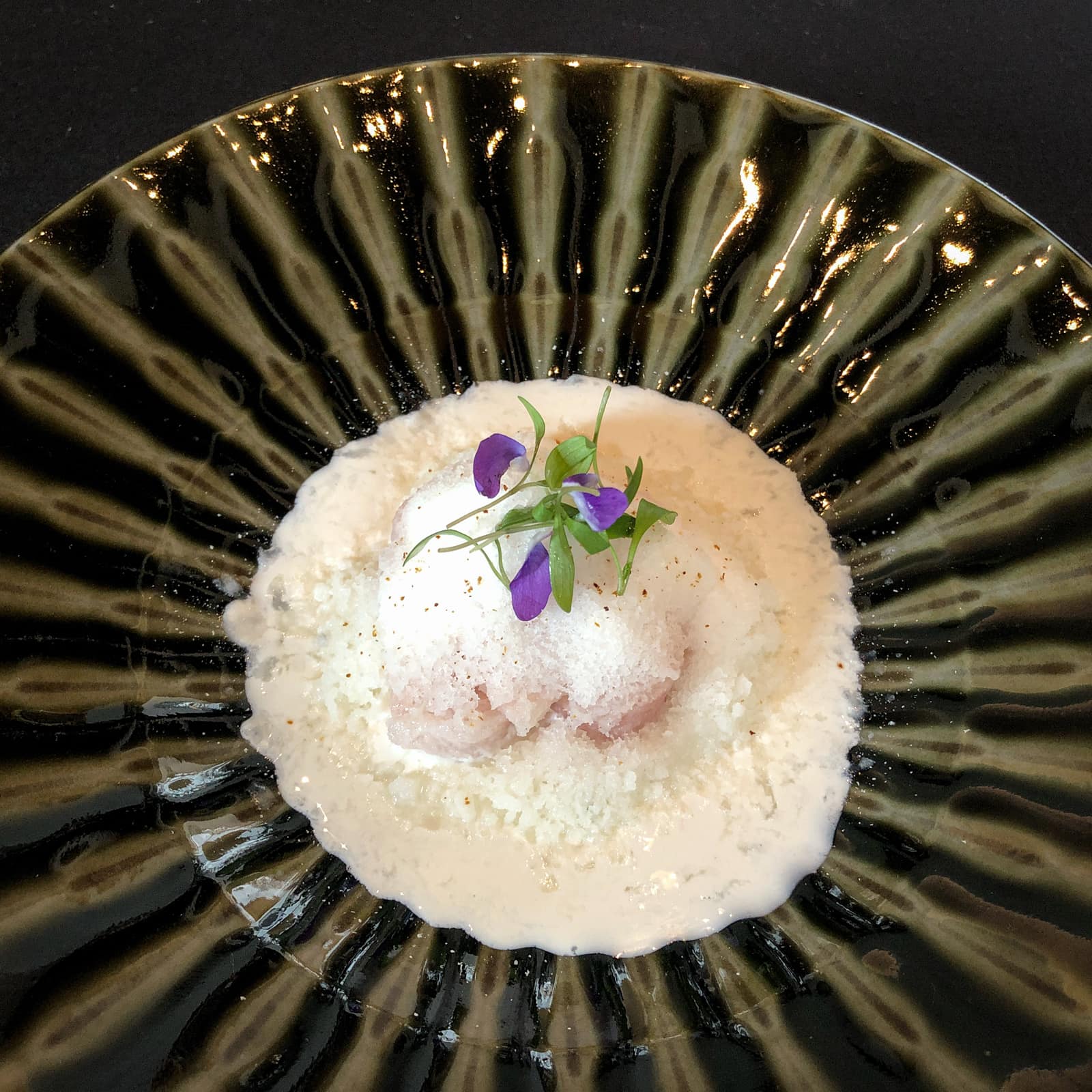 Native to the Amazon River, pirarucú is one of the largest freshwater fish.
At Leo in Bogotá, chef Espinosa served it with cacay, sour yucca, ojo de pez pepper.
Cacay, also native to the Amazon, is a flowering plant that produces an edible nut.
This dish was paired with mamón kombucha.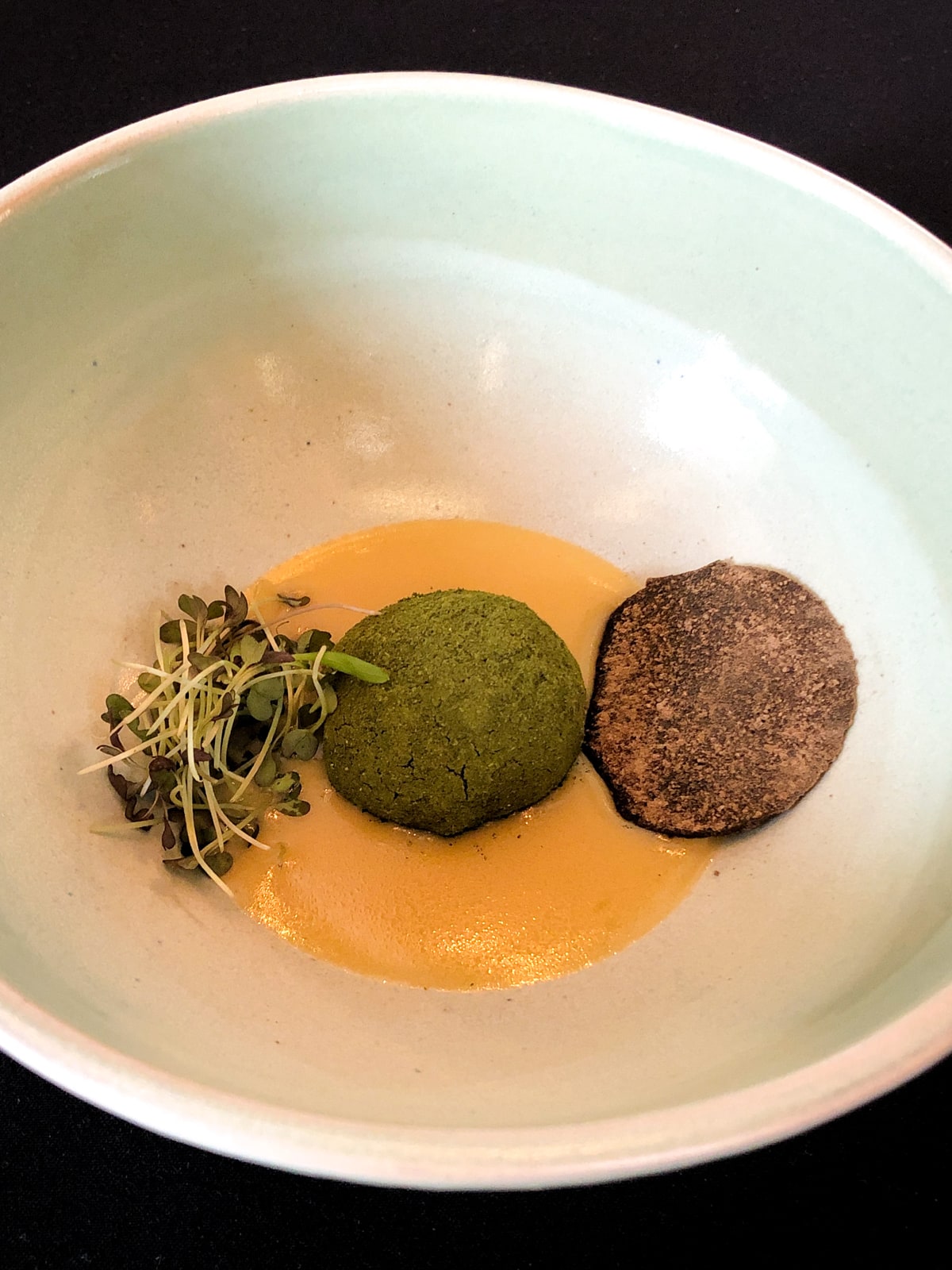 Continuing our exploration of Colombia's biodiversity, chef Espinosa presents kapeshuna (cowpea), which grows in the harsh desert of the La Guajira peninsula in Northeast Colombia.
The region is home to the indigenous Wayúu people, known for their colorful handmade bags and hammocks. This dish reminded me of my three-day trip to La Guajira in 2011.
I spent two nights sleeping in a Wayúu hammock on Cabo de la Vela beach, dining on fresh snapper, lobster, and goat.
The drink pairing was citrus leaves with poleo mint.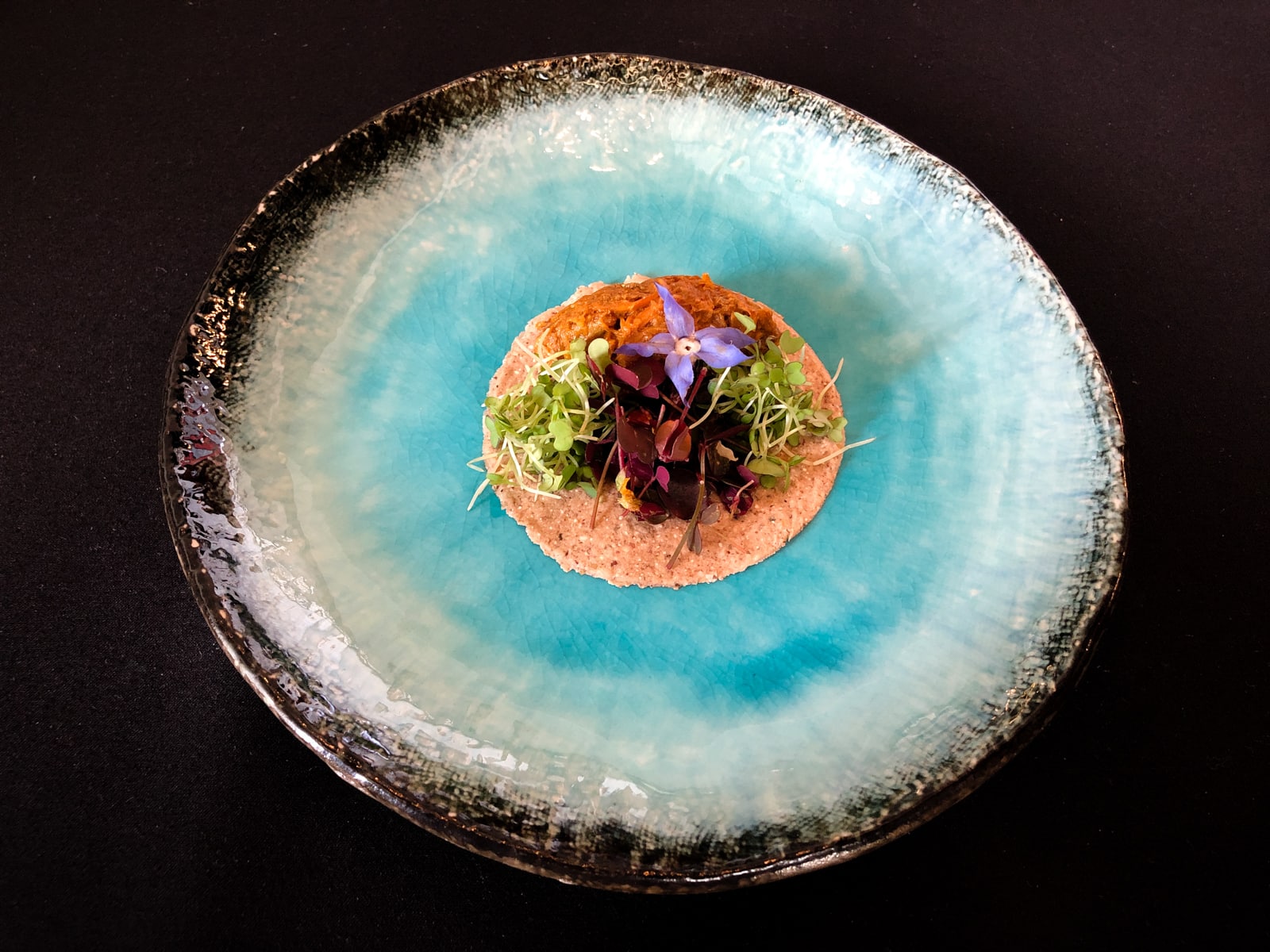 My favorite plate at Leo in Bogotá was the glazed blue one used to serve duck meat on corn flatbread. Gorgeous!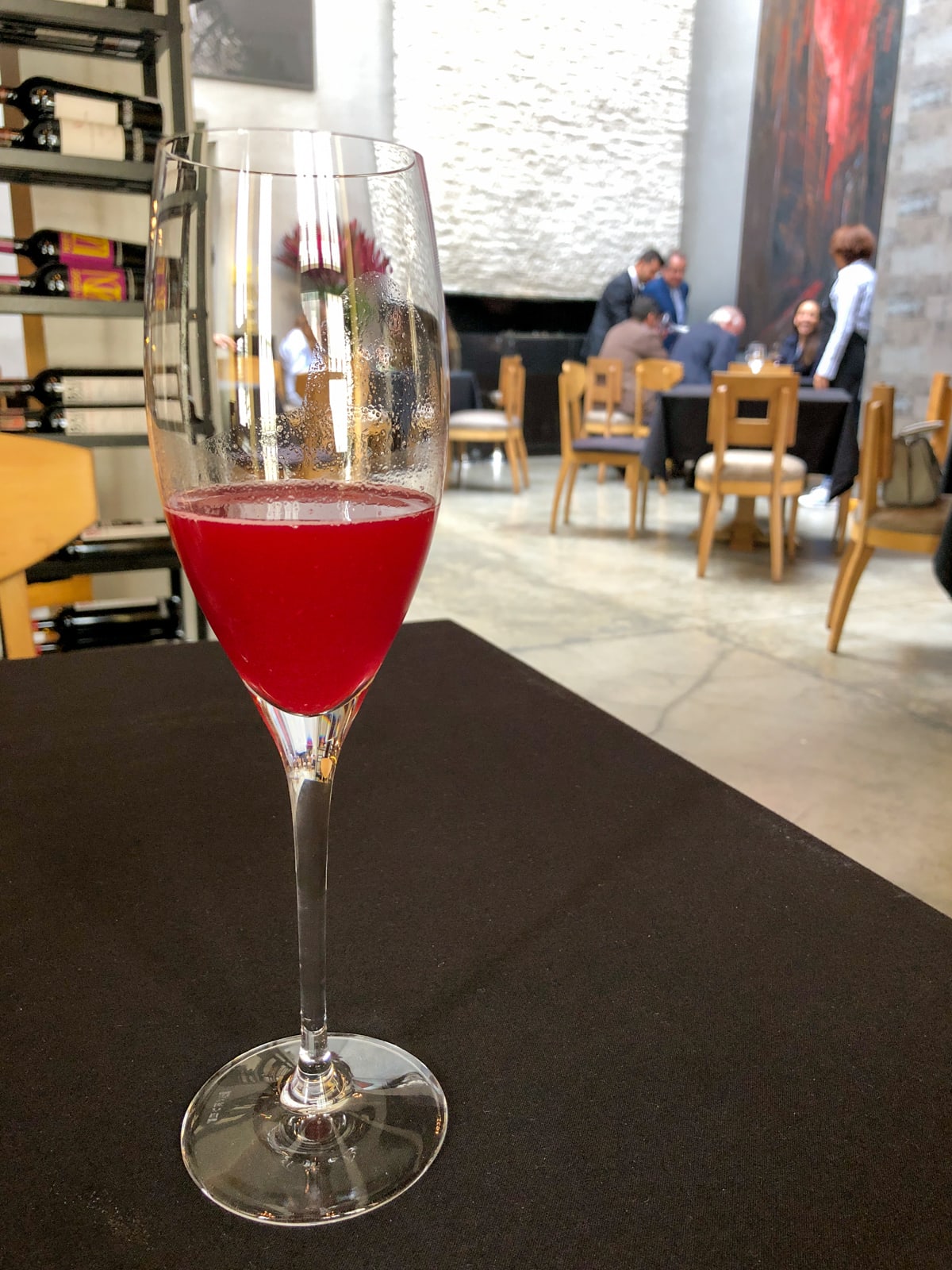 The duck was paired with blackberry juice, corozo, and Santa Catalina salt. Corozo is the nut of a tropical palm tree.
In the photo above, chef Espinosa is seen speaking with guests.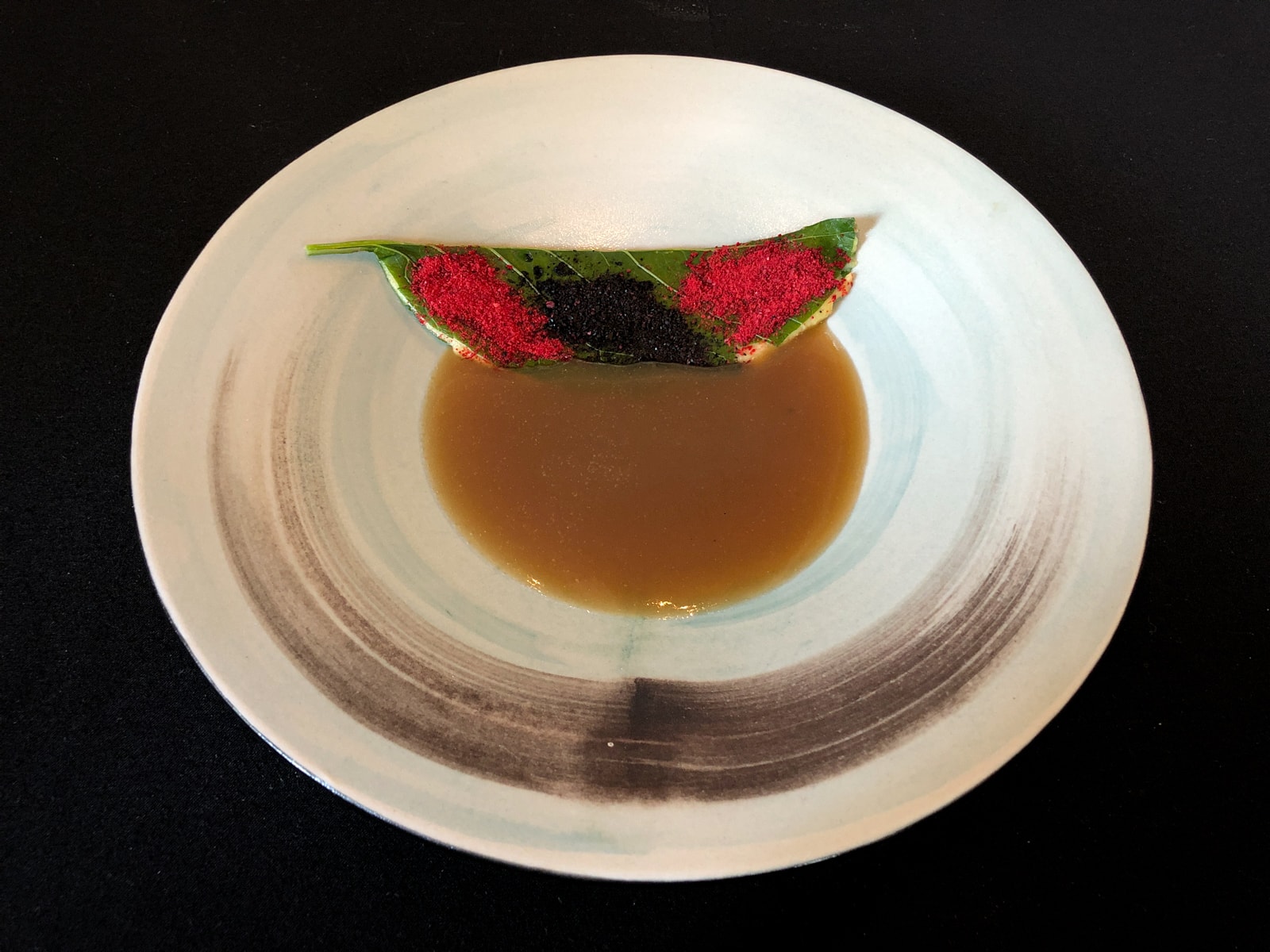 This dish was paired with masato, a slightly fermented rice water.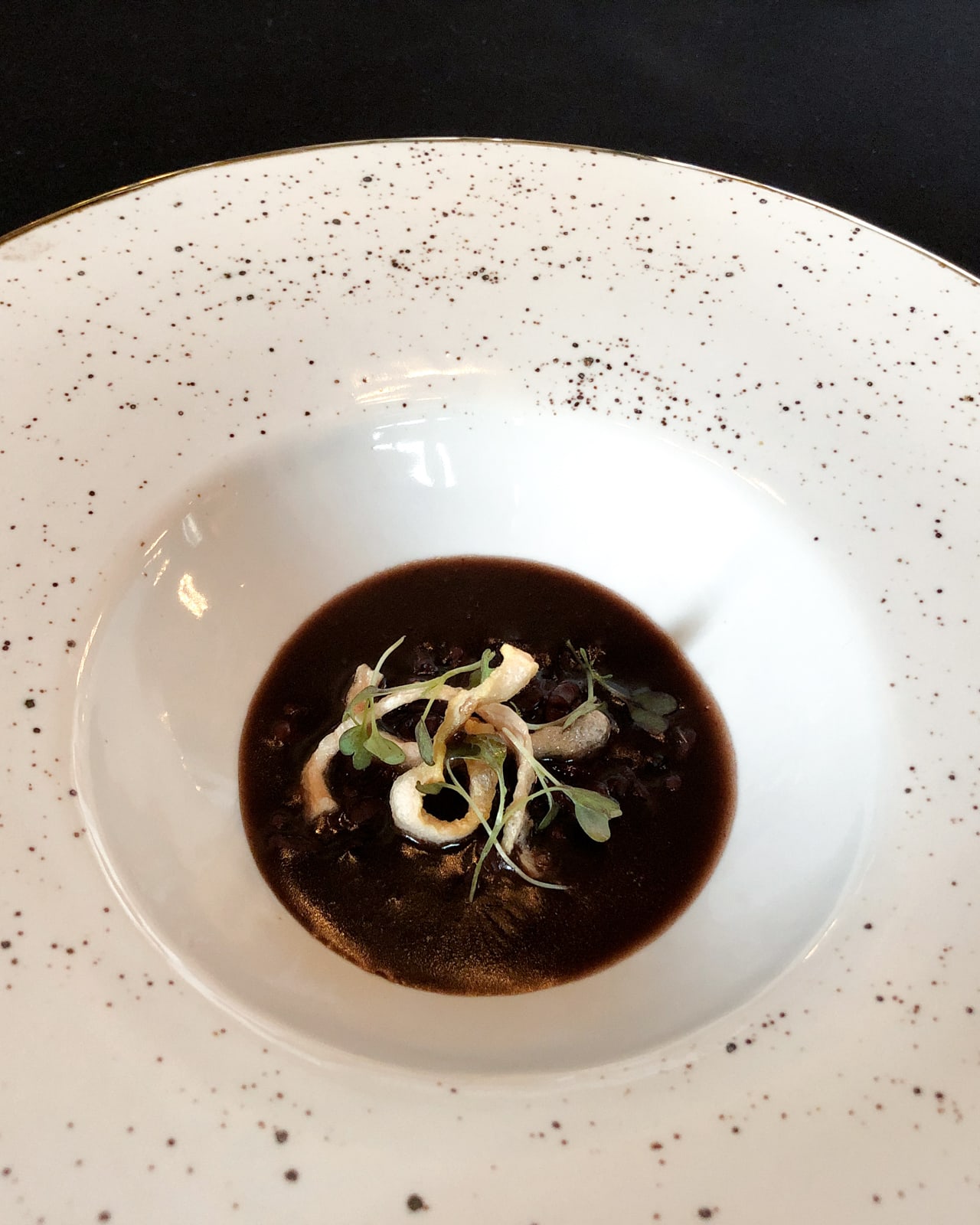 Ponche is the capybara, the world's largest rodent, native to dry forests, according to Leo's menu; however, I also saw them during my week in the Peruvian Amazon.
Pre-Dessert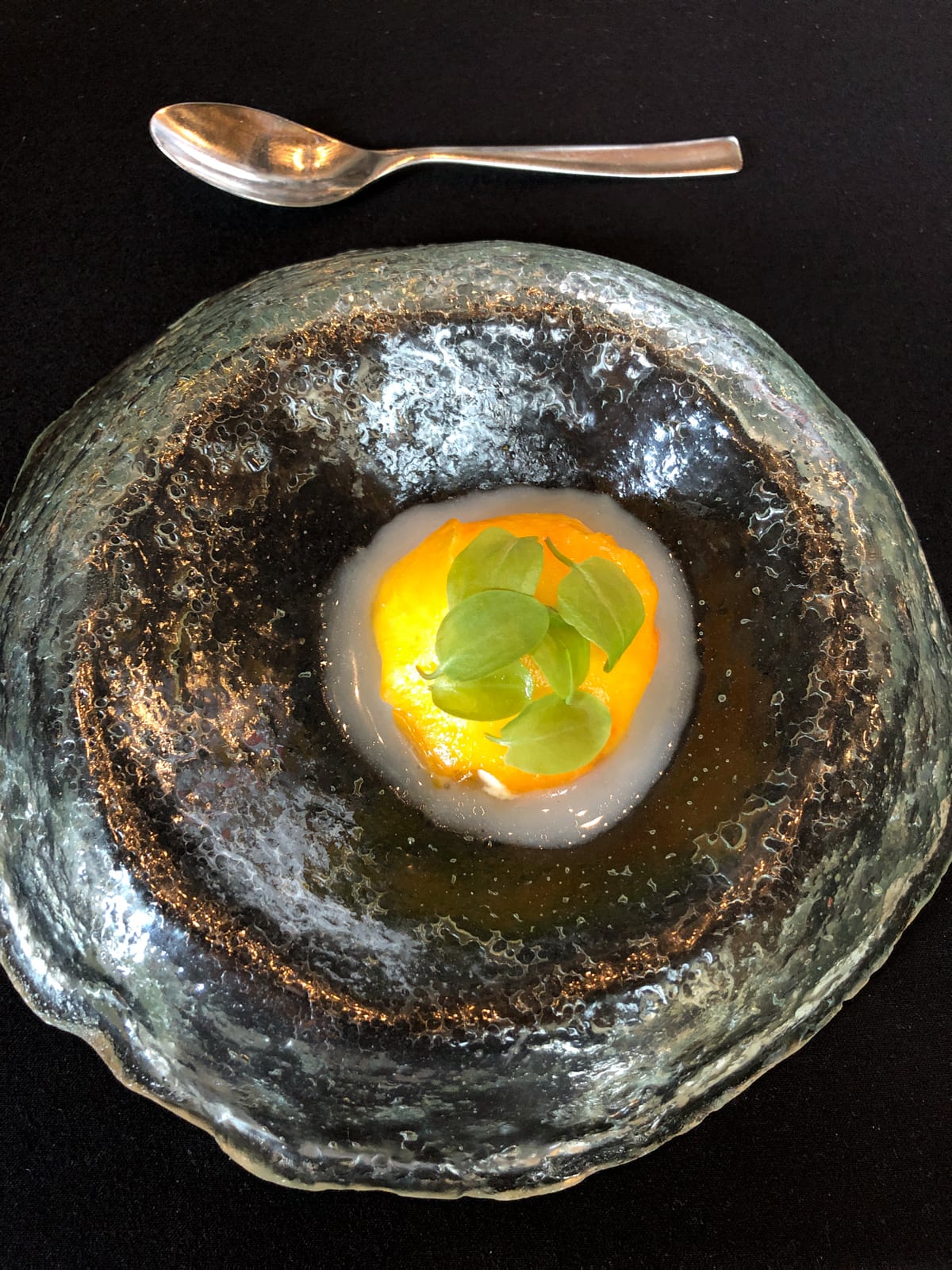 This pre-dessert was another of my favorite dishes, on presentation alone.
I'm enamored with the sculptural quality of the glass bowl and the contrast between the white masato, golden pineapple, and delicate green leaves.
This dish was paired with a juice of golden berries and fresh herbs.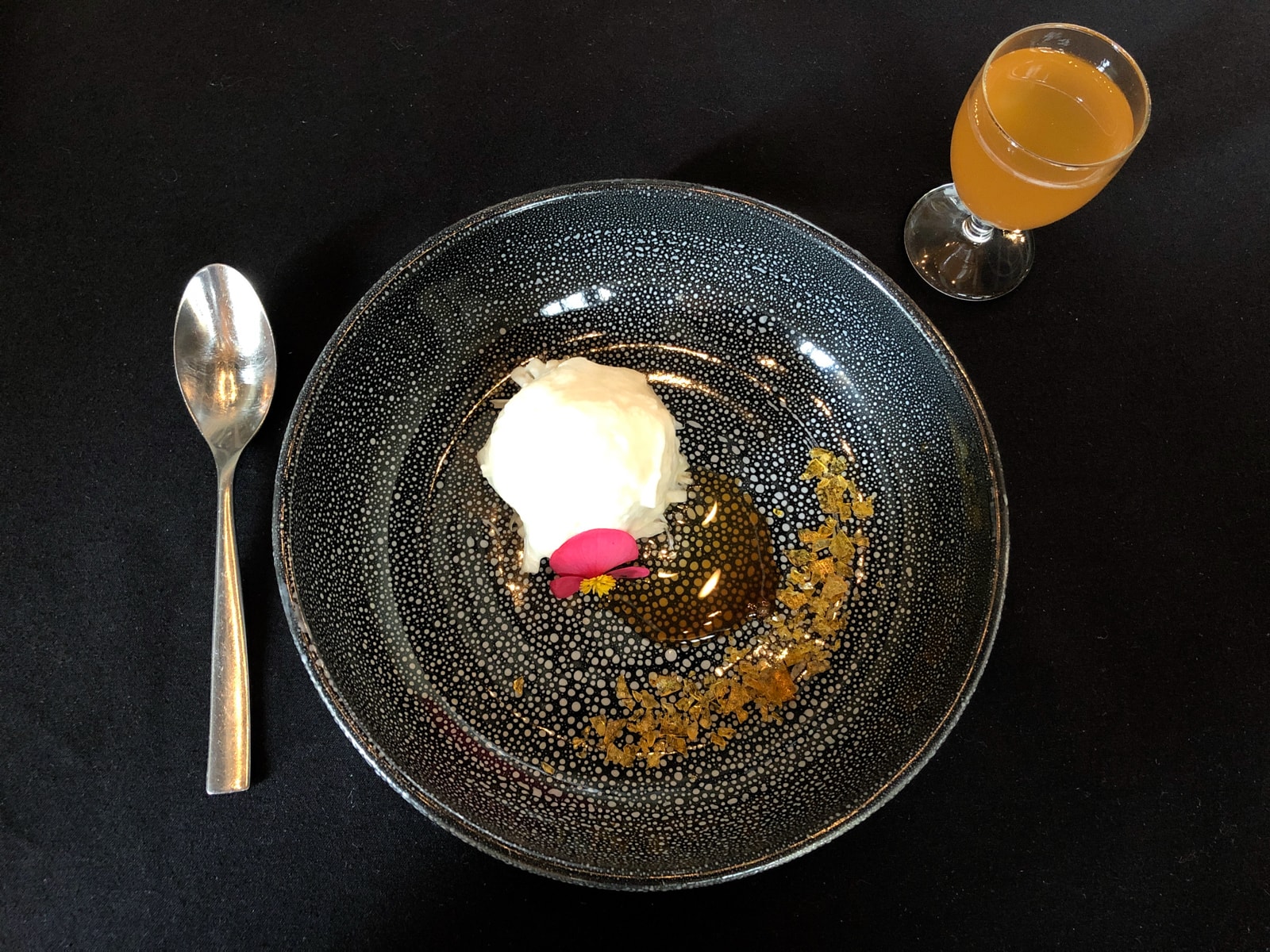 Heart of palm from the Amazon is presented beautifully with sabajon (a Colombian-style egg nog) and feijoa (a fruit similar to guava).
At Leo in Bogotá, dessert is paired with a cascará infusion. Cascará is the dried skins of coffee cherries.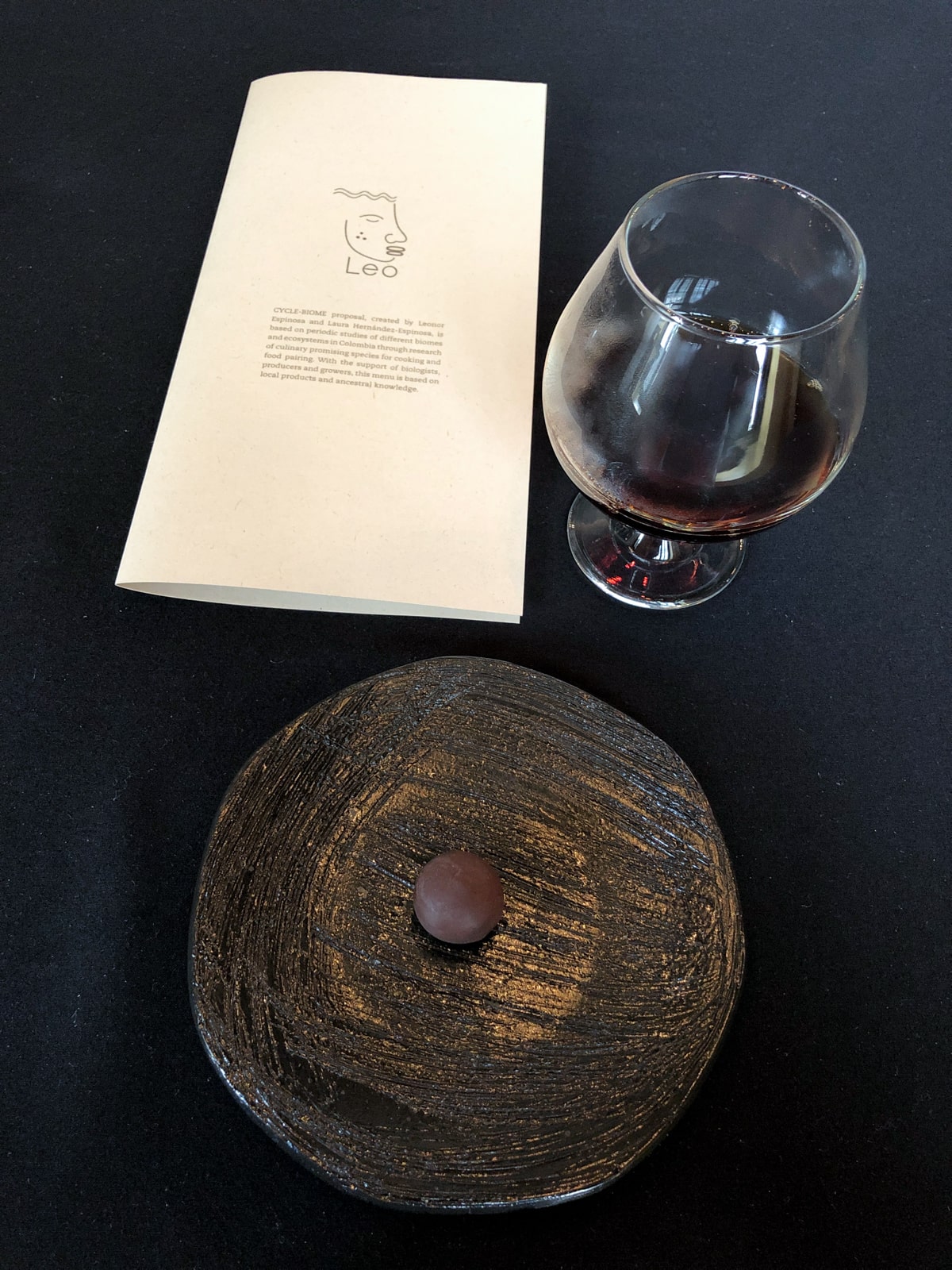 Last, I received a Tumaco chocolate truffle with a glass of Afro-Colombian coffee Guamal, a fitting end for a country known for its coffee.
Overall, it was a fantastic meal with an approach reminiscent of the Mater Elevations menu at Central Restaurant in Lima.
Drawing on culinary traditions and local Colombian products, this mother-daughter team offers every diner a unique experience.
How much did lunch at Leo cost?
The food with alcohol-free pairing was 260,000 Colombian pesos. Add to that a 10% tip for a total of 284,000 pesos, or about $100 at the time.
Based on the exchange rate in summer 2022, the cost would have been $69. Either way, it's an incredible value, given the world-class menu and friendly service.
See also: Harry Sasson - Live-Fire Cooking in Bogotá
Plan Your Visit
Website: restauranteleo.com
Address: Pasaje Santa Cruz de Mompox, Calle 27B, #6-75, Bogotá, Colombia
Dress: Casual
Reservations: Recommended