When dining amid the stunning scenery of Sedona, you'll want to find restaurants with a view.
Nestled in Northern Arizona amid the red rocks, Sedona is a small desert town popular with hikers, nature lovers, and health-conscious travelers.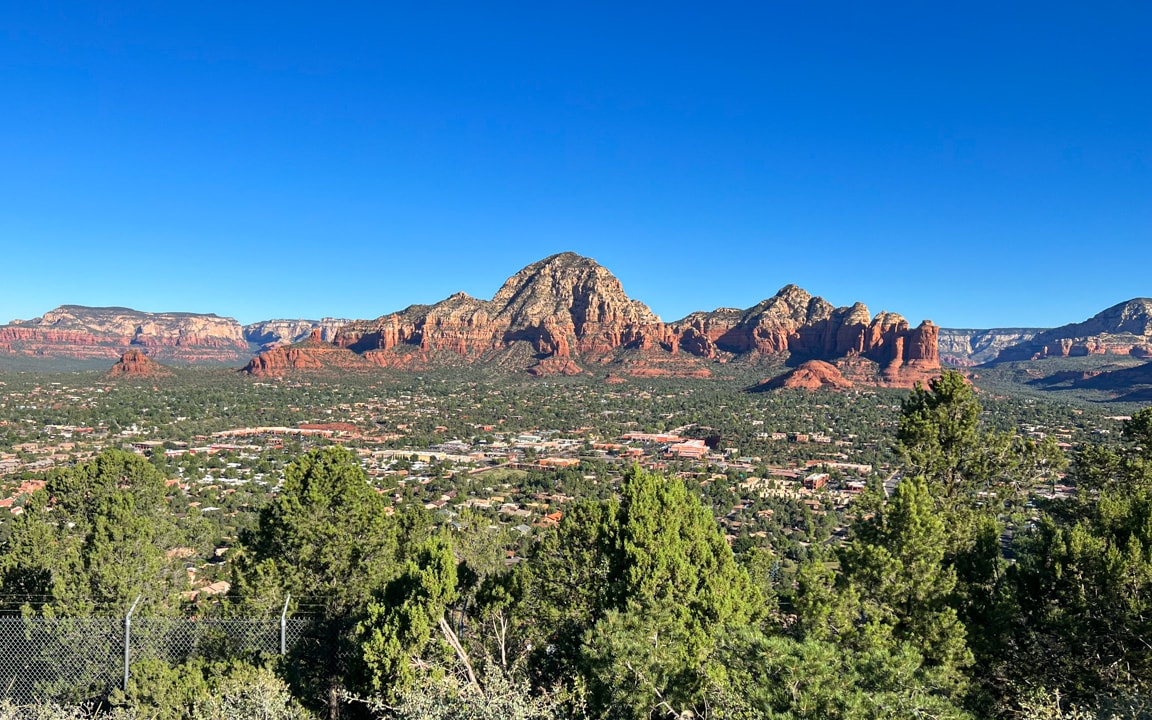 When I had the opportunity to celebrate a recent birthday in Sedona, Kel and I did our best to only eat at restaurants offering pretty views.
Here are the four Sedona restaurants we experienced that weekend and are happy to recommend.
Where To Eat in Sedona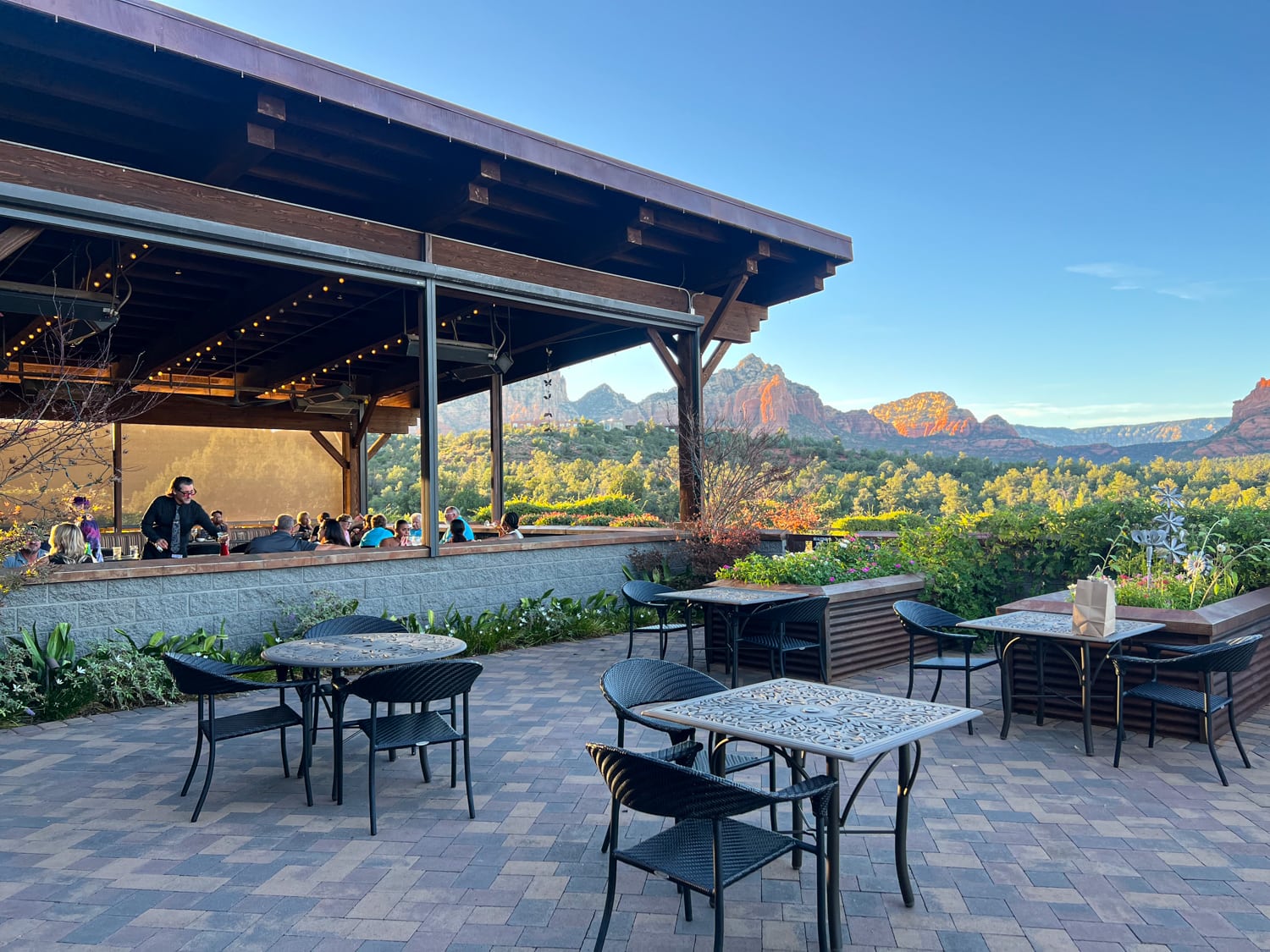 Mariposa Latin Inspired Grill
Perched on a small bluff along State Route 89A, Mariposa Latin Inspired Grill offers a fine dining experience with gorgeous views.
Mariposa was the restaurant I chose for my birthday dinner, and it more than met my expectations for the special occasion.
From the time we pulled into the spacious parking lot to our seating on the outdoor patio, we were taking in the natural beauty surrounding us.
And Mariposa has a lawn perfect for photo ops, wedding proposals, or staring up at the stars after dinner.
The restaurant's main dining room features 23-foot-tall floor-to-ceiling windows if you prefer to sit inside.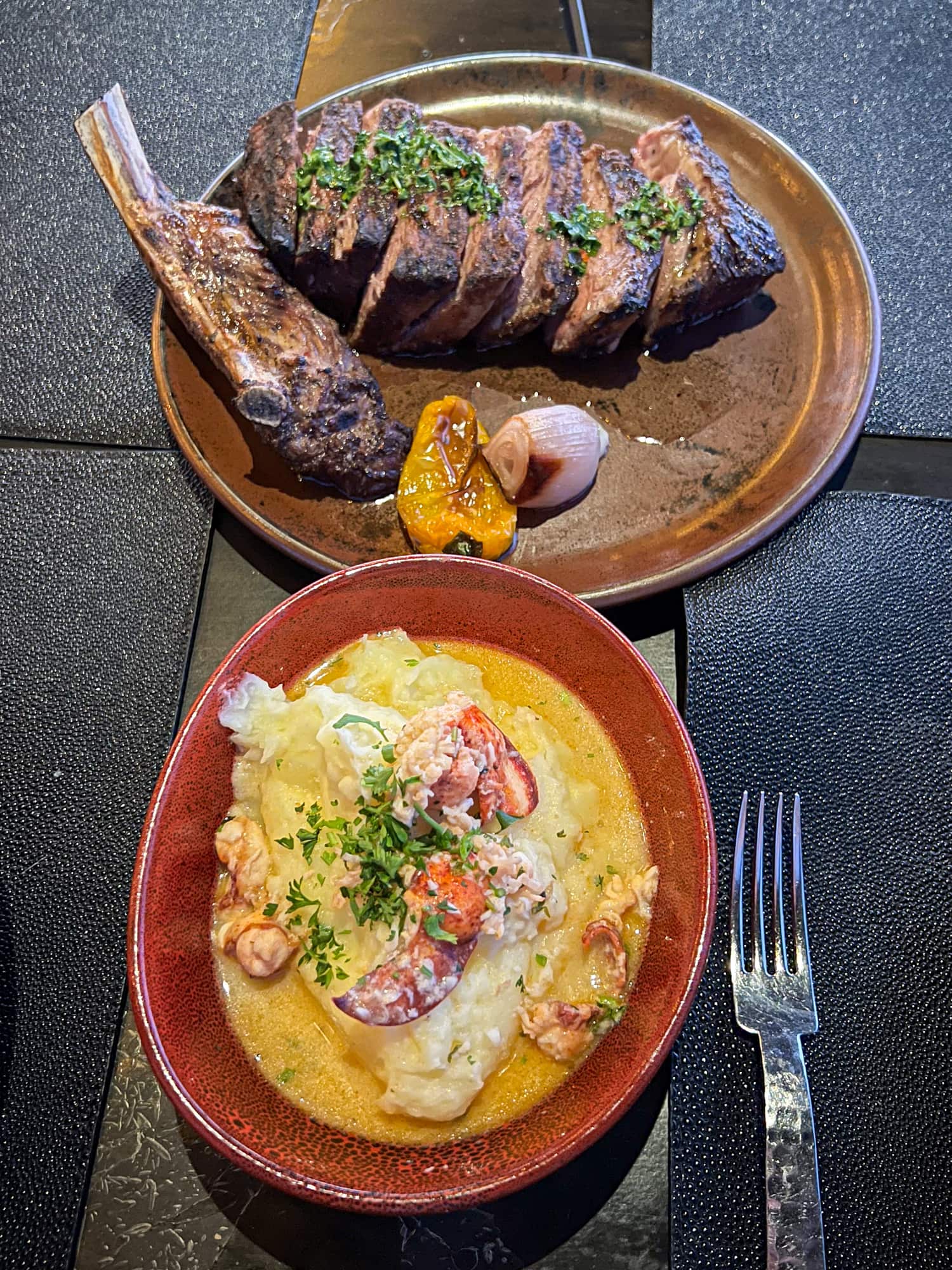 Chef Lisa Dahl helped introduce fine dining restaurants to Sedona in the 1990s. Mariposa is her fourth and offers an award-winning wine list.
The extensive menu features tapas, including handmade empanadas, shrimp ceviche, and other fresh seafood.
Australian rack of lamb, filet mignon, and New York strip steak are some of the entree options cooked on a wood-fire grill.
We went all-out, ordering a 32-ounce bone-in ribeye to and with Lisa's luscious lemon and lobster mashed potatoes, one of my best dishes in 2022.
Thanks to the views, delicious meal, and friendly staff, Mariposa made for a memorable dining experience.
Mariposa requires a reservation, so book as far ahead as possible; it's one of the best Sedona restaurants.
700 W Arizona 89A, Sedona, AZ, mariposasedona.com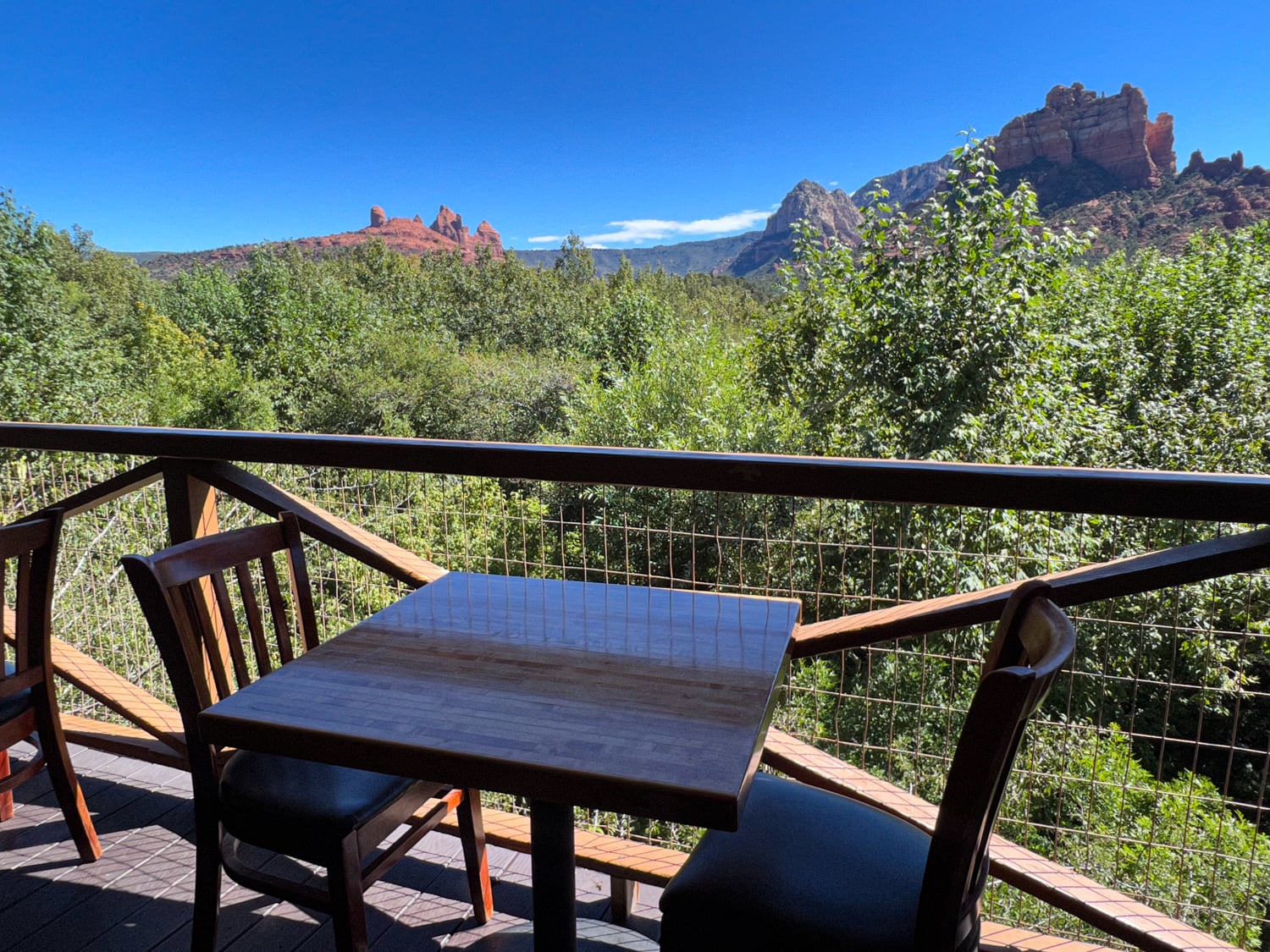 Hideaway House
Kel's choice for an early lunch after we'd hiked to Devil's Bridge at sunrise was the Hideaway House.
This casual Sedona restaurant with a panoramic view is located on the east side of town, off State Route 179.
Hideaway House is larger than it seems, as there are two floors of seating and plenty of tables lined up along the edge of the balcony.
We arrived at 11 a.m. when they opened and were promptly shown to a table overlooking Oak Creek with a view toward Snoopy Rock.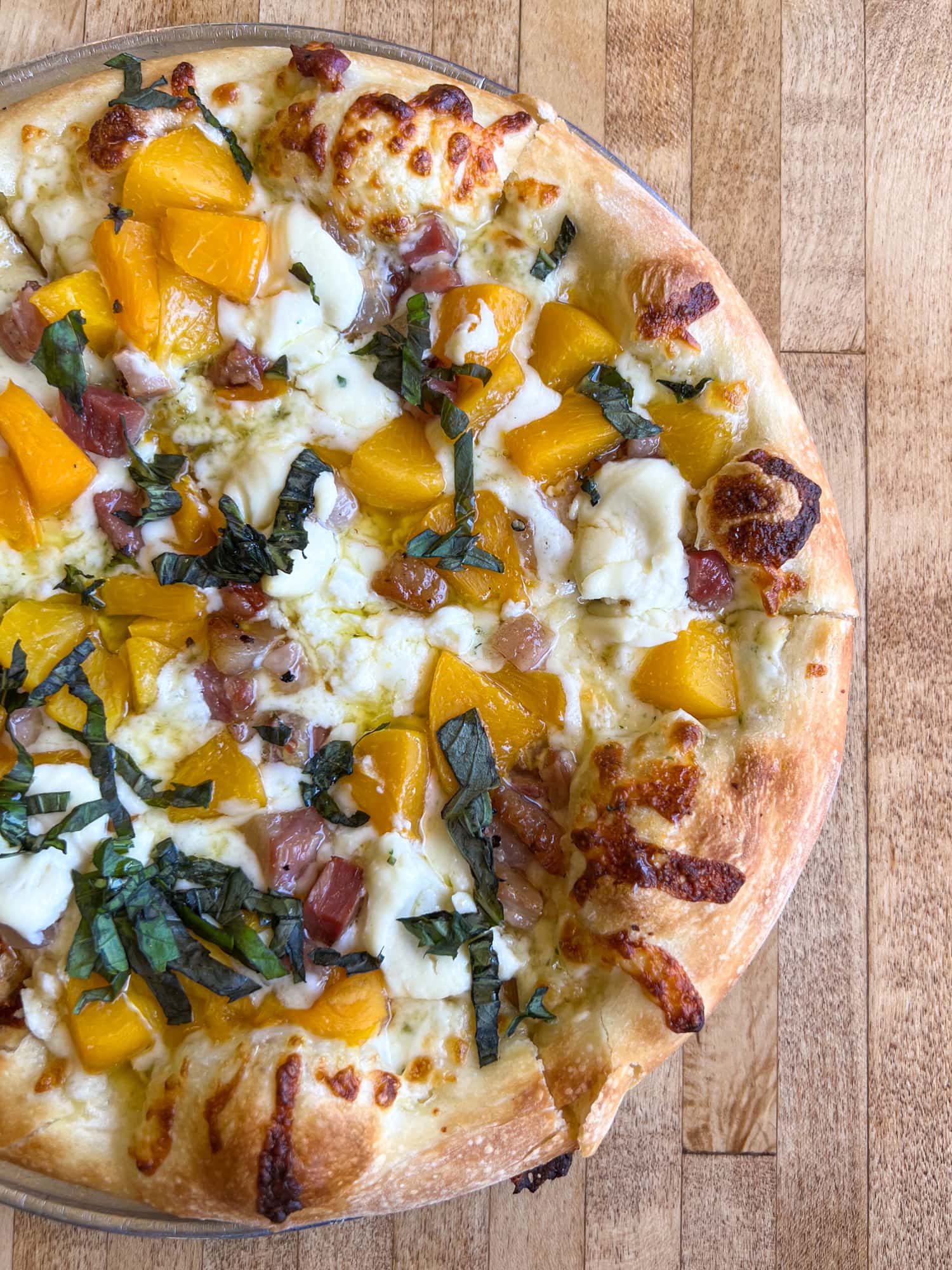 The Hideaway House is a great place for classic Italian comfort food, including a house-favorite meatball sandwich, artisanal pizza, chicken parm, and lasagna.
Kel and I each ordered a cocktail, given the great view and weather. The drink menu offers a lot, from Red Rock Rum Punch to Prickly Pear Margaritas.
When our roasted peach and caramelized pancetta pizza with ricotta and mozzarella arrived, it was fantastic.
The pizza filled me up so much that I didn't give their tiramisu, one of my favorite Italian desserts, a try.
231 AZ-179, Sedona, AZ, sedonahideawayhouse.com
Note: For similar views at a casual restaurant offering American fare instead of Italian food, try Creekside American Bistro next door.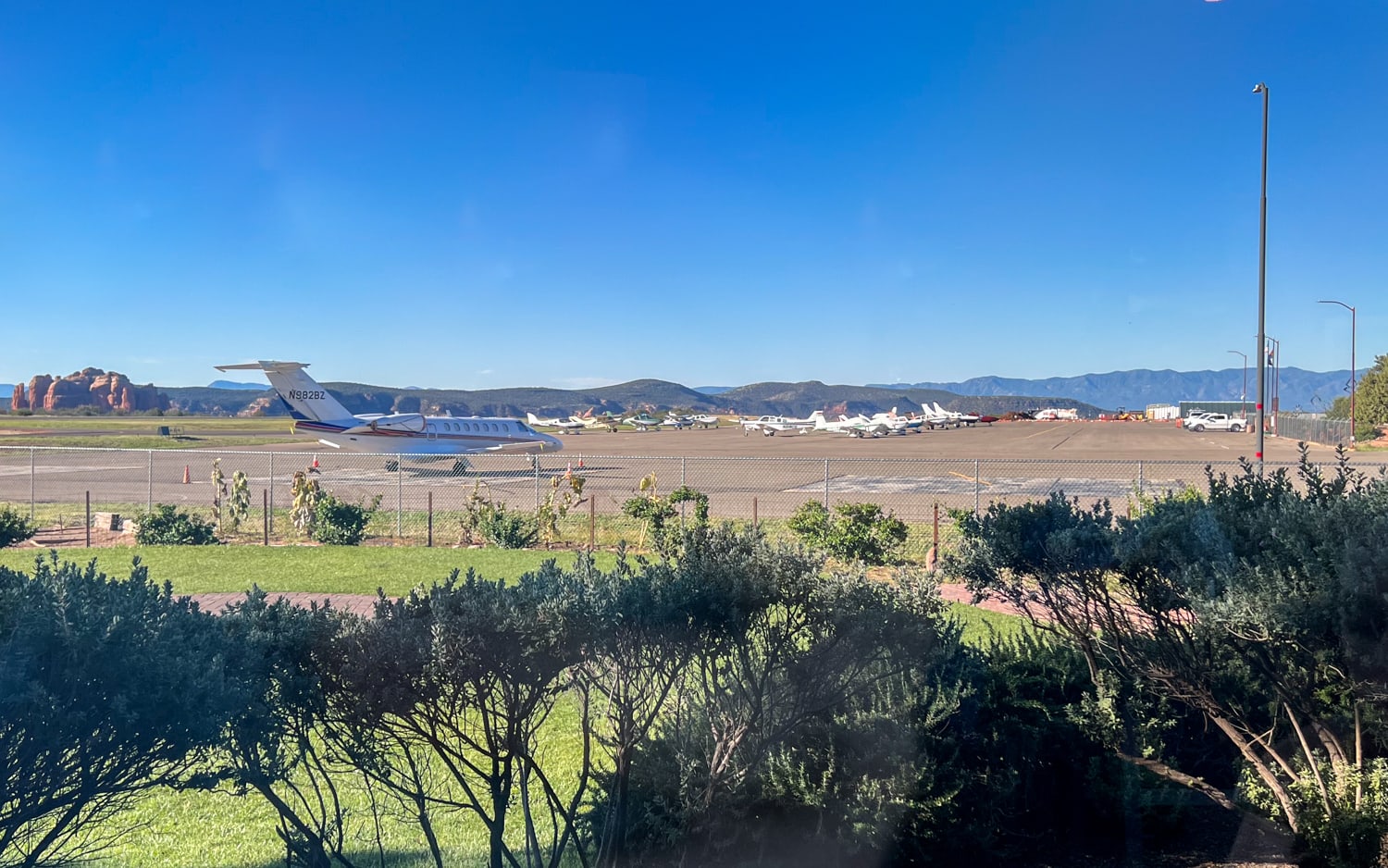 Mesa Grill
For a change of scenery, check out Mesa Grill, a Sedona restaurant with views of the city airport.
The Mesa Grill is smaller than the first few restaurants I mentioned. However, we had no trouble getting a table by the window when we dropped by for brunch at 10:15 a.m. on a Sunday.
Throughout our meal, I was captivated by the small planes that took off and landed on the nearby runway.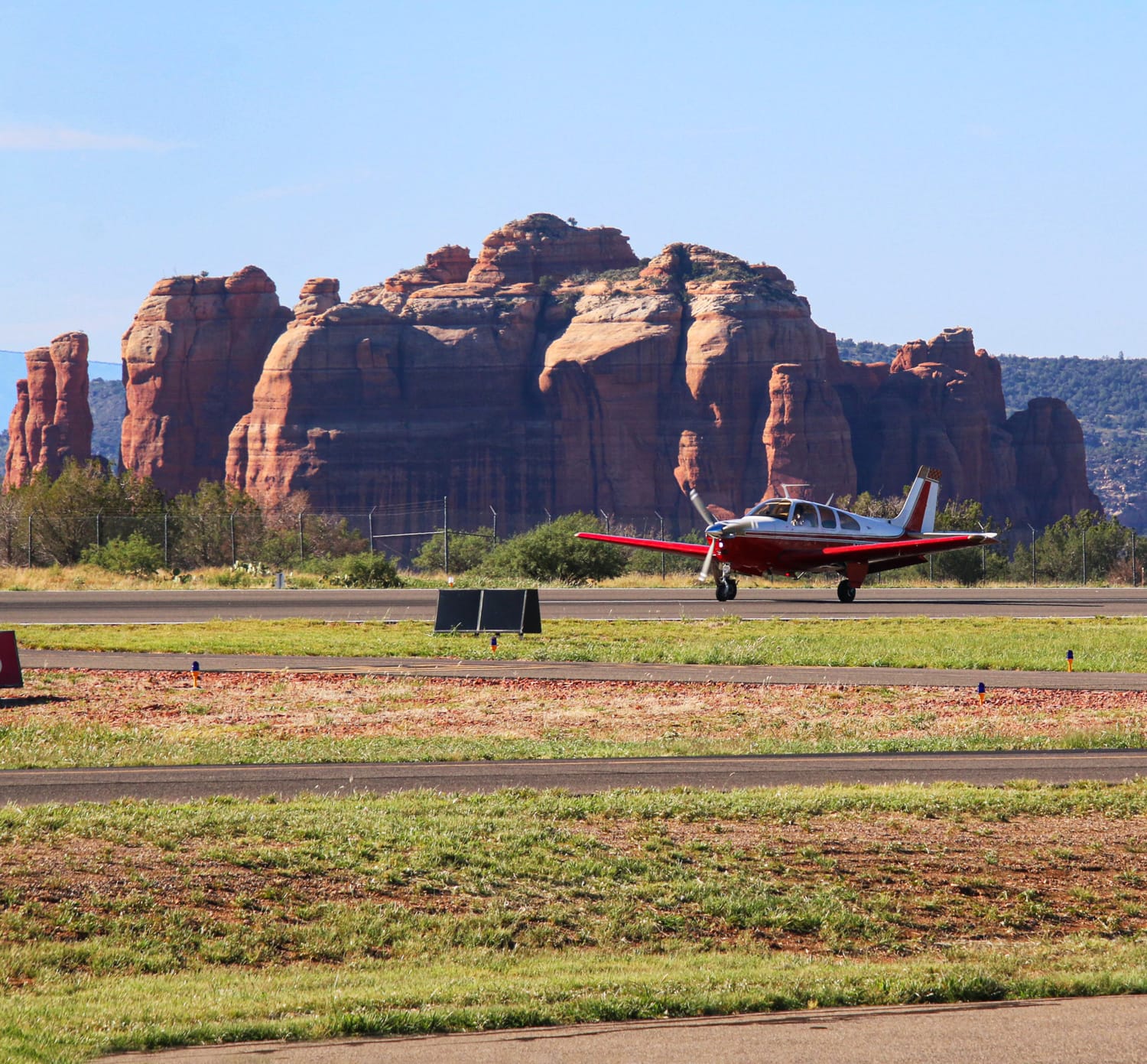 I've been on a few such planes in my years of travel, including at the southern tip of Argentina in Ushuaia and on a safari in Botswana's Okavango Delta. They're not for the faint of heart!
Mesa Grill offers Southwestern and contemporary American cuisine for breakfast, lunch, and dinner, plus a special brunch menu on Saturdays and Sundays.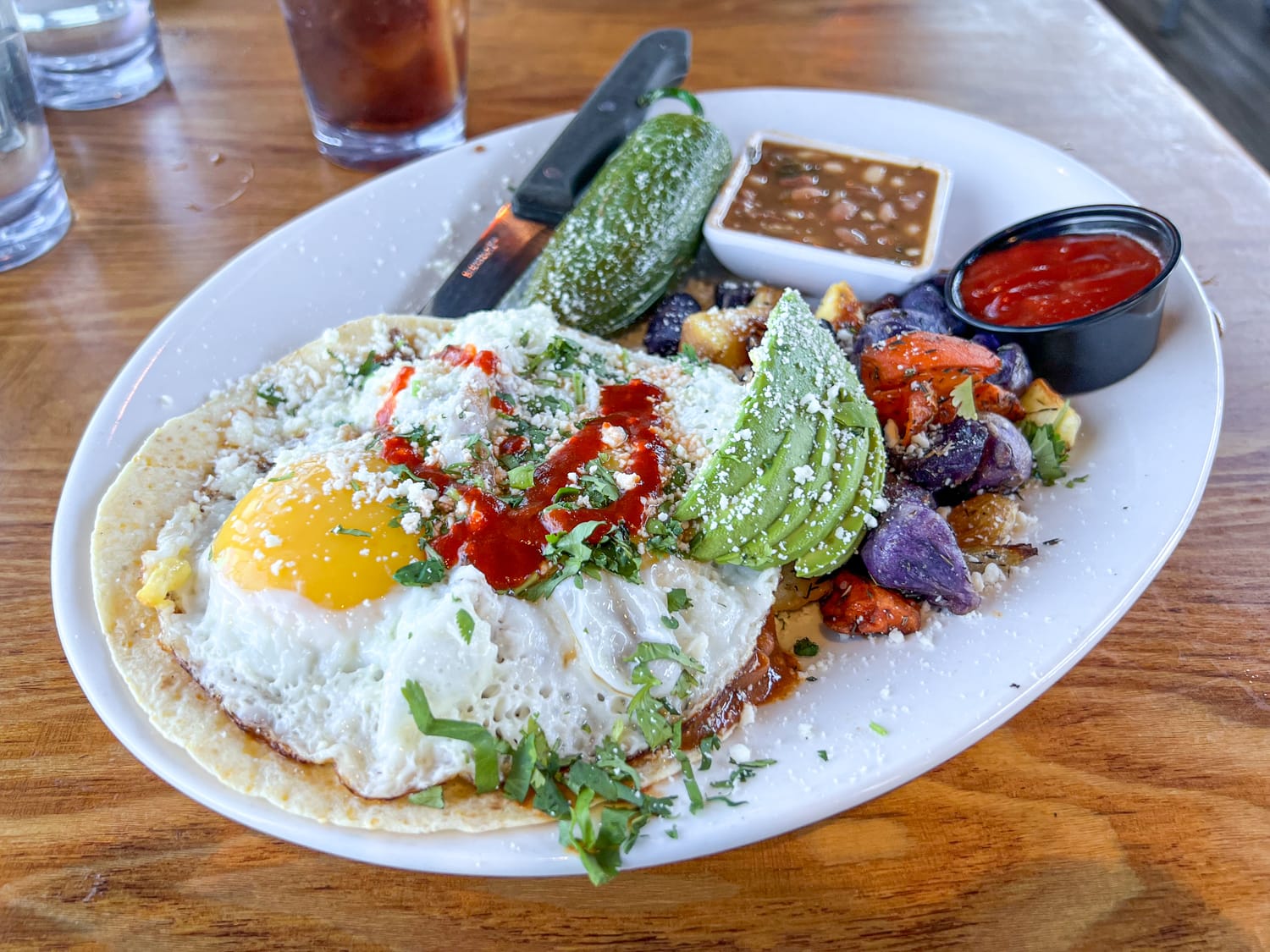 I was happy with my colorful plate of huevos rancheros, while Kel got the fluffy lemon ricotta pancakes.
Mesa Grill features a full bar with Arizona craft beer, wine, and cocktails. Happy hour is from 3:30 p.m. to 5:30 p.m. daily.
1185 Airport Rd, Sedona, AZ, mesagrillsedona.com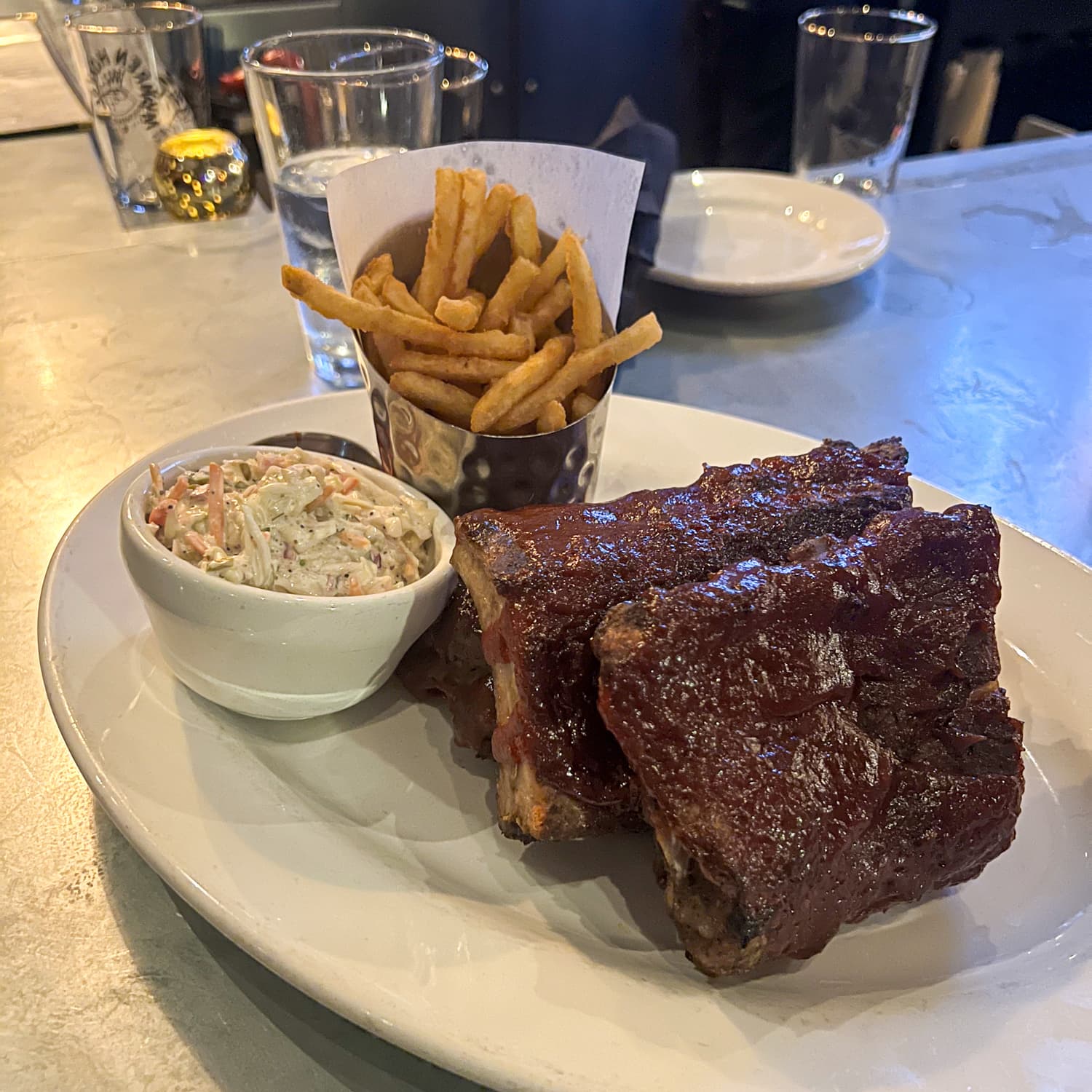 The Hudson
Established in 2015, The Hudson is a neighborhood restaurant in Sedona offering American food in an open dining room and outdoor deck with scenic views.
A four-sided central bar offers additional seating and was the only place for Kel and me to sit since we didn't have a reservation on our first night in town.
While it was too dark for photos showing this is a Sedona restaurant with a view, the food was fabulous.
I was in over my head with an order of prickly pear BBQ baby back ribs from the dinner menu; they were lip-smackingly good!
The Chocolate Chunk Skookie Avalanche dessert with a triple-chocolate cookie served hot with pecans and vanilla ice cream was the knockout punch.
671 AZ-179 Ste D, Sedona, AZ, thehudsonsedona.com
***
From a Latin-inspired fine dining restaurant to great places for American, Southwestern, and Italian cuisine, there's a Sedona restaurant with spectacular views for you.
I hope these suggestions get you started and help you make the most of your time in beautiful Sedona, Arizona.