The best cocktail bars in Copenhagen reflect the city's growth as a foodie and fine dining destination over the last 10-15 years.
I had a fantastic time "researching" this article as I barhopped my way across the city each evening.
The bartenders were so engaging at a few places that I didn't want to leave.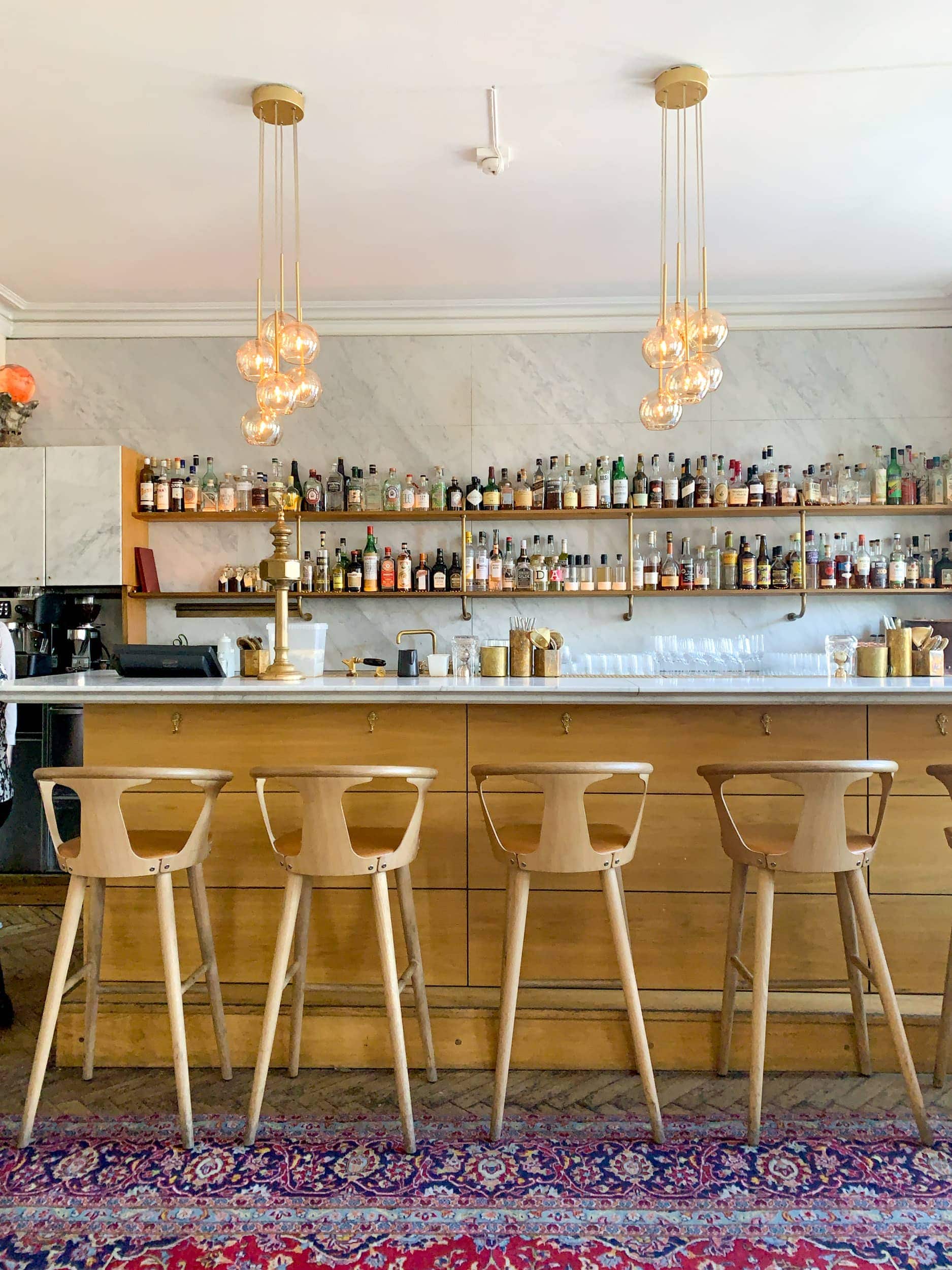 I wish I could've made it to more bars during my week in the Danish capital.
It's a testament to the scene that there were so many spots I had to leave for next time.
The quality of drinks, friendliness of bartenders, design, and ambiance all played into my picks for Copenhagen's best cocktail bars.
Where to Drink in Copenhagen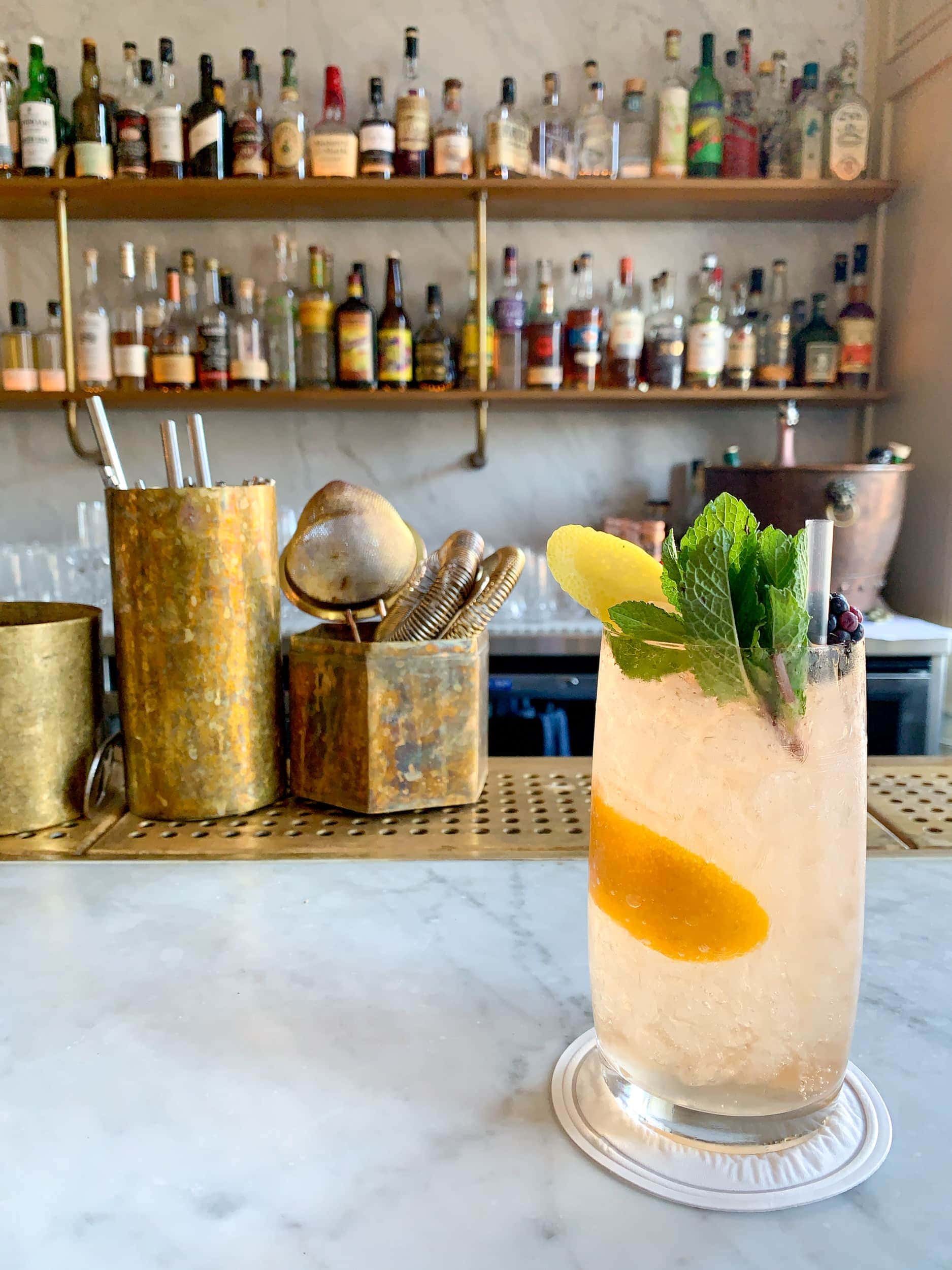 Ruby Cocktail Bar
Opened in 2007, Ruby was one of the first bars in Copenhagen to attract international attention in the last twenty years.
At its peak in 2013, Ruby was ranked the 22nd best bar globally, according to The World's 50 Best Bars.
Previously hard to pinpoint, a small sign now hangs above this speakeasy entrance, conveniently located across the canal from Christiansborg Palace.
The beautiful interior deserves to be seen in daylight when the modern Danish furniture and design are on full display.
A cozier interior room with booths and leather chairs lies to the left.
I saddled up to the bar and was presented with the summer/autumn menu, from which I chose a champagne cobbler made with Charles Heidsieck Rose.
The generous fruit garnishes, including blackberry, lingonberry, and lemon peel, added a burst of color to the rim of this light, sparkling drink.
I followed it up with one of Ruby's most popular cocktails, the "Tongue Jacuzzi," made from Plymouth Gin, apple wine, fresh passion fruit, dry white wine, lemon, and elderflower.
The average cocktail price is in the 120-130 DKK range, with a few virgin drinks for 60 DKK apiece and a signature lager for 70 DKK.
Before departing, I asked the friendly Australian bartender for a shortlist of her favorite bars in Copenhagen. I would make it to two out of five.
Nybrogade 10, Copenhagen, instagram.com/rubycph/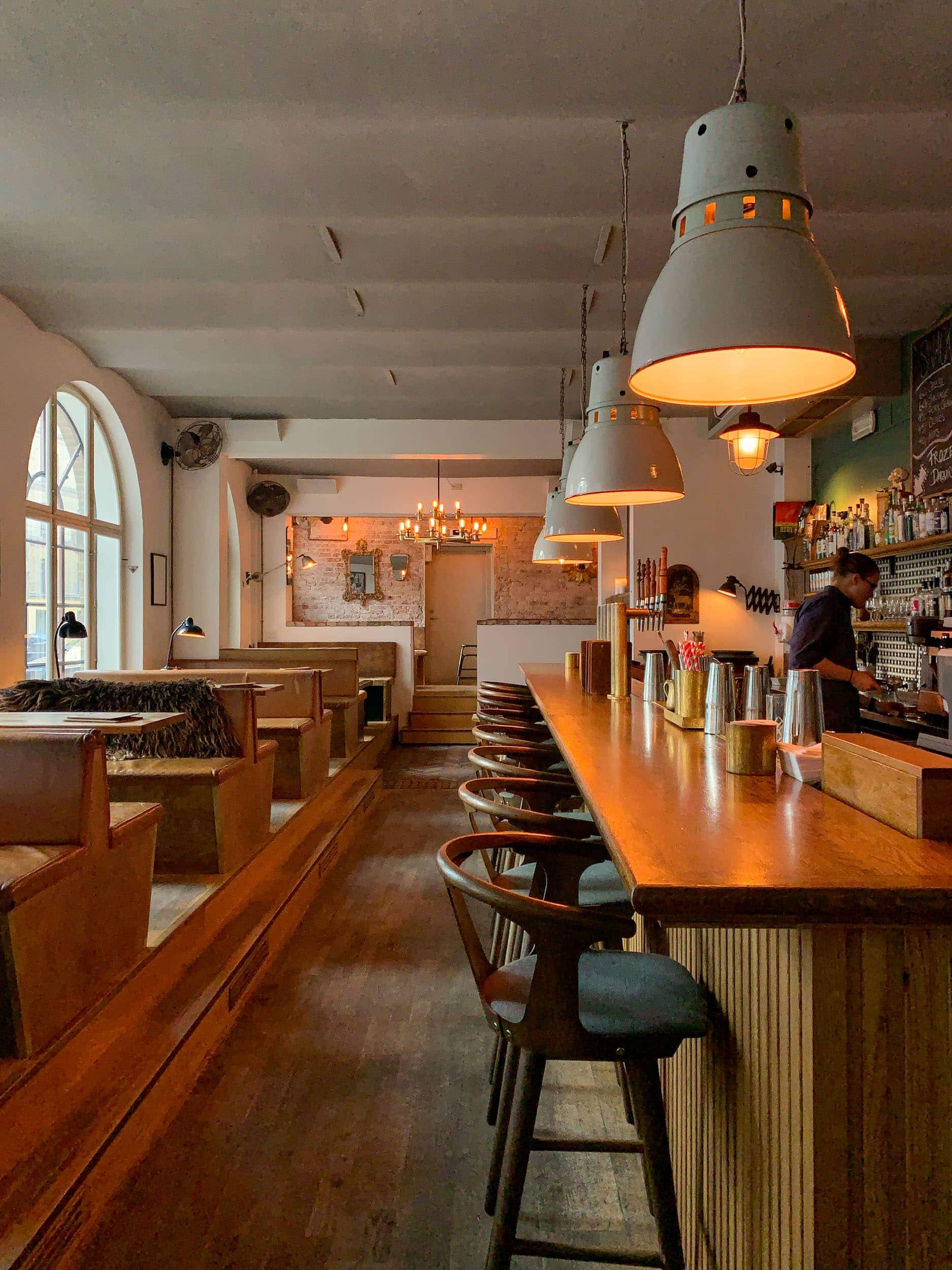 Lidkoeb
Ruby's early success led its owners to open Lidkoeb in November 2012.
The three-floor bar occupies the renovated site of a former pharmacy dating back to 1886.
After a full day of sightseeing, including Rosenborg Castle, the Botanical Gardens, and a swing through Tivoli Gardens, I dropped by Lidkoeb just as it opened.
Entry to the main bar is opposite a beer garden full of picnic tables. Inside, the bar runs along the right side, while elevated booths next to arched windows are to the left.
Toward the far end is a working fireplace once used for making medicine by the pharmacy.
An exposed brick wall surrounds lounge-style seating for larger groups at the far end.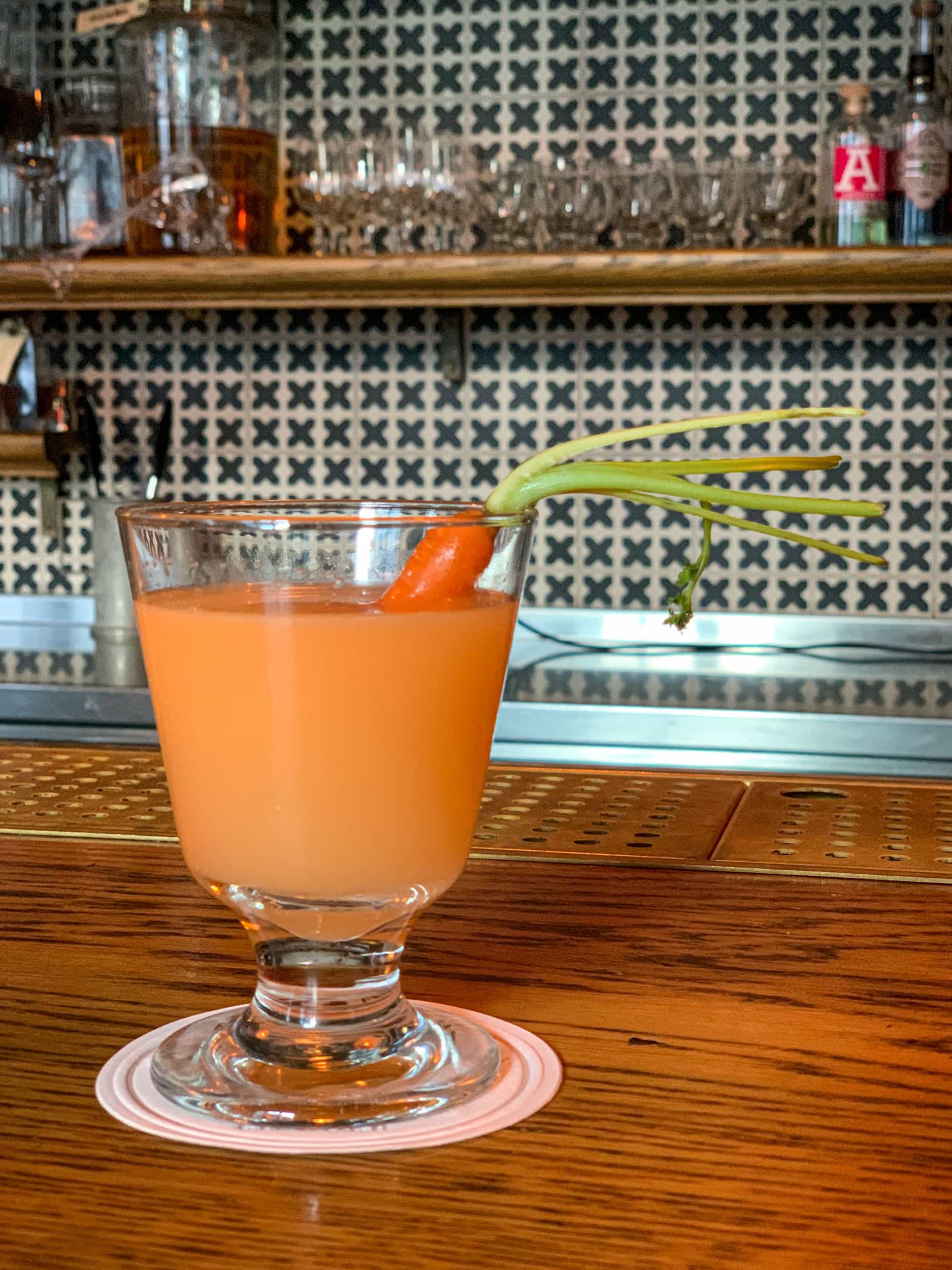 The creative cocktail menu is reminiscent of Ruby, though all the drink names are Danish here. The average drink price is 110 DKK.
I ordered the delicious Tyve Tyve with Tanqueray gin, cacao nib infused Lillet Blanc, carrot and parsnip syrup, and lemon (seen above).
Lidkoeb has at least five beers on tap, plus frozen daiquiris if you're in a tropical mood.
The third floor features a more intimate whiskey bar with over 200 brands from around the world, but it's only open Friday and Saturday nights.
Vesterbrogade 72B, Copenhagen, instagram.com/lidkoeb/
See also: Best Cocktail Bars in New Orleans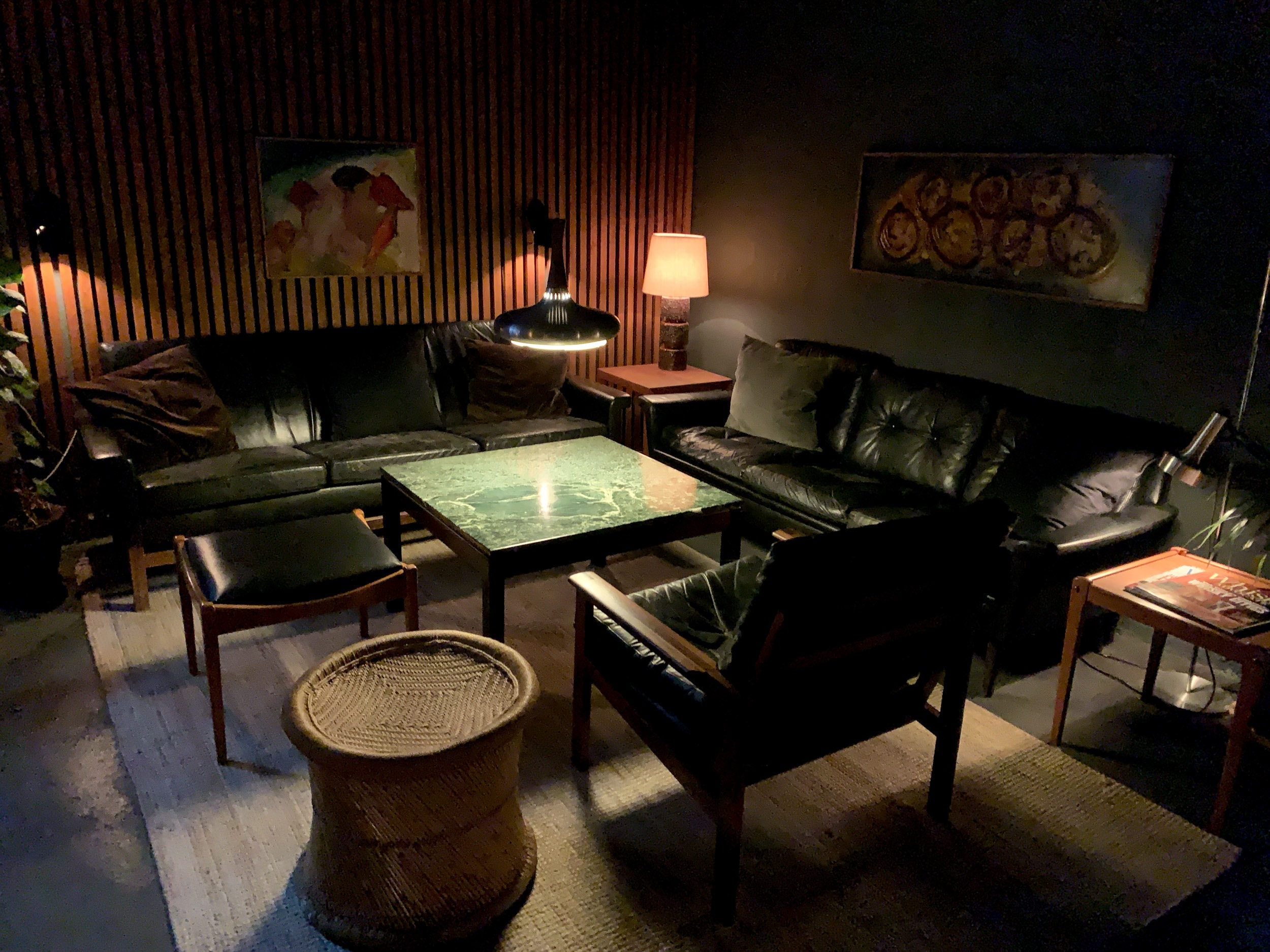 Duck and Cover
A block south of Lidkoeb is the easy-to-miss Duck and Cover.
Walk down the stairs into this dimly lit cocktail bar, and it feels like you've left the city behind.
But don't let the size of the first room fool you. A more spacious seating area with comfortable leather furniture is to the left.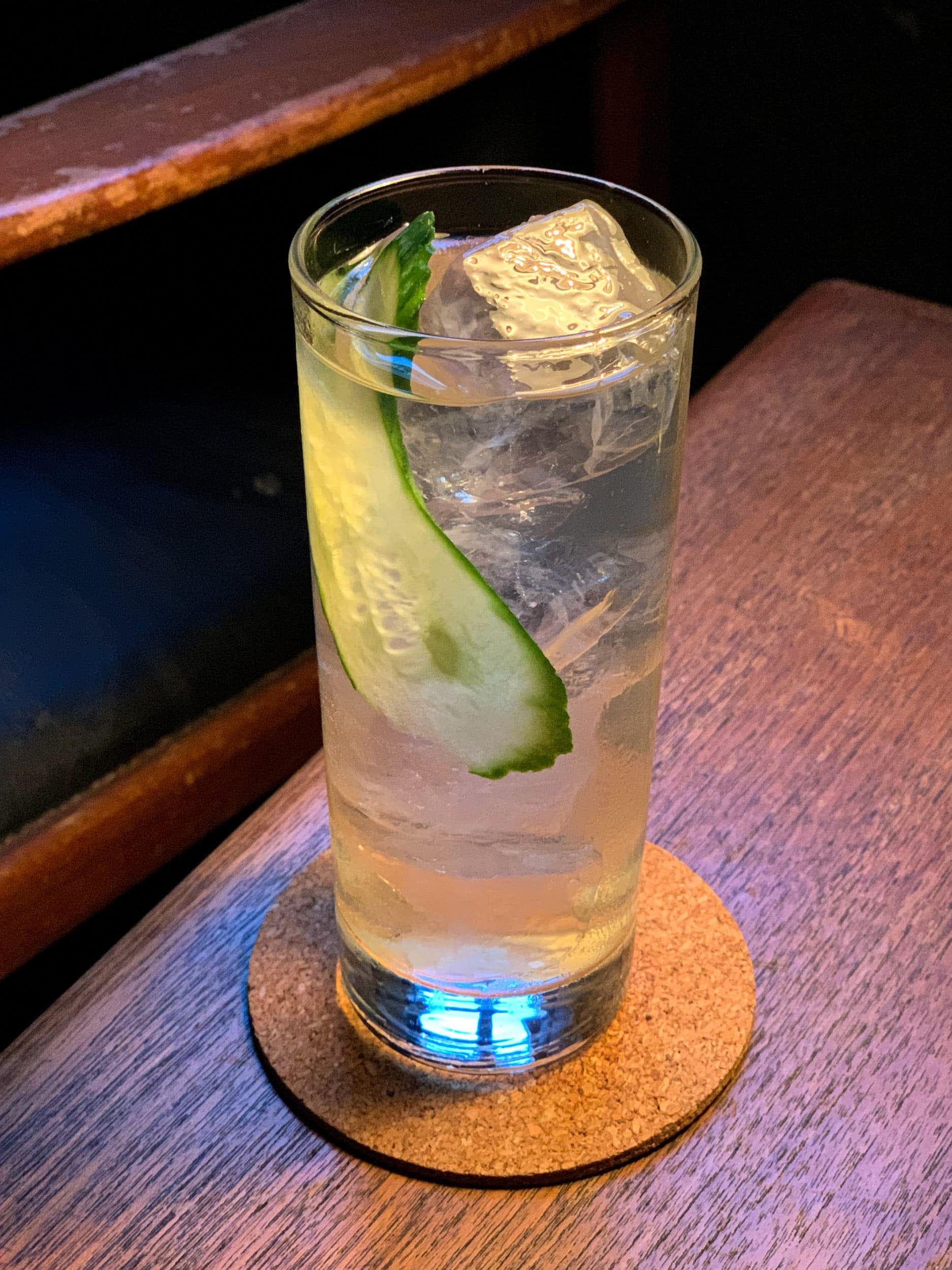 It was early on a Monday evening, and I was the only customer in the bar.
I ordered One for the Terrace with white vermouth, fresh celery, and Fever-Tree Indian Tonic for 115 DKK.
The slice of cucumber, high-quality ice, and moody lighting made taking photos in Duck and Cover a lot of fun. I enjoyed the drink, too!
Dannebrogsgade 6, Copenhagen, instagram.com/duckandcoverbar/
See also: Fantastic Places to Eat and Drink in Stockholm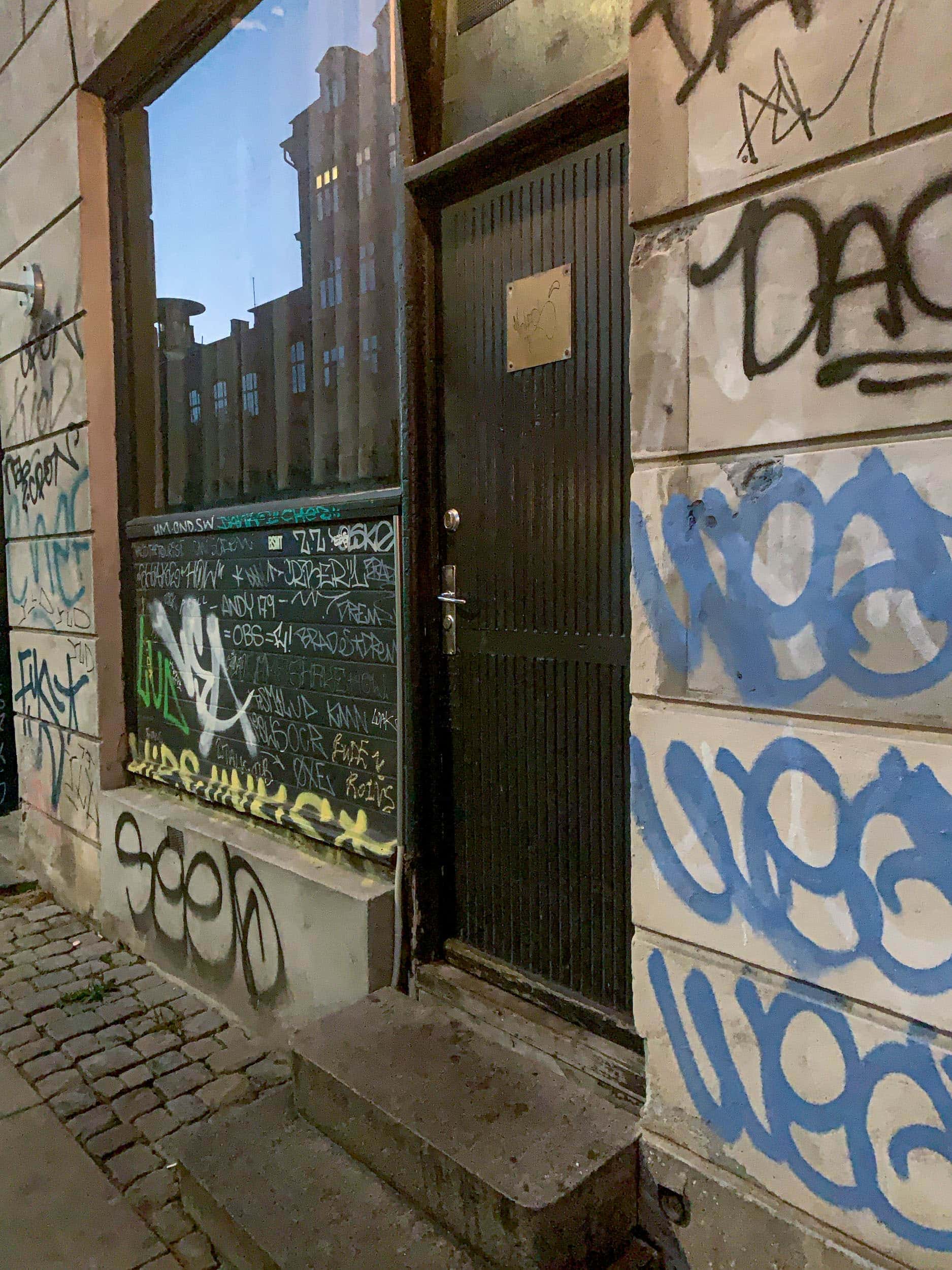 1656 Cocktail Bar
A five-block walk east of Duck and Cover is 1656, a speakeasy whose exterior is so covered in graffiti you'd hardly know it's there.
Step inside and turn to your right for the bar, which features a seasonal menu with cocktails for 125 DKK.
Further back, a plush seating area offers a comfier place to hang out and chat if you're there with friends or on a date.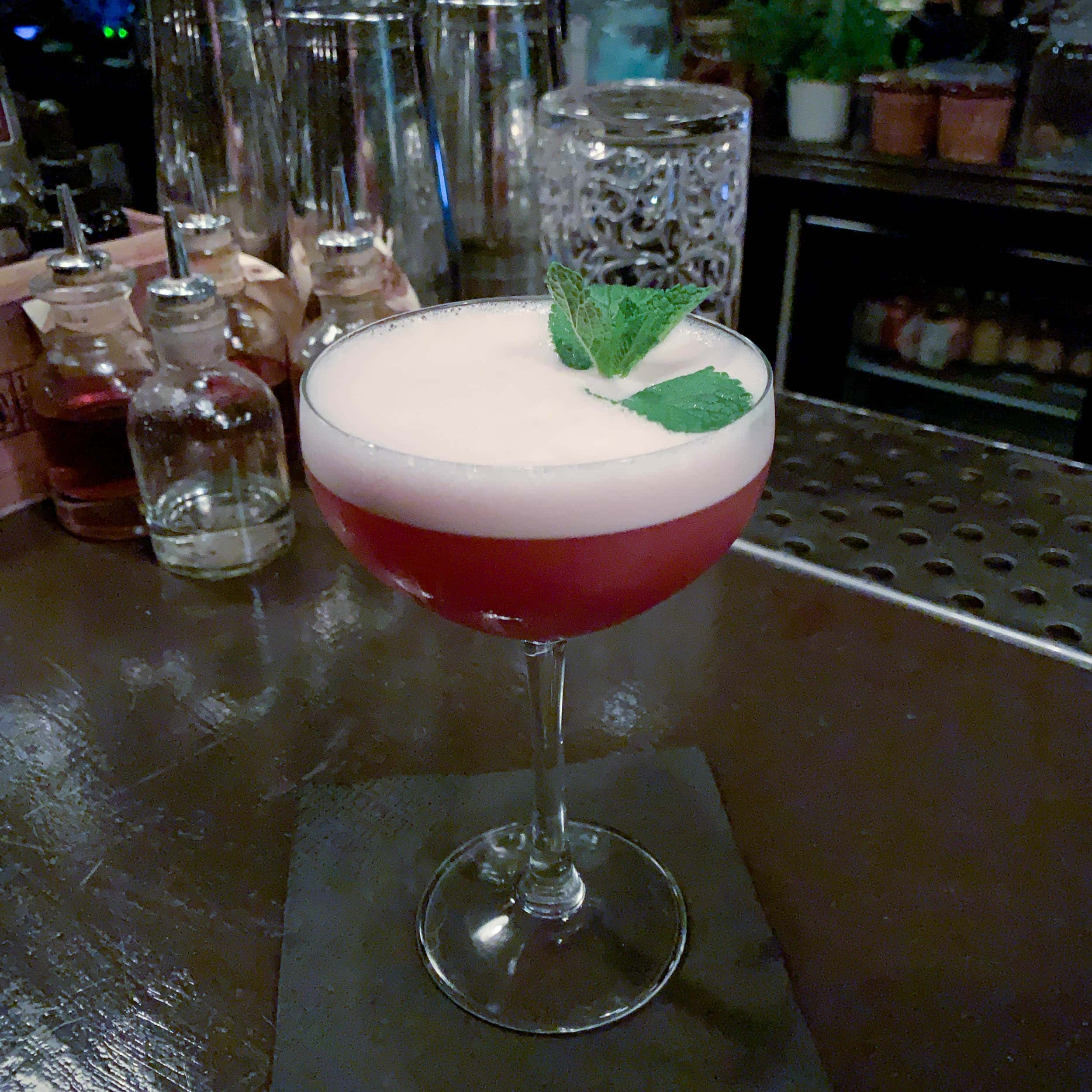 I went for the fruity Nordic Daiquiri made of Plantation Rum, rhubarb, licorice syrup, and lime. I liked the frothy head on it.
Other interesting drinks included:
Ginger Envy with Akavit, cucumber, ginger, and honey.
Cotton Tale with gin, hibiscus, basil, and orange bitters.
Gasværksvej 33, Copenhagen, instagram.com/1656cocktailbar/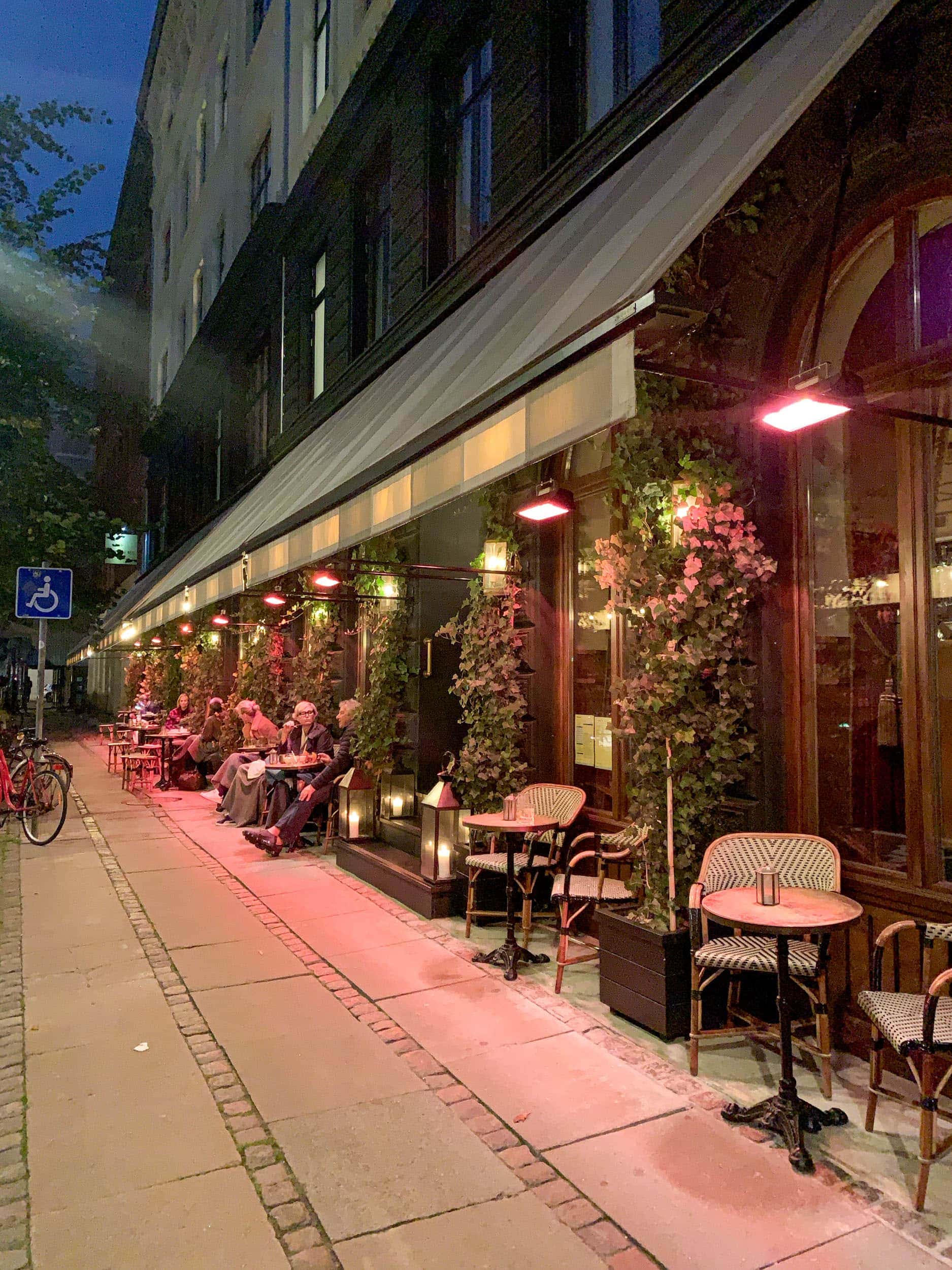 TATA Cocktail Bar
The next day was again full of sightseeing, so it was a nice change of pace to stop by TATA Cocktail Bar at Hotel Sanders to slow things down.
TATA takes its name from the red velvet curtain at the Royal Danish Theater located on the same block south of King's New Square, a few blocks west of Nyhavn.
The interior is warm and welcoming, with a vintage motif fitting for a bar inspired by a 19th-century European theater.
The highly skilled and entertaining bartenders won me over and kept me engaged for hours.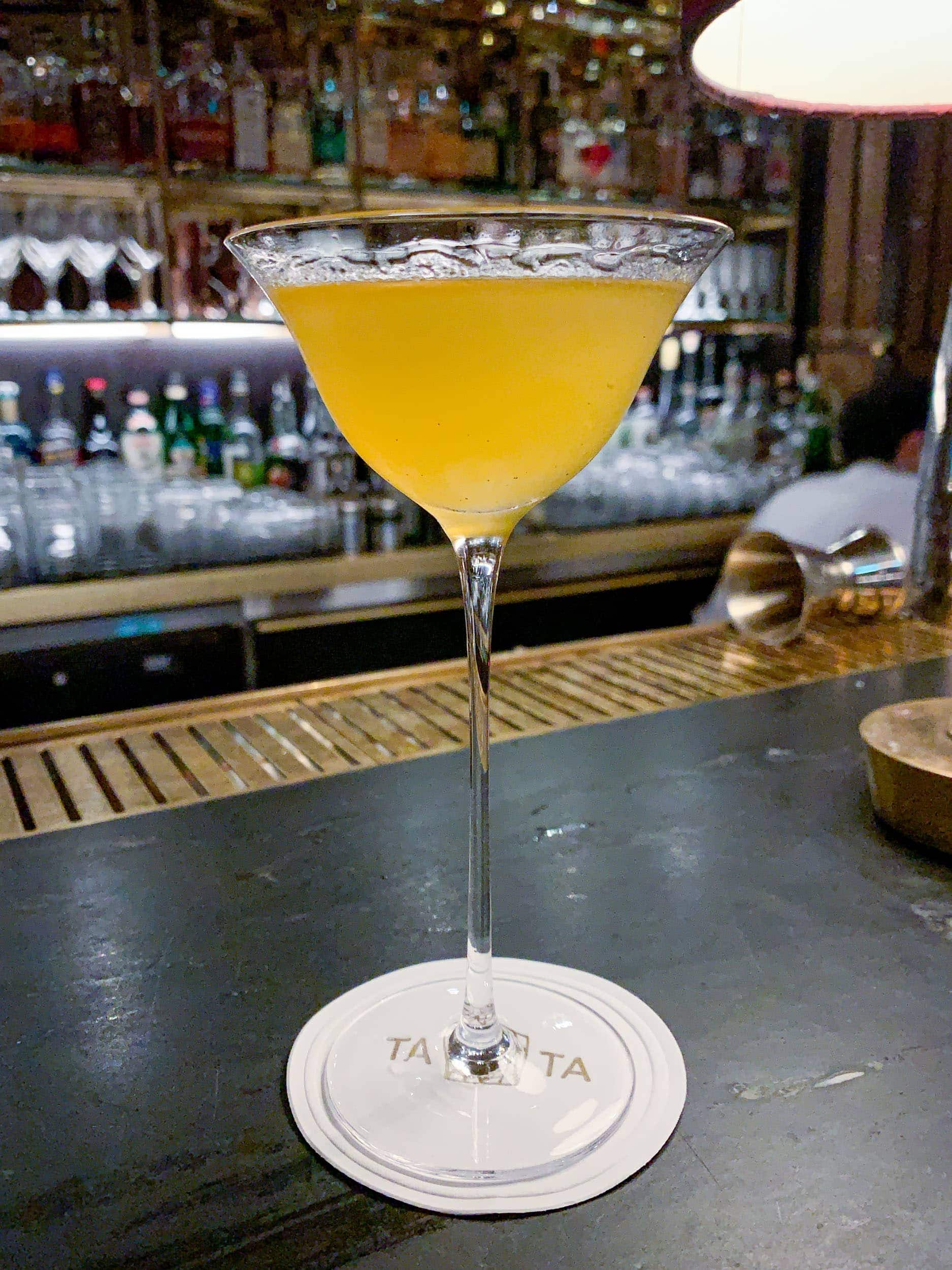 I began with the Best in Show made from Ketel One vodka, grapefruit syrup, tonic wine, quince tea distillate, and sparkling water.
The menu described it as refreshing, citrus, and floral with a medium-level booziness.
Next, I gave the Empirical Gimlet a try, made from Empirical Spirits, cloudberry, and Madeira Rum. The glass (pictured above) was super sexy.
Drink prices range from 110 to 165 DKK. They also have a few virgin drinks, beer, and sparkling wine.
TATA is one of the best bars in Copenhagen and the winner of the 2019 Bartender's Choice Awards for Best Cocktail Bar in Denmark and Best Bartender (Harry Bell).
Tordenskjoldsgade 15, Copenhagen, hotelsanders.com/tatacocktailbar/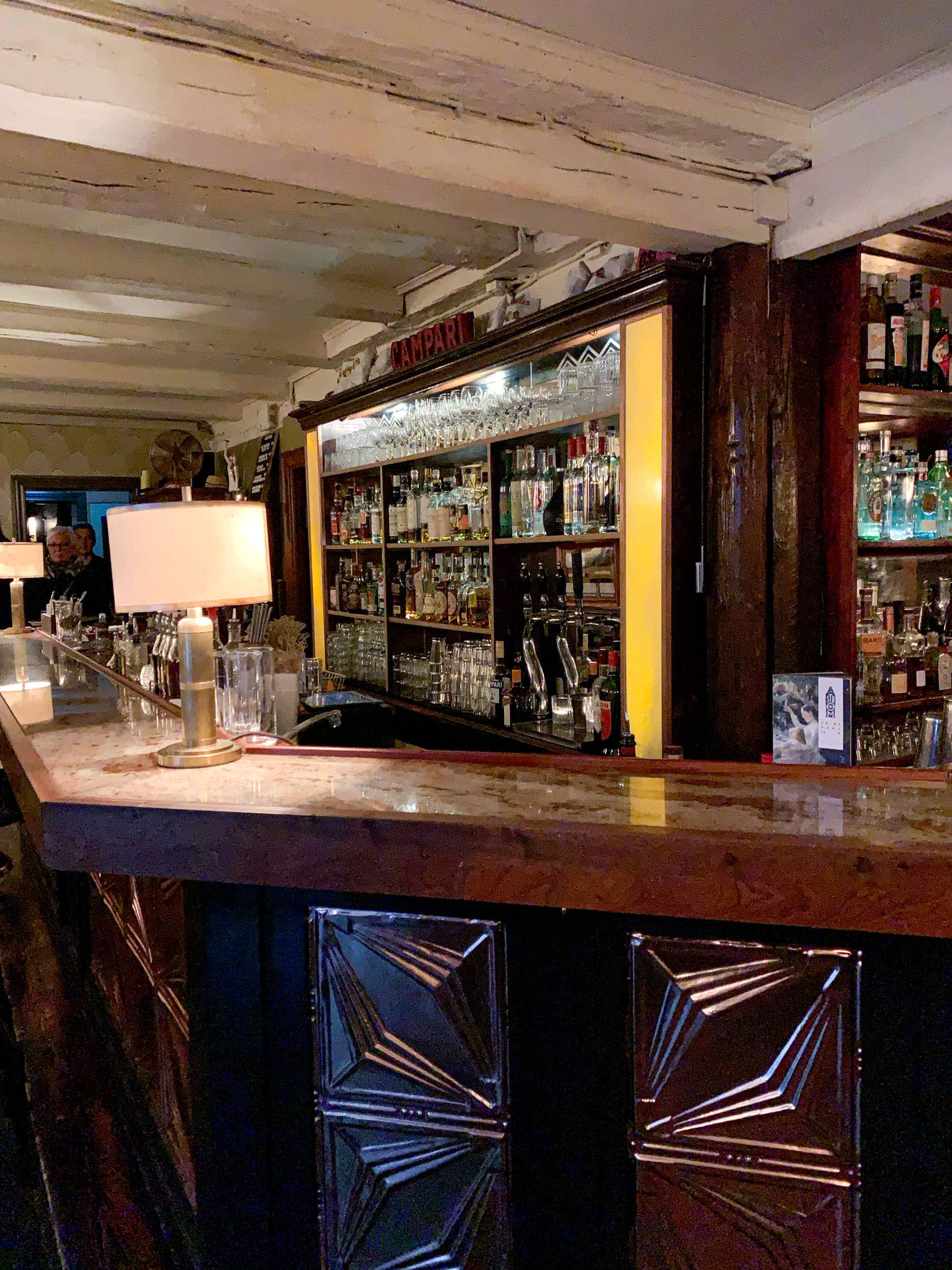 Strøm Bar
Speaking of the 2019 Bartender's Choice Awards, Strøm Bar in central Copenhagen was the winner of Best Atmosphere.
And I could see why when I stopped by on my birthday, following lunch at Geranium and pastries at Juno.
It was 6 pm on a Wednesday, and I had the bar to myself. But it was once again the bartenders that made all the difference.
Strøm was opened in 2012 by Mikael and Andreas Nilsson, Swedish brothers who worked at the best bars in London before moving to Copenhagen.
Related: 9 Cocktail Bars to Remember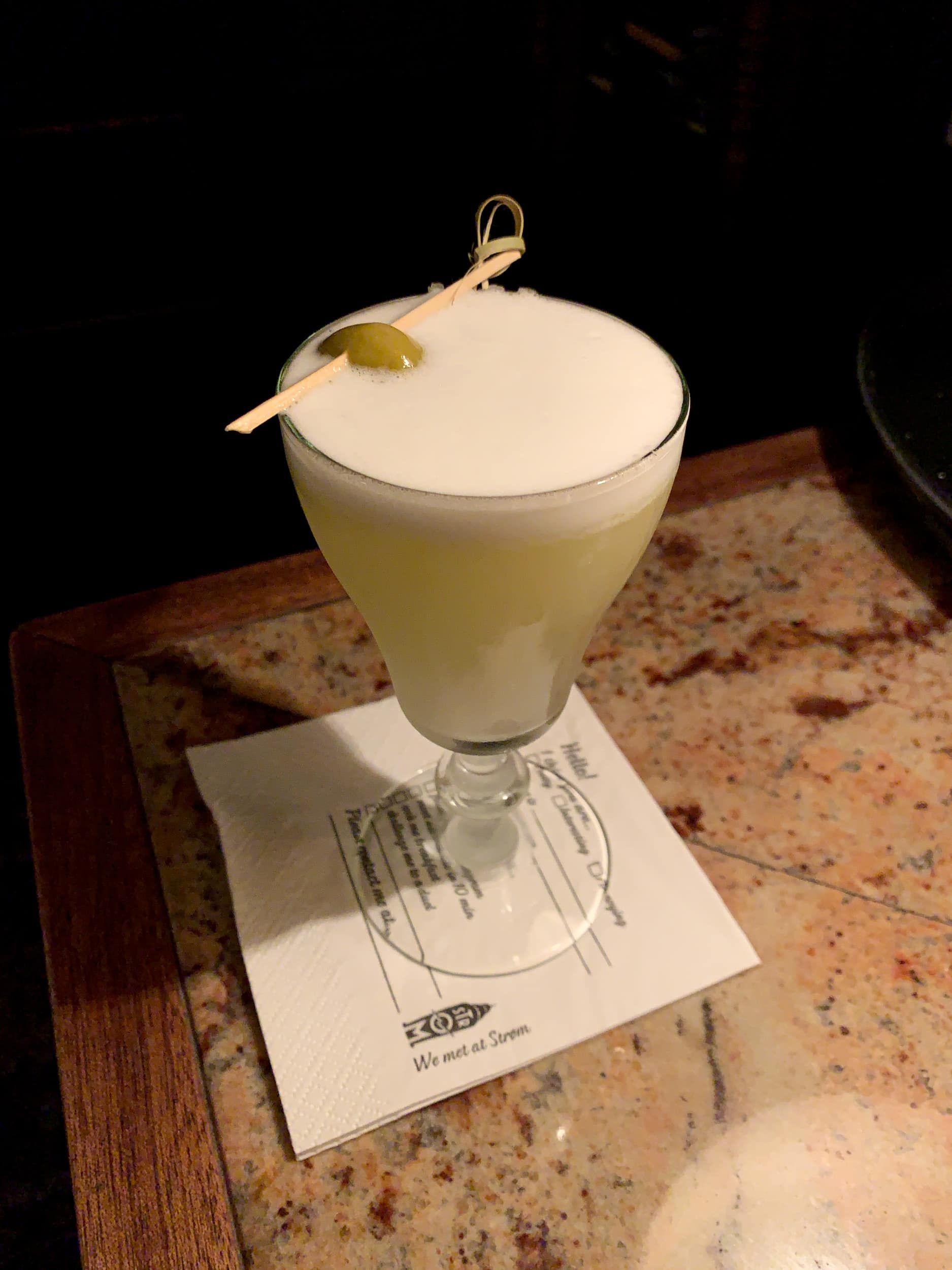 Only one of the brothers worked that night, though I can't recall which one.
He suggested their signature Tesla cocktail made with Beefeater Gin, dry sherry, agave, lime, olive oil, and egg white.
Next was Paint It Gold from their 2016 menu, featuring Absolut Vodka, elderflower, honey, lemon, champagne, and gold.
Edible gold gave it a sparkle and made me wonder whether something else would sparkle the following day.
As I was sipping my drink, the bartender of another place came in to hang out before his shift.
My third and final drink was the Clipper with Diplomatico Rum, grapefruit cordial, Cocchi Americano, and bitters.
Prices range from 105 to 150 DKK. And judging from my experience, you can't go wrong (and if you do, they'll make you something new).
Niels Hemmingsens Gade 32, Copenhagen, strombar.dk
***
There were more than these cocktail bars in Copenhagen I wanted to visit. But winter was coming; I had to get back to Texas.
Next time I'm in town, I'll be heading for these bars:
Balderdash - American Geoffrey Canilao left New York City for Copenhagen and opened Balderdash in a house dating from 1732. Located a few blocks from Strøm.
Curfew - Portuguese bartender Humberto Marques' speakeasy was voted Copenhagen's best cocktail bar in 2017.
Gensyn Bar - This is one of the bartender-recommended cocktail bars I didn't get to the first go-around. Inventive cocktails at fair prices in an unpretentious space.
I look forward to updating my list further the next time I'm in Denmark.