Traditional Swedish food in Lapland includes game meats, fish, and foraged fruits and vegetables, which have been a part of the Sami indigenous people's diets for thousands of years.
In September, I had the opportunity to visit Västerbotten, a county in the southern part of Lapland (below the Arctic Circle), as part of a hosted trip ahead of the Adventure Travel World Summit in Gothenburg.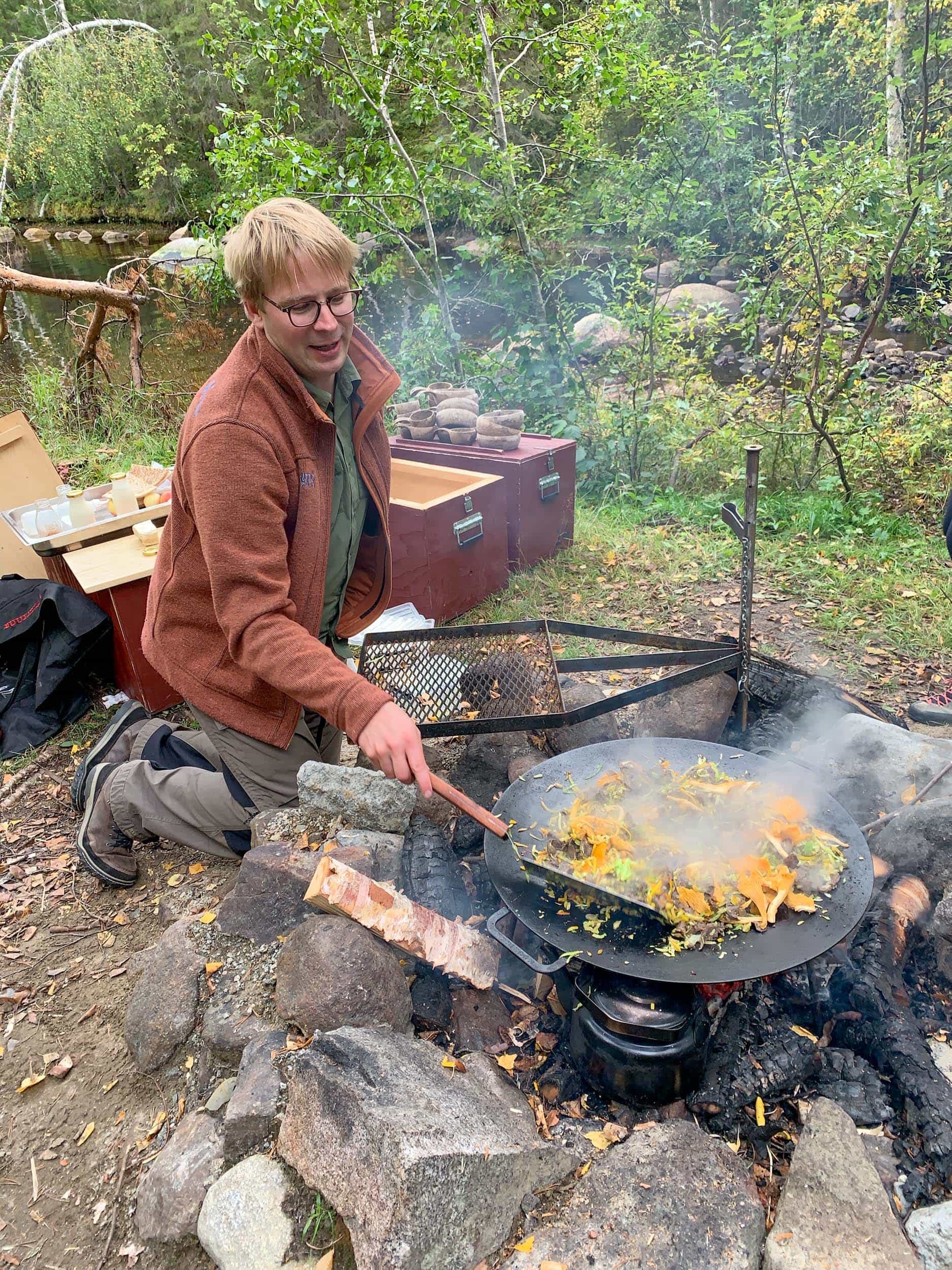 Our base for adventure in northern Sweden was the Granö Beckasin lodge, which features a variety of accommodations in natural surroundings, including treehouses, cottages, an eco-hotel, and campsites.
This was a part of Europe I'd never experienced, bringing many new foods to try.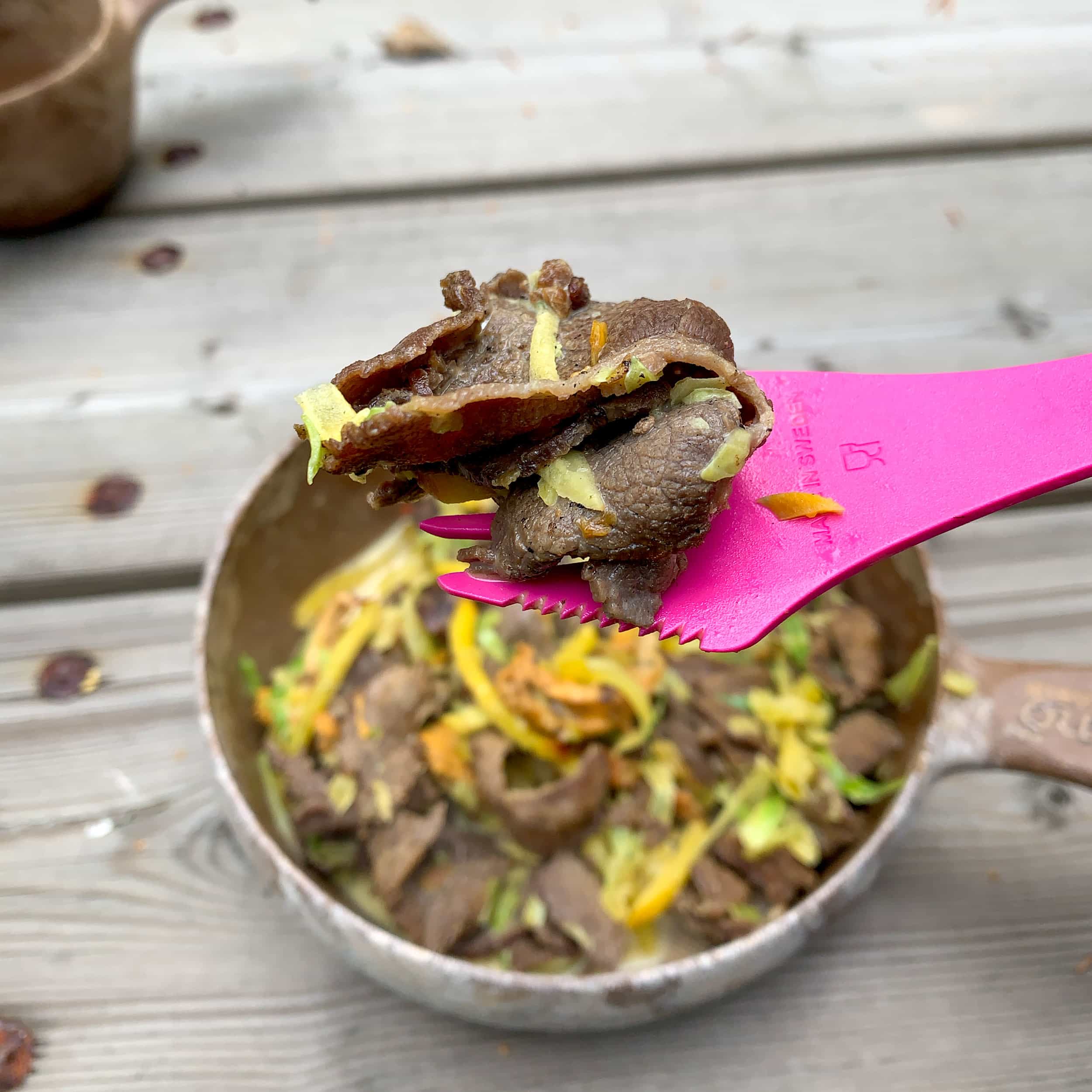 Native Meat and Fish
Moose
Sweden has as many moose as the rest of the world combined, an estimated 300,000 to 400,000 during the summer months.
Due to the high density, moose hunting occurs every autumn, resulting in the deaths of about 100,000 moose. Natural predators include wolves and bears.
On our first full day at Granö Beckasin, we went for a nature walk in the surrounding forest.
After a few hours, we arrived at a campsite where our guide, one of the owners of the lodge, prepared a feast of thinly-sliced moose meat and local produce (mushrooms and vegetables).
The moose meat tasted similar to beef; it's considered lean meat, but I felt the bits we were eating were a little on the fatty side.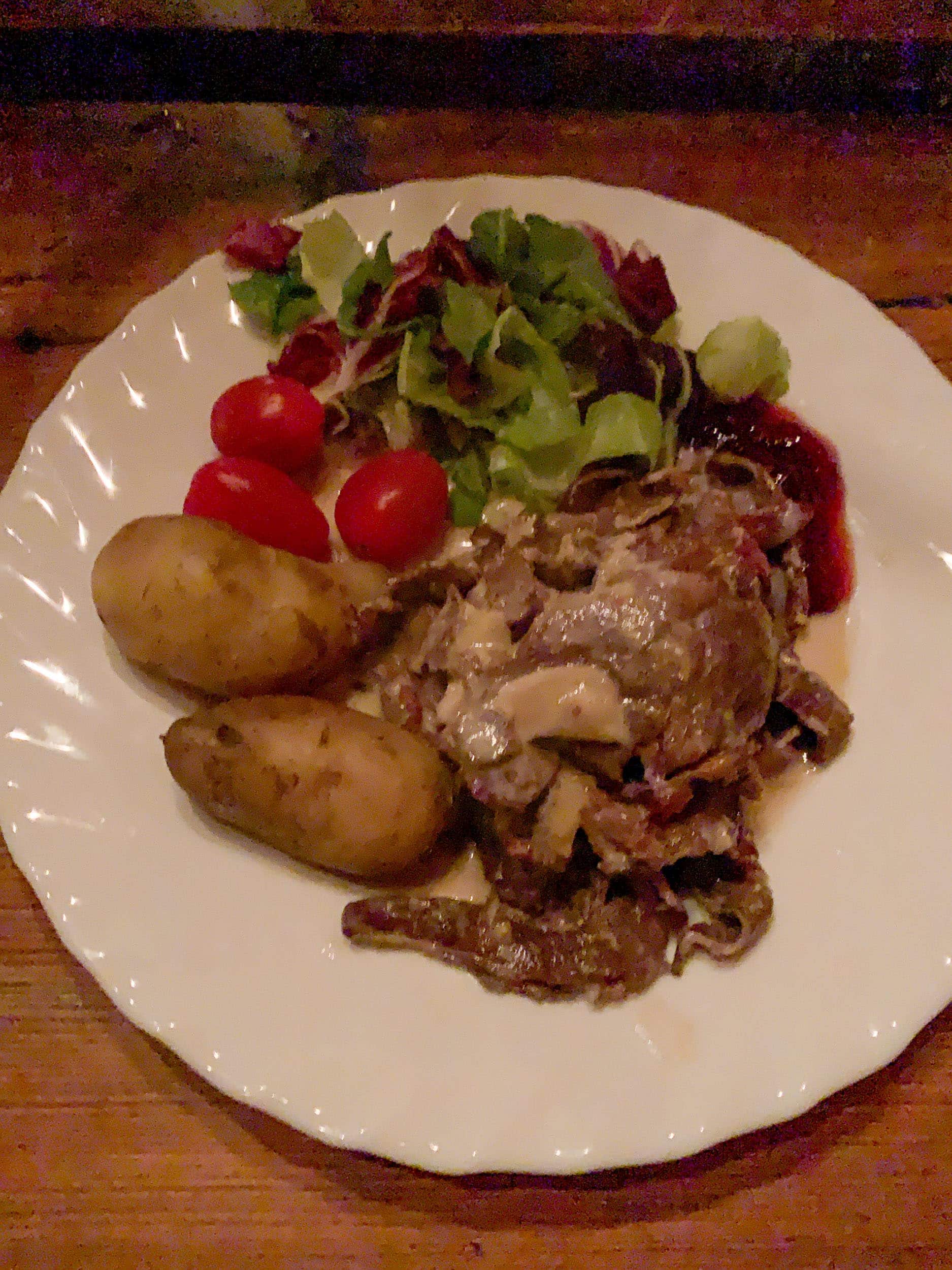 Reindeer
The Sami people are semi-nomadic and have long relied on reindeer herding as a source of food, furs, and transportation.
On our third night of the trip, we had dinner at Forsknäckarna Wilderness Camp, where we dined on reindeer steaks with almond potatoes, salad, and lingonberry jam.
The reindeer meat tasted similar to moose meat; however, I liked it a little more.
PS - Apologies for the low photo quality, but we were dining by candlelight in a traditional wooden structure at the camp.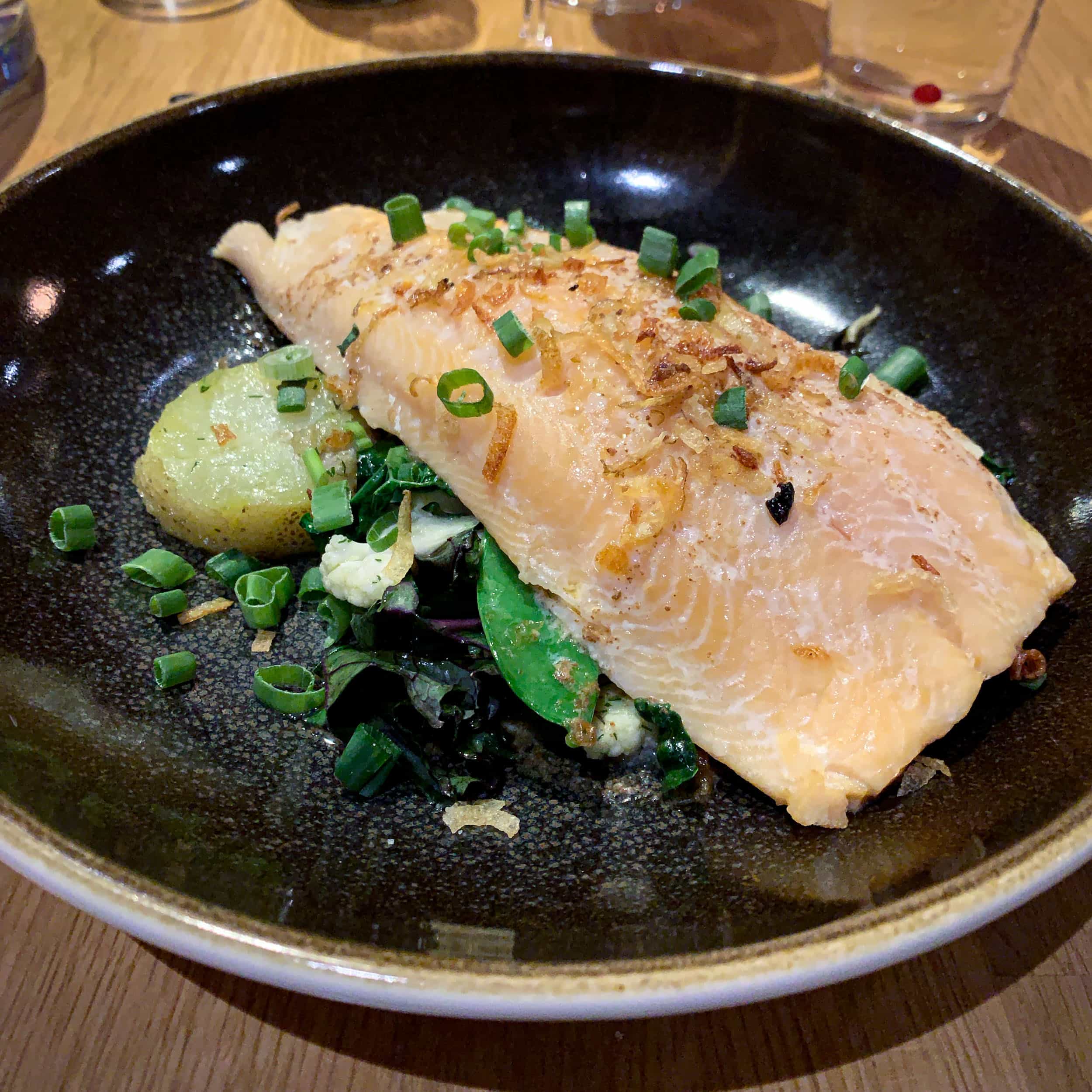 Fish
Västerbotten is bordered to the east by the Gulf of Bothnia, which it shares with Finland.
For the Sami people living along the coast, fishing has always been a primary food source.
Add 30,000 lakes and three national rivers, and you have a lot of water to support healthy fish populations.
Knowing this, it's not surprising to find Arctic Char with potatoes, sweet peas, and browned butter with yuzu and sesame on the menu at Granö Beckasin.
Ok, maybe I was a little surprised, as the lodge is in the village of Granö, population 200, an hour's drive inland from the coastal county capital of Umea.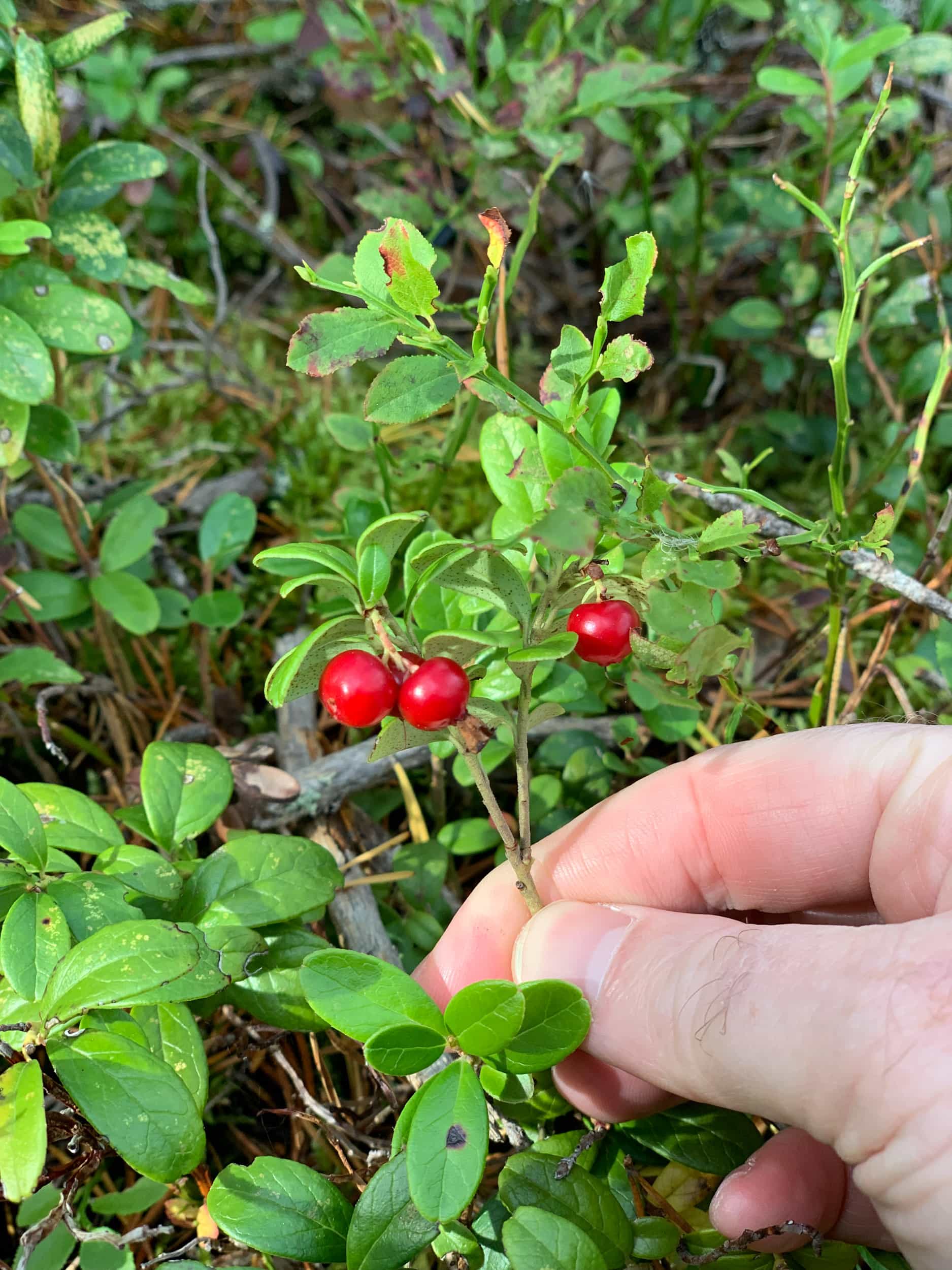 Wild Fruits and Vegetables
Lingonberries
One of the highlights of our first nature walk in Swedish Lapland was the opportunity to pick wild lingonberries growing all across the forest floor.
I was informally introduced to these little round red berries back in Stockholm when they were served alongside my first order of Swedish meatballs.
At Granö Beckasin, they also put them in the table water served with dinner, though I believe it's more for decoration than anything else.
They're tart when eaten raw and are better suited for jams, compotes, sauces, and ice cream.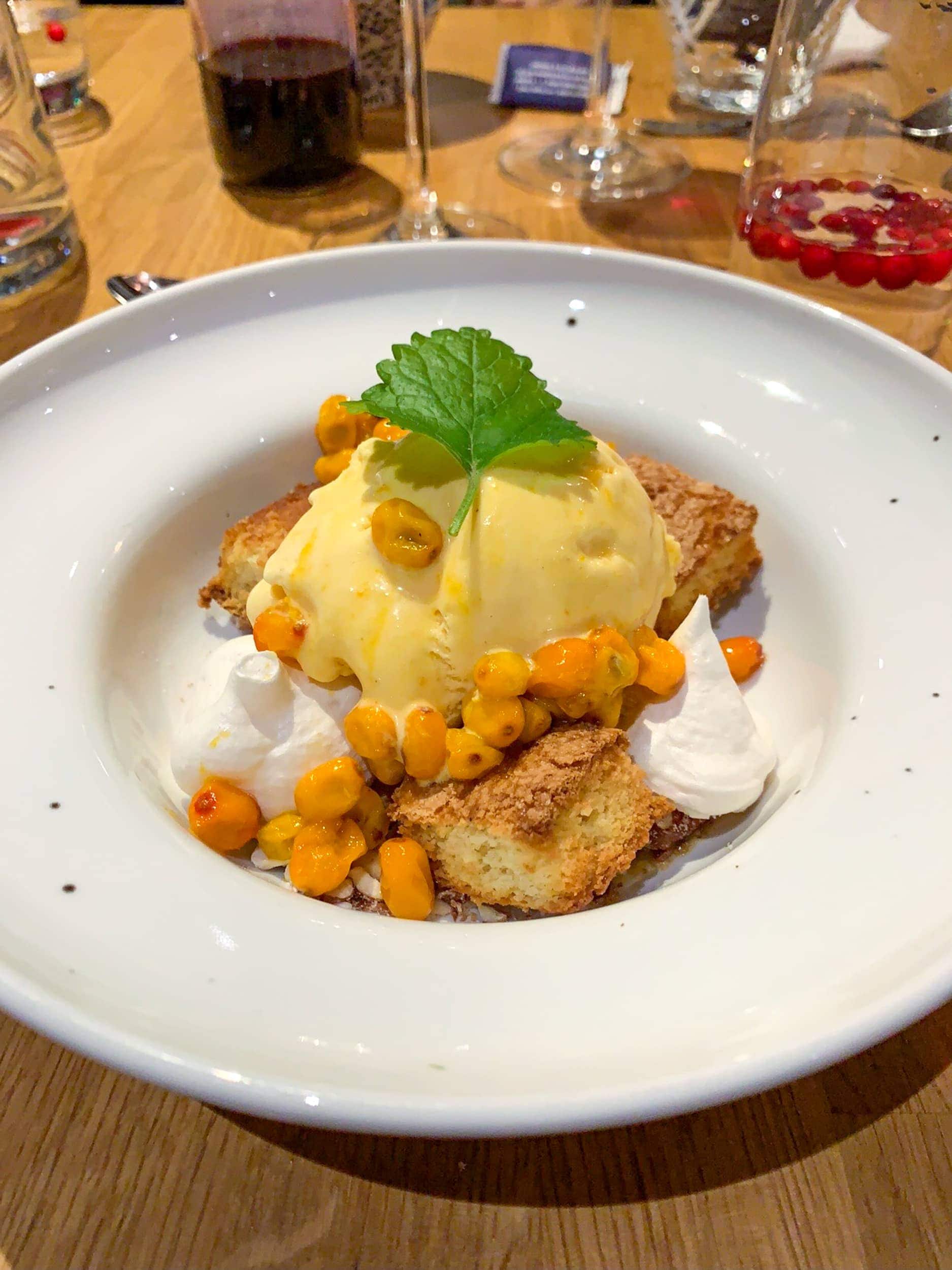 Cloudberries
Another traditional Swedish food in Lapland is the cloudberry. My first encounter with these golden-yellow berries was on top of a scoop of sea buckthorn ice cream at Granö Beckasin's restaurant.
A few nights later, at the wilderness camp, they served cloudberry ice cream produced by a local dairy farmer. Like lingonberries, cloudberries are tart when eaten raw.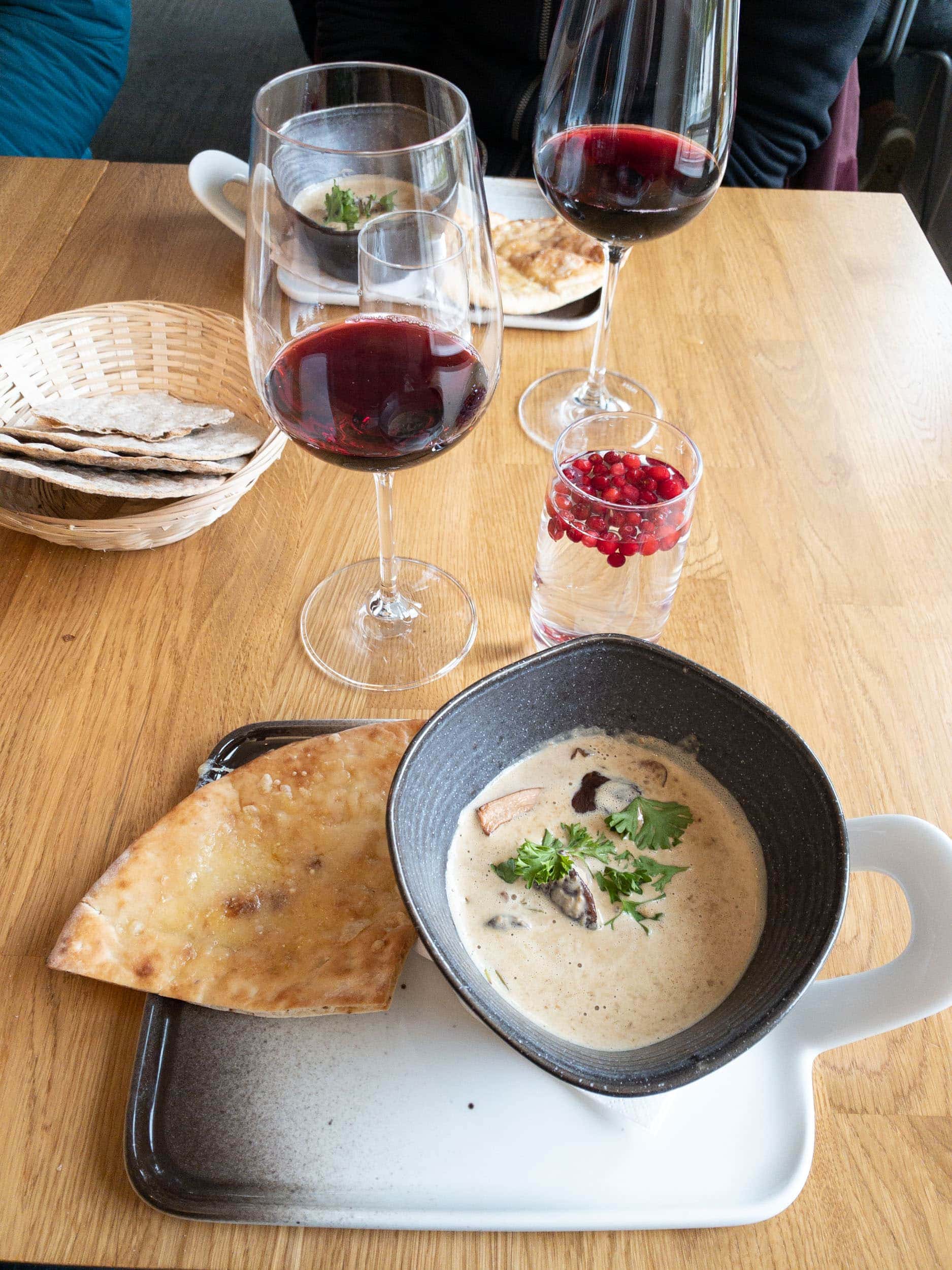 Mushrooms
I noticed mushrooms were a commonly served ingredient during my stay in Swedish Lapland.
The mushroom soup was served as an appetizer before both dinners I ate at Granö Beckasin and during brunch on our last day in Umea.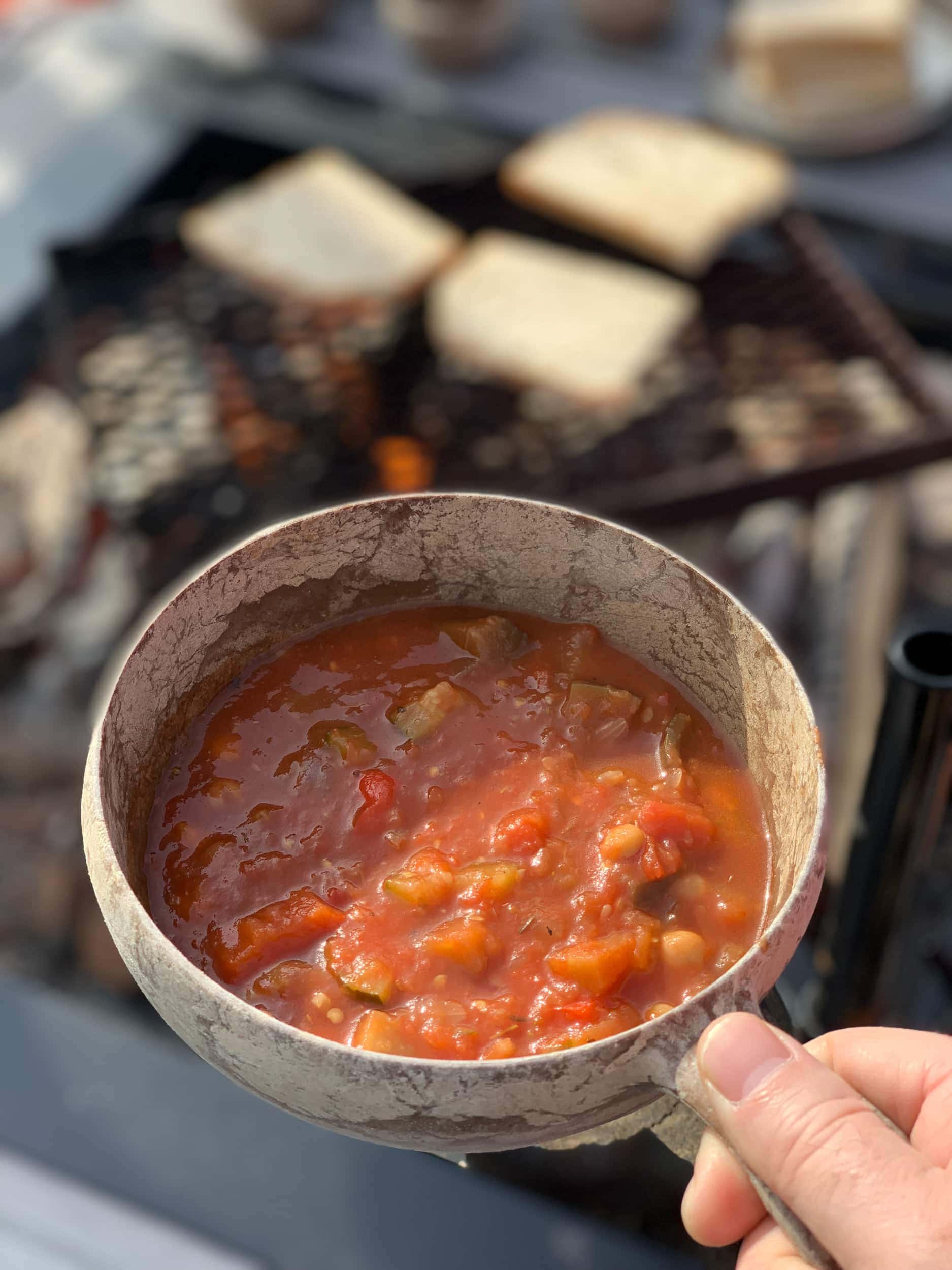 Vegetable soup
On the third day of the trip, we visited Spruce Island Husky to take husky sled dogs for a walk in the forest.
Following the brisk walk with the dogs, the company's owner cooked us organic vegetable soup over an open fire within the kennel.
Thirty-one Alaskan and Siberian huskies surrounded us for lunch. It was amazing!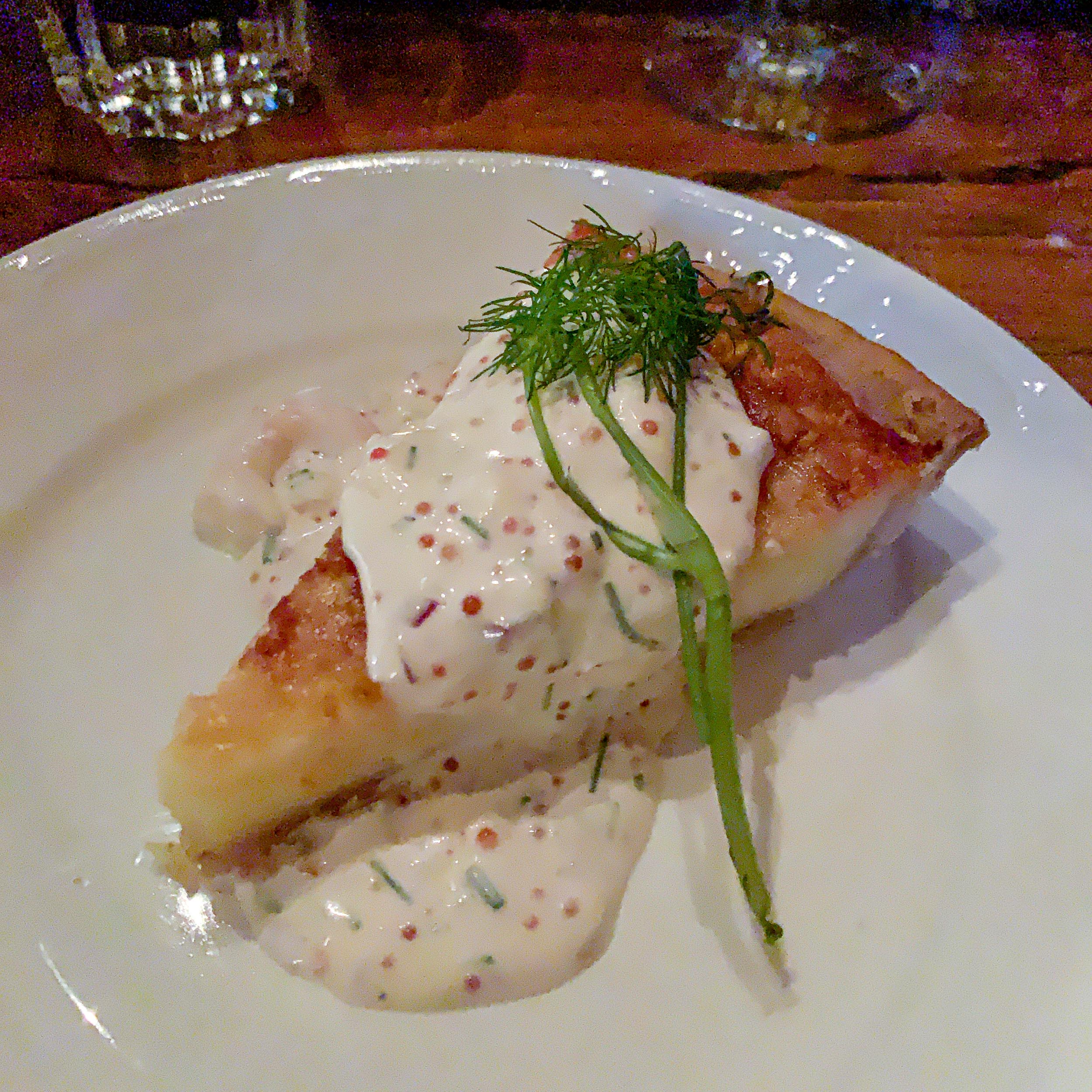 Västerbotten Cheese and Bread
Västerbotten cheese
The county of Västerbotten is known for its hard cow's milk cheese, and this premium cheese is typically aged 14 months.
It can be eaten plain, as I did at breakfast each morning, with pickled herring or in a Västerbotten cheese pie, which I had the chance to try at the wilderness camp.
Interestingly, the cheese pie was served as the first course.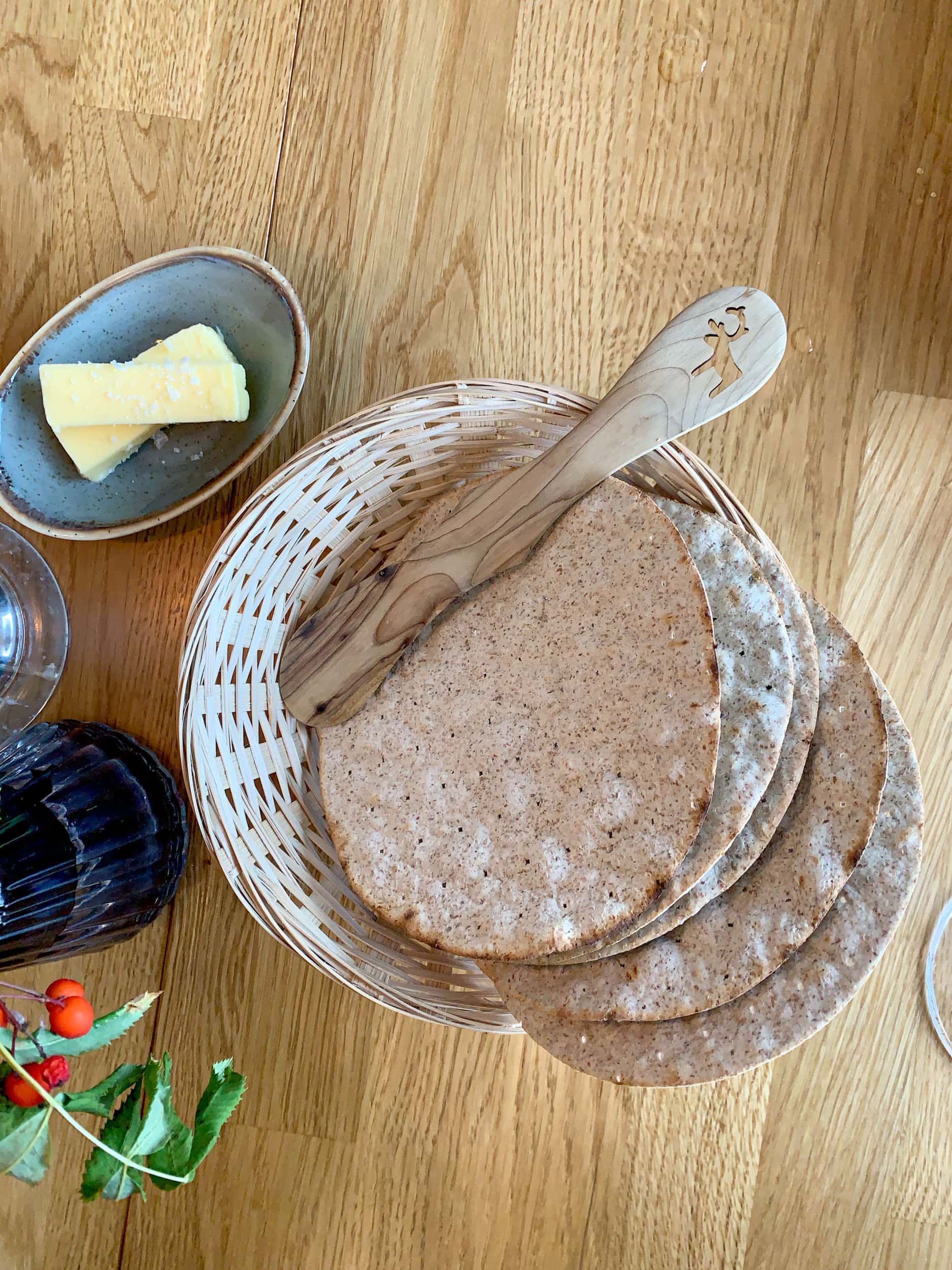 Swedish flatbread
Tunnbröd is a traditional Swedish flatbread that can be made crispy (as pictured above) or soft.
Due to northern Sweden's cold climate and short summers, wheat couldn't be grown there, so barley was used instead.
Barley lacks gluten, so they couldn't make bread that rises. Instead, they developed thin bread.
I found it a bit odd to try and butter such a hard piece of bread, didn't find it flavorful, and ultimately wasn't too fond of it.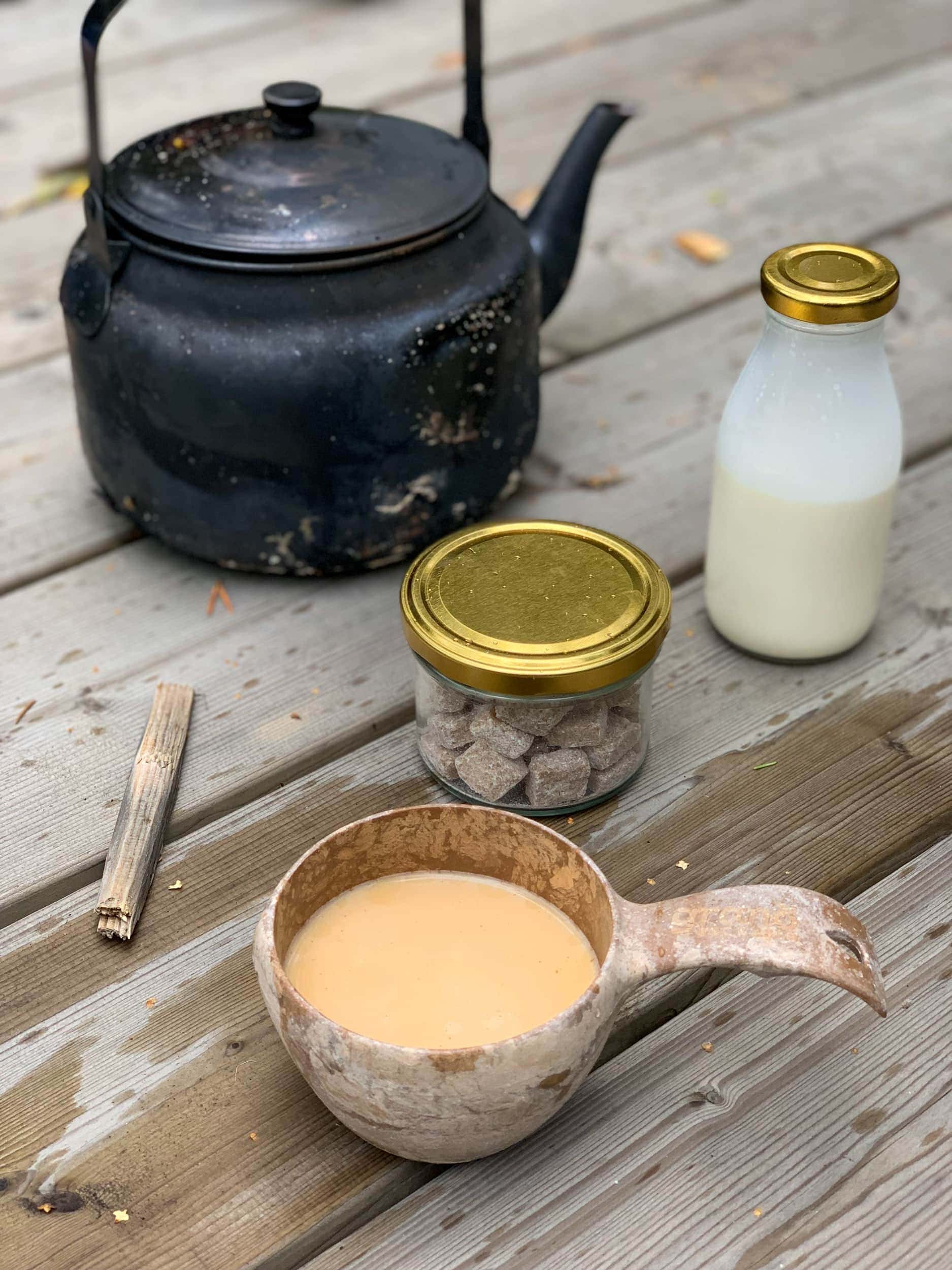 Coffee
Coffee is hardly unique to Swedish Lapland. However, the experience of having it made over a campfire in the woods after eating moose stir fry is.
The following day, after eating our vegetable soup surrounded by the husky dogs, we were also treated to hot coffee heated up over a crackling fire.
The experience of outdoor cooking reminds me of all the times I've gone camping, both as a kid and as an adult, trekking in faraway places like Peru and northern India.
***
Overall, I had a fun experience sampling traditional Swedish food in Lapland.
The picking of wild berries and campfire cooking contrasted nicely with the modern and fine dining meals I ate in Stockholm and Gothenburg.
_____
My trip to Västerbotten was arranged in partnership with the Adventure Travel Trade Association, Visit Västerbotten, and Granö Beckasin as part of my attendance at the 2019 Adventure Travel World Summit.