Walking into Rocambolesc Gelateria is like walking into a hidden room on the set of Willy Wonka & the Chocolate Factory.
Bright colors and a cartoonish design remind you of what it was like to go to a candy store or ice cream shop as a kid. But, there's more than meets the eye here.
All-natural ingredients are paired in creative ways and presented artistically.
This small soft-serve ice cream shop in the heart of Girona, the capital of the Costa Brava region of Spain, was opened in April 2012 by pastry chef Jordi Roca.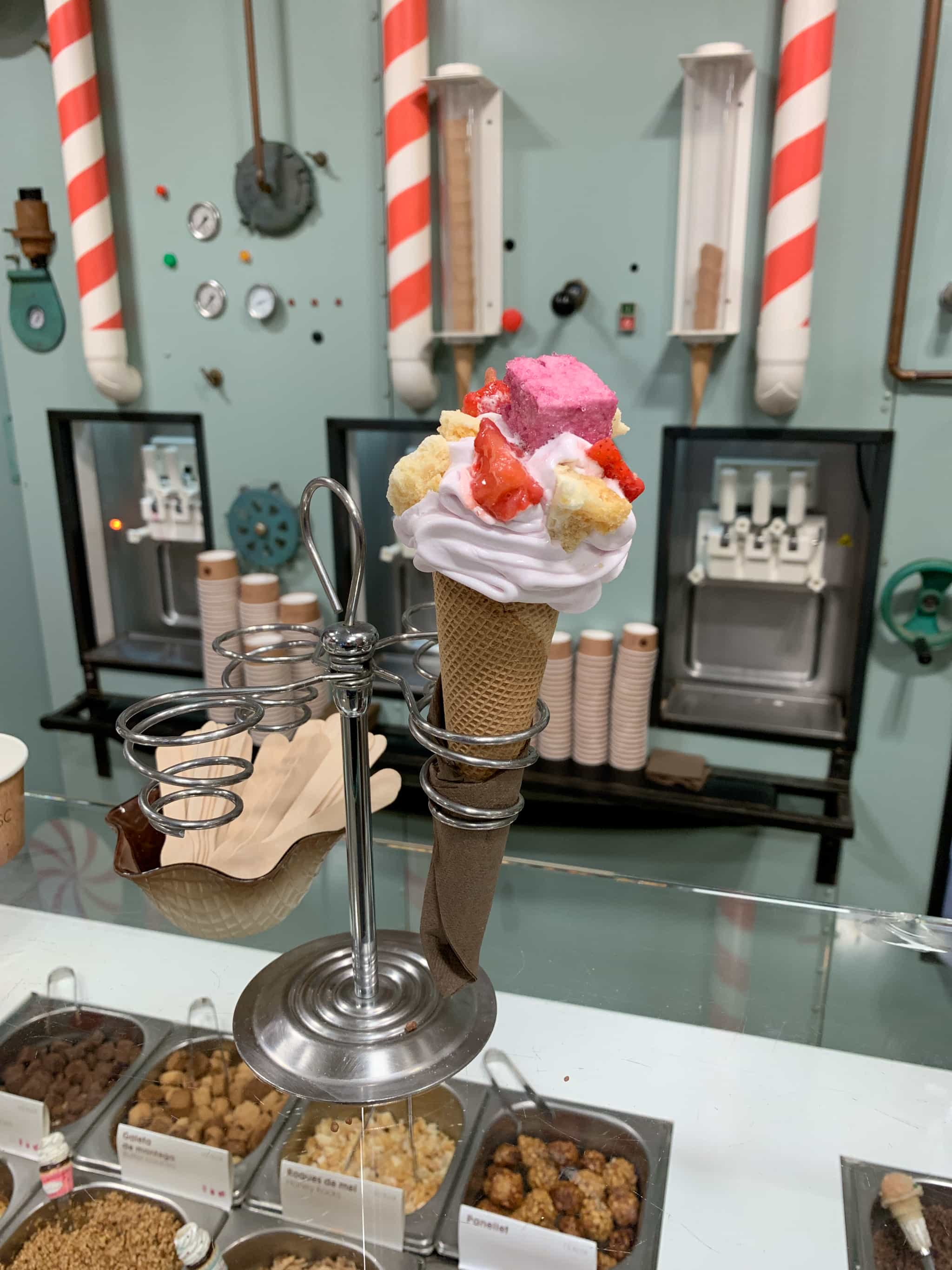 Jordi featured on Chef's Table (S4 E3), is one of the world's best pastry chefs.
And together with his older brothers, chef Joan Roca and sommelier Josep Roca, he runs El Celler de Can Roca, the recipient of three Michelin stars and recognition as the best restaurant in the world.
Coincidentally, six months after Rocambolesc Gelateria opened, I was in Girona for a travel blogging conference.
The opening party, held in a 12th-century castle, was catered by the Roca brothers, who were also in attendance.
It was the most epic opening party of any blogging conference I've ever attended.
An entire room of the castle was dedicated to ham, and that alone garnered much of the post-party buzz.
While a reservation at El Celler de Can Roca was just about as hard to come by back then as it is today, we bloggers descended on Rocambolesc Gelateria to get a further taste of Jordi's sweet creations.
Related: Milk Bar - Christina Tosi's NYC Dessert Bar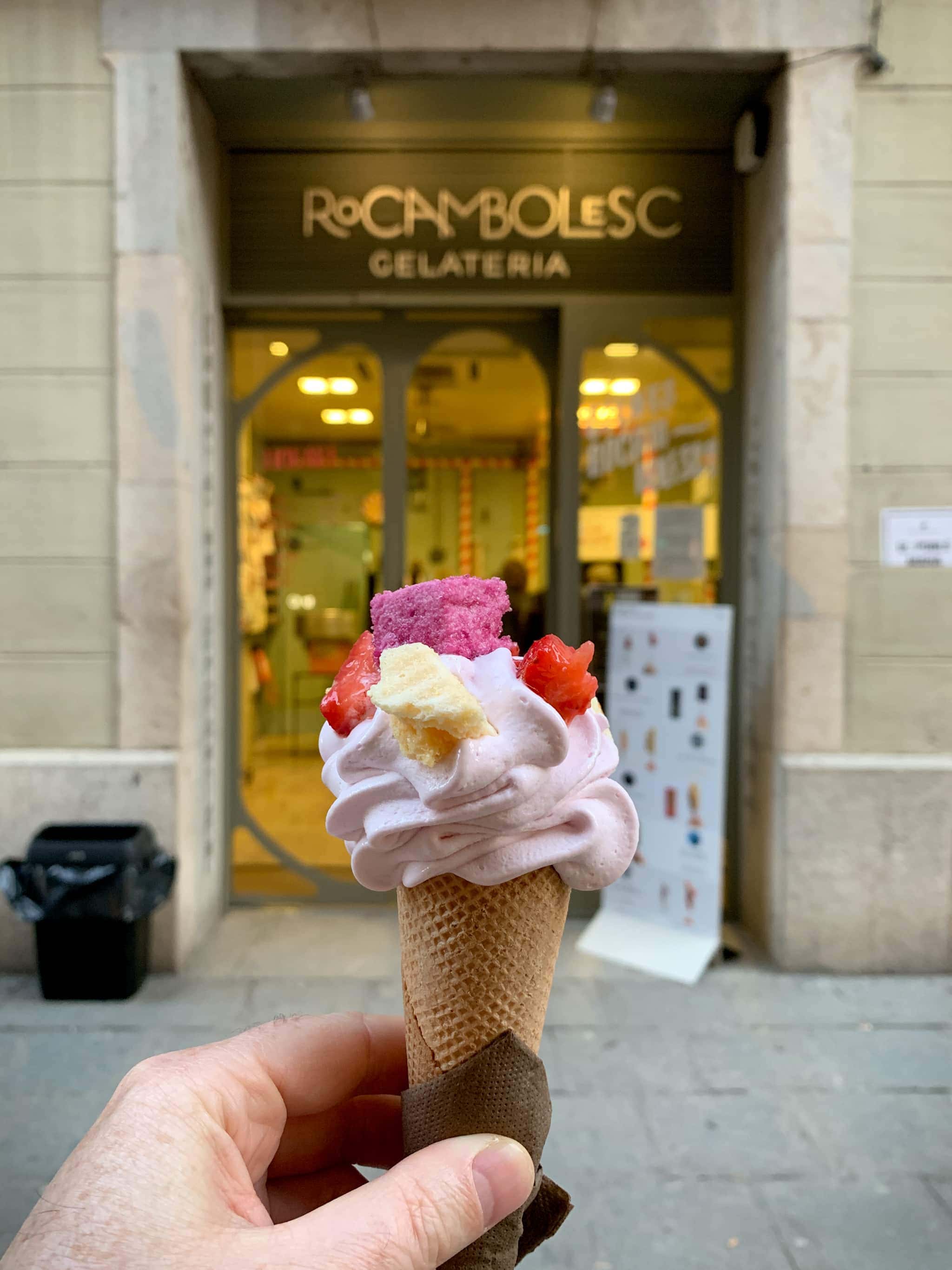 My Return to Rocambolesc Gelateria
So when I returned to Girona in November 2018, it was with great fondness that I walked the streets once again.
Following my incredible lunch at Massana, I meandered through nearby La Devesa Park, which was full of amusement park rides and carnival games.
As the sun began to set around 5 p.m., I returned to the Onyar River and stopped at Rocambolesc Gelateria for ice cream.
The suggested combo was coconut and violet sorbet topped with strawberries, honey rocks, and violet marshmallows. The inspiration was taken from a violet and coconut macaron.
I was just happy to have some guidance, so I wasn't left to decide what flavors and toppings might look and taste well together.
Browsing the different flavors on their website, I'm wondering why I wasn't going there every day I was in Girona.
Chocolate ice cream with cocoa beans, popping candy, chocolate cookies, and chocolate topping
Baked apple ice cream with caramelized apple, baked apple, and butter cookies
Mandarin, passion fruit, and orange sorbet with marshmallow elderflower, and basil caramel
Milk ice cream with caramel, guava confiture, and cotton candy
They also do an ice cream in brioche (similar to the Italian gelato on brioche I tried in Bologna) called a panet.
Popsicles are available in silly shapes and flavors, too, including:
Icephone - shaped like an iPhone and tastes like yogurt, licorice, and lime
Hand - shaped like a medieval hand and tastes of blood orange and mango sorbet
Rocanas - shaped like the noses of the Roca brothers and made of strawberry and rosewater sorbet
And of course, you can buy pints of ice cream to go.
A business that began in the narrow streets of Girona has grown to include ice cream parlors in Barcelona and Madrid, Spain, and Houston in the United States.
You can check out the latest creations and see more on the Rocambolesc Instagram account.
Visit Rocambolesc Gelateria
Address: Carrer de Santa Clara 50, 17001 Girona, Spain
Hours: 11 a.m. to 11 p.m., Sunday to Friday, and 11 a.m. to midnight on Saturday